Today, we're back with another mechanical keyboard review as we take a look at the Maibenben DMK01 60% mechanical keyboard from Banggood.com, and we're also going to compare it with the Royal Kludge RK61 as I have a good hunch that they are basically the same. With that being said, let's get into it.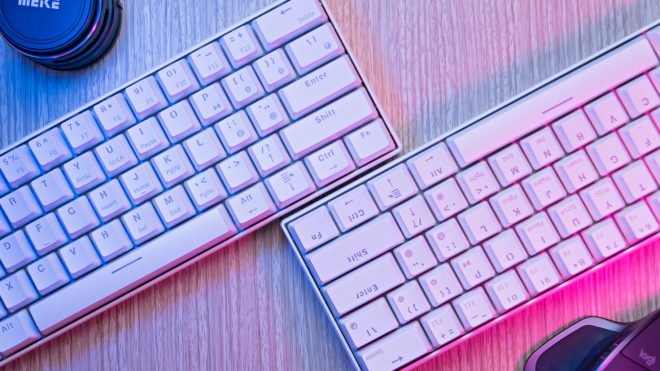 MY EARLY BREAKDOWN


Pros: Extremely affordable for a mechanical keyboard, Decent build quality, Clean design
Cons: There is some delay on bluetooth mode, no software
SPECIFICATIONS


Brand
Maibenben
Model
DMK01
Keys Amount
61 Keys
Color
Black, White
Switch
Red Switch
Connection
Dual Mode
USB 2.0 Wired
bluetooth 3.0
Material
ABS
Anti-Ghost Key
Wired: NKRO
Wireless: Support 6 Keys
Size
291*101*39mm
Weight
580g
System Support
Windows /Android/Mac OS
Batteries
800mAh Rechargeable Li-ion Battery
Backlit
17 LED monochrome backlighting
WHAT'S IN THE PACKAGING


Alright, so we have here the packaging for the Maibenben DMK01 60% mechanical keyboard. Interestingly, there's no prominent branding and model name here around the box.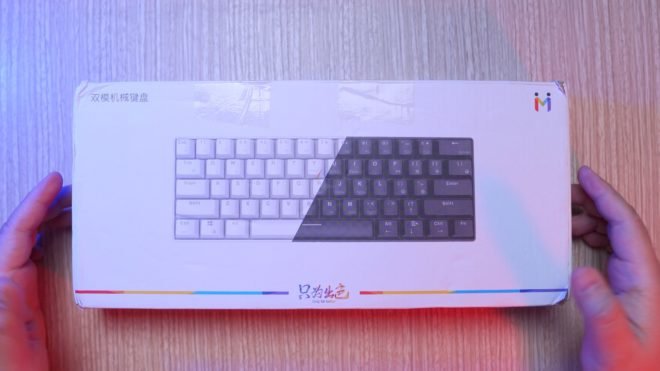 At back we have some details about the product, however it is written in Chinese, so let's just see what comes in the package.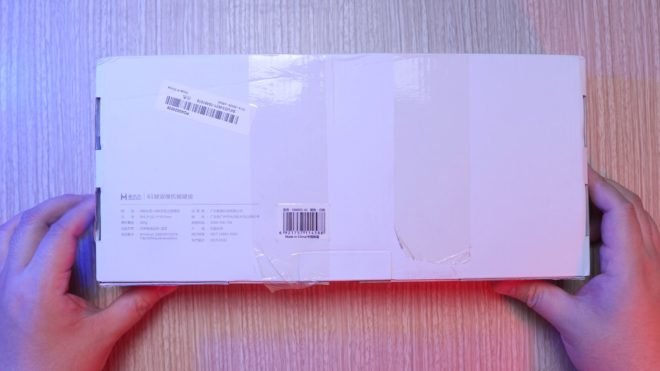 Inside the box, it's the typical packaging with the keyboard inside protected with a foam sleeve.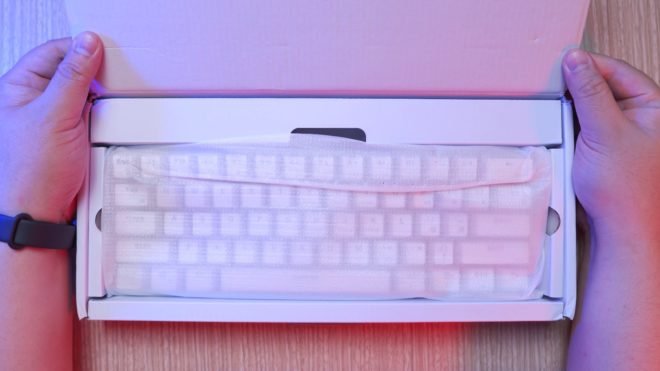 Aside from that, we have here a Q.C pass paperwork,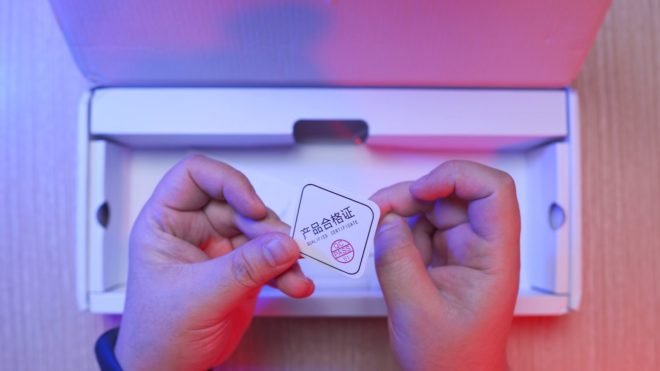 And of course, a user manual written in both English and Chinese.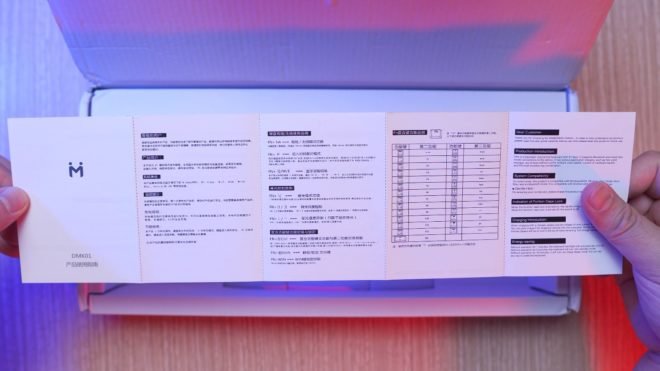 Underneath the cover, we have a couple more items, we have a white micro USB cable that unfortunately is not yet USB Type C.
And lastly, we have a standard plastic keycap puller right here.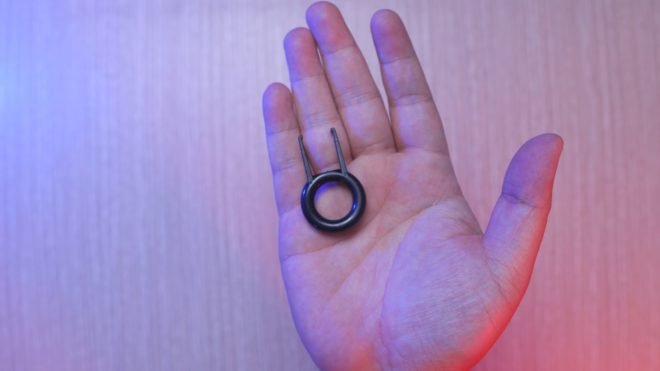 Alright so let's take a look at the Maibenben DMK01 60% mechanical keyboard itself.
FULL REVIEW
Design, Construction and Parts Overview


At first look and touch it certainly looks like the Royal Kludge RK61 with a decent weight to it and the overall design and build quality also feels really familiar.
On the front side, like the Royal Kludge Rk61, we also have here I guess the logo of Maibenben at the exact same location.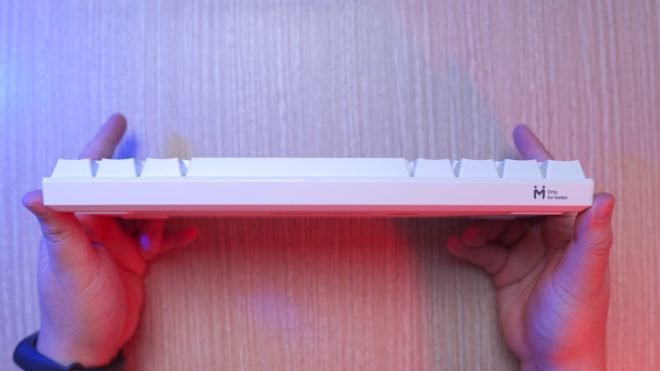 Flipping it on its side it features a slanted high profile case with some chamfered edges at the top and bottom.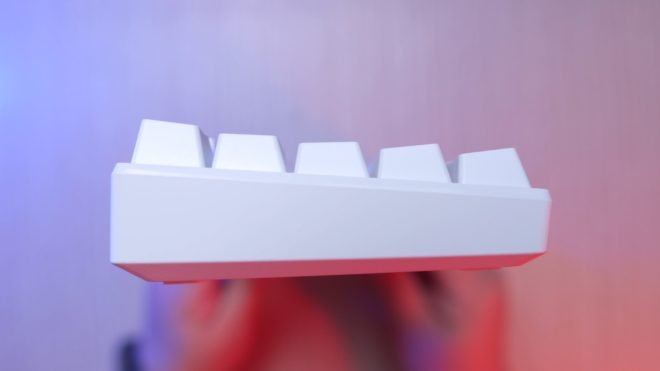 The keycaps profile is OEM which has a curve for that ergonomic form factor and of course, since it is a high profile case, the switches are not visible.
Looking at the backside, again similar to the RK61 with the micro USB port located at the center.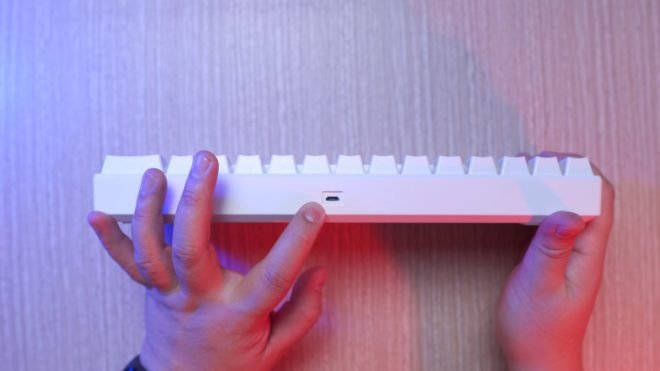 And then at the bottom, the same thing, 4 rubber feet, the Bluetooth switch at the center, technical details and certification above that, and a QC pass sticker.
So yeah, even the fonts and layout are the same with the function key on the lower right corner and the dual-layer arrow keys section right beside it.
All the legends of the secondary layers are the same as well. The layout is ANSI standard so it's quite easy to look for custom keycaps with this. The layer implementation on this like the Royal Kludge RK61 is actually very good and easy to use. Later I will tell you how it works. As for the fonts, they are the typical OEM font with large characters for the alphas and smaller ones for the modifiers and even smaller for the sub legends.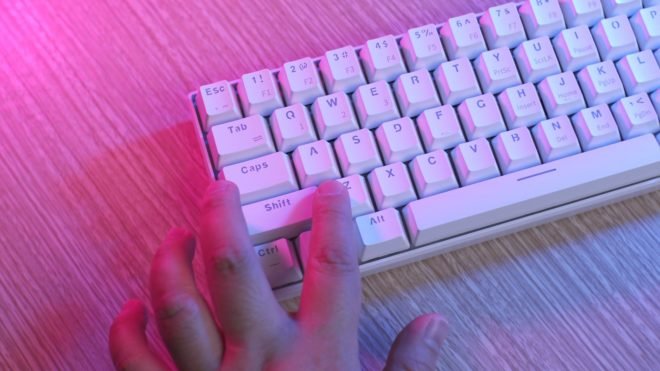 Maibenben DMK01 VS Royal Kludge RK61


Alright so here's what I am talking about, we have the Maibenben DMK01 on top and the Royal Kludge RK61 at the bottom.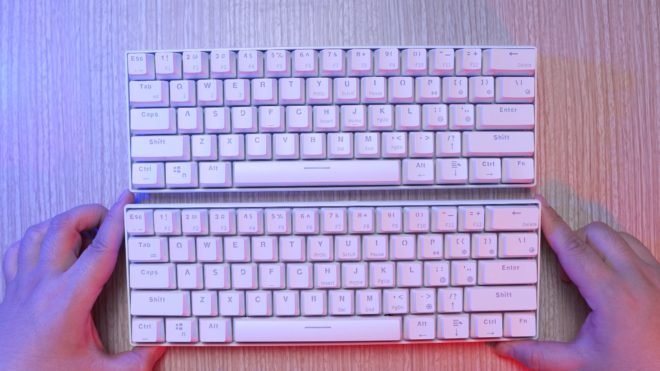 So as you can tell, they look exactly the same, the colors, the fonts, the sub legends, the layout is all the same, and if you flip them up you can see that they also have the same placement for their logo.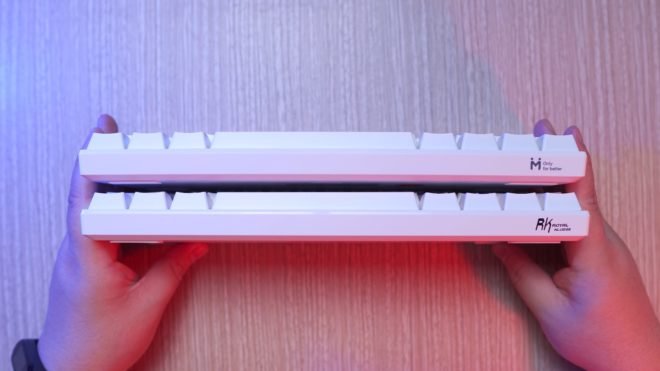 The thickness is also identical as you can see here, and both also features the same high profile case.
And at the bottom, there's no denying that they are like a twin brother.

And this is not necessarily a bad thing because the Royal Kludge RK61 is actually pretty decent and I always recommend it to people who wants a 60% keyboard but on a very tight budget.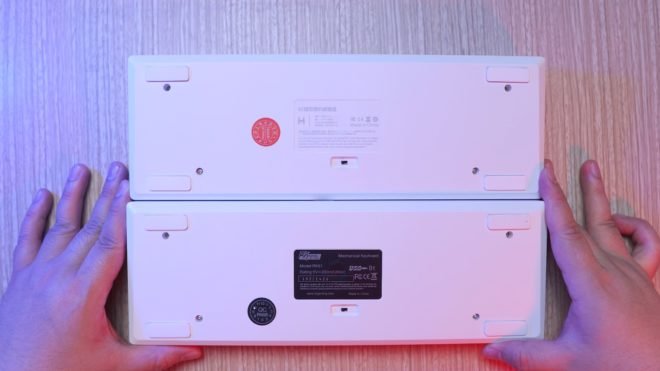 Ok, so let's check out the switches on these keyboards and see if they are using the same switches.
Switches


Apparently, they are both using red switches which is awesome for our comparison here.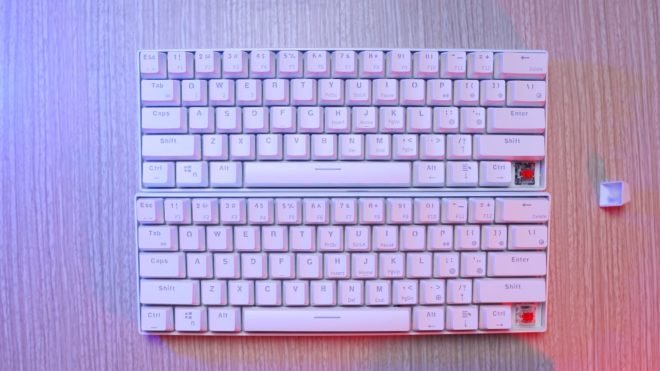 So for the Royal Kludge RK61, they are actually using their own brand of switch, RK reds.
And for Maibenben they are using the Content red switch which is another Cherry MX Red clone and is mostly found on extremely budget mechanical keyboards like this, as well as the Gigaware K28 mechanical keyboard that I reviewed before.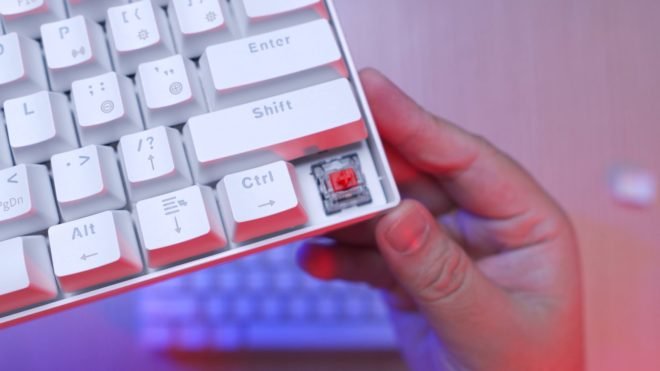 In terms of feel again it is almost identical to the Royal Kludge RK61's RK red switch with just a bit of a scratchy feel to it but not so obvious unless you slowly press the key and pay a close attention to it, it is definitely smoother than let say the Outemu Blue switch and I feel like both the RK switches and Content switches are just rebranded Outemu, to be honest.
Stabilizers


Even the stabilizers on the Maibenben DMK01 sounds and feels exactly the same with the stabilizers of the Royal Kludge Rk61 with a very rattly and high pitched sounding spacebar.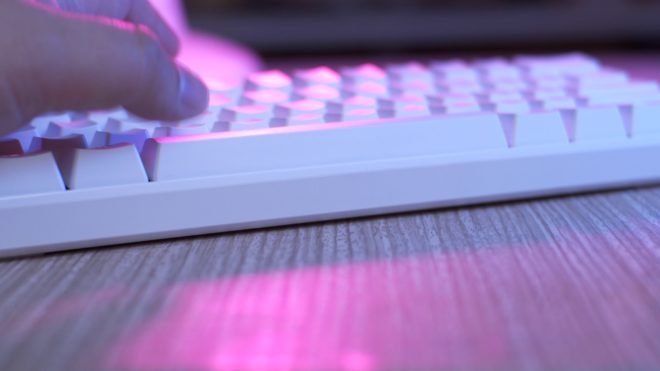 The modifiers, on the other hand, are not as bad as the spacebar but still have some rattle.
Alright guys, focusing back to the Maibenben DMK01, what we have here is the white LED-backlit version, and I think this is available in two variants, a black case with yellow LED and this white case with white LED.
Lighting Effects

So we have different lighting effects, and you can toggle between them by pressing FN + backslash and you can also follow the sub legends on the upper right part of the keyboard to customize the lighting effects.
Bluetooth Pairing


Now, to switch between wired and wireless mode all you have to do is press FN + Tab,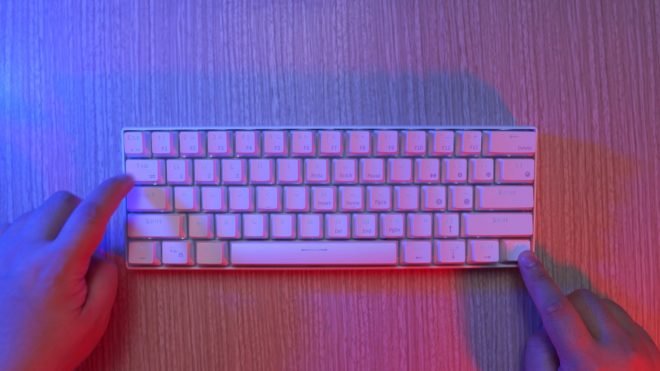 And then FN + P for a few seconds to enter pairing mode.
Once the letter P starts flashing, you can turn on Bluetooth on your device like your PC, smartphone or tablet, pair it and you're all set. You can connect this keyboard up to 3 devices and you can switch between them by pressing FN + Q, W or E.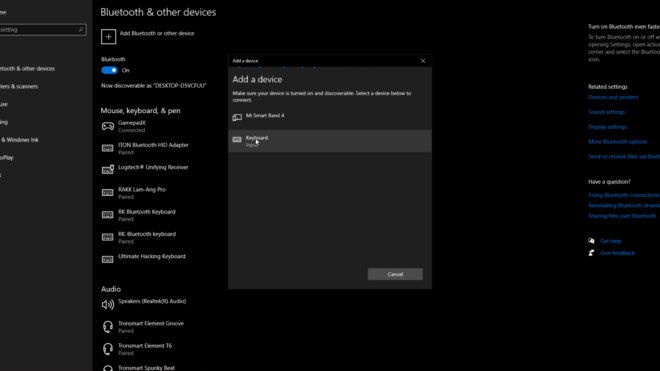 LED Illumination


As for the illumination, it is adequate for dim situations like this as you can see,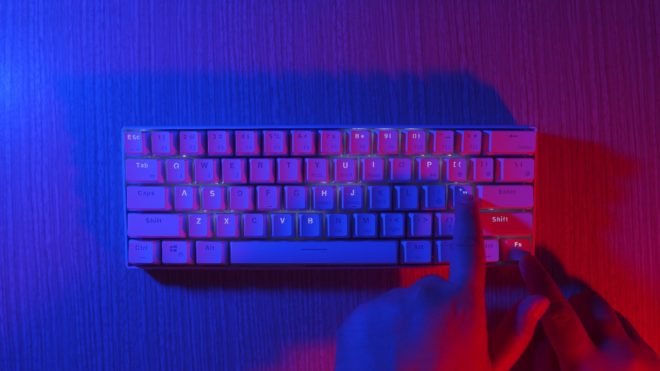 And although it is only color white and uses SMD LEDs, it is pretty substantial and minimalistic in my opinion.
Layer Implementation

Now, in terms of the layer implementation, you can toggle different layers by pressing FN + the corresponding layer like the nav cluster, function rows up top and the arrow keys right beside it.
And in my opinion, the placement is really good using your pinky finger.
You can also toggle between arrow keys and the normal function of these keys by pressing FN + right shift. You can also activate each layer by pressing FN + left control.
So yeah, the layer implementation on this is exactly the same as with the Royal Kludge RK61 which is one of the best layer implementations on a 60% keyboard in my opinion.
Keycaps


As for the keycaps, this keyboard uses doubleshot ABS keycaps which means it has a separate material for the legends and will not fade away over time, but since it is made of ABS plastic, it can get shiny over time but with this color white, it will not be as obvious as the black version. The thickness of this keycap is around 1mm.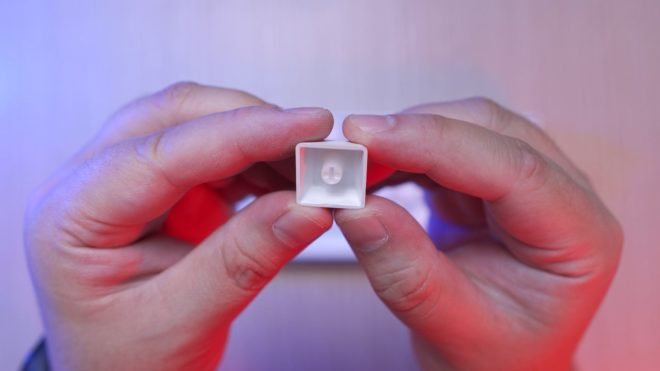 Performance
Bluetooth Connectivity


Now in terms of the performance, when it comes to its Bluetooth connectivity I'd say it is ok and usable, although I can't recommend it for competitive gaming as it has a bit of delay especially on the first keypress, wired mode is still the way to go.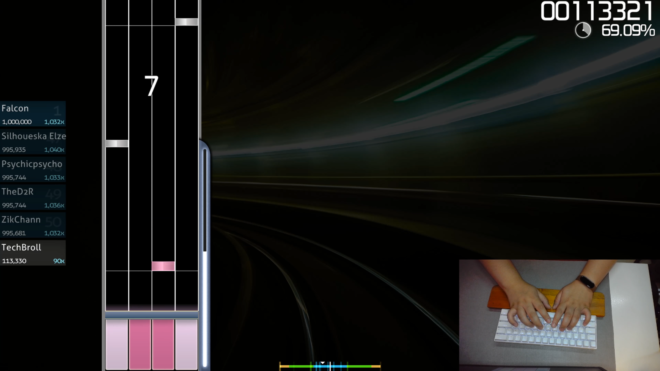 Typing Experience


As for the typing experience, like I said, on Bluetooth mode, it has a bit of delay on the first keypress but it goes away once you start typing your sentences and becomes more responsive, it's just that first keypress or a couple of letters that are kinda annoying, to be honest. It is usable but if you want a better typing experience like I said, wired mode is the way to go. Of course you're mileage may vary as it's usually the case with extremely budget keyboards like this.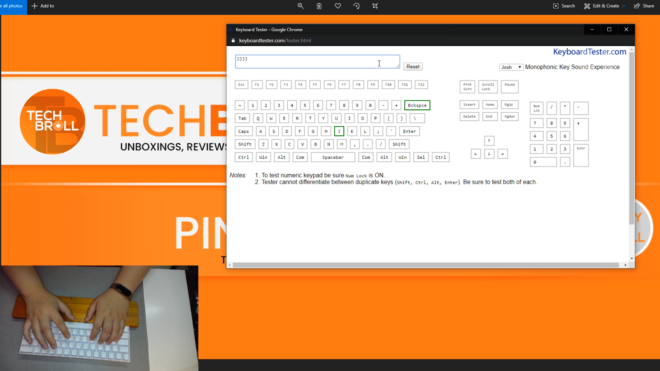 As for the Content red switch, like I said earlier, it is decent and not that scratchy and of course, quite lightweight to type with, and you all know me guys, I am not a fan of red switch as it is very sensitive. So as I always say, at the end of the day, it will depend on your personal preference and for a budget keyboard like this, it is pretty decent.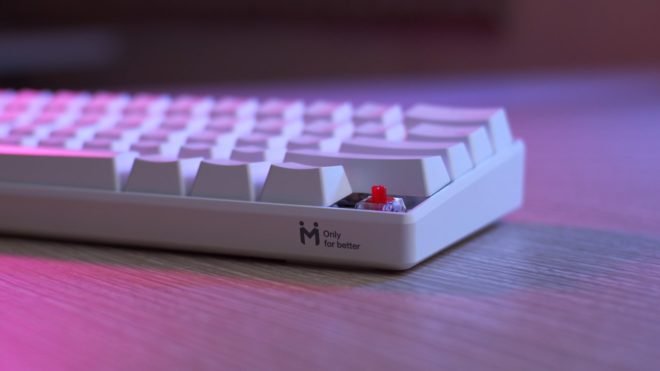 NKRO / Nkey Rollover


In terms of the NKRO feature which allows you to press multiple keys at the same time without conflicts, as per my testing, it is working fine surprisingly even on Bluetooth mode which is pretty awesome. I can press up to 10 keys and they are all registering on any given zones or layers on the keyboard. The same with wired mode as expected.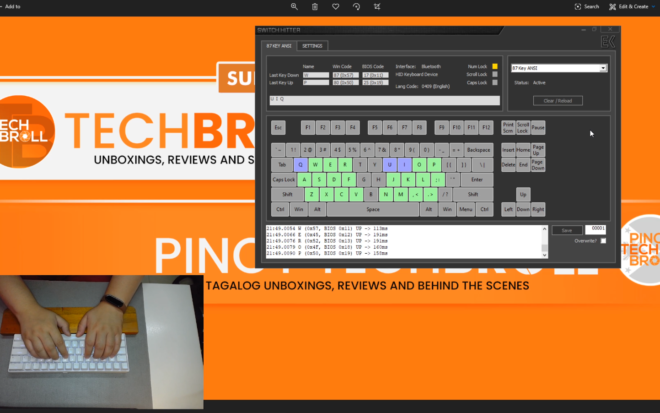 Battery Life


As for the battery, the Maibenben DMK01 has a built-in 800mAh of battery that can last up to 10 hours of continuous usage. It's not that much, to be honest, but it should be enough to last you a day with power-saving mode kicking in from time to time. The charging indicator is located on the spacebar as you can see here.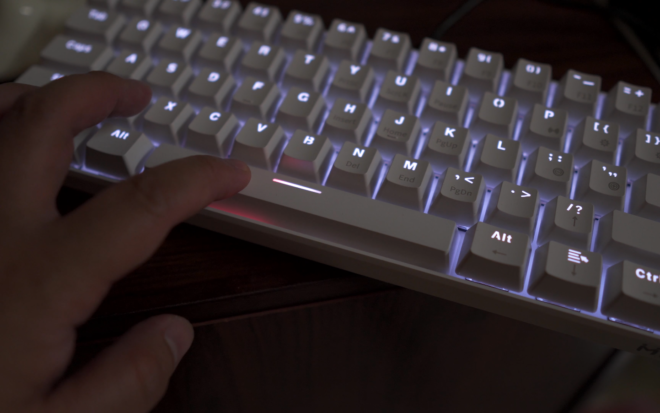 Unfortunately, it looks like the Maibenben DMK01, unlike the RK61, doesn't have software as I can not find one online.
VERDICT


To conclude, the Maibenben DMK01 is proven to be almost exactly the same as the Royal Kludge RK61 and I would not be surprised if they have the same manufacturer. With that being said, aside from the fact that the Maibenben DMK01 doesn't have a software, it is also a good option if you can find one that is cheaper than the Royal Kludge RK61, otherwise, just get the RK61 as it has an accompanying software and is also available in an RGB variant.
Maibenben DMK01 Review VS Royal Kludge RK61
Thanks to
Banggood
for making this review possible, you can get these keyboards from their official website, link below.
If you like this one, please consider subscribing to my channel by hitting the button below. Have a great day!

WHERE TO BUY:

BANGGOOD:

Maibenben DMK01: http://bit.ly/39hxp1J
Royal Kludge RK61: http://bit.ly/2OsWXk7
$35.99 code for RK61 : BGRK61R
10% off code :BGTOMEX (for all keyboards and mouse )

Price may vary depending on existing promos
The views and opinions on this review are solely based on my own personal experience, your results may vary
SHARE THIS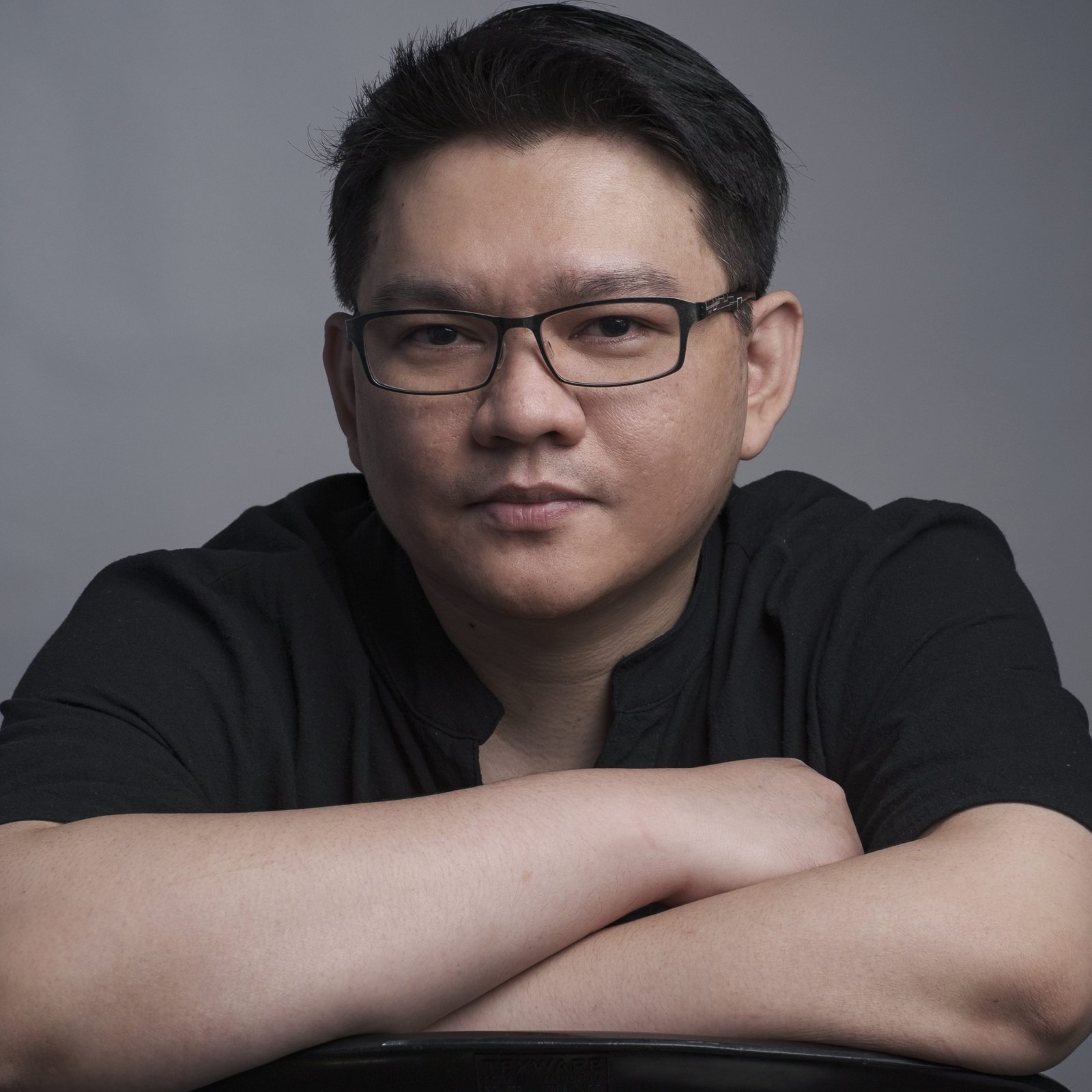 The Broll who always got your back online!