A few months back I reviewed the AKKO 3108 DragonBall Z Goku Mechanical Keyboard and it is certainly a very interesting keyboard. AKKO 3108 actually has a lot of versions or themes not just the DragonBall Z. There's the AKKO 3108 Tokyo World, 9009 Retro, Beijing World Tour, Ocean Star, Horizon Skyline and others. But what's good about it is that you can actually get just the keycaps of some of these keyboards separately if you don't need the keyboard. One good example is the set of keycaps that we have right here.
Today we're taking a look at a couple of DragonBall Z peripherals including a set of AKKO Vegeta Keycaps for a perfect super saiyan setup! with that said, let's get into it.
MY EARLY BREAKDOWN
AKKO Vegeta Keycaps


Pros:  Good build quality, Good print quality, Perfect color combination
Cons: Limited layout compatability 
AKKO RG325 Gaming Mouse


Pros: Good design, Good matte finish texture, Perfect color combination
Cons: Stiff cable, mushy or crunchy buttons, budget sensor
SPECIFICATIONS
AKKO DragonBall Z Vegeta Keycaps


Brand Name: AKKO DragonBall Z Vegeta Keycaps
Keycaps: 115 Keys
Language: English
Layout: ANSI Standard
AKKO RG325 Goku Gaming Mouse


Brand: AKKO
Model number: RG325
Colour: Orange
Type of interface: USB
Number of keys: 6 PCs
Optical resolution: 5000dpi
Sensor: PWM3325
Wire lenght: 1.8m 
Scroll Wheel: Metal CNC
Materials: ABS Plastic
Switches: Omron microswitches (50 million clicks)
WHAT'S IN THE PACKAGE

Alright guys, like i said earlier, a few months back I reviewed this keyboard, the AKKO 3108 DragonBall Z Goku Mechanical Keyboard, this is a full-sized keyboard with Cherry MX Brown switches and PBT Dye sublimated Goku themed keycaps,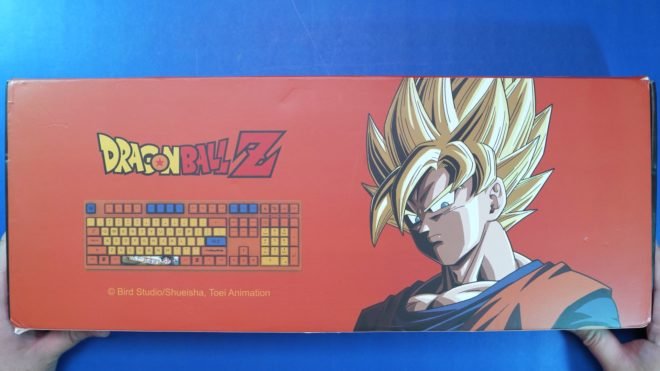 And today, we'll follow that up with a quick review of the AKKO RG325 Goku Gaming Mouse, and of course, his rival, a set of Vegeta dye-sublimated keycaps.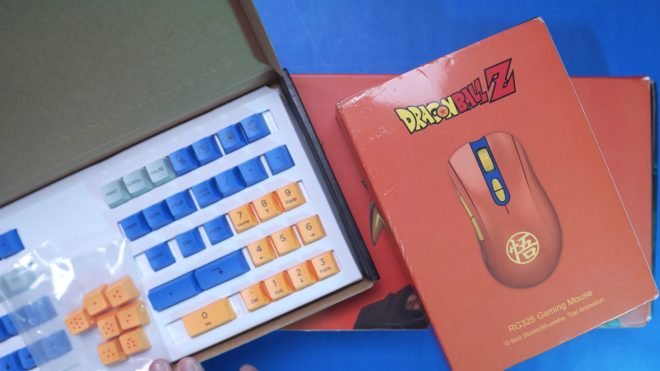 OK so let's unbox the AKKO DragonBall Z Vegeta dye-sub PBT keycaps first, In front of the box we just have an AKKO logo,
And at the back, we have some contact information of AKKO though mostly in Chinese.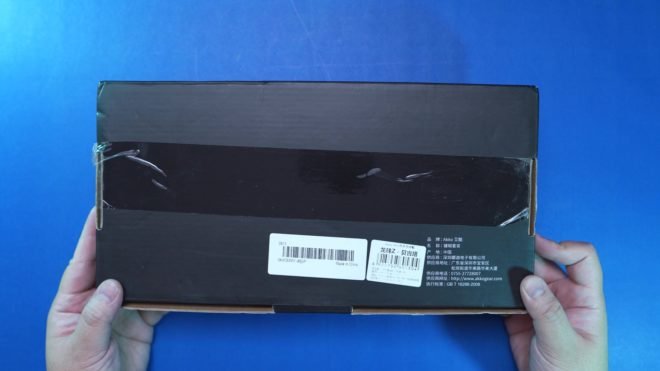 Inside the box, the first thing we'll see is the first layer of keycaps and a separate plastic for the 7 DragonBall novelty keycaps.
FULL REVIEW
Design and Parts Overview


The quality of these keycaps seems to be pretty decent and I've seen this before with my review of the AKKO 3108 Goku since it also comes with the keyboard.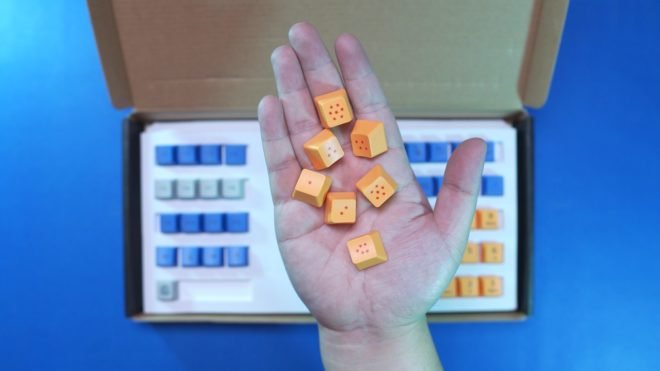 On the first layer, we have the function row, arrow keys, escape, and then the complete nav cluster as well as the keys for the numpad and the 4 extra keys for the calculator and media keys.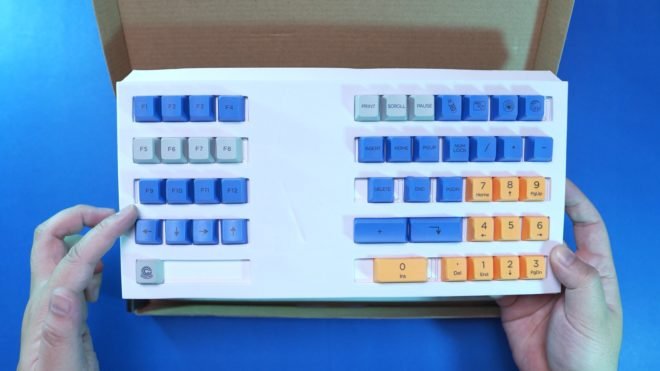 Next, we have the second layer where we have the alphas and the modifiers, as you can see, the color combination of this set of keycaps perfectly matches the aesthetics of the character, Vegeta with a dedicated colorized image of Vegeta on the spacebar. We'll take a closer look at that shortly but that's about it when it comes to the unboxing experience of this set of keycaps.
Here's the complete set for your reference before we install it on the AKKO 3108 keyboard. This keycap set is ANSI standard so it should fit most prebuilt keyboards out in the market.
AKKO Vegeta Keycaps – Construction and Overall Quality


Now, looking closer on the keycaps, this is made of PBT plastic with Dye sublimated legends, this means the keycap is durable and the legends will not fade away because of the way it is printed on the keycap. Dye sublimation uses heat to penetrate the ink through the keycap and makes it a part of the plastic.
In terms of build quality, it is quite decent, hard with a thickness of around 1.3mm which is almost about the same as some Doubleshot keycaps. The profile of these keycaps is OEM.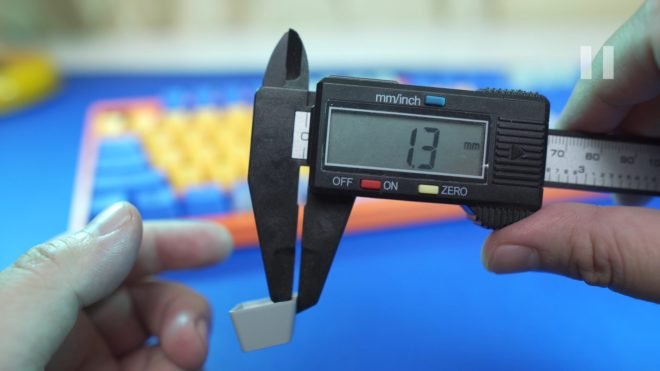 Now, this keycap set consists of 115 keycaps and once you remove the keycap from the packaging you will see the corresponding key for that particular keycap which I think is a pretty nice touch and I always appreciate this kind of attention to detail. As you can also tell, this set of keycaps has a combination of blue, bluish grey and yellow that like I said earlier, perfectly represents the character, Vegeta.
5D Vegeta Dye Sublimated Spacebar Keycap


Speaking of Vegeta, let's take a closer look at the dye sublimated Vegeta character on the spacebar, it is a 5D dye sublimated keycap and the quality, in my opinion, seems to be pretty decent, the printing is smooth and you'll barely feel the printing at all which for me is very important.
We also have other DragonBall Z legends on some of the modifiers like with the windows key, shift and enter key. 
Fonts


In terms of the fonts, the alphas are significantly larger compared to the modifiers and the numbers row up top. Overall, I really like this set of keycaps but let's install it on the AKKO 3108 Goku edition and see how it will look like with both of their color schemes combined or let's just say, fusion!
Alright so here's the AKKO 3108 Goku Edition, As you can see the color scheme is dominated by the color orange that represents the character Goku but I feel like it is too much orange, even for my standard, as you all know this has TechBroll colors all over it but it's still overwhelming, to say the least.
Now looking at the Vegeta set of keycaps, I feel like it's going to turn out great. But before that, let's take a closer look at both of the dye sublimated characters here, as you can see, they both about to fight the hell out of each other haha! both spacebar printing looks really good.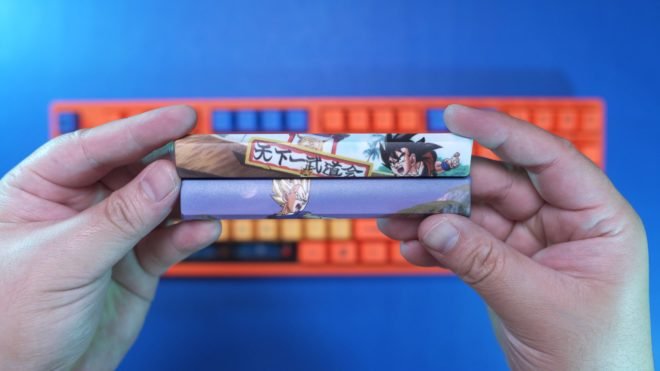 Alright, so as you can see, the AKKO vegeta keycaps perfectly match with the AKKO 3108 Goku edition with a balance of orange, blue and yellow. Unfortunately, I don't think you can get this keyboard with this fusion off the shelves. Both versions, the Vegeta and Goku keycap set is available as a standalone keycap set or with an AKKO 3108 keyboard, the orange variant is for Goku and the blue variant is for Vegeta. You can check the links at the end of this article if you're interested.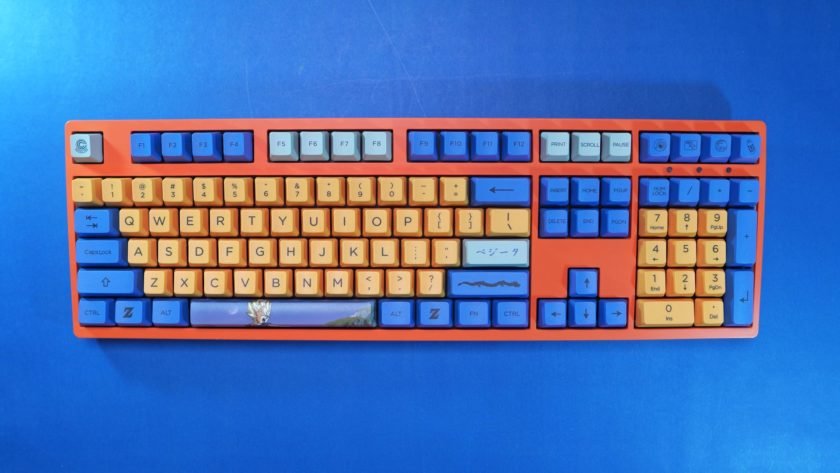 The quality like I said is very good, especially with the dye-subbed Vegeta character on the spacebar and the color combination is also very nice.
The fonts are clean with bigger ones on the alpha keys, and there are more DragonBall Z legends on some of the modifiers that compliment the overall aesthetic of the entire keyboard.
We also have the usual color contrast on the function rows up top with an additional four keys for the calculator and media keys.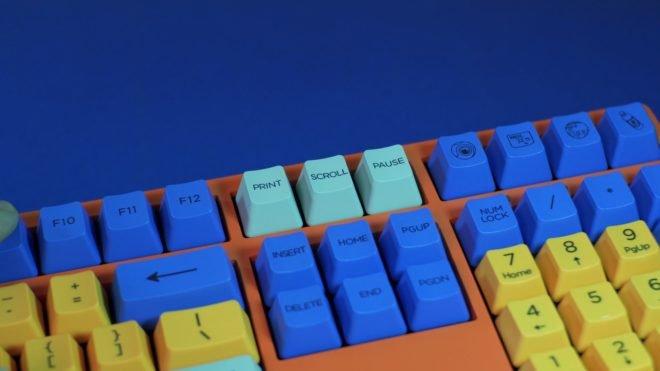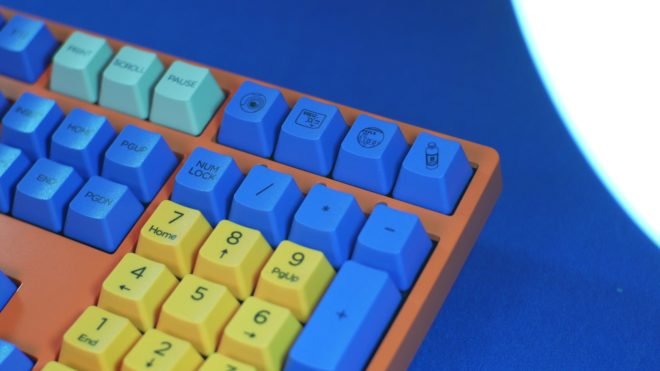 And of course, we have the iconic capsule corp logo on the escape key.
Now, if you want to hear a typing test for this keyboard and keycap set, I'll grab this opportunity to lead you to my review of the AKKO 3108 Goku Keyboard which you can check out here.
And that's pretty much it for the Vegeta keycaps, I think I've discussed more than enough about it so let's move on to our next DragonBall Z product which is the AKKO RG325 Gaming Mouse Goku Edition.
AKKO RG325 Goku Gaming Mouse Review


The packaging is pretty straightforward with a nice Goku image much like the packaging of the AKKO 3108 Keyboard Goku edition.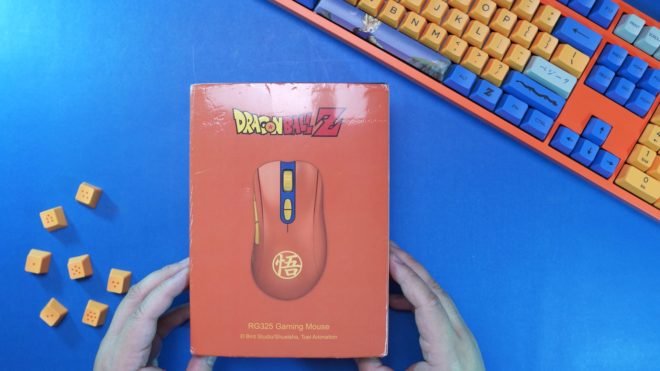 At the side of the box, like the keycap set, we also have some contact information of AKKO.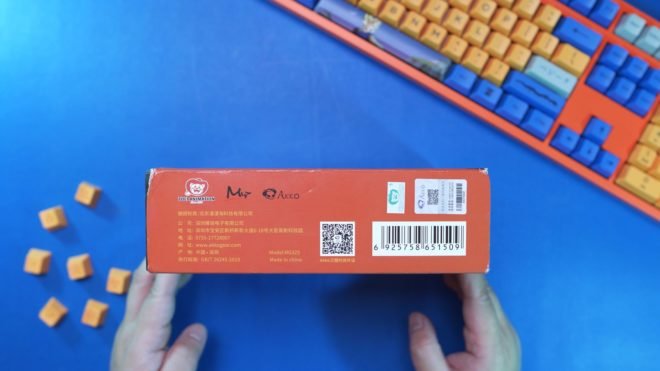 And then on the other side, we have a preview of the mouse and a Dragon Ball Z logo.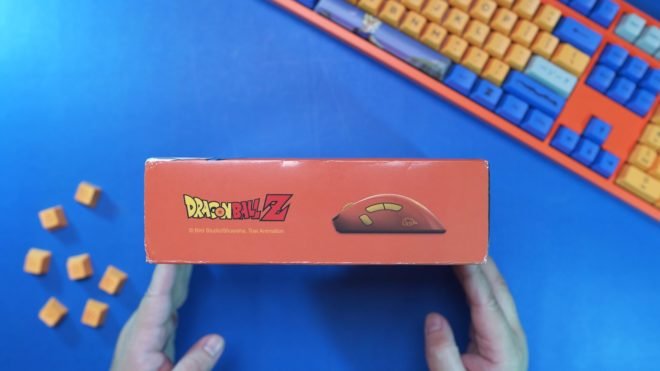 The packaging of AKKO products is actually pretty decent, I've unboxed quite a few already and they are all well packed and the design is also good.
So right here we have the AKKO RG325 Gaming Mouse Goku edition nicely tucked and protected inside.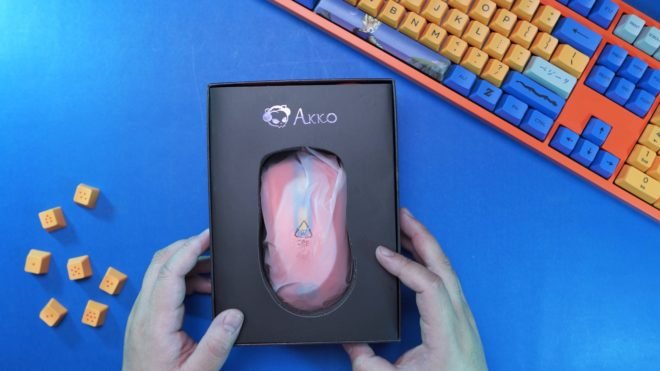 Underneath it we have a couple of replacement mouse feet which is very nice.
And then we have this usual paperwork that I always see in AKKO packaging that I can not understand, probably a warranty card or something like that.
Design, Construction and Parts Overview


Now, let's take a look at the AKKO RG325 mouse itself, at first touch it feels good with a nice matt finish, it weighs roughly around 98g as per my own measurement which is kinda heavy in today's standard, but the overall look and feel is really good.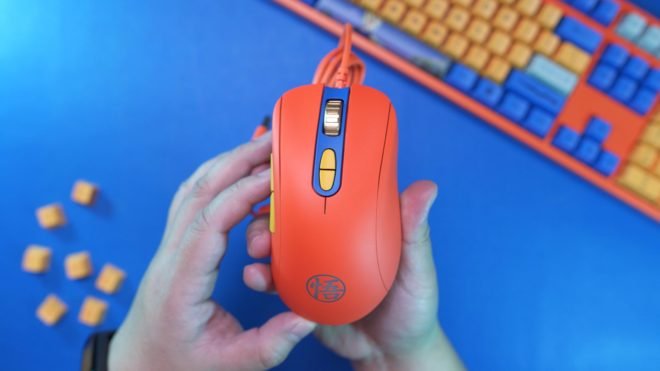 In front, we have the left and right mouse clickers, I believe these are Omron switches, and then we have the color gold scroll wheel which is actually made of metal, and then we have the two DPI adjustment buttons and as you can see we have different accent colors that represent the character Goku.
And then at the rear end we have an illuminated logo.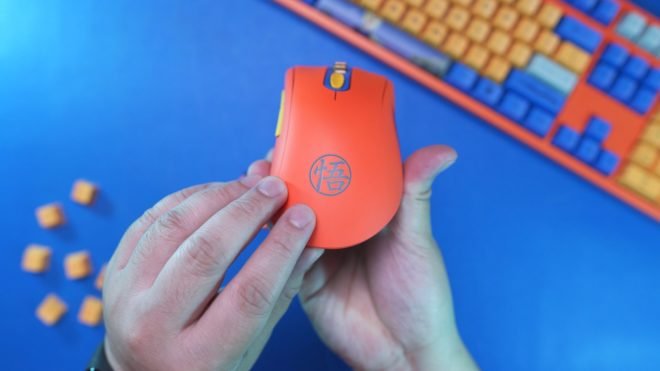 On the left side, we have here a nice Kintōun cloud image, and then we have the forward and back button as well as an extra button.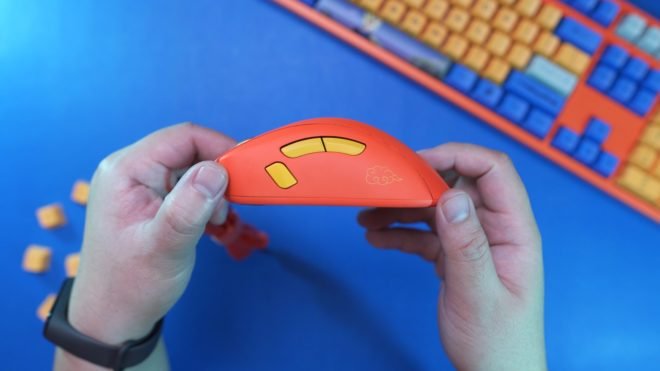 Flipping it at the back, we can see the curvature which indicates that this is for right-handed users.
And then on the other side, we can see the tall bump of this mouse, we'll talk more about that later.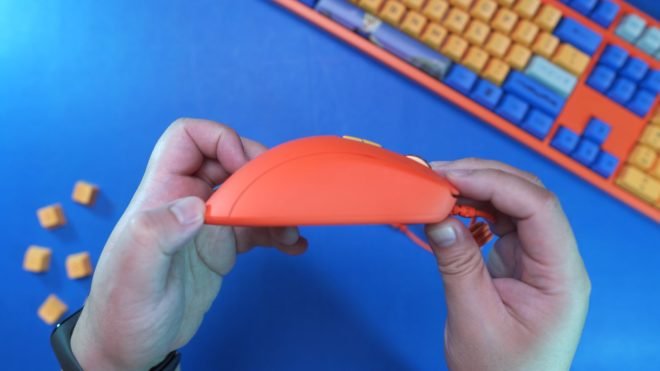 In front of the mouse, you can see the profile of the clickers as well as the said curvature.
And then finally, at the bottom, we have 2 mouse feet, a DragonBallz logo, the PMW 3325 sensor and a few other details here.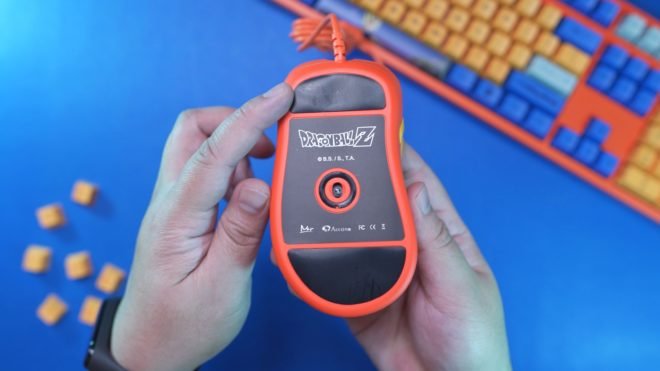 The cable is not braided but it has a velcro strap and the USB plug is gold plated. Right of the gate, the cable feels stiff but we'll discuss more on that later.
By the way, this is just a quick review because our goal here is to feature these DragonBall Z products but I'll still try to cover as much as I can before this review get's too long for you guys.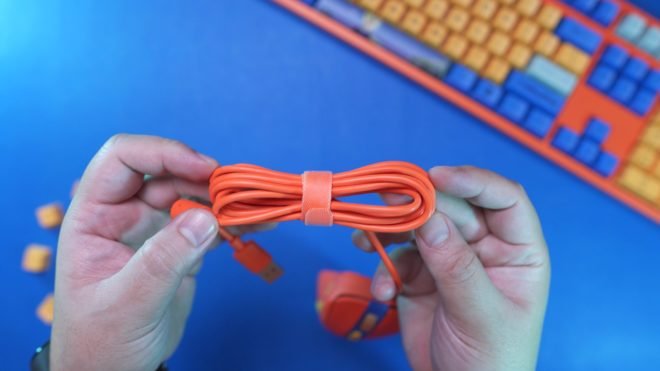 Shape


Now, in terms of the shape, the AKKO RG325 has a resemblance of the Rakk Kaptan gaming mouse but a little bigger.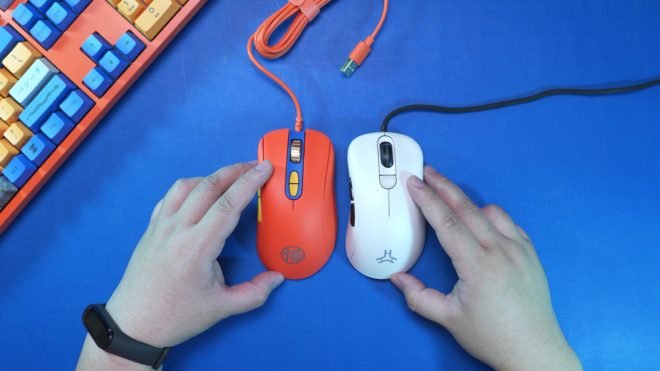 They both have a tall bump which may be good or not depending on your preference and how you grip a mouse.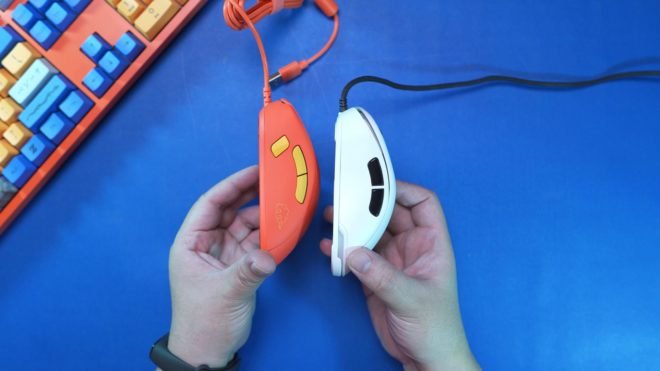 The AKKO RG325 mouse is quite long with a tall bump around the center, and because of that, depending on the size of your hands, your palm might sit on the mouse itself, and in my opinion, people with small hands could find it difficult to hold this properly and will have a hard time reaching the side buttons especially the forward and the extra button at the far end.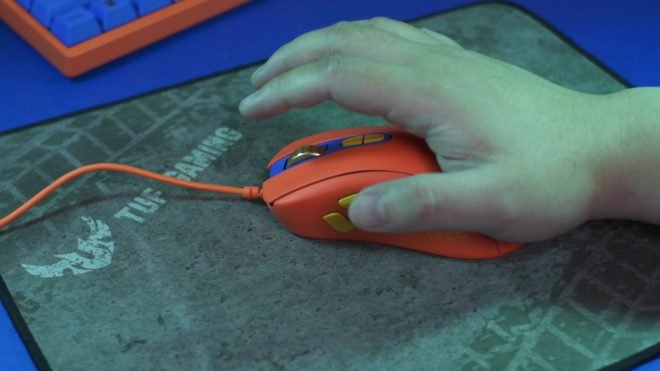 Buttons


As for the side buttons, they are clicky but a bit loose.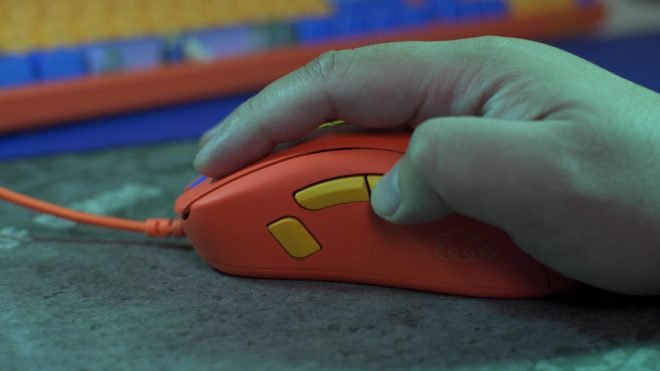 Now, one of the things that I don't like about this mouse and might be a deal-breaker, is that the mouse clickers feels odd, I don't know how to describe it properly but it feels crunchy and the up and down travel is not smooth at all, you can hear and feel a squeaking sound when you click the buttons slowly which is kinda messing up with my OCD.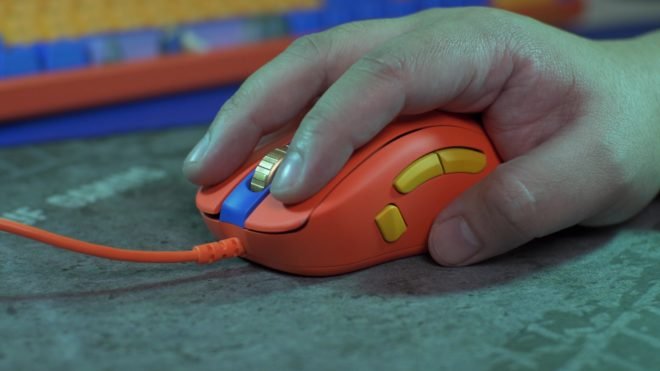 Scroll Wheel


In terms of the scroll wheel, it is made of metal with notches to it though I feel like the tactile feedback is a little bit weaker than I would prefer. It is stable without any wobble and has a nice tactile click to it which is a good thing.
PMW 3325 Sensor 


Now, in terms of the sensor, it is using a PMW 3325 sensor which is a budget sensor and is only capable of up to 5000 DPI, but unless you're a high DPI user, this mouse should be fine.
It has a max tracking speed of 100 IPS with an acceleration rating of only 20g. As per my testing, I tried my best to have it spun out to no avail, tracking is also decent and most certainly capable for casual gaming.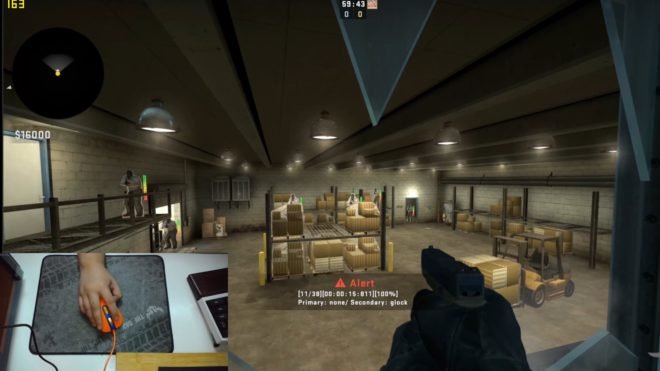 However, if you're serious about FPS gaming, there are other gaming mice out there that have far better sensor than this. But if you play other games such as Moba, RPG and stuff like that, this should be fine.
The two mouse feet are quite decent, but I am not happy with the rather stiff cable and other than the sensor, it might be another deal-breaker for serious FPS gamers.
But in my opinion, most often than not people will get this primarily because of how it looks rather than how it performs in FPS games so there's that. Unfortunately, I can not find any software for this mouse so we're pretty stuck with its default settings.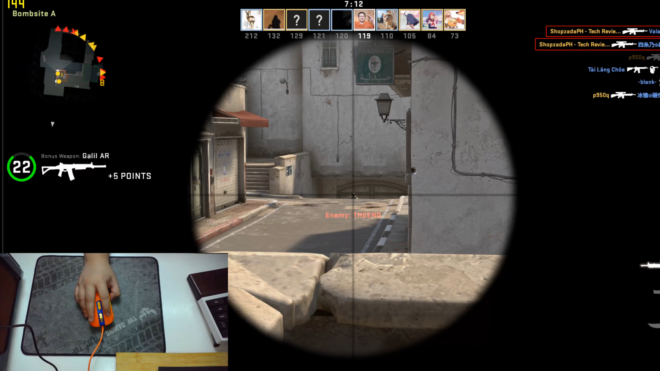 Alright, guys, so as you can see, the AKKO 3108 Goku keyboard + the AKKO Vegeta keycaps and the AKKO RG325 Goku gaming mouse is a match made in heaven, it's perfect and I really like how it turned out.
VERDICT


To conclude, if you already have a keyboard and you're a fan of either Vegeta or Goku, you can just grab the keycap set only and use it on your keyboard, as long as your keyboard is ANSI standard and uses Cherry MX style switches, it should be compatible. On the other hand, if you particularly like the complete package of either the AKKO 3108 Vegeta or Goku, then you can also opt for the full keyboard variant, it's totally up to you but all of them are quite decent and the AKKO 3108 is a pretty solid keyboard. As for the AKKO RG325 Gaming Mouse, I can only recommend it if you specifically want the design and the novelty of this Goku themed mouse and if you're not a competitive FPS gamer. For casual gaming and games like Moba, RPG and the like, the AKKO RG325 is more than capable.
AKKO DragonBall Z Keyboard and Mouse – AKKO RG325 Review
Thanks to 
Banggood
for making this review possible, you can get this keyboard, keycaps and mouse from their official website, link below.
If you like this one, please consider subscribing to my channel by hitting the button below. Have a great day!

SHARE THIS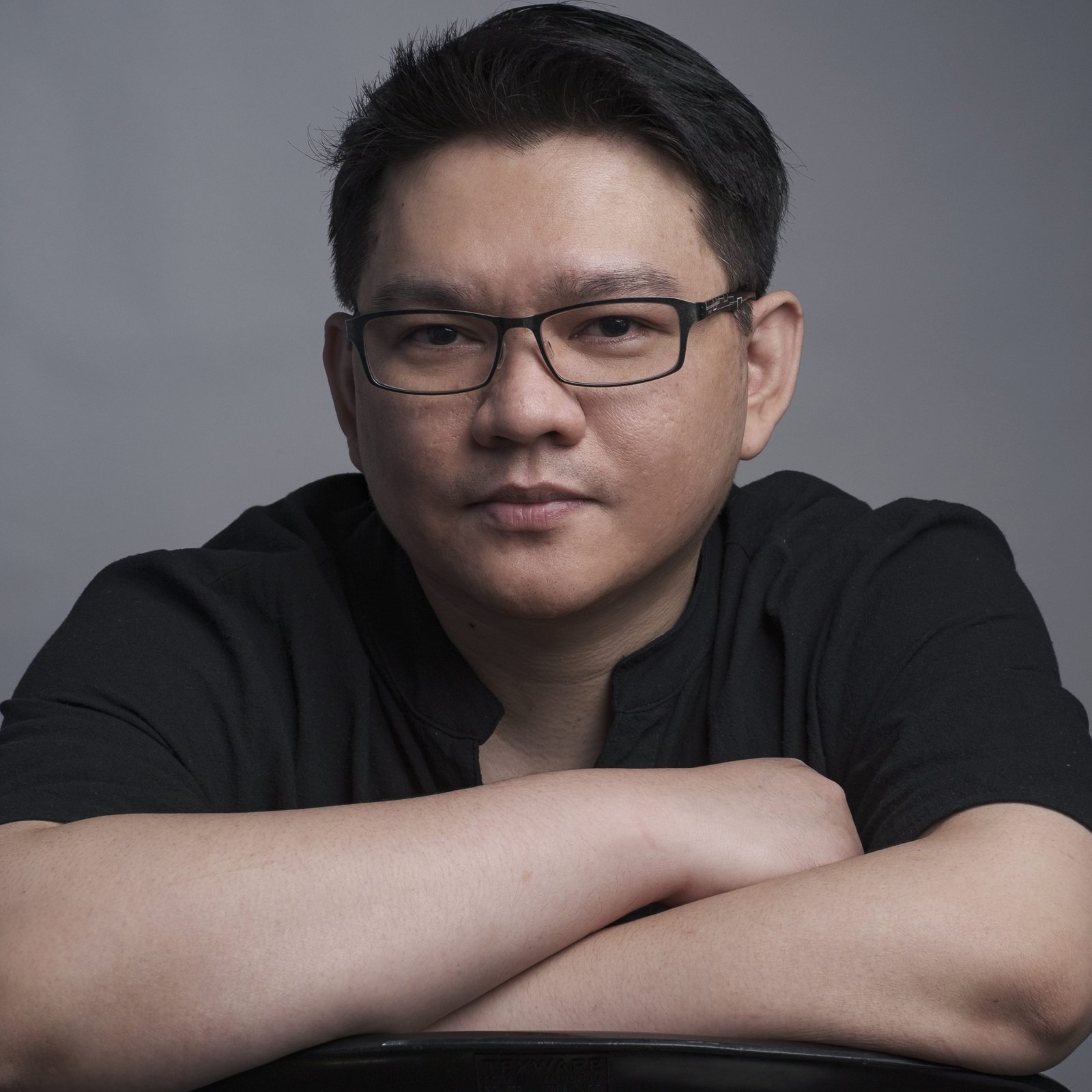 The Broll who always got your back online!