Rakk Gears has been consistently improving their lineup of mechanical keyboards and I always been just a lurker, following their progress since their Kimat lineup, but to be honest, I haven't really found myself wanting any of their previous keyboards, I feel like there's really nothing special with them except for the recent one, the Rakk Ilis with its dual numpad/arrow keys function and interchangeable top cover. I felt like that was the start of innovation from Rakk Gears when it comes to mechanical keyboards. I had my eyes on that board since it was released but unfortunately, I didn't have the chance to get one myself. I procrastinated and procrastinated until such time that I ultimately lost my interest.
Come the present time as they prepare the release of their new keyboard, a keyboard that they say will revolutionize the budget mechanical keyboard market, my interest again was poked. Lots of leaks, teaser images were surrounding our community and the keyboard looked really promising at least based on the leaked info and images. This time, I told myself that I won't let this pass by and I had the feeling that this would be my first ever local brand mechanical keyboard review.
The keyboard we're talking about here is the Rakk Lam-Ang, the keyboard that I deemed worthy for my first local keyboard review. TLDR; simply put, it is the best keyboard that Rakk Gears has to offer.

MY EARLY BREAKDOWN

Pros: Universal Socket, USB Passthrough, Wireless with outstanding battery life, Dedicated volume/led brightness wheel, Interchangeable top cover
Cons: No linear switch available out of the box, Thin top cover screw holes
RAKK LAM-ANG LINEUP

Rakk Lam-Ang Lite
– Hot-swappable but for Outemu switches only
– Switches available: Outemu Red and Blue
– Detachable USB Type-C Cable
– No Bluetooth feature
Rakk Lam-Ang Pro
– Universal Socket: All switches are compatible as long as it is plate mount type
– Switches available: Kailh Bronze Speed and Kailh Box White
– 1000hz polling rate
– 16.8m True RGB Illumination (SMD)
– Dual-Mode: USB Type C / Bluetooth 3.0
– 2000mAh Battery
– USB Pass-Through
– Volume/LED Brightness Wheel
– Dedicated windows key lock button
– Win/MAC compatible
– 3 top covers included
– 1 set of keycaps included + keycap and switch puller
Rakk Lam-Ang Pro BB (BareBone)
– Same as Pro but no switches, no keycaps and no extra top cover
WHAT'S IN THE PACKAGE
The Rakk Lam-Ang will actually be available in 3 versions, the lite with Outemu switches, this Pro version with universal socket and the pro-BB or barebones. Here are the complete differences of these versions so that you won't get confused.
We have true RGB illumination, USB pass through, Bluetooth 3.0, multiple OS compatibility and built-in 2000mAh battery. This Pro version also comes with 3 different color top cover for further customization.
Please refer to images below (keycaps not included)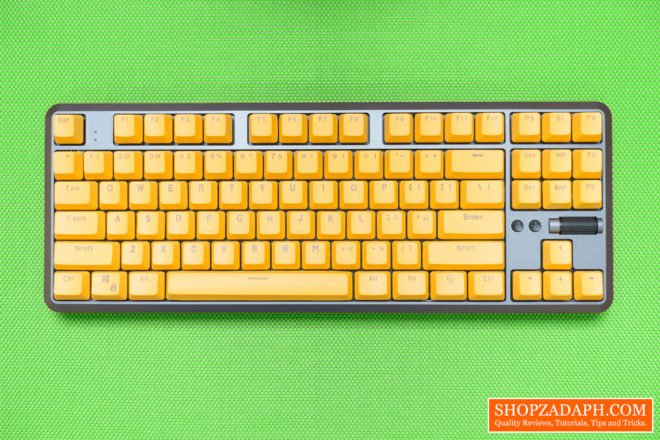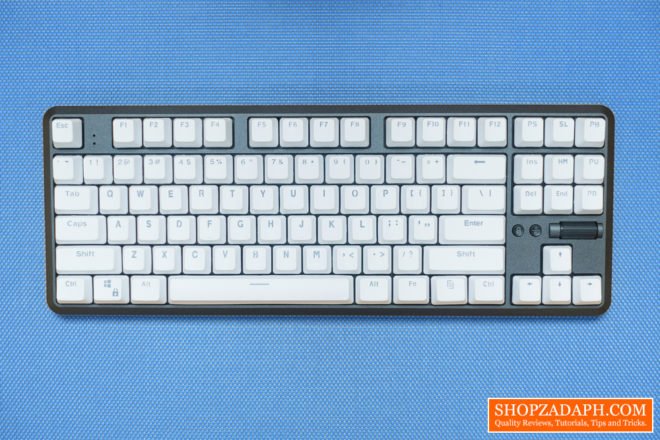 At the side of the box, we have the same model name and a Rakk logo.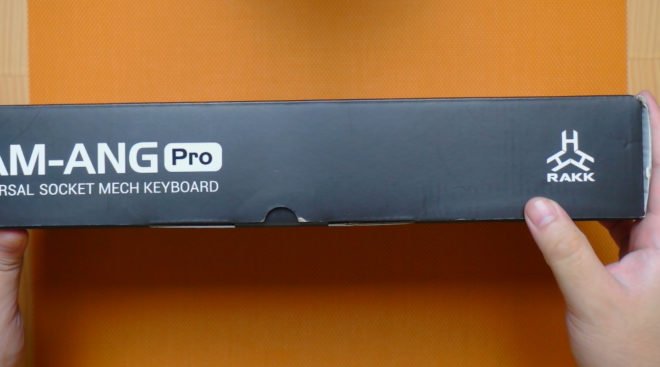 At the back, we have the main specifications on the left side, as you can see this keyboard really has a lot to offer.
The Pro version will be available in two variant of switches, the Kailh box white and the Kailh bronze speed which is a little weird since they did not include a linear switch option. This board has Kailh universal socket, so as long as the switch is plate mount type it will be compatible with this board. This is actually the first time that Rakk Gears pulled this off as their previous hot-swappable keyboard only supports Outemu switches.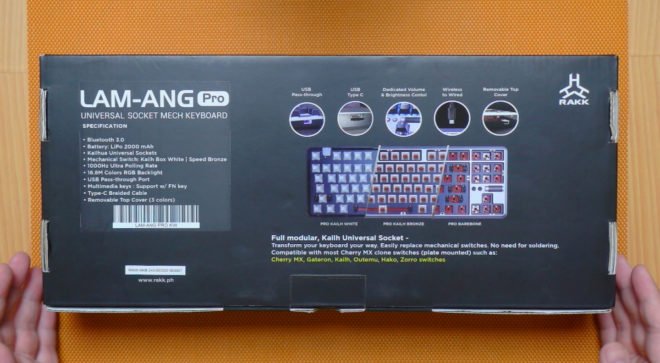 Flipping it on its side we can see that what we have here is the Kaihl bronze speed version and as I said, Kaihl box white and barebone option will also be available.
And that's pretty much it when it comes to the details around the box, so let's check what comes in the package.
Inside the box, we have a couple of additional top covers in different colors, we actually have three of them but one is already attached to the keyboard. We have a white top cover and a gunmetal colored one.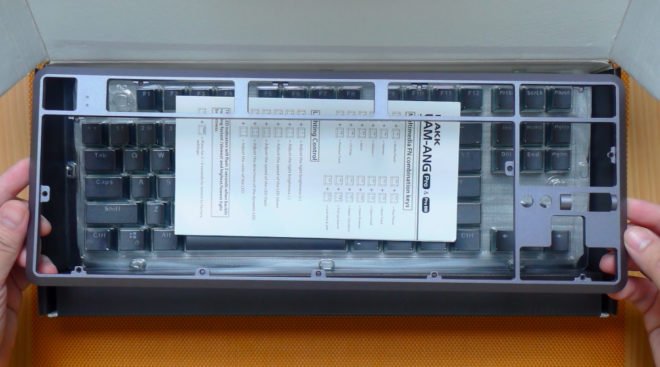 Inside the box, we also have a user guide which is applicable for both the Pro and Pro BB version. Pretty simple instruction guide and it should be easy to understand.
We also have a set of black keycaps that is unattached to the keyboard which makes sense so that you can choose what top cover you want to use first before installing the keycaps.
Finally, we have the Rakk Lam-Ang keyboard itself protected by the usual foam sleeve.
We also have a braided USB Type C cable that is gold plated.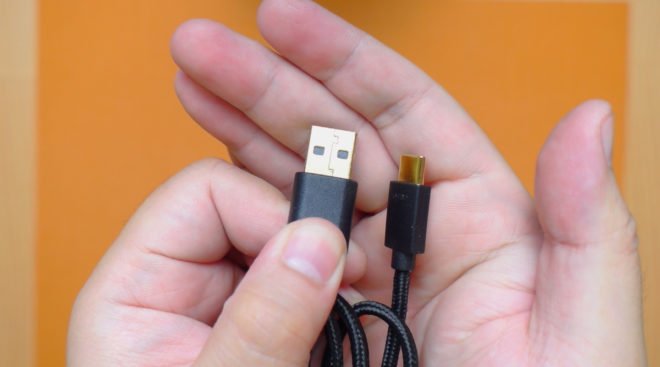 By the way, I was told that this is not the final retail version but the only missing accessories are the keycap and switch puller.
Design and Construction

Let's take a closer look at the Rakk Lam-Ang pro mechanical keyboard, out of the box it is bare naked without the keycaps.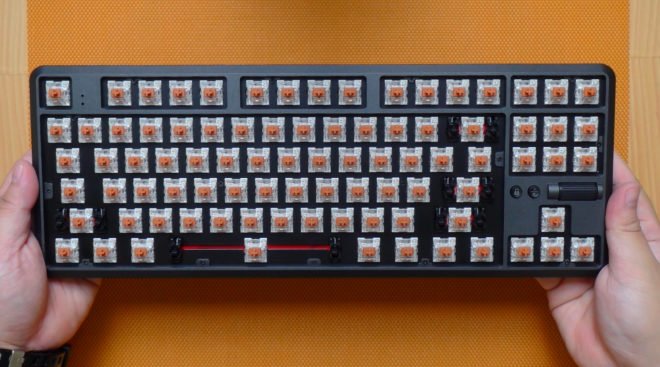 It is quite heavy with a weight of around 852g including the keycaps but it does flex a bit which is expected due to its interchangeable design with the slim top cover.
Parts Overview

At the right side above the arrow keys, we have the much-anticipated volume wheel and a couple of additional buttons that we will discuss later.
At the backside, we have the USB Type C port in a rather unusual location and a USB pass through that I really appreciate.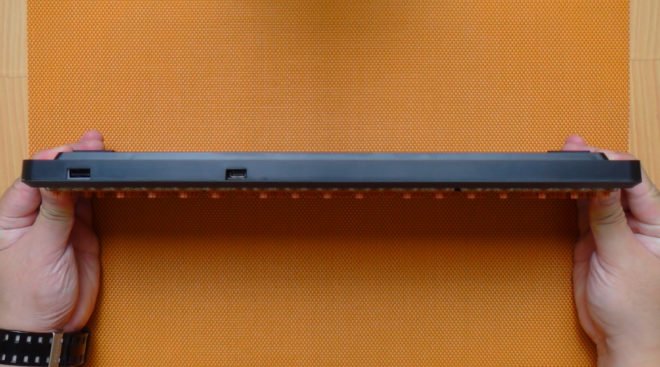 On the other side, it is just plain without any logo.
Flipping it on its side, this keyboard is quite slim with both the removable top cover and the bottom housing. It also has a small inclination with a flip-out stand for that ergonomic design.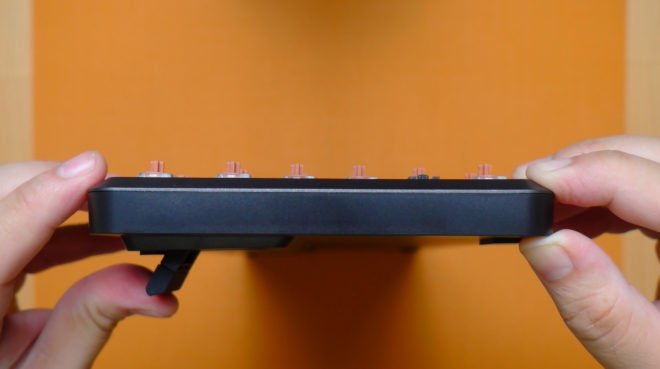 At the back of the keyboard, we have 4 rubber feet and two stands for height adjustment that fortunately, also has a rubber tip.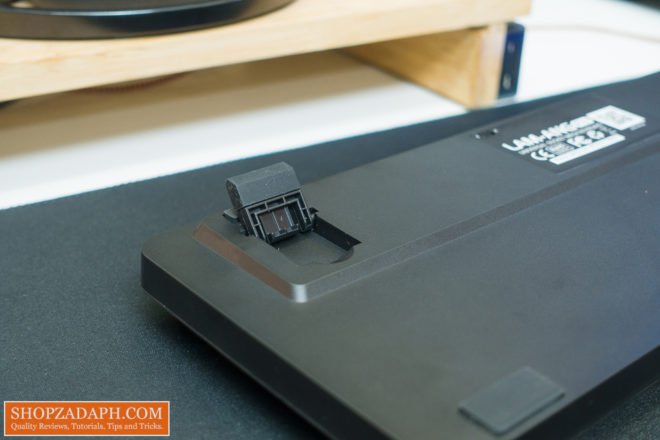 Then we have the Rakk Lam-Ang pro logo at the center and the certifications up top with the very subtle Bluetooth switch.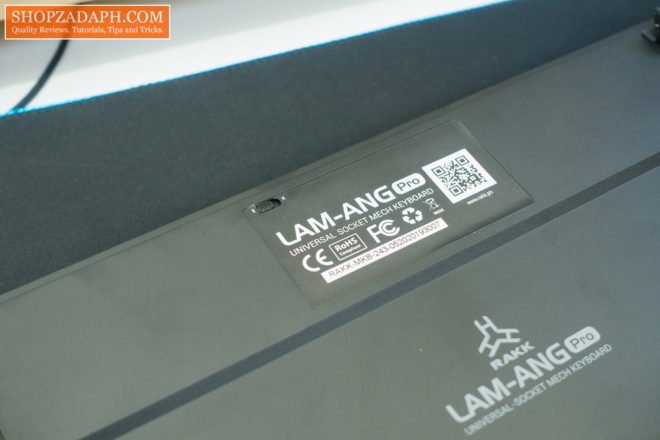 Top Cover Removal

Out of the box, the black top cover is already pre-installed. Removing it requires unscrewing a lot of screws around the keyboard but it should be pretty easy. Just make sure you keep the screws in one place so you won't lose them.
One thing I've noticed with these top covers is that some of the screw holes are a little too thin so make sure you screw it back gently without overtightening them. Once you've finally removed all the screws, you can now remove the top cover by gently popping out the clips on each side, it is pretty easy to remove but since the top cover is a little thin you need to be more careful while removing it.
That's as far as you should go when it comes to removing screws, you're not allowed to remove the two screws here at the center as it will void your warranty.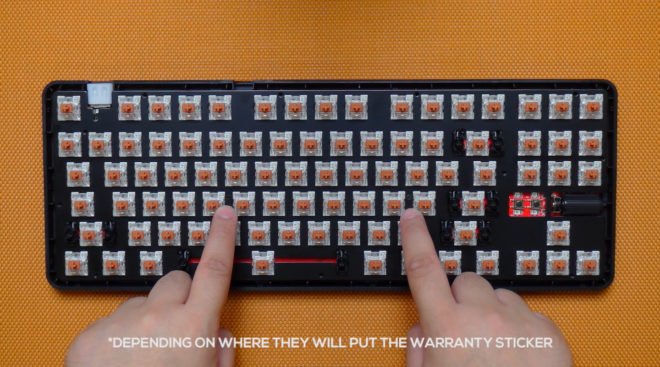 Complete Teardown

Let's tear this keyboard down so that we can check it's overall construction. 
So the USB pass-through has this plastic that protects it and at the same time helps with the illumination.
At the back of the board, we have foam protection that separates the board to the bottom housing.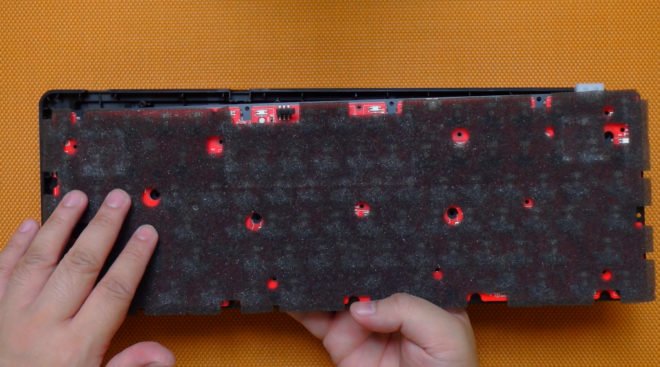 And then we have the 2000mAh battery.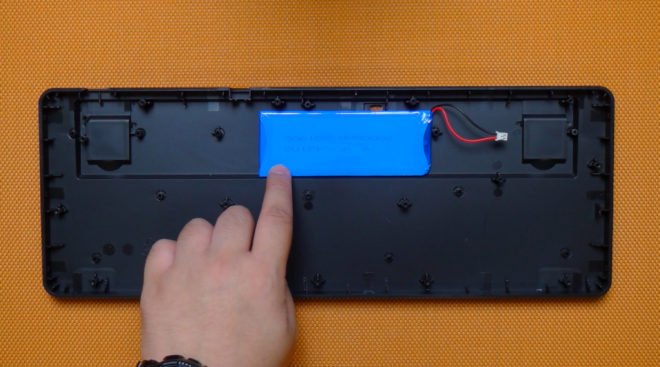 The bottom housing is pretty bare, not much construction support but that's to be expected for a budget keyboard.
For the board itself, as you can see it is pretty decent, I don't have much knowledge about electronics but this one looks pretty ok to me, clean soldering for the most part and we can clearly see the Kailh hot-swap sockets. Pretty interesting stuff for my first keyboard teardown.
And lastly, before I forgot, the size of the plate is around 1.2mm.

Customization and Top Cover Replacement

Going back to the customization options, once you're able to remove the top cover, make sure you also remove these buttons and transfer it to the other top cover.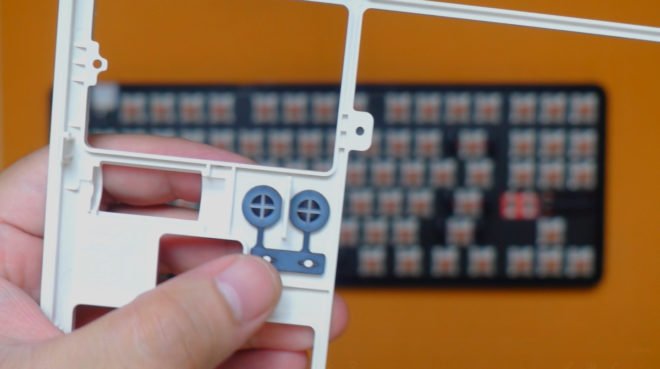 I think they should have included these buttons on each top cover to prevent this hassle, I'm pretty sure it's not that expensive.
Customizing the Rakk Lam-Ang Pro is the sky's the limit, aside from the three available top covers you can also replace the keycaps to anything that you want, you can even paint the top cover if you don't like the default colors, it should be pretty easy.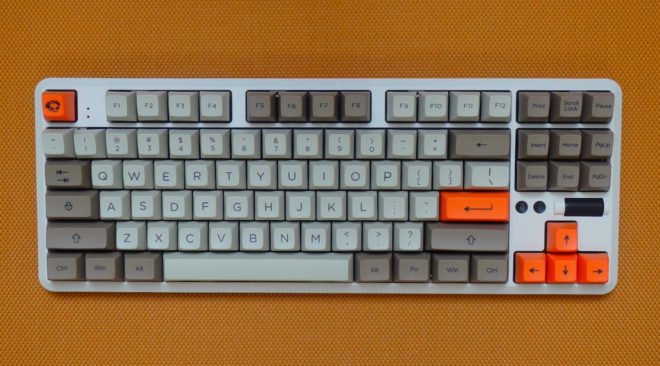 Layout and Fonts

Now in terms of the layout as you can see it is a tenkeyless keyboard so we only have the arrow keys and the complete nav cluster, as well as the function rows, but we don't have the numpad. This keyboard uses the ANSI standard layout so looking for replacement keycaps is pretty easy.
Overall, the design is pretty decent and not the typical gamery looking keyboard.
Up top, we have 2 LED indicator for charging and caps lock.
And then on the right side, we have the volume wheel that also doubles as the LED brightness control wheel.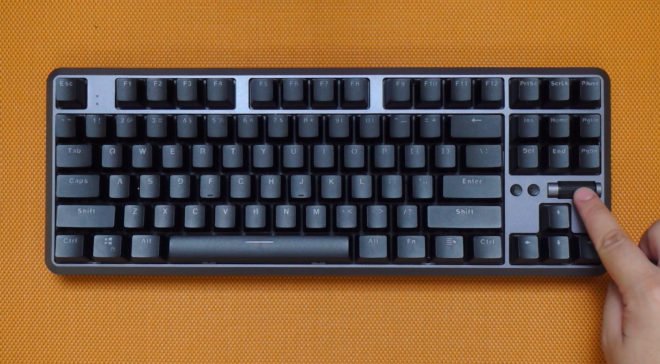 Beside it, we have the windows lock button that I find redundant since we already have the usual FN+windows key for that.
In terms of the font used for the standard keycaps that came with the package, it is decent and it is the same font used by most budget keycaps that I've seen before. It is not labeled on the keycaps but we also have the multimedia keys up top that you can toggle by pressing FN+ the function keys.


Lighting Effects

The brightness of the LEDs is not that bright, later we'll take a closer look on that.
You can adjust the brightness by pressing FN+down or up arrow keys, and then to adjust the speed of the animation, you just have to press FN + – or + keys. To change the direction of the animation, press FN+left arrow key and to change the color, just press FN+right arrow key and then you can choose among the 8 available static colors.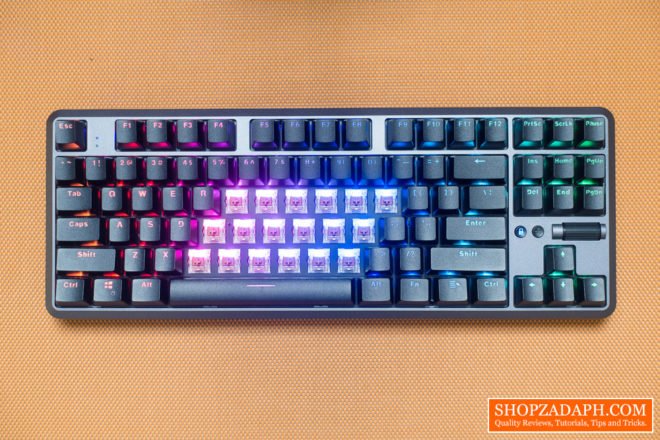 As per my count, this keyboard has 18 different lighting modes that you can toggle by pressing the combination of FN+ the keys on the nav cluster with 3 effects on each key.
Aside from the lighting effects, we also have the game mode that you can toggle by pressing Fn + 1 to 3. We have a preset for FPS with the WASD and arrow keys, for LOL and the 37 alpha and arrow keys preset.
And lastly, like other keyboards, you can also record your own lighting effects. Just press FN+tilde key to start recording, and once you're done, just press the FN+tilde key again and you'll have your own preset.
Additional Buttons and Volume Wheel

Now for the additional controls at the right side, we have the windows key lock and then we have the button to toggle the functionality of the wheel between LED brightness control and volume level control.

I was actually surprised by how frequently I use the volume wheel on a day to day basis, like for example while I'm working and someone wants to talk to me I can simply adjust the volume on the fly, and it also helps that it has notches for precise adjustments. This is certainly a good additional feature and not just a worthless gimmick.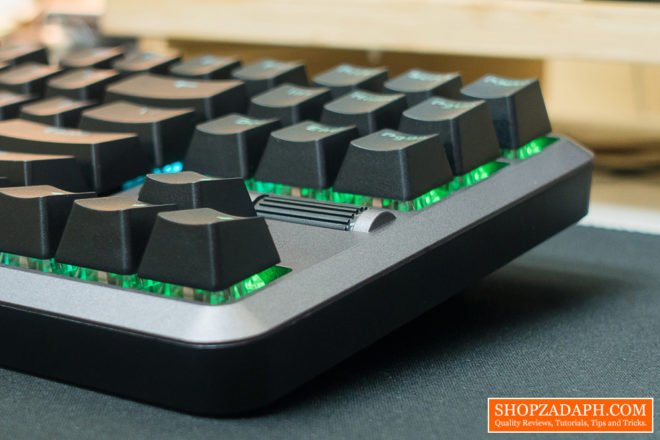 Another nice touch for this keyboard is that the USB pass-through has illumination and that you can change it to static, breathing and off.
LED Closeup Look

Let's check the LEDs on this keyboard, like most budget keyboards this one uses SMD LEDs or surface mounted LEDs which are not that bright but are still capable of up to 16.8million colors and smooth transitions making this a true RGB keyboard.
Since the LEDs are surface mounted it just passes through the hole on the switches making it not as bright as keyboards with top mounted LEDs.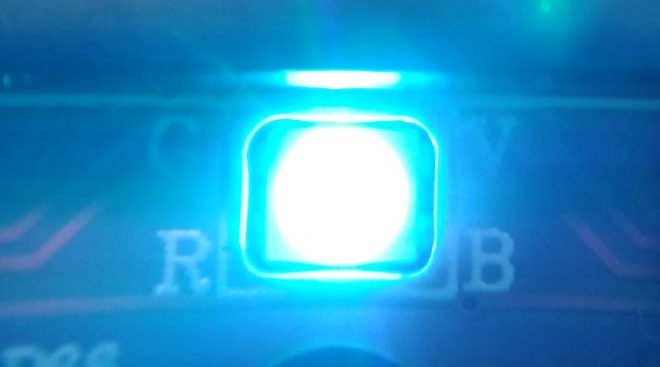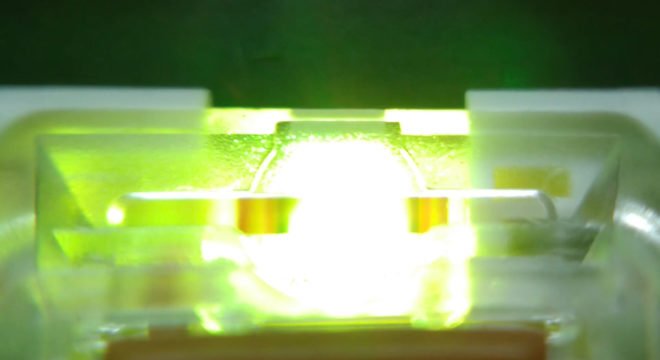 But at the end of the day, this makes the hot-swappable feature possible and I'd rather have that than bright illumination.
Kailh Universal Socket Hotswap Feature

Speaking of hot-swappable, since this keyboard uses Kailh universal socket.
You can pretty much use any switch that you want as long as it is plate mount type or the ones that have 3 pins instead of 5.
This makes it appealing to enthusiasts because of the amount of customization you can do with this keyboard.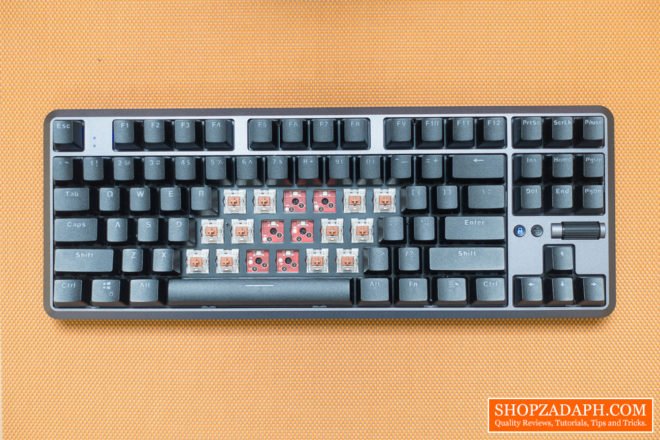 Bluetooth Connectivity

Moving on let's discuss the Bluetooth connectivity of this keyboard, you can turn the Bluetooth on using the switch at the back of the keyboard and then press FN+Tab to change to wireless mode, and this is actually a very important step and if ever you can't enter the pairing mode, just press FN+tab again.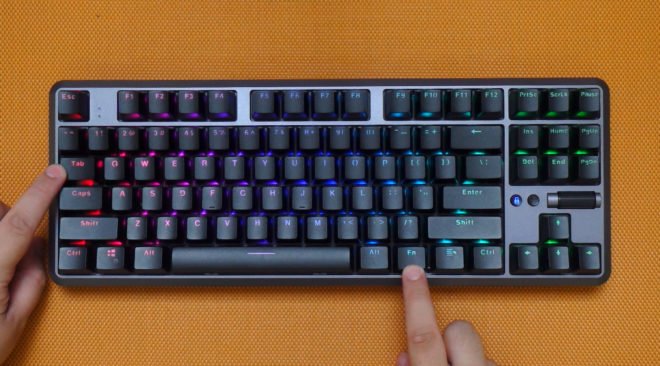 So to enter pairing mode just press FN+P for 3-5 seconds until it blinks indicating that it is now ready to pair.
Turn on Bluetooth on your other device, give it a few seconds, pair it and you're good to go and the P will stop flashing. You can connect up to 3 devices and you can switch between them by pressing FN + Q, W or E.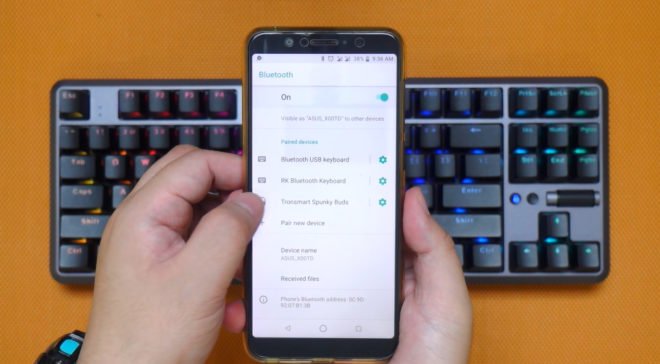 As mentioned on the box, this is compatible with both Windows and Mac OS, and to switch between them you just have to press FN + A for windows and FN+S for MAC OS.
USB Pass-Through

With regards to the USB Passthrough, this is also one of the many additional features of this keyboard that I really appreciate, it does work quite well for low powered devices such as flash drives and you can even use it to connect your phone to your PC and transfer files and technically charge it at the same time, I tried an external hard disk and as expected, it wasn't able to provide enough power; obviously, it will not work in wireless mode.
Switch and Keycaps

We'll now move on to the switches. This keyboard as also mentioned on the box has Kailh bronze speed switches which is clicky and requires 50g of actuation force but with reduced actuation and travel distance to compete with Cherry MX speed silver switch.
This switch unlike any other clicky switch that uses click jacket, has instead, a click bar that produces a higher pitched click sound.
Interestingly enough, it also doesn't have a tactile bump on the stem but since it has a click mechanism, you'll still feel tactile feedback. I also noticed that the Cherry MX blue's click is only when being pressed while the Kailh bronze speed clicks on both press and release.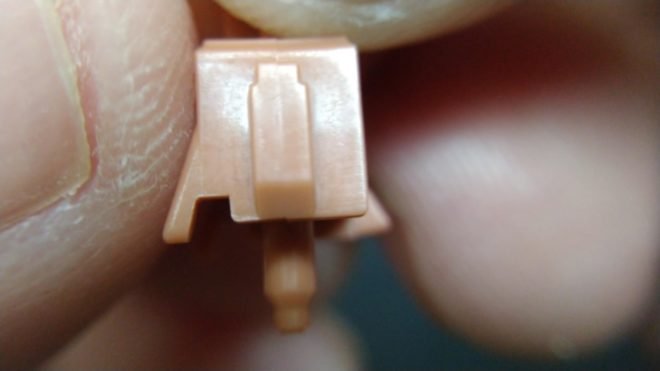 It is definitely a different experience compared to most clicky switch that I've tried before. With that said, it is good for gamers who likes shorter actuation point but still prefer a clicky feel which also makes it ideal for typing.
Now for the included keycaps, this keyboard uses ABS keycaps with laser-etched fonts. It is double shot which means it has a separate material injected inside it for the legends and it will not fade away over time, but since it is ABS plastic, it will eventually inhibit shine after a period of time.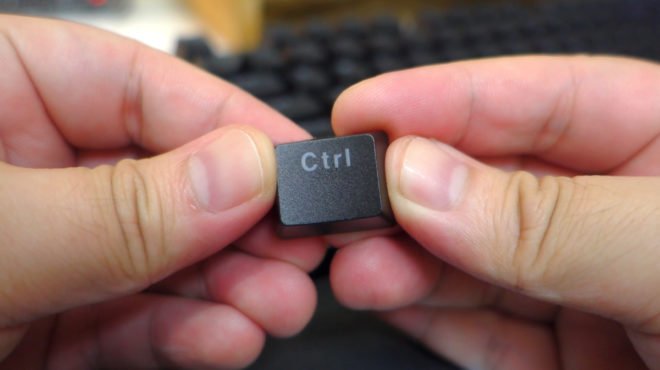 The thickness is around 0.9mm since the doubleshot material doesn't span across the entire keycap.
Stabilizers

When it comes to the stabilizers, it is surprisingly decent, there's just a bit of rattle but I've seen worse from previous keyboards of Rakk Gears and this is a good sign with the Rakk Lam-Ang Pro. It seems to have a touch of factory lube as well but not as generous as other keyboards that I've tried before.
Size Comparison

Here's a quick size comparison between the three most popular form factors of a keyboard, the full size, the tenkeyless with the Rakk Lam-Ang Pro and the 60% form factor.

N-Key Rollover and Performance

Let's move on to the performance of this keyboard, I was actually surprised because the NKRO or the feature that allows you to press multiple keys at the same time without any conflicts worked flawlessly in Bluetooth mode with at least 10 keys being pressed at the same time without any issue, and of course, it also works in wired mode. This is a good sign which means you'll have no problem using this for fast typing in both wired and wireless mode.
Speaking of Bluetooth mode, another surprise for me is that it doesn't have any perceivable input lag even if it is only Bluetooth 3.0 as per specifications, I didn't encounter any delay in both typing and gaming throughout the duration of my testing.
Battery Life

Battery life is also outstanding and as per my real-world testing, a single full charge lasted for a whopping 31 hours with LEDs turned on, but this is also with the power saving mode kicking in from time to time when I am away from the keyboard for 5 mins as I usually use a keyboard on a day to day basis. And for me that is pretty awesome, with the same test, the Motospeed CK62 and Royal Kludge RK71 only lasted for about 24 hours and 19.5 hours respectively.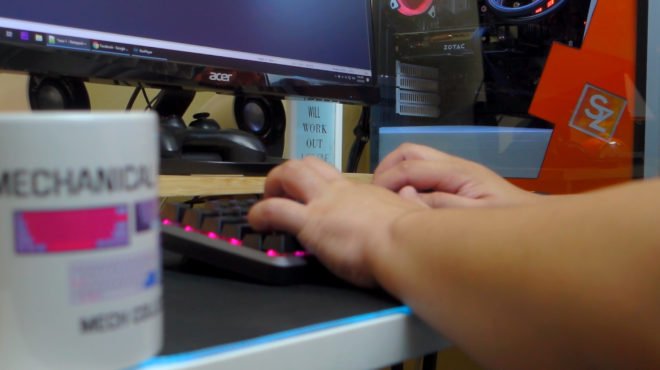 Typing Experience

Now when it comes to the typing experience, the Kailh bronze speed will definitely give you a different experience with its linear stem and double high pitched click sound especially if you're coming from the usual Outemu and Gateron budget switches. I really don't have major complaints about it except for the fact that I don't personally like clicky switches. So again it will boil down to your own personal preference, so if you like a faster clicky switch without a tactile bump then this keyboard with Kailh bronze speed switches should fit your needs.


Gaming Experience

When it comes to gaming, The Kailh speed bronze feels really responsive and quick and in the heat of the battle, I really don't think much about the click of the switches especially that I am wearing a headset. It doesn't bother me at all, although I would still prefer tactile or linear switch for gaming. The shorter actuation point partnered with the middle ground 50g actuation force really helps with the snappy movements compared to if I am using a keyboard with a normal blue switch. Overall, the Kailh speed bronze is quite decent.
Alright guys, I know it's a lot to take in for a keyboard review but we're almost there, I just want to give you all the details that I can possibly provide, with that said, let's talk about the software.
Software

So right here we have the Rakk fine tuner for the Lam-Ang universal socket mechanical keyboard.
We have our profiles on the upper left side, and then we have 4 tabs with the customize, lighting, gaming mode, and macro.
We also have the settings here wherein you can change the color of the fonts to any color that you want, set the language, and reset the keyboard to factory settings. 
In the customize tab, you can pretty much change any keys here to a different function like to another key, mouse function, and you can also bind a key to your macros.
So if you go to the macro tab, you can create your own macro, record and then bind that to a key that you want.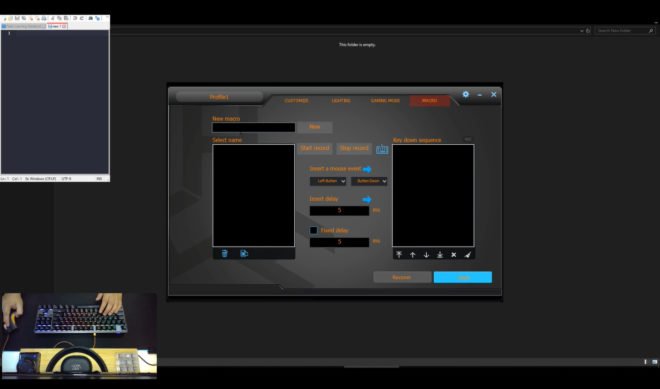 You also have the option to rebind a key to a key combination which is pretty useful at times, if you're really lazy or you just want to streamline your workflow. You can also launch a program or a URL using any key which is also pretty cool or change a key's function to a multimedia key and some known windows shortcuts. And lastly, of course, you can also choose to disable a particular key.
Unfortunately, as I've expected way before I got this keyboard, that the volume wheel and the two additional buttons besides it is not customizable or remappable to any other function, which is a bummer but it is what it is.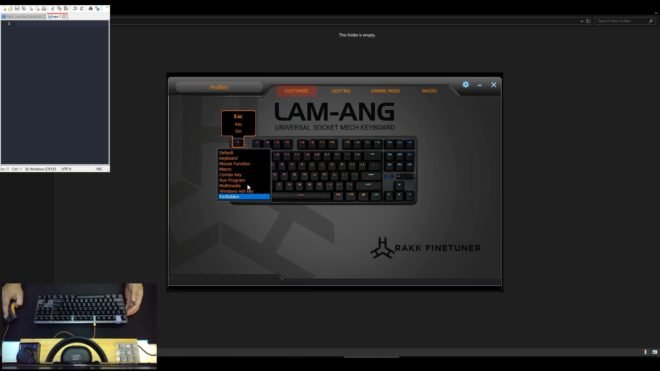 Now for the lighting tab, you have all the lighting effects and what's good about this is that the changes you make take effect immediately on the keyboard. You can also adjust the colors, direction, speed, and brightness of the lighting effects directly using this software, and I think it is much better to do this way rather than thinker around the keyboard. In addition, you also have the option to make your own lighting effect with the user-defined option.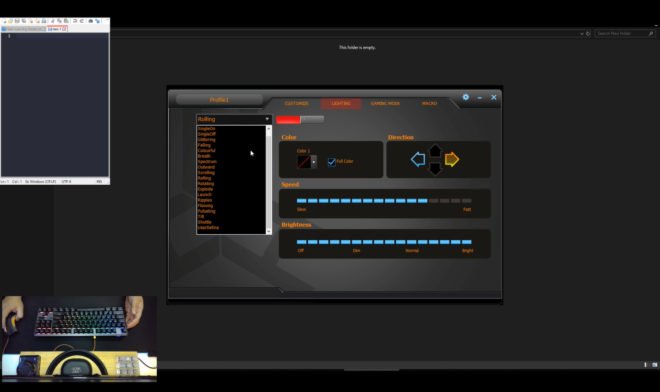 In game mode tab, you have the option to disable some key combinations as well as the windows key, so that your gaming session won't be unintentionally interrupted. And lastly, as per my testing, the user-defined settings are being stored on the onboard memory, so even without the software we still have our customized settings.
All in all, the software is quite simple, intuitive and works properly as intended, I just hoped that the volume wheel and the two additional buttons are customizable.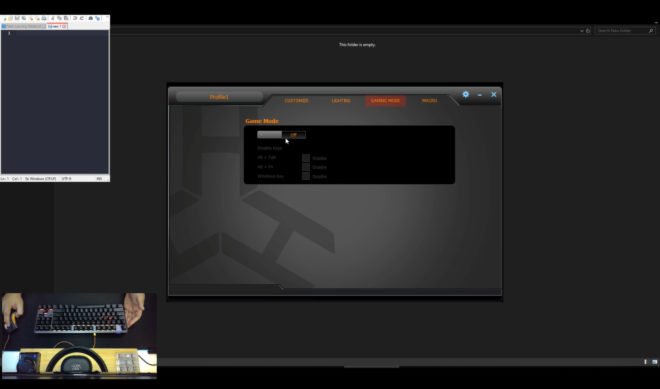 Ultimate Customization

As I've mentioned earlier, customizing the Rakk Lam-Ang Pro is sky's the limit, you can change top covers, replace keycaps and you can even get a customized wrist rest like what I have here, as you can see everything looks different from the stock Lam-Ang which makes this keyboard really appealing to enthusiast like myself.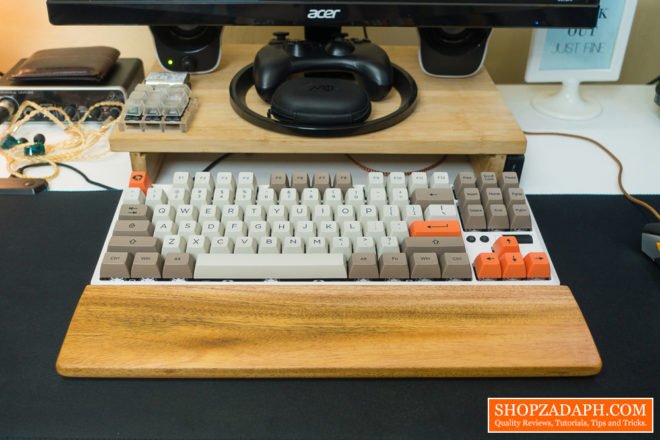 Conclusion

So to conclude, in my humble opinion, the Rakk Lam-Ang Pro lived up to its hype and I feel like it is by far the best keyboard Rakk Gears has produced. I mean, what more can you ask for? It works in both wired and wireless mode, it is USB Type C with an additional USB pass through, it has a dedicated wheel for volume and LED brightness, the top cover is interchangeable with additional 2 top covers out of the box, and it is a universal socket board which screams for customizability and longevity. As long as you take good care of the board itself, this keyboard will last for a long time as you can just easily swap the switches out. Battery life is also outstanding at 31 hours of normal use and there's basically no input lag for the Bluetooth connectivity.
I am actually hard pressed to think of flaws for this keyboard but if I have to, it would be with the build quality, it is not as solid as I would prefer with a little flex on the body, and the screw holes of the top cover being too thin. It is also quite disappointing that the volume wheel and additional buttons are not customizable. I am also quite confused that they did not include a linear and tactile option with this pro version, It is only available with Kailh clicky switches. Other than that, depending on the price when it is released, it is an outstanding keyboard and is very easy to recommend to anyone.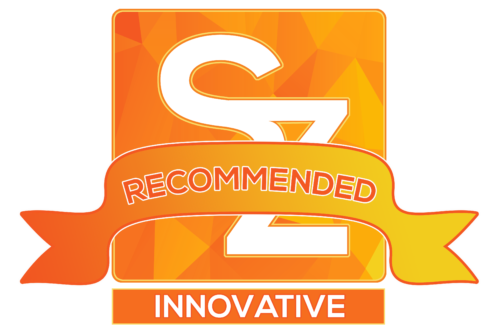 Related Article:
Thanks to 
Rakk Gears
 for making this review possible, you can get this keyboard from their official website, link below.
If you like this one, please consider subscribing to my channel by hitting the button below. Have a great day!

SHARE THIS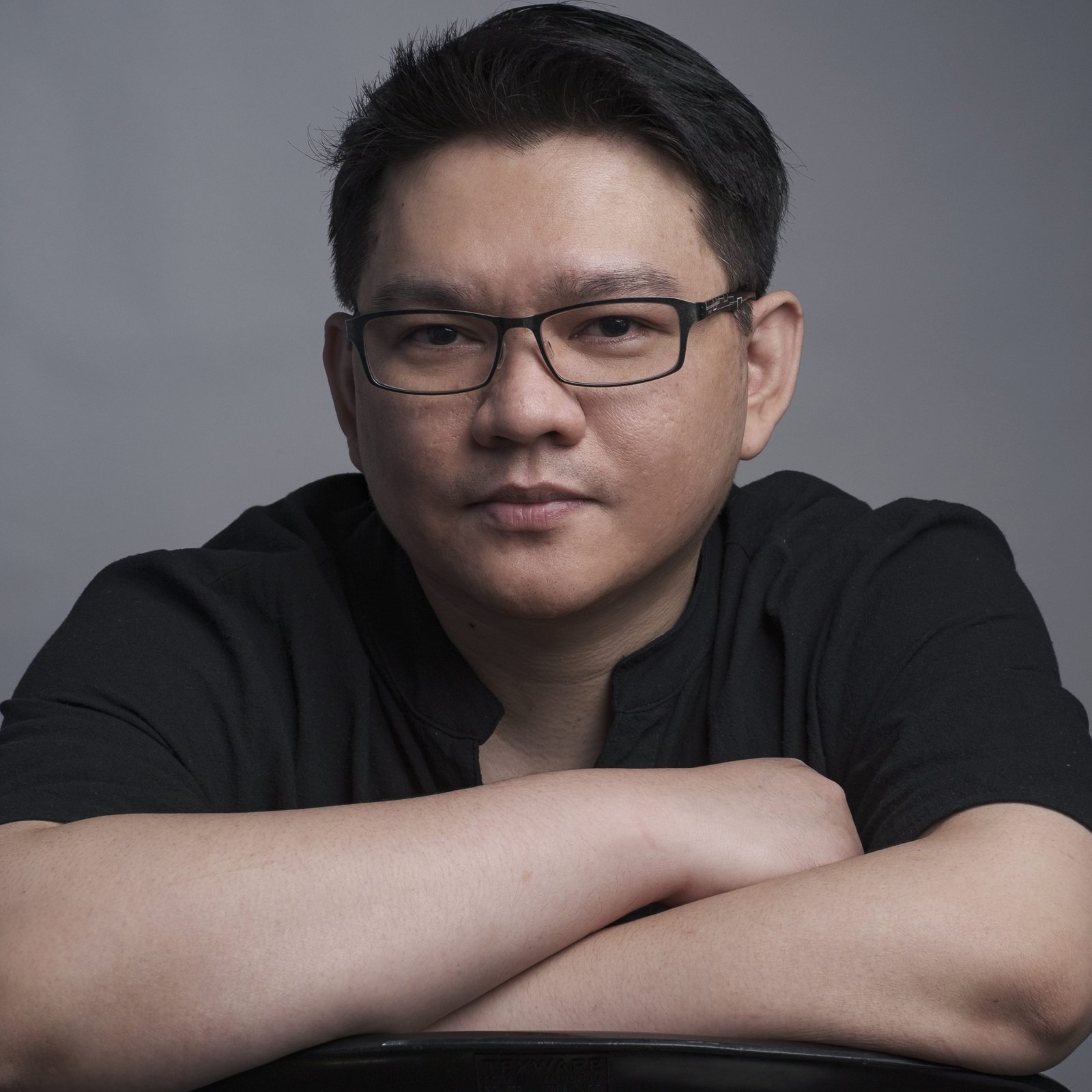 The Broll who always got your back online!