Today we're going to review the Akko 3108 Dragonball Z Goku edition, But before that, I would just like to inform you that we're giving away an Anne Pro 2 60% Mechanical Keyboard in partnership with one of our biggest channel supporter, banggood.com so make sure you read the entire article for the details. With that said, let's get into it.
Akko, in my humble opinion, is one of the best brands when it comes to mechanical keyboards with great build quality at a very competitive price point. I have a few Akko gears here in the studio to review but let's start off with the Akko 3108, a full-size keyboard that's pretty basic but still packs a few tricks up its sleeve and is available in various colorways and themes. What we have here today is the Dragonball Z Goku Edition, a novelty keyboard that is certainly appealing to DBZ and Goku fans in general.
MY EARLY BREAKDOWN

Pros: Great build quality, Decent quality PBT dye sub keycaps, Five-side dye sub goku spacebar, Cherry MX switch
Cons: No software, Non-backlit out of the box
SPECIFICATIONS

Brand: AKKO
Model: 3108 V2 – DragonBall GOKU
Connection: Detachable USB Type-C Wired
Switch: Cherry MX Switch, Red Switch, Brown Switch
Keycaps: OEM Pro-file Dyesub 85% PBT Keycaps
Number of Keys: 108 Key ANSI Layout
Backlit: No Backlit, But Support DIY LED
Anti-ghost: NKRO
Dimension: 440*140*41mm
Cable Length: 1.8M
Weight: 1.2KG
WHAT'S IN THE PACKAGE

The packaging for the AKKO 3108 Dragon Ball Z Goku edition is very well made. We have the image of Goku right here which is the same as what the spacebar has, later I will show you a closer look on that. 
At the back of the box, we have a good representation of how the keyboard will look like with the five-side dye sub Goku spacebar.
There's actually a Vegetta version of this as well with its own blue and yellow colorway if you want to collect both of them.
Around the packaging, we have some contact information, the model name, and looks like what we have is with Cherry MX brown switches.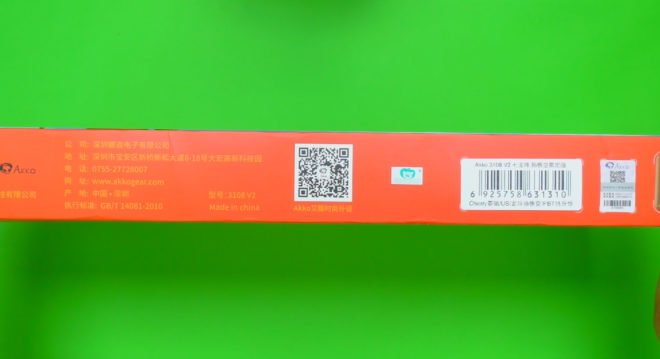 Inside the box, we have a nice plastic dust cover which I always find useful and then we have the keyboard itself protected by the usual foam sleeve.
Inside the box, we also have the user manual, although it's kinda difficult to understand with not much English translation so hopefully, we can find another way to check the features of this keyboard later.
We also have an orange USB Type C cable and the plugs have a cap on them which is a nice touch.
The USB Type C plug actually has this protrusion that should guide the cable in place inside the USB Type C port, and both plugs are also gold plated as an added bonus.
We also have a nice wire keycap puller which I always say is way better than the cheap plastic keycap puller.
And lastly, we have the 7 Dragon balls novelty keycaps.

FULL REVIEW
Design and Construction

Now, let's take a look at the AKKO 3108 Goku Edition, as you can see, the keyboard looks really nice and vibrant with the combination of orange, yellow and blue that perfectly showcase the colors of the character, Goku.
It does pack a ton of weight to it of around 1191g which is pretty heavy but that's ok given the good build quality of this keyboard. Although made of plastic, it doesn't flex at all which I always appreciate on a keyboard. The quality of the materials used is very good on both the dye-sub PBT keycaps and the housing.
Parts Overview

At the back side of the keyboard, you can see a little bit of the USB Type C port at the center.
And on the other side, we have a subtle Dragonball z logo on the right side.
Now, looking at its side, you will see that the housing is quite slim and it has an inclination on one side for that ergonomic form factor.
It also has a height adjustment flip-out stand, and it actually has two levels of adjustment which is pretty cool.
The top housing spans across the entire keyboard that goes down covering the bottom housing for the much more cleaner look. In addition, the keycaps' profile is OEM and the housing is high profile hiding the switches.

Looking at the back, we have 5 rubber feet,
And then as I've said earlier, it has 4 flip out stands, 2 on each side and all of them has rubber tip as well.
At the center, we have the logo and model name, and above it, we have the USB Type C port and some cable routing channels.
Looking at this keyboard and judging by the packaging, it does look pretty similar to the Durgod K320 that I recently reviewed, I don't know if they have the same manufacturer but they both have great build quality.
Layout

In terms of the layout, obviously, this is a full-sized keyboard with 108 keys hence the model name 3108. So aside from the usual 104 keys, we have an additional 4 up top for the calculator, mute and volume up and down which I find useful as well.
Of course, we have the arrow keys, complete nav cluster, and the function rows up top.
The layout is ANSI standard, so replacing these keycaps will be a piece of cake, though obviously, you won't replace these keycaps if you're getting this keyboard because this is basically the reason why you're getting this right?
Overall, the design and colorway perfectly showcase the Goku theme.
Switch and Keycaps

This particular keyboard I have has Cherry MX brown switches but it is also available in Cherry MX red.
The Cherry MX brown is tactile and quiet with an actuation force of 55g, it is generally considered as a middle ground between the linear red and the clicky blue switches and I personally like this type of switch. 
Now, comparing it with my favorite brown switch which is the Gateron brown, the tactile bump on the Cherry MX brown is significantly more pronounced but it is also quite scratchier compared to the Gateron brown which is known to have a very smooth up and down travel.
The brown switch is generally good for both typing because of the tactile bump as well as for gaming with its non-clicky characteristics. But as usual, as I always say, it will always depend on each person's personal preference.
The keycap is OEM profile and is made of 85% PBT with dye sublimated legends. Dye sublimation is another process of printing the legends by using heat and filling the PBT plastic with the dye substance, unlike pad printing, dye sub legends become part of the plastic and will never fade away.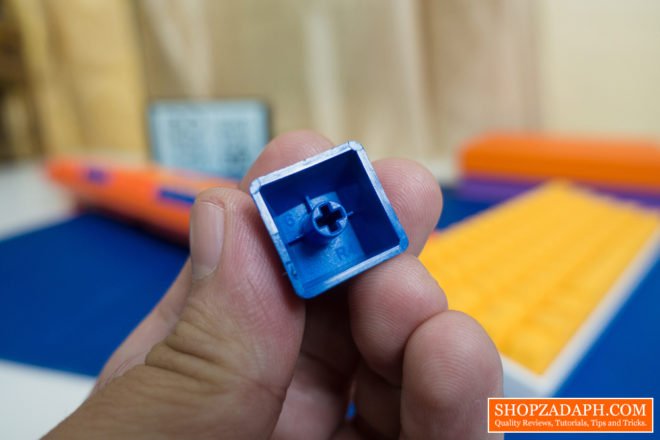 The thickness of these keycaps is around 1.2mm which is decent enough especially for a hard PBT plastic keycap.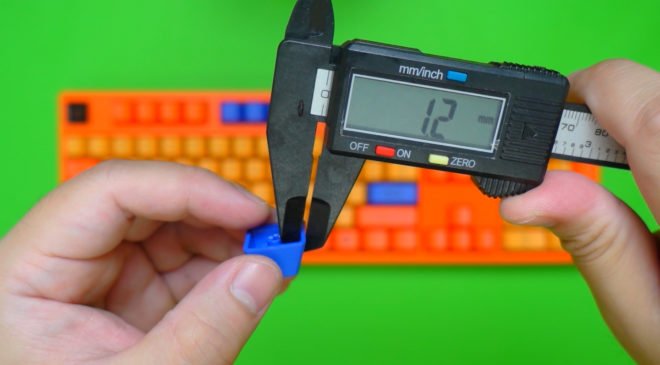 Looking closer at the novelty Goku spacebar keycap, you can see that the quality of the dye sublimation is pretty good all around the keycap and I think this is really one of the reasons why you're gonna get this, especially if you are a fan of Dragonball Z and Goku in particular. This is certainly a collector's item with the quality of this set of keycaps and the keyboard altogether.
Aside from the spacebar, we also have cool legends with the windows key, right shift, enter and the extra controls up top.
Illumination, or lack thereof

This keyboard, by the way, is non-backlit so it doesn't have any LED which makes sense since the keycaps are dye sub and non-backlit anyways,
But it has slots for top mount LED that you can solder if you want in the long run, if you so decide to add illumination.
Stabilizers

Now, when it comes to the stabilizers, it does have some rattle on it but it's not as bad as being annoying or what not and it also comes with some pre-applied lube.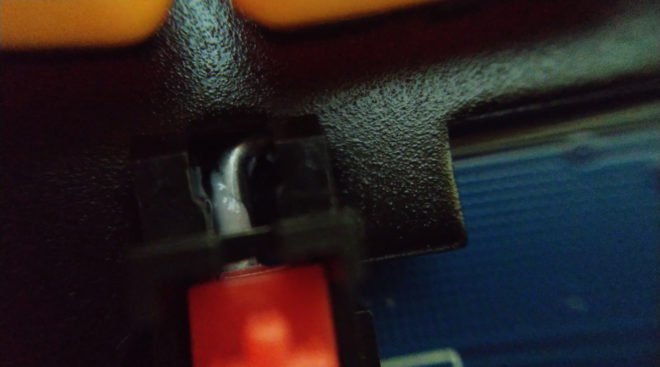 The modifiers, on the other hand, are better with little to no rattle.
Here's a quick size comparison of the three most popular layouts, the full size, the tenkeyless and the 60% form factor.
By the way, I am also going to review the Akko 3108 Tokyo World Tour for you ladies out there and gentlemen who like pink, so make sure to subscribe so you won't miss out.
Features rundown

Back in front, let's just quickly tackle some additional features of this keyboard. So although it doesn't have illumination on the switches, it has LED indicators for caps lock, num lock, and scroll lock which is quite standard for a full-size keyboard.
The texture of the top housing is smooth but definitely not glossy which is a plus for me.
The flip out stands at the bottom with two levels of adjustments and with rubber tips are really appreciated.
As well as the USB type C port with support and some cable routing channels.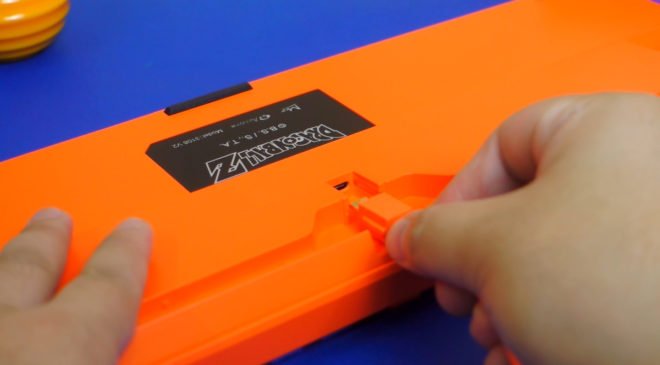 Although this keyboard seems to be pretty basic compared to other keyboards that I've reviewed before, it still has these additional features that I appreciate.
Performance, Built-in Macro configuration

Moving on let's discuss the performance of this keyboard, although it doesn't have any software, it actually has a built-in macro recording feature that you can take advantage. However, it's kinda tricky since it doesn't have a visual guide, not to mention the manual is only written in Chinese. The good thing is there is an instruction guide on the product page of Banggood that I was able to follow. It's not perfect so I'll just guide you through the process.
To enter the macro setting layer you just have to press FN + Left windows keys for a few seconds until the LED indicators start to blink, and then press FN + Esc to enter the macro mode.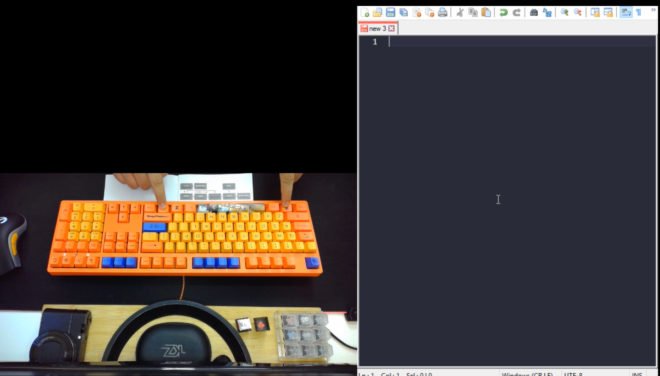 In this mode, you can choose any letter that you want your macro settings to be saved, in this example I am going to use letter A, so press FN + A to delete its current function,
And then you can start typing your recording. I typed my name as an example, once you're done recording, just press FN + the letter again.
So now if I press A, it should type our recording which is my name.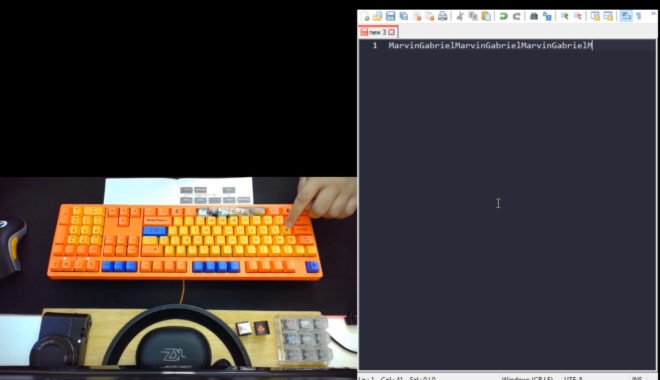 And if you want to exit the macro layer, just press FN+left windows key again and you will be able to use the keyboard normally. I appreciate that his feature is available but I'd rather not mess with this if you ask me. I'd still prefer a software for this type of functionality.
N-Key Rollover

When it comes to performances, this keyboard features NKRO or N-Key rollover that allows you to press multiple keys at the same time without conflicts, and as per my testing, it is working properly and I was able to press as many keys as I can without any issue.
Typing Experience

Now when it comes to typing experience, the Cherry MX brown switches is indeed very satisfying with its decent tactile feedback while still being relatively quiet. As I said earlier, the brown switch is my favorite type of switch. It is good for both typing and gaming and you can not go wrong with it especially with this Cherry MX variant.
Gaming Experience

In terms of gaming, what I love about brown switches is that you can have perceivable feedback around the actuation point that gives you the sensation that the switch has been activated without having too much noise. The 55g of actuation force is also enough resistance for me when it comes to gaming, not too light as a 45g linear red switch, and not as heavy as a 60g blue or black switch.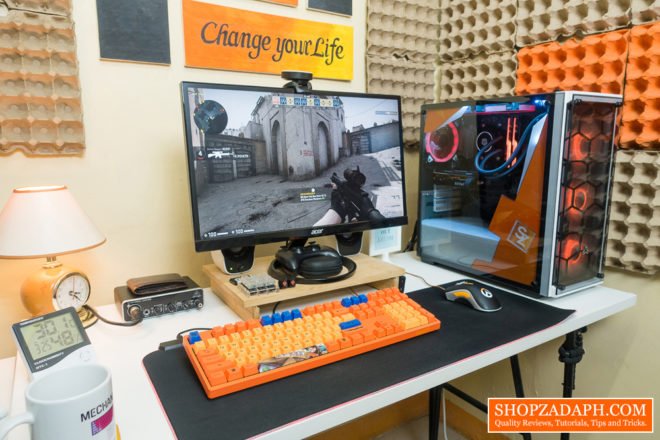 VERDICT

To conclude, the AKKO 3108 Dragonball Z Goku edition is certainly a novelty and collector's item mechanical keyboard that is targeted towards fans and collectors of Dragonball Z products while still having the same build quality and features of the AKKO 3108.
The quality of the PBT dye sub keycaps is decent, as well as the overall build construction of the keyboard. It is also great that this comes with the original Cherry MX switches making this a complete package when it to premium quality. However, it lacks software support and illumination out of the box making this keyboard pretty basic than most available keyboards out there.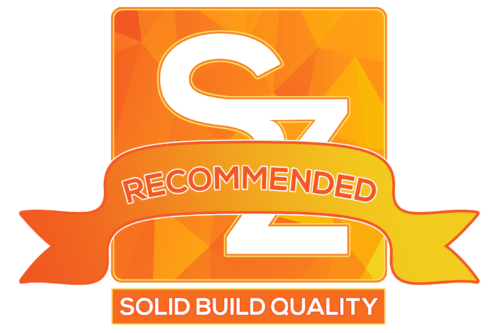 There you have it guys, thank you for reaching it this far, thanks to banggood.com for sending this in you can get this from their official store link below. This is actually the perfect timing to get this keyboard and other products from banggood because they are currently having a prime sale right now that started last July 2 up to July 12.
GIVEAWAY

Now, as I've mentioned earlier, We will giveaway an Anne Pro 2 Mechanical Keyboard to one of you guys if the video below gets 200 comments and 300 likes, that should be easy if you're a supporter of this website and our YouTube Channel. This giveaway is Global and banggood will send the keyboard directly to the winner. I will announce the winner, if we met these requirements, on the next video so make sure to subscribe so you won't miss out.


Related Article:
Thanks to 
Banggood
 for making this review possible, you can get this keyboard from their official website, link below.
If you like this one, please consider subscribing to my channel by hitting the button below. Have a great day!

Thank you for dropping by, don't forget to check out my other Reviews and Subscribe if you like. Cheers!  
SHARE THIS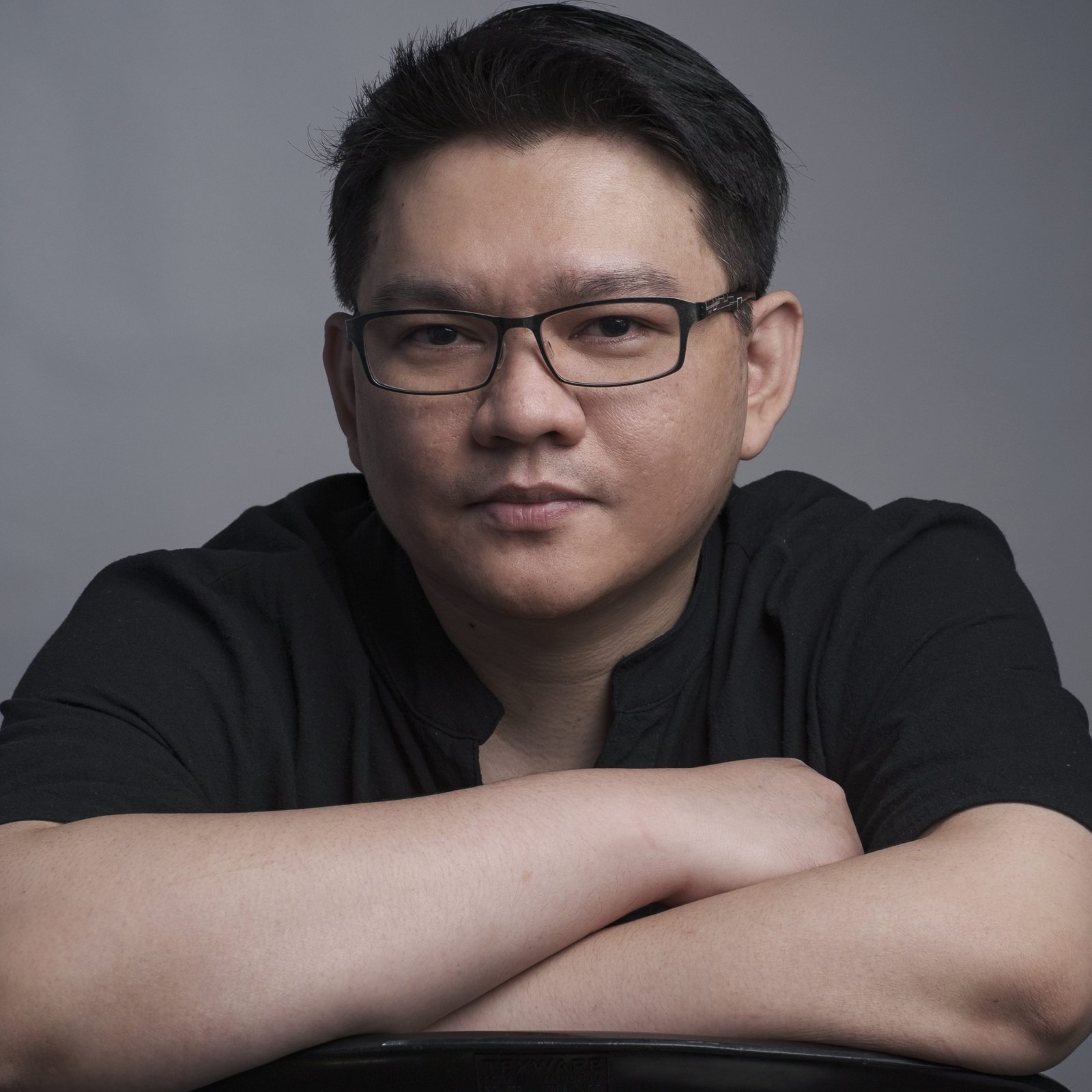 The Broll who always got your back online!