Today we have another Akko keyboard review for you guys, we're taking a look at the Akko 3108 Tokyo World Tour edition, this is for our ladies out there and even though most of my subscribers are men, I still would like to give you girls some love. And boys, if you're looking to get your girl into the mechanical keyboard world that we love, make sure to show her this review so she'll understand more why we spend too much money and so that you can get away with buying more keyboards, you can even buy this as a gift for her. haha! Kidding aside, let's get into it.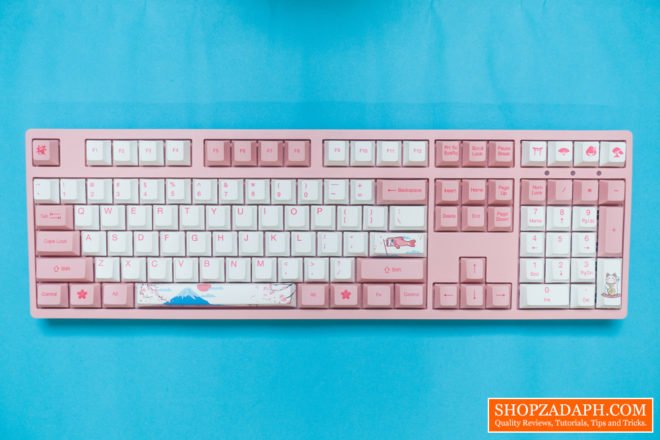 MY EARLY BREAKDOWN

Pros: Great build quality, Decent quality PBT dye sub keycaps, Five-side dye sub spacebar with additional novelty keycaps
Cons: No software, Non-backlit out of the box
SPECIFICATIONS

Brand: AKKO
Model 3108 V2 – World Tour – Tokyo
Item: Mechanical Gaming Keyboard
Connection: USB – Type-C Wired (Detachable Cable)
Layout: 108 Key ANSI
Keycap: 85% PBT Material
Switch: AKKO Pink, AKKO Purple, AKKO Blue Switch Version
Backlit: No Backlit
NKRO: Support
Dimension: 440*140*41mm
Weight: 1.2kg
WHAT'S IN THE PACKAGE

The packaging for this keyboard is pretty similar to the Akko 3108 Dragonball Z Edition that I previously reviewed because they are basically the same in almost all aspects, but they also have a lot of key differences that we're talking about in this article.
In front, we have the preview of the keyboard with the Tokyo World Tour set of keycaps which you can actually get separately from Banggood.com.

At the back of the box, we have the specifications, model name, and a blank keyboard image.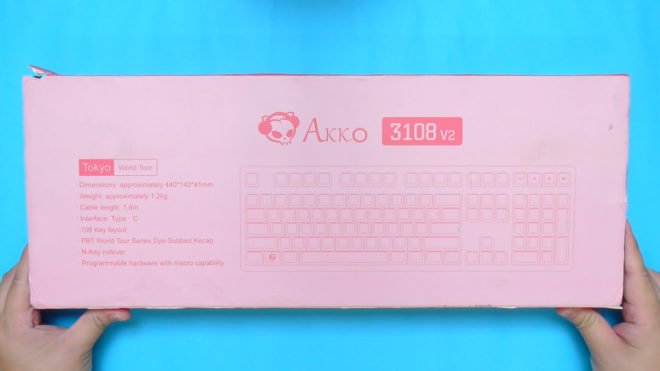 Inside the box we have a plastic dust cover, pretty standard for Akko keyboards, and then the keyboard itself protected by a foam sleeve.
 

We also have the user manual that is also applicable to Akko 3087. It looks quite similar to what the Goku edition has but this one is just plain paper. One of the reasons why this board is significantly cheaper than the Goku version other than the fact that the switches on this keyboard is cheaper, more on that later.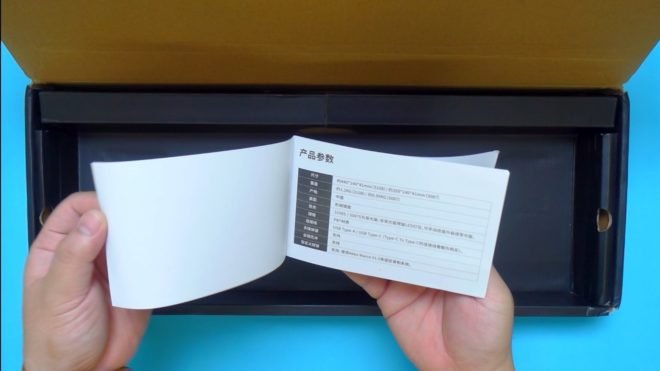 Inside the box we also have a few more items, we have a pink USB Type C cable that perfectly matches the color of the keyboard, the plugs have caps and the USB Type C plug has a protrusion that will guide it through the USB Type C Port, the plugs are also gold plated much like the Goku edition.
We also have the same purple wire keycap puller.
Lastly, we also have a bunch of novelty keycaps but unlike the Goku edition with the 7 dragon balls, this one has 2 for the enter keys and 4 for the additional 4 keys on the upper right side of the keyboard.
FULL REVIEW
Design and Construction

Now, let's take a look at the Akko 3108 Tokyo world tour edition, as you can see it is a full-sized keyboard which means we have a numpad.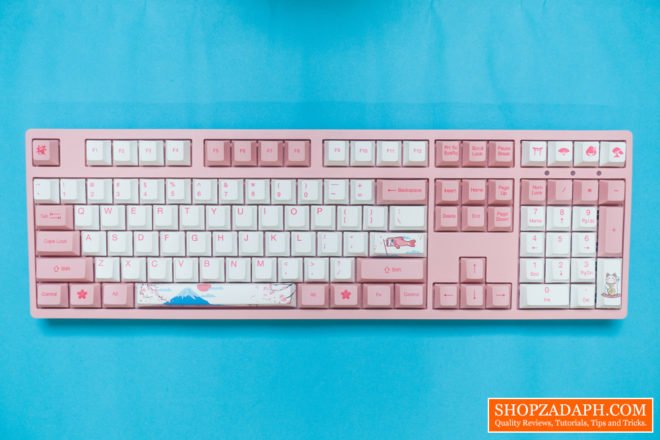 The build construction is pretty good with a weight of around 1157g which is a tad lighter than the Goku edition.
As expected, it doesn't flex at all due to its quite hefty metal back plating and solid hard plastic shell.
Parts Overview

Flipping it on its side, we can see that the top shell spans down the entire keyboard covering the bottom housing for a much more cleaner look. It also has the same inclination as the Goku edition but they differ in terms of the keycaps profile. This one uses the Cherry Profile which is shorter in height than the OEM Profile. The housing also features a high profile design hiding the switches.
At the back side, we can see the USB Type C port with slots for the protrusion that I've mentioned earlier.
At the back of the keyboard, we have 5 rubber feet, and like the Goku edition, it also has 4 stands, 2 on each side, with both of them having a rubber tip which I really appreciate. We also have the USB Type C port at the center and some cable routing channels. And lastly, we have the model name and certifications at the center as well.
As I've mentioned earlier, this keyboard also comes with a few additional novelty keycaps that you can install on the keyboard to complete the overall Tokyo world tour theme.
The cable also matches the keyboard but you can definitely use any USB Type C cable if you want.
Layout

Flipping it back in front, let's discuss the layout. As I've mentioned this is a full-size keyboard with dedicated numpad which for a lot of people is actually very important, especially in a productivity standpoint.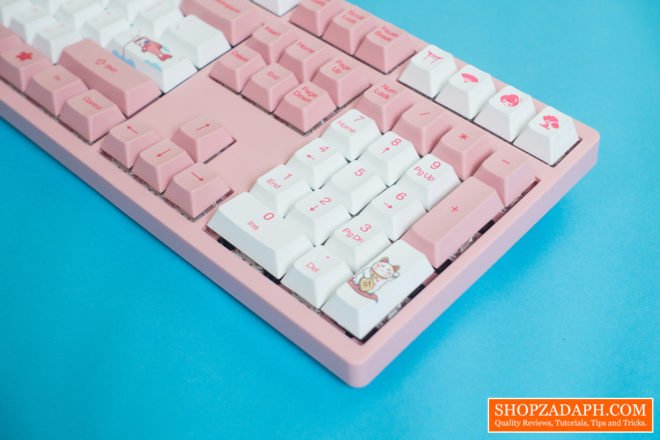 We also have an additional 4 keys up top for the calculator, mute and volume up and down.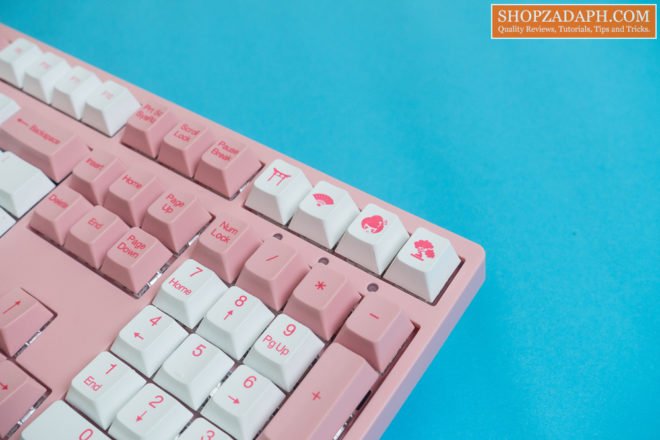 Of course, we have the arrow keys, complete nav cluster, and all the usual keys. The layout is ANSI standard so looking for keycap replacement should be pretty easy but much like the Goku edition, you're getting this because of this Toyko World Tour keycaps so I assume you wouldn't even bother replacing these. The font's design and quality is quite decent and clean and they are very clear thanks to its dye sublimated legends.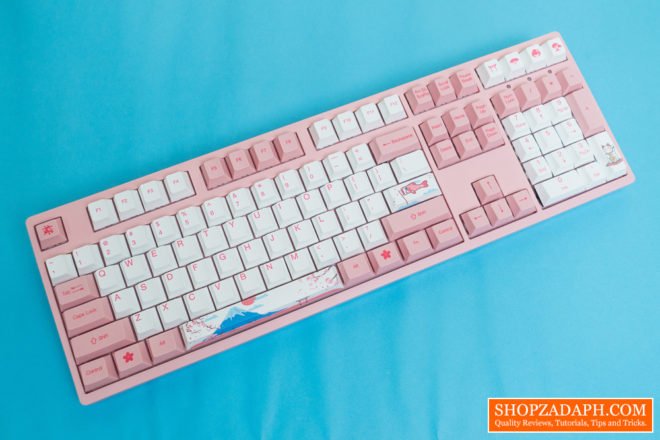 Backlight, or lack thereof

Like the Goku edition, this keyboard also doesn't have LED backlighting out of the box, but that's ok since the keycaps are non-backlit anyways, if you want to add LEDs in the future, you can do so since it also has slots for a 2 pin LED diode.
Switches and Keycaps

In terms of the switches, like the Goku edition, this one is also available in Cherry MX switches, but what I have here is the version with Akko's own brand. This one in particular, has Akko blue switches though it is really more like a teal color, it has the same clicky characterstics as a normal blue switch and also requires 60g of actuation force. As per my testing, they sound almost the same but the Akko switch has a slightly less tactile bump compared to Cherry MX blue.
When it comes to the keycaps, like the Goku edition, this one has keycaps that are made of 85% PBT plastic with dye sublimated legends. PBT plastic is known to be much more durable than ABS plastic and doesn't shine easily over time. Dye sublimation is another process of printing the legends by combining the dye substance into the PBT plastic seamlessly so they will never fade away and you'll barely feel them on top of the keycaps, unlike pad printing.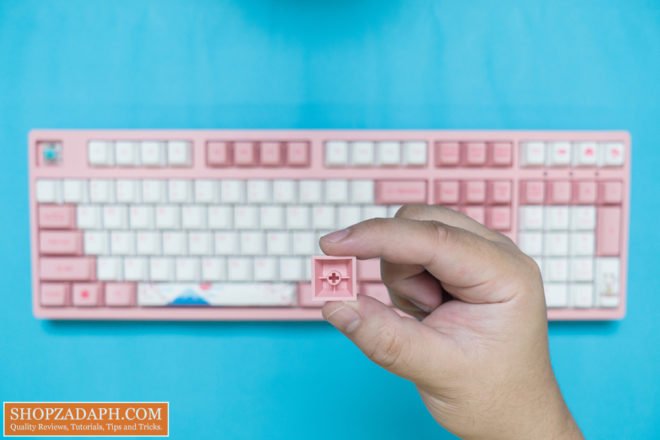 As you can see like the Goku spacebar, the Tokyo world tour spacebar's dye sublimation is pretty good with the image of Mount Fuji and cherry blossoms. The other novelty keycaps' dye sub characters are equally good as well.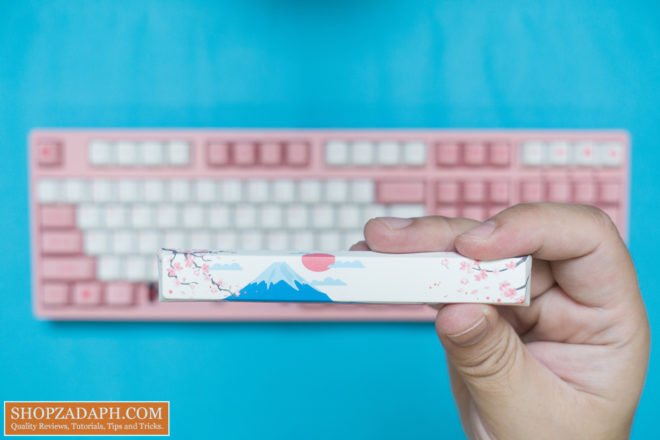 The thickness of the keycaps is around 1.2 to 1.3mm like the Goku edition.
With regards to the stabilizers, it does have some noticeable wobble but surprisingly, it doesn't reflect on the actual sound it produces when being tapped so it is still quite good. Same goes with the modifiers like the shift key.
And as usual, here's a quick size comparison against some of the keyboards I previously reviewed. So we have the tenkeyless Durgod K320,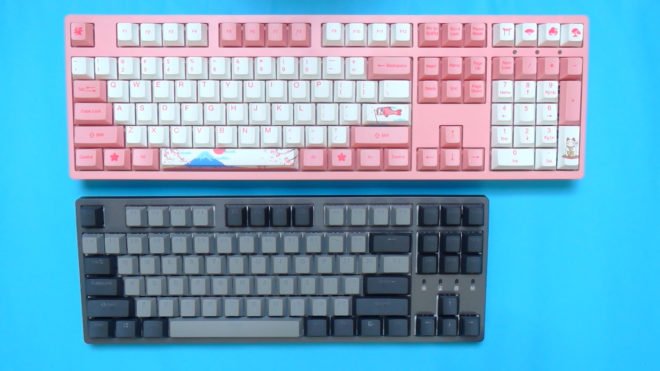 And the 60% Anne pro 2 keyboard.
As you can see, the difference in terms of their size is very significant but like i said earlier, for some people they just can't live without the numpad so they are willing to accept the size of a full-size keyboard.
Additional Features

Since this keyboard is a full sized keyboard, it has the usual LED indicator for num lock, caps lock and scroll lock at the upper right side.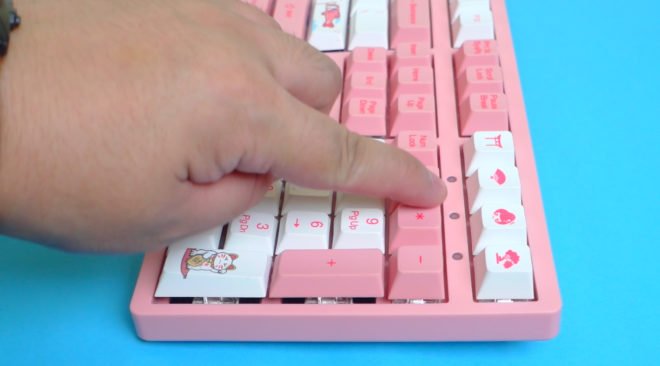 The texture of the body like the Goku edition is smooth but not glossy which I highly appreciate. In addition, the color of the housing also perfectly matches the keycaps.
I also like the cable routing channels as well as the reinforced USB Type C port.
The 2-step stands with both having rubber tips that you won't usually see on budget keyboards is also highly appreciated.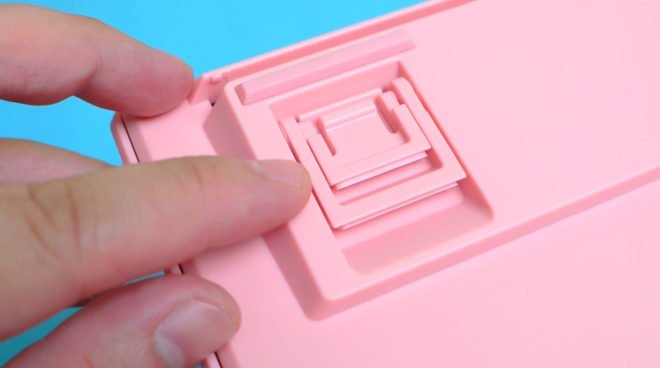 Performance

Moving on let's discuss the performance and my experience with this keyboard.
Even though it doesn't have an accompanying software, it does have a built-in macro recording mode. If you want to learn more about that you can check my review of the Akko 3108 Goku Edition so that you can also have a better idea about the Goku version that I keep on mentioning on this article.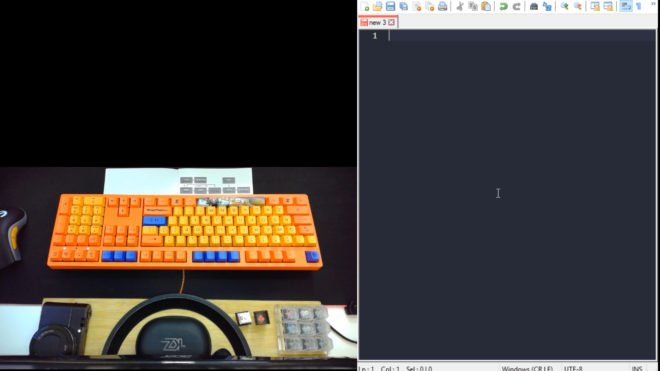 N-Key Rollover

With regards to the performance, this keyboard has NKRO or N-Key Rollover feature which allows you to press multiple keys at the same time without any conflicts. As expected, it is working properly. In my experience, I only encountered quite a few keyboards that actually doesn't have this feature.
Typing Experience

Now when it comes to the typing experience, like with any other keyboard with clicky switches, it is very satisfying to type with because not only you have perceivable feedback with audible clicks, but you also have a subtle tactile feel with these Akko blue switches. If you prefer a more pronounced tactile bump, then go for the Cherry MX blue variant. The Cherry profile keycaps is also regarded as one of the most comfortable profile when it comes to keycaps because of it's shorter height compared to the usual OEM profile.
Gaming Experience

In terms of gaming, it will depend on your personal preference whether you like the click sound to go along with your in-game audio or not, and if the click and tactile feedback don't get in the way of your gaming experience. Performance wise, you're not going to have any issue with the Akko blue switches. It's worth noting though that most competitive gamers prefer linear switches especially the speed version ones for faster actuation.
Giveaway Winner

Alright guys, before we finish this article, I would just like to announce the lucky winner of our Anne pro 2 60% mechanical keyboard giveaway. The winner is Luke Ruego. Congratulations!
Thank you guys for joining this giveaway and for showing your support, we'll have more giveaways in the future for sure.
Conclusion

Now, to conclude, much like the Goku version, the Akko 3108 Tokyo World Tour is a great novelty keyboard when it comes to design and construction with its decent dye sublimated characters and great overall build quality. Whether you're a fan of the place itself or you just like the aesthetics of the white and pink set of keycaps with its additional novelty keys, this is certainly a great option. The Akko 3108 keyboard is solid enough that I would highly recommend for you to get the entire package as it is much more cost efficient than buying the keycaps and another keyboard separately. But if you don't necessarily need the keyboard, you can get the Tokyo World Tour Keycaps set separately from banggood.com.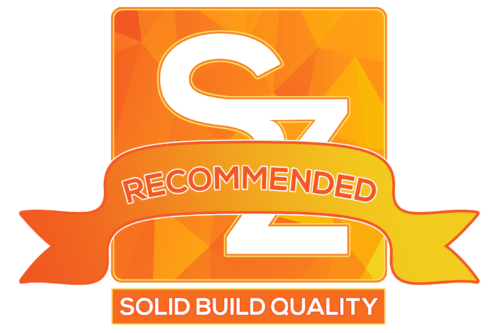 Thanks to 
Banggood
 for making this review possible, you can get this keyboard from their official website, link below.
If you like this one, please consider subscribing to my channel by hitting the button below. Have a great day!

SHARE THIS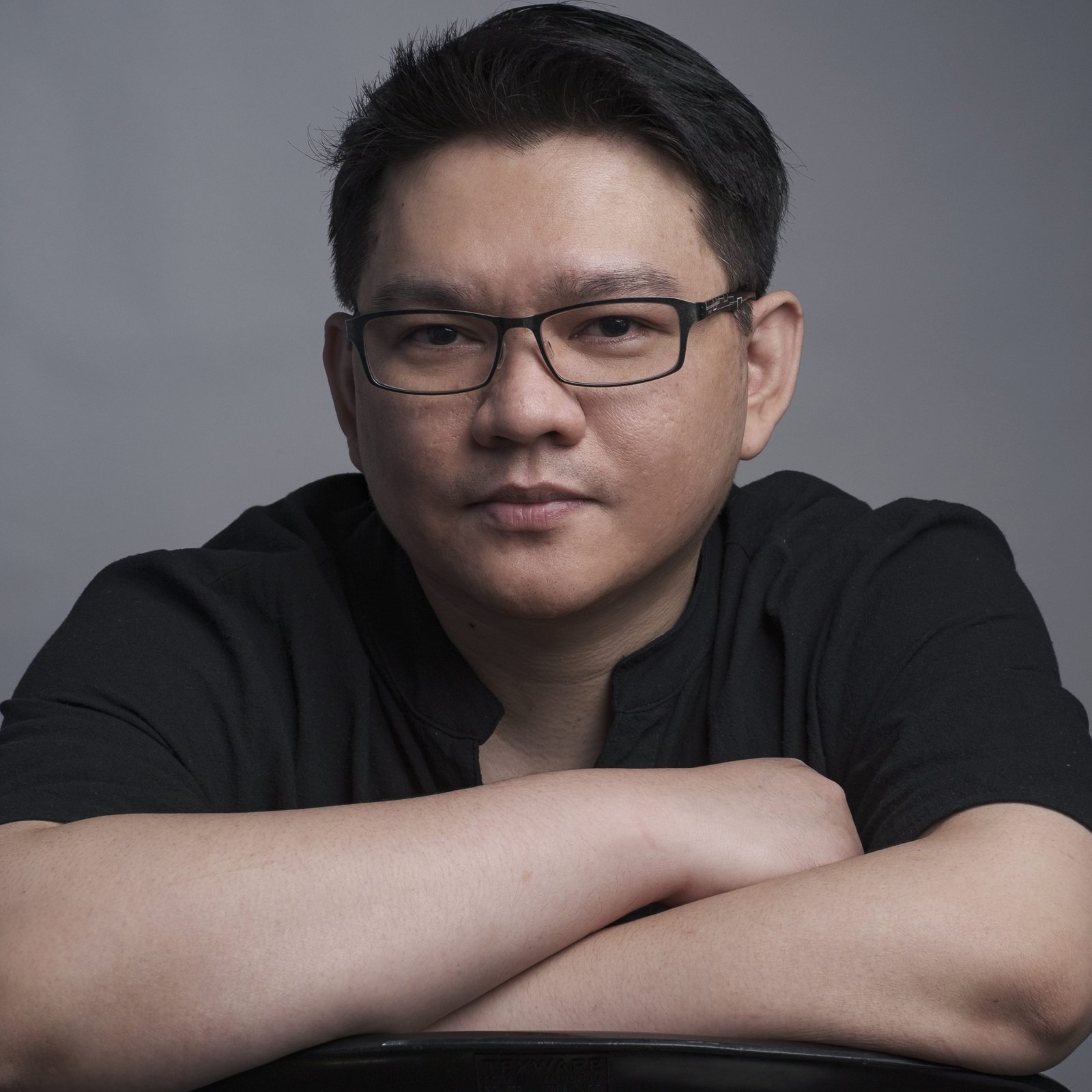 The Broll who always got your back online!