I swear, SoundPeats' really good at creating good-sounding pairs of True Wireless Stereo earbuds at a fraction of the price while offering the same set of features that most people are looking after. One of those is the SoundPeats mini Pro, which is currently my favorite from the brand. I got it from Digital Walker which sits at only around Php 2790 as of the time of writing this review. It features an outstanding Hybrid Active Noise Cancellation which I would say really works well and probably even better than more expensive earbuds that I've tried before. It also offers an extremely compact form factor that doesn't stick out too much while still providing a decent 7-hour battery life and a complete set of touch controls including volume adjustment which some TWS earbuds tend to neglect. Did I mention it also has App support? well yes, and it's actually quite useful, especially with the Adaptive EQ that gives you an option to customize the EQ based on your hearing characteristics. Here, let me share with you all my thoughts about the small but definitely not terrible SoundPeats mini Pro.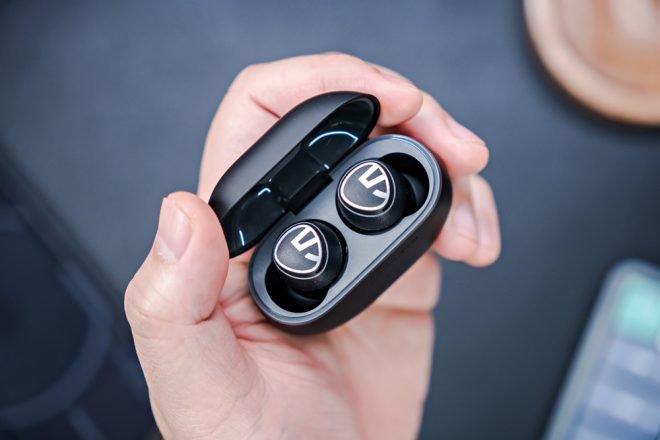 MY EARLY BREAKDOWN
Pros: Decent sound quality, Outstanding ANC, Decent transparency mode, Good battery life, Complete touch controls, Compact form factor
Cons: No wireless charging for the case, No in-ear detection
SPECIFICATIONS
Core Specs
Bluetooth: Bluetooth®5.2
Profiles: HSP, HFP, A2DP, AVRCP
Chipset: Qualcomm® QCC3040
Supported Bluetooth® Codec: SBC, aptX, aptX-Adaptive
Wireless Range: 33 ft
Battery
Battery Capacity: 300 mAH (Case)
Battery Capacity: 45*2 mAH(Earbuds)
Earbuds Charging Time: 1.5 hours
Charging Case Charging Time: 1.5 hours
Charging Port: USB-C
Playtime Time: 21 hours
Package
Single Earbud Weight: 4.97g
Charging Case with Earbuds: 37.5g
Control Type: Touch
Waterproof Rating: IPX5
WHAT'S IN THE PACKAGE
The packaging for the SoundPeats mini Pro is quite interesting with a model image and some subtle branding in front,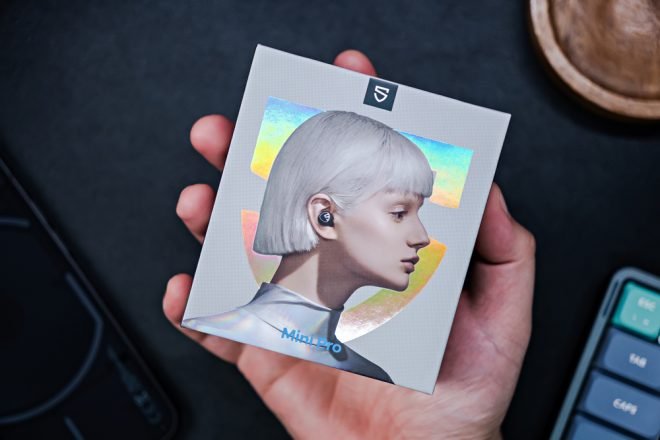 An image preview of the earbud itself with some of its notable features on the other side,
More key features on this side,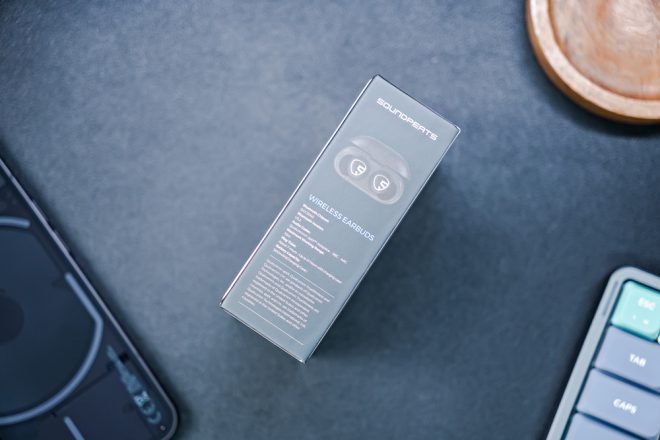 And the contact information of SoundPeats for aftermarket support.
Upon opening the box, you'll see the charging case and other packaging inside,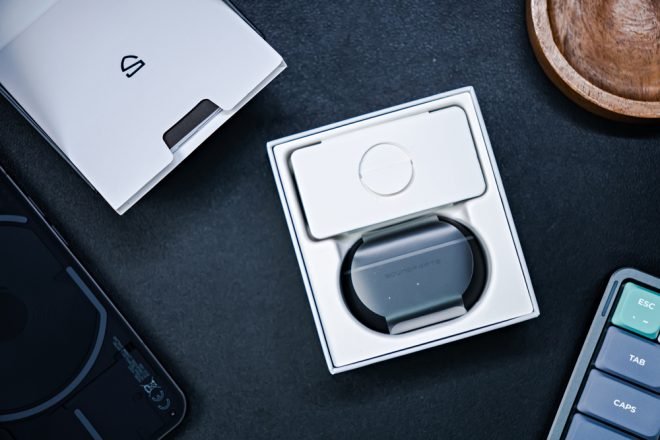 Inside a sort of envelope, is the user guide, 
And inside the small cardboard packaging are some different sizes of ear tips.
And lastly, we also have a rather small USB Type to Type C charging cable.
FULL REVIEW
Design, Construction, and Parts Overview
As you can tell, the charging case for the SoundPeats mini Pro is fairly compact and probably one of the smallest charging cases that I've tried in a while.
In front of it, we have a debossed SoundPeats logo, a small LED indicator, and a grey lining that separates the bottom from the top cover.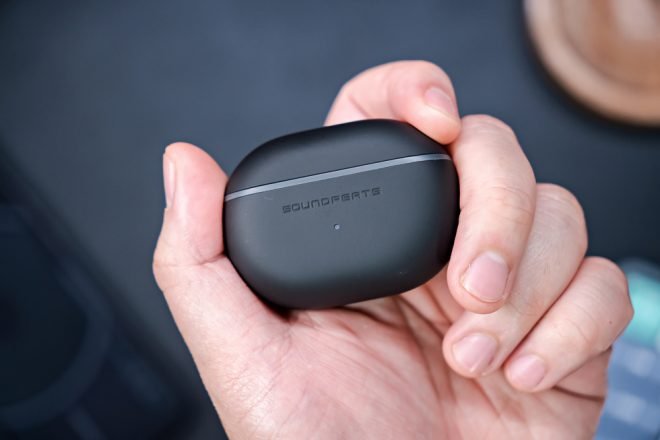 At the back, we have the USB Type C charging port. 
It features a smooth and soft matte texture which is nice to the touch but is also a fingerprint and oil magnet.
Opening the lid of the charging case reveals the SoundPeats mini Pro wireless earbuds themselves that sit upright inside the magnetic cavity.
All in all, we have a total of 3 LED indicators, one on each earbud and one on the charging case. The charging case with the earbuds inside it weighs around 37.5g which is very light and pocketable.
As for the SoundPeats mini Pro earbud itself, as I've pointed out earlier, this is one of the most compact True Wireless Earbuds that I've tried in a minute and doesn't stick too much outside your ears. 
Although it is one of the smallest earbuds that I've tried, it is not the lightest weighing around 4.97g. For context, the Dizo Budz Z weighs only around 3.7g. However, the SoundPeats mini Pro makes up for it with a much better build construction and a bunch of other features including ANC that the lighter buds don't have.
The design is also nice with a silver SoundPeats logo on its side.
We also have the charging pins on this side and a very subtle legend for the orientation.
Overall, a very compact pair of earbuds with a combination of textured and glossy finish.
Comfort and Fit
In terms of comfort and fit, the SoundPeats mini Pro with its tiny form factor and lightweight construction, at least for the size of my ears, is very comfortable, I barely feel it in my ears aside from the typical suction pressure from the rubber ear tip. It also doesn't move at all and is confidently secured. 
Touch Controls
In terms of touch controls, the SoundPeats mini Pro pretty much has everything you need including volume controls that as I've pointed out earlier, tend to be neglected by other brands. This is important, at least for me, so that I don't need to take out my phone, especially when outdoors just to adjust the volume levels. However, since it only has a single touch-sensitive area, it's kinda hard to remember all of these touch gestures at least for the first few days of using it. Not to mention each side of the earbud functions differently when it comes to the touch controls.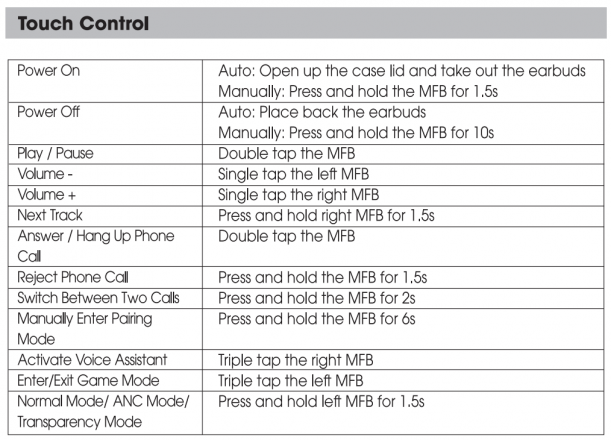 Notable Features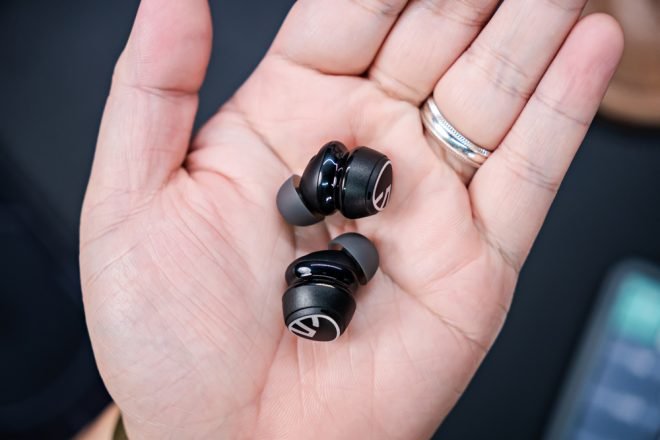 Active Noise Cancellation
The SoundPeats mini Pro offers a Hybrid Active Noise Cancellation feature that can cancel up to 35dB of low-frequency noise which is significantly better compared to other budget ANC wireless earbuds that I've tried before that can only cancel up to 25dB.  As per my testing and observation, it can cancel a significant amount of ambient or background noise around my studio and the difference is actually noticeable as soon as I turned on the ANC feature. It can pretty much remove the sound coming from my PC's case fans, air conditioner, and on some level, the air purifier. Usually, budget ANC wireless earbuds that I've tried before can only cancel the noise from our air purifier around air level 3 but the SoundPeats mini Pro was able to cancel even the level 4 or 5. It can also cancel some of the sounds coming from my mechanical keyboard and just an overall good noise-canceling performance considering its price. 
Transparency Mode
Most if not all ANC wireless earbuds also feature a Transparency Mode which also takes advantage of the microphones around the earbud to let outside sounds in, this is good if you want to be aware of your surroundings without having to remove any of the earbuds and continue listening to your music. The transparency mode on the SoundPeats mini Pro is fairly decent and does the job but as with most budget wireless earbuds, the sound is still a bit muffled or compressed. But is still way better than with it turned off. 
Low Latency Game Mode
The latency on the SoundPeats mini Pro at its default settings is already pretty decent at around 80ms but with the Low Latency Game Mode, it brings it down even further to 60ms. This is ideal not only for gaming but for watching videos as well. As per my observation, most of the time, I don't even have to turn on the Low Latency Game mode, especially for media consumption. The default latency is already good enough.
Now, there is one notable feature that I am looking after that is missing here, which is automatic in-ear detection. 
Sound Quality
When it comes to Sound Quality, I honestly feel like it is one of the strong points of the SoundPeats mini Pro. The overall sound signature at its default settings is fairly balanced and if anything a bit leaning towards the warmer side. It does offer a good amount of low-end and bass, clear mids and highs with rich details and distinguishable sound imaging. You can substantially separate most of the instruments used even those that are quite subtle in the background. The overall presentation is also decently balanced without any particular overpowering frequency. I really enjoyed noticing the subtle instruments playing around while also enjoying the clarity of the main vocals. The bass is there when you need It but it doesn't overwhelm. Overall, a good-sounding earbud with a pleasant sound characteristic.
Aside from the things I've mentioned above, the SoundPeats mini Pro also supports SBC, aptX, and most importantly, aptX-Adaptive for most Android users. This means you can take advantage of the variable bit rate and better low-latency performance. 
Bluetooth Performance and Stability
As for the Bluetooth Performance and Stability, throughout the duration of my testing, I didn't encounter any significant hiccups or signal drops. Granted, I'm mostly static and don't move way past the typical 10m range but I'm pretty sure as long as you maintain just around a wall or two in between, you should be fine. 
Battery Life
In terms of battery, the charging case has 300mAh of capacity while each earbud has 45mAh for a total of 21 hours of playback time. Each earbud can last up to 7 hours in normal mode and up to 5 hours with ANC mode on. This is pretty good considering how tiny these earbuds are. Charging the case takes around 1.5 hours via the USB Type C port but unfortunately, the charging case doesn't support wireless charging.
Software
And lastly, another good thing about the SoundPeats mini Pro is that it is one of only a few SoundPeats devices that are supported by their app. Unfortunately, as of the time of writing this review, it doesn't work on my iPhone 13 Pro Max. So these screenshots are from my Android phone.
First things first, I got a prompt to update the firmware.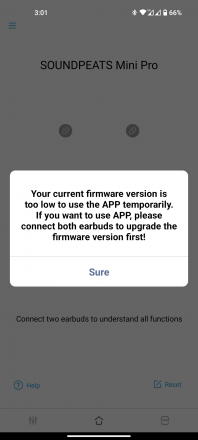 This in theory should allow for a wider range of volume levels.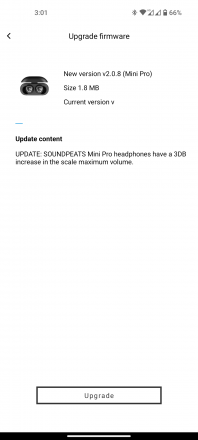 After updating the firmware, we can now see the homepage wherein we have the battery level of each earbud, unfortunately, it doesn't show the battery level of the charging case.
Inside the app, we have the volume control, the Adaptive EQ, some EQ presets, and a manual option. We also have the toggle between ANC mode, Normal mode, and Transparency mode. However, I noticed a slight delay when changing these settings.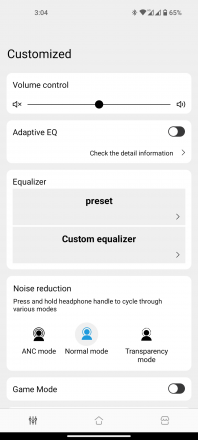 We also have the toggle for Game mode, Touch key functionality, and lighting effect.
What's interesting here is the Adaptive EQ which lets you run a set of tests to determine the best possible EQ settings for your hearing capacity.
To be honest, at first, I thought this is just a gimmick but after the tuning, I immediately hear a noticeable difference. The sound output became clearer compared to when it is disabled. Overall, it is quite nifty software that offers some features that you otherwise won't have without it.
VERDICT
To conclude, the only thing that I don't like about the SoundPeats mini Pro is the lack of in-ear detection and wireless charging support for the case but other than that, I honestly feel like this is one of the better options when it comes to affordable True Wireless Stereo earbuds with an Active Noise Cancellation feature. Not only does the ANC feature works really well, but the overall sound of these earbuds is quite outstanding as well. It is also quite comfortable and with minimal footprint for both the earbuds and the charging case as well and has all the necessary touch controls you'll ever need. You also get a decent transparency mode and low latency game mode and to top it all off, app support with additional features. Overall, a good budget option especially if you fancy its design and form factor and if all of its features check your boxes.
The SoundPeats mini Pro is now available via Digital Walker for just around Php 2790.
Related Article:
realme Buds Air 3 Review – Feature Packed!
Tribit FlyBuds C1 Review – Insane Battery Life!
Tribit StormBox Micro Review – Powerful Tiny Little Box!
Dizo Buds Z Review
Lypertek Tevi True Wireless Stereo Earbuds Review – Outstanding Sound Quality!
Dizo GoPods Neo Review – Affordable ANC TWS Earbuds!
EarFun Free Pro 2 ANC Wireless Earbuds Review
DIZO GoPods Review – Surprisingly Good for its Price!
EarFun Free 2 Review – Good Value Low Latency Wireless Earbuds!
Tranya M10 True Wireless Earbuds Review – My Daily Driver!
Edifier W600BT Bluetooth Headphones Review
Limited Edition Joyroom JR-T04S Pro True Wireless Stereo Headphones Review
OnePlus Buds Z Review – Steven Harrington Special Edition!
Marshall Major IV Now Available at Digital Walker and Beyond the Box
OnePlus Buds Z in white and limited edition Steven Harrington NOW AVAILABLE at HomeOffice.PH!
Marshall Uxbridge Voice Review – A Voice Assistant That Actually Sounds Great!
realme Buds Air Pro Review – Active Noise Cancellation!
SoundPeats TrueCapsule Review
Tronsmart Onyx Ace True Wireless Earbuds Review – Quad microphone!
SoundPeats TrueDot True Wireless Earbuds Review
ASUS ROG Strix Go 2.4 Review and AI Noise Cancellation Test
Cooler Master MH630 VS MH650 Comparison and Review
Edifier R1280DB Unboxing, Quick Review, and Sound Test

Subscribe for more reviews like this!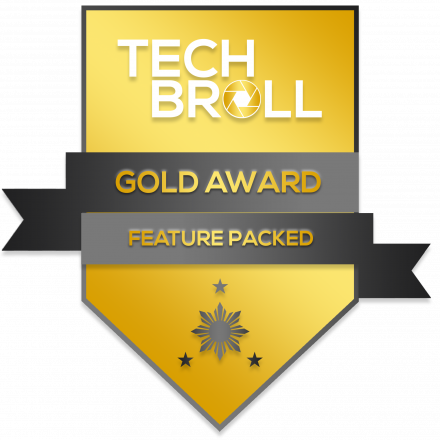 SHARE THIS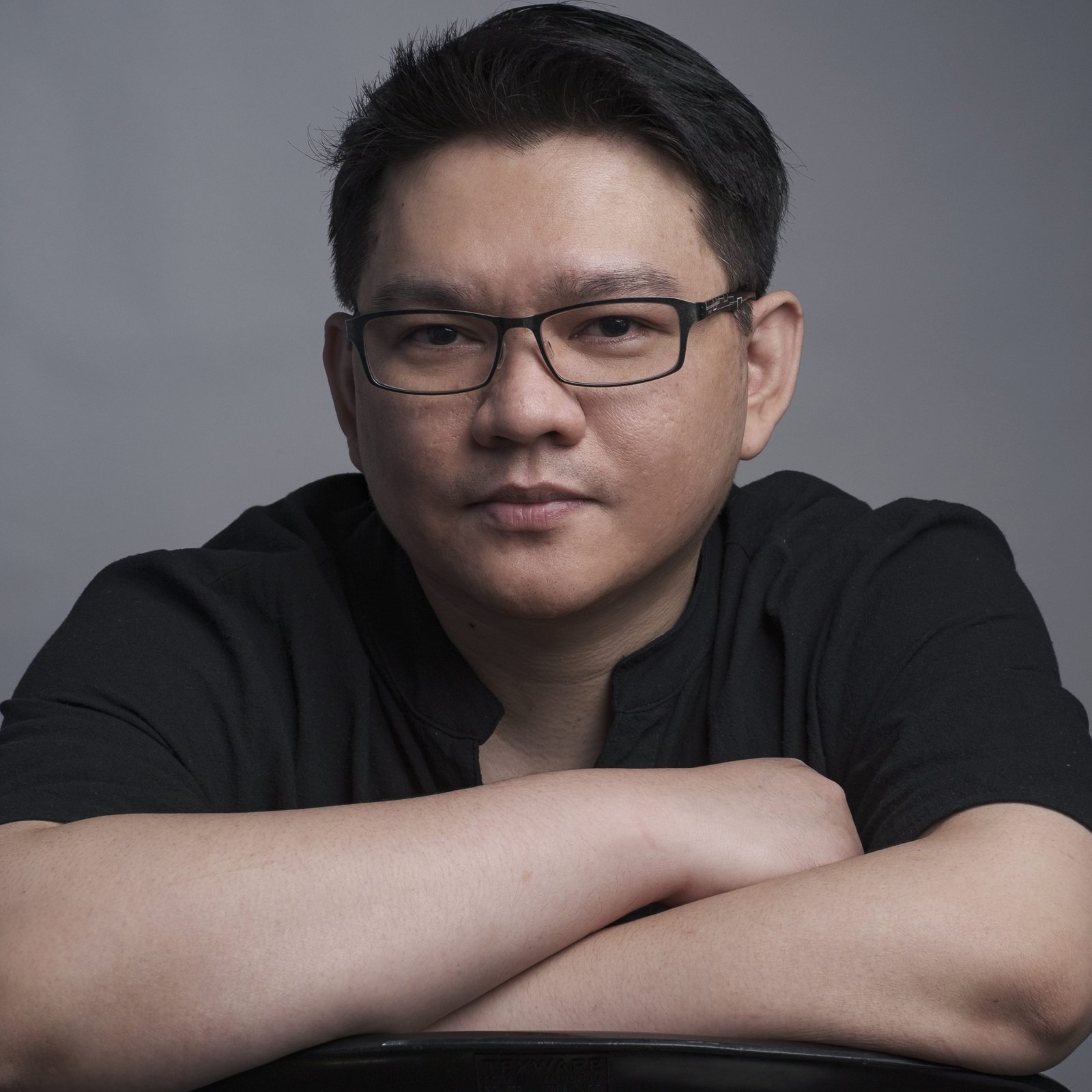 The Broll who always got your back online!