Today, we're finally doing another keyboard review, I've missed it actually so It's nice to get back to it. We're going to do an unboxing and review of the Durgod Gemini K520 Nebula, a keyboard that I think is one of the best when it comes to RGB lighting implementation because of the cool edge lighting partnered with the highly customizable Durgod Zeus Engine.
We're also going to install the Havit KC22 PBT Pudding keycaps on this keyboard to build the ultimate RGB Mechanical Keyboard. With that said, let's get into it.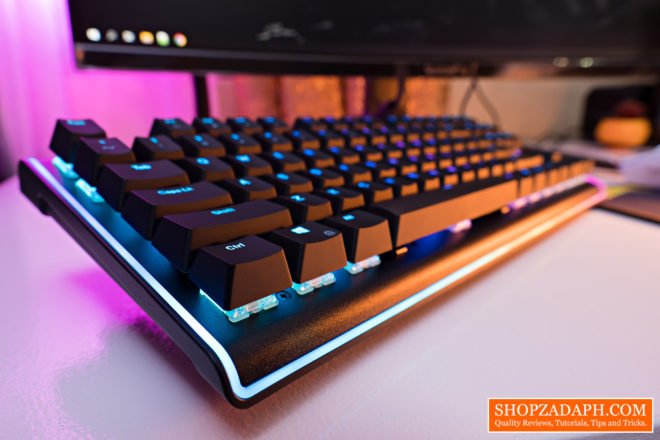 MY EARLY BREAKDOWN

Pros: Good build quality, Dependable Cherry MX switches, Edge lighting, Highly customizable software
Cons: Non-removable cable, Cheap UV coated keycaps
SPECIFICATIONS

Brand: DURGOD 
Model: Gemini 520 Nebula 
Type: Keyboard 
Material: ABS
Bluetooth Version: Not Supported 
Cable Length (m): 1.8 m 
Connection: Wired 
Interface: USB 
Key Number: 87 
Power Supply: USB Port 
Response Speed: 1000Hz 
Anti-ghosting Number: All-keys 
Keyboard Type: Mechanical Keyboard 
Backlight Type: RGB Light 
Keyboard Switch Brand: Cherry
Product weight: 0.7800 kg 
Package weight: 1.2000 kg 
Product size (L x W x H): 35.90 x 15.00 x 3.90 cm / 14.13 x 5.91 x 1.54 inches 
Package size (L x W x H): 41.00 x 19.00 x 5.30 cm / 16.14 x 7.48 x 2.09 inches
WHAT'S IN THE PACKAGE

We have here the packaging for the Durgod Gemini K520 Nebula Mechanical Keyboard.
At its side, we have its key features that we're going to tackle in-depth later,
At the back we have some contact information of Durgod which is nice for aftersales support. And it looks like what we have here comes with Cherry MX switches.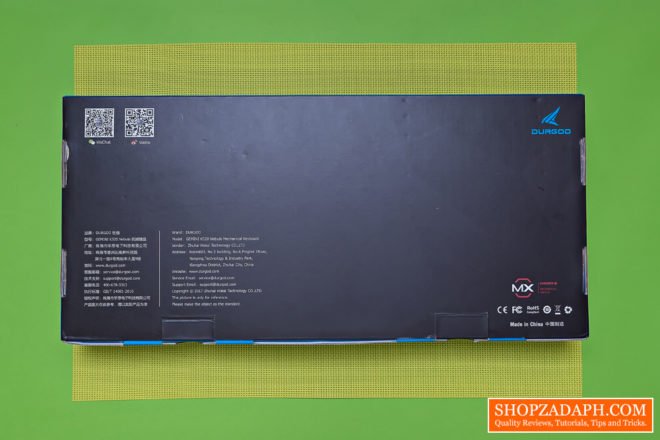 Opening the box, you'll be greeted by a quick start guide, a very substantial one.
And then we have here a plastic cover which I always appreciate.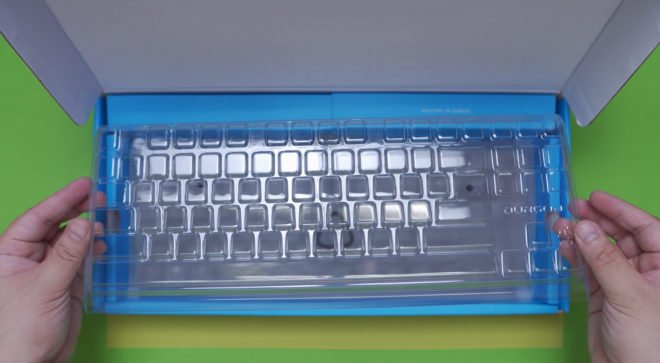 Inside the box we also have a couple more items, we have here a Durgod sticker and a Durgod velcro strap.
We also have a nice wire keycap puller here with a rather weird orange color but I'll take it.
FULL REVIEW
Design and Construction

Right of the bat as you can see the cable is non-removable which is a huge downside for me but at least it is braided.
At first touch, the keyboard feels really solid as I expect from Durgod and it doesn't flex at all thanks to its metal backplate that spans across the back and front edges of the keyboard adding to the overall rigidity of the keyboard.
 It weighs around 736g which is decent enough to have it stay in place on any desk.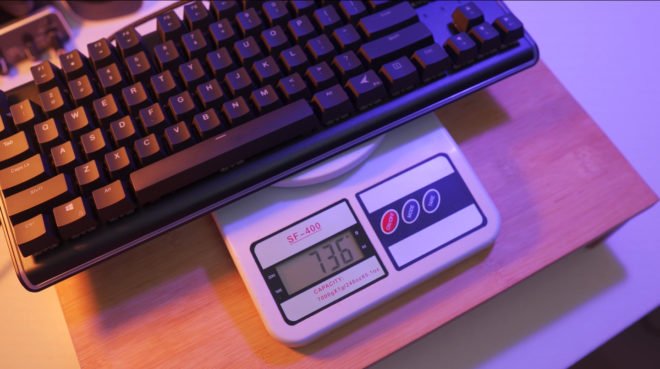 The bottom housing is made of hard plastic and it has this nice RGB illumination strip all around the keyboard.
We also have here some LED indicators for caps lock, scroll lock, windows key lock and memory recall.
Flipping it on its side, we can see that this keyboard is quite thin with an angled platform for that ergonomic design, it also has a floating keys design so the switches are visible and the keycaps profile is OEM, we'll take a closer look on them later.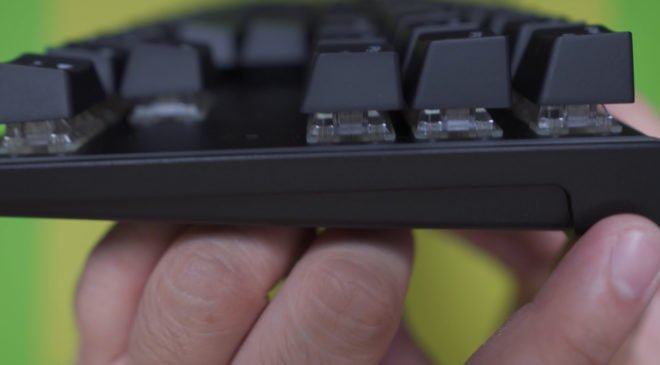 At the back of the keyboard, we have 6 rubber feet, 2 adjustable stands on each side with both of them having extra small feet for more height adjustment options. 
All of them are rubber-tipped as well which I highly appreciate.
We also have a premium looking chrome Durgod logo and the usual model name and certifications at the center.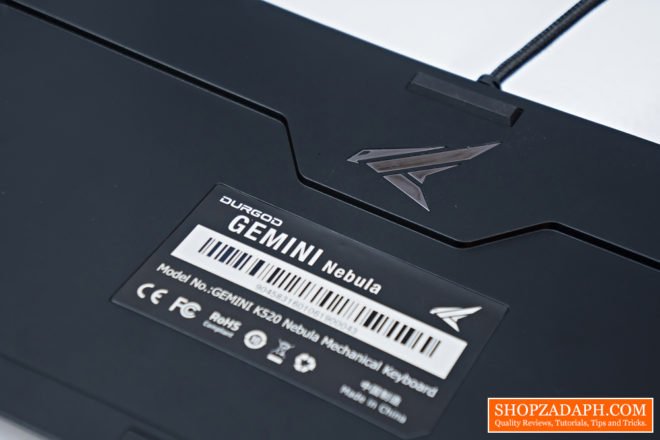 Overall, the design of the back of this keyboard is really clean.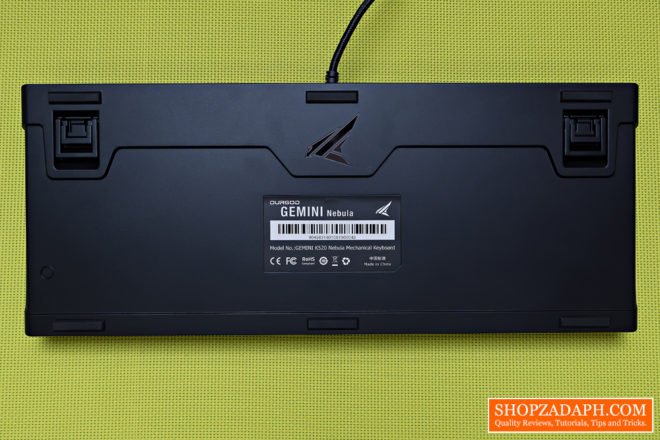 At the backside, we have a nice chrome Durgod logo right here
And as you can tell and as I've mentioned earlier, the cable is non-removable and I don't actually get it, I wish it was removable like what the Durgod K320 has.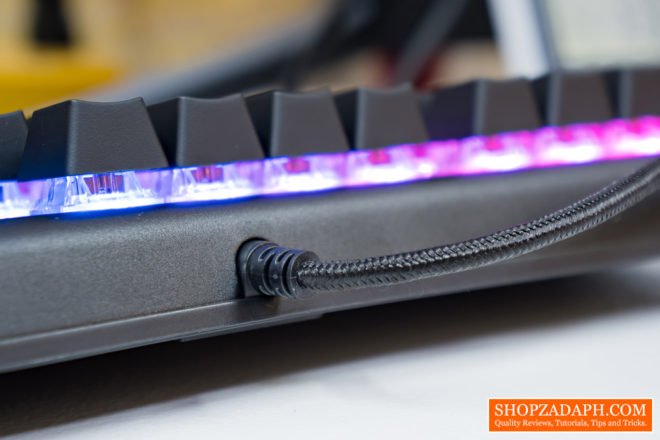 Moving on, back in front, let's discuss the layout.
Layout

This keyboard as you can obviously tell is a tenkeyless keyboard without a numpad but it has all the other necessary keys that you need while still being relatively compact. It uses the ANSI standard layout so replacing the keycaps should be a piece of cake.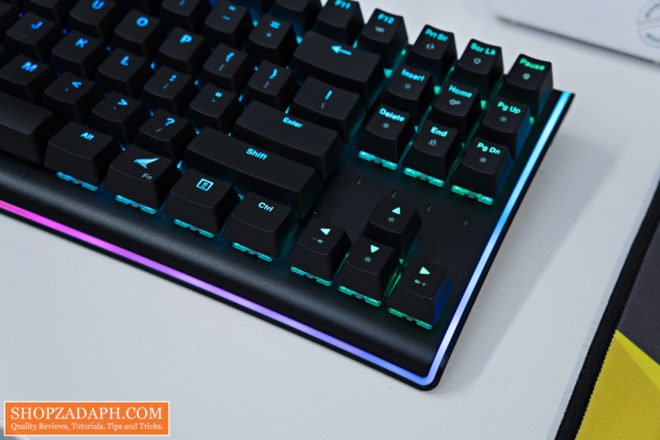 Keycaps

Speaking of keycaps, this keyboard, unfortunately, uses UV coated ABS keycaps which means it can fade away easily over time and will also inhibit shine easily compared to even a doubleshot ABS keycaps. I wish they use PBT keycaps like what the Durgod K320 has, or maybe I was just spoiled by how good the Durgod K320 is.
Anyways, this keycap has a thickness of only around 1mm and I am not surprised by that.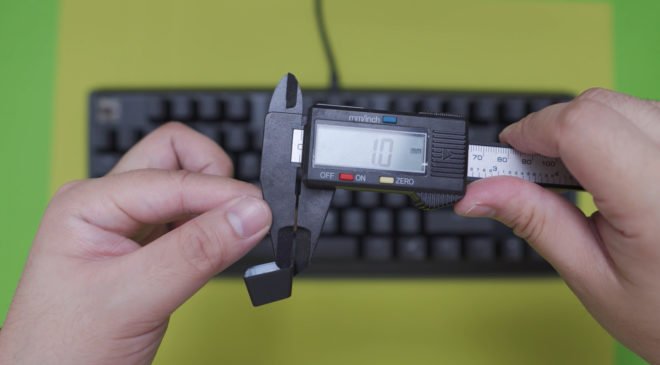 Now that we've exposed some of the downsides of this keyboard, let's check out what I think is the main selling point of this keyboard and that is the RGB goodness.
RGB Lighting Effects

This keyboard has 11 lighting effects preset including the custom mode which you can modify using the software. To toggle different lighting effects you just need to press FN + printscreen, then to choose a static color you need to press FN + pause. This feature is actually pretty cool and it's the first time I encountered this from any keyboard, basically, you just have to press a color from the choices without the need to cycle through all of them. It's very intuitive and easy to use rather than cycling through a bunch of different colors before you get in to the color you want.
Aside from that, of course, you can turn on and off the illumination by pressing FN + insert and delete respectively. You can also adjust the brightness by pressing FN + up or down arrow keys and adjust the animation speed by pressing FN + left or right arrow keys. To change the direction of the animation press FN + pageup or page down.
And lastly, to change the lighting effect of the edge RGB lighting, you have two options, one is by pressing FN + Home to sync it with the keys or press FN + End to pick an effect individually.
Turning off the lights as you can see, the illumination is bright enough for dim situations like this and the edge lighting gives that extra "oomph" to it making it really stand out.
This keyboard uses SMD LEDs or surface mounted LEDs that can produce up to 16.8m colors which means it is a true RGB keyboard and that the transition between the colors is very smooth. Looking closer at this Cherry MX switch unlike Gateron and Kailh, it has a complete cover on the through-hole.
Speaking of switch, let's talk about that.
Switches

This keyboard is using Cherry MX RGB switches and what I have here is the Cherry MX brown variant which is tactile and requires 55g of actuation force. It has a 2mm pre-travel with a 4mm total travel distance. Since it is a tactile only switch it doesn't have any audible click sound.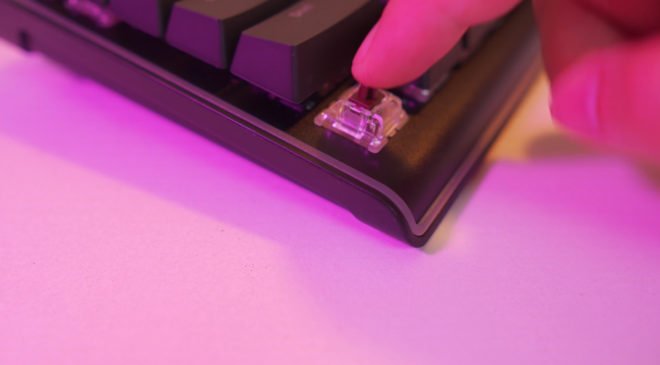 As per my experience, Cherry MX brown is more tactile than Gateron brown but is less smooth when it comes to the up and down stroke.


Stabilizers

Now, when it comes to the stabilizers, I would say it is decent especially at the center, it feels smooth but has some slight rattle on both sides.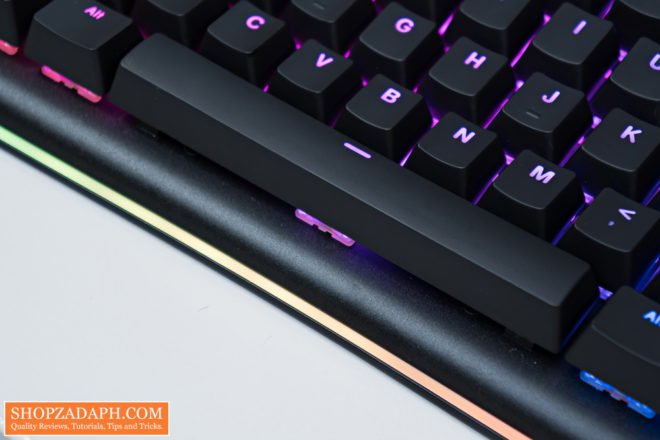 The stabilizers have some factory lube on it which I highly appreciate.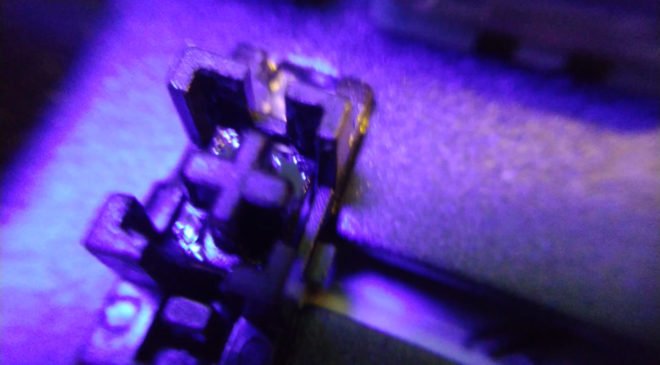 The shift key has some wobble but doesn't have much rattle.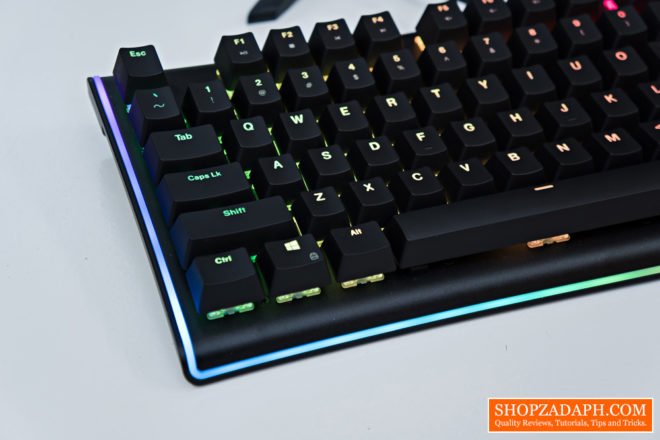 Size Comparison

Here's a quick size comparison so that you can have a bit of an idea of how a TenKeyLess keyboard differs from a full-sized keyboard and a pretty compact 60% keyboard.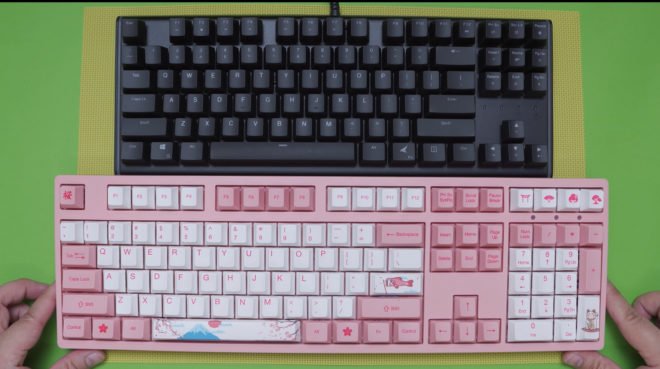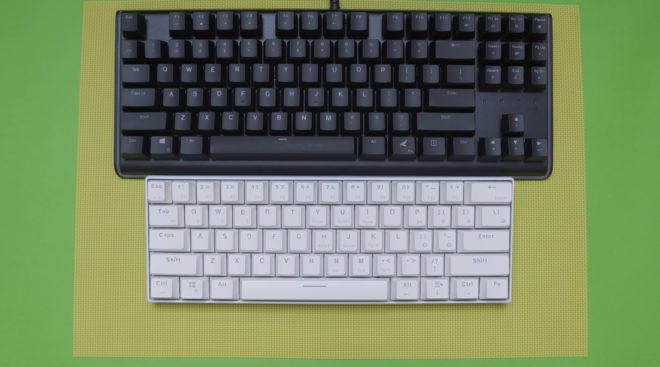 Now before we finish this review, I also have here the Havit KC22 PBT Pudding keycaps which in my opinion perfectly matches the Durgod K520 nebula.
Havit KC22 PBT Pudding Keycaps

This set of keycaps consists of at least 104 keys with some additional keys for layout compatibility. This is compatible with the ANSI Standard Layout and if I'm not mistaken is also compatible with ISO layout because of the included ISO enter key right. It also comes with a plastic keycap puller which is a nice touch.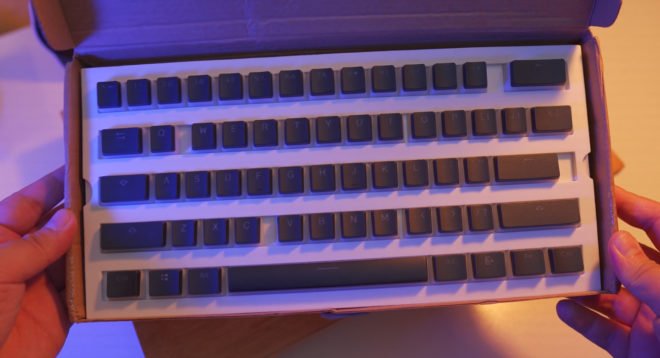 The keycaps are made of durable PBT plastic and I guess we can say that it is doubleshot because of the two separate materials used. The top part is black while the bottom part is translucent white to let the RGB lighting shine through.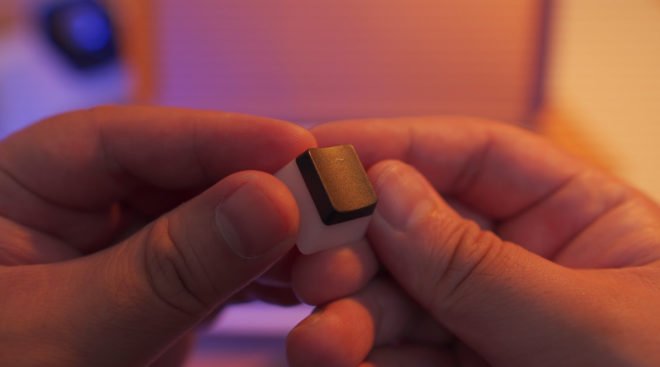 It has a thickness of around 1mm which is the same as the stock keycaps, but is definitely more durable and will not fade away easily over time since this is made of PBT plastic.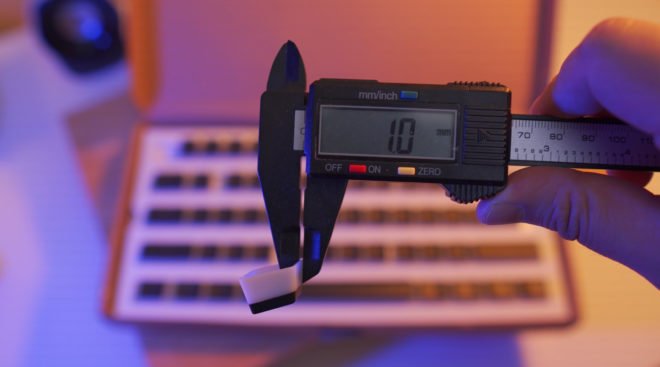 Once installed as you can see it's like a match made in heaven, the Havit KC22 PBT keycaps give the Durgod K520 Nebula that extra kick to the RGB illumination, which in my opinion looks really dope and this is one of those scenarios that you can definitely appreciate the RGB goodness.
Alright guys, now, let's discuss the performance of this keyboard.
Performance
NKRO

The Durgod K520 Nebula features an all key NKRO which means you can pretty much use all the fingers in your hands at the same time and all the keys will be registered. As per my testing, true enough, I was able to press at least 10 keys without any conflicts.
And as a wired keyboard, I also didn't encounter any input lag which is already expected.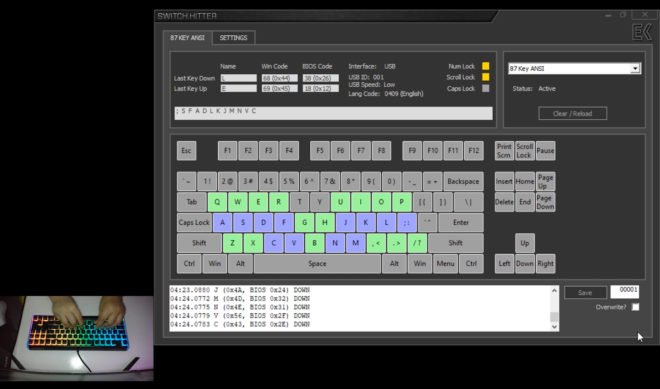 Typing Experience

Now, when it comes to the typing experience, the Cherry MX brown is pretty decent, you can definitely feel the tactile bump compared to the Gateron brown which has a very subtle tactile bump but as I said earlier, the Cherry MX brown is noticeably scratchier.
In my opinion, brown switch is a good middle ground between the blue clicky and tactile switch and the red or black linear switches. It is good for both typing and gaming without much compromise and is relatively quiet which should fit in most working environments.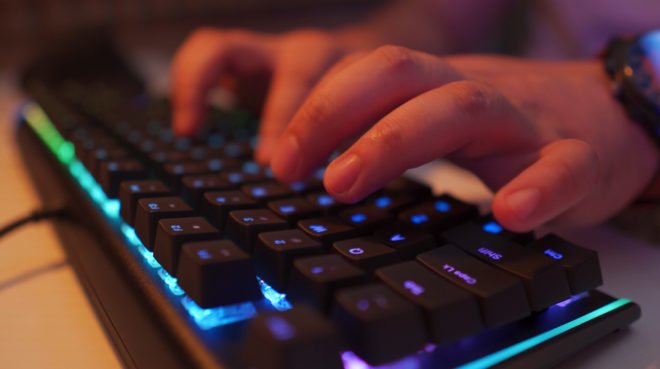 Gaming Experience

As for gaming, it is also decent and I don't have any problems actuating the keys with just a 55g required actuation force, while also preventing me from making mistakes compared to let say a 45g red switch especially for peaking on corners, you don't want to accidentally show your head right?. I also like the feel of the tactile bump whenever I press A and D for side to side movements giving me that extra feedback towards my movements.
Overall, the Durgod K520 nebula performs quite decently and I don't have any problems with its performance in any given application.
Alright guys, before we wrap this up, let's discuss the software.
Durgod Zeus Engine Software

The Durgod Zeus Engine is in my opinion, one of the best softwares that I've tried especially from a relatively new brand. It is a highly customizable very polished looking software.
On the front page we have a preview of all the products Durgod is currently offering. Once you connect a device, the software will automatically detect what particular model has been connected and the preview image will be in color mode.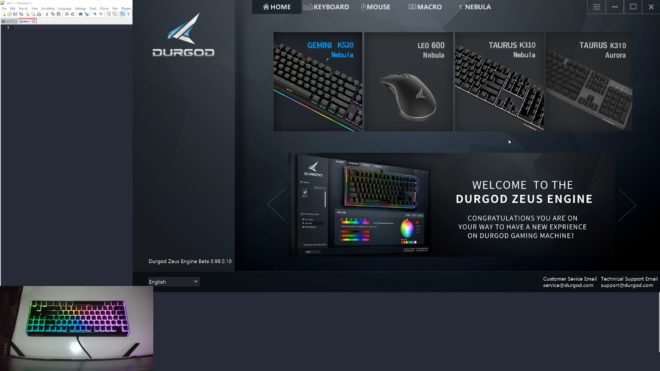 Using the software, you can pretty much change the function of a particular key to a macro, you can also remap it to a different key or a key combination, you can also change it to a multimedia function, mouse function, text, and you can even launch a program using a key. And of course, you have the option to disable a key or use it to switch between profiles.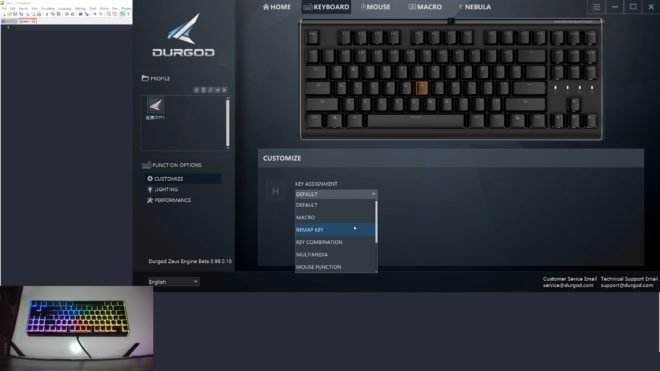 You can also customize the lighting effects of the keyboard using the software and it is highly customizable. 
You have the usual brightness, speed and direction customization options as well as a more advanced color pallete option.
Aside from the available lighting preset you also have the custom mode wherein you can create your own lighting preset that you can toggle anytime using the onboard settings by pressing FN+F12.
The RGB lighting customization actually doesn't stop there, we also have the Nebula tab wherein you can further customize the lighting effects on your keyboard in any way imaginable. You can pretty much choose a particular section of the keyboard and then apply a lighting effect separately per section which can make your keyboard really standout. You can also create layers depending on what you're trying to achieve. As you can already tell, the customization options for this keyboard using the Durgod Zeus Engine is sky's the limit.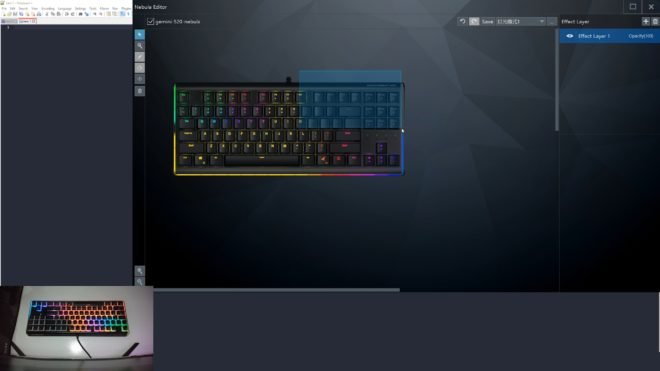 Aside from that, we also have the performance section wherein you can quickly disable some known key combinations that can interrupt your gaming experience.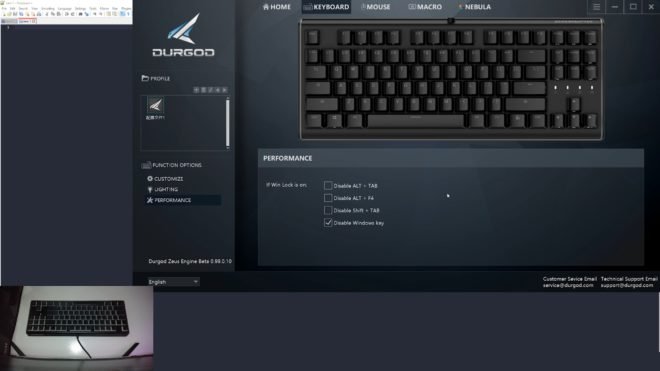 Of course we also have the Macro tab wherein you can record your macros and assign it to any key that you want.
And lastly, you can also create different profiles that you can use in different situations and applications for both gaming and productivity.
Overall, I really like what Durgod did with their software, it is very polished, intuitive and highly customizable.
VERDICT

In conclusion, the Durgod Gemini K520 Nebula is a pretty solid keyboard in terms of build quality and overall performance, but I think what makes this keyboard really stand out is the edge RGB illumination and that along with all the keys, you can pretty much customize it in any way possible using the very polished Durgod Zeus Engine.
The Cherry MX brown switch is also a good starting switch for anyone who's trying to get into the mechanical keyboard world because it is good for both typing and gaming. I only have two issues with this keyboard that can easily be fixed by Durgod on the next iteration of this model and that is the non-removable cable and the cheap UV coated keycaps. I'm now looking forward to an upgraded version of this keyboard.
Overall, if you like RGB goodness, then the Durgod Gemini K520 Nebula partnered with the Havit KC22 PBT Pudding keycaps is definitely worth considering.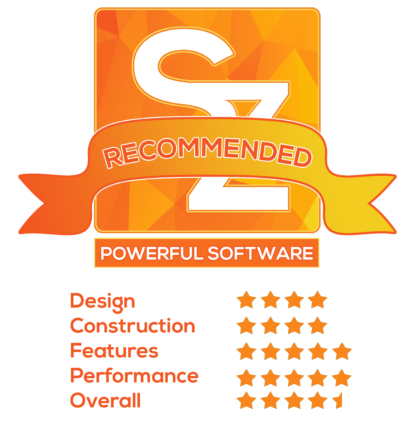 Thanks to 
Durgod
and
Havit
for making this review possible, you can get these products from the links below.
If you like this one, please consider subscribing to my channel by hitting the button below. Have a great day!

SHARE THIS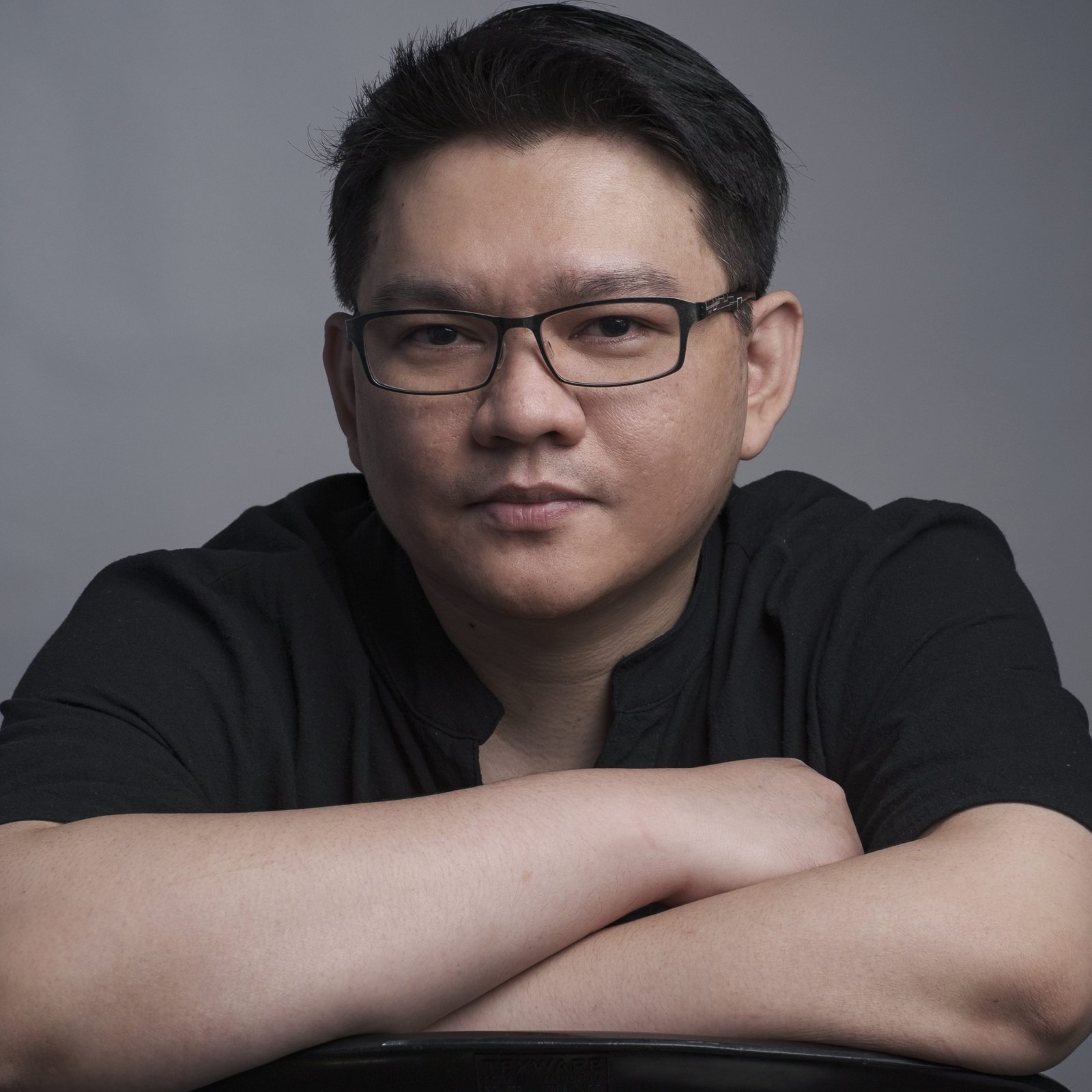 The Broll who always got your back online!