As a content creator and someone who constantly moves files around and between different computers, having a reliable and easy-to-use portable device is a must. I've tried external 2.5″ HDD and SSD enclosures from the past and while they are functional and does the job done, having a faster and smaller portable storage device is always a plus. And that's where the UGREEN M.2 M-Key SSD External Enclosure comes in. It supports both M.2 NVME and SATA protocols which is awesome for wider compatibility and it also supports up to 4 different sizes of M.2 SSDs from the smallest 2230 to the larger 2280. Not to mention, it also comes with 2 cables out of the box, USB Type C to Type C and USB Type A to Type C to even widen the compatibility with different electronic devices. Aside from that, it also features a reliable RTL9210B chipset that supports USB 3.1 standards, UASP, and TRIM. It beats the traditional spinning disk drive without compromising much on capacity as it supports up to 2TB M.2 SSDs. Now, full disclaimer, before we proceed with this review, my go-to brand when it comes to chargers, cables, USB hubs, and other accessories is UGREEN, and when they reached out to me asking to review some of their products, of course, I had to say yes. With that being said, rest assured that I will provide my honest feedback in this review. So let's get into it.
MY EARLY BREAKDOWN
Pros: Small form factor, Sleek and minimal design, Durable aluminum construction, Wide compatibility, Easy installation, Good performance, and overall great value.
Cons: The locking mechanism can be finicky at times but that's just me nitpicking, NVME Drive limited to 1GB/s speed due to USB 3.1 Gen2 limitation
SPECIFICATIONS
WHAT'S IN THE PACKAGE
The packaging for the UGREEN M.2 M-Key SSD External Enclosure is something I'm already accustomed to with UGREEN Products. It looks and feels like something you would expect from a budget product but with a not-so-cheap feel.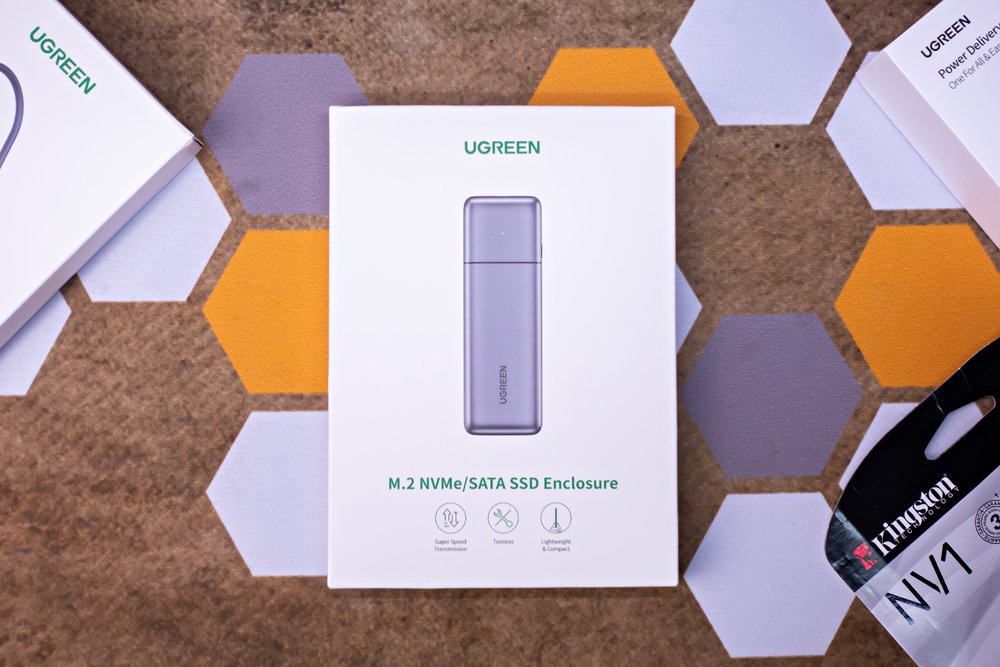 In front of the box, we have some branding, an image preview of the product, and some of its key features. However, one thing that bothers me is the lack of a particular recognizable model name other than a generic "M.2 NVME/SATA SSD Enclosure" name which may pose some challenges if you want to search about it online other than the product page in Lazada. To be fair, we have a model number on the specifications which is CM389 – 80863 but still, naming it with something like UGREEN CM389 Dual Protocol M.2 Enclosure is better in my opinion. And this is usually the case with most UGREEN products, they just describe what the product is on the title. I hope they can consider adding the short model name on the product title/branding itself. Don't get me wrong, I like UGREEN products a lot, I just realized and noticed that "branding/model name" part when doing this review.
Moving on, at the back of the box, we have the specifications and contact information of UGREEN. 
Upon opening the box, we're greeted by the rest of the package contents protected individually by a soft plastic cover. We have a user manual, a couple of cables, and the UGREEN CM389 Dual Protocol M.2 Enclosure itself.
As I've pointed out earlier, we have a USB Type C to Type C cable and a USB Type A to Type C cable.
We also have an extra locking clip which is a nice touch as I can see myself possibly losing this at some point.
And finally, we have the enclosure itself.
FULL REVIEW
Design, Construction, and Parts Overview
In terms of the design and construction, the UGREEN CM389 Dual Protocol M.2 Enclosure features a sleek, robust, and quite thin, and relatively lightweight aluminum construction. The design is also minimal that I can honestly feel will fit in any type of environment and aesthetics.
In front, we just have a small UGREEN branding and at the back, we have a small LED indicator at the center of the top part and then some certifications and other information on the bottom part of the chassis.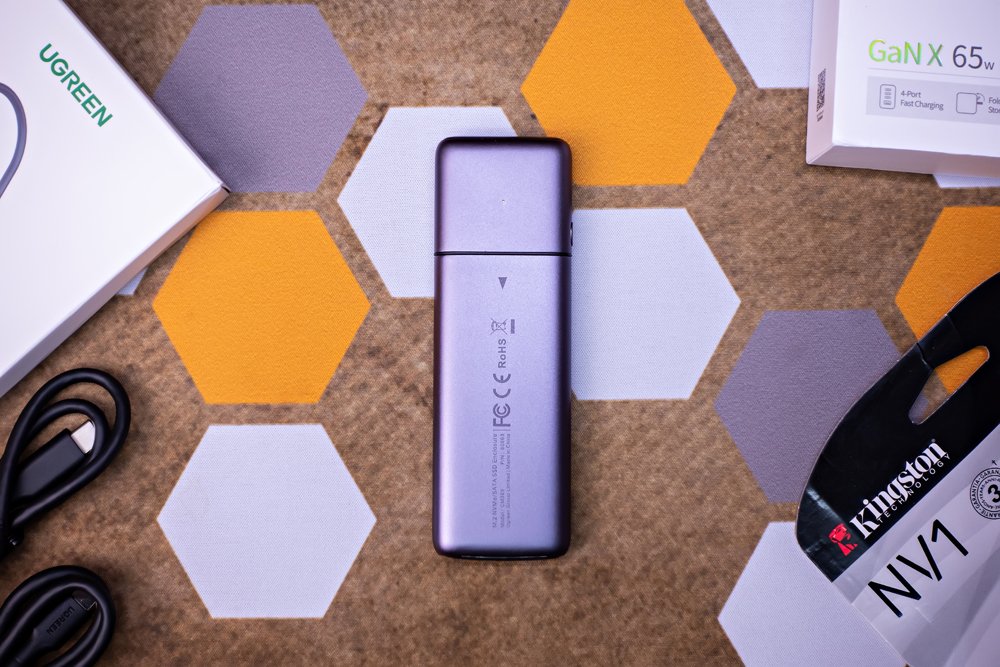 Flipping it on the left side, we have the button for the locking mechanism of the chassis. 
And what's good about this is that the chassis is actually reversible, regardless of the orientation, it will latch itself with the lock. I wasn't able to take a picture of the bottom, but we actually have a subtle "designed by ugreen" branding there.
Compatibility
The UGREEN CM389 Dual Protocol M.2 Enclosure is compatible with both M.2 M-Key NVME and M.2 M&B-Key SATA SSDs and supports 2230, 2242, 2260, and 2280 form factor/sizes. It is driver-free and plug-in-play for Windows, Mac OS, and Linux. 
Features
Tool-Free Installation
What the UGREEN CM389 Dual Protocol M.2 Enclosure offers other than the small form factor is the tool-free installation design. You simply have to slide out the back cover, insert your M.2 SSD and lock it in place using the provided locking clip.
Other Features
USB 3.1 Gen 2 Interface, supports transfer rate up to 1GB/s
Smart Chipset RTL9210B – Stable, Reliable, and supports UASP/TRIM for better performance
Up to 2TB Capacity
Smart Sleep Mode – Saves power when idle for 15 minutes
Supports pretty much all mainstream operating systems such as Windows, Mac OS and Linux
Performance
For our testing, I used all the M.2 NVME drives that I have here in the studio. These are the Kingston NV1, XPG SX8200 Pro, and the TeamGroup MP33 Pro. Unfortunately, I don't have any M.2 SATA SSD, so I wasn't able to test that.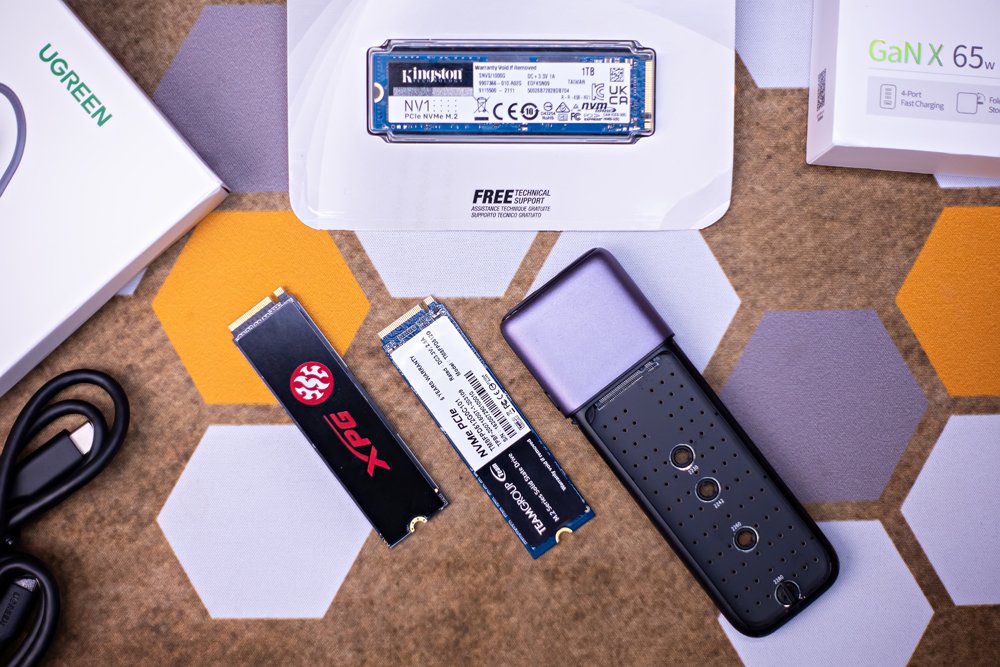 As expected, the supposedly fast NVME SSDs were bottlenecked with the limitation of the USB 3.1 Gen2 interface which is 10 Gbit/s or in this case, 1GB/s max.
As per testing, we're getting around 600 – 1060 MB/s read and 1024 – 1032 MB/s write on these NVME drives and while these are not the peak performance of these drives, the speeds are still faster than any larger 2.5″ SATA or HDD external hard drives and enclosures. With this speed, you can still quickly transfer files such as photos, videos and documents.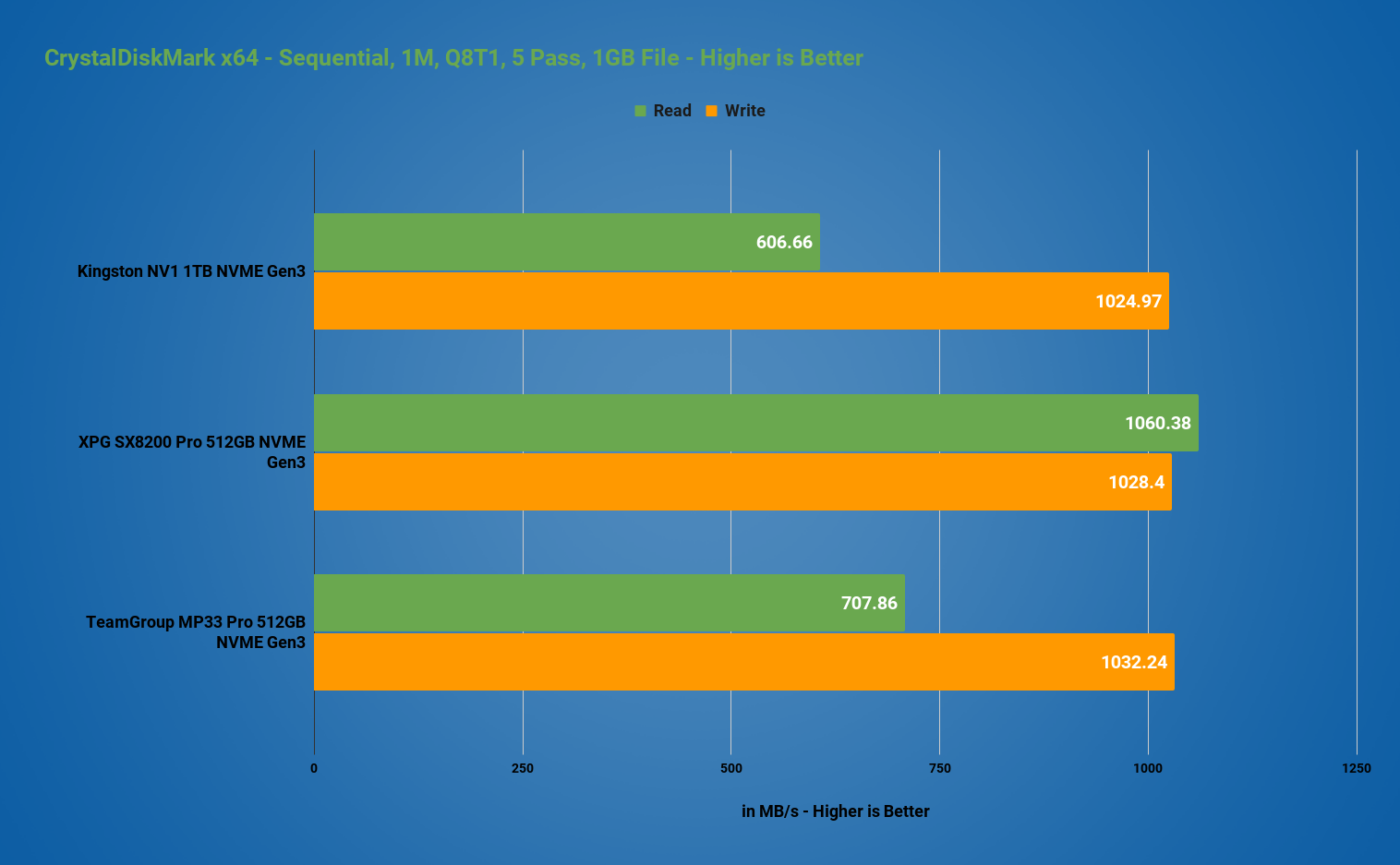 I also tested it for video editing straight off from the enclosure and I didn't encounter any significant hiccups. I was able to scrub through my 4K timeline without much stuttering or buffering. Thumbnail generation could take some time but overall, it is perfectly usable for on-the-go video editing. 
The enclosure also doesn't heat up as much as other aluminum casing that I've tried before and the cavity is large enough that you can even use your own thermal pad solution.
The only downside that I can think of if I really want to dig deep and look for one is that sometimes, the locking mechanism tends to be quite finicky. Sometimes you have to remove it completely, slide in the M.2 SSD and lock it in place. Other than that, I have no major gripes with this enclosure.
VERDICT
To conclude, the UGREEN CM389 Dual Protocol M.2 Enclosure is a very good option if you're looking to repurpose your spare M.2 SSDs or if you want to create your own external storage device from scratch. The design and build construction is really good and will fit any kind of aesthetics with a quite minimal design language. Compatibility is also fairly extensive supporting both M.2 NVME and SATA SSD with support for different form factors. Performance-wise, although it prevents NVME drives to perform at their peak, it is more about the limitation of the USB interface rather than the device itself. And with a 1GB/s transfer speed, you can still transfer photos, videos, and other files large and small fairly quickly with an option to use it as an external scratch disk for video editing and possible gaming on the go.
Price and Availability
UGREEN M.2 NVME SSD Case, 13% off during 6.6 Mid-Year Sale:
Lazada: https://bit.ly/3cfrsph
Shopee: https://shp.ee/vp482zv
Ugreen & Lazada Mid-Year Sale, up to 85% OFF: https://bit.ly/3fLqfIB
Ugreen & Shopee Mid-Year Sale,up to 85% OFF: https://bit.ly/2S8NqDM
Note: You can also take advantage of up to 85% off storewide, grab limited 50% off vouchers and watch out for massive flash sales items & free gifts.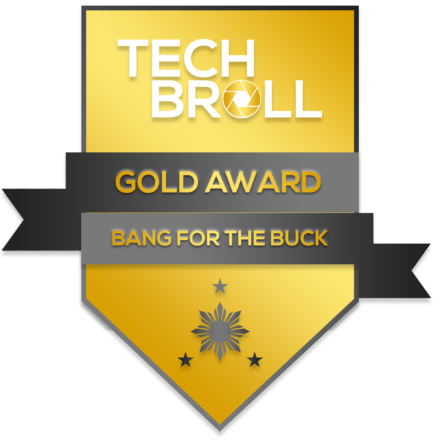 UGREEN M.2 M-Key SSD External Enclosure
Php 1387
Pros
Small form factor
Sleek and minimal design
Durable aluminum construction
Wide compatibility
Easy installation
Good performance
Cons
The locking mechanism can be finicky at times but that's just me nitpicking
NVME Drive limited to 1GB/s speed due to USB 3.1 Gen2 limitation
SHARE THIS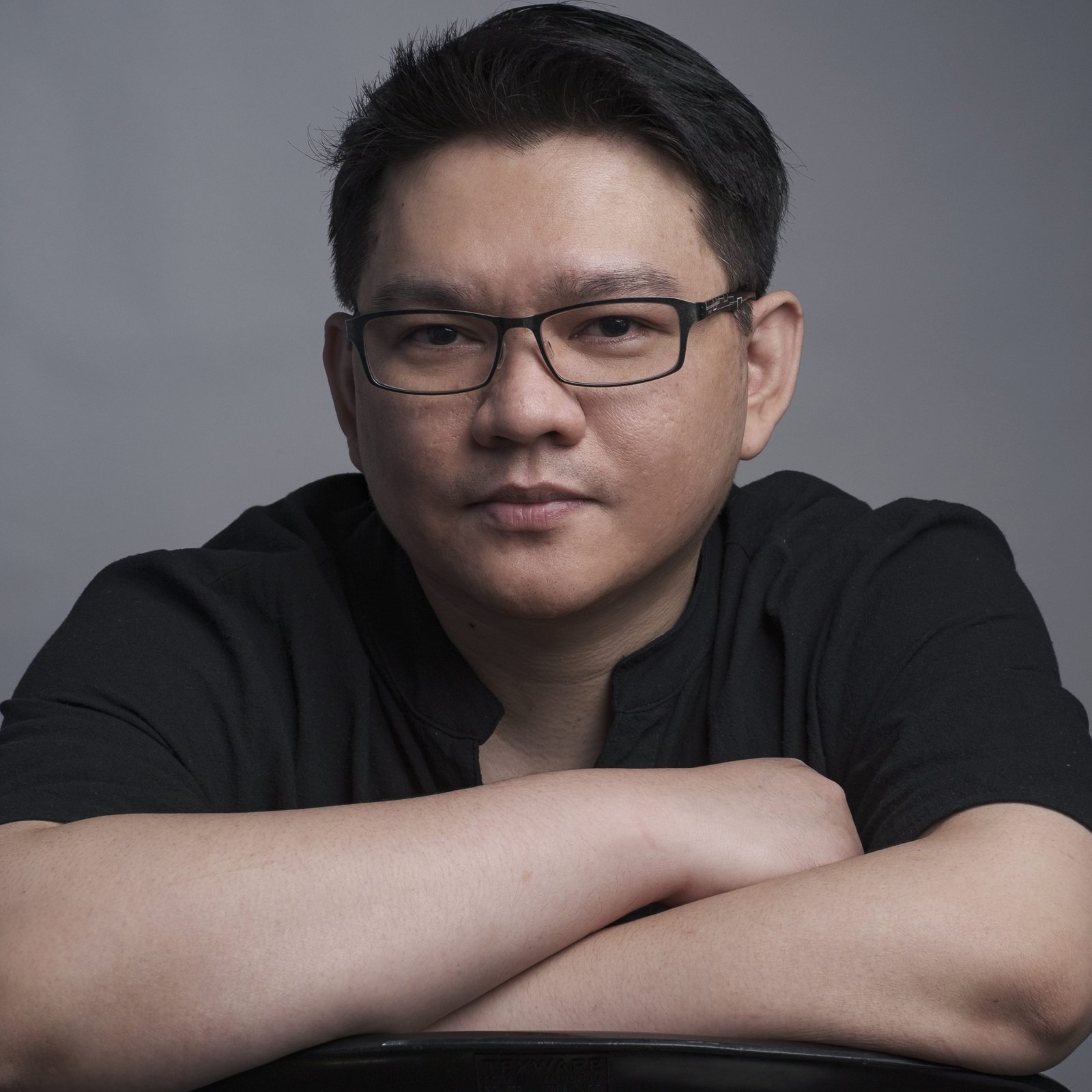 The Broll who always got your back online!