With my continued pursuit of budget gaming peripherals, I stumbled upon the most affordable mechanical keyboard that I can find on Lazada. We have here today the Gigaware K28 Mechanical Keyboard, and we're going to dissect everything you need to know about this.
I never thought that I would actually find a legit mechanical keyboard for just around 1000 pesos, there are a lot of mecha-membrane or "mechanical-feel" keyboards out there but there's nothing that can imitate the feel and tactile feedback of a true mechanical switch, however you market those fancy false mechanical keyboards, it's still a membrane.
MY INITIAL BREAKDOWN


Pros: Affordable, Decent design with 9 lighting effects, Clicky and tactile content blue switch, Comes with a palm rest

Cons: No solid color for the RGB lighting

SPECIFICATIONS


Plastic Finish
87-Keys
Blue Tactile Clicky Switches (Content)
Low Profile
Double Shot ABS Keycaps
N-key Rollover Anti Ghosting
Rainbow LEDs
Comes with 9 Color Modes by Pressing FN+SL



FULL REVIEW


Design and Construction



In terms of design, the Gigaware K28 Mechanical Keyboard actually looks decent for my taste. The layout is quite standard and the fonts are your typical gaming keyboard fonts but not too obnoxious. My only gripe with the design is the super glossy plastic finish on the backplate, I would prefer a matte black finish or at least a brushed aluminum finish. It also has a "gaming" branding above the arrow keys and on the included palm rest, which I think is a bit unnecessary. Other than that, I like the overall design.
When it comes to the construction, although made from plastic, it's hard and sturdy enough with almost no flex which can indicate some durability. The back is made from hard plastic with two adjustable stands that unfortunately, doesn't have rubber feet on it. It also has two foam padding that I wish could've been an anti-slip rubber. Overall, the construction is pretty solid.
The Gigaware K28 comes with a detachable palm rest which is well appreciated especially at this price point. It's actually quite useful to aid with comfort as it raises your palm for a more ergonomic typing experience.
Another good side of this keyboard is that it has a braided cable with ferrite chokes at the end to minimize interference.

Lighting Effects



The Gigaware K28 Mechanical Gaming Keyboard has 9 lighting effects aside from the standard full-on RGB. You can toggle the light effects by hitting the FN+SL key and you can also change the brightness in 3 levels by hitting the FN+Up/Down arrow keys. Aside from that, you can also change the speed of the light effect by hitting the FN+Left/Right arrow keys. Unfortunately, there's no option for solid colors and the lighting effects cannot be customized.
The windows key has a world of its own when it comes to lighting, if the key is unlocked, it will not light up, but if you lock it up by hitting the FN+Win key, it will light up.
According to the manual, you can toggle the N-Key Rollover feature by hitting the FN+Ins key and you can toggle the Standard Mode by hitting the FN+PS key. If you want to restore the keyboard to factory settings, you can do so by hitting the FN+Esc key.
Keycaps, Switches and Typing Experience



The Gigaware K28 comes with a free keycap puller which may come in handy when the time comes that you need to clean the keyboard or change the keycaps.
Speaking of the keycaps, this keyboard uses double shot keycaps made of ABS plastic with cherry MX compatible stems.
This means that you can use a lot of available custom keycaps out there that is compatible with this cross stem.

Now, when it comes to the switches since this is a mechanical keyboard, there is only a certain amount of pressure that you need, to actuate the keys without needing to bottom it down, which is a big advantage compared to a membrane keyboard. This means that you can type much faster with higher accuracy.
This keyboard uses a blue switch with what seems to be a stabilizer for the keycaps.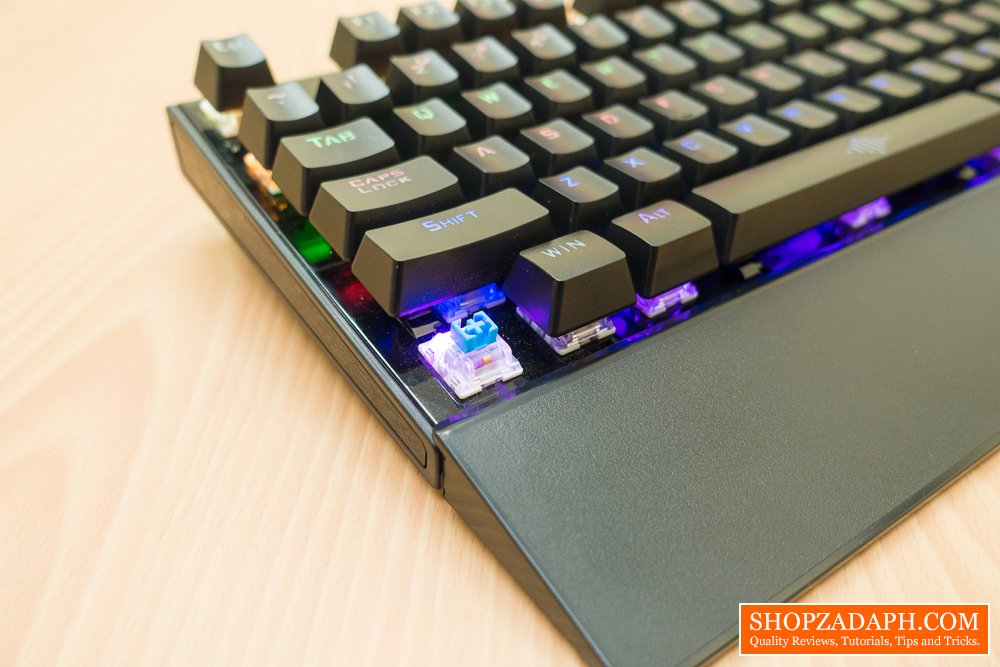 Looking even closer, I found out that this switch is a Content switch, which I haven't heard of and I can't find anything about it on google. Anyways, it's quite clicky and tactile as you might expect from a blue switch.
Now, when it comes to the typing experience, for the most part, it's actually decent and accurate. The keys are super clicky, tactile and loud and very satisfying to click. Coming from a keyboard with Cherry MX brown switches, it was a drastic change when it comes to the typing experience. The blue switch is way louder and clicky compared to the brown switches, but I actually enjoyed it to be honest and It was a nice idea to try out this keyboard as my main input device for more than a week.

Other Features and Gaming Performance


This keyboard as I've mentioned features N key rollover with anti-ghosting and as per my testing, it actually does just that. I didn't encounter any key conflicts while hitting multiple keys at the same time and hitting another key. All keys register as it should be, and that is a good sign especially for playing games that require fast and multiple keystrokes at the same time.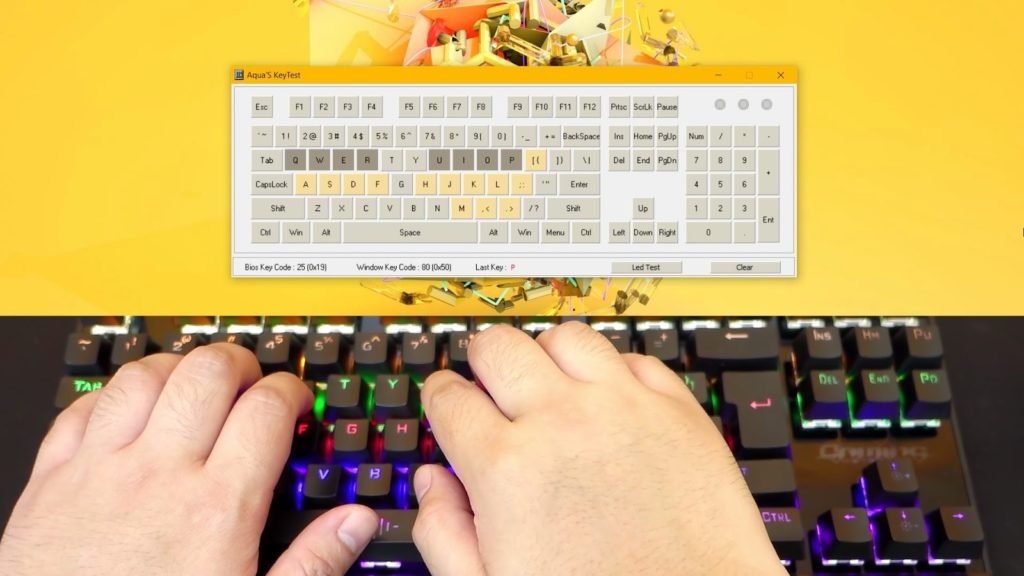 Speaking of games, as always, I've tested this on multiples games and I didn't encounter any issue. at least for the time being. I asked a lot of people from the Philippine gaming community that actually owns this keyboard with regards to the long-term durability of the keys, and I got a lot of mixed feedback. Some say that the keys fail after several months and others say that it's still working just fine after more than a year. And I guess that's a risk that we have to take about this keyboard considering how cheap it is for just around 1000 pesos. But regardless, since this is a mechanical keyboard, you can easily swap switches on the long run if you deemed necessary.
VERDICT



Will I Recommend This? Yes



So in conclusion, aside from the risk I've mentioned with regards to the durability factor of the keys, I feel like this keyboard is still worth trying especially if you're on a very tight budget but still want to get a mechanical keyboard. The overall design and build of this keyboard is good, the lighting effects are well appreciated and the satisfying, clicky and tactile blue switch even if it's just a clone switch is still far more superior than a membrane keyboard when it comes to the overall experience.
Related Articles:
What's inside a Membrane Keyboard? – Mechanical VS Membrane
Fantech K611 Fighter TKL Gaming Keyboard Review
Gigaware K28 Mechanical Keyboard Review + Lighting Effects + Typing Test
Thank you for your time reading this review, if you like this one, please consider subscribing to my channel by hitting the button below. Have a great day!
WHERE TO BUY:

LAZADA: Gigaware K28 Mechanical Gaming Keyboard
I searched for the highest amount of ratings and good feedback from buyers

Price may vary depending on existing promos
The views and opinions on this review are solely based on my own personal experience, your results may vary
SHARE THIS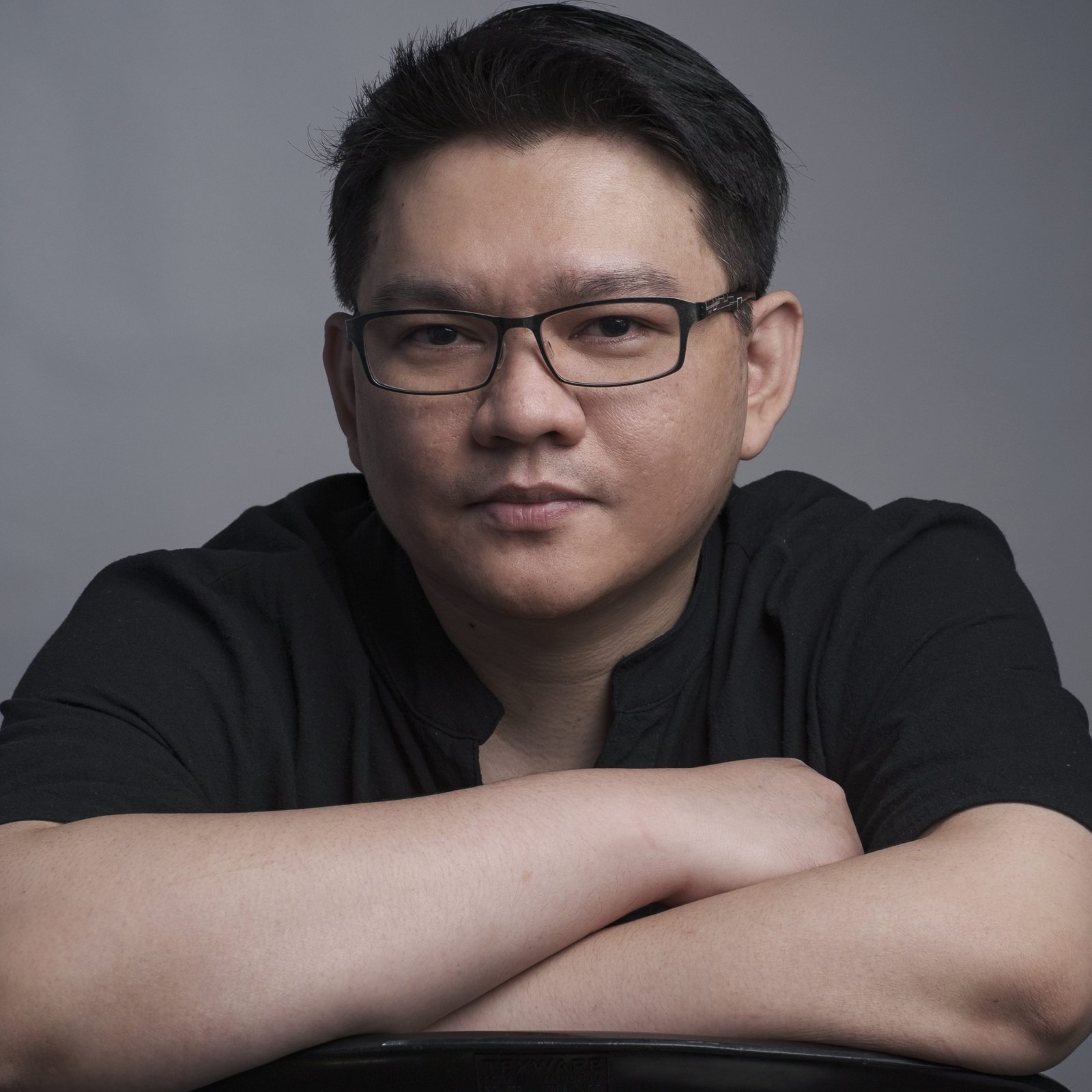 The Broll who always got your back online!