Today, we're going to review the Sades Frost Staff Mechanical Keyboard, a mechanical keyboard that uses a very interesting LK Optical Switch that features a 0.2ms key response time, reduced travel distance of 3mm and 100 million clicks lifespan. With these set of characteristics, the Sades Frost Staff provides that fast and responsive keystrokes that gamers always look for that you won't typically get from a standard mechanical keyboard out in the market.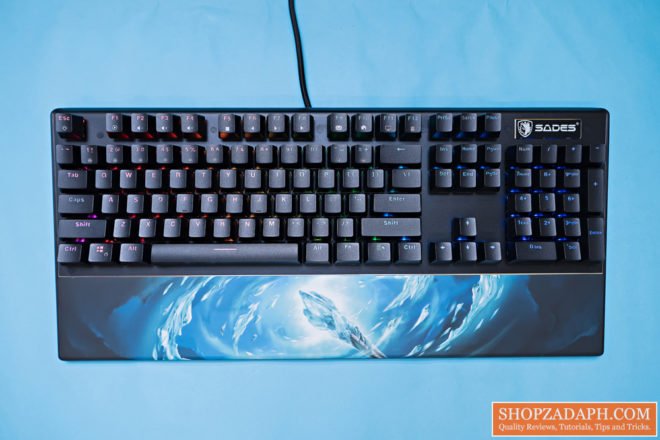 MY EARLY BREAKDOWN

Pros: Fast and responsive LK optical blue switch, Unique frost staff design
Cons: Flex on the palm rest, non-detachable palm rest and cable, Buggy, basic and non-intuitive software
SPECIFICATIONS

DESIGN
Ergonomic: full size keyboard
Integrated wrist rest
Length:442 mm/17.40 in
Width: 205 mm/8.07 in
Height: 38 mm/1.50 in
Cable Length: Approx. 1.8 m/5.91 ft
Input Plug: USB Plug
KEYBOARD PARAMETER
Number of Keys: 104 keys
Switch Brand: LK
Switch color: Blue
Switch Type: Optic
Switch Lifespan: ≥ 100 million times
N-key rollover : Yes
Waterproof : Yes
Report Rate: 125/250/500/1000
CUSTOMIZATION OPTIONS
RGB lighting
18 backlight modes
104 Programmable Buttons
Macro
Multimedia
SYSTEM REQUIREMENT:
PC with a free USB port
Windows:7/8/10
50 MB of free hard disk space
WEIGHT/SIZE/EAN CODE
Weight(Keyboard): 1.26kg/2.78 lb
WHAT'S IN THE PACKAGE

SADES Frost Staff Mechanical Gaming Keyboard
Product Manual
Warranty Card
SADES Sticker
FULL REVIEW
Design, Construction and Parts Overview

At first look as you can see the SADES Frost Staff is massive with its built-in palm rest. It does have a decent weight to it of around 1146g and feels solid enough, though it does have some squeaking sounds when you flex it.
In front of the keyboard, we have a nice palm rest and then we have a SADES logo on the upper right side, this keyboard is a full-size keyboard which means we have a complete numpad and all the necessary keys. Unfortunately, the cable is non-removable which is a downside but not that critical for a big keyboard like this compared to a compact keyboard like a 60% keyboard and something similar.
At the back of the keyboard we have 5 small rubber feet, 2 stands with a rubber tip as well and even though the cable is non-removable at least we have some cable routing channels. We also have a design accent and the usual serial number and certifications at the center.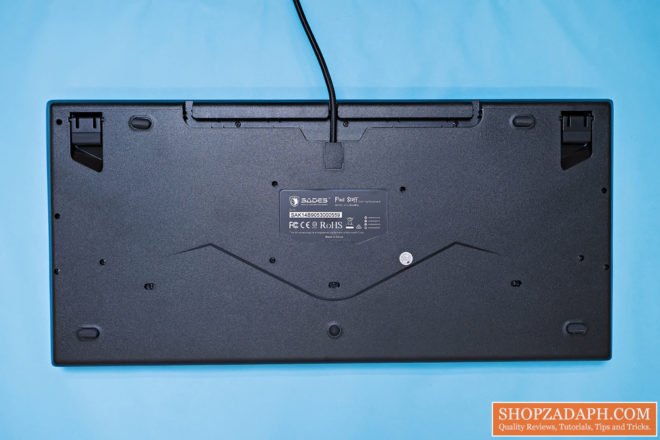 Looking at the side of the keyboard, we can see that the housing is quite slim and that it has a floating keys design which means half of the switches are visible. The keycaps profile is OEM for that standard ergonomic form factor.
This keyboard also has these chamfered edges around it that gives a separation between the metal backplate and the plastic housing. The overall design is slim and the angle is also on the shorter side.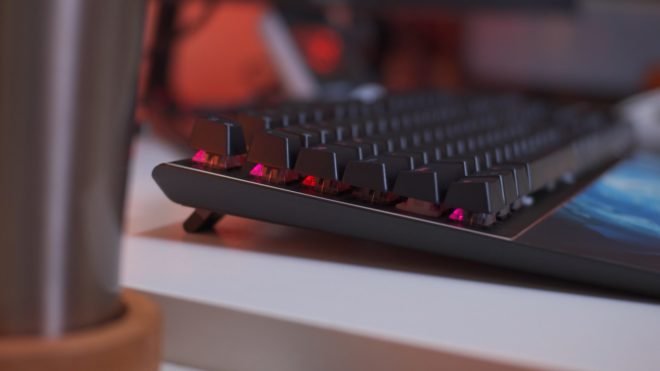 Layout

In terms of the layout like I said it is a full-sized keyboard and is using the ANSI standard layout. The fonts are your typical OEM fonts with sub legends for secondary functions.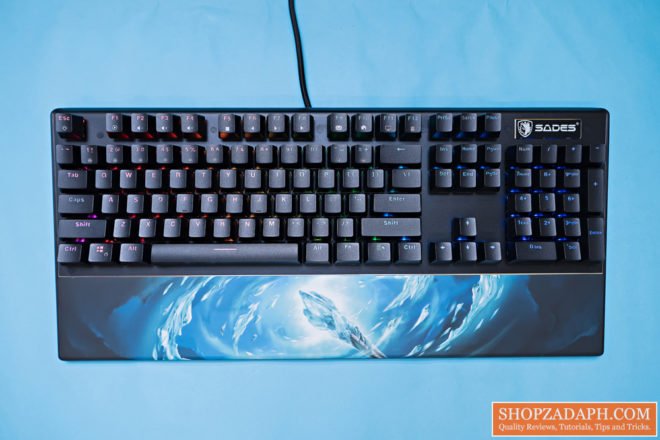 Palm Rest

Looking closer on the palm rest it has this nice frost staff design with a smooth matte finish that is nice to the touch. However, the build quality on this part is not that good with a very noticeable flex as you can see here.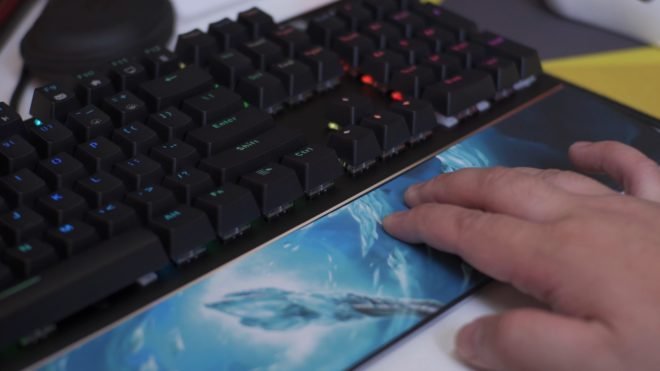 Keycaps

Now, when it comes to the keycaps, this keyboard uses Doubleshot ABS keycaps which is nice, but the doubleshot molding doesn't span across the entire keycap which makes the overall thickness only around 0.9mm which is rather thin.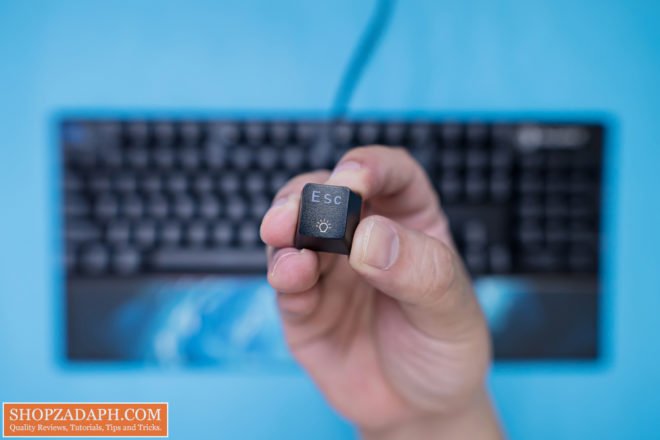 Overall, the design is good but I don't like the fact that the palm rest is built-in and non-detachable making this a no-go for people who don't like palm rest.
The cable although braided is non-detachable which is also a downside but at least the USB plug is gold plated.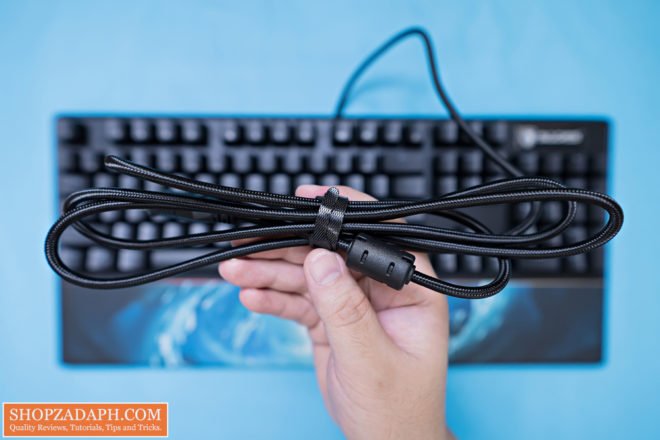 Waterproof

This keyboard also features a waterproof design with spill ports at the bottom as you can see here.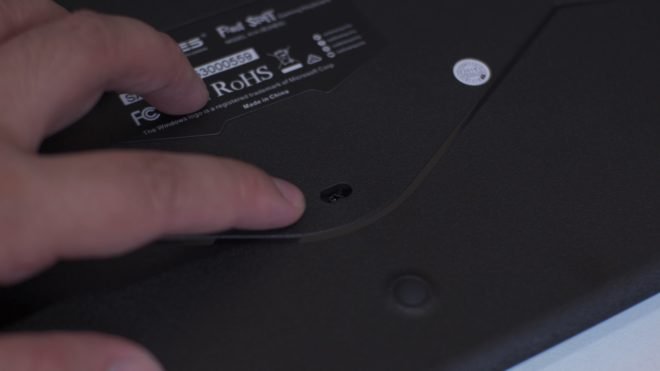 Moving on let's check out the RGB Illumination on this keyboard
RGB Lighting

To turn on and off the lights you just have to press FN + Esc, and then press FN + down or up arrow keys to adjust the brightness. The caps lock, windows key, scroll lock and num lock will flash once you hit the maximum setting. And then to toggle the 18 different lighting effects you just have to press FN + 1 to 6, each number corresponds to 3 different effects. Now, to adjust the direction of the animation you just have to press FN + – and to adjust the speed press FN + left or right arrow keys, you can also press FN + the + sign to change between single colors.
Aside from the RGB presets you can also use the FN key to toggle all the different sub-functions.
One annoying thing that I see on this keyboards' lighting is that the caps lock, windows key, scroll lock and num lock has a world of their own and is not part of the overall RGB implementation. The only color they have is red when toggled and off when inactive which is kinda annoying, to be honest.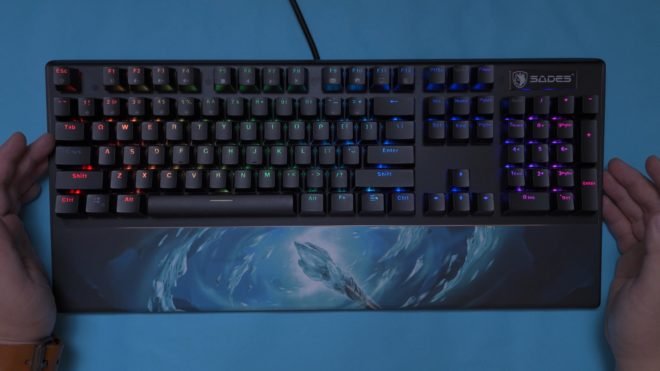 Looking closer at the LEDs on this keyboard, as expected this keyboard uses SMD LEDs or surface mounted LEDs, and we can also see here that the switches have a different design than most regular switches out there. More on that later. The illumination is pretty decent and should suffice dim environments like this.
Looking even closer, the transition between colors is quite smooth because this keyboard is a true RGB keyboard, which means the LEDs can produce up to 16.8m colors.
Here's how the illumination look with all the lights on this room turned off.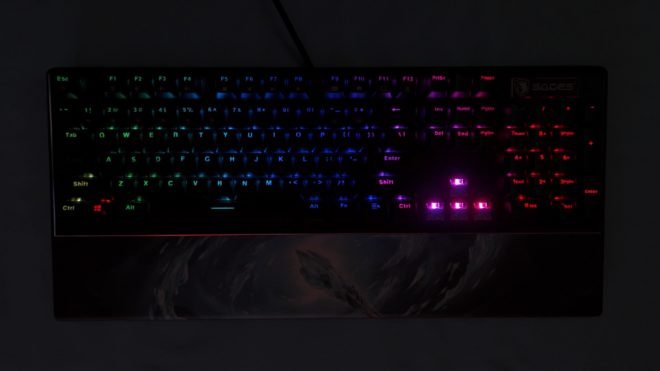 Alright guys, Let's talk about the switch, which is in my opinion, the main selling point of this keyboard
LK Optical Switch – Blue

Instead of the traditional mechanical switch, it is using an optical switch called LK switch. On paper, thanks to its optical design, this switch features a 0.2ms key response which basically means less input lag, it also has a reduced travel distance of only 3mm, that is shorter than kailh speed switches which has a travel distance of 3.5mm and even shorter than cherry mx speed silver that has a travel distance of 3.4mm.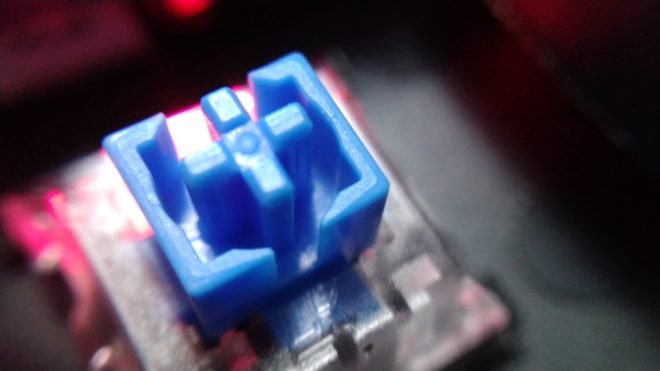 Aside from that since the overall design and construction of the switch have less moving parts, fewer materials getting in contact and don't have the traditional metal contacts, it doesn't suffer from the usual "metal debounce" lag which allows the switch to have basically 0 lag.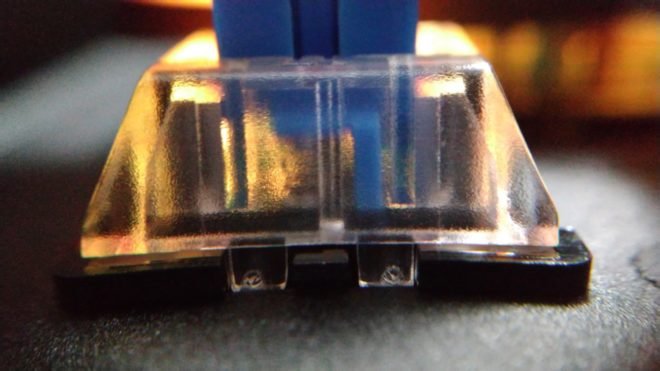 And lastly, since it is an optical switch and doesn't have metal contacts, wear and tear from oxidation is pretty much non-existent.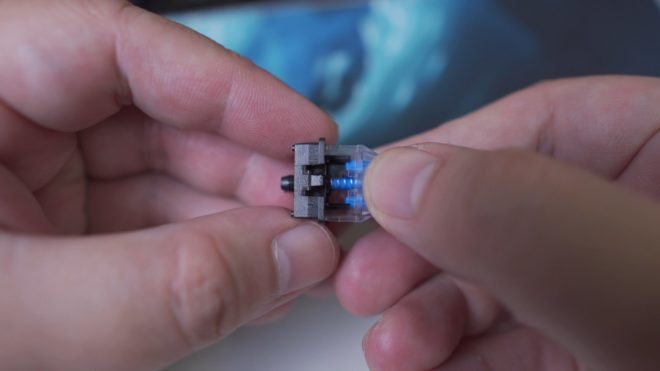 Speaking of wear and tear, although it isn't mentioned on the specifications, since this keyboard is optical, I knew the switches are removable and technically replaceable. This is nice if you need to replace one in the future, you just have to find a way to buy compatible LK switches online.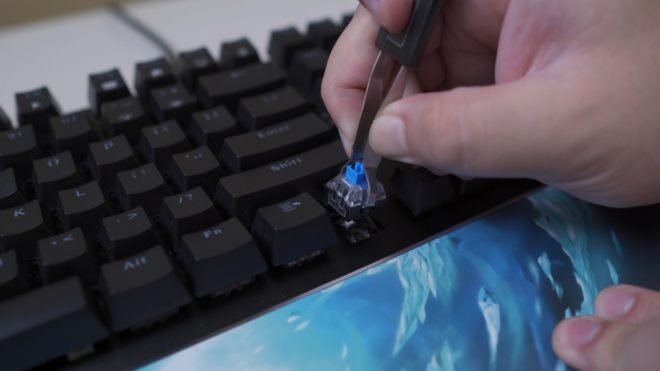 The switch itself is durable with up to 100 million keystrokes which is great,but there is one caveat when it comes to optical keyboards, and that is the quality of the sensor. If a sensor for some reason stops working, then the switch itself will not work as well.
Now, Essentially how it works is that there is an I.R sensor and a Photoresistor on the PCB that transmits light in between the stem of the switch, once pressed it will then actuate the switch.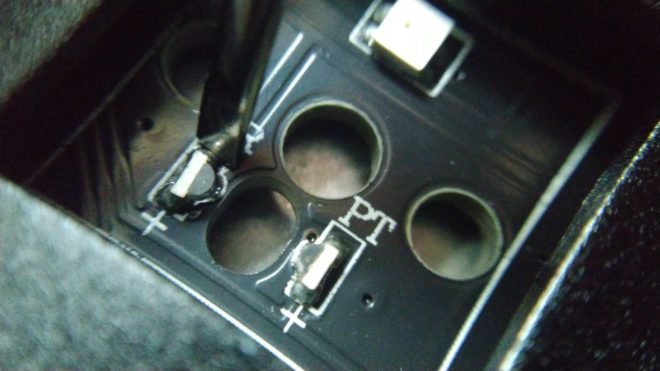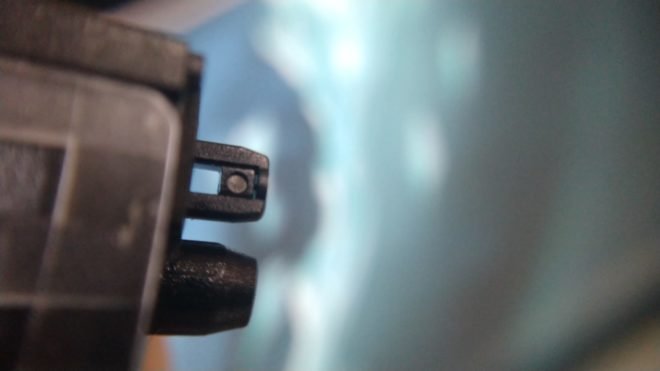 Now, in terms of the actual feel of these switches, what I have here is the blue version which is clicky and tactile, though I don't actually feel any noticeable tactile bump like what the cherry mx blue has. The tactile feedback only comes from the click itself provided by a clickbar design. I have no idea what exactly is the actuation force for this switch but if I have to guess I think it's only around 45-50g judging by how it feels. The closest thing that reminds me of this switch in terms of overall feel is a lighter version of Outemu blue, which means this switch is a little bit scratchy.
Overall I kinda love and hate this switch, I hate it because of how it feels but I love it because of how it performs for gaming.
Gaming Experience

Speaking of gaming, this keyboard is awesome for gaming, you will really feel the fast actuation and overall responsiveness of the switches especially on high paced FPS games like CS: Go. Now, clicky feel aside, these switches are lightweight, easy to press and feels really responsive with each key presses. I'm not sure if it's just psychological with everything that I've researched recently but, to be perfectly honest, it really feels good and different compared to a traditional mechanical switch.
Typing Experience

On the other side of things, it is also good for typing especially with its clicky characteristics. The fast actuation and short travel distance is great if you're an accurate typist, and I also find that since it is clicky with some resistance, even at a lightweight actuation, I don't commit mistakes that often compared to let say a red switch. At the end of the day, like I always say, it will just boil down to your preference with regards to switch characteristics. The only problem I'm seeing here is that it seems like the Sades Frost Staff only comes with LK Blue Switch judging from the information on their website. I might be wrong though.

Stabilizers

Now, when it comes to the stabilizers, it's not the best with some rattle but since it is clicky it's not that obvious.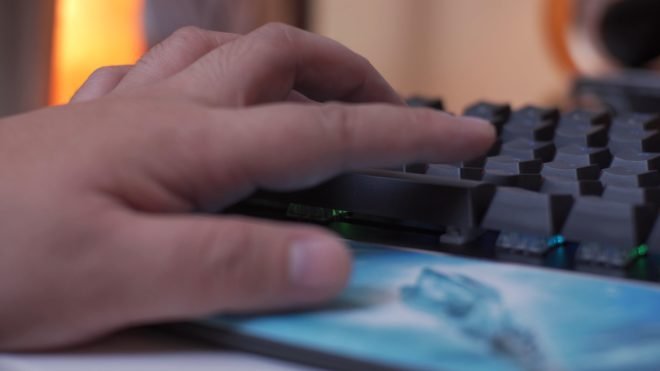 Before we move on to the software, let's check out the NKRO feature of this keyboard,
NKRO / N-Key Rollover

NKRO or N-Key Rollover is a feature that allows you to press multiple keys at the same time without conflicts which is vital for fast typing and gaming that requires fast and multiple key presses at the same time. As per my testing, the NKRO feature works properly on this keyboard as you can see here, I can easily press more than 10 keys at the same time without conflicts.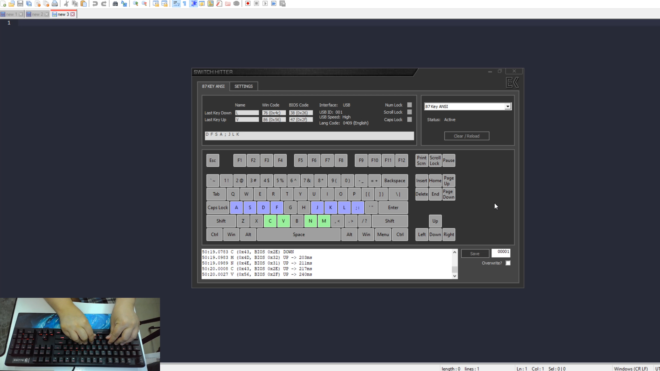 Alright guys, let's talk about the software before we wrap this up.
Software

Right here we have the sades frost staff software with version 1.0.2019 which is the latest version as of today.
When it comes to customization, this software is unfortunately too basic and kinda buggy as well. At first, when I try to press a key, nothing is happening even if I restore the keyboard to default settings, I had to exit the software and re-open it again for it to work. And once it finally worked I was surprised by how basic it is, like all you have here is macro setting, a single key, and multimedia functions and that's about it.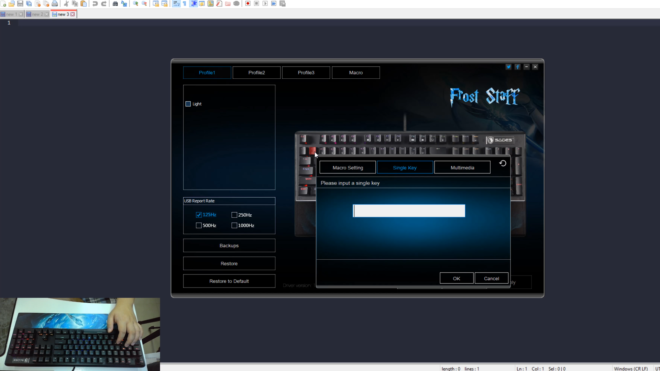 Another thing that I don't like about this software is the naming of the LED illumination effects. It's really quite confusing, like what the crap does flower blooming, snow winter jasmine, the trial of light and ripple graff mean? I'll probably stick to the onboard settings when it comes to the lighting effects.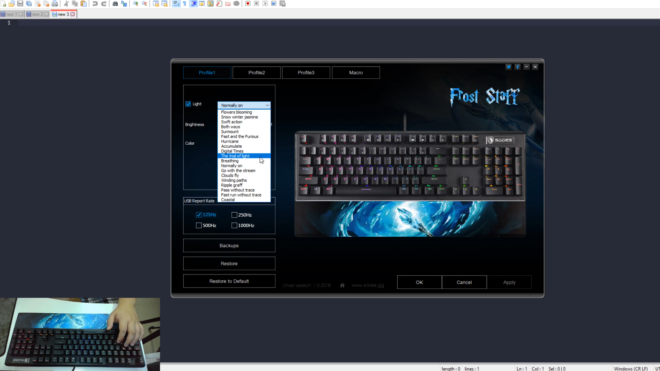 Another disappointing thing about this software is that the changes you make don't actually take effect on the keyboard image on this software. Yeah, the changes take effect immediately on the keyboard itself like changing brightness, speed, direction, and colors but the image preview is pretty much useless.
Moving on, you can also adjust the polling rate on this software, do backup and restore and that's about it.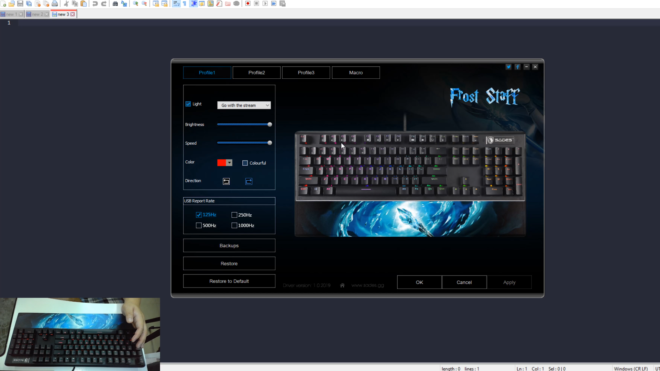 VERDICT

To conclude, the Sades Frost Staff Mechanical Keyboard in my humble opinion is a hit or miss keyboard. What I like about this is the very good performing LK Optical Switches that are good for both typing and most importantly for gaming. I also kinda like the design with the Frost Staff image on the palm rest, though I would highly prefer if it is detachable. The build quality is also a hit or miss with a very sturdy build construction but with flex on the actual palm rest itself. To be fair it is also waterproof which is another plus when it comes to design and build quality but I would highly suggest that you still keep liquids away from your desk. The software is not worth downloading as it is super basic, buggy and not very intuitive.
Related Article:
Sades Frost Staff Optical Mechanical Keyboard Review – LK Optical Switch
Thanks to
SADES
for making this review possible, You can get this keyboard from the links below.
If you like this one, please consider subscribing to my channel by hitting the button below. Have a great day!

WHERE TO BUY:

JOYO MARKETING:
Sades Frost Staff Optical Mechanical Keyboard
Price may vary depending on existing promos
The views and opinions on this review are solely based on my own personal experience, your results may vary
SHARE THIS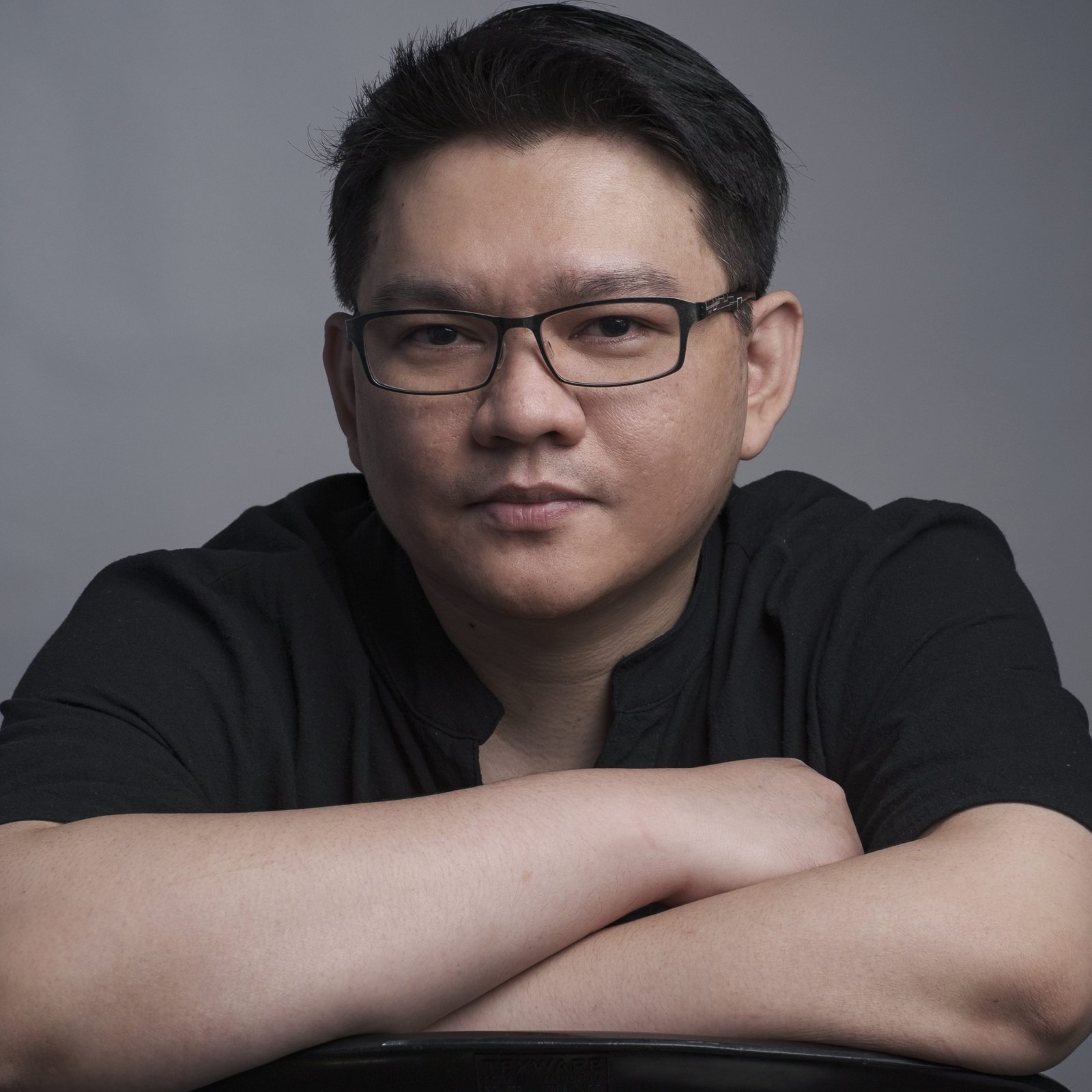 The Broll who always got your back online!