I know a lot of you are asking for this review for a few months now, so we're finally doing it. We are going to do an unboxing and review of the Royal Kludge RK61. A keyboard that in my opinion, is one of the best and cheapest 60% Mechanical Keyboard out in the market. It has decent build quality, good layer implementation and performs decently in both wired and wireless mode. It is one of the better alternatives to the popular Anne Pro 2 and here's why.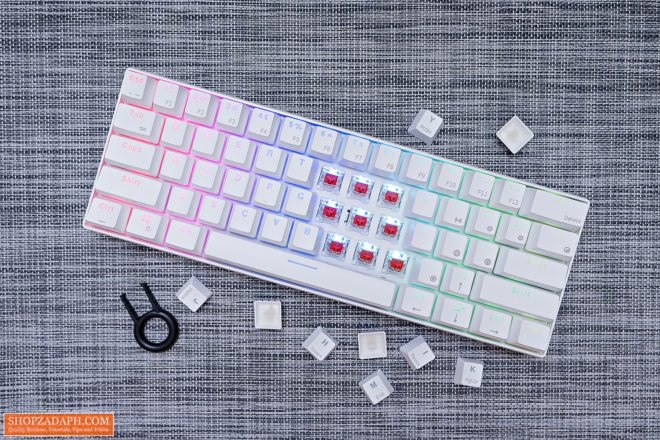 MY EARLY BREAKDOWN


Pros: One of the cheapest 60% keyboard, Decent build quality, Decent RK switches, Good layer implementation, NKRO works in both wired and wireless mode
Cons: Basic software, Micro USB cable, Rattly spacebar
SPECIFICATIONS


Brand: Royal Kludge (RK)
Model: RK61 RGB Version
Color: Black, White
Material: ABS
Switch: RK Brown Switch, Red Switch (Note: RK61 have many versions with different brand switch, and this product link sells the RK switch version.)
Connection: bluetooth + USB Wired Dual Mode
Layout: 61 Key 60% Keyboard Layout
Backlit: RGB Backlit
Dimension: 290*100*35mm
WHAT'S IN THE PACKAGE


Alright guys, right here I have the packaging for the Royal Kludge RK61 60% mechanical keyboard from Banggood.com.
In front, we have the Royal Kludge logo,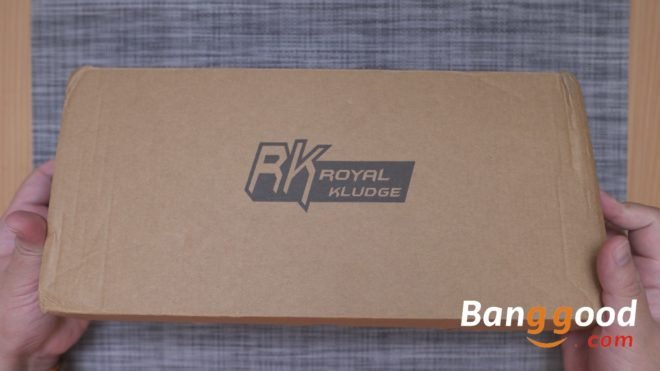 And at the back of the box, we have the contact information of Royal Kludge as well as a link to their official website.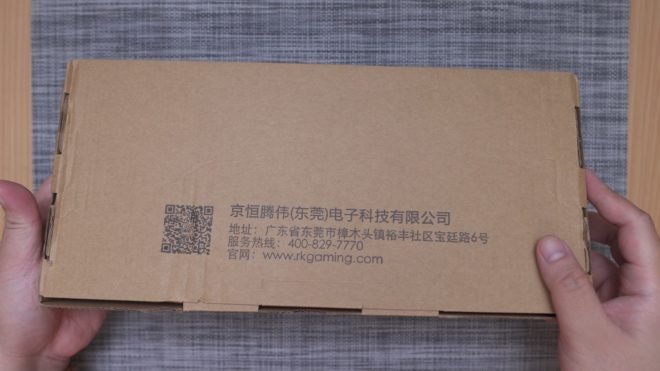 At the side of the box, we have the product info such as the model name and variant and it looks like what we have here is the white variant with RGB illumination.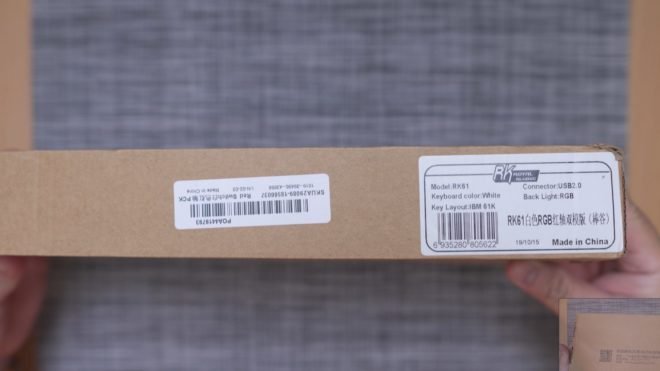 I actually have two of these with the other one having a single ice blue LED illumination. The packaging is quite basic which is not a surprise especially at its price point of only around 40usd.
Inside the box, we have the keyboard itself protected by a foam sleeve, nothing unusual here.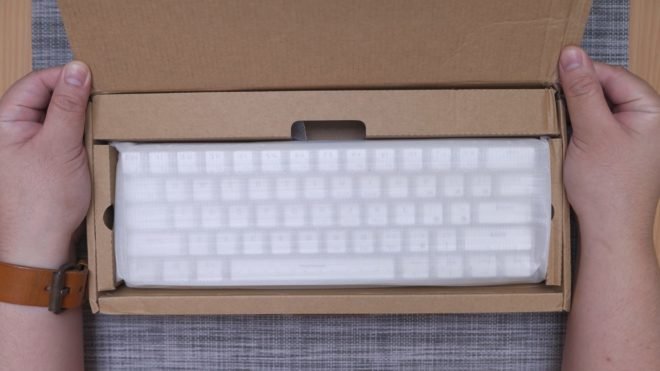 We also have a user manual which looks pretty understandable with English instructions,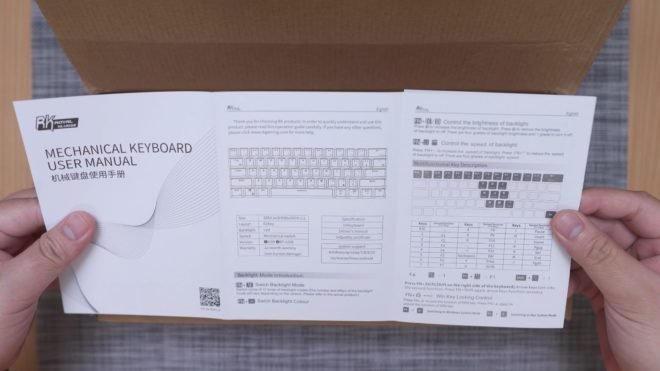 And then we have a small paperwork here, I would assume this is the warranty card, I'm not sure, but we have this inside.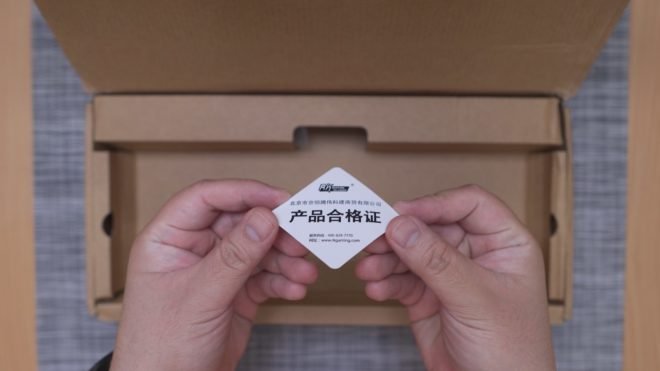 And then underneath the packaging, we have a couple more items. We have the USB cable which is micro USB and not gold-plated, again I am not surprised by this given the price, we just have to set our expectations right.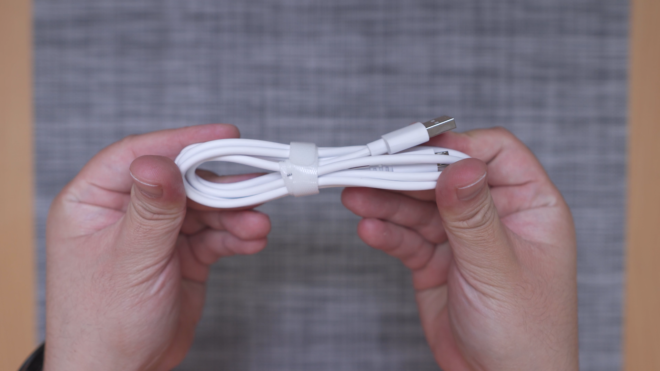 And lastly, we have a plastic keycap puller which I suggest you don't use because it can scratch the sides of your keycaps, I suggest you invest in a wire keycap puller instead.
FULL REVIEW
Design, Construction and Parts Overview


Alright, let's take a closer look at the Royal Kludge RK61 keyboard itself. Right out the gate, the design is pretty similar to most budget 60% keyboard out there with decent build quality and a weight of around 564g.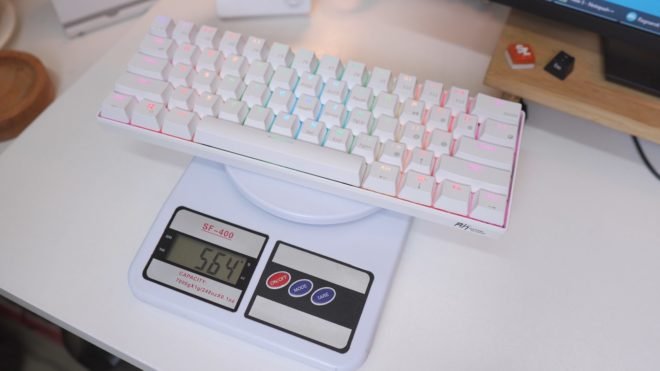 The white variant that we have here looks pretty clean and as I said, the build quality is pretty decent with minimal flex if you really put a force on it. Overall, in terms of build construction, I'd say it's a pass for me.
Turning it on its front side we have the Royal Kludge logo at the far right and we can also see that the bottom housing has a combination of a glossy and matte finish.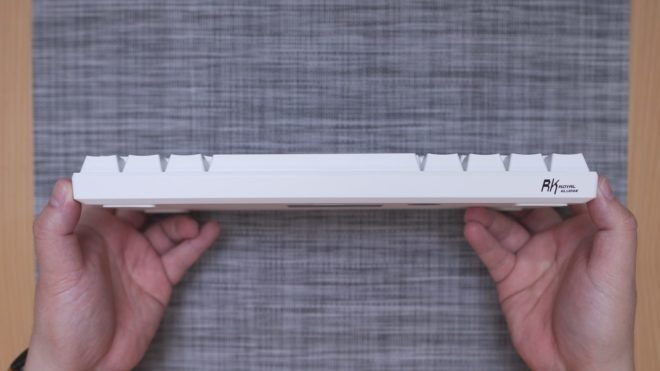 Flipping it on its side it also has that usual angled design without adjustable stands like most 60% keyboards out there, and it also features high profile case design hiding the switches for a more cleaner look which I always prefer compared to floating keys design. The keycaps are OEM profile as expected at this price point.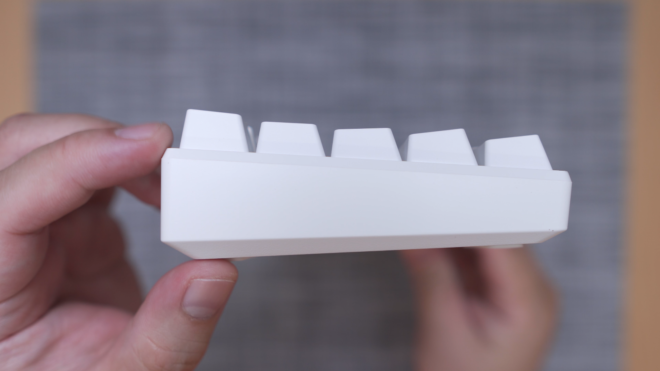 Looking at the backside, we can see the micro USB port that is located at the center which I am not a fan of. I usually prefer the ports on either side but that's just me.
Flipping it all over the back, we have 4 rubber feet with substantial size,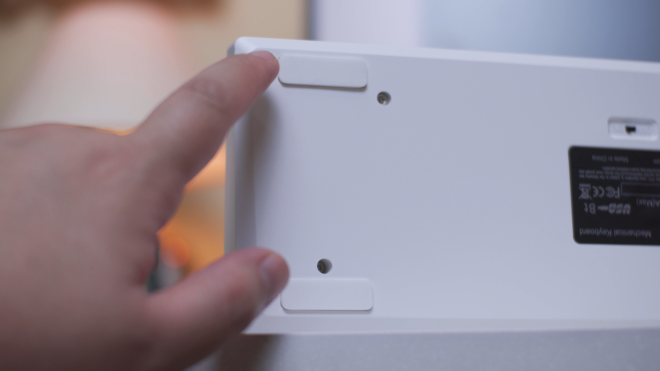 And then we have the technical information sticker at the center,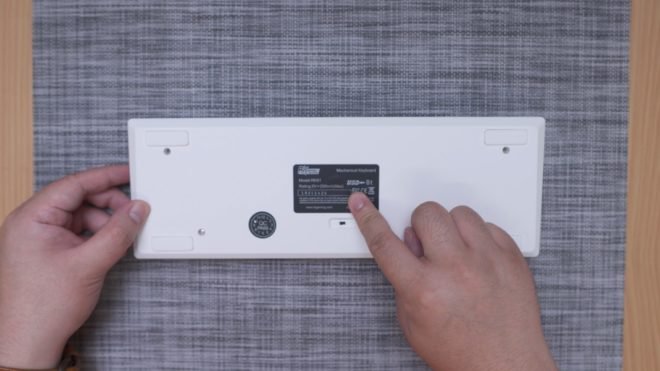 A Q.C pass sticker,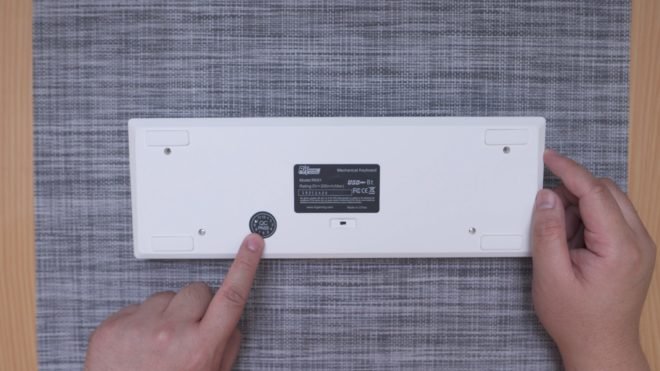 And the on and off switch for the Bluetooth connectivity.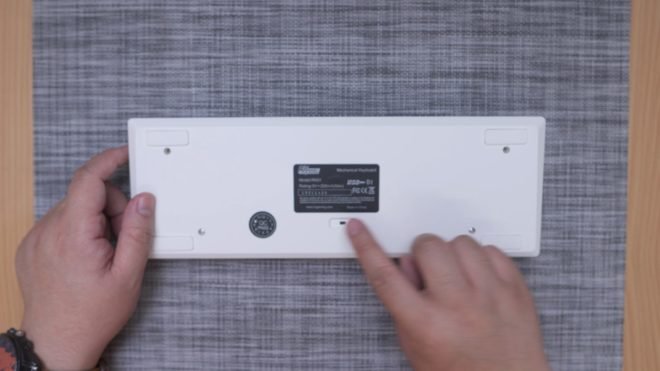 Layout


Going back in front, if you've been a follower of this website or our YouTube channel you should now be familiar with the 60% layout as you can see here.
We just have the basic keys without the numpad, dedicated nav cluster and arrow keys to accommodate this compact form factor. I'm personally a fan of this size because it saves space and of course, very portable.
So the other keys are located in their own layers with the combination of the numbers and the function rows up top,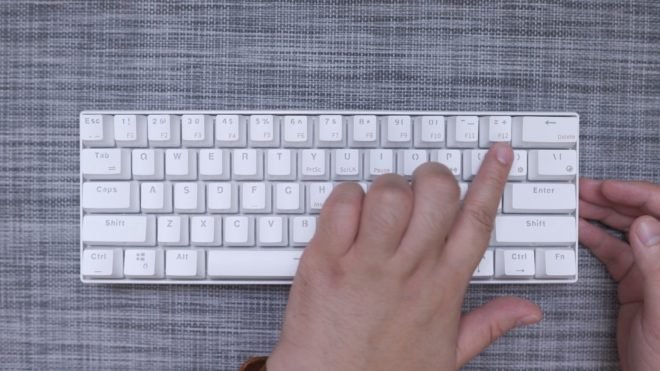 And then right here we have the layer for the nav cluster,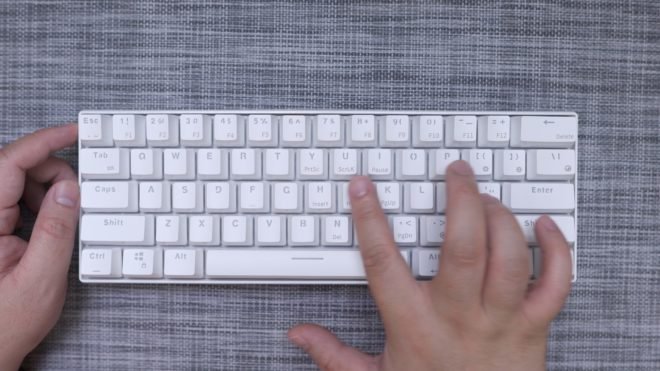 And the arrow keys layer right here,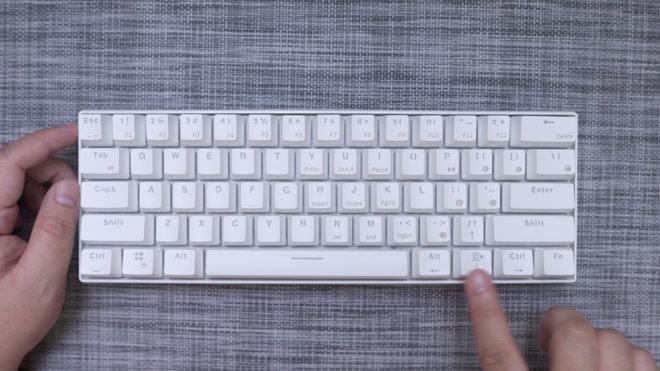 And the keys to adjust the lighting effects here.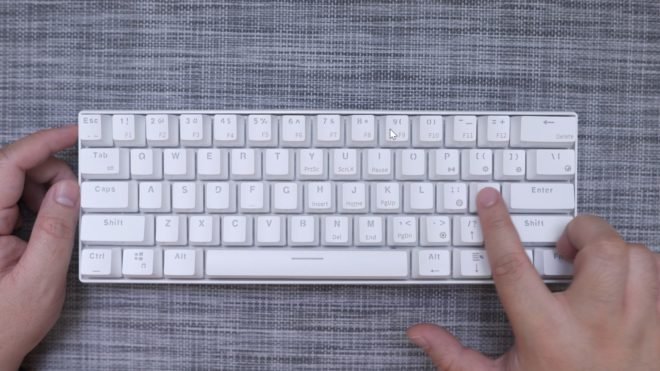 In terms of the font used since this is a budget keyboard, it is using the typical OEM fonts with sub legends for the secondary functions of the keys.
Overall, the design and colorway of this white variant that we have right here doesn't look cheap at all in my opinion compared to other gamery looking keyboards out here, it is clean with just a small RK branding at this side.
Layer Implementation


Moving on, let's discuss the layer implementation on this keyboard.
All the layers on this keyboard can be toggled using the FN key here on the lower right corner, you can use your pinky finger to toggle the different layers.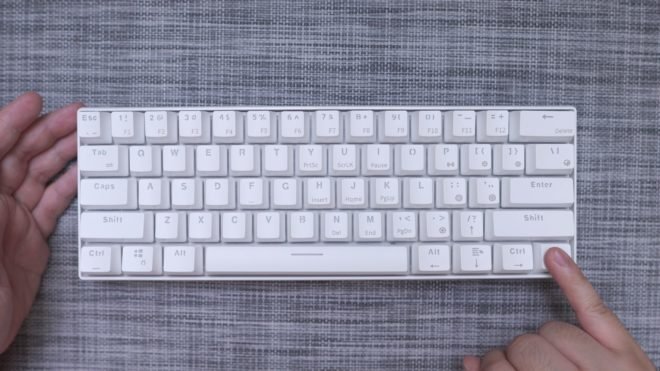 So for example, we have the arrow keys layer here, and toggling them are pretty easy due to the good placement of the function key. You can also toggle the function keys up top but you'll have to use two hands for that.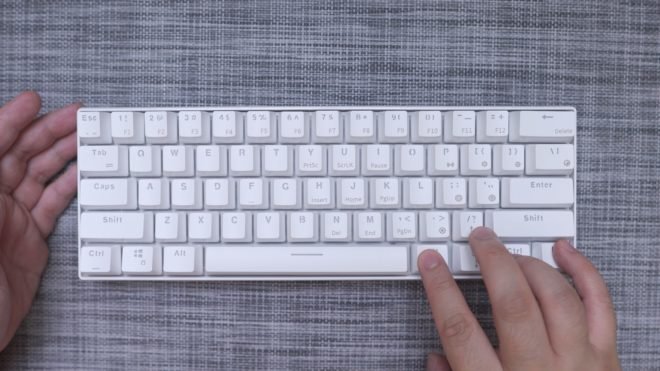 Next we have the nav cluster, which can also be reached using your right hand. The only hassle really is with the function rows up top especially with F1 to F5 which will require two hands.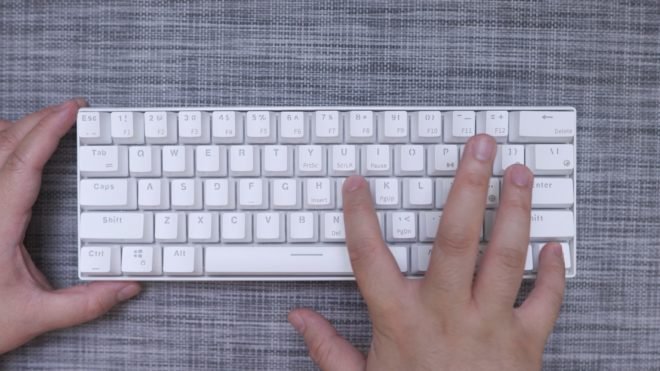 Now, another option you have is you can actually interchange the layer activation of the arrow keys to its normal keys which are the alt, menu, ctrl, and question mark by pressing FN + shift.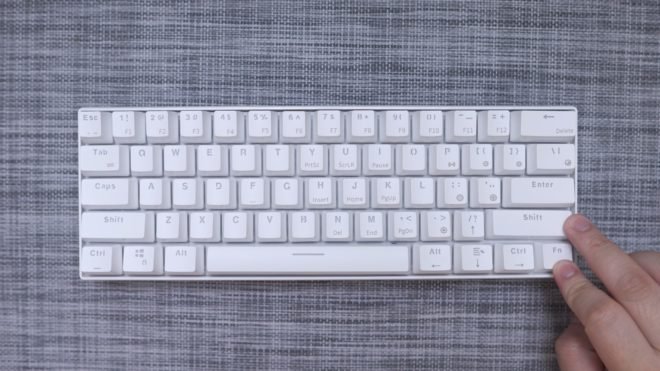 So depending on what keys you are using more frequently, you can toggle them using the FN+shift combination. Personally I leave it with the arrow keys layer as it is much more important for me than the other layer, except for the "?" key which is one of the downsides of this layer implementation. Depending on the layer you're currently at you may have to press up to 3 keys which are FN + left shift + question mark just to type the question mark which is a bit of a hassle sometimes.
Aside from that, of course, you also have the FN + Windows key to lock the start menu
And you can also toggle between Windows and Mac OS by pressing FN + A and S respectively.
And lastly, you also have the option to toggle or activate the other layers by pressing FN + left control so that you can activate the keys without needing to use the FN key combinations. So first press FN + left control to activate all the secondary layers except the arrow keys, then press the FN + left control again to activate just the function rows up top and bringing all the alpha keys to normal, then press FN + left control again to restore all the layers to default. This is quite useful if you have applications that you'll frequently need the function rows up top or for some reason you need the nav cluster more than the alphas for certain use case scenarios, this is certainly a very well appreciated feature that you otherwise won't see on other similarly priced keyboards.
In my opinion, other than the hassle of typing the question mark key, I think the layer implementation of the Royal Kludge RK61 is one of the best that I've tried on a budget 60% keyboard. It still doesn't surpass the amazing tap functionality and magic FN of the Anne Pro 2 but it's definitely better than the poor layer implementation of the Motospeed CK62 and is more advanced than the GK61.
Bluetooth Connectivity


Now, let's discuss the Bluetooth connectivity of this keyboard. First, you have to turn on the Bluetooth functionality of this keyboard by using the dedicated switch at the back,
And to pair this keyboard to your device, we have the usual key combinations. Press FN + Tab to change from wired mode to Bluetooth mode,
Then press FN + P for a few seconds until it blinks indicating that is already on pairing mode.
Open Bluetooth settings on your other device, add Bluetooth, pair and you're good to go.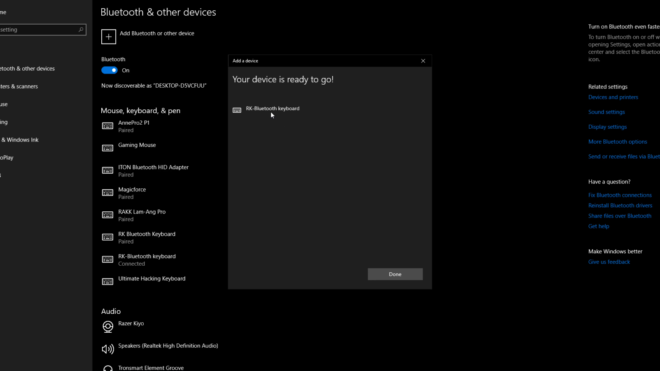 You can also connect this with your smartphone and tablet by the way and you can connect this up to 3 devices and interchange between them by pressing FN + Q, W, and E.
Battery Life


In terms of battery life, the Royal Kludge RK61 is rated up to 10 hours of continuous usage with power saving mode which will turn off the backlight after 3 minutes of idle time and will enter standby mode after 5 minutes and deep sleep state after 10 minutes.
While charging the spacebar will light up red and will turn off once it is fully charged. Make sure you turn off the switch at the back and you're on wired mode for faster charging.
We'll talk more about the Bluetooth performance later.
Lighting Effects


The Royal Kludge RK61 has 17 different lighting effects and you can toggle them by pressing FN + backslash.
Aside from that, you can also change to single colors by pressing FN + the greater than key with up to 9 colors.
Of course, you can also adjust the brightness by pressing FN+ left and right bracket.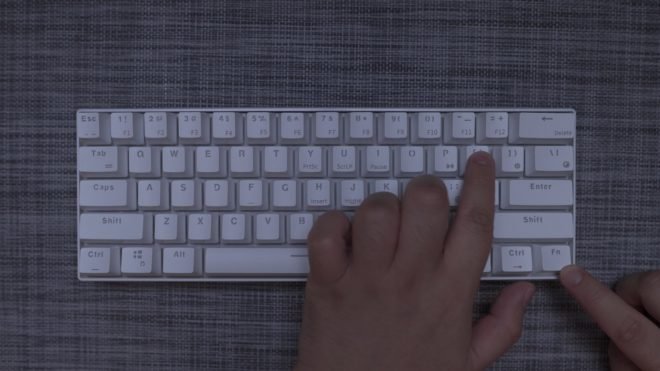 You can also press FN + semicolon and FN + apostrophe to adjust the speed of the animation.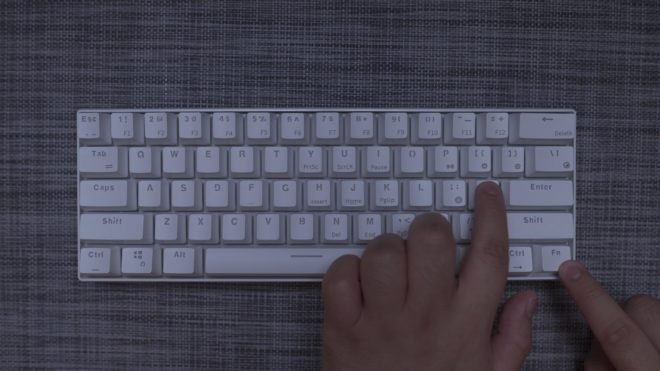 And that's about it for the lighting effects on this keyboard, as you can tell the LED illumination on this one is pretty good, bright and vibrant thanks to the white keycaps as well as the white back plating that essentially helps bounce the light.
And now, here's how it looks when all the lights on our room are turned off, as you can see the brightness is more than sufficient to be used for such lighting conditions.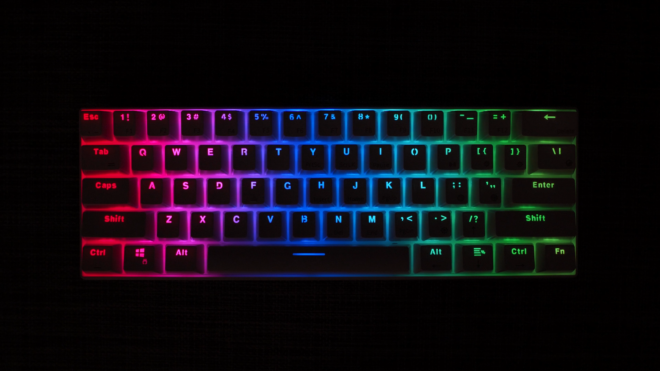 SMD LEDs


Looking closer at the LEDs on this keyboard, it is using SMD LEDs or surface mounted LEDs that can produce up to 16.8 million colors with a very smooth transition.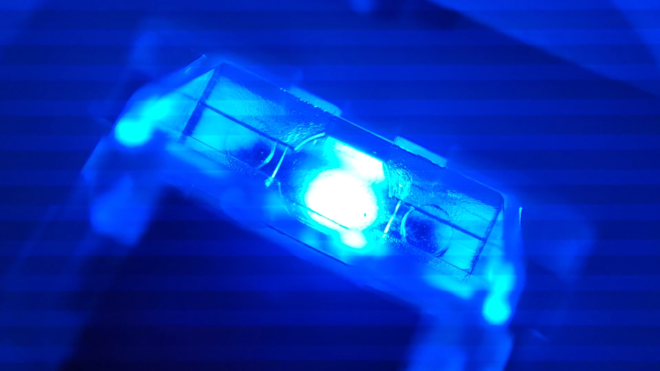 It's amazing how budget keyboards are now available with True RGB lighting, I remember a year ago when I reviewed some keyboards that don't support 16.8 million colors and only have 7 colors per LED. Now at this price point, we're getting good quality LED illumination.
Keycaps


Now, in terms of the keycaps, this keyboard uses Doubleshot ABS keycaps with a thickness of only around 0.9mm,
Because the double shot molding doesn't span across the entire keycap as you can see here.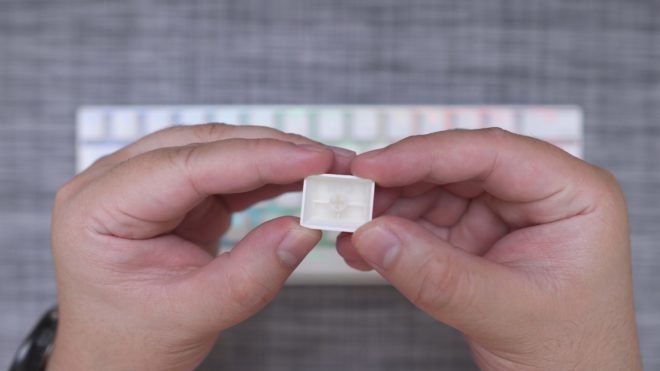 The good thing is since it is doubleshot with a separate material for the legends, it will not fade away over time, it will, however, get shiny at some point due to the nature of the ABS plastic.
Mechanical RK Red Switches
Now when it comes to the switches on this keyboard, it is using Royal Kludge's own brand of switch which is the RK switch.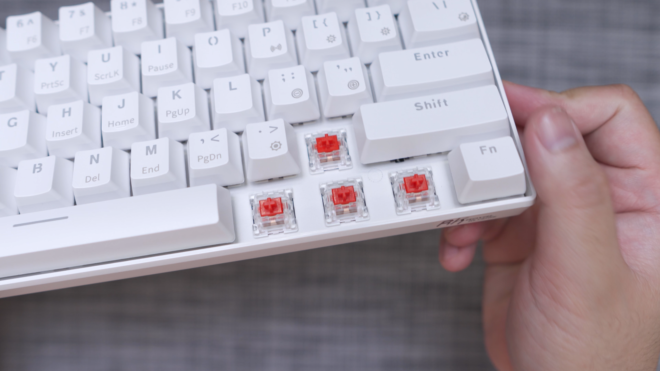 RK switches, in my opinion, are close to Outemu switches when it comes to the overall feel, I've already tried their RK brown and RK blue and although I haven't tried Outemu brown yet, the RK blue is pretty similar to the Outemu blue which is quite scratchy. Outemu red on the other hand is smooth and the RK red switch that we have here feels about the same.
It is relatively smooth compared to RK blue but not as smooth as Gateron red. Overall, aside from the fact that I don't particularly like the light actuation force of around 45g on the red switch because I typically make mistakes more often, the RK red switch is pretty decent.
Stabilizers


Now, in terms of the stabilizers, I'd say it is one of the few things that I don't like about this keyboard, the stabilizers on the shorter modifiers like backspace, enter and shift keys are acceptable
But the stabilizers on the spacebar are quite rattly.
As per checking it looks like it comes with some sort of lube but it's not substantial. I think adding more lube and doing some quick modifications with the stabilizers should help make it better.
At this point, I am really impressed with the overall design, build quality, layer implementation and features of the Royal Kludge RK61.
NKRO Performance


Now, let's talk about the performance of this keyboard.
NKRO or the feature that allows you to press multiple keys at the same time works flawlessly on both wired and wireless mode which is pretty awesome. I can easily press up to 10 keys without any conflicts on both wired and wireless modes.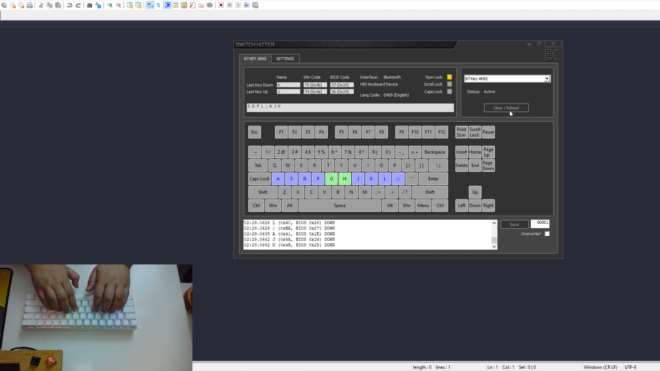 Typing Experience
Now, when It comes to the typing experience as I said, the RK red switch is smooth enough but not as smooth as Gateron red, you'll still feel a bit of scratchiness but not as bad as with the RK blue and RK brown which this keyboard is also available with. If I had to choose again, I'll pick the RK red again simply because of how it feels compared to the other options. You just have to make sure that you can be comfortable with its lightweight actuation force, which I think with just the right amount of time, anyone can easily adjust to.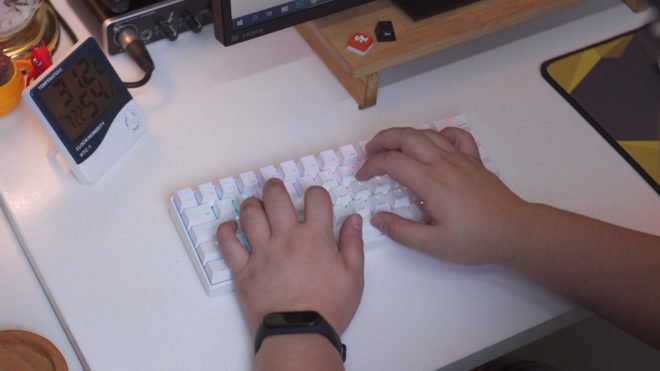 Gaming Experience


In terms of gaming, I think the red switch is right up there with speed switches because of its lightweight actuation force. It is easy to press and actuate for fast-paced games like FPS but I think it's not the best for games that require accurate key presses. But then again, that just me being a heavy-handed typist that commit mistakes often with a lightweight switch like this. That's why I prefer at least a brown switch to give me a bit of resistance.
Wireless Experience


Now, when it comes to the Bluetooth performance of this keyboard, I encountered some issues with latency and intermittent disconnections for the one I am currently reviewing, but I strongly think it is an isolated case because I actually have two Royal Kludge RK61 and the other one which I have for a few months now as a backup keyboard works flawlessly without any issue on Bluetooth, it doesn't have any perceivable latency at all as I've mentioned on my article about the "best 60% mechanical keyboard under 80 USD" where I also featured and gave high praise for the RK61.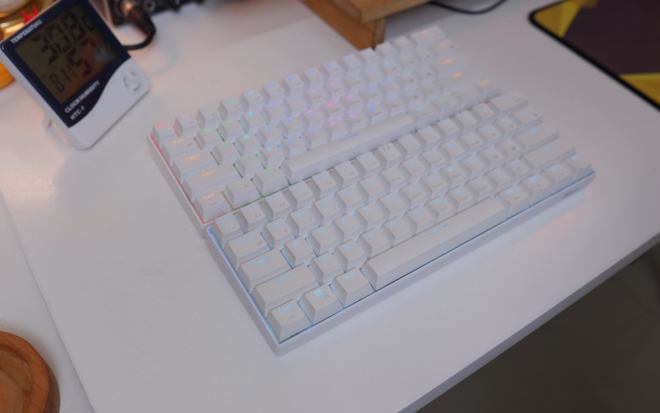 Now, Just to make sure that my issue is just me being unlucky, I asked the members of our community Keyboard Addicts PH which I highly suggest you join by the way, though our language is in Filipino.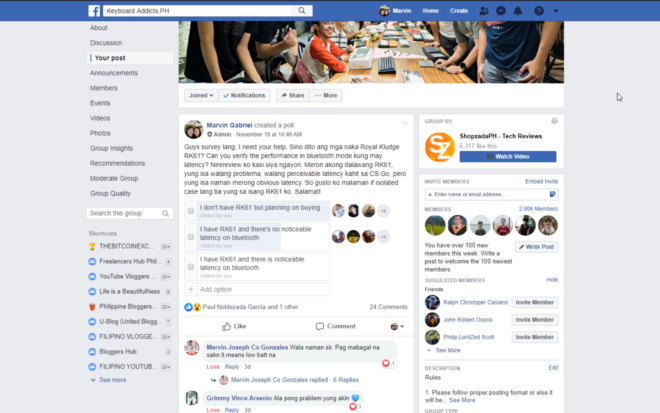 I asked the users of RK61 if they have an issue with their keyboards in terms of latency, and almost all of them don't have any issues with the Bluetooth connectivity. So I think it's safe to say that mine is just an isolated case. With all that being said, I still think that the Royal Kludge RK61 is one of the best budget 60% keyboard and a good cheaper alternative to the popular Anne pro 2.
Royal Kludge RK61 Software


Alright guys, before we conclude this review, let's talk about the software.
Right here we have the software for the Royal Kludge RK61,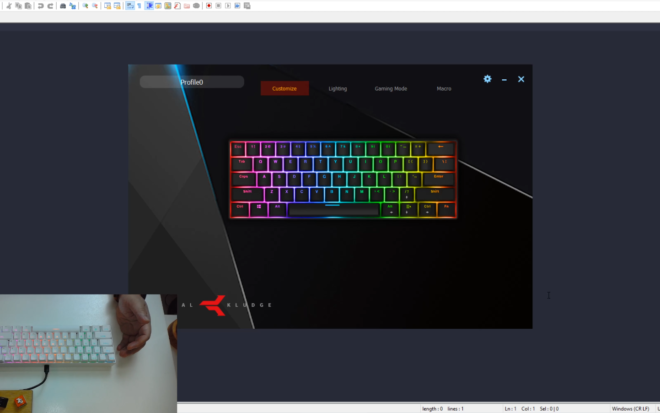 And If I remember it right, it looks about the same with the software of the RK G87 and interestingly, it also looks the same with the Rakk Lam-Ang Pro just using a different skin.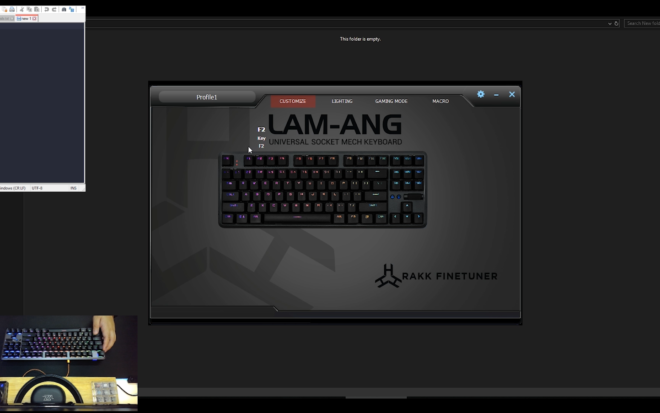 So we have our profiles on the upper left side, we have up to 3 profiles that we can configure depending on our applications,
And then we have the customize, lighting, gaming mode, and macro tab.
On the upper right corner, we have the option to change the look of the interface, change language, and reset the keyboard to its default settings.
On the customize tab, you can pretty much change the functionality of a key to other functions like other keys, mouse function, macro, key combination, launch a program, multimedia keys, popular windows hotkeys and you can also disable the key entirely. You cannot change, however, the functions of the secondary layers.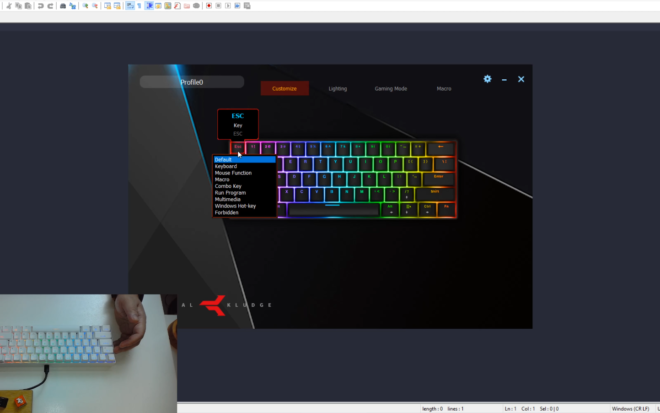 On the lighting tab, we have here all the lighting effects and all the changes you make inside the software automatically applies on the keyboard itself which awesome. You can change the colors and choose from the available palette, you can also adjust the speed and brightness and change the direction of the animation right inside the software.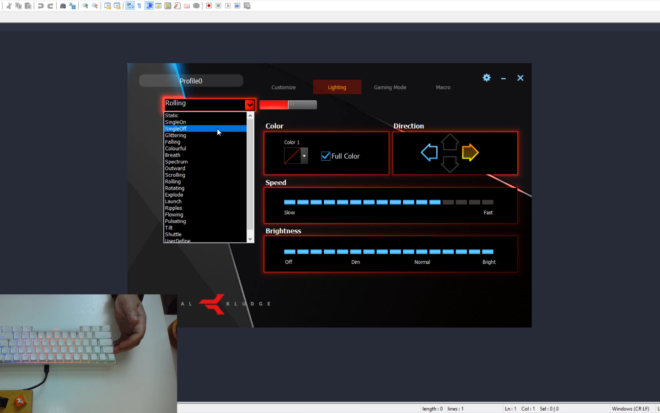 Aside from that you also have the user-defined option wherein you can essentially set up your own lighting configuration depending on your liking.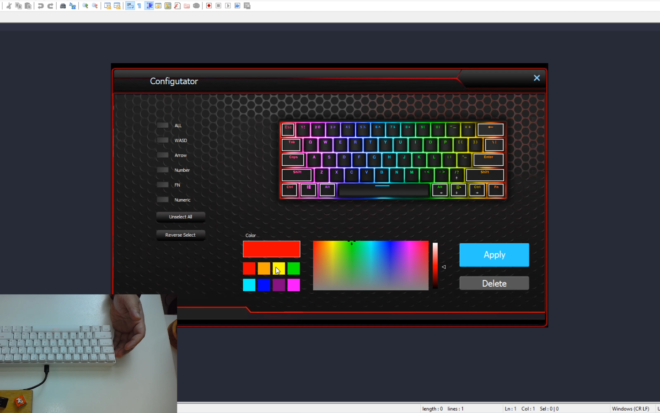 On the gaming mode tab, you can disable these key combinations so that your gaming session won't be accidentally interrupted.
And lastly, we have the macro tab wherein you can record your own macros if you're into that and assign it to any key that you want. Personally, I don't use macros but if you need it you have it here.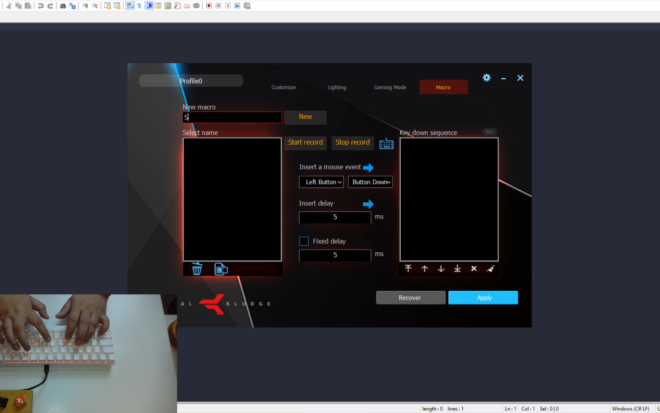 And that's pretty much it with regards to the software, it is quite basic but useful nonetheless.
VERDICT


To conclude, the Royal Kludge RK61, in my opinion, is one of the best budget alternatives to the popular Anne Pro 2 when it comes to 60% compact keyboards. The layer implementation on this keyboard is very well thought off with a combination of both activating each layer and toggling it using the FN key which makes transitioning to this compact form factor much easier for beginners. The typing experience, for the most part, is very good with the RK red switch having a smooth up and down travel, my only issue is with the quite rattly spacebar. Gaming performance is also pretty decent in both wired and wireless mode since NKRO works properly on both. Although I had some issues with Bluetooth connectivity on one of my 2 RK61, the one that I've been using for months now as a backup keyboard works flawlessly without any perceivable latency which is very vital. The battery endurance is also quite substantial with power-saving mode. Overall, there's not much to complain about this keyboard and for its price, I don't think there's any reason not to get it if you're looking for the best budget 60% compact keyboard.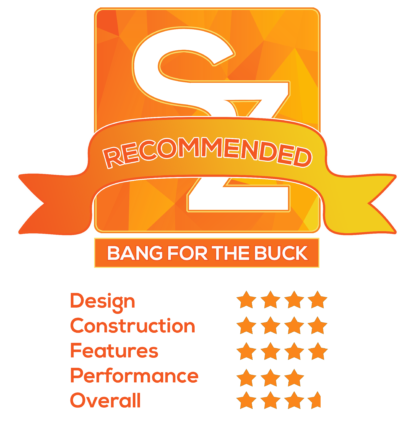 Related Article:
Royal Kludge RK61 60% Mechanical Keyboard Review – Best Budget 60% Keyboard!
Thanks to
Banggood
for making this review possible, you can get this keyboard from their official website, link below.
If you like this one, please consider subscribing to my channel by hitting the button below. Have a great day!

SHARE THIS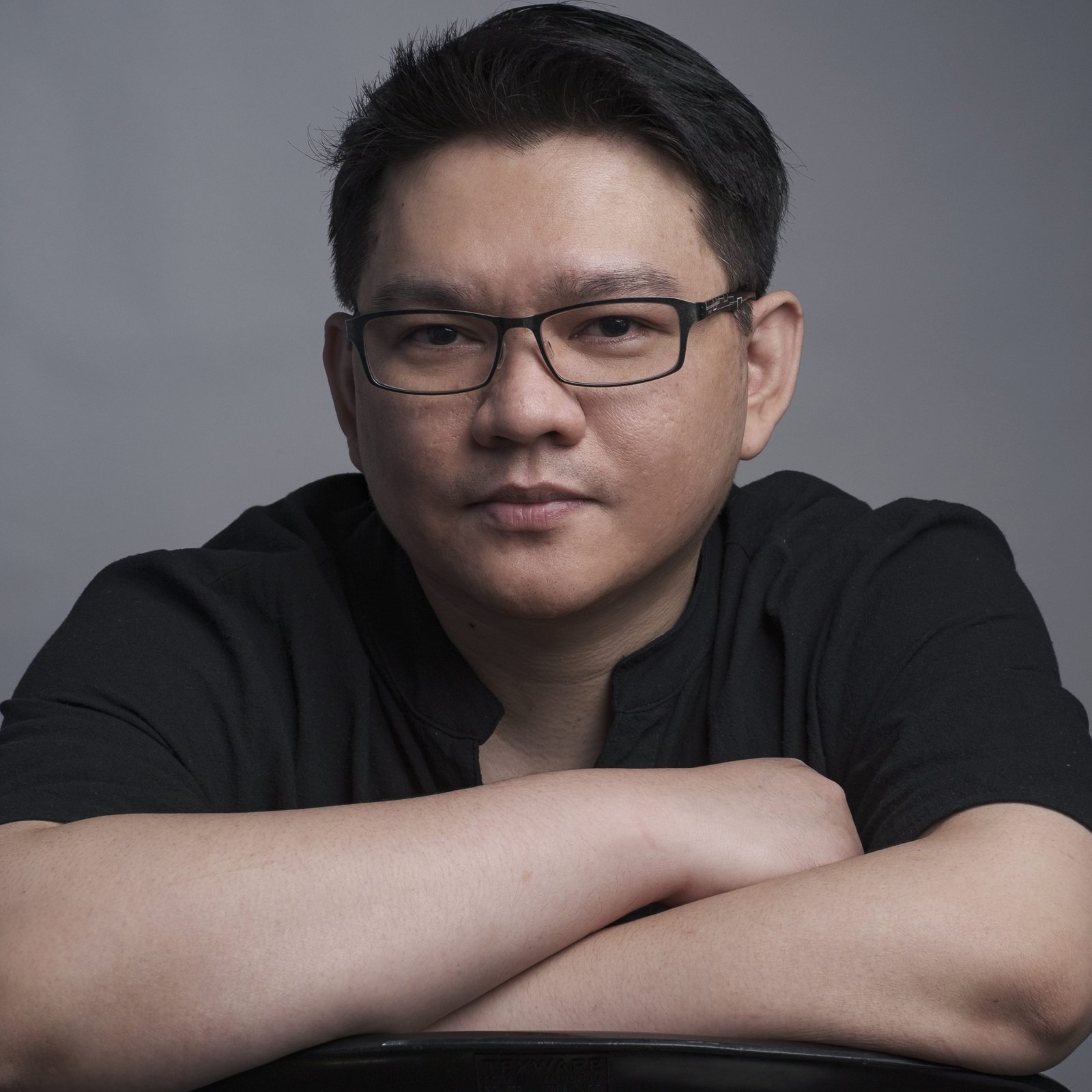 The Broll who always got your back online!