8 months ago I reviewed the Geek GK64 60% Mechanical Keyboard and let's just say that a lot of you liked that form factor and layout. However, that standard plastic version looks quite cheap as it is targeted towards the budget market and there's nothing wrong with that. The good thing is that the GK64 is actually available with a much more premium looking aluminum case.
Today, we're going to do an unboxing and review of the aluminum case version of the Geek GK64 60% mechanical keyboard from banggood.com, this is actually one of the cheapest options if you want to get a keyboard with aluminum case. And if you've read my review of the GK64, you'll know that this has a hot-swappable board which makes it more appealing to enthusiasts that like to keep things fresh when it comes to mechanical keyboard switches. With that said, let's get into it.
MY EARLY BREAKDOWN


Pros: Premium aluminum case, Hotswappable, DSA PBT dye sublimated keycaps, Comes with a nice felt pouch
Cons: Wired mode only
SPECIFICATIONS
 
Brand: Geek Customized
Model: GK64
Layout: 64 Key
Connection: Detachable USB Type-C Wired
Backlit: 16.8 Million Full Color RGB Backlight
Swtich: Gateron Switch Brown Switch (Replaceable)
Anti-ghost Key: All Keys
Input: DC 5V,  240mA
Cable length: 1.5M
Dimension: 293*103*40mm
Supported Systems: Win XP/7/8/10, For Mac OS
Driver Software Supported Systems: Available for Windows, but not for Mac OS
Features: (from Banggood's product page)

– Gateron switch design, tactile and long-life. Besides, GK64 supports CIY switch, you could remove the original switches and replace them with your favourite switches.
– 16.8 million RGB backlit with many light effects, and more light modes continuously updated through the driver. Press Fn + ]} key or Fn + key can change the backlit modes.
– Equipped with music-driven motion light mode, the backlit will blinks with the music.
– Anti-ghosting for all keys, carry out your instruction precisely.
– Built-in a Flash memory to save setting at offline mode.
– Driver: https://drive.google.com/open?id=18o73mBxzCv63mZG4_YhQIqNpEAFGCmBh
WHAT'S IN THE PACKAGE


Let's take a look at the packaing first, in front, we have the same Geek logo that honestly looks like the one plus logo, they should've named this keyboard 6plus GK64 haha! Kidding aside, the first thing you'll notice inside the box is the universal user manual for various Geek keyboards like the GK61, GK62, and this GK64, in both Chinese and English.
Next we have the braided and gold plated USB Type C cable with a nice velcro strap.
And then we have a small plastic here which has the switch and keycap puller, though like I always say, I don't recommend this plastic keycap puller as it can scratch the side of the keycaps.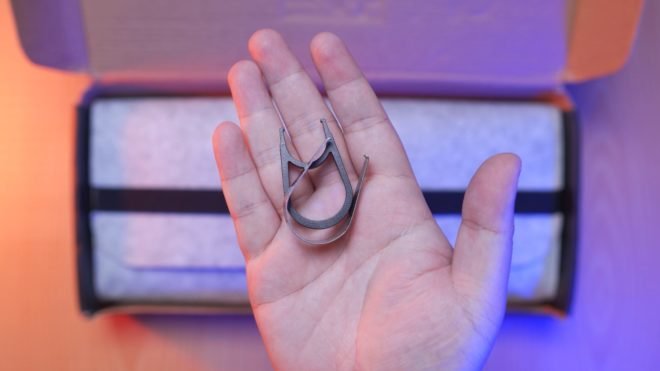 A wire keycap puller is the way to go like this CIY keycap slash switch puller.
And finally, we have the GK64 60% mechanical keyboard inside a very nice felt bag. This is awesome and also makes sense to protect the aluminum case for accidental dents and damages while in transit.
And not only that, the keyboard is also protected by an additional plastic cover, so I'd say, although the box is a little bit beat up, the overall packaging is pretty decent.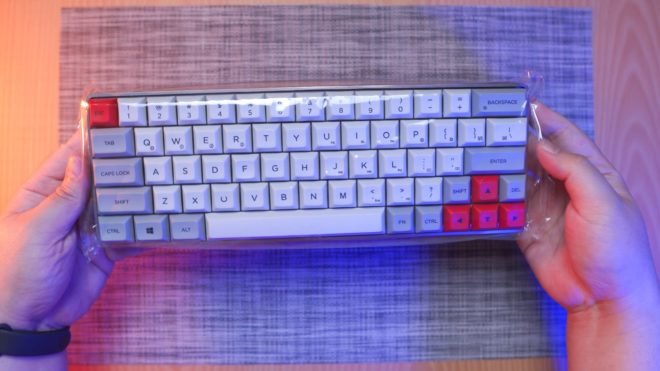 FULL REVIEW
Design, Construction and Parts Overview


At first look and touch, it does look a lot different from the GK64 plastic version that I previously reviewed.
It is quite heavy at around almost a kilogram at 904g and the design and finish of the aluminum case look really premium. And of course, with an aluminum case, build quality is very good without any flex as expected.
So let's go through its different parts real quick and later we will tear this apart so that we can see its compatibility to other Geek PCBs because I know you'll be interested in that.
Layout


The layout is still a 60% layout but with dedicated arrow keys and a delete key which makes this keyboard easier to transition with especially for first time 60% form factor users.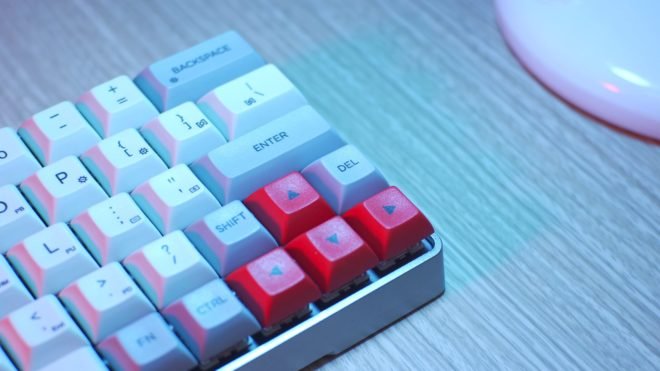 The only drawback that I can think of with this layout is looking for custom keycaps and some adjustment period for the smaller sized right shift, control and function key as well as a shorter than usual left shift key. Other than that, the 64 key layout like I said is very easy to use.
Aluminum Case Design


Now, in terms of the design of the aluminum case, it is super sleek with different cutouts and edgy design to it that makes it less boring than usual.
At the side, as you can see it has this angled design for that usual ergonomic form factor.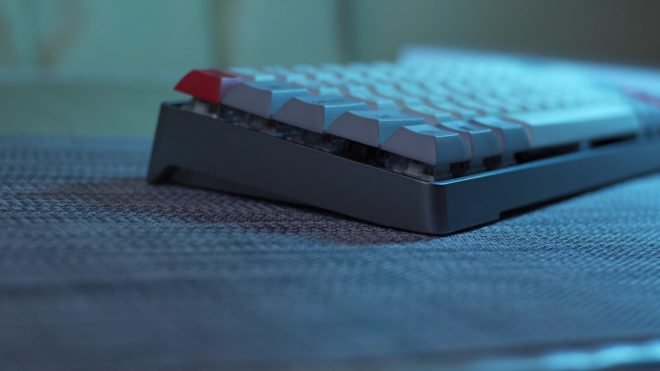 And I also like the fact that it has this slim cut out underneath it making the case look slimmer than it actually is.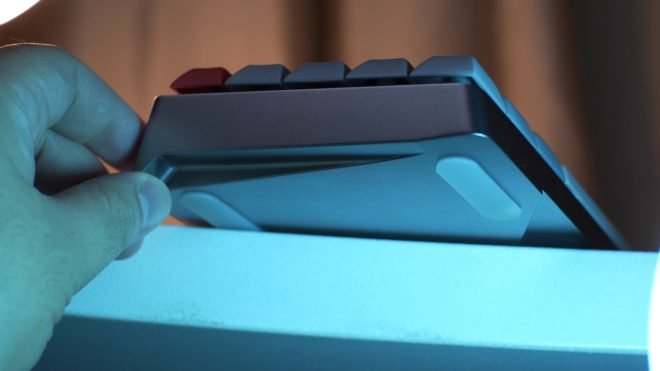 It also has very slim bezel all around the keyboard,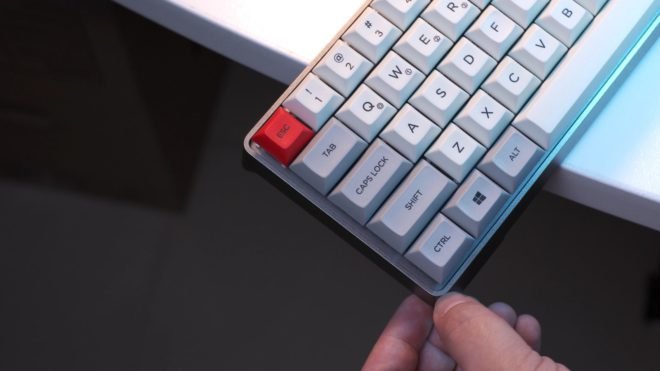 And features a semi-floating keys design which as you can tell, you can still see a part of the switches which makes it a little bit of a hybrid between a high profile case design and a floating keys design. I'm not actually sure about my description but what do you think guys?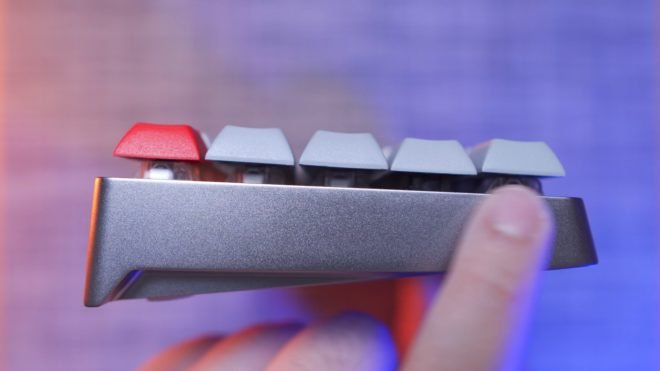 The keycaps on this keyboard by the way, uses DSA profile so as you can see, all of the keys have the same height. DSA profile, the same with XDA is actually good for custom layouts because you don't have to worry about the difference in height on each row.
Now, flipping it at the backside, we have here the USB type C port with a quite substantial cutout for maximum cable compatibility.
And at the back, we have 4 white rubber feet and a couple of cutouts for the said edgy design of this aluminum case.
Layout and Font


Now back in front, aside from the fact that it features a 64 key layout, it is also ANSI standard minus the shortened keys on the 4th row.
In terms of the font, the alphas are significantly larger than the modifiers which is always the case, and in my opinion, the font used is very clean and neutral looking.
We also have some sub legends for the nav cluster layer, as well as for the lighting effects.
Now, one thing I've noticed on this set of keycaps is that it doesn't have the usual bump on the letters F and J but instead, it has this concave shape that is very distinct from the other keys, this will serve as your guide for the home row which is vital if you know how to properly touch type using all your fingers.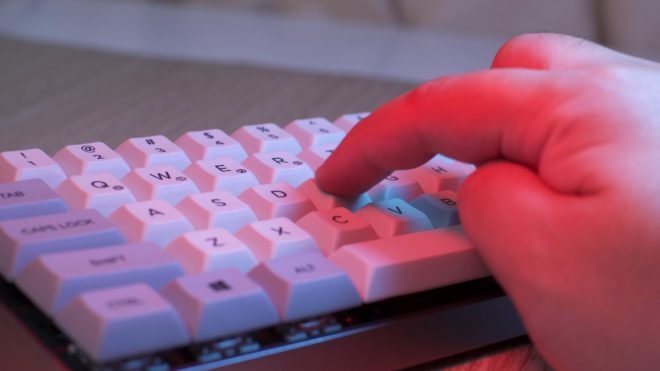 Keycaps and Switches


Moving on, let's take a more deeper dive on the keycaps and switches, the keycaps on this keyboard is made of PBT plastic with dye-sublimated legends.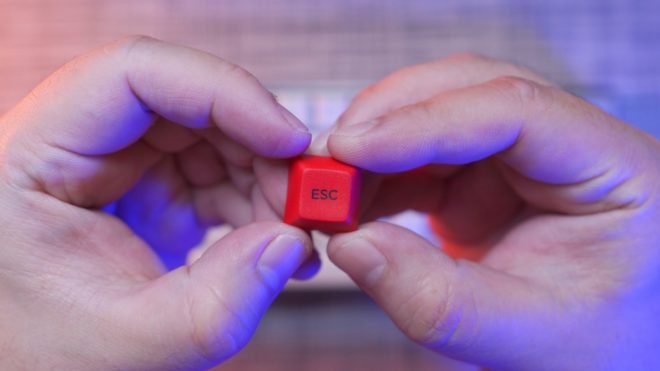 These are more expensive compared to the usual doubleshot ABS keycaps, but since the legends are already part of the plastic it will never fade away and the keycaps will also not shine that easily overtime compared to common ABS keycaps. Do note though that there are also high-quality ABS keycaps but that is a story for another day.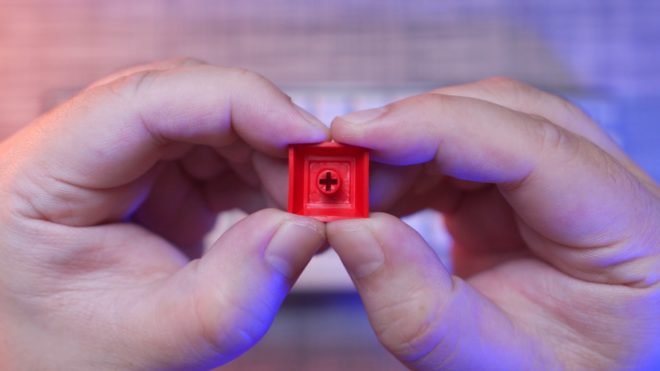 The keycaps on this keyboard have a thickness of around 1.1mm.
Now, in terms of the switches, this particular variant that we have right here has Gateron Brown,
Which I always say my favorite until I finally get a hold of a proper tactile switch like the Everglide Crystal Violet which has a more pronounced tactile bump and the difference is actually quite significant. However, these type of switches are not usually available on prebuilt keyboards like this.
And still, the Gateron Brown like any other Gateron switches is one of the smoothest mainstream switches that you can get on these prebuilt keyboards. It is good for both typing and gaming but at the end of the day, you just have to try it out for yourself and see if this switch is the right one for you, but in general, you can never go wrong with Gateron switches.
Stabilizers


As for the stabilizers, they are pre-lubricated and quite decent out of the box with the spacebar, enter and shift.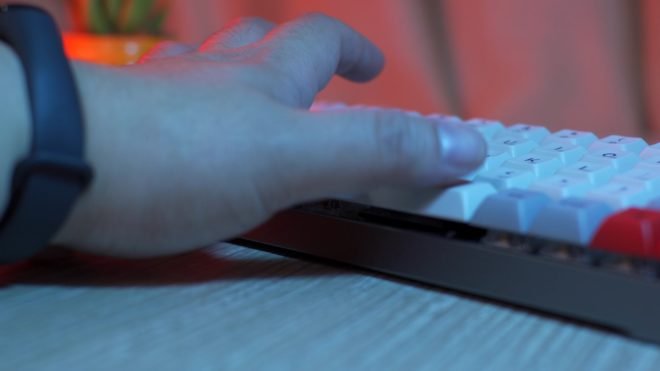 Hotswappable Board


Now, I usually do recommend the GK64 to people who are looking for a decent 60% keyboard for a couple of reason, one is because this has a hot-swappable board making it easy to change switches just in case one goes bad or if ever your preference changes over time and you want to try other types of switches.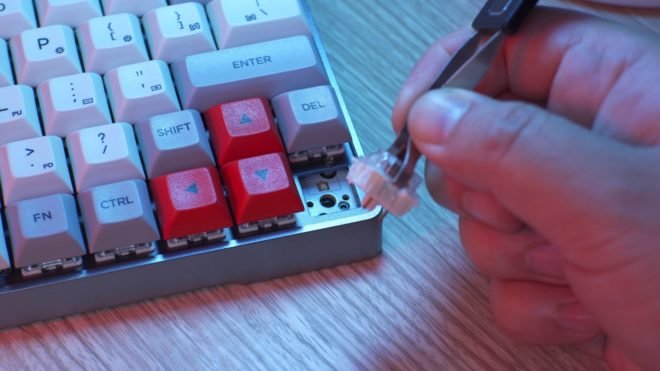 The second reason like I said earlier is because of the layout with dedicated arrow keys and a delete key.
Other Features of the GK64 60% Mechanical Keyboard


Now, this Alucase version of the GK64, if I'm not mistaken, uses pretty much the same board as the plastic version, so it has lighting effects, customizable profiles and whatnot that you can configure using the software including the audio visualizer. But since this keyboard doesn't have shine through keycaps I'll just take this opportunity to link you to my review of the GK64 if you're interested to learn more about its features and functionalities. you can check it out here.
GK64 Aluminum Case Teardown


Alright guys, as promised, let's tear this keyboard apart and see how it's constructed so that we can have an idea if this case will also be compatible with other Geek keyboards like the GK61 and GK66.
By the way, I also used this keyboard on my review of the latest Box red switch from Kailh which features a lightweight actuation of only 35g, you can watch the video here if you're interested and I suggest you do because you will learn a lot from that video.
So, in order to remove the plate and PCB, we just have to remove these 8 screws.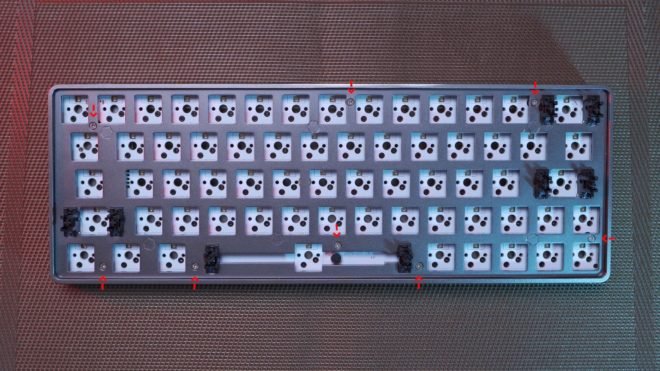 And then we can simply pull it out. This board if I'm not mistaken uses the Kailh universal socket which is compatible with pretty much all Cherry MX style switches, provided that they are plate mount type. Now, I'm not an expert when it comes to soldering but it looks like the soldering on this board is pretty clean.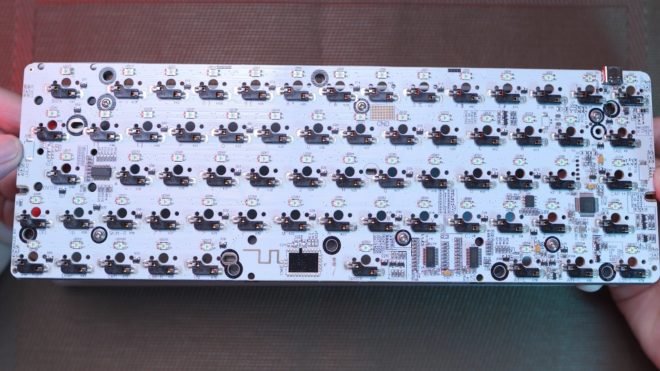 The plate itself has a thickness of around 1.4mm.
Removing the plate and the PCB leaves us with the bottom aluminum case itself.
And in terms of board compatibility, you can take a screenshot of this case and see if the board that you are going to use like the GK61 or the GK66 would be compatible. But looking at this screenshot of the GK61, it looks like it is compatible, I am just not sure about the GK66 since it has a split spacebar design.
Now let's move on to the actual performance of this keyboard.
NKRO Performance


In terms of the NKRO performance, which is a feature that should allow you to press as many keys as you want without any conflicts, as per my testing, it works quite well in any rows. I can press at least 10 keys at the same time without any problem.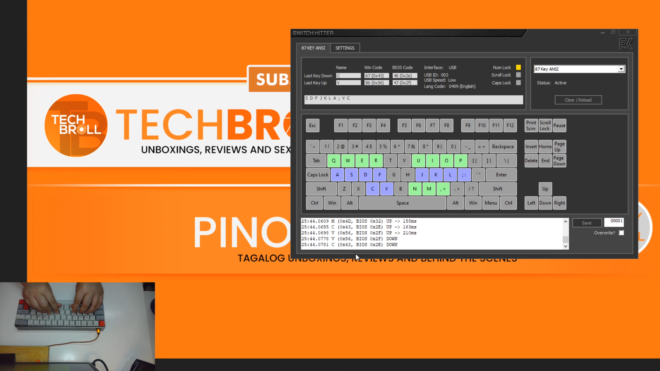 Typing Experience


As for the typing experience, like I always say, Gateron Brown is a very good option for typing as it will give you just a bit of feedback if you really need one while still having a smooth up and down travel.
The 64 keys layout is also good and is easy to transition with compared to other 60% layout. The home row guide is a little unusual using concave shapes on the letters F and J but I was able to get used to it over time.
The DSA profile is also quite unusual for me coming from SA and OEM profile but I was easily able to get comfortable with it as well. Overall, with the 64 keys layout and the Gateron Brown switches, this keyboard is pretty decent for typing.
Gaming Experience


In terms of gaming, for the most part, I didn't encounter any issues with it except for the fact that sometimes I need to use key combinations to trigger the function rows up top that takes a little bit more effort and time which might be crucial for others. But if the game you play doesn't require the functions keys, then you should be fine.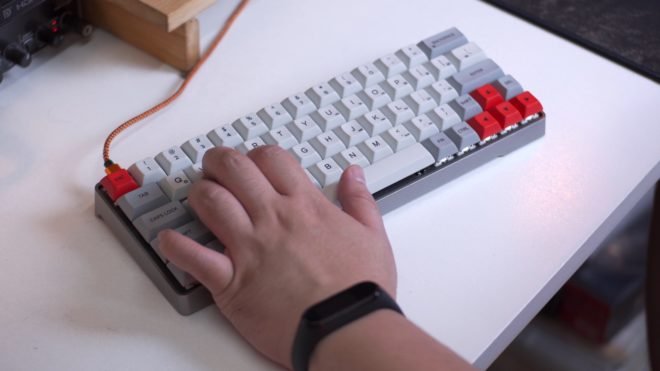 VERDICT


To conclude, the Geek GK64 aluminum version has all the features and functionality of the standard GK64 board, but with the improved overall build quality and design thanks to its super sleek premium looking aluminum case partnered with a high-quality Dye sublimated PBT keycaps out of the box. And like I said, this is one of the cheapest ways you can get a keyboard with aluminum case because you can get it with an already built keyboard unlike if you build a custom one from scratch.
Geek GK64 Aluminum Case Review + Teardown
Thanks to 
Banggood
for making this review possible, you can get this keyboard from their official website, link below.
If you like this one, please consider subscribing to my channel by hitting the button below. Have a great day!

SHARE THIS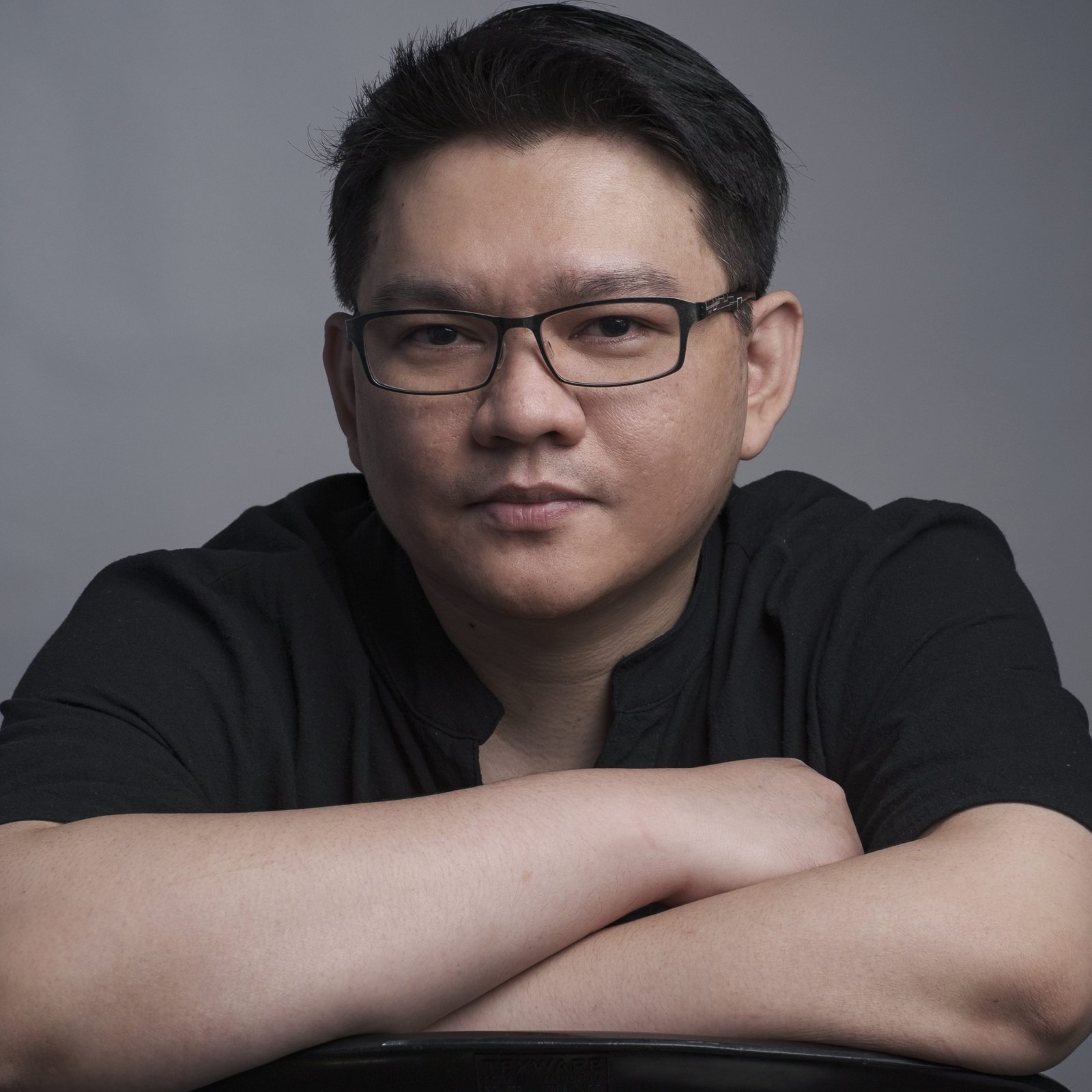 The Broll who always got your back online!