The Nothing ear (1) has been out for a while now, in fact, it's almost been a year. However, it was initially only available to major countries like US, UK and Europe. But now, thanks to Digital Walker who is known to carry international brands here in the Philippines, the Nothing brand is now here and we finally get the chance to experience one of the coolest looking earbuds. Now, I was looking forward to this review with a proper expectation given all the prior hype it got from international media and communities. I know for a fact what I am getting into but to be quite honest with you, I was still blown away with this product because aside from the looks, it actually offers more to the table. Not only it provides all the bare essentials I am personally looking for on a pair of wireless earbuds like active noise cancellation, transparency mode and wireless charging but it also offers some features that other brands tend to ignore nowadays like volume touch controls and in-ear detection. And while most people will gravitate towards this product simply by the looks, It's actually a pretty good all around True Wireless Earbuds that I even decided to use it as my daily driver. Here, let me give you all my thoughts about the Nothing ear (1) True Wireless Stereo Earbuds.
MY EARLY BREAKDOWN
Pros: Outstanding and unique design, Decent sound quality, Decent active noise cancellation and transparency mode, Wireless charging case, In-ear detection, App support, Intuitive touch controls which includes a volume slider, Low latency mode via app.
Cons: Relatively short battery life, Latency on PC, No low latency touch control, No voice prompts for touch controls
SPECIFICATIONS
Physical Specs:
Earbuds:
Weight: 4.7g
Height: 28.9mm
Width: 21.5mm
Depth: 23.5mm
Charging Case:
Weight: 57.4g
Height: 58.6mm
Width: 58.6mm
Depth: 23.7mm
Sound Specs:
Driver: 11.6mm Dynamic
Diaphragm: Graphene
Chamber size: 0.34 CC
Tuning: Teenage Engineering
Codec: AAC and SBC
Hybrid Active Noise Cancellation
Clear Voice:
3 High Definition Microphones
AI-Powered Environmental Noise Cancellation
Battery:
Full charge: Up to 34 hrs in the case (ANC Off); 24 hrs (ANC On)
Charge Compatibility: ear (1) charges inside the case; ear (1) case charges with QI-compatible wireless chargers or USB-C chargers
Controls: Customizable touch and slide
Features:
In-ear detection
iOS / Android app
Fast pairing
IPX4 Splash Proof
Compatibility:
Android 5.1 and above
iOS 11 and above
Connectivity:
Bluetooth Version: v5.2
Bluetooth Profiles: A2DP, AVRCP, HFP
WHAT'S IN THE PACKAGE
The Nothing ear (1) comes in two color variants, White and Black.
I prefer the white colorway most of the time when it comes to peripherals so I'm choosing the white variant here for this review.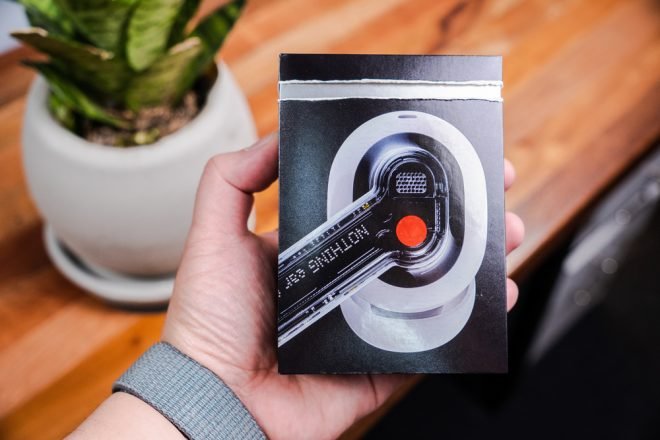 As for the packaging, it is pretty simple outside with an image preview in front,
And some technical details at the back.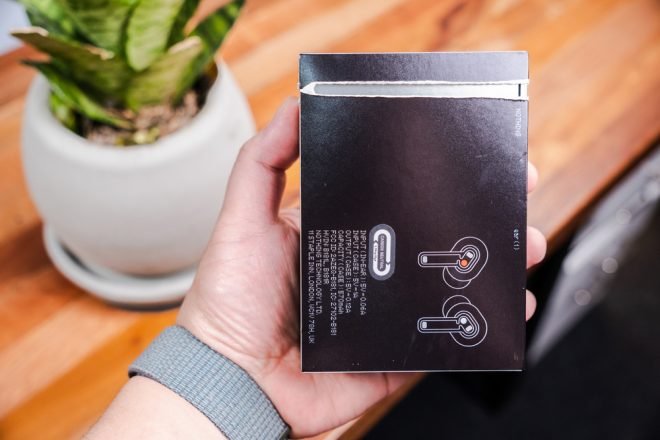 Opening the initial packaging reveals another silver-colored box.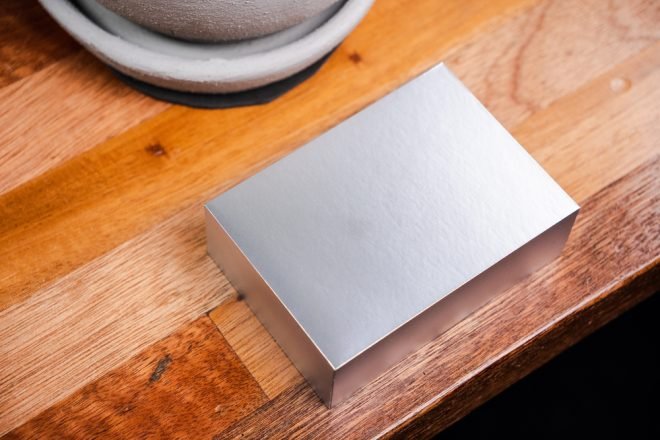 And inside it, the first thing you'll notice is the Nothing ear (1) itself nicely protected by its own cardboard platform.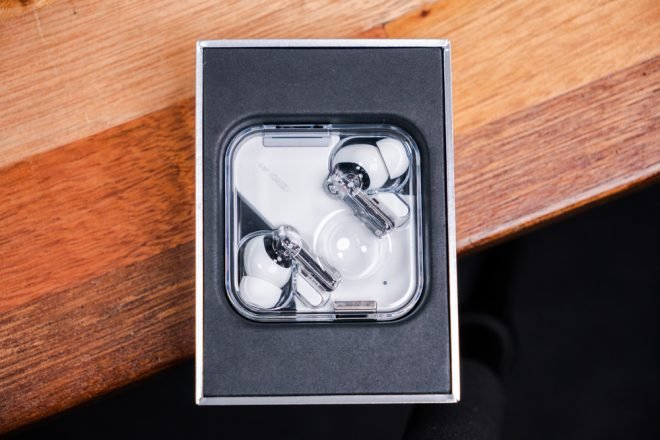 Removing the platform, you'll see three boxes,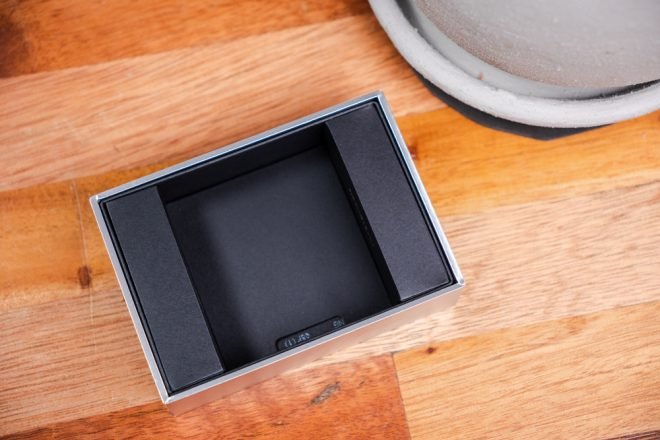 One for the cable, one for the paperwork and one for the extra rubber eartips.
The USB Type C charging cable is rather short but at least it is braided which definitely adds to the overall premium feel of the product.
We also have additional small and large ear tips which are very important especially for the effectiveness of the active noise cancellation feature. More on that later.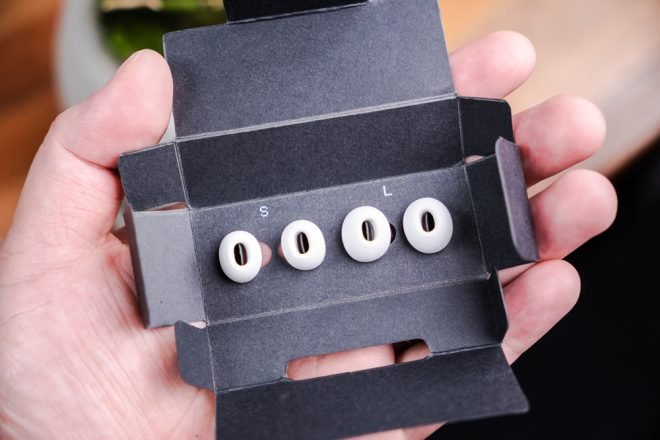 The paper work also perfectly matches the material used on the packaging which is a plus for the overall attention to detail.
The user manual is very intuitive with easy to understand instructions and illustrations.
Overall, the unboxing experience is quite pleasant and gives an extra value considering its price.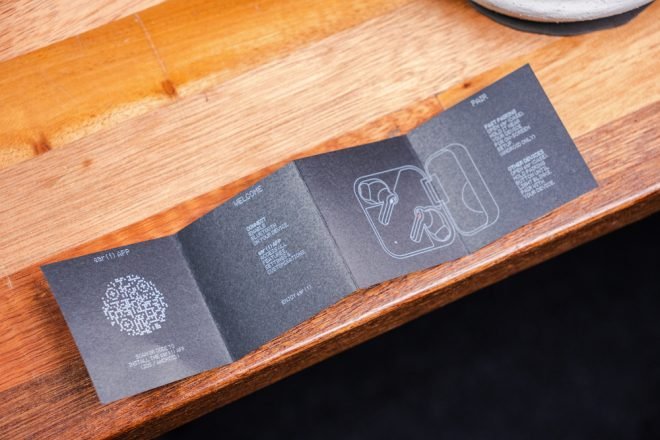 FULL REVIEW
Design, Construction and Parts Overview
As I've pointed out earlier, the design of both the charging case and the erabuds themselves is probably the main selling point of the Nothing ear (1). It is simply the most uniquely designed earbuds out in the market with a design language that is pretty much non-existent prior to its release. It is a bold statement coming from a relatively new brand that definitely hyped the entire tech marketspace. 
Both the wireless charging case and the earbuds themselves boasts an almost completely transparent casing that will certainly turn some heads. Looking from the top, as you can tell, the earbuds are laying flat horizontally on the charging case which I honestly think is the best possible orientation for the earbuds to sit inside. The top cover also has a rounded cavity that keeps the earbuds stay in place.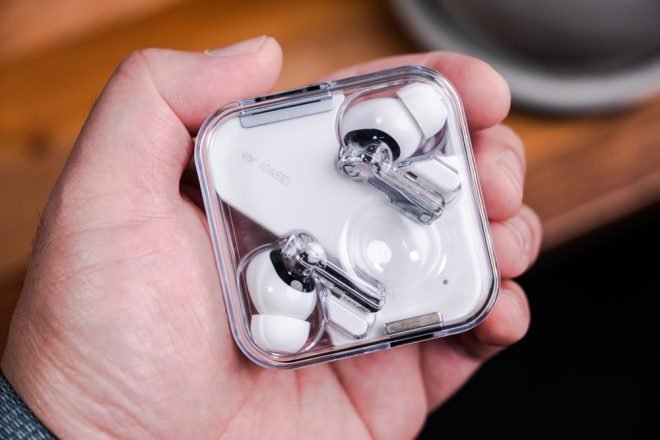 As I mentioned on my review of the ASUS ROG Cetra True Wireless which also has a similar design, this makes it easier to pick up the earbuds and allows for easy cleaning of the cavity inside. Normally, you'll need some cotton buds to reach and clean the inside.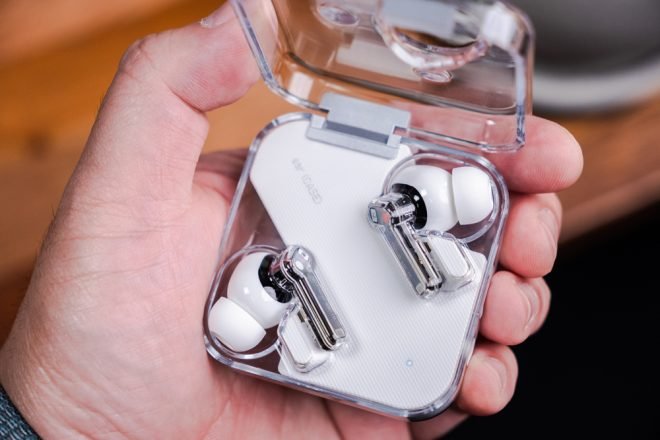 Now, looking at the bottom, you'll see some technical details and certifications but more importantly, you'll see a couple of magnets that gets in contact with the earbuds.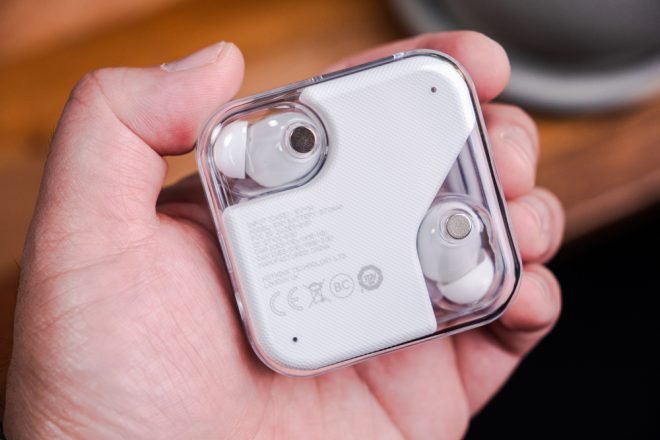 I'm not sure if this is intentionall but I was surprised that the charging case actually works with the Apple MagSafe charger, you just have to place it properly for the magnets to get in contact securely.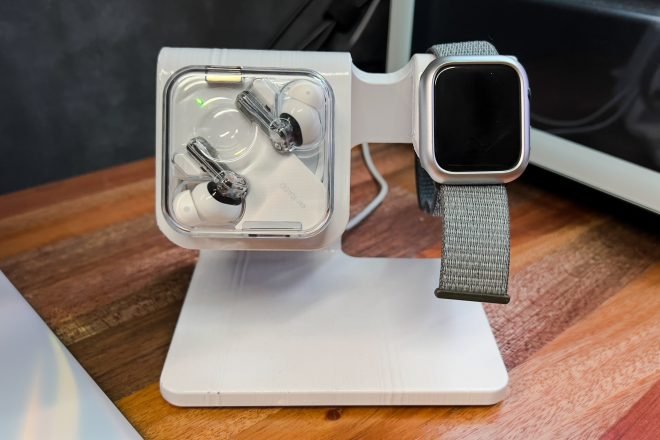 On the right side of the case, we have the USB Type C port for charging and the pairing button. Speaking of pairing, on Android, all you have to do is open the case and it'll automatically go to pairing mode, whereas on iOs, you'll need to press the button for a few seconds until the LED indicator starts blinking indicating that it is now on pairing mode.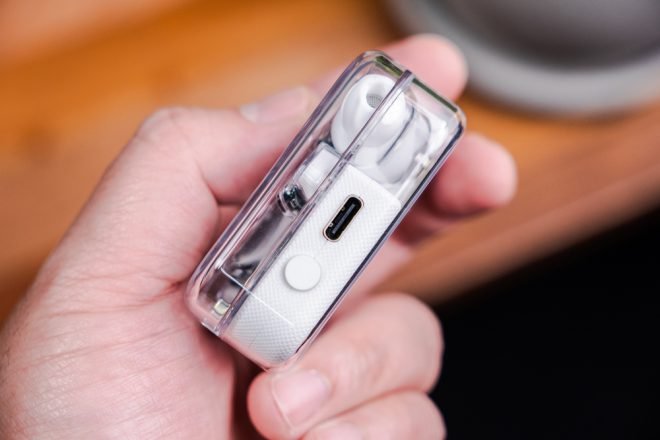 Both the front side and the back side, features aluminum material (If i'm not mistaken) for the magnet in front and the hinge at the back.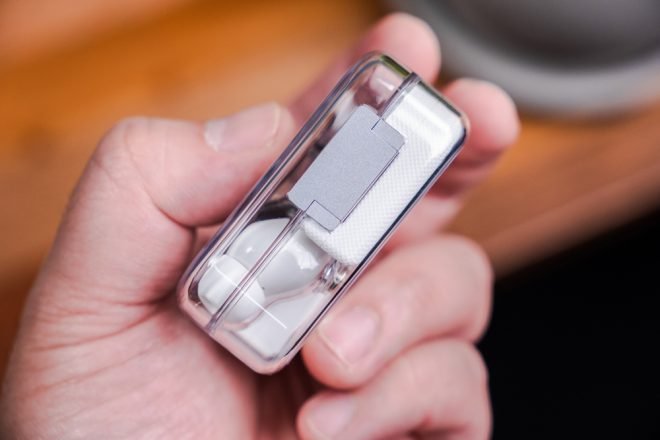 Another good thing about the charging case is that the cavities have silver and red circle indicators that matches the one located on the sides of the earbuds.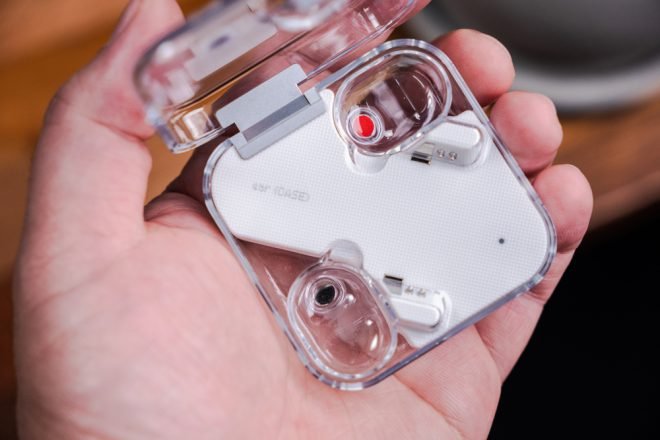 We also have the charging and pairing LED indicator here that is very responsive and lights up as soon as you place it on top of a wireless charger.
Now, into the exciting part, the Nothing ear (1) earbuds themselves. While it doesn't have a completely transparent casing including the earbuds themselves, it is still quite unique, interesting, and definitely an eye-catcher.
The form factor especially on the stem is actually slimmer than I was expecting which is even better.
Looking at the side, you'll see a small hole (probably one of the ANC microphones), a dot that matches the one on the charging case, the Nothing ear (1) model name, and a view of the PCB inside.
One thing that's very impressive here is how clean they were able to join the casing together without any visible marks from the adhesive.
The components inside are also nicely laid out together in such a way that they look clean and aesthetically pleasing. The magnets, the chips, and PCB looks really nice.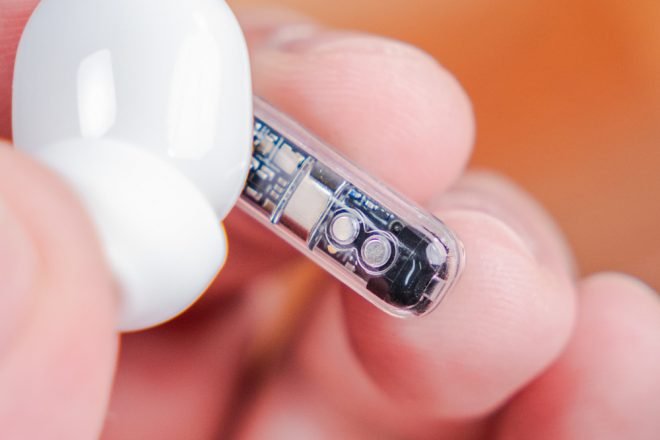 Looking here at the bottom, we have the primary microphone.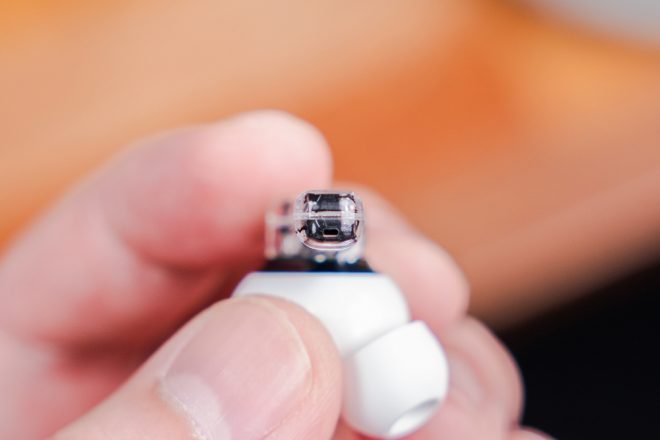 And on the other earbud, pretty much the same but the dot is colored red which also matches the one on the charging case. It is one of the most unique orientation legends that I've seen so far on a pair of earbuds.
Comfort and Fit
In terms of comfort and fit, it is easily one of the most comfortable earbuds that I've tried so far thanks to the combination of weight, shape, and form factor. Each earbud weighs only around 4.7g which is relatively lightweight and the size of the earbud itself is just enough to sit perfectly and securely outside my ear canal. The stem is also quite small and slim compared to other earbuds with a stem design which means it doesn't stick out too much. I can honestly wear this the entire day if only it can last that long. 
Touch Controls and ear (1) Software
The Nothing ear (1) has some basic touch controls including the following:
Active Noise Cancellation, Transparency Mode, ANC Off
Play, Pause and Skip Tracks
Volume Up / Down via touch slider on the stem
Aside from that, there are other settings available via the ear (1) application.
Speaking of the app, let's check it out.
Upon opening the app, you'll see the battery level of the earbuds and a couple of buttons to further customize their functions.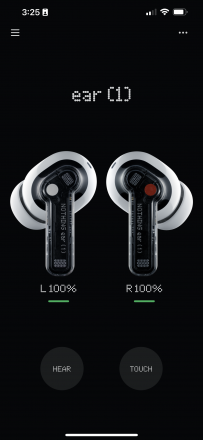 Clicking the left side menu button, we have the option to pair more Nothing devices, of course at this point we only have the ear (1), adjust the theme, and other options.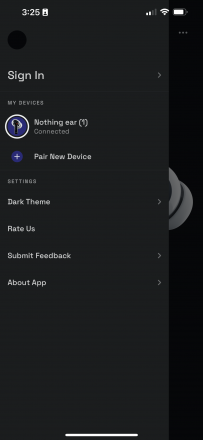 And clicking on the right side menu, we have the option to enable In-ear detection, change between normal and low latency modes, find my earbuds, update firmware and change the device name.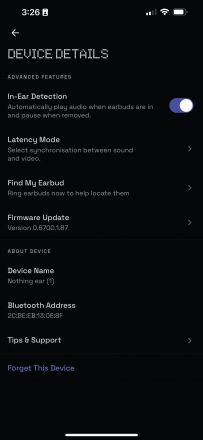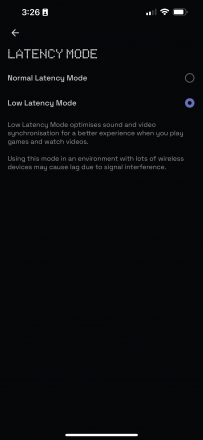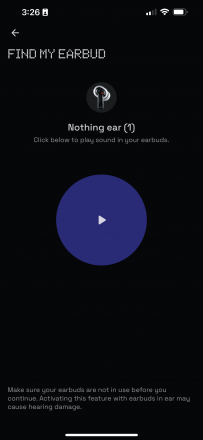 Now, clicking on the "HEAR" button reveals the options to change between active noise cancellation, transparency mode, and ANC off with an additional option to adjust the level of ANC between light and maximum.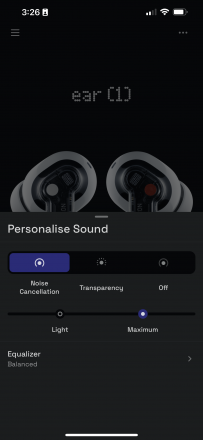 We also have an equalizer option here that unfortunately, is just presets and not the typical adjustable levels.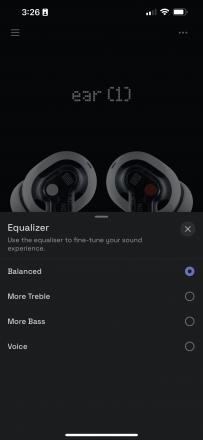 Now, going back and pressing the "TOUCH" button reveals the option to customize the touch controls on both the left and right earbuds.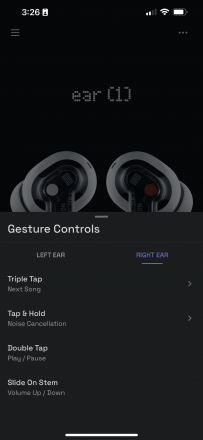 Unfortunately, low latency mode can only be toggled using the app and not via touch controls which is quite disappointing.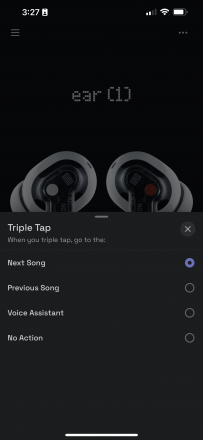 Also, there is no proper voice prompts whenever you change between the ANC modes which leave you guessing what mode you are currently in, although it is quite easy to determine, a soft voice prompt I think will still be appreciated here.
The good thing here is that at least it has touch volume controls via the touch slider on the stem which is a life saver especially when traveling. It's kind of a hassle to reach out to your phone whenever you are traveling just to adjust the volume. Unless you have a smartwatch.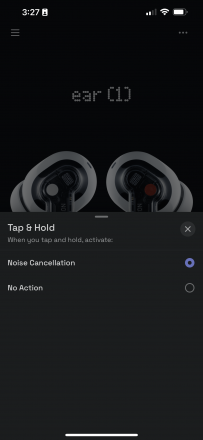 Notable Features
Active Noise Cancellation
The Nothing ear (1) has two levels of active noise cancellation which you can only toggle via the ear (1) app, light and maximum. I can't find any specific info about exactly how many decibels the ANC on these earbuds can filter out but I'd say it is on par with most budget noise-canceling TWS earbuds that I've tried before around this price range. It is not as powerful as other higher expensive noise-canceling earphones but it can at least filter out most low-frequency sounds like air purifiers (at medium fan speed), PC case fans, air conditioners, refrigerators, and the like. It can't filter the sound coming from my mechanical keyboard, music playing in the background, and people talking around the space. But if partnered with some music, the background noises are significantly reduced. I just really hoped that there is a soft voice prompt whenever I change in between ANC modes.
Transparency Mode
The transparency mode is equally decent, using the microphones around the earbuds, it will amplify the noise coming from the outside which is quite nifty especially if you're out and about and you want to be aware of your surroundings. 
Low Latency Mode
The Nothing ear (1) also has a low latency mode which as far as I know, can only be toggled using the ear (1) app, I can't find a way to enable it using touch controls which is a little bit of a bummer. As per my testing, it works fine on mobile devices perfectly syncing the audio and the video but when I use it on my PC, the latency is quite noticeable. 
In-ear Detection
One of the notable features that some brands tend to overlook aside from the touch volume controls is the automatic In-ear detection feature. Personally, this is one of the features that I always look for on a pair of earbuds. This is very important to me, especially while working with other people around, I can simply take out one of the earbuds to pause my music and to talk to someone and immediately resume the music playback once I place the earbud back. 
Sound Quality
Sound quality is something that many prior reviewers deemed to not quite match the hype but, to be honest, you just really have to align your expectations considering the price. While it will not wow most audiophiles, to be honest, it is not bad at all. The sound quality is fairly adequate and even better compared to most earbuds that I've tried in the same price range. It has a decent amount of low-end and bass, clear mids, and fairly controlled highs even at higher volume levels. The amount of punch it has on the low end is perfectly adequate for my preference without overpowering the rest of the frequency range. The vocals are very clear and smooth, the sound stage is pretty decent and wider than most earbuds that I've tried before. The sound signature is leaning towards the balanced side and you can further tweak it via the available presets inside the ear (1) app. Overall, if you set your expectations right again considering the price point, you're not going to be disappointed with the Nothing ear (1). It was a joy to listen to Usher's recent Tiny Desk Concert using these awesome-looking pairs of TWS earbuds.
Microphone Quality
The microphone quality on the Nothing ear (1) is also pretty good and decent enough for casual communication, it is very clear and doesn't sound robotic at all even though it's doing some sort of background noise cancellation. 
Sample Clip
Bluetooth Performance
Wireless performance is something you need not worry about the Nothing ear (1). Throughout the duration of my testing, I've only encountered a few hiccups but for the most part, the connection is fairly stable and reliable even with a couple of walls in between which some of the wireless earbuds that I've tried before struggled with.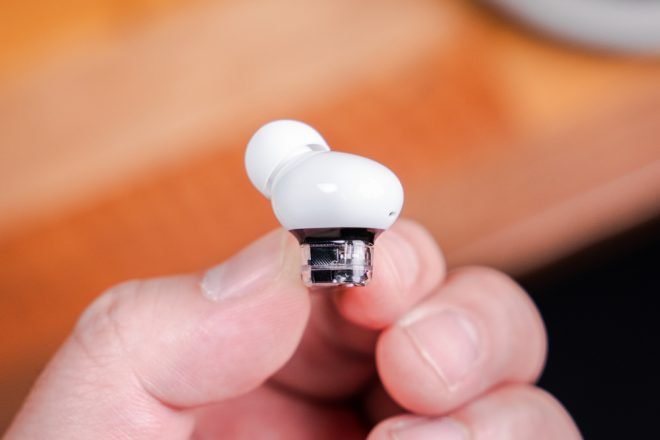 Battery Life
Battery life is probably one of the things that I am not particularly fond of about the Nothing ear (1). Each earbud can last only around 4 hours with ANC on and about 5 hours with ANC off. Honestly, I wasn't surprised given its tiny form factor but I'm gonna lie if I tell you I wasn't hoping for better battery life than that. Personally, good battery life for me is at least 6-7 hours which is good enough to last you the entire working hours of the day.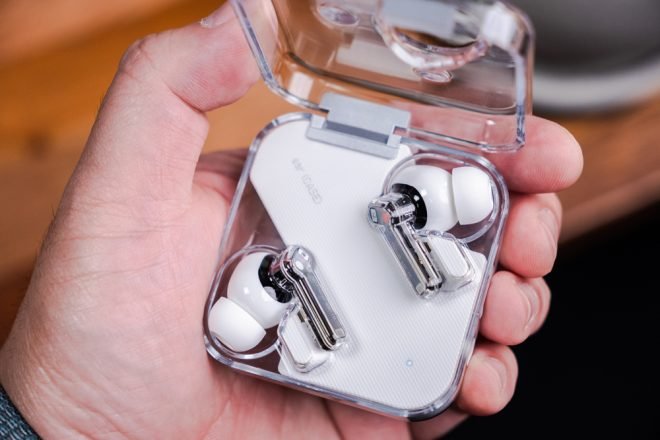 VERDICT
To conclude, disregarding the prior hype and giving it an open-minded take with proper setting of expectations given the price. I honestly feel that the Nothing ear (1) is not just all about the looks. It is in my opinion, a daily driver material (except maybe when it comes to its rather short battery life). if you can get past that and the fact that you can not toggle the low latency mode and other features without the app, the Nothing ear (1) is a pretty decent pair of True Wireless Stereo earbuds with a design language that's unheard of and unseen before. It is certainly one of the most unique and cool-looking earbuds that will undoubtedly turn heads and a possible conversation starter, simply put, you'll definitely stand out with these. It has pretty decent sound quality, even better than most similarly priced earbuds that I've tried before, a good amount of nifty features that are otherwise unavailable to other competing earbuds, and on just a complete class of its own. I don't think anyone will get this because of the sound quality and all that basic stuff, but if you do, you'll still not going to be disappointed.
The Nothing ear (1) is now available via Digital Walker for around Php 5990
Nothing ear (1) Review – Now in the Philippines!
Related Article:

Asus ROG Cetra True Wireless Stereo Earbuds Review – TechBroll
realme Buds Air 3 Review – Feature Packed!
Tribit FlyBuds C1 Review – Insane Battery Life!
Tribit StormBox Micro Review – Powerful Tiny Little Box!
Dizo Buds Z Review
Lypertek Tevi True Wireless Stereo Earbuds Review – Outstanding Sound Quality!
Dizo GoPods Neo Review – Affordable ANC TWS Earbuds!
EarFun Free Pro 2 ANC Wireless Earbuds Review
DIZO GoPods Review – Surprisingly Good for its Price!
EarFun Free 2 Review – Good Value Low Latency Wireless Earbuds!
Tranya M10 True Wireless Earbuds Review – My Daily Driver!
Edifier W600BT Bluetooth Headphones Review
Limited Edition Joyroom JR-T04S Pro True Wireless Stereo Headphones Review
OnePlus Buds Z Review – Steven Harrington Special Edition!
Marshall Major IV Now Available at Digital Walker and Beyond the Box
OnePlus Buds Z in white and limited edition Steven Harrington NOW AVAILABLE at HomeOffice.PH!
Marshall Uxbridge Voice Review – A Voice Assistant That Actually Sounds Great!
realme Buds Air Pro Review – Active Noise Cancellation!
SoundPeats TrueCapsule Review
Tronsmart Onyx Ace True Wireless Earbuds Review – Quad microphone!
SoundPeats TrueDot True Wireless Earbuds Review
ASUS ROG Strix Go 2.4 Review and AI Noise Cancellation Test
Cooler Master MH630 VS MH650 Comparison and Review
Edifier R1280DB Unboxing, Quick Review, and Sound Test

Subscribe for more reviews like this!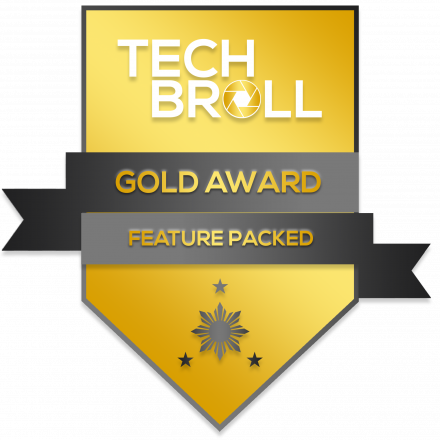 Nothing ear (1)
Php 5,990
Pros
Outstanding and unique design
Decent sound quality
Decent active noise cancellation and transparency mode
Wireless charging case
In-ear detection
App support
Intuitive touch controls which includes a volume slider
Low latency mode via app
Cons
Relatively short battery life
Latency on PC
No low latency touch control
No voice prompts for touch controls
SHARE THIS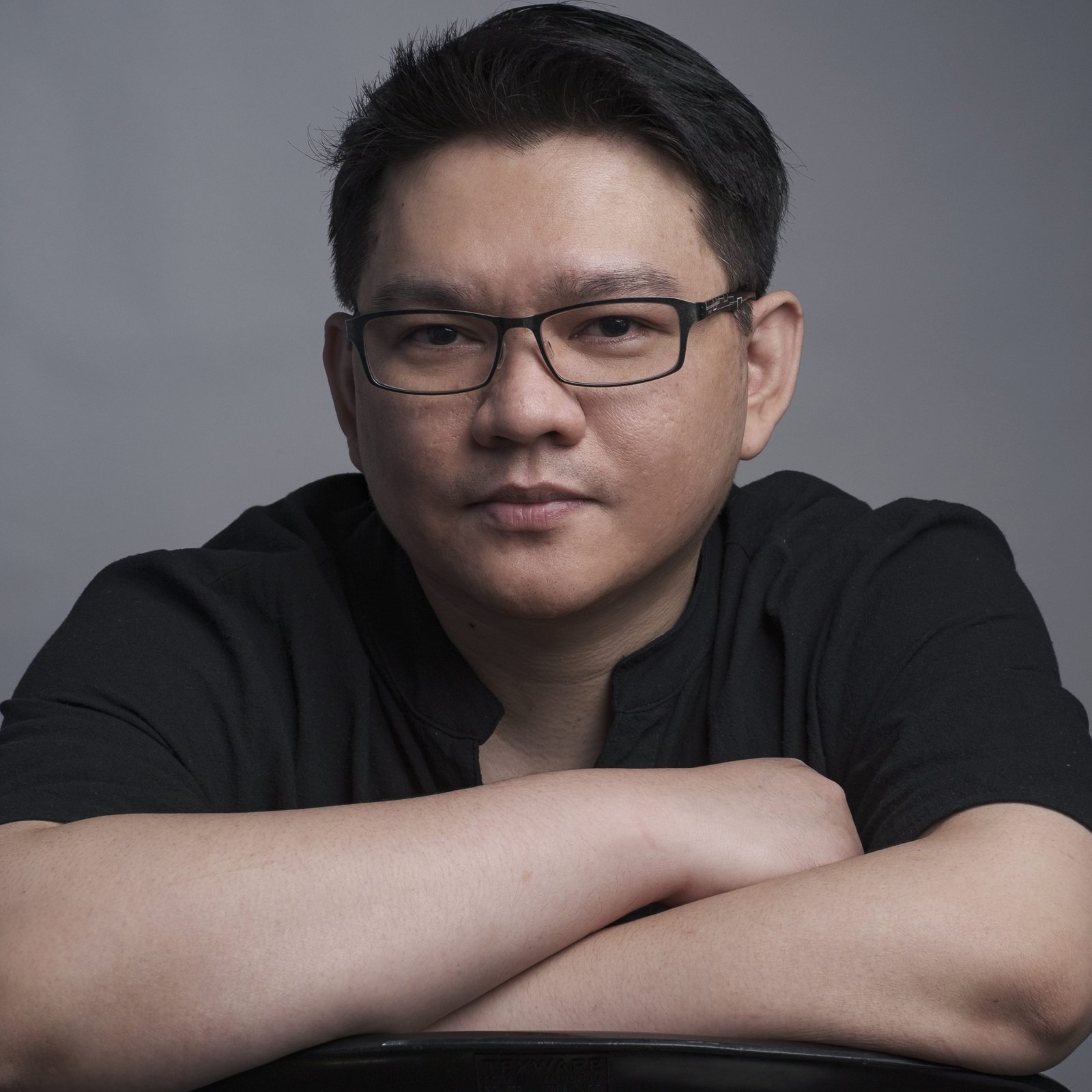 The Broll who always got your back online!