Most often than not, newer True Wireless Stereo earbuds are becoming more and more focused on features rather than sound quality especially those inexpensive earbuds that offers sought-after bells and whistles like active noise cancellation, transparency mode, low-latency game mode, etc. While they sound pretty good on their own right especially for their price, there are other True Wireless Stereo earbuds that focuses more on sound quality over functionality, and I think one of those is the Lypertek Tevi. A rather basic TWS earbuds features wise, at least on paper, but offers exceptional sound quality behind it's tiny form factor.
MY EARLY BREAKDOWN
Pros: Outstanding and detailed sound quality, Long battery life, Physical button, Good comfort and fit, Supports Qualcomm aptX, IPX7 Waterproof
Cons: No active noise cancellation, No low latency mode, No wireless charging, The side button can introduce uncomfortable suction pressure when pressed
SPECIFICATIONS
Key Features
Clean, Balanced, Good Bass and Wide Sound Stage Sound Signature.
Qualcomm Bluetooth 5.0 for stable connection.
Super Light and Comfortable Wearing Experience.
IPX7 waterproof
Additional Features
High Performance 6mm Graphene Driver
cVc 8.0 Noise Cancelling, Echo Cancellation, Noise Suppression
Up to 70 hours Play time with Charging Case
Qualcomm aptX, AAC, SBC
Measurement
Weight: 0.0325 kg
Length: 11 cm
Width: 11 cm
Height: 5 cm
WHAT'S IN THE PACKAGE
The packaging for the Lypertek Tevi is quite unique in its own way with a transparent cover where you can have a preview of the product especially the equally unique charging case with a woven fabric cover.
At the back of the box, we have its key features,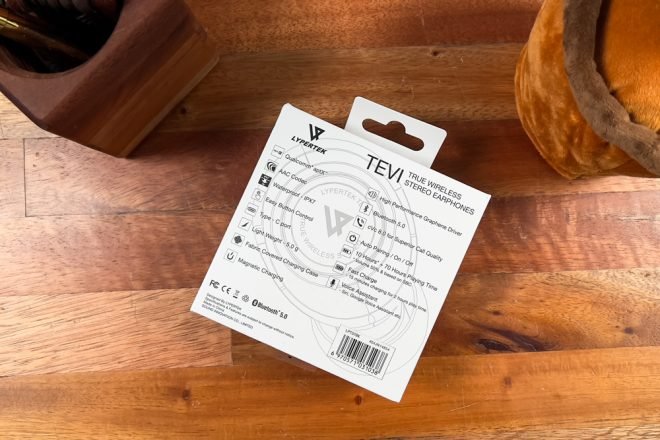 And around the sides, we just have some branding and a preview of package contents.
Opening the box, reveals the charging case and the tiny earbuds themselves separated from the charging case.
Let me give you a good second to appreciate these screaming-like packaging. Haha!
Inside the box, we also have the charging cable and some replacement ear tips.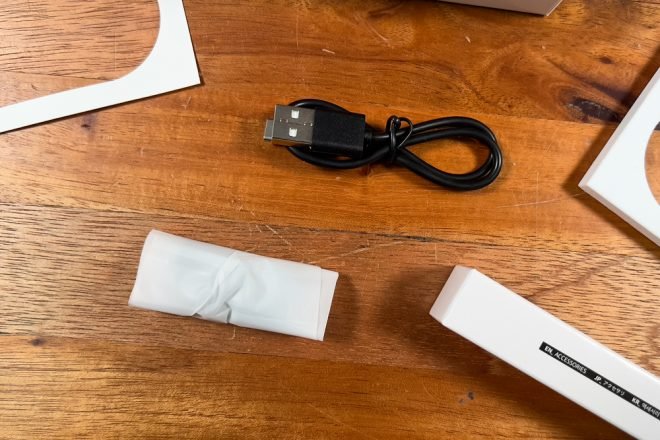 FULL REVIEW
Design, Construction, and Parts Overview
As I've pointed out earlier, the charging case features a woven fabric cover and has this relatively compact pill-shaped form factor while the earbuds themselves features a slim profile for the ear tip end with a larger but still relatively small body. It also has a leather loop at its side.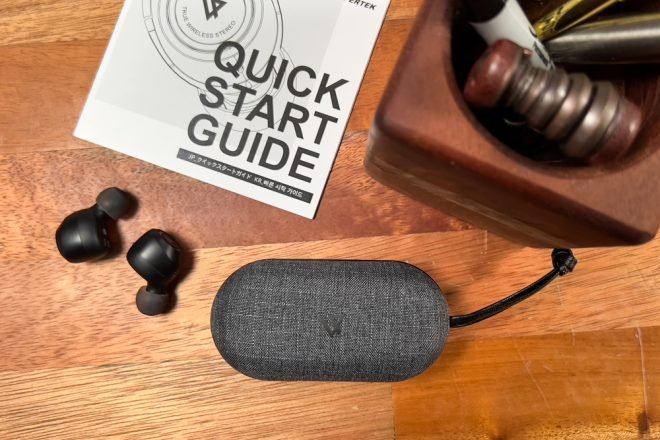 Looking from above, we have a subtle Lypertek logo at the center.
And just a clean design at the bottom, which unfortunately, doesn't support wireless charging.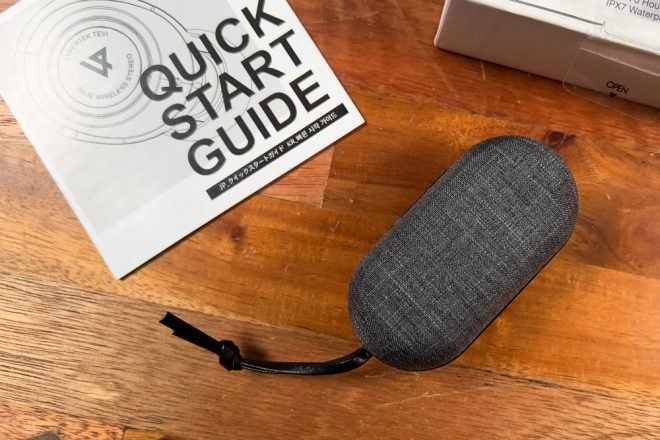 On the front side, we have 4 small LEDs for the battery capacity and charging status.
While on the other side, we have the USB Type C port.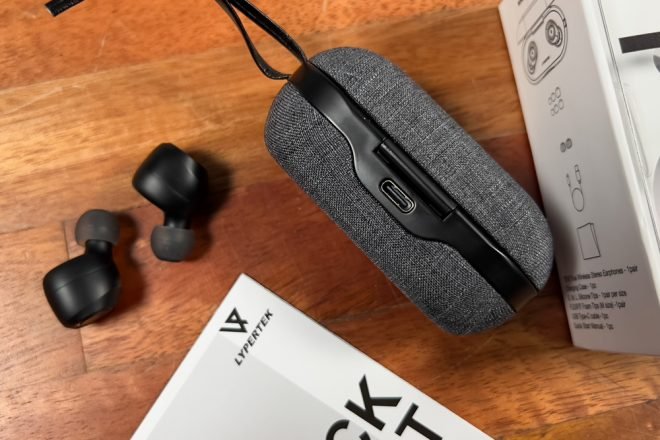 Opening the charging case, we have the cavities for the earbuds with some nifty left and right legends for the orientation and a Lypertek logo at its lower-center.
In terms of the earbuds, like I said earlier, the tip end is quite slim while the body itself is fairly large but still relatively small compared to other TWS earbuds that I've tried.
The construction is made mostly out of plastic and silicon for the ear tip.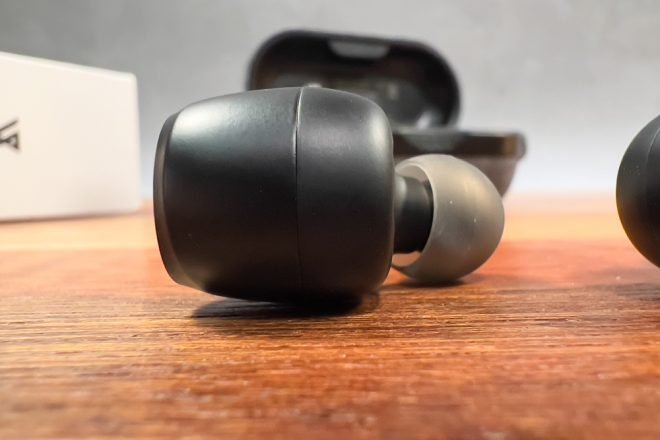 On this side, we have the charging connection and a legend for the orientation. 
And on this side, we have the microphone.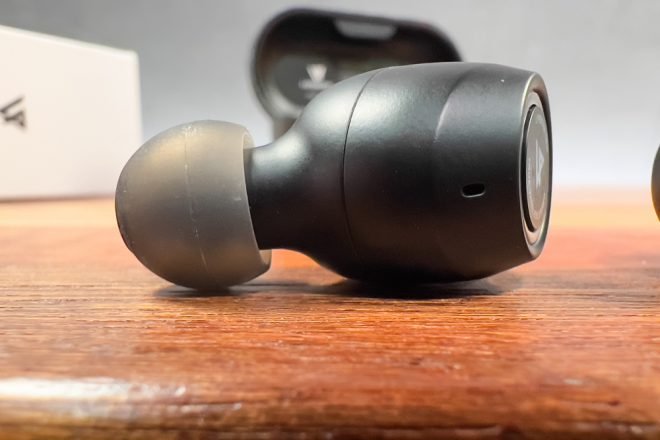 On the external side, we have the physical multifunction button with a rather obtrusive branding.
Comfort and Fit
The first thing that stands out to me about the Lypertek Tevi is the comfort and fit, the default ear tip fits my ears like a glove which resulted to a tight sound isolated fit and helps with the overall sound quality. 
The tight fit is substantial enough that I don't think I even need active noise cancellation especially when music is playing. Another good thing about it is that I barely feel the larger part of the earbud's body thanks to the long protruding slim part of the ear tip.
However, I don't like the design of the physical button on the side. Don't get me wrong, I prefer physical buttons compared to touch controls but I don't particularly like this implementation. It adds uncomfortable pressure whenever you press the button using one finger. The workaround is to press the button using your thumb while supporting the other side using your index finger. Aside from that, overall, I still find the Lypertek Tevie very comfortable.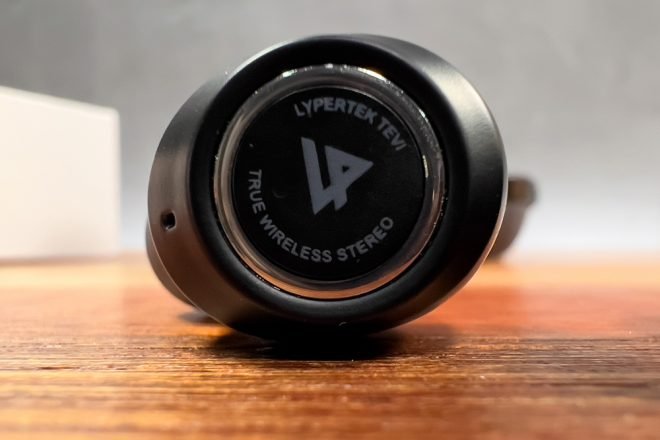 Speaking of physical buttons, here are the following available controls for the Lypertek Tevi.
Play/Pause – Press once
Previous Track/Next Track – Press Thrice
Volume adjustment – Press Twice
Answer call – Press once
End Call – Press once
Reject Call – Press and hold for one second
Voice assistant – Press and hold the master unit for one second
Master-Slave Switching Technology
The Lypertek Tevi features the so-called master-slave switching technology that automatically detects which side of the earbud has more charge and automatically set it as the master unit making sure both earbuds will drain charge at the same time. 
Mono Mode
It also has a mono mode which essentially allows you to use a single earbud at a time if necessary depending on your use case scenario.
After the Unboxing, Design, and Parts Overview part of my reviews, here's where I usually talk about other features like Active Noise Cancellation, Transparency Mode, Low Latency Game Mode, etc., all of which are non-existent with the Lypertek Tevi. What these earbuds offer on the other hand is the very thing that we really should be looking for in a pair of earbuds, and that is outstanding sound quality. So let's talk about that.
Sound Quality
Alright, for starters, the Lypertek Tevi features a high-performance graphene driver, and make no mistake about its tiny form factor because the sound stage is quite large given its size. Second, it uses Qualcomm's 32bit tri-core processor and Kalimba DSP and supports aptX and AAC codecs. I'm not an audiophile but I can recognize a good-sounding earphone when I hear one and I'd say, especially with complicated and detailed music, that the Lypertek Tevi's sound quality is exceptional. The sound stage is really what drives me nuts especially considering the size, it's wider than most compact TWS earbuds that I've tried and the sound signature is very comfortable and more towards the neutral sound. I enjoy listening to calming and detailed music with this pair of earbuds enjoying all the little details without getting overwhelmed by the low end or even the brighter side, everything feels balanced and again, comfortable. Easily one of the best-sounding pairs of earbuds that I've tried at this price point. 
The microphone's quality is also pretty good thanks to the usual CVC 8.0 environmental noise canceling feature.
Battery Life and Overall Bluetooth Performance
Another thing that I like about the Lypertek Tevi is the exceptionally long battery life for both the earbuds themselves with up to 10 hrs of music playback and the charging case with up to 70 hrs in total. And with a quick 15 min charge, you'll get a substantial 2 hours out of it. One of the longest battery life I've seen on a True Wireless Stereo earbuds. Most that I've tried recently only last around 4-7 hours. The only gripe that I have here in terms of battery life is that it doesn't have wireless charging, but definitely not a deal-breaker given the number of hours you'll have on a single charge.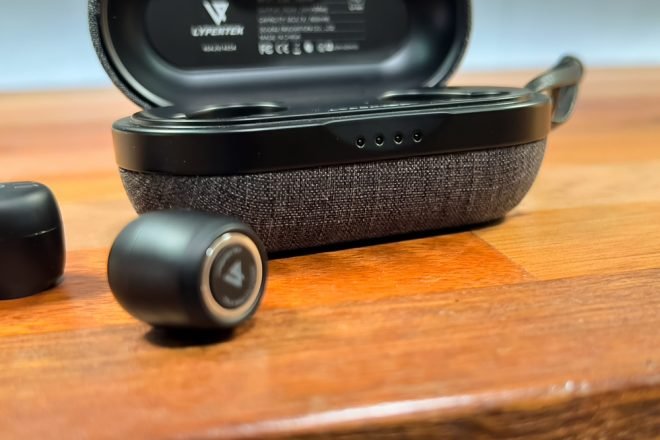 When it comes to Bluetooth performance, it's kind of a mixed bag for me. I appreciate that it uses a Qualcomm chip with Bluetooth 5.0 which for the most part is quite stable, especially with only a few walls in between but without an option for low latency mode, there is a noticeable delay between audio and video when using it on a computer. It gets better though when using on a smartphone with almost no perceivable delay. 
VERDICT
To conclude, if you can get past the fact that the Lypertek Tevi lacks most modern features that are otherwise also available even on some budget alternatives like active noise cancellation, transparency mode, low latency game mode, and wireless charging, and if you value sound quality over those mentioned features, the Lypertek Tevi is a very good option. The sound quality alone should get merit when it comes to your decision and partner that with very outstanding battery life, you'll get a pleasant listening experience that should last you the entire day and possibly more.
The Lypertek Tevi is available in Digital Walker's Official Lazada Store for around Php 3350.
Related Article:

Dizo GoPods Neo Review – Affordable ANC TWS Earbuds!
EarFun Free Pro 2 ANC Wireless Earbuds Review
DIZO GoPods Review – Surprisingly Good for its Price!
EarFun Free 2 Review – Good Value Low Latency Wireless Earbuds!
Tranya M10 True Wireless Earbuds Review – My Daily Driver!
Edifier W600BT Bluetooth Headphones Review
Limited Edition Joyroom JR-T04S Pro True Wireless Stereo Headphones Review
OnePlus Buds Z Review – Steven Harrington Special Edition!
Marshall Major IV Now Available at Digital Walker and Beyond the Box
OnePlus Buds Z in white and limited edition Steven Harrington NOW AVAILABLE at HomeOffice.PH!
Marshall Uxbridge Voice Review – A Voice Assistant That Actually Sounds Great!
realme Buds Air Pro Review – Active Noise Cancellation!
SoundPeats TrueCapsule Review
Tronsmart Onyx Ace True Wireless Earbuds Review – Quad microphone!
SoundPeats TrueDot True Wireless Earbuds Review
ASUS ROG Strix Go 2.4 Review and AI Noise Cancellation Test
Cooler Master MH630 VS MH650 Comparison and Review
Edifier R1280DB Unboxing, Quick Review, and Sound Test

Subscribe for more reviews like this!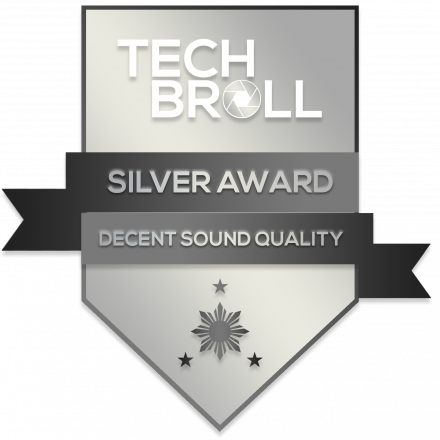 Pros
Outstanding and detailed sound quality
Long battery life
Physical button
Good comfort and fit
Supports Qualcomm aptX
IPX7 Waterproof
Cons
No active noise cancellation
No low latency mode
No wireless charging
The side button can introduce uncomfortable suction pressure when pressed
SHARE THIS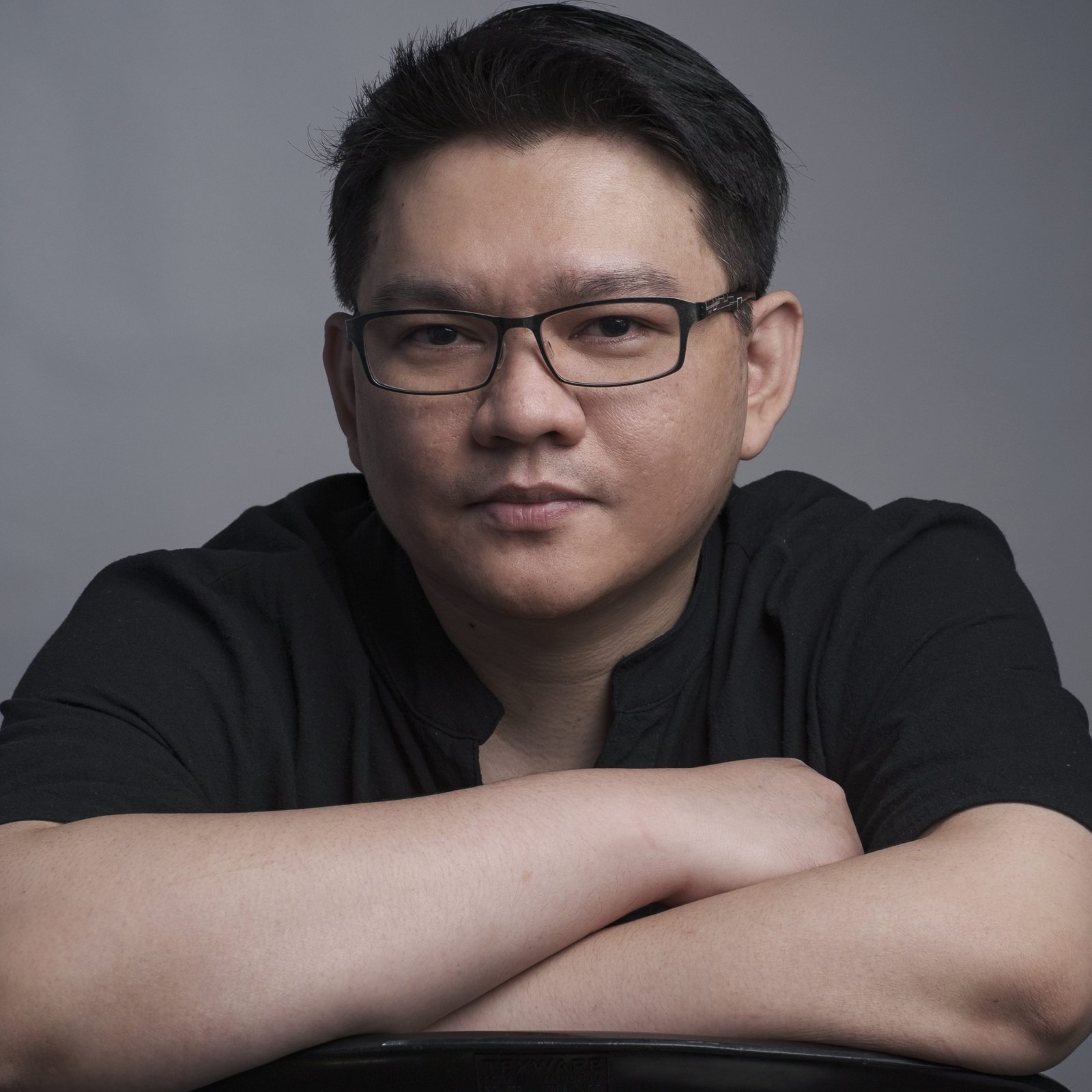 The Broll who always got your back online!