With the vast availability of "Gaming" headsets out in the market, only a few really stand out when it comes to unique features. There's a ton of gaming headsets that boasts noise cancellation as one of their key features but really, most often than not it's just passive or environmental noise cancellation which might be useful in some certain controllable situations but not as effective as with anything that has an active noise cancellation feature baked into the hardware.  Today, we're taking a look at one of the exceptions with a powerful AI noise cancellation feature that is actually quite impressive and is built-in into the hardware with a dedicated processor allowing it to activate in an instant and with high effectiveness. We're talking about the ASUS ROG Strix Go 2.4, a gaming headset that not only looks good, sounds good but features one of the most effective noise cancellations out in the market. Today, in this review, we'll focus on this particular feature and I'll provide you with lots of different scenarios to put this AI noise cancellation to the extreme test.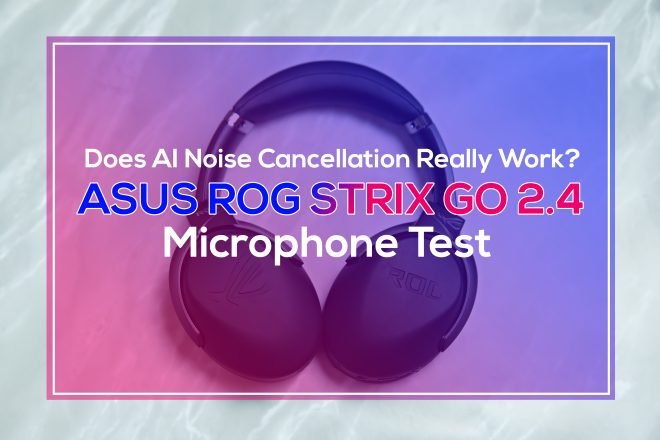 MY EARLY BREAKDOWN


Pros: Effective AI Noise Cancellation, Decent Sound quality with tons of flexibility using the software, Soft headband cushion and earpads, Feature-packed, Multiplatform compatible
Cons: Not so flexible design and construction, A little bit on the heavy side
SPECIFICATIONS


Headphones
Connector

USB (wireless 2.4GHz)
3.5 mm(1/8") connector Audio/mic combo
General Info
Platform

PC
MAC
Mobile device
PlayStation® 4
Nintendo Switch
Headphones
Driver

Driver diameter: 40 mm
Driver material: Neodymium magnet

Impedance

32 Ohm

Frequency Response (headphones)

3.5mm: 10 ~ 40000 Hz
Wireless: 20 ~ 20000 Hz

Noise Cancellation

AI Noise Cancellation

Wireless Technology

RF 2.4GHz

Operation Time

Listen time (per charge): Up to 25 Hours

Battery Type

Lithium Polymer
Microphone
Pick-up Pattern

Microphone boom:
Bi-directional

Hidden Microphone:
Omni-directional

Frequency Response

Microphone boom:
100 ~ 8000 Hz

Hidden Microphone:
100 ~ 8000 Hz

Sensitivity

Microphone boom:
Sensitivity : -54 dB
General Info
Cable

USB-C charging cable: 1m;
3.5 mm audio cable: 1.2 m

Weight

290 g

Accessories

Carrying case
Charging cable
Detachable microphone
Quick start guide
3.5mm cable
USB-C to USB 2.0 (Type-A) adapter

Note

Support PCs and PS4 via using included USB-C to USB 2.0 adapter


WHAT'S IN THE PACKAGE


The packaging is what you might expect from ROG with the usual pink and blue accent colors in the form of the ROG eye. We also have the model name and the image preview of the product here in front.
Opening the box, or rather, sliding the top packaging towards the top, reveals the ROG welcome note.
Inside the box, we have the quite substantial quick start guide,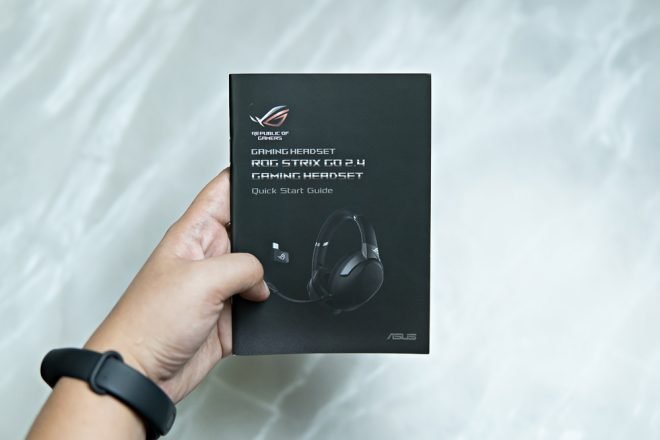 And the warranty card written in different languages.
And what I really appreciate with this is one is that it comes with a nice carrying case which makes sense since this gaming headset is wireless, portable, and multiplatform compatible that you can use with your smartphone, tablet, and laptop on the go.
Inside the carrying case, we have the detachable boom microphone,
A USB Type C charging cable,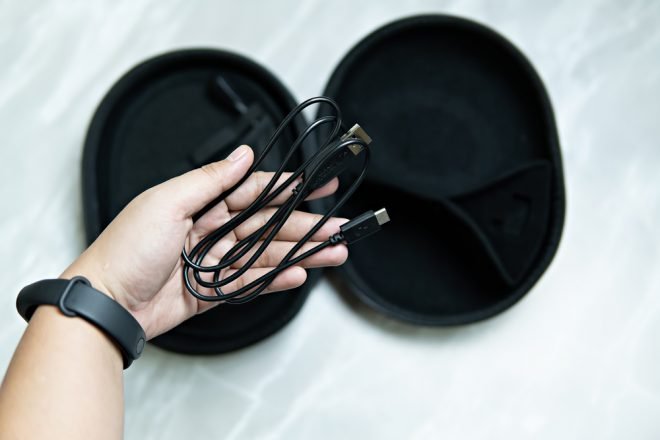 A 3.5mm to 3.5mm TRRS cable for direct-wired connection,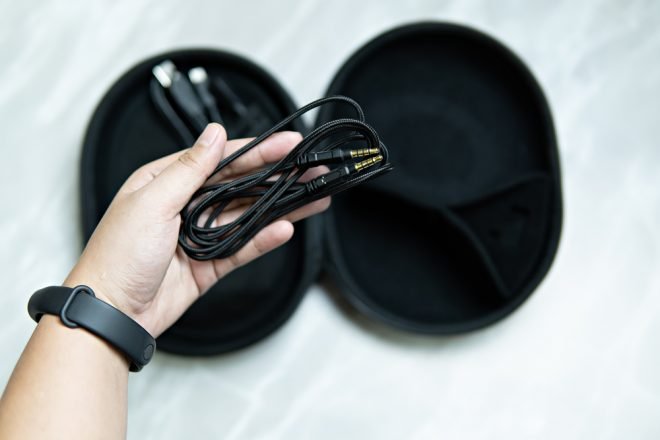 And the wireless dongle and USB adapter.
Overall, in terms of the packaging and package contents, you'll have everything you need regardless of the device you'll be using. This means you can pretty much use this headset in any way possible like when gaming at home using your PC, gaming on the go with your smartphone, or even just for casual music listening while traveling.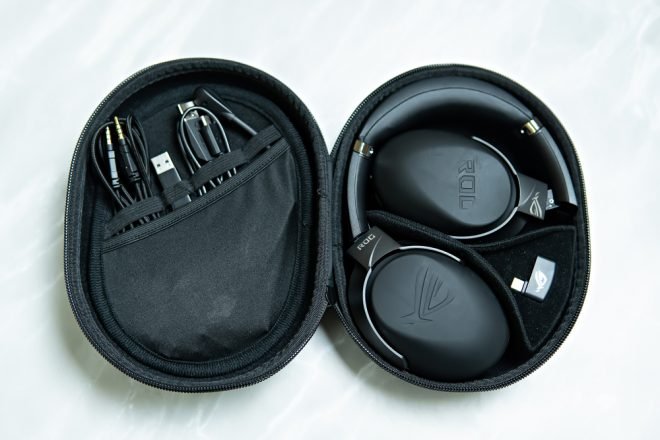 Now, like I said, in this review, were going to focus on the AI Noise Cancellation feature but before that, I'm not gonna leave you hanging with the rest of the feature of the ASUS ROG Strix Go 2.4, so let's do a quick parts overview and discuss its key features.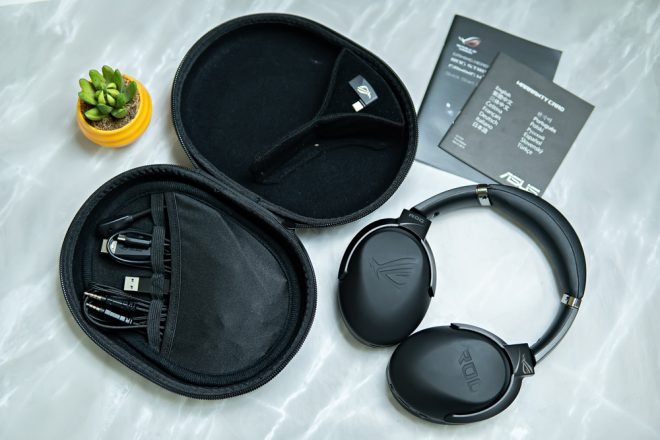 FULL REVIEW
Design, Construction, and Parts Overview


In terms of design, the ASUS ROG Strix Go 2.4 features a stealthy black, grey, and silver aesthetic and has this premium vibe going on around it. The construction is mostly made of robust plastic, soft cushions, and a combination of metal and plastic for the internals of the headband.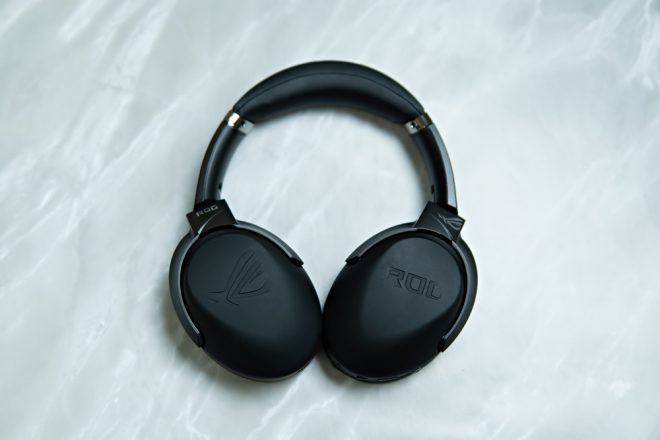 The earcups feature a matte black finish which looks really nice, albeit quite a fingerprint and oil magnet due to the "rubberized" type of material used. The good thing is, it's relatively easy to clean with just a quick wipe using a clean cloth.
On the left side, we have an embossed ROG logo right at the center of the earcup with a silver ROG eye logo on top of it near the headband.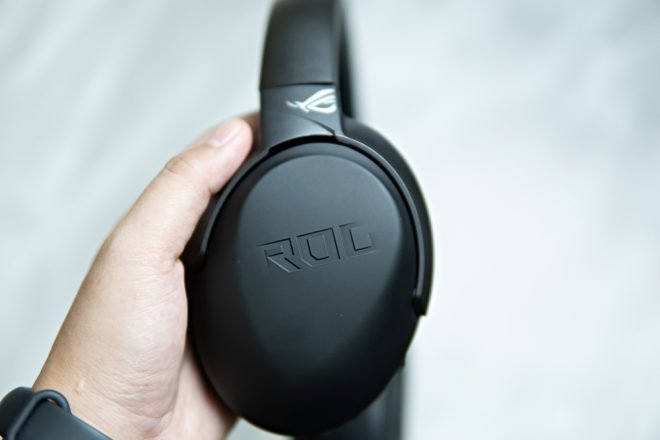 On the other side, it's the other way around with an embossed ROG eye and a silver ROG logo.
Flipping the headset around, we have a Republic of Gamers logo across the entire length of the headband.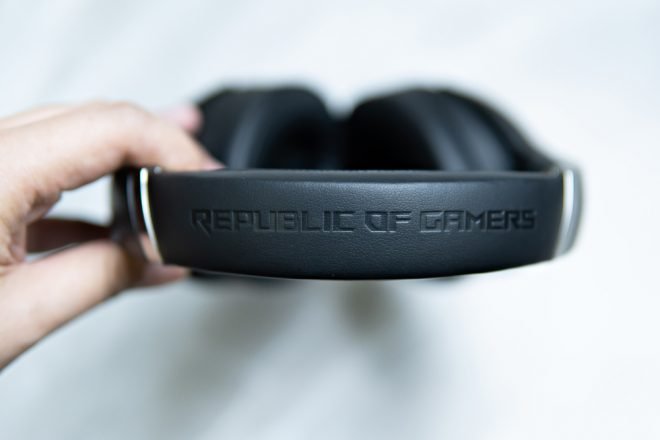 And turning the headset all over at the cushion side, we have yet another couple of ROG eye logos inside the earcups themselves.
So as you can see, though this headset has a stealthy black and grey vibe on it, ASUS certainly didn't hold back when it comes branding on this which I feel like overdone but there's that.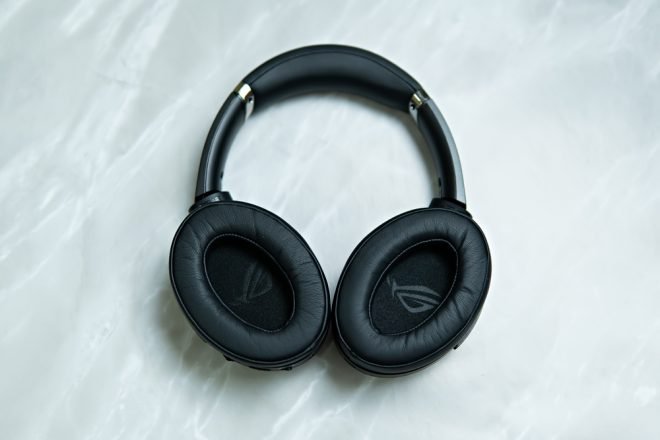 Comfort


In terms of comfort, I'd say the ASUS ROG Strix Go 2.4, for the most part, is comfortable thanks to the extremely soft cushion on both the earpads themselves as well as on the headband. They are super soft and probably the most comfortable ear cushions that I've experienced so far.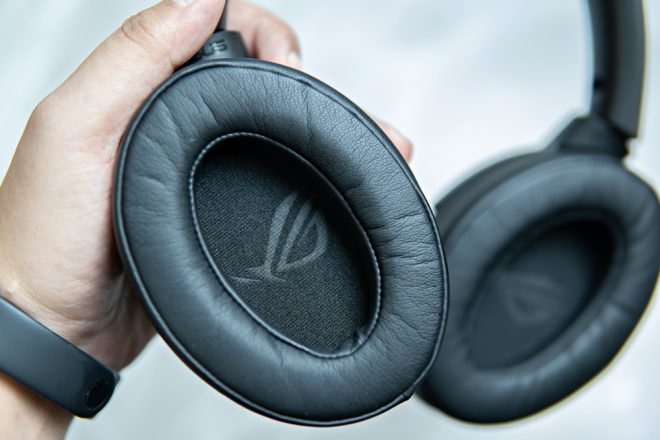 However, I find this headset quite heavy at around 290 to 293g and that although the earcups can swivel flat, it lacks that flexibility I was looking for when it comes to stretching the headband. In addition, the earcup's size is also relatively small and although the shape is oblong, I still consider this as a on-ear headphone which I am not really a fan of since my ears are pretty big. On the other hand, if you prefer on-ear headphones, then you might find this comfortable as like I said, the ear cushions are super soft and comfy.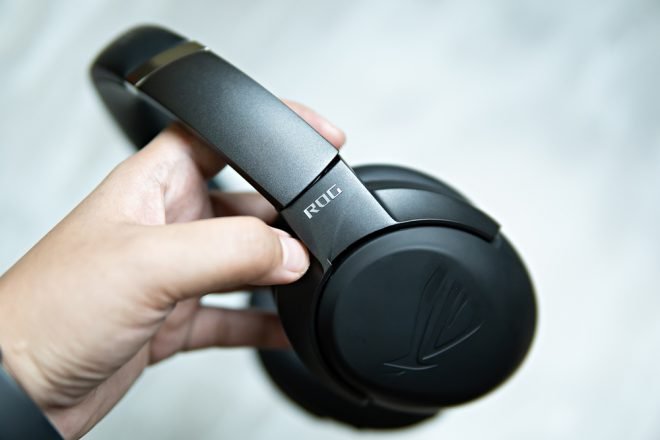 Input and Output ports


Now, in terms of the input and output ports, here's where the ASUS ROG Strix Go 2.4 provides better value compared to its competitors aside from the fact that it is a feature-packed gaming headset.
On the left side earcup, we have a volume wheel that also doubles as a microphone mute button, a multi-function button for music playback, and a physical switch to toggle between wired and wireless mode.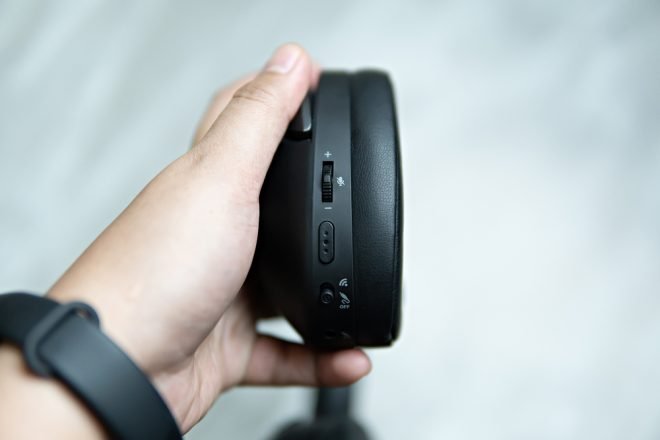 We also have here a small LED indicator for connectivity besides that said toggle switch, a 3.5mm headphone jack that you can use if you want to opt for a wired connection or if you simply want to save battery,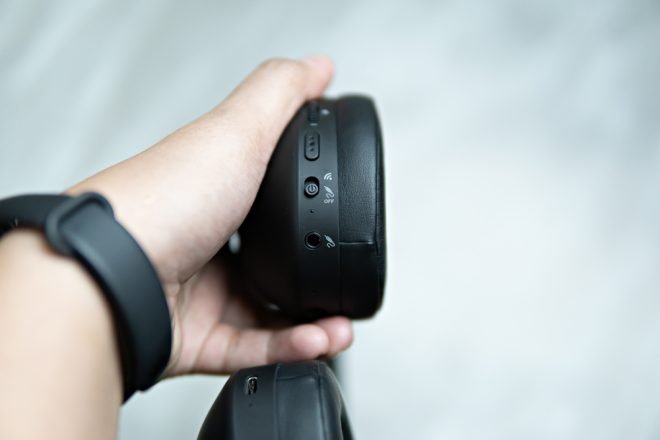 And the 3.5mm jack for the boom microphone and lastly, a small hole for the built-in microphone that you can use if you want to use the headset on-the-go and for casual communication. Both of which we'll test later on a dedicated microphone test.
On the right side earcup, we have the USB Type C port for charging and a small LED indicator for power.
Sound Quality and ROG Armoury Software


In terms of sound quality, I'd say the ASUS ROG Strix Go 2.4 is not bad at all with tons of flexibility to tune the sound signature using the ASUS ROG Armoury Software. On a personal note, I'd like to set it to the "Flat" profile allowing the headset to produce a fairly well-balanced sound signature with a decent punch on the low end and a substantial kick on the highs while maintaining clarity on the mids. Volume level is decent and just enough at maximum volume to provide clean audio and without distortion and overall, like I said, you can pretty much tune it in any way you want using the software. You can take advantage of the equalizer, add reverb, bass boost, compressor, and improve voice clarity and other nifty settings that you can utilize. 
But what's important here and one of the unique features of the ASUS ROG Strix Go 2.4 is the hardware-based AI noise cancellation feature. So, let's talk about that.
Note: Sample rate via wireless is 44100 Hz / 48000 Hz and 16 Bits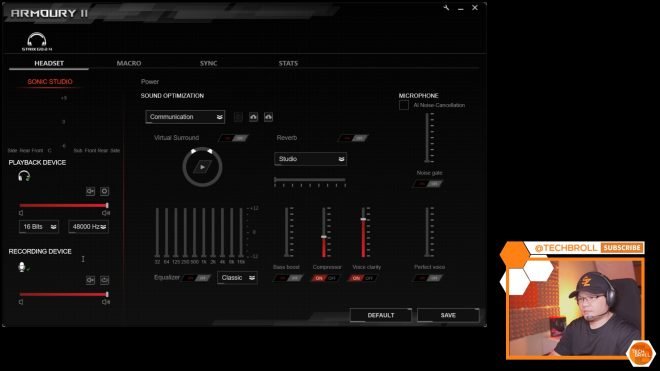 AI Noise Cancellation Feature and Tests


The ASUS ROG Strix GO 2.4 in ASUS's own words, features a dedicated processor loaded with smart profiles trained by AI to eliminate over 50-million types of background noise while preserving vocal harmonics for crystal-clear in-game voice communication. This smart mic reduces distracting chatter, keyboard clatter, and mouse clicks by up to 95%, allowing you to communicate clearly in any environment.
So basically, what it does is it actively listens to your background and determines whether if it is your own voice, another human being talking, and other unwanted noise, and then cancels them all out leaving your own voice effectively, albeit in an expense of audio quality since some of the frequencies from your own voice will also be unavoidably canceled depending on how noisy your environment is and how hard the AI processing has to work. Essentially, the more noise it has to cancel, the more artifacts or negative effects it will have on the audio quality but in its entirety, as per my testing, the AI cancellation actually works quite good and I am very impressed with it and I've never experienced something as effective as this when it comes to active noise cancellation on any gaming headset that I've tried before.
With that being said, don't just take my word for it, you be the judge by watching the below in-depth microphone test for the ASUS ROG Strix GO 2.4

Now, before we end this review, let me give you the rest of my thoughts about the ASUS ROG Strix Go 2.4 to make our review complete as we usually do here.
Battery Life


In terms of battery life, using it for music playback wirelessly, at maximum volume, the ASUS ROG Strix Go 2.4 was able to last a whopping 20 hours and 49 minutes on our first test, and 20 hours and 43 minutes on our second test just to make sure our data is correct. Now, of course, no one will use this headset at maximum volume at all times so if you could just imagine, you can pretty much use this continuously for a whole day.
Now, charging the headset using the included USB Type C cable plugged in in a USB 3.0 port took about 2 hours and 40 minutes and for that amount of time, as per our testing, you'll have essentially a few days of normal usage before it runs out of battery. And if it does run out of battery, you can still use it via a wired connection using the included 3.5mm to 3.5mm cable.
Other things worth noting


Low Latency


Since the ASUS ROG Strix Go 2.4 utilizes radio frequency instead of Bluetooth, it can perform with low latency which is quite vital for gaming and it also has an effective range with a decent line of sight for up to 20 meters give or take.
Multi-platform compatibility


Like I said earlier, thanks to the available dual interface of the ASUS ROG Strix Go 2.4 with both wireless and wired connectivity, you can pretty much use this with any device that you can think of, may it be a smartphone, tablet, Nintendo switch, consoles and of course, PC. You have the 3.5mm to 3.5mm cable for wired connection and you have the USB Type C wireless dongle that is of course, compatible with any Type C devices and even if you don't have Type C yet, you can also utilize the included USB Type C to USB Type A adapter.
Built-in Microphone
Now, aside from the detachable boom microphone, the ASUS ROG Strix 2.4 actually has a built-in microphone which like I said earlier, is good for casual communication where the boom microphone is not necessary and as you've heard on our dedicated microphone test earlier, it is also quite good and still takes advantage of the AI noise cancellation feature.
VERDICT


To conclude, the ASUS ROG Strix Go 2.4 proved to be an outstanding gaming headset when it comes to active noise cancellation and although the audio quality suffers a bit in extreme conditions, there's no denying that it is super effective at canceling pretty much anything aside from your voice. It can cancel other people's voices, keyboard noises, and even music playback on the background, it was able to remove those while still maintaining a fairly understandable voice. And in an ideal fairly quiet environment, you can essentially have zero background noise while maintaining voice clarity. Aside from that, it is also relatively comfortable for the most part especially with the soft cushions, though I would have preferred the earcups to be an over-the-ear type of design and with more flexibility when it comes to the overall construction. Feature-wise, this is definitely one of the feature-packed gaming headsets that I've tried with multiplatform compatibility and at the end of the day, if you have the cash to burn and you have a real need for an aggressive noise-canceling headset, like if you're always gaming on the go on subways, public transportation while going to work, and you want your teammates to still hear you properly, then this is the headset for you.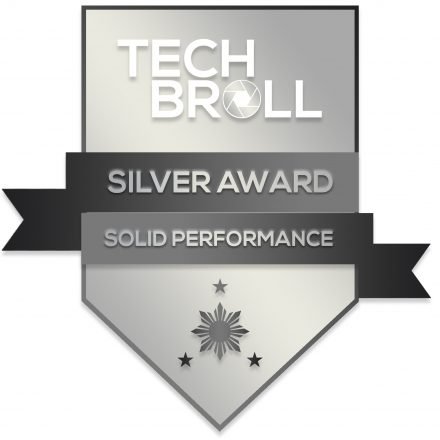 Thanks to ASUS ROG Philippines for making this review possible, You can get this Gaming Headphone from the button below
ASUS ROG Strix Go 2.4
Php 8690
Pros
Effective AI noise cancellation
Decent sound quality with tons of flexibility using the software
Soft headband cushion and earpads
Feature-packed
Multiplatform compatible
Great battery life
Cons
Not so flexible design and construction
A little bit on the heavy side
SHARE THIS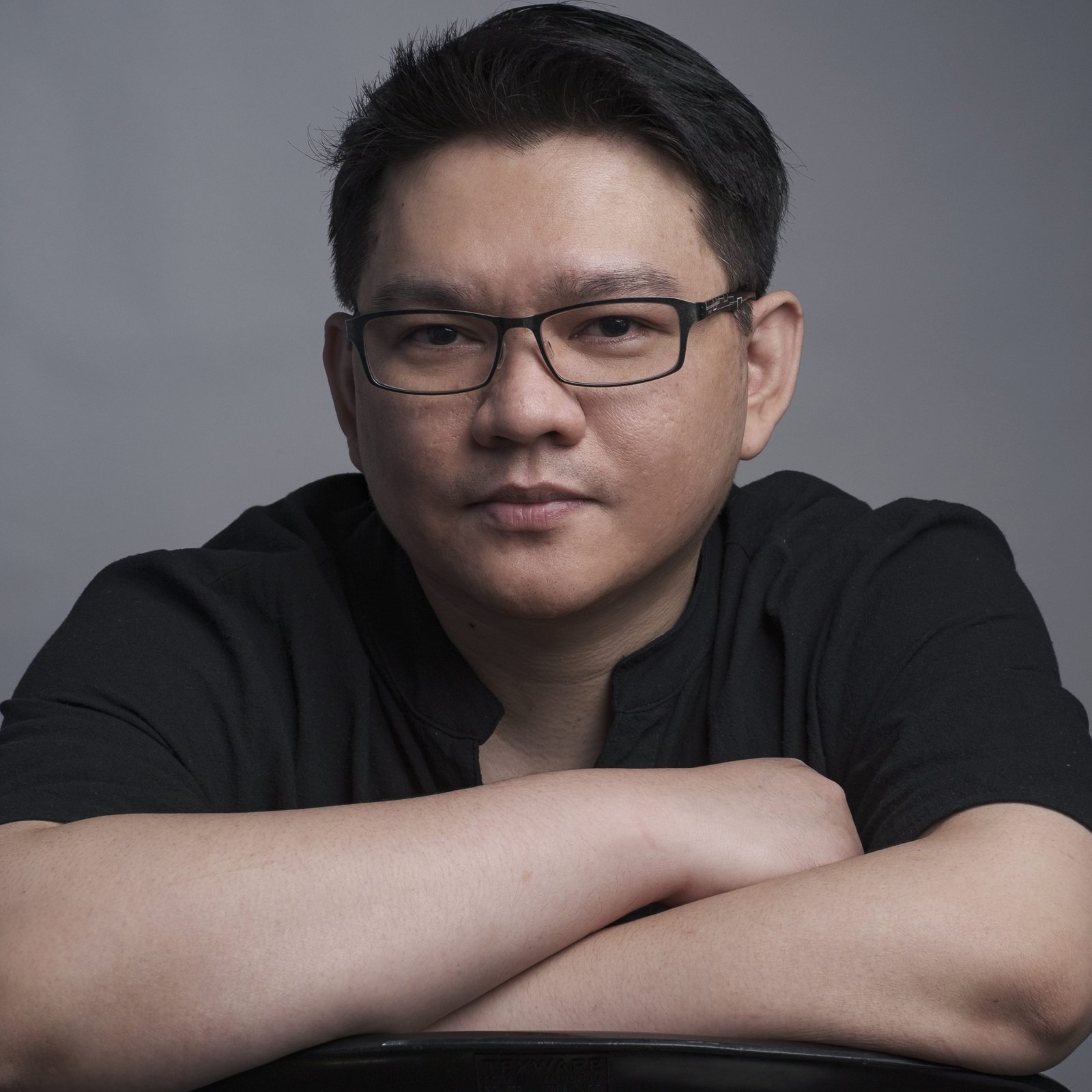 The Broll who always got your back online!