On paper, the Dizo Buds Z is probably the hardest one to consider amongst all the Dizo True Wireless Stereo Earbuds because it's at a position where it offers just the basic features while being priced higher than the GoPods D which offers pretty much the same features just with higher latency in terms of the game mode feature. But let's give it a fair chance, shall we? Maybe it offers some other things that you might find interesting and matches your personal preference. Besides, not all earbuds are the same even though they offer the same features, there are things like design, construction and most importantly, fit that you also need to consider. So with that being said, let's get into it.
MY EARLY BREAKDOWN
Pros: Good sound quality, Interesting design, Good comfort and fit, Lightweight
Cons: No touch volume controls, relatively higher price for its limited features if compared to other Dizo earbuds, Short battery life
SPECIFICATIONS
In order to help you with your decision, here's a quick specs comparison chart of all the Dizo audio devices based on their official product pages.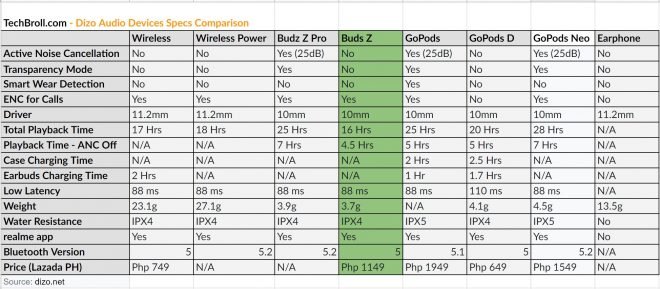 WHAT'S IN THE PACKAGE
The packaging is pretty good with some details and branding around the box. 
We also have some of its key features at the side of the box.
Upon opening the box, you'll see the charging case.
And the rest of the package contents that includes the user manual, a rather short USB Type C charging cable, and some replacement ear tips.
FULL REVIEW
Design, Construction, and Parts Overview
The charging case features a familiar pebble-like form factor with a subtle texture.
In front, we just have a small LED indicator and a Dizo logo.
At the bottom, we have the USB Type C port.
Upon opening the charging case, you'll see the earbuds themselves.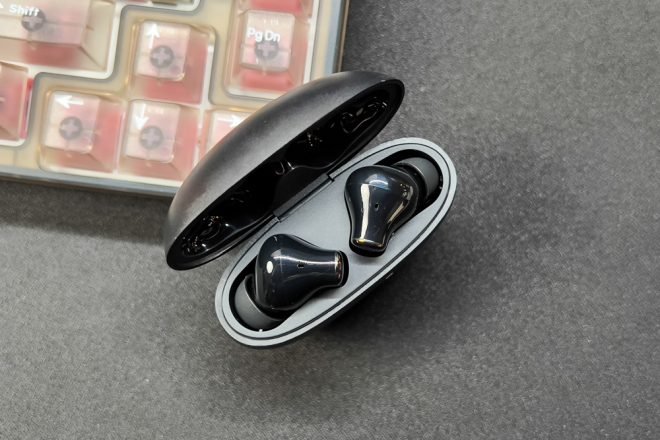 The design of the earbuds is quite unique with a very interesting form factor. 
It has this dazzling finish that changes colors depending on the lighting condition and angles. Albeit, a fingerprint magnet with a glossy finish.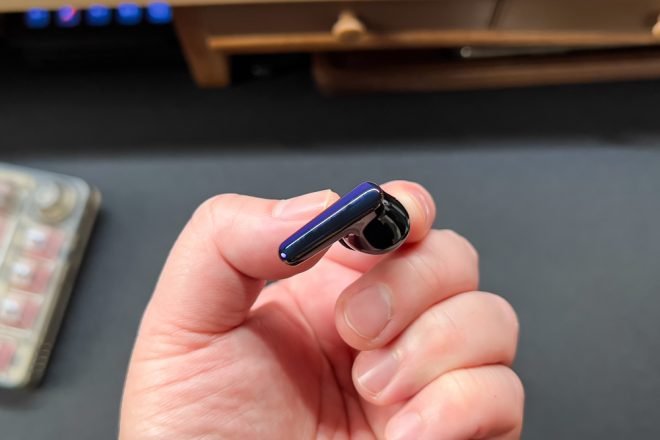 Comfort and Fit
Comfort and fit are probably one of the strongest points of the Dizo Buds Z as it is fairly lightweight. Once you put it inside it feels like nothing is touching your ears aside from the rubber ear tip which results in a very comfortable listening experience. I feel like I can wear this the entire day without feeling discomfort aside from the typical suction pressure. The passive sound isolation is pretty good but still inferior to something with an active noise cancellation feature. It is the lightest earbud amongst all the True Wireless Stereo earbuds from Dizo weighing only around 3.7g.
Features
In terms of features, if you consider its price of around Php 1149, to be honest, it's kinda lacking especially if you look at the Dizo GoPods D which shares the same features except it has a higher latency in terms of the game mode feature but is only priced at around Php 649. You can also consider adding a few hundred pesos to your budget and get the Dizo GoPods Neo instead which features active noise cancellation. So it's really at the middle position making it hard to consider. The only real reason you should consider this is if the design, comfort, fit and sound quality perfectly match your preference.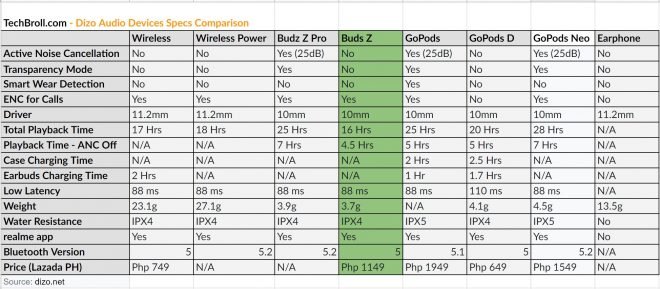 For what it's worth, it features an 88ms low latency game mode, 10mm driver, 16 hours of total playback time, and 4.5hrs playback time for the earbuds. 
Sound Quality
Like most Dizo True Wireless Earbuds that I've tried, the sound quality of the Dizo Buds Z is very good for its price and sounds more towards the balanced side at its default configuration. I said default because you can actually tweak it further using the realme link app, albeit fairly basic between balanced, bass boost+, and bright settings. The sound stage is also relatively wide considering how tiny it is with a 10mm driver with just enough bass and low end to fill the spectrum. Mids and highs are comfortable even at high volume and sound separation between different instruments is pretty decent as well. It didn't wow me that much but considering the price, I don't think you will be disappointed with the sound quality of the Dizo Buds Z.
realme Link App
Inside the app, we have the battery level for the earbuds but we don't have the battery level for the charging case here unlike other higher priced earbuds from Dizo.
We also have here the toggle between Bass Boost+, Balanced, and Bright as well as the option to increase the volume past the standard levels. Aside from that, we have the option to enable the Game Mode also known as Low Latency Mode which reduces the input latency down to 88ms. And lastly, we have other options such as toggling for auto-answering calls and for customizing the touch controls.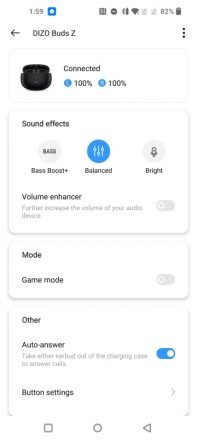 Obviously, the options for active noise cancellation and transparency mode are non-existent here.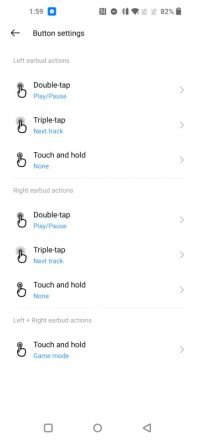 Battery Life and Overall Bluetooth Performance
In terms of battery life, the Dizo Buds Z also has the shortest battery life amongst all audio devices from Dizo with a total of 16 Hrs playback time and only around 4.5 Hrs for each earbud. 
Bluetooth performance is fairly good, I didn't encounter any major hiccups or unwanted disconnections throughout the duration of my testing and the pairing process is pretty straightforward as well. Just open the charging case, pair it and you're good to go. 
VERDICT
To conclude, as I've pointed out earlier, the only reason you should consider this is if the design, comfort, fit and sound quality perfectly match your preference. Otherwise, go for either the Dizo GoPods D if on the cheaper side or the Dizo GodPods Neo for just a few hundred pesos for the additional active noise cancellation feature. Those two have longer battery life and have better low latency performance. 
Related Article:

Lypertek Tevi True Wireless Stereo Earbuds Review – Outstanding Sound Quality!
Dizo GoPods Neo Review – Affordable ANC TWS Earbuds!
EarFun Free Pro 2 ANC Wireless Earbuds Review
DIZO GoPods Review – Surprisingly Good for its Price!
EarFun Free 2 Review – Good Value Low Latency Wireless Earbuds!
Tranya M10 True Wireless Earbuds Review – My Daily Driver!
Edifier W600BT Bluetooth Headphones Review
Limited Edition Joyroom JR-T04S Pro True Wireless Stereo Headphones Review
OnePlus Buds Z Review – Steven Harrington Special Edition!
Marshall Major IV Now Available at Digital Walker and Beyond the Box
OnePlus Buds Z in white and limited edition Steven Harrington NOW AVAILABLE at HomeOffice.PH!
Marshall Uxbridge Voice Review – A Voice Assistant That Actually Sounds Great!
realme Buds Air Pro Review – Active Noise Cancellation!
SoundPeats TrueCapsule Review
Tronsmart Onyx Ace True Wireless Earbuds Review – Quad microphone!
SoundPeats TrueDot True Wireless Earbuds Review
ASUS ROG Strix Go 2.4 Review and AI Noise Cancellation Test
Cooler Master MH630 VS MH650 Comparison and Review
Edifier R1280DB Unboxing, Quick Review, and Sound Test

Subscribe for more reviews like this!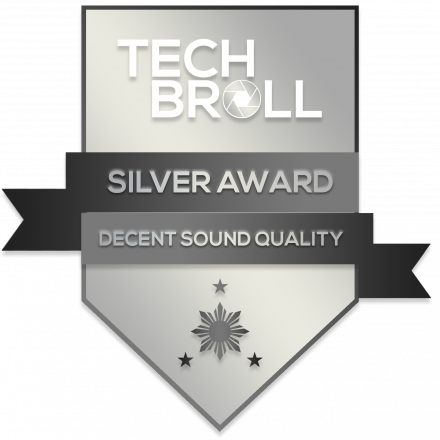 SHARE THIS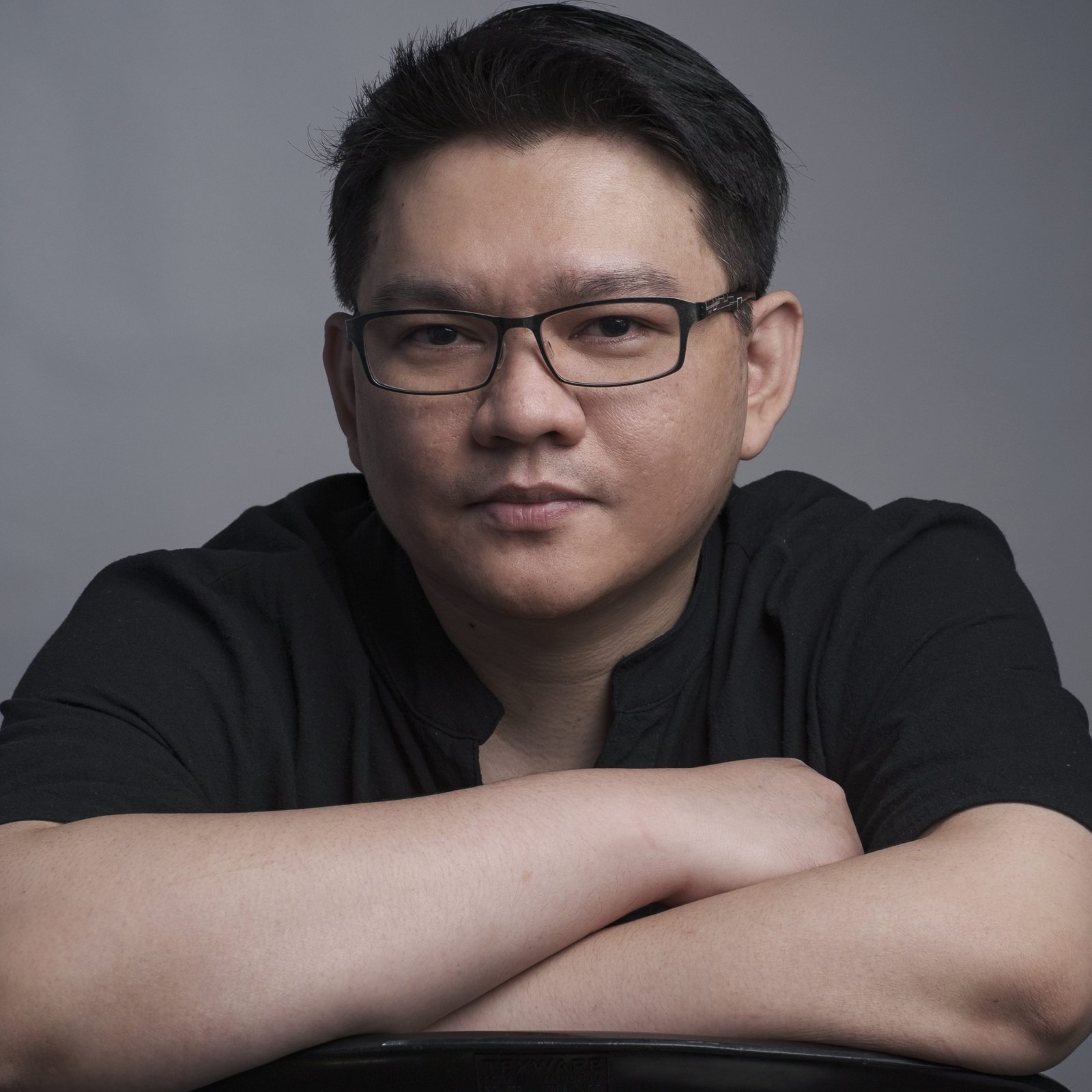 The Broll who always got your back online!