I can probably think of at least two to three reasons a portable Bluetooth speaker is handy. One, you can use it for trekking, biking and other outdoor activities wherein you can enjoy some tunes without necessarily have to block your surroundings with a pair of earbuds. Two, you can use it as an alternative to your smartphone/tablet's speaker when you want to work remotely. And three, you can simply use it to fill a small room with music having some fun alone or with a bunch of friends. There are a ton of possibilites and I'm pretty sure you're here becaues you interested to experience one of those. So today, let me help you by sharing with you my review of the Tribit StormBox Micro. A powerful tiny little box portable speaker that packs a punch while offering a relatively unobstrusive design and form factor.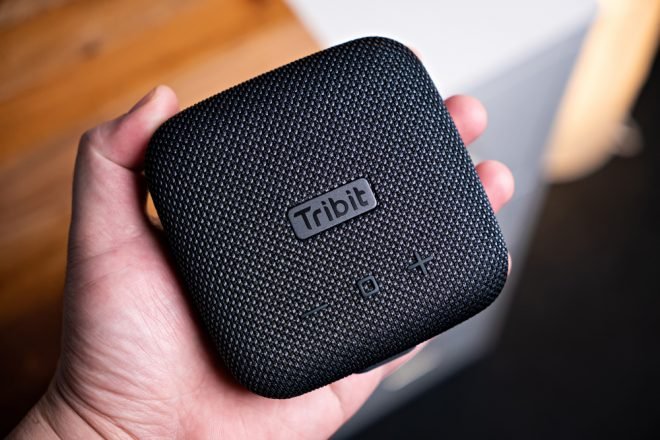 MY EARLY BREAKDOWN
Pros: Good design and construction, Decent sound quality, Can be paired to a 2nd unit for stereo sound, Has a nifty strap 
Cons: Relatively shorter battery life, No hole for hooking other straps or carabiner
SPECIFICATIONS
Bluetooth Version: 5.0
Range: 100 ft.
Output Power: 9W
Battery: Lithium-ion 3.7V / 2600mAh
Playtime: Up to 8 hours
Frequency Response: 70Hz-20kHz
Support: A2DP, AVRCP, HFP
Audio Codecs: SBC
WHAT'S IN THE PACKAGE
The packaging for the Tribit StormBox Micro features a white box with the iconic Tribit orange and some branding and an image preview of the StormBox Micro.
At the sides, we have some of its key features,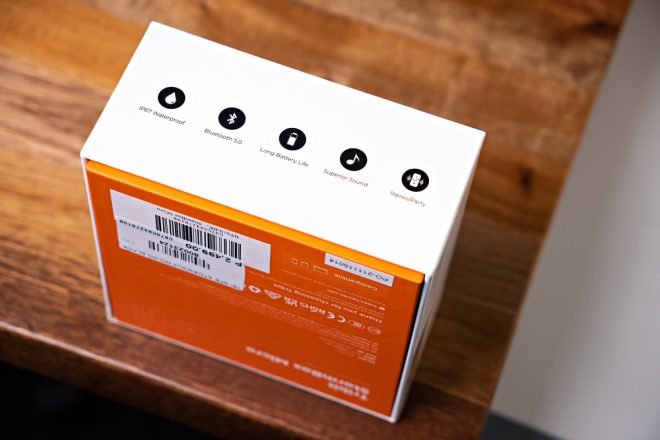 And then at the back, we just have some model-speficific details and certifications.
Upon opening the box, you'll see the user manual,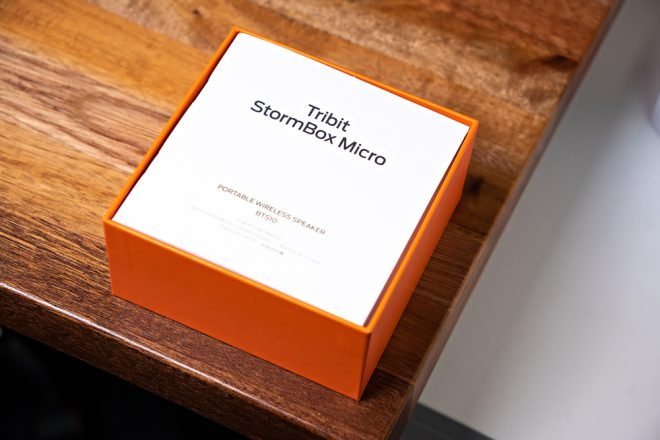 And underneath that, we have the Tribit StormBox Micro itself.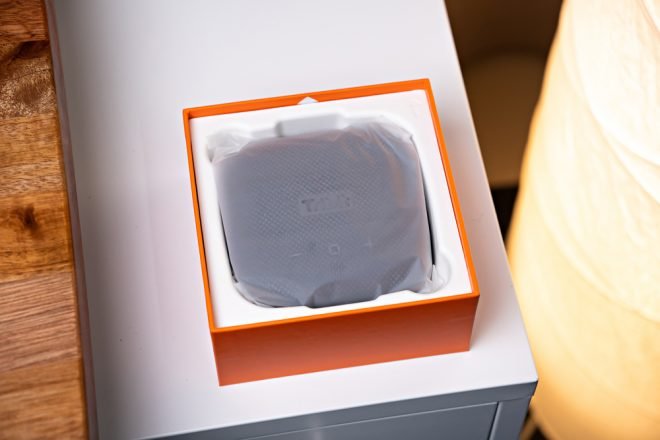 Aside from that, we just have a USB Type C charging cable.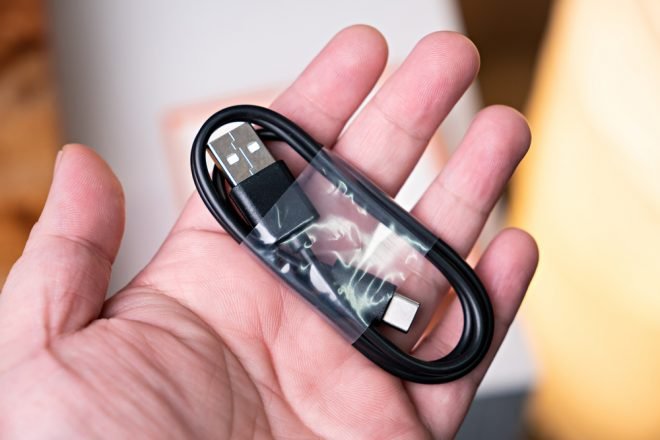 FULL REVIEW
Design, Construction and Parts Overview
The design features a minimal, non-obtrusive, all black, square-shaped with rounded corners, portable form factor with a two material design language featuring a nice to the touch woven fabric on the upper half and a soft-touch rubber finish at the bottom. 
It features IP67 waterproof rating so aside from its robust build quality which can defintely take some beating, it can also take some splashes and more.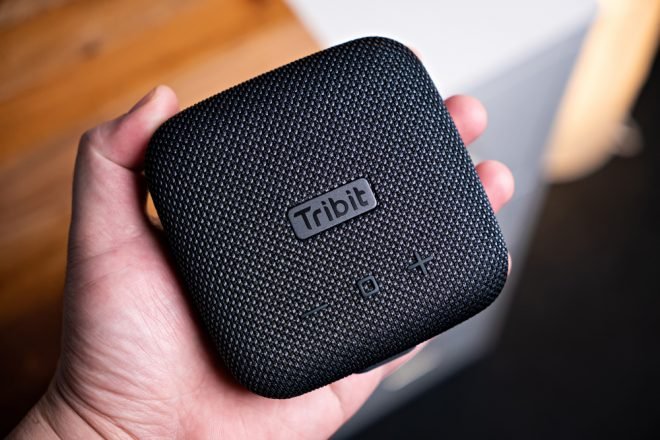 Looking from above, we have a subtle Tribit logo and rigtht below it are three buttons with an easy to distinguish icons. You can definitely control this without even looking. 
In terms of the controls, we have the volume buttons on each side and a multifunction button at the center.
Now, flipping it in front, we have an additional two buttons, one for power, and the other one for Bluetooth pairing. We also have a microphone and 6 tiny LED indicators for pairing and battery level.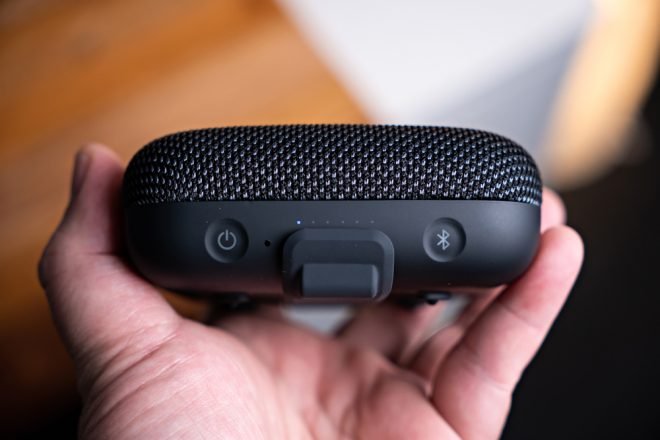 On the right side, we have a waterproof USB Type C port.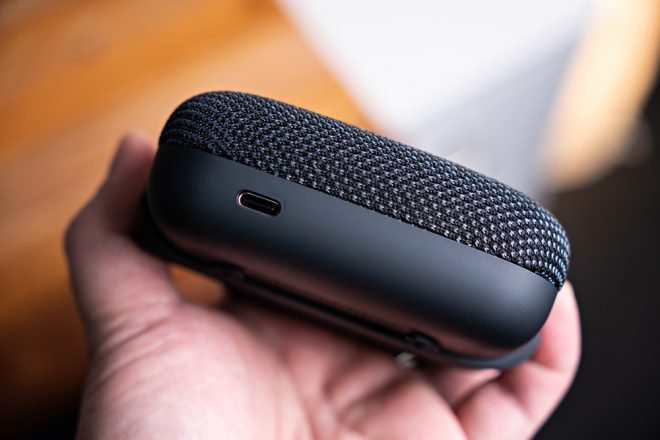 Turning it all over at the bottom, we have 4 rubber feet giving it a little bit of space away from the surface. 
We also have here a sort of bass port and a convenient strap. 
The strap is made out of durable but flexible rubber with a hard locking clip at the end.
With this, you can strap the Tribit StormBox Micro into a bike handlebar, a bag or even your belt. However, It would be perfect if we also have another universal hook wherein we can put other straps or a carabiner.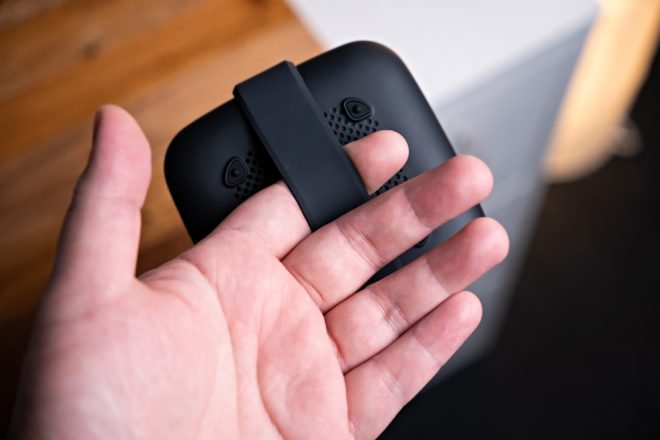 Blutooth Connectivity
I like the fact that we have a dedicated pairing button making pairing and switching between devices a painless process. The Tribit StormBox Micro features Bluetooth 5.0 and while it's not the latest protocol available, it's still pretty reliable as long as you maintain a good line of sight or keep obstructions at the maximum of 2 walls. In theory, its range is up to 100 ft .
In addition, the Tribit StormBox Micro also supports True Wireless Stereo mode by pairing it with another unit. 
Battery Life
Battery life is probably one of its shortcomings. I feel like its form factor could allow for a bigger battery than the 2600mAh battery it has inside. Nevertheless, the Tribit StormBox Micro still offers a substantial 8 hours of music playback.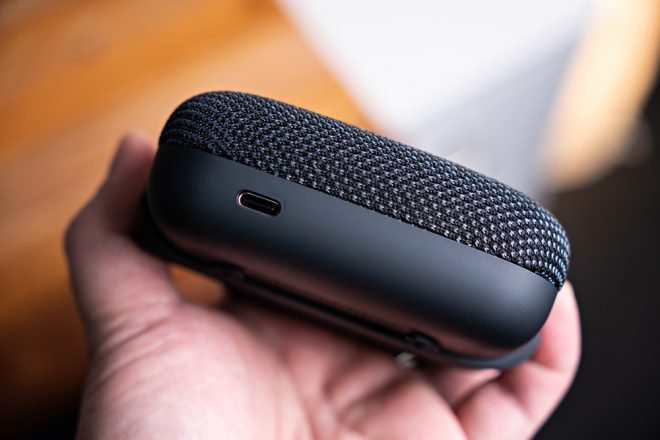 Sound Quality
What I like about the Tribit StormBox Micro in terms of sound quality is that it is deceivingly powerful considering its size. You wouldn't expect such a powerful sound coming from this tiny portable speaker. Bass and low end is definitely ample and this can definitely fill a small to medium room without much distortion at its maximum volume level. Still, I wouldn't recommend pumping this at max right in front of you unless you're that crazy, 80% is just enough. In terms of the sound signature, it's a little bit towards the warmer side with a substantial amount of bass, clear mids, crispy vocals while offering comfortable highs. I have no major complaints about the sound quality and I feel like it's on the safer side that should cater to most preferences without prioritizing much on a particular dominant sound frequency. Like, you'll feel the bass is there but not overpowering the mids and the highs are present while not being too stingy. Overall, the sound quality is better than I expected again considering its size and probably considering the square form factor as well.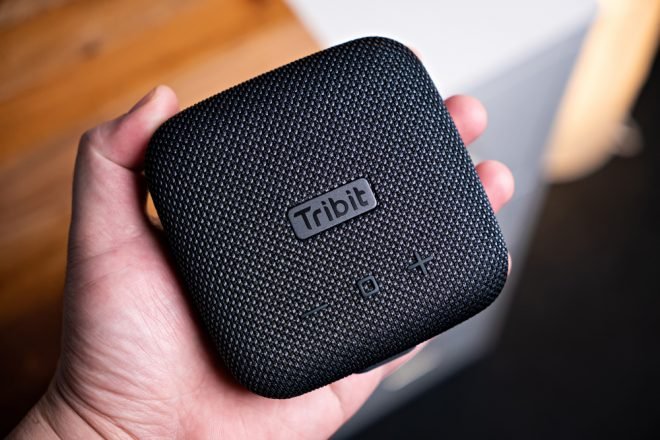 VERDICT
To conclude, considering the relatively affordable price for everything it has to offer, the Tribit StormBox Micro is a good option for me. If you can get past the lack of extra universal hook and the relatively shorter 8 hours of battery life which to be honest is quite subsantial already, the Tribit StormBox Micro is a durable, minimalist and overall good sounding portable Bluetooth speaker that I can definitely recommend.
The Tribit StormBox Micro is now available at Digital Walker.
Related Article:

Dizo Buds Z Review
Lypertek Tevi True Wireless Stereo Earbuds Review – Outstanding Sound Quality!
Dizo GoPods Neo Review – Affordable ANC TWS Earbuds!
EarFun Free Pro 2 ANC Wireless Earbuds Review
DIZO GoPods Review – Surprisingly Good for its Price!
EarFun Free 2 Review – Good Value Low Latency Wireless Earbuds!
Tranya M10 True Wireless Earbuds Review – My Daily Driver!
Edifier W600BT Bluetooth Headphones Review
Limited Edition Joyroom JR-T04S Pro True Wireless Stereo Headphones Review
OnePlus Buds Z Review – Steven Harrington Special Edition!
Marshall Major IV Now Available at Digital Walker and Beyond the Box
OnePlus Buds Z in white and limited edition Steven Harrington NOW AVAILABLE at HomeOffice.PH!
Marshall Uxbridge Voice Review – A Voice Assistant That Actually Sounds Great!
realme Buds Air Pro Review – Active Noise Cancellation!
SoundPeats TrueCapsule Review
Tronsmart Onyx Ace True Wireless Earbuds Review – Quad microphone!
SoundPeats TrueDot True Wireless Earbuds Review
ASUS ROG Strix Go 2.4 Review and AI Noise Cancellation Test
Cooler Master MH630 VS MH650 Comparison and Review
Edifier R1280DB Unboxing, Quick Review, and Sound Test

Subscribe for more reviews like this!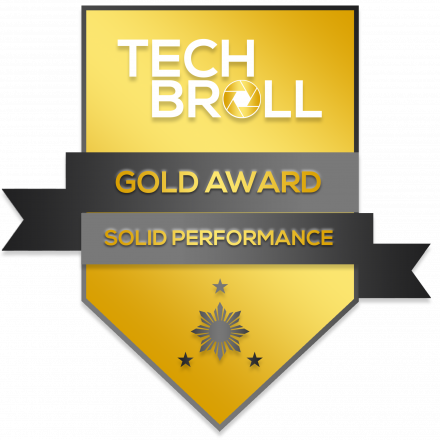 Tribit StormBox Micro
Php 2,499
SHARE THIS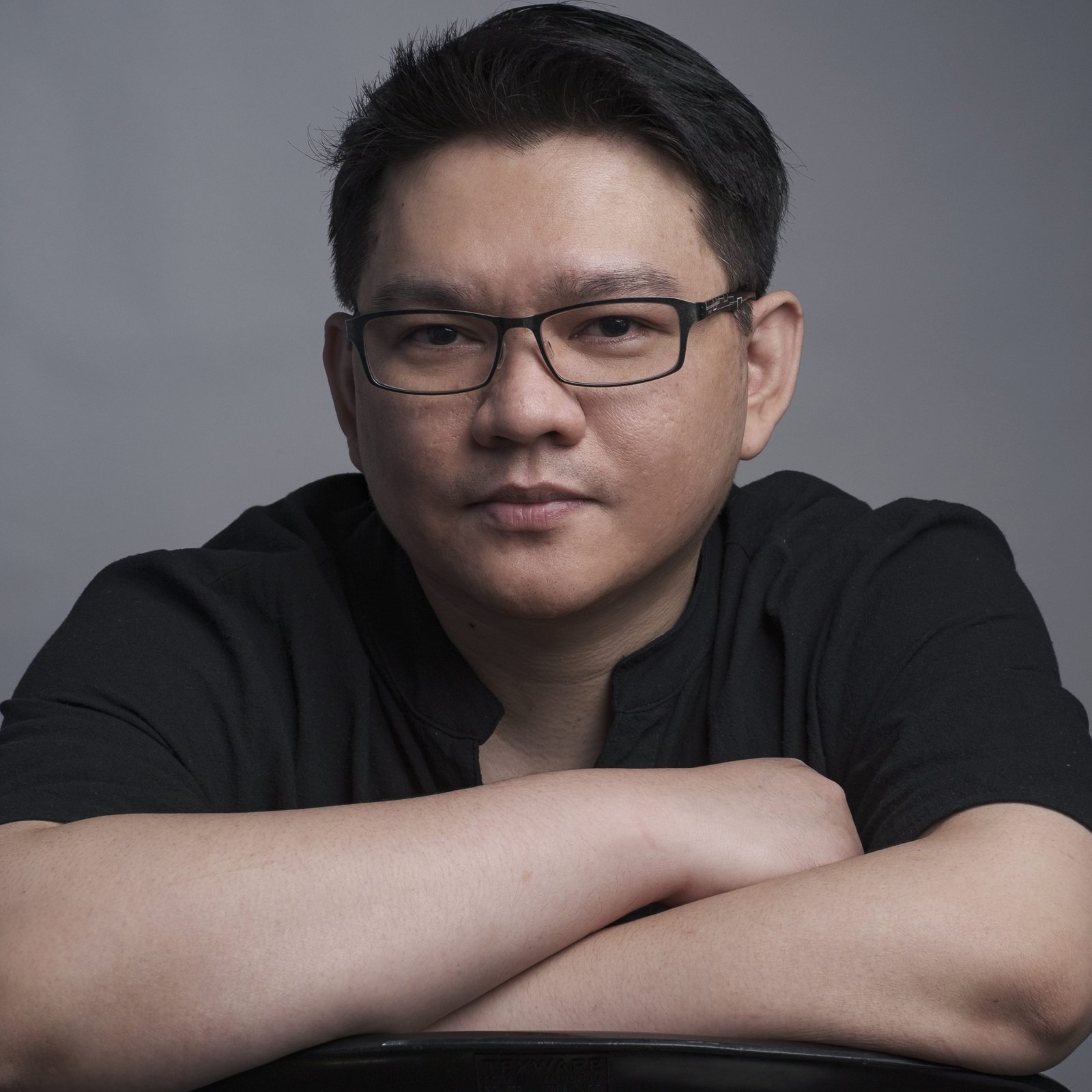 The Broll who always got your back online!