I've always wanted to set up a smart workspace that can help me boost my productivity and efficiency with less effort. Not that I'm lazy, though for sure it's part of it, I just wanted to make my life a bit easier especially now that I'm already a father and I have a lot going on around my life. I started with some smart RGB bulbs and added some smart LED Strips and before I know it, I'm digging deeper into the whole smart home lifestyle. However, there's one important thing missing from my setup, a smart voice assistant to keep everything in the loop. This is where the Marshall Uxbridge Voice comes in and I have to say, I was surprised by how good it is and it actually offers more than what I was expecting. So today, I'll share with you my unboxing, review, and overall experience with this phenomenal sounding speaker with a voice assistant.
MY EARLY BREAKDOWN
Pros: Solid build quality with premium design, Small but powerful, Amazing sound quality, Easy to set up and intuitive to use, Very good voice recognition
Cons: Nothing significant
SPECIFICATIONS
AUDIO
FREQUENCY RANGE: 54-20,000 Hz
ADJUSTABLE BASS AND TREBLE CONTROLS: Fine-tune your music using the controls on your speaker
STEREO/MONO: Mono
MAXIMUM SOUND PRESSURE LEVEL: 96 dB SPL @ 1 m
CABINET PRINCIPLE: Enclosed
POWER AMPLIFIERS: A 30 Watt Class D amplifier for the woofer and tweeter
POWER
MAINS INPUT VOLTAGE: 100-240 V
NETWORK STANDBY POWER CONSUMPTION: <2 W
MAINS FREQUENCY: 50/60 Hz
CONTROLS AND CONNECTIVITY
WI-FI: Connects to your home Wi-Fi network with any WPA/WAP2, 802.11a/b/g/n/ac 2.4 GHz/5 GHz with diversity.
TOP PANEL CONTROLS:
Volume button
Bass button
Treble button
Play/pause/skip button
Mute/unmute mic & push to talk button
Bluetooth pairing button (on the rear side)
MICROPHONE SYSTEM: A dual-microphone array with acoustic noise cancellation for far-field voice interaction.
VOICE COMMAND: Google Assistant
WIRELESS CONNECTIVITY
Chromecast built-in
Airplay 2
Bluetooth 4.2
PHYSICAL UNIT
DIMENSIONS
128 x 168 x 123 mm
5.04 x 6.61 x 4.84 in
WEIGHT
1.39 kg
3.06 lb
COLORWAYS
Black
White
VARIANTS
Google Assistant Version
Amazon Alexa Version
The packaging is pretty straightforward yet premium in its own way. In front, we have some details about its key features and a preview of the product itself.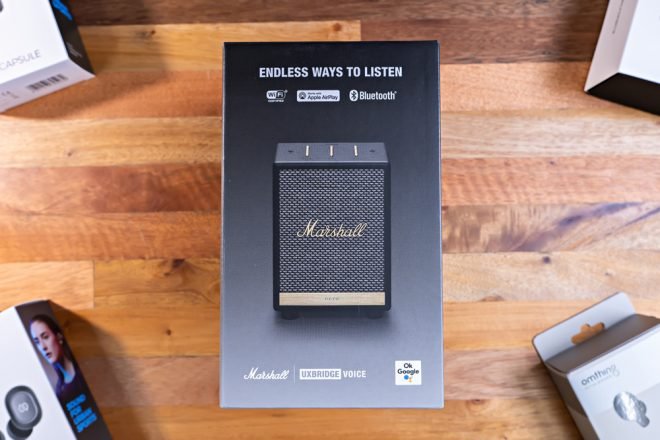 On this side, we have another image preview of the product and a short description of what this tiny device is capable of.
On the other side, we have its technical specifications written in different languages.
On the top side, we don't have anything here.
And at the bottom, we have the serial number and certifications.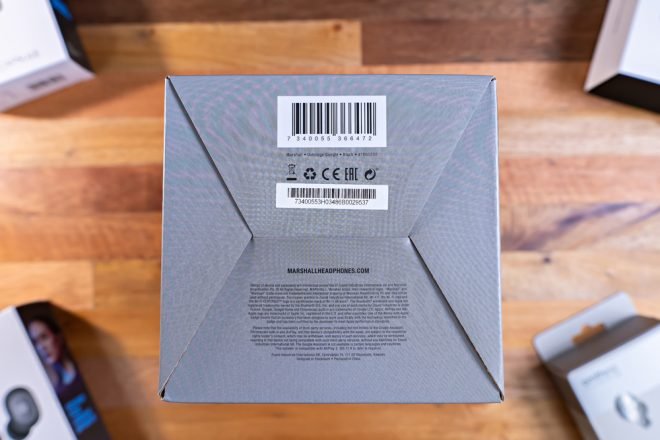 And lastly, at the back, we have all its key features.
Upon removing the product from the box, we can see that it is well protected by cardboard protection and plastic.
Inside the box, we have the detachable power cable,
A quick start guide,
And legal and safety paperwork.
And that's pretty much it for the unboxing experience, now, let's go around the Marshall Uxbridge Voice and check out its design, construction, and everything it has to offer.
FULL REVIEW
Design, Construction, and Parts Overview
In terms of the design and construction, the Marshall UXBRIDGE Voice has everything you might expect from a Marshall product with a decent heft to it, good build construction, premium materials, and overall aesthetically pleasing design.
The front has the iconic weaved design Marshall speakers are known for with a copper-gold Marshall logo and brushed aluminum bezel that houses the LED indicators.
Up top, we have the buttons for play/pause, mute, volume, bass, and treble adjustments which are all clicky and tactile and don't feel mushy or cheap at all.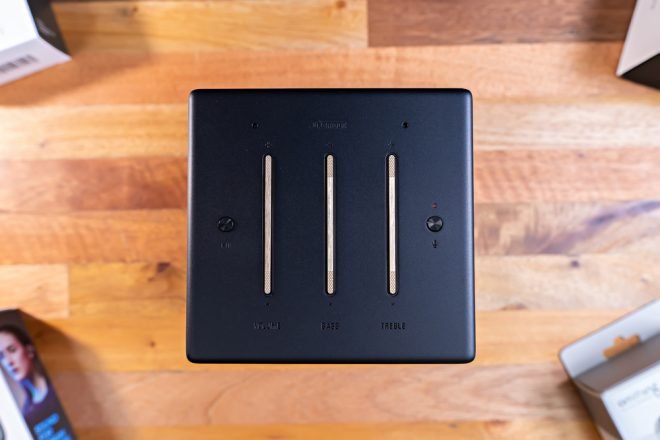 At the bottom, we have 4 high-quality rubber feet to make this tiny but heavy thing to stay in place.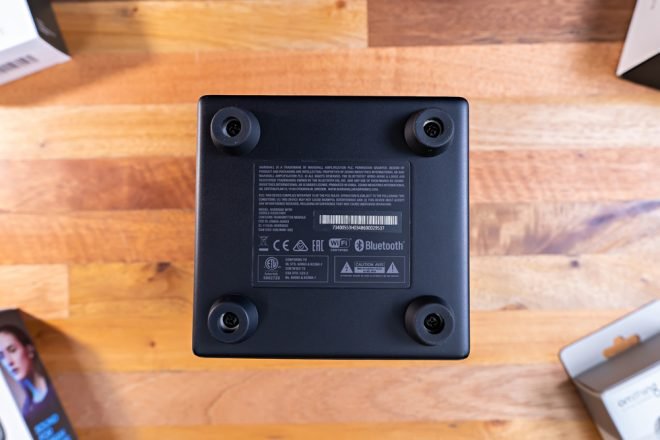 And on both sides, just plain black allowing for a clean and minimalistic design.
And lastly, at the back, we just have the power cable port and another subtle Marshall logo.
I really can't stress enough how good the build quality of the Marshall Uxbridge Voice, it feels really robust and the craftsmanship is on another level.
Everything you need is available up top but to be honest, I rarely touch this unit at all as I rely on its amazing voice recognition feature. The dual-microphone array does a phenomenal job of recognizing my voice with minimum hiccups.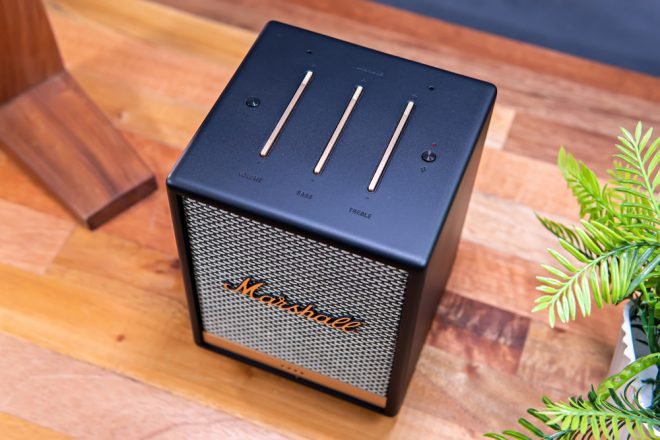 Features
As for the features, the Marshall UXBRIDGE Voice is definitely not your ordinary speaker, it offers more than that. To be honest, I didn't think it would be that useful to me other than being an awesome sounding speaker.
Thanks to its Google Assistant feature, it made my life a lot easier.
Setting it up via Google home is a seamless process, it connects right away to my local area network and after that, the time immediately flew away as I spent a lot playing with voice commands. As I said, I have a bunch of smart lamps and LED strips that I use for filming and I'd say it was a game-changer. I can change my accent lighting while shooting products without even lifting my phone which makes my workflow a lot easier. Aside from that, of course, I can use it to set alarms, reminders, play music, and ask anything that can be answered by google. Not only that, voice recognition and the quality of the microphone is also pretty good. I also like the fact that it is not wireless and is always plugged in, I love wireless devices but for something like this that is always on and listening, having it always powered is very convenient. I don't have to worry about battery level and overall battery lifespan.
Sound Quality
In terms of the sound quality, I'm not gonna lie, the moment I turned it on and played some music, I was surprised by how powerful it is for such a tiny device. The low end is pretty darn good while the mids and highs are well detailed. It can also fill a small room without breaking a sweat and it's just really a joy to listen to especially that you can ask it to play some music via Spotify, though you have to be subscribed to Spotify premium to ask for specific music. Overall, as expected, sound quality is one of its strong points.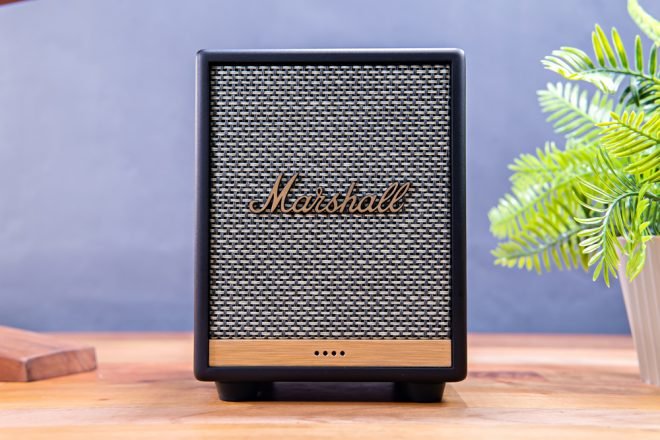 Add the voice assistant to that and you have a quite useful device, more than you would actually think it would at your desk with a minimal footprint.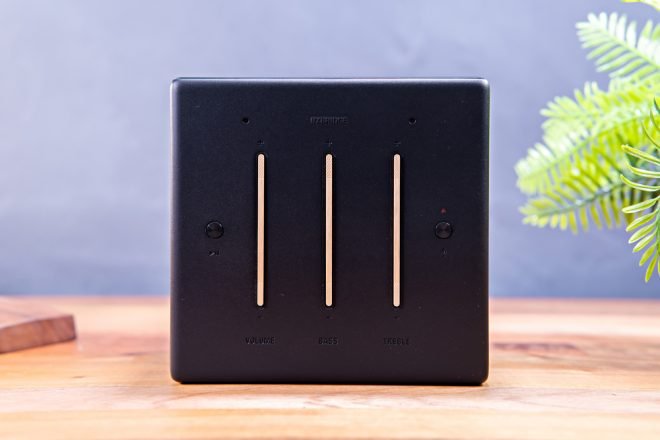 VERDICT
To conclude, if you're looking for a good sounding voice assistant that is built like a tank and doesn't make an eyesore on your desk, the Marshall Uxbridge Voice is one of the best options out in the market. The build quality and design speak volumes for what Marshall is known for, the sound quality is phenomenal for such a tiny device, and the overall feature set and ease of use with either Google Assistant or Amazon Alexa makes this one hell of a smart device.
Availability and Price
SHARE THIS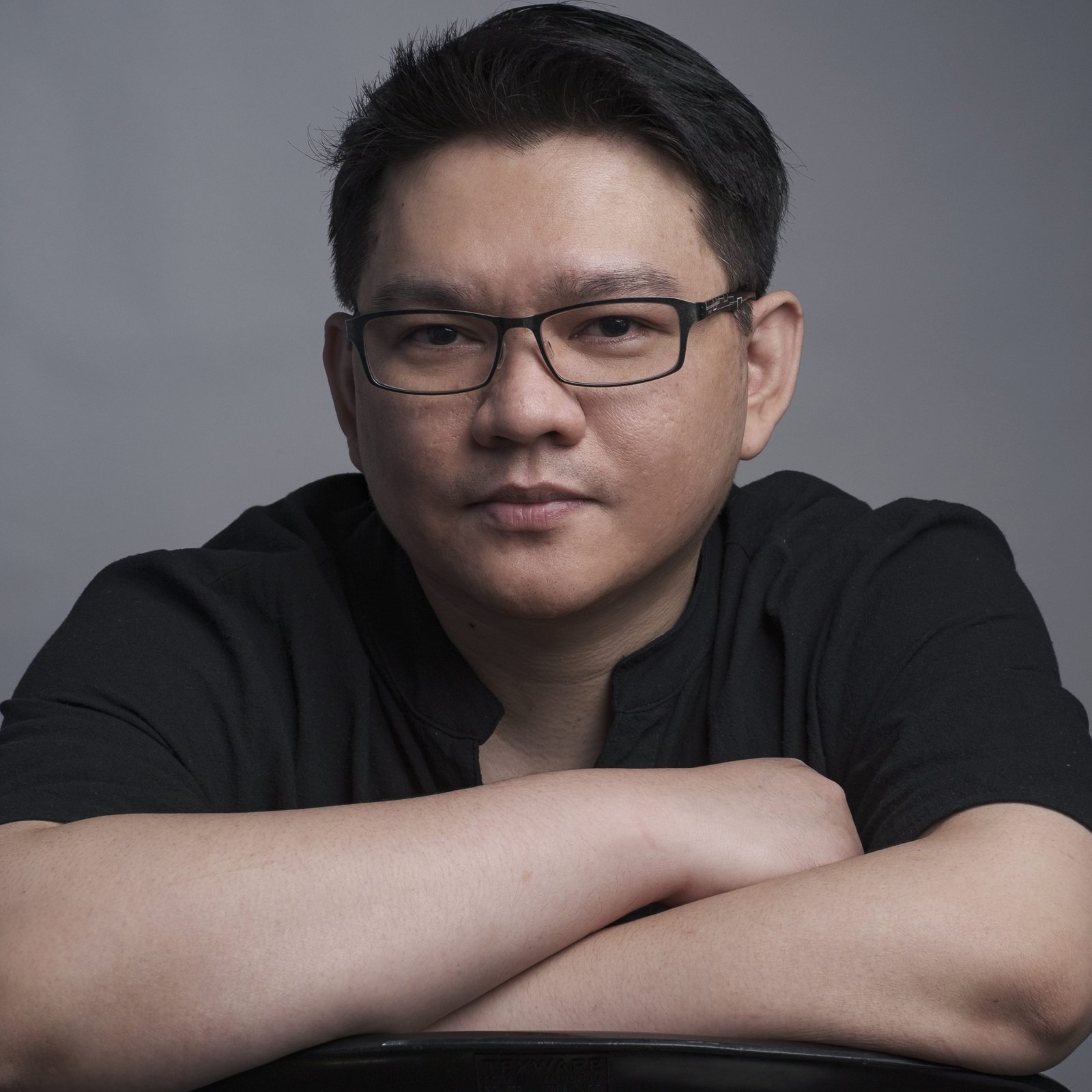 The Broll who always got your back online!