If you're looking for a good-sounding pair of True Wireless Stereo Earbuds with a battery life that can last you the entire day and more, the Tribit FlyBuds C1 is one of the better options in the vast market space of TWS Earbuds. Granted, it doesn't have all the bells and whistles like active noise cancellation, transparency mode, app support, and wireless charging but for what it's worth, you'll get robust sound quality with deep bass and multiple audio codec support, good build quality, reliable physical button control and as I've pointed out earlier, outstanding battery life. This is essentially a thing that just simply works and is hassle-free. This is currently available here in the Philippines via Digital Walker.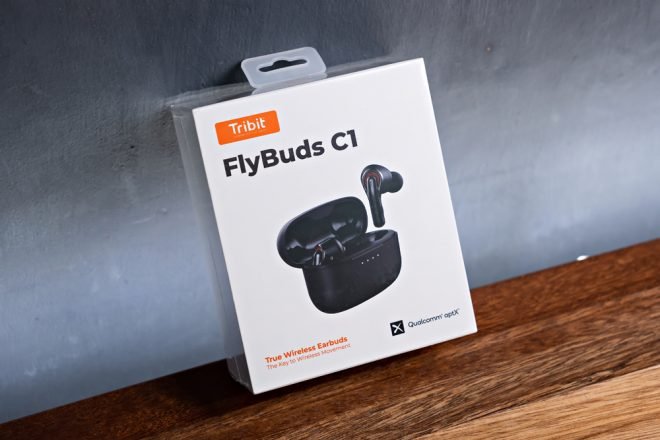 MY EARLY BREAKDOWN
Pros: Outstanding Battery Life, Physical controls, Good design, and build quality, Secure and comfortable fit, Decent sound quality, and overall performance.
Cons: No active noise cancellation, No app support, No wireless charging.
SPECIFICATIONS
Qualcomm® QCC3040 chip creates an all-round upgrade
Balanced signature sound quality enabled by Qualcomm aptX decoder
Crystal clear calls with 4 Mics ENC and CVC 8.0 Technology
A single charge of 12 hours of playtime and 50 hours of playtime with the case
Bluetooth 5.2 for outstanding stability
Patented and industry-first button design that allows full-feature control
WHAT'S IN THE BOX
The packaging is very neat with an image preview in front,
Key features around the sides, 
And more details at the back.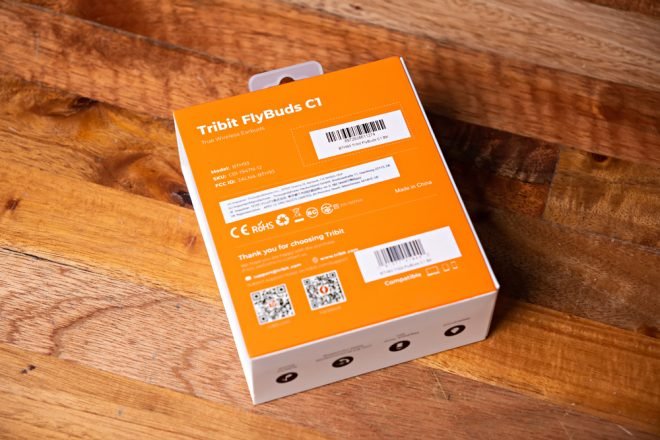 It is also a slide-type packaging that adds up to the overall nice unboxing experience.
Inside the box, the first thing that you'll notice is the user manual.
Then we have the Tribit FlyBuds C1 True Wireless Stereo Earbuds themselves and its charging case nicely showcased on its own plastic platform.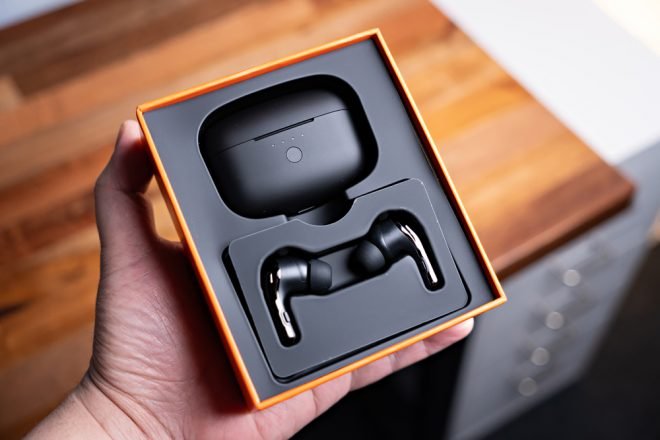 Underneath the earbuds, we have some different-sizes ear tips for maximum compatibility.
We have a total of 6 pairs including the one installed on the earbuds.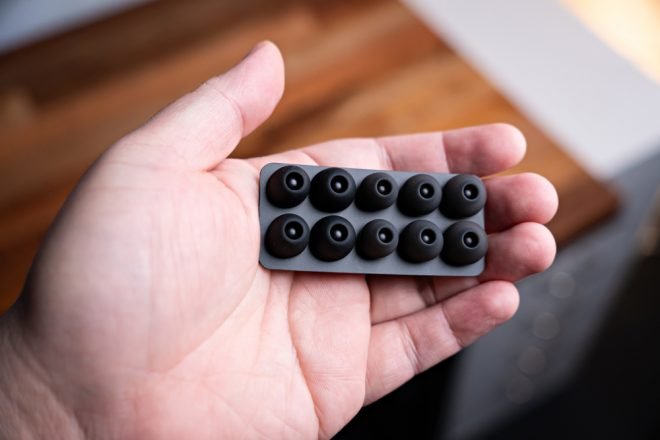 We also have the USB Type C charging cable.
And lastly, we have a relatively compact charging case.
FULL REVIEW
Design, Construction, and Parts Overview
The design of the Tribit FlyBuds C1 is aesthetically pleasing in my honest opinion.
Starting with the charging case, it has this nice smooth soft-touch matte texture that is very nice to hold. In front, we have 4 small LED indicators and a pairing button.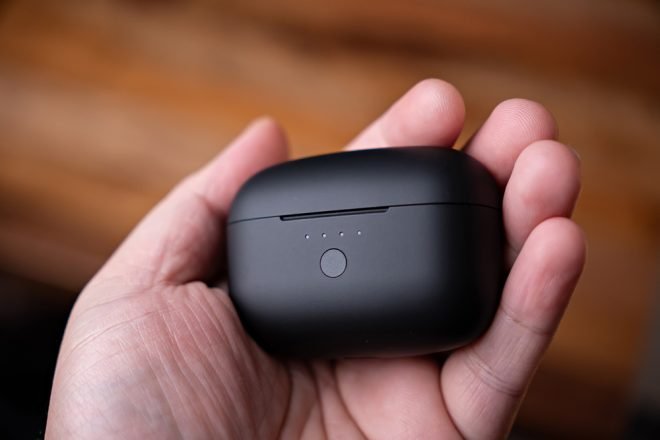 The backside is quite clean and I'm telling you, this really feels good in the hand. I just hope this texture will last.
Up top, we have a subtle Tribit logo,
And at the bottom, we have the USB Type C charging port. Unfortunately, we don't have wireless charging here for the case.
Upon opening the case, you'll see the magnetic charging cavity for the earbuds. The lid of the case is also magnetic and we have left and right legends so you won't get confused with the orientation.
Earbud's Design
The earbuds themselves are equally nice, albeit with a rather glossy finish. Looking at the side, we have a reflective red lining design that in my honest opinion, resembles the look of a modern car's tail light. Each earbud has 2 microphones for the Environmental Noise Cancellation (ENC) feature and has a small LED indicator at the center. It is also IPX5 certified which means it is sweatproof.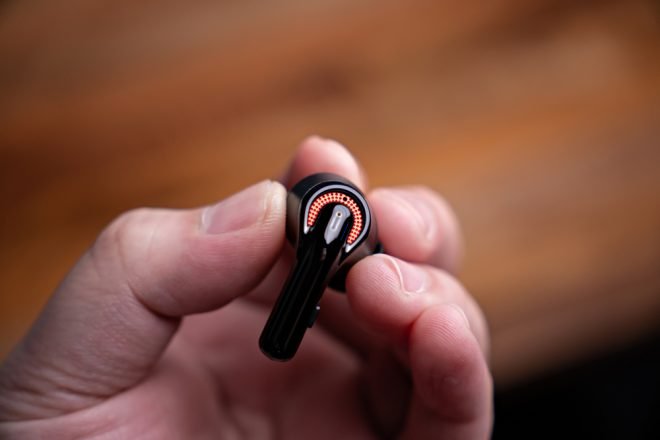 Physical Button
Each earbud also has a physical button for controls which I personally prefer compared to the typical touch controls. This is more precise with very nice tactile feedback and doesn't suffer from unintentional activation compared to touch gestures. It even has volume controls! Essentially, you can control the music playback, toggle voice assistant and adjust the volume with just a varying number of clicks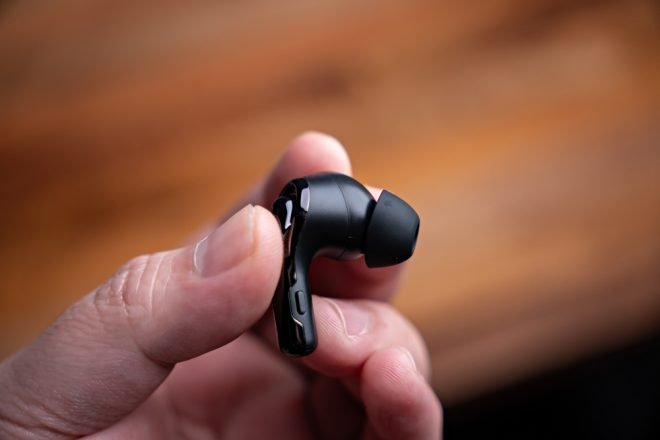 Comfort and Fit
Comfort and fit are also one of my favorite characteristics of the Tribit FlyBuds C1. I am a rubber-tip kind of guy and I like my earbuds properly stuck into my ears not only for sound isolation and sound quality but also for security. I gotta say, the Flybuds C1 are quite comfortable and thanks to the generous amount of rubber ear tips that came with the package, you can pretty much tailor the fit to your preference. It never dropped off on its own from my ears, which is pretty awesome.
The only thing I am not particularly fond of is the glossy finish, other than that, I like the design, construction, and form factor of the Tribit FlyBuds C1.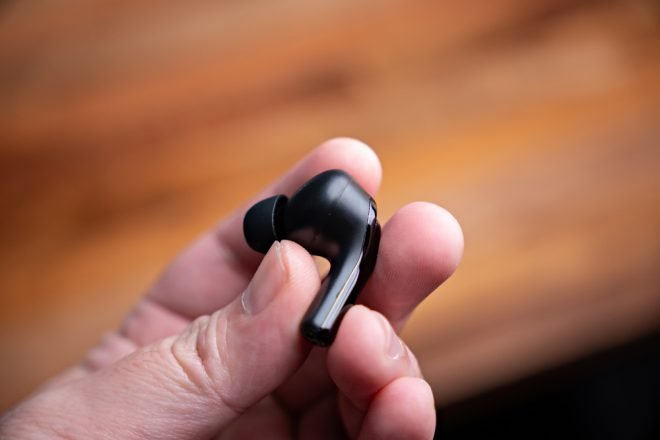 Sound Quality
The sound quality is another thing that I really like about the Tribit FlyBuds C1. The sound signature is geared towards the warmer side with noticeably deeper bass and low end. It's not over the top or muddy at all while still maintaining some clarity towards the mids and highs. The sound stage is also larger compared to what I'm used to from budget earbuds and it's just a joy to listen to these pair. It can get really loud when you push it to 100 and it is still fairly bearable if you're that crazy. This means the highs are well controlled. Overall, I don't think anyone will be disappointed with the sound quality of the Tribit FlyBuds C1. I just hoped it has app support for further customization. 
The Tribit FlyBuds C1 thanks to the Qualcomm QCC340 chip, also supports aptX, AAC, and SBC codecs. It also supports 16bit audio support with 48Khz sampling similar to what you could experience from CD quality. The microphone quality is also pretty decent thanks to the Environmental Noise Cancellation using 4 microphones, 2 on each earbud.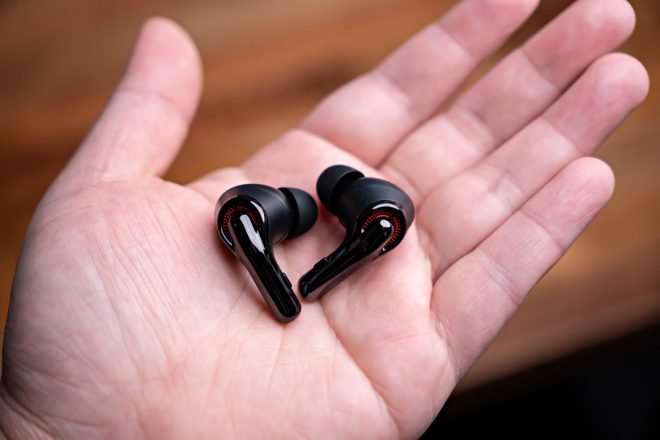 Bluetooth Performance
Wireless connectivity and reliability are something you need not worry about with the Tribit FlyBuds C1. Thanks to the more recent Bluetooth 5.2 protocol, power consumption is more efficient while maintaining the same 10 meters wireless range, of course, providing that you maintain a good line of sight in between devices or maintain the walls in between within just around 2 at max.
Battery Life
Although the charging case doesn't support wireless charging, I honestly feel that the 38 hours it provides is more than enough to last you a few days of travel without having to plug in the case. Not to mention, each earbud can last up to 12 hours on a single charge which is absolutely insane. Usually, with this type of True Wireless Stereo earbuds, we're only getting around 4-7 hours, so having almost double the duration is pretty awesome. Charging the earbuds only takes around 1.5 hours using the charging case and you can also charge the case via its USB Type C port for about 2 hours.
VERDICT
To conclude, if you can get past the lack of other features like active noise cancellation, app support, and wireless charging, the Tribit FlyBuds C1 is one of the better ones out there at its price range. The design and build quality are very good, the comfort and fit are decent with various sizes of ear tips, and the sound quality is above average for its price. The battery life is probably what it sets itself apart from the rest with up to 12 hours of music playback plus the additional 38 hours from the charging case. Oh yeah, it also has physical buttons which are also quite convenient and more accurate compared to the annoying touch gestures.
This is currently available here in the Philippines via Digital Walkers for around Php 3499.
Related Article:

Tribit StormBox Micro Review – Powerful Tiny Little Box!
Dizo Buds Z Review
Lypertek Tevi True Wireless Stereo Earbuds Review – Outstanding Sound Quality!
Dizo GoPods Neo Review – Affordable ANC TWS Earbuds!
EarFun Free Pro 2 ANC Wireless Earbuds Review
DIZO GoPods Review – Surprisingly Good for its Price!
EarFun Free 2 Review – Good Value Low Latency Wireless Earbuds!
Tranya M10 True Wireless Earbuds Review – My Daily Driver!
Edifier W600BT Bluetooth Headphones Review
Limited Edition Joyroom JR-T04S Pro True Wireless Stereo Headphones Review
OnePlus Buds Z Review – Steven Harrington Special Edition!
Marshall Major IV Now Available at Digital Walker and Beyond the Box
OnePlus Buds Z in white and limited edition Steven Harrington NOW AVAILABLE at HomeOffice.PH!
Marshall Uxbridge Voice Review – A Voice Assistant That Actually Sounds Great!
realme Buds Air Pro Review – Active Noise Cancellation!
SoundPeats TrueCapsule Review
Tronsmart Onyx Ace True Wireless Earbuds Review – Quad microphone!
SoundPeats TrueDot True Wireless Earbuds Review
ASUS ROG Strix Go 2.4 Review and AI Noise Cancellation Test
Cooler Master MH630 VS MH650 Comparison and Review
Edifier R1280DB Unboxing, Quick Review, and Sound Test

Subscribe for more reviews like this!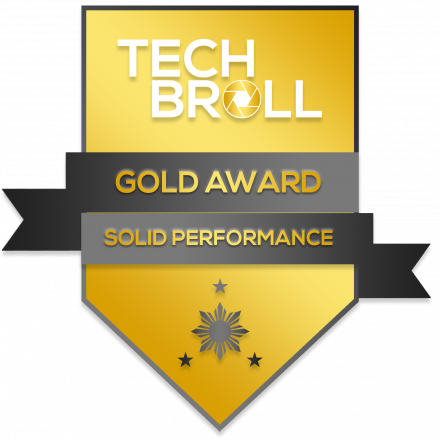 Tribit FlyBuds C1
Php 3,499
Pros
Outstanding Battery Life
Physical controls
Good design and build quality
Secure and comfortable fit
Decent sound quality and overall performance.
Cons
No active noise cancellation
No app support
No wireless charging
SHARE THIS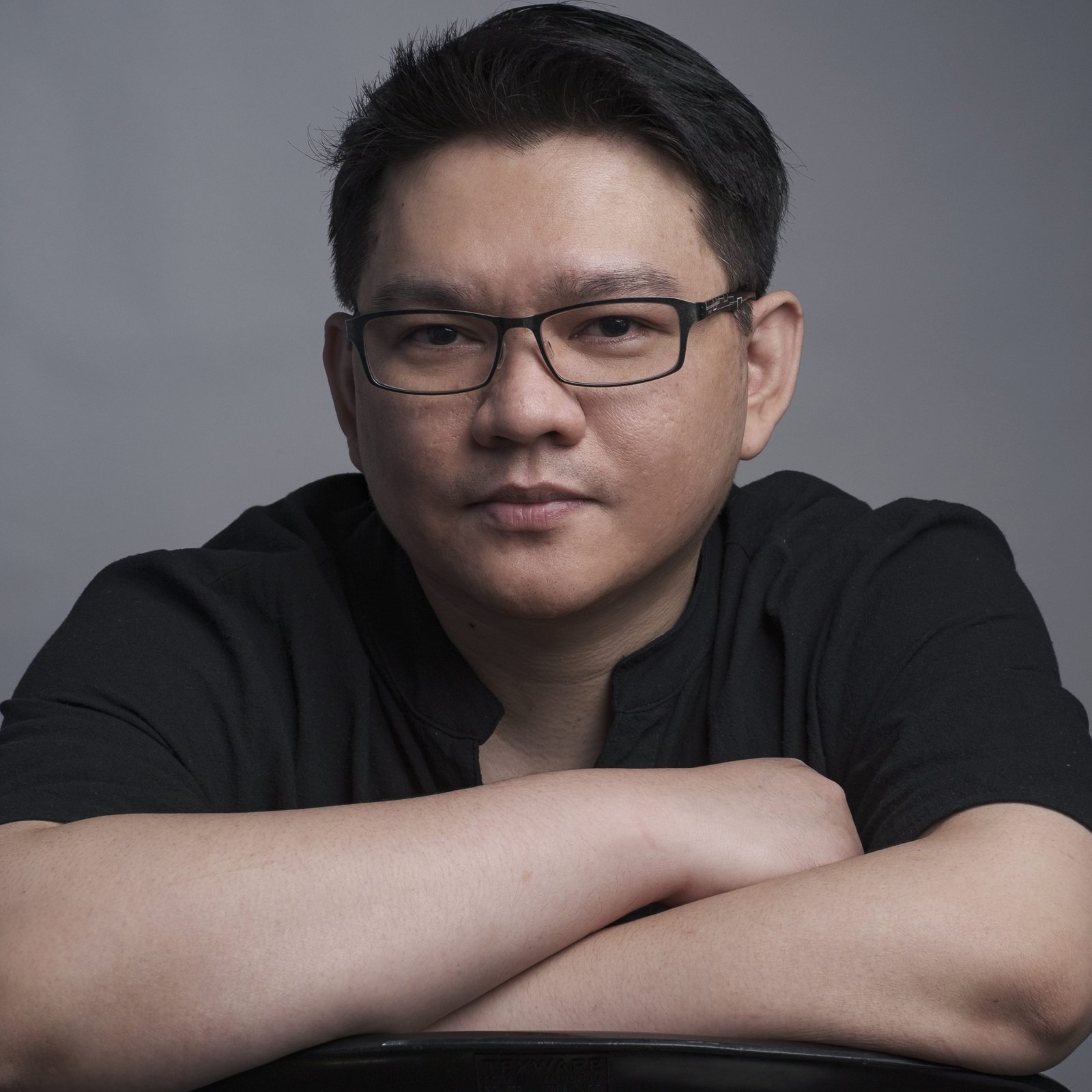 The Broll who always got your back online!