The Asus ROG Cetra True Wireless stereo earbuds don't only impress when it comes to its looks with its fancy RGB lighting and iconic ROG design language but it actually packs some nifty features and sounds pretty good too for its price. It's not over-the-top expensive yet it provides pretty much all you need from a True Wireless Stereo earbuds while maintaining the quality and premium experience the ROG brand is known for. But most importantly, it excels the most where it should be, low latency game mode for competitive gaming on any given platform. The sound quality is pretty good too with an effective two-level active noise cancellation and the typical transparency mode. It's not perfect though as It's missing some important features that I am particularly looking for on a True Wireless Stereo Earbuds, here, let me share with you the rest of my thoughts.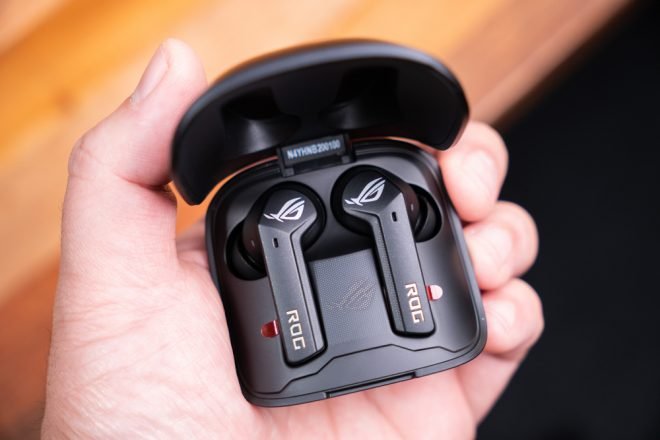 MY EARLY BREAKDOWN
Pros: Good sound quality, Premium unique design, Decent comfort and fit, Effective two-level active noise cancellation, Transparency mode, App support, Wireless charging.
Cons: No in-ear detection, No touch volume controls, Relatively short battery life per earbuds.
SPECIFICATIONS
Driver Material: Neodymium magnet
Driver Size: 10 mm
Headphones Impedance: 32 ohm
Headphones Frequency Response: 20Hz – 20KHz
Microphone Pick-up Pattern: Omnidirectional
Microphone Sensitivity: -38 dB
Microphone Frequency Response: 100Hz – 10KHz
AI Noise Cancelling Microphone: No
Active Noise Cancellation: Yes
Channel: Stereo
Aura: No
Battery:
4.8 + 17 hours (ANC On)
5.5 + 21.5 hours (ANC Off)
Foldability: No
Weight:
Headphone(each side) 5g
Charging case 42 g
Carry bag/box: No
Extra ear-cushion: No
Color: Black
Accessories:
2 pairs of ear tips
Charging cable(60 cm)
Quick Start Guide
Note: Support SBC & AAC Audio Codec
WHAT'S IN THE PACKAGE
The packaging for the ROG Cetra True Wireless is pretty much what you would expect from ROG, it has the traditional ROG branding with the iconic logo, fonts, and colorway. In front, we have an image preview as well of the product.
At the back, we have another image preview including the charging case and some of its key features.
Upon opening the box, you'll immediately notice the charging case nicely protected by some cardboard and foam. 
We also have some paperwork including the user manual,
2 pairs of replacement ear tips,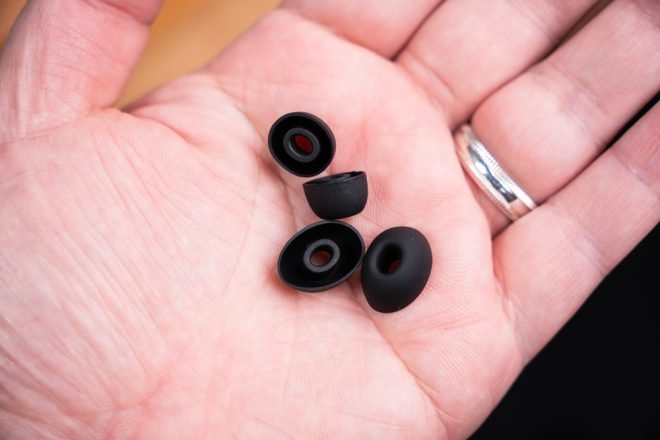 And the USB Type C to Type A charging cable, although you can also charge the case via wireless charging.
FULL REVIEW
Design, Construction, and Parts Overview
In terms of the design, as expected, ROG sets itself apart with a very unique design and form factor for the charging case. 
It kinda reminds me of the shape of the motorcycle compartment. Sorry ROG, that's just what came to the top of my mind. hehe
On the top view, we have a subtle ROG eye logo and at the back, we have some of its technical details and certifications.
At the bottom, we have the USB port for wired charging,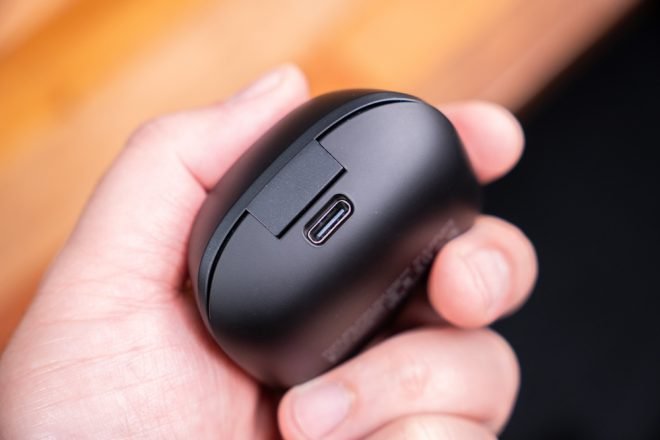 And on the other side, we have a nice LED indicator lining.
I made a little fun about the shape of the charging case but I actually honestly like it very much. I feel like this is probably the best possible orientation for the earbuds to sit inside.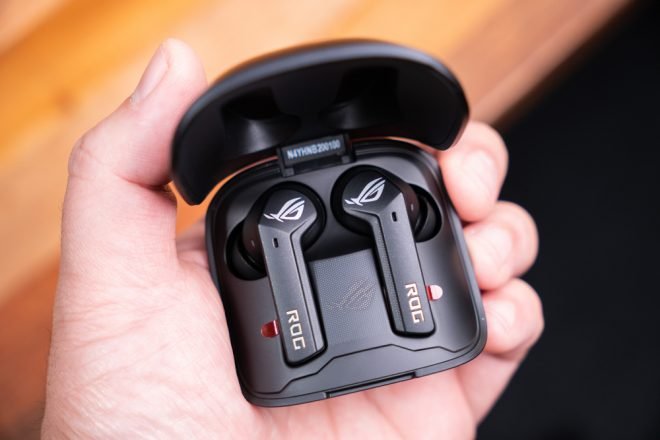 Not only it is easier to pick up the earbuds, but it also allows for easy cleaning of the cavity inside. Normally, you'll need some cotton buds to reach and clean the inside.
The charging case has an illuminated ROG eye logo which is cool and all but honestly completely unnecessary and is probably just a waste of energy. Besides, we already have an LED indicator lining on the side which should be enough.
The charging case weighs roughly around 42g and is built decently overall made out of hard plastic materials.
In terms of the earbuds, weighing roughly around 5g, it's lighter than it actually looks considering It's on the larger side of things. 
Looking at the side, we have the iconic ROG eye logo, a small hole (not sure about its purpose, probably one of the ANC microphones), another ROG logo, and a subtle RGB lighting on the edge.
On the other side, we have the charging connectors and the legend for the orientation.
Looking at the bottom, we have the primary microphone, 
Another hole on this side,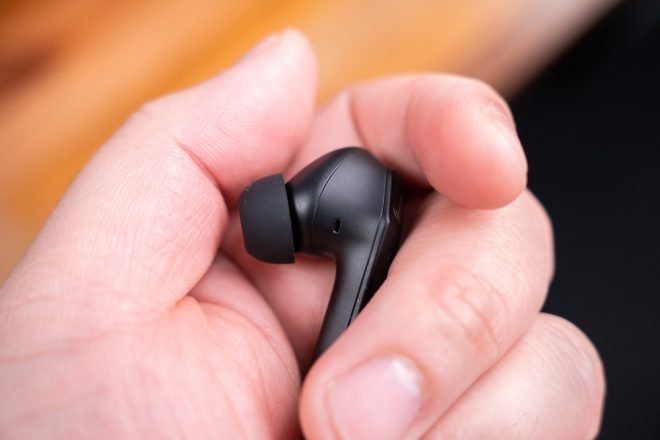 And another one here, I wish I could tell you exactly what these are for but I can't find any specific details. But rest assured that there are at least two microphones for the Active Noise Cancellation and Transparency Mode, one filtering the noise coming from the outside, and one coming from the inside. 
Overall, the design and construction of the ROG Cetra True Wireless are fairly consistent with their product lineup featuring the ROG design language we've love and hate. 
Comfort and Fit
Even though the form factor of the ROG Cetra True Wireless is larger than most modern wireless earbuds, it is still quite comfortable. And while the weight is noticeable, I didn't feel any significant discomfort, especially the fact that you might end up needing to charge it before starting to feel any discomfort at all due to the relatively short battery life, more on that later though. The fit at its default configuration is good enough to provide a tight and secure seal on my ears which also helps with the effectiveness of the active noise cancellation feature.
Touch Controls
The ROG Cetra True Wireless has all the necessary touch controls including the following:
Active Noise Cancelling Modes (2-level ANC), Ambient Sound, and ANC off
Voice Assistant
Pairing
Manual Power Off
Play, Pause and Skip Tracks
Low Latency Game Mode
Answering and Rejecting Calls
However, it is missing one important touch control, at least for my personal preference, and that is volume controls. It's kind of a hassle to reach out to your phone whenever you are traveling just to adjust the volume. Unless you have a smartwatch. I feel like since the form factor of the earbuds is relatively large, they could have taken advantage of the stem to put a touch-sensitive volume slider in there.
Notable Features
Active Noise Cancellation
The ROG Cetra True Wireless features two-level of active noise cancellation, heavy and light. It was not specified exactly how many decibels these active noise cancellations can filter but I'd say, they are pretty decent, to say the least. It can filter most low-frequency sounds such as PC case fans, air conditioners, air purifiers at medium fan speed, refrigerators, and things around the same sound frequency. It can't filter things like typing on a keyboard, music, voices, and pretty much all the higher frequencies. But when partnered with some music or gaming, it is really quite immersive. To be honest, I can't perceivably tell the difference between the heavy and light levels of active noise cancellation, if there's any it is not that significant in my opinion.
Transparency Mode
The transparency mode works as intended amplifying the outside noise through the available microphones. The sound coming from the outside is of course noticeably louder than with it turned off but nothing beats the clearer sound of having no earphones at all. But if you need to be aware of your surroundings while you're using the ASUS ROG Cetra True Wireless, it is a very nifty option to toggle on.
Low Latency Game Mode
Like the active noise canceling feature, I also can't seem to find the specific level of latency reduction this feature provides when enabled but I'd say, it is very effective at a level that I can honestly say is decent even for competitive gaming. I tried it on Valorant and I didn't feel like the sound is lagging behind significantly. Of course, wired connection is still the way to go for gaming, especially for competitive FPS, but for what it's worth, the low latency game mode works really well. And it's good for media consumption as well, almost perfectly syncing the audio with the video without any perceivable latency.
In-Ear Detection, or the lack thereof
One thing that I wish the ROG Cetra True Wireless has is automatic In-ear detection which even less expensive TWS earbuds from other brands have. This is very important for me, especially when working with others around while maintaining a zoned-out space. It is way convenient to just remove one of the earbuds whenever you need to talk to someone and the music will automatically get paused. This is even more important if you have the active noise cancellation turned on.
Sound Quality
The sound quality is one of the strong points of the ROG Cetra True Wireless. While it will certainly not wow any audiophile out there, having the flexibility to further customize the sound signature using the ASUS Armory Create software is definitely a huge plus. The sound signature at its default configuration for me is quite balanced with a little bit of bias towards the warmer side. It also offers good clarity towards the midrange with good control over the highs without much distortion at higher volume levels even at max. It is a joy to listen to these pair of earbuds and I have no major complaints about them, especially considering the price. If anything, I wish the sound stage is a bit larger with more breathing space and probably a tad more punch on the low end, but nothing we can do much with a 10mm driver.
In terms of the microphone quality, it is useful, to say the least. My voice is clear and understandable on the other side, albeit with a slightly tinny or robotic sound. It is decent for casual in-game communication but if you're going to play competitively, I suggest you use a dedicated microphone as after a few games in Valorant, although my teammates said they can understand me well, they requested me to switch back to my main microphone. 
Quick Sound Test
Bluetooth Performance
In terms of wireless connectivity performance, this is probably one of the most reliable and consistent performing True Wireless Stereo earbuds that I've tried recently. I only encountered a few hiccups but nothing that bothered me significantly. It is mostly stable even with up to two walls in between devices. 
Battery Life
Battery life is something that I wish could be better with the ROG Cetra True Wireless considering the chunky form factor. For context, my Tranya M10 which to be fair is also a chunky boy, lasts up to 9 hours which is absolutely outstanding. Now, I was not expecting the same with the ROG Cetra True Wireless but a 6-7 hour battery life could potentially make this an overall performer for gaming, traveling, and all-day productivity companion. 
The ROG Cetra True Wireless lasts up to 5.5 hours but that is with ANC off, roughly just around 4.8 hours when it is enabled. That's not entirely bad, but again, could have been better in my opinion. I honestly don't care how much the charging case can offer, what's important for me is the capacity of the earbuds themselves. It's quite inconvenient to lose battery mid-flight/commute which can leave you staring at the window listening to the noises around. 
On the other hand, a 10-minute charge will give you around 90 minutes or one and a half hours which is actually pretty good.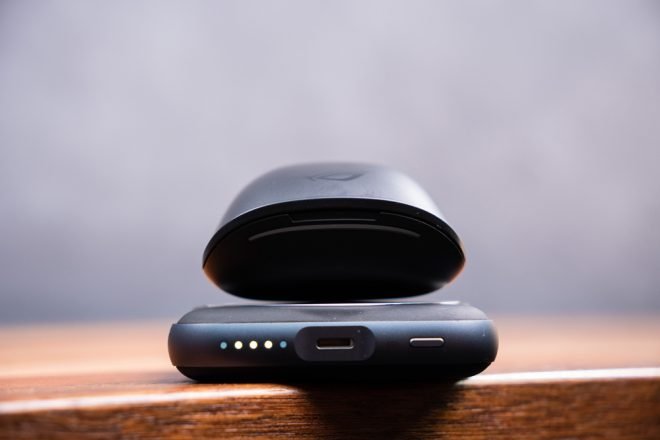 It also supports wireless charging for the case but the shape of the base is kind of weird to me. As you can tell, it doesn't lay completely flat on the wireless charger.
However, I didn't find it an issue as it still charges pretty good, so I'll give it a pass.
ASUS Armoury Crate
My experience with the ASUS Armoury Crate, in general, has been a mixed bag in recent years. No doubt it is one of the most feature-packed all-in-one software and probably one of the best in comparison with other brands, but it's also one of the most annoying if I can be totally honest. Slow loading times, buggy performance, and sometimes force updates (you can't access certain devices and features without updating and restarting your machine) takes away the joy of having very powerful software. But, when it works, it is definitely feature-rich and intuitive.
Anyways, going back, the reason why I made a little rant up there is that, my ROG Cetra True Wireless actually didn't work properly in the ASUS Armoury Crate installed on my Windows 11 PC, even after all the long updates I made to everything it asked me to update.
When it was finally detected, nothing on the control panel worked except for the volume adjustment and probably the virtual surround sound toggles. Things like equalizers, reverb, bass boost, compressor, voice clarity, and others simply didn't work, toggling them changes nothing on my earbuds.
Now, I got to say, I can't blame that entirely on ASUS, Windows 11 and other factors might come into play as well, but it was what I experienced, so that's what I am sharing with you.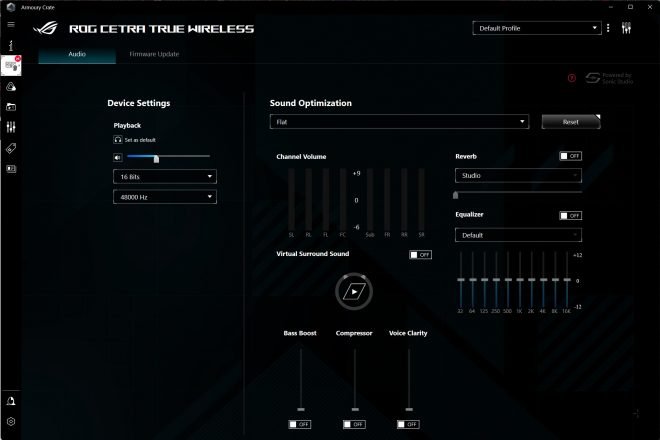 With that being said, I tried it on my Laptop and it worked flawlessly and I get to try the different settings available.
So inside the software, you can customize the overall sound signature and performance of the ROG Cetra True Wireless. We have different general sound presets,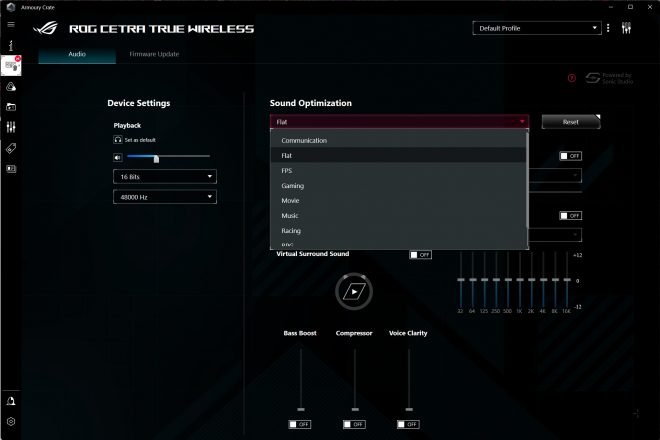 \
Sound stage customization,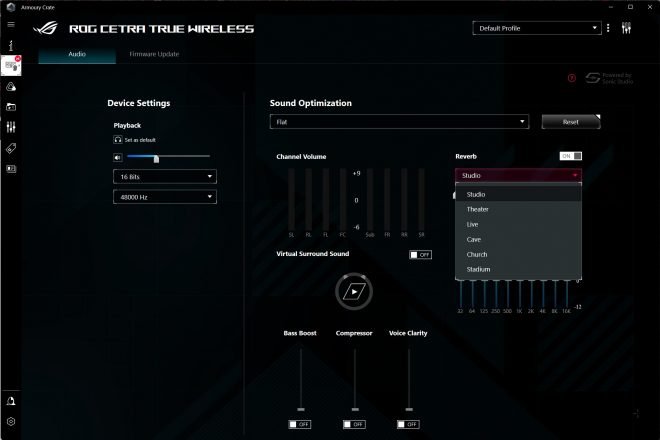 Equalizer presets, and of course, Bass Boost, Compressor, and Voice Clarity boosters.
The good thing here is that you can also install the mobile companion app compatible with both iOs and Android albeit with a little fewer options than the desktop app.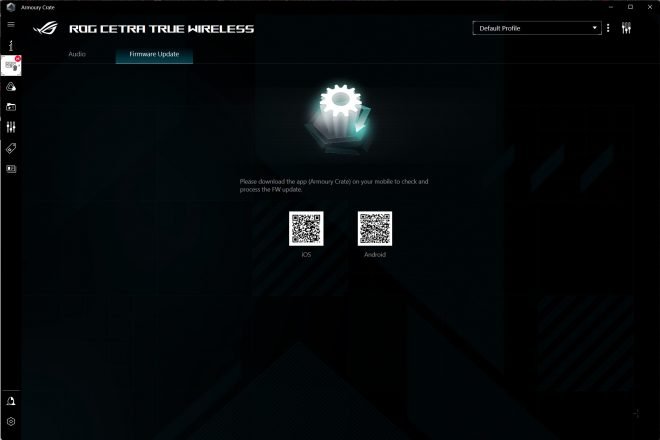 The Bass Boost, Compressor, and Voice Clarity boosters seem to be missing on the mobile app as well as the virtual surround sound and reverb presets.
VERDICT
Overall, if you can get past the lack of in-ear detection, volume touch controls, and relatively short battery life, the ROG Cetra True Wireless especially considering its price for a ROG product, is a very good option and a good all-around performer, most importantly when it comes to competitive gaming. The active noise cancellation and transparency mode works really well and exceeded my expectations, the sound quality is pretty decent and pleasing out of the box with an option to customize it further through the app, the design, build quality and comfort are pretty decent and something that matches the ROG brand. If you're a fan of the ROG brand and you have a matching PC, phone, and peripherals, this should tie everything together in your arsenal.
Related Article:

realme Buds Air 3 Review – Feature Packed!
Tribit FlyBuds C1 Review – Insane Battery Life!
Tribit StormBox Micro Review – Powerful Tiny Little Box!
Dizo Buds Z Review
Lypertek Tevi True Wireless Stereo Earbuds Review – Outstanding Sound Quality!
Dizo GoPods Neo Review – Affordable ANC TWS Earbuds!
EarFun Free Pro 2 ANC Wireless Earbuds Review
DIZO GoPods Review – Surprisingly Good for its Price!
EarFun Free 2 Review – Good Value Low Latency Wireless Earbuds!
Tranya M10 True Wireless Earbuds Review – My Daily Driver!
Edifier W600BT Bluetooth Headphones Review
Limited Edition Joyroom JR-T04S Pro True Wireless Stereo Headphones Review
OnePlus Buds Z Review – Steven Harrington Special Edition!
Marshall Major IV Now Available at Digital Walker and Beyond the Box
OnePlus Buds Z in white and limited edition Steven Harrington NOW AVAILABLE at HomeOffice.PH!
Marshall Uxbridge Voice Review – A Voice Assistant That Actually Sounds Great!
realme Buds Air Pro Review – Active Noise Cancellation!
SoundPeats TrueCapsule Review
Tronsmart Onyx Ace True Wireless Earbuds Review – Quad microphone!
SoundPeats TrueDot True Wireless Earbuds Review
ASUS ROG Strix Go 2.4 Review and AI Noise Cancellation Test
Cooler Master MH630 VS MH650 Comparison and Review
Edifier R1280DB Unboxing, Quick Review, and Sound Test

Subscribe for more reviews like this!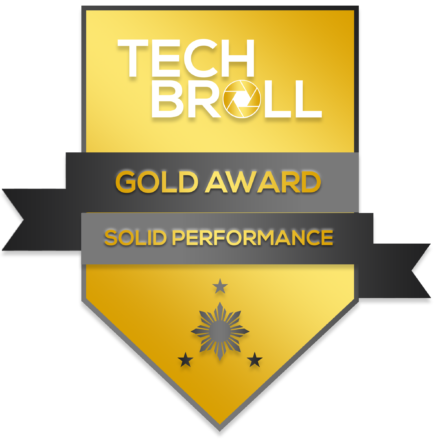 Asus ROG Cetra True Wireless Stereo Earbuds
Php 4,490
Pros
Good sound quality
Premium unique design
Decent comfort and fit
Effective two-level active noise cancellation
Transparency mode
App support
Wireless Charging
Cons
No in-ear detection
No touch volume controls
Relatively short battery life per earbuds
SHARE THIS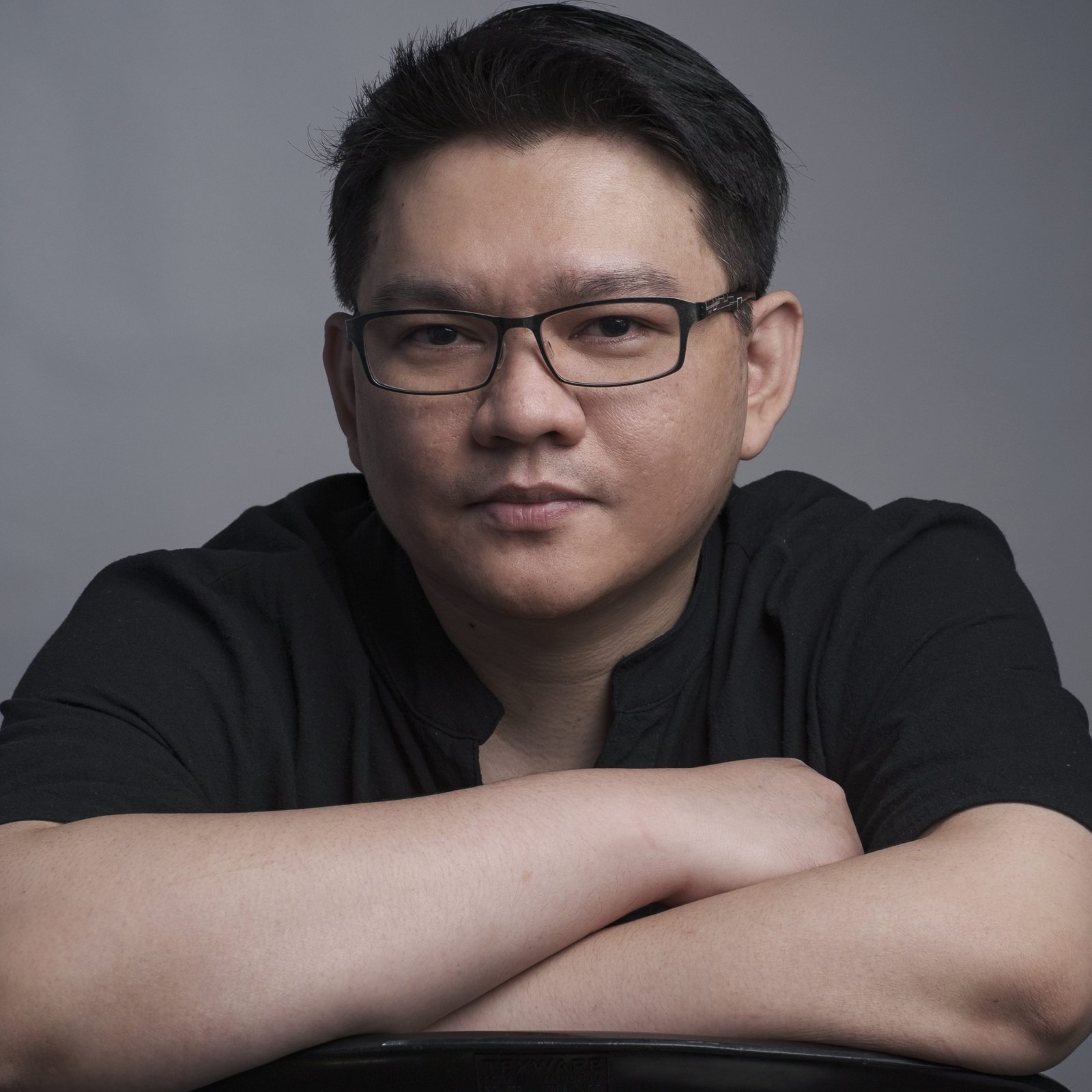 The Broll who always got your back online!