It has been a while since I took a look at a True Wireless Earbuds and to be honest, I kinda miss it. Reviewing audio devices is such a tricky business as the main topic at hand which is sound quality is usually subjective. However, we can always say the fact with regards to everything else around it, the features, the performance, comfort, and all that. Today, we're going to take a look at a relatively inexpensive True Wireless Earbuds that has a goal to be a good lightweight companion for music listening on the go, the SoundPeats TrueDot from Digital Walker.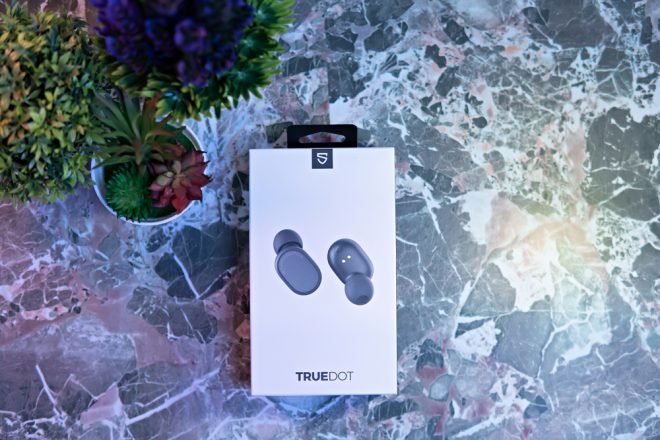 MY EARLY BREAKDOWN


Pros: Decent sound quality, Easy to pair, Lightweight, Good battery life even at maximum volume, Sleek design
Cons: Touch area too sensitive, Charging case doesn't have a power level indicator
SPECIFICATIONS 


Core Specs
Bluetooth Chip: Qualcomm QCC3020
Waterproof Level: IPX5
Bluetooth: 5.0
Maximum Working Range: 33 feet / 10m (no obstacle)
Battery
Working Time: About 5 hours
Earbuds Charging Time: About 2 hours
Charging Case Charging Time: About 2 hours
Charging Case Recharge Earbuds: 3.5 times
Package
Dimension (L * W * H)
1.06*0.67*0.87inches/ Item Weight o.632 ounces
Shipping Weight 3.2 ounces
WHAT'S IN THE PACKAGE


The packaging of the SoundPeats TrueDot is pretty straightforward with some branding around the box and then at the back, we have a preview of the product as well as its key features.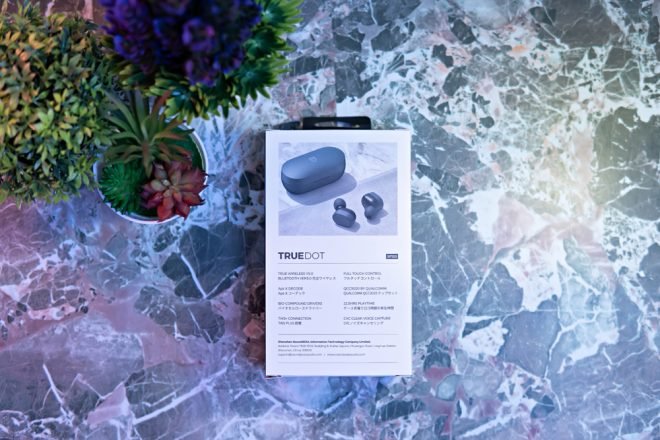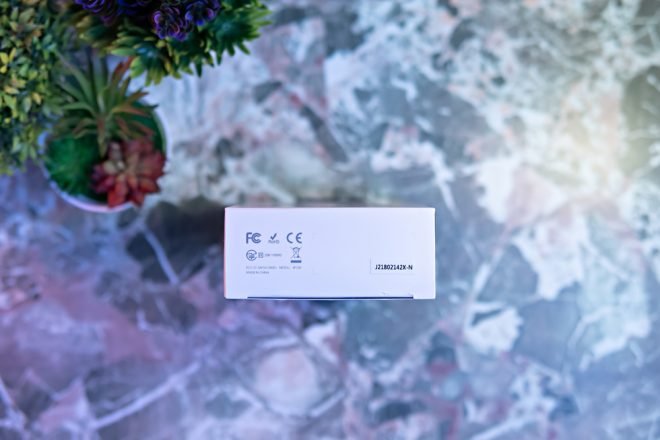 Opening the box, you'll be greeted by the SoundPeats TrueDot itself nicely protected by a foam padding and we also have an accessory box right below it.
Removing the SoundPeats TrueDot and the foam padding reveals the user manual underneath it. The manual is written in different languages.
Inside the accessory box, we have a short micro USB charging cable and 2 pairs of different sized ear tips.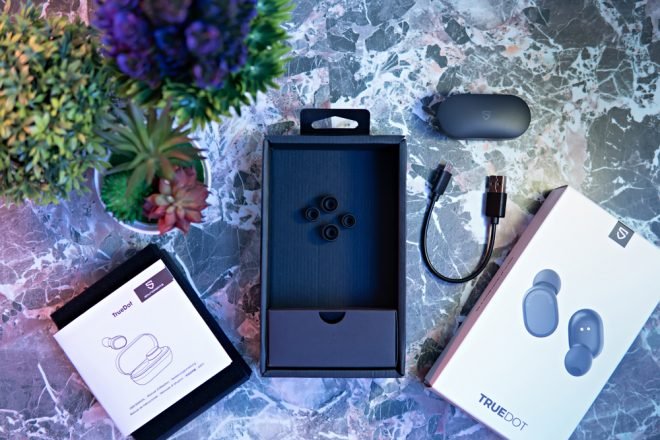 FULL REVIEW
Design, Construction, and Parts Overview


Let's start with the charging case, the charging case for the SoundPeats TrueDot is made mostly out of plastic and is quite lightweight as well at around 30g with the earbuds inside and around 22.6g without them in my own measurement.
In terms of the design, it has a SoundPeats logo on the top center and it also has a combination of black and dark grey in terms of its colorway.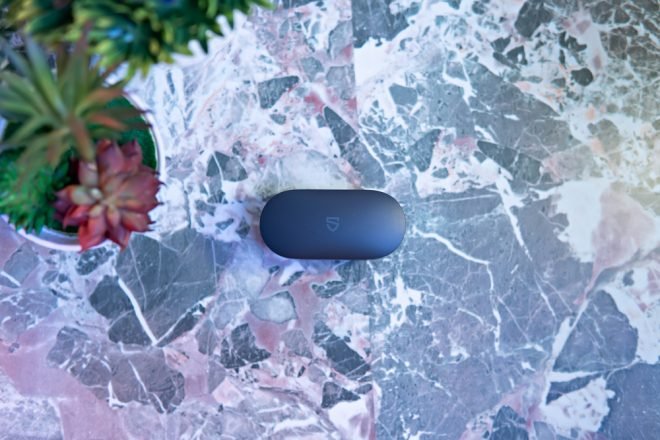 Looking at the bottom, we have some technical details and certifications.
Flipping it on its side, we have the micro USB port and a small LED power indicator. Unfortunately, we don't have any case battery level LED indicator here. 
Opening the case reveals the left and right earbuds themselves which are nicely tucked inside and connected via pins and magnets.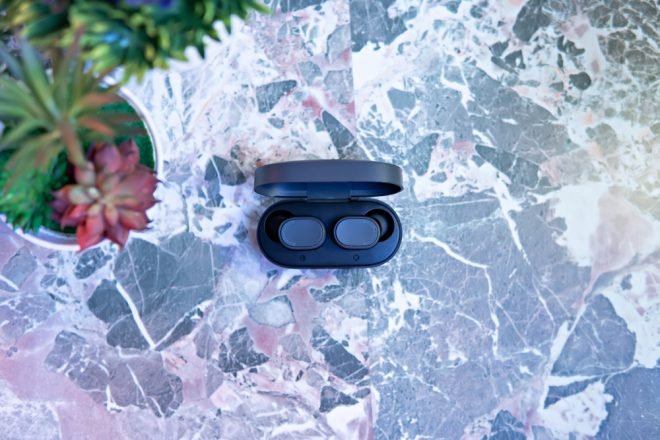 Now, let's take a look around the SoundPeats TrueDot earbuds themselves.
Looking at its side, we have the touch-sensitive multi-function area with a subtle SoundPeats logo and a small LED indicator for both power and connectivity.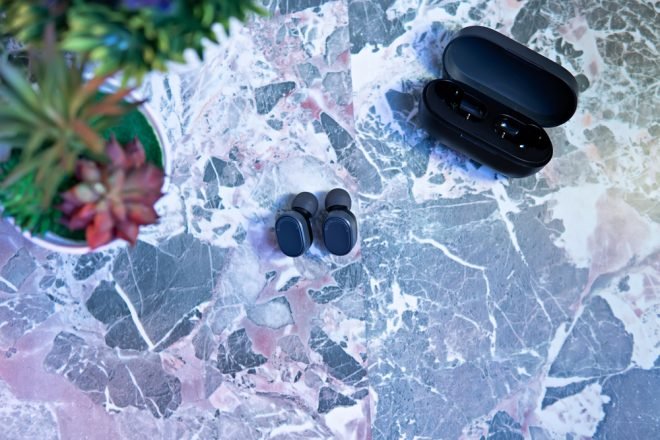 And then looking at the back, we have the two charging pins as well as the profile of the ear tips.
Bluetooth Connectivity and Pairing


Upon removing the earbuds from the charging case, the left and right earbuds will start to pair with each other and then after that, they will automatically go to pairing mode and all you have to do is just turn on Bluetooth on your device, pair it, and you're good to go. It is a pretty seamless process.
And what I like about this is that you can actually individually turn on and off the earbuds by pressing the multifunction area for about 1.5 seconds to turn it on and 10 seconds to turn it off. So essentially, you can pair and use either of the earbuds on their own If you're into that.
In terms of Bluetooth connectivity, it is using Bluetooth 5.0 with a maximum distance of 10m providing that you have a clear line of sight between the devices. In our testing, we did not encounter any issue when it comes to Bluetooth connectivity.  Like I said, pairing is quick and easy and signal strength is pretty decent as well.
Multifunction Touch Sensitive Controls


Now, in terms of controlling your music playback and calls, we have a multifunction touch-sensitive area on its side with the following available options:
Play/Pause: Double-tap the multifunction touch area
Play Previous: Hold and press the multifunction touch area of left earbud for 1.5 seconds
Play Next: Hold and press the multifunction touch area of right earphone for 1.5 seconds
Answer/Hangup Phone Call: Double-tap the multifunction touch area
Reject Phone Call: Hold and press the multifunction touch area for 1.5 seconds
Call Switching: Hold and press the multifunction touch area for 2 seconds
Other options:

Into Pairing Mode: Hold and Press the multifunction touch area for 6 seconds
Activate Voice Assistant: Triple tap the multifunction touch area
In terms of controls, we have a quite substantial amount of flexibility for such a limited surface area, the only downside we experienced with this is that since the earbuds itself is quite small, sometimes we accidentally touch the multifunction touch area when inserting or removing the earbuds resulting to unwanted gestures and change of playback settings.
Battery Life and Charging Time


In terms of battery life, I'd say it is pretty decent for its size.
As per our testing, at maximum volume, the SoundPeats TrueDot wireless earbuds lasted for about 6 hours and 44 minutes on our first test, 5 hours and 55 minutes on our second test and 5 hours and 51 minutes on our third test. So basically, you're guaranteed with at least 5 hours per full charge and is on par and actually beyond its rated specifications of 5 hours.
Now, in terms of charging the earbuds inside the case, we're able to charge it from 0% to 100% for about 1.5 hours on our first test and 1.8 hours on our second test so again, it is on par with its rated specifications of around 2 hours of charging time.
Now, in terms of charging the actual charging case itself, from 0% to 100%, we're able to charge it for around 1.5 hours which is better than its rated specifications of around 2 hours.
And lastly, when it comes to how many times you can charge the earbuds inside the charging case before the charging case runs out of battery, as per our testing, we were only able to charge the earbuds for around 2 times or so. So for the most part, our testing is on par or even better than the rated specifications except for the number of times you can charge the earbuds inside the case.
Sound Quality


In terms of sound quality, I'm quite impressed with it for what it's worth. The sound signature is kinda on the warmer side with a substantial kick on the low end. It also has clear vocals and good separation of instruments. Stereo imaging is also pretty good with a nice and crispy mids and highs without being too bright. However, depending on the music, the low end has a tendency of getting a little muddy but not too much that it gets annoying. In terms of volume levels, it is pretty adequate and can get substantially loud without much distortion when connected to a smartphone. For those of you who are interested, the SoundPeats TrueDot is using Qualcomm's aptX technology which is designed to deliver high definition audio over Bluetooth, in this case, Bluetooth 5.0 using Qualcomm QCC3020 chip.
Overall, in terms of sound quality, I think this is suitable for those who like a good amount of bass, albeit quite muddy at certain situations but for the most part, I think it will suffice any sort of casual on-the-go music listening experience, not to mention partnered with a pretty good battery life.
VERDICT


To conclude, the SoundPeats TrueDot in my opinion is a decent option if you're looking for a relatively affordable lightweight True Wireless Earbuds. It produces decent sound quality with enough bass and it also has an outstanding battery life that can last more than most of the True Wireless Earbuds that I've tried before. We also have a ton of options when it comes to controls using the multifunction touch area and to top it all off, you can also use both earbuds individually which may come in handy in some situations where you wouldn't want to isolate yourself. The only real drawback that I can think of here is the quite sensitive touch area partnered with the small form factor resulting in an accidental change to settings and that the charging case doesn't have LED indicators for power level. Other than that, like I said, the SoundPeats TrueDot is a pretty decent option.

Thanks to Digital Walker for making this review possible, You can get this True Wireless Earbuds from the button below
SHARE THIS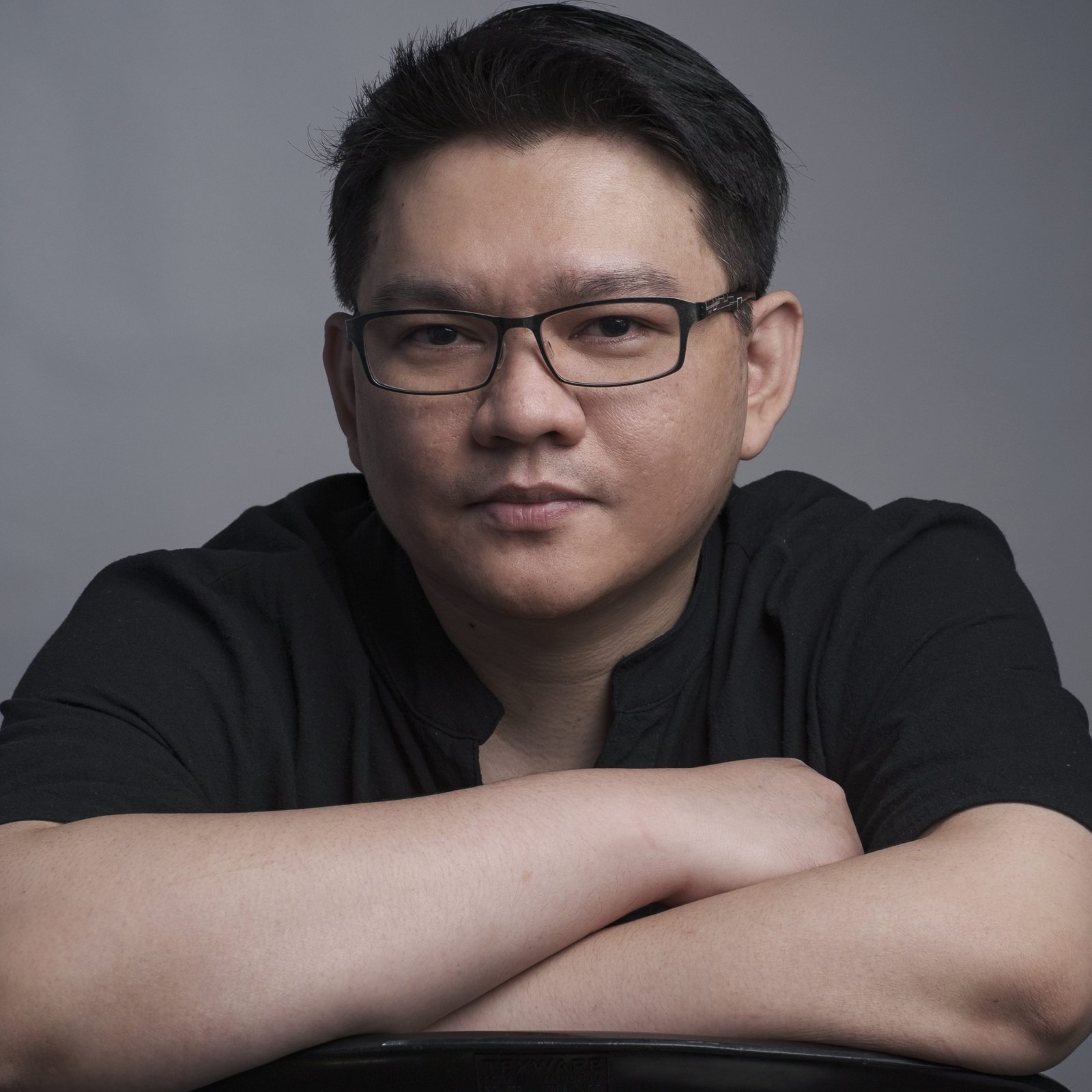 The Broll who always got your back online!