If you're looking for super affordable True Wireless Earbuds with a Qualcomm QCC3040 SoC, aptX support, the latest cVc 8.0 environmental noise cancellation, with low latency mode and wireless charging support, the EarFun Free 2 is a pretty good option. 
While EarFun as a brand is relatively new to the audio market space established in 2018, having been able to test a couple of their products, I'd say they offer a pretty compelling set of True Wireless Earbuds at a very reachable price point. The EarFun Free 2 is one of those at only around Php 1987. It offers pretty much all the bare essentials anyone would need for a casual music listening experience. The only thing you need to consider here is the form factor, fit, features, and overall sound quality. 
MY EARLY BREAKDOWN
Pros: Affordable, Good sound quality, Decent battery life, Wireless charging case, 60ms super-low latency mode, IPX7 water-resistant
Cons: Bulky
SPECIFICATIONS
Build-in Qualcomm® QCC3040 SoC with aptX™ Audio Tech
Latest cVc™ 8.0 tech for Superior Clarity Call Quality
Bluetooth 5.2 + TrueWireless™ tech offers stable transmission and Smooth Single Earbud Use
Balanced Immersive Sound with Dynamic Composite Drivers
60ms Super Low Latency Mode for Better Video & Gaming Experience
IPX7 Fully Waterproof with EarFun Unique SweatShield™ Technology
30-hour Playtime: 7 Hours + 23 Hours with Charging Case
Fast Charging, 10 Min Charging = 2 Hours Playtime
Wireless Charging Compatible
Intuitive Touch Control + Volume Control
Activate Voice Assistant
WHAT'S IN THE PACKAGE
The packaging for the EarFun Free 2 is pretty good for its price, doesn't feel cheap at all with a substantial amount of branding and key information around the box.
The box features a flip-type design and upon opening it, you'll see a quick maintenance guide.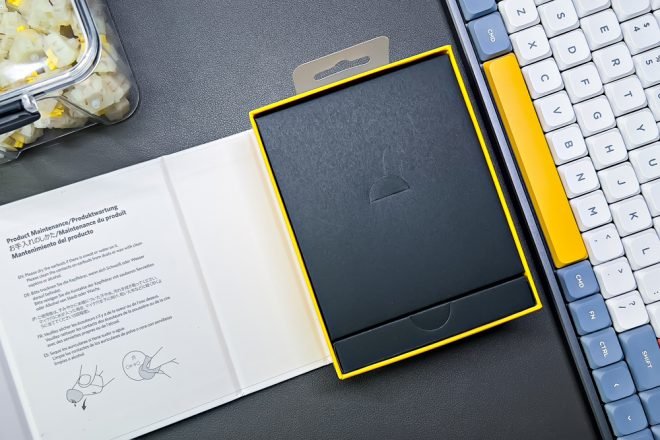 The buds and charging case are well protected by foam with the charging case having an extra layer of plastic protection.
Inside the box, we have the EarFun Free 2 earbuds themselves, the wireless charging case, and a couple of small boxes.
Look at this foam, it looks like it's screaming! haha!
Inside the boxes, we have the user manual, the USB Type C charging cable, and a couple of ear tips.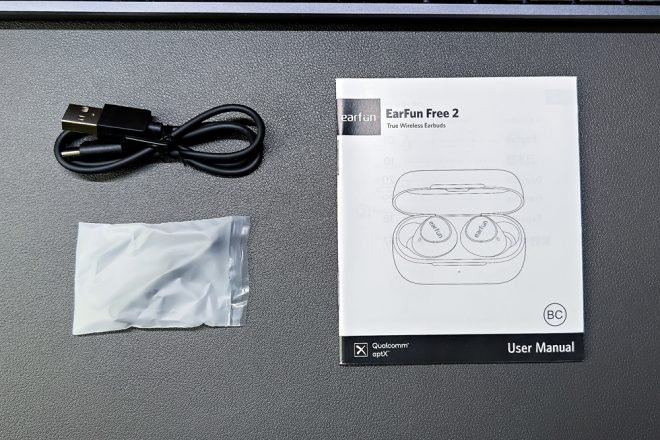 FULL REVIEW
Design, Construction, and Parts Overview
The charging case's form factor is relatively small considering how bulky the earbuds it's holding.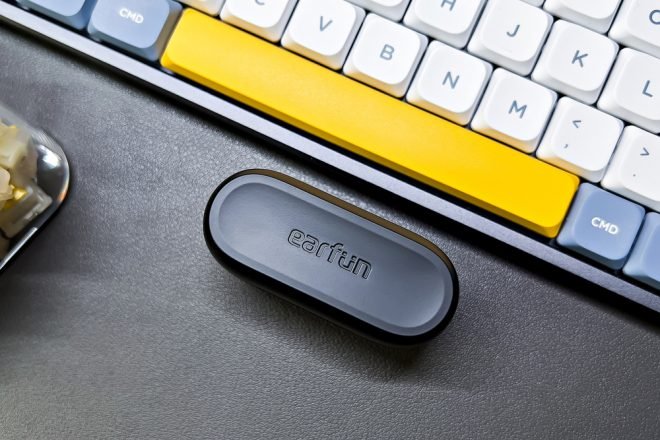 In front, we have a small LED indicator.
At the back, we have the charging case button and the USB Type C port.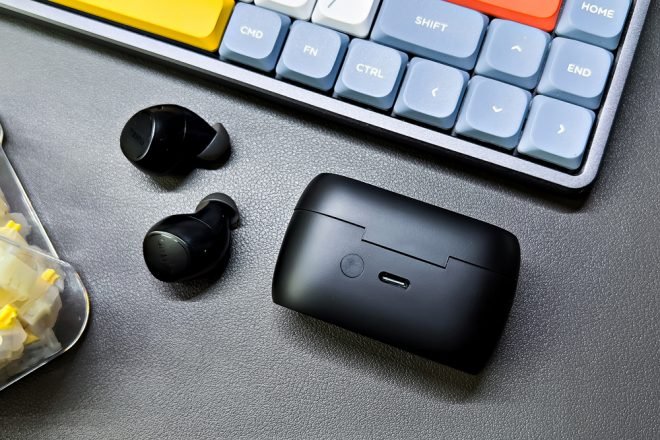 And at the bottom, we just have some technical information and certifications.
Opening the case reveals the quite bulky earbuds with an ideally ergonomic form factor.
As with most True Wireless Earbuds, the charging case and earbuds are magnetic.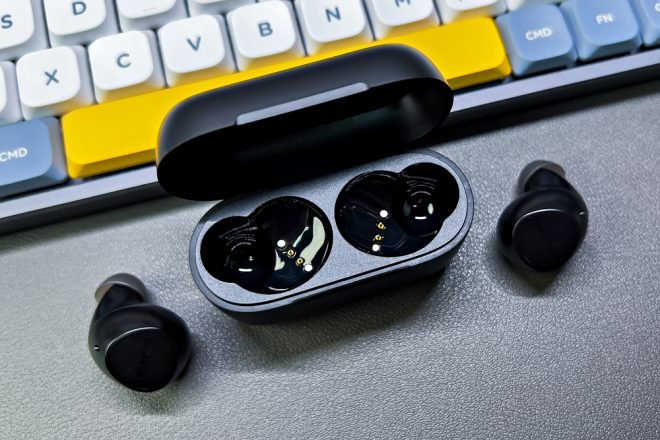 As you can tell, even with the earbuds inside the charging case, you can definitely get an idea of how large they are.
Form factor and design is in my opinion fairly subjective, some people may find it cool and some may find it obtrusive. Personally, as long as it fits perfectly, doesn't come off on its own, and is comfortable for long hours of music listening, I don't care much about the overall form factor. More on that later.
Around the buds, we have a couple of microphones that support the latest Qualcomm cVc 8.0 environmental noise cancellation for phone calls and voice commands.
We also have a couple of LED indicators for pairing status.
The form factor features a quite massive frame that droops down into the fairly slim ear tip.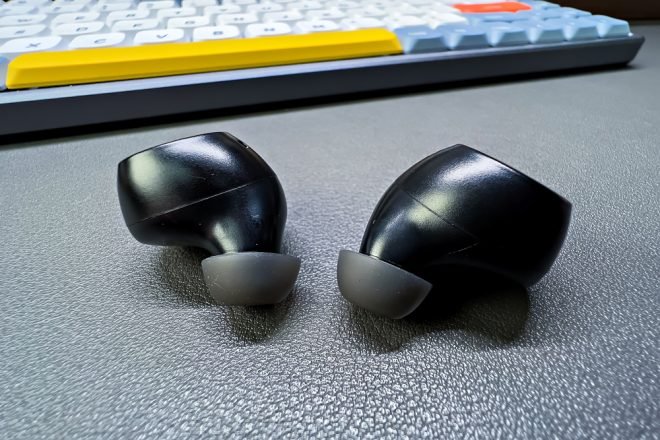 And lastly, in terms of the general parts overview, we have 4 charging pins on each earbud and an easy to distinguish legend for the left and right orientation.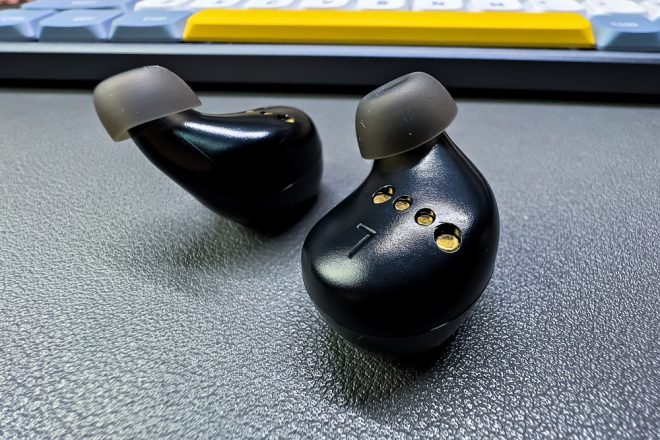 Comfort and Fit
Now, comfort and fit highly vary depending on each individual's ear shape, and in my case, it is relatively comfortable considering its size. You'll definitely feel some suction sensation due to the nature of the ear tip design but not to the extent that it gets in the way of a good listening experience. It does feel kind of uncomfortable after a long period of time due to the combination of suction pressure and weight being the heaviest amongst the EarFun "Free" variants. And due to its bulky form factor, I can't sleep comfortably with it the entire night, and most often than not, it drops off my ears while asleep. I'm not saying it was intended to be used while sleeping but that's always something I am looking into when it comes to True Wireless Earbuds since music helps me sleep at night. 
Touch Controls 
At first, I thought since it has a larger surface area, we'll also get a large touch-sensitive area. However, that isn't the case as the touch controls only activate around the upper half of the earbuds. This is actually good as you'll have a substantial amount of space for precise taps while minimizing accidental activations. 
Speaking of controls, here are all the available controls for the EarFun Free 2
Play/Pause: x2 Tap (L/R)
Next Track: x3 Tap (R)
Previous Track: x3 Tap (L)
Volume Up: x1 Tap (R)
Volume Down: x1 Tap (L)
Answer/End a call: x2 Tap (L/R)
Reject a call: Tap and hold for 2 seconds (L/R)
Answer and transfer two calls: x3 Tap (L/R)
Activate the voice assistant: Tap and hold for 2 seconds (R)
Low latency control: Tap and hold for 2 seconds (L)
As you can tell, we have almost all the controls that we need including volume adjustment.
Pairing, Bluetooth Connectivity, and Latency
In today's standard, the pairing process is often not tackled anymore since it is fairly common nowadays and that's still the case here. You open the case, the earbuds automatically go to pairing mode, pair it with your host device and you're good to go. It'll reconnect to the last connected devices every time you open the case, pretty standard. 
Thanks to the Bluetooth 5.2 protocol, the connection for the most part is stable up to 15m give or take with a good line of sight. 
In terms of latency, without thinking about it in normal mode, you'll barely notice any latency at all unless you specifically observe it closely when watching videos. There is an ever so slightly lag but not too much that it messes up with your brain. However, if you want the least latency possible, you can turn on the Super Low Latency mode which brings down the delay to just around 60ms but in return, it will shorten the connection distance.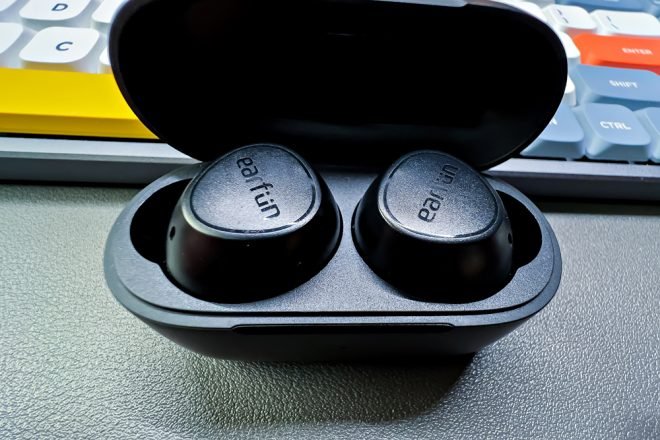 Sound Quality
One thing that I really love about EarFun True Wireless Earbuds is that not only do they offer all the bare essentials a competitive True Wireless Earbuds need to have at a super affordable price point but they also typically offer good sound quality given the price. 
The EarFun Free 2 sounds really good for its price with a good combination of low end, clear mids, and comfortable highs. The sound signature in my opinion is somehow balanced without much significant dominant frequency level. You'll get a good amount of bass, crispy vocals, and controlled highs even at higher volume levels. I've been listening to music using the EarFun Free 2 the entire time I was writing this article and not a single instance I felt it's uncomfortable to listen with even if I max it out at 100. Even without active noise cancellation, it isolates most of the background noise thanks to the mere suction pressure. You'll still hear everything around you when no music is playing but once you start that play button, you're on your own. 
Battery Life
Another thing that I appreciate with the EarFun Free 2 is that at its price of just around Php 1987, the charging case already supports wireless charging. Battery life is pretty decent as well with up to 7 hours per earbuds for a total of 30 hours give or take including what you can get with the charging case. It should last you a day and some. Another good thing here is that you can use either of the earbuds by themselves essentially extending the battery life or for situations when you want your other ear to be available for other things. 
Charging time for the earbuds should take around 1.5 hours inside the charging case. 2 hours for the charging case if charged via wired USB Type C connection and 3.5 hours if charged via a wireless charger.
VERDICT
If you can get past the bulky form factor, the EarFun Free 2 is an easy recommendation for me. As I've pointed out earlier, aside from not having an active noise cancellation feature, we pretty much have everything we need here. It has a good design, construction, battery life, sound quality, essentially all the touch controls necessary, and a wireless charging case to boot. Not to mention the super low latency mode for a price of just around Php 2000 give or take depending on the current promotion. 
The EarFun Free 2 is available in Digital Walker's Official Lazada Store for around Php 1987.
Related Article:
Tranya M10 True Wireless Earbuds Review – My Daily Driver!
Edifier W600BT Bluetooth Headphones Review
Limited Edition Joyroom JR-T04S Pro True Wireless Stereo Headphones Review
OnePlus Buds Z Review – Steven Harrington Special Edition!
Marshall Major IV Now Available at Digital Walker and Beyond the Box
OnePlus Buds Z in white and limited edition Steven Harrington NOW AVAILABLE at HomeOffice.PH!
Marshall Uxbridge Voice Review – A Voice Assistant That Actually Sounds Great!
realme Buds Air Pro Review – Active Noise Cancellation!
SoundPeats TrueCapsule Review
Tronsmart Onyx Ace True Wireless Earbuds Review – Quad microphone!
SoundPeats TrueDot True Wireless Earbuds Review
ASUS ROG Strix Go 2.4 Review and AI Noise Cancellation Test
Cooler Master MH630 VS MH650 Comparison and Review
Edifier R1280DB Unboxing, Quick Review, and Sound Test

Subscribe for more reviews like this!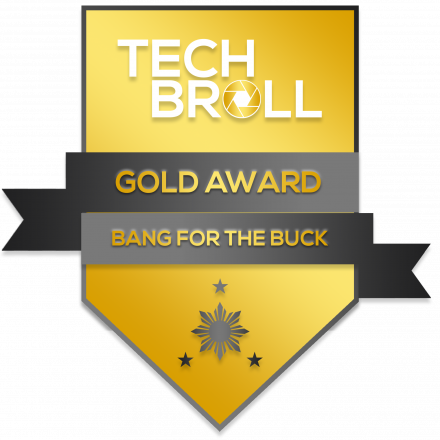 SHARE THIS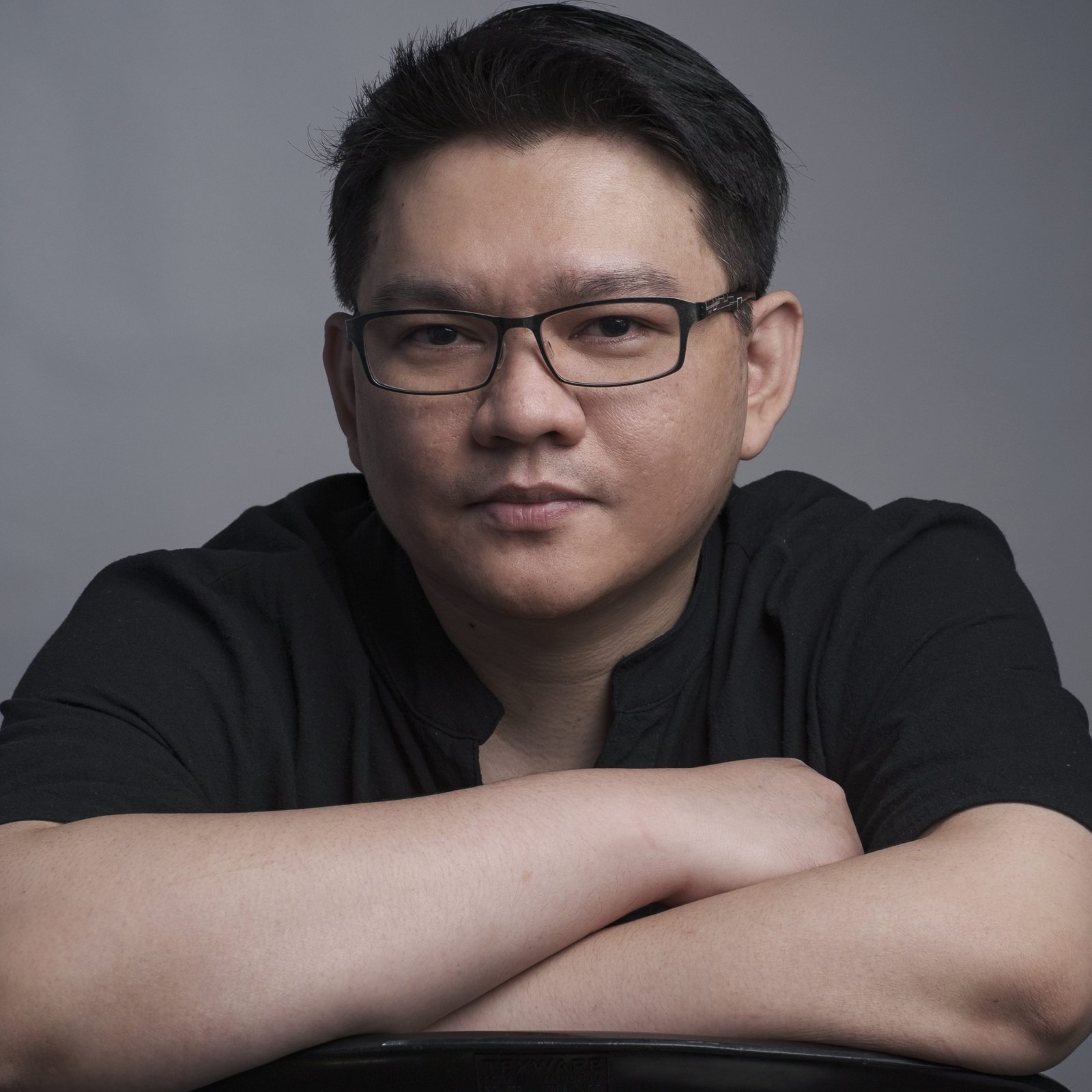 The Broll who always got your back online!