The realme Buds Air 3 is the latest iteration of the feature-packed True Wireless Earbuds from realme. For the price of just around Php 3,251, you'll be treated with almost all the bells and whistles that are otherwise only available on higher-end wireless earbuds. First and foremost, it features a decent Active Noise Cancellation of up to 42dB, It has transparency mode, low latency game mode, In-ear detection, customized audio tuning, IPX5 water resistance, and the list goes on and on. Of course, it is supported by the realme Link app where you can toggle all of its features and tailor it to your preference. It's kinda mind-blowing how they are able to pack all of those features while maintaining a reachable price point. By the way, most of the features mentioned are already existing on the previous realme Buds Air 2 with some notable improvements making it even more awesome. As long as you keep your expectations right, you will definitely be pleased with the realme Buds Air 3.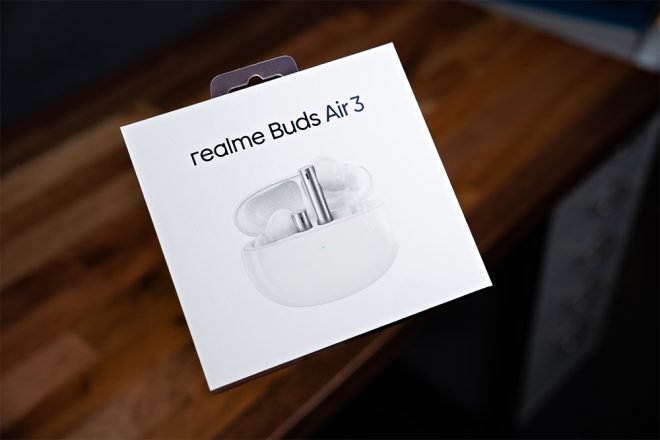 MY EARLY BREAKDOWN
Pros: Good sound quality, Decent active noise cancellation and transparency mode, Decent low latency game mode, Nifty in-ear detection, Decent battery life, IPX5 water-resistant, Dual device connectivity, and App support.
Cons: No volume controls, No wireless charging, Noticeable latency when game mode is turned off
SPECIFICATIONS
Active Noise Cancellation
30-hour Total Playback
10mm Dynamic Bass Boost Driver
Customized Audio Tunning
Dual Device Connection
88ms Super Low Latency
Dual Mic Noise Cancellation for Calls
Transparency Mode
Instant Auto Connection
IPX5 Water Resistance
Smart Wear Detection
Intelligent Touch Controls
Bluetooth 5.2 Connectivity
realme Link App with 3 EQ Presets
WHAT'S IN THE PACKAGE
The packaging for the realme Buds Air 3 is actually quite nice with an image preview in front and some of its key features at the back.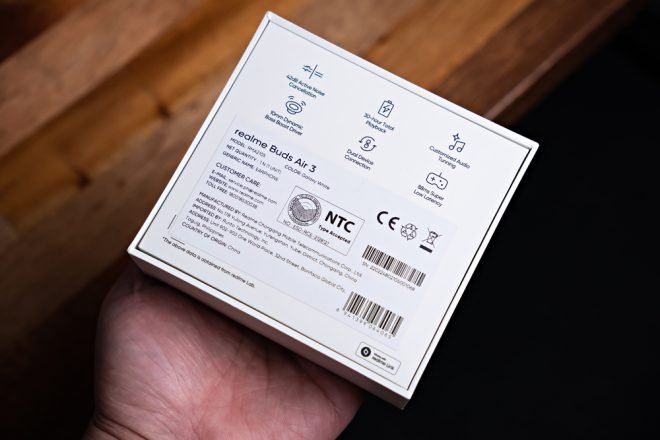 Upon opening the box, you'll see the realme Buds Air 3 itself protected by a plastic film.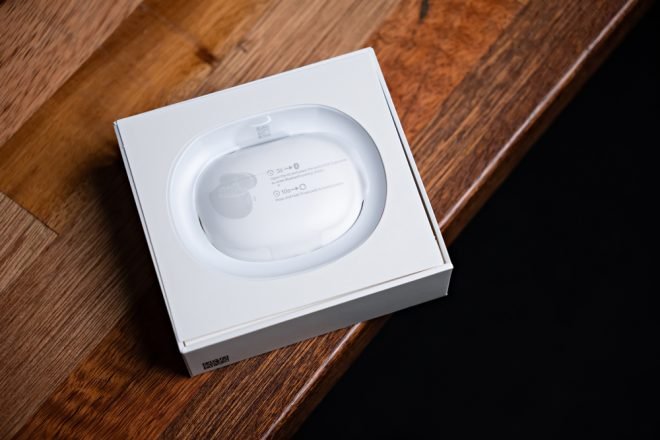 Underneath it, we have some paperwork for the instructions on how to take advantage of its key features.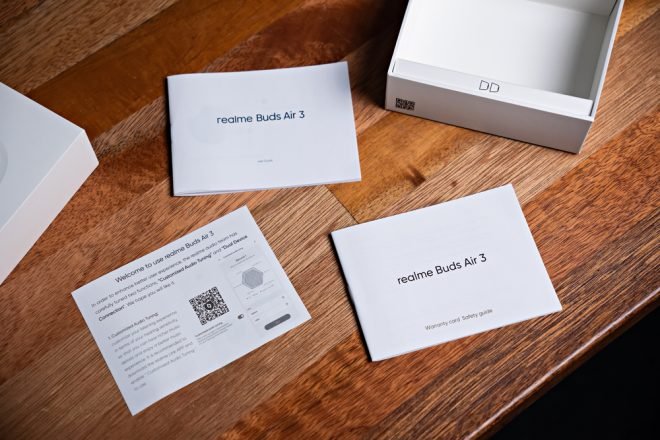 We also have some replacement ear tips, 
And a short yellow USB Type C charging cable.
FULL REVIEW
Design, Construction, and Parts Overview
In terms of the design, the charging case resembles the familiar pebble-like shape with a rather fingerprint-magnet glossy finish. It is noticeably shorter compared to the realme Buds Air 2.
In front, we have a small LED indicator,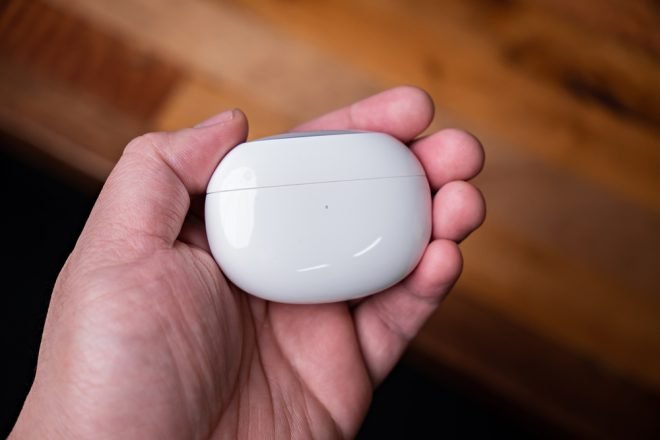 And on top, we have the realme logo inside a clear plastic cover.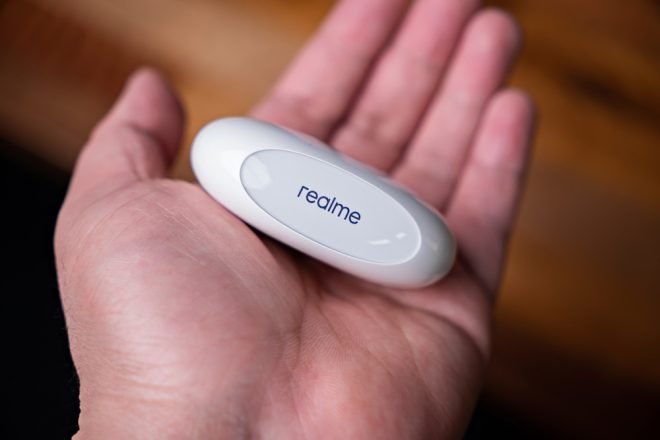 At the back, we don't have anything and it's also worth noting that this case doesn't support wireless charging.
Finally, at the bottom, we have the USB Type C charging port.
Upon opening the charging case, you'll see the realme Buds Air 3 earbuds themselves in an upright position. 
There are no legends and the orientation of the cavities requires you to turn the earbuds a little bit after you take it off from your ears before placing them back inside the case.
As for the earbuds themselves, they feature a shorter stem compared to the realme Buds Air 2 while maintaining the same shape on the ear tips. 
Each earbud has a total of 2 microphones that features 1 feedforward and 1 feedback to eliminate noise when the active noise cancellation is turned on and let outside noise in when the transparency mode is turned on.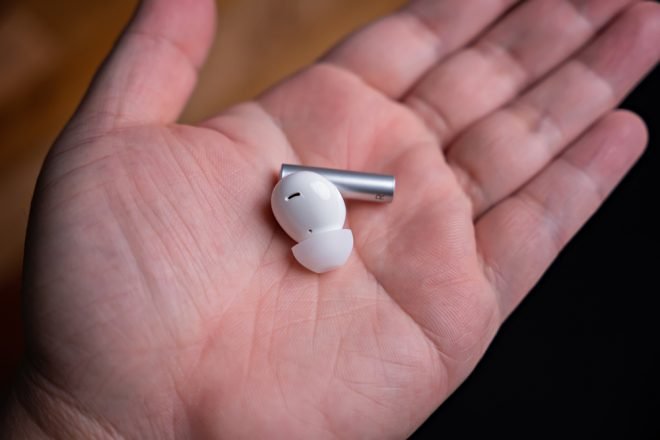 Comfort and Fit
In terms of comfort and fit, the realme Buds Air which weighs around 4.2g per earbud is quite comfortable and fits perfectly inside my ears. It doesn't fall off on its own and it doesn't get uncomfortable over time as well. The stem doesn't touch my ears and its shorter form factor isn't too obnoxious now compared to its predecessor.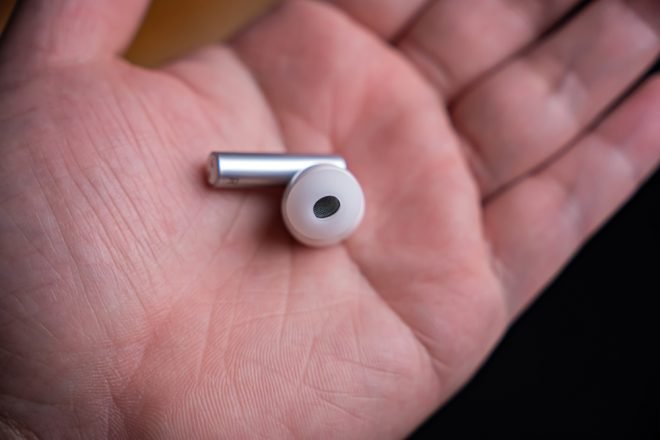 Touch Controls
Each earbud has a touch-sensitive area where you can toggle controls like music playback, phone calls, voice assistant, noise control modes, and low latency game mode. Unfortunately, there's no way to control the volume levels using the earbuds, you'll have to adjust that on your host device.
Notable Features
Active Noise Cancellation
The realme Buds Air 3 features active noise cancellation of up to 42dB which is significantly better compared to the 24dB of realme Buds Air 2. As per my experience, it works fairly well especially when you figure out the right size of ear tip for a better seal. It can definitely cancel most background noise, especially the lower frequencies like air conditioning, PC case fans, air purifiers, and the like. However, it can not cancel other higher frequencies like music, vocals, keyboards, and the like.  You can also switch the intensity between strong and mild via the realme Link app.
It has a smart de-wind feature that ideally should help eliminate wind noise and as per testing using our air purifier with a built-in fan, it can cancel wind noise up to level 4 of the air purifier, but when I set the wind speed to level 9, the de-wind feature actually made it a lot worse, like the noise cancellation feature has weakened which to be fair, is actually stated on the app. 
Transparency Mode
The transparency mode works as intended allowing you to hear pretty much everything that's happening around you. However, the sound will still sound muffled simply because of the suction pressure of the earbuds.
You can switch between ANC, Normal, and Transparency modes either using touch controls or via the realme Link app.
In-Ear Detection
Aside from the two popular modes that I mentioned above, another feature that I really like on the realme Buds Air 3 is the In-Ear detection feature. Essentially, as soon as you take off any of the earbuds, the music playback will automatically be paused and resume as soon as you put the earbuds back. This is a feature that you'll definitely appreciate once you've tried it.
Auto Answer
You can also automatically answer calls by taking either of the earbuds out of the charging case and placing it inside your ear.
Low Latency Game Mode
One thing I noticed especially when watching videos on YouTube on my PC is that there is a noticeable latency when the Game Mode is turned off. When it's on, which boosts the latency down to 88ms, the latency is significantly improved and tolerable. This is very evident when testing on music videos with a rapping part.
Customized Audio Tuning
Another interesting feature of the realme Buds Air 3 is the Customized audio tuning where you are presented with a set of sounds to determine the best hearing enhancement for your ears sensitivity. It looks dope, but to be honest, I didn't notice a significant difference before and after the enhancement.
Earbud Fit Test
There is also a built-in quick test to see if the earbuds have a proper seal inside your ears which I find really nifty. But of course, you still have to determine yourself if the earbuds actually feel secure and with proper sound isolation so that the active noise cancellation feature will be much more effective.
Dual Device Connection
And last but not the least, the realme Buds Air 3 also supports dual device connection which means you can connect it up to two devices simultaneously and switch between them almost instantly. Essentially, you can listen to music on your phone and immediately start watching a movie on your PC without missing a heartbeat.
Sound Quality
In terms of sound quality, at first, I wasn't too fond of it out of the box. I feel like the sound signature is a bit brighter than I would prefer, the highs are quite stingy, especially at higher volumes even on Balanced mode. The good thing here is that you have 3 different prests, Bass Boost+, Balanced and Bright. I didn't bother with the Bright preset since I personally prefer a warmer sound signature and setting it to the Bass Boost+ made a ton of difference. Not only does the bass and low end become more full but the stingy highs are completely eliminated giving me a more pleasing listening experience. However, I would have preferred if we can further customize this using an equalizer. All in all, after setting it to the Bass Boost+ mode, the overall sound signature becomes warmer, punchy, and engaging, albeit with a slightly muffled sound. With all that being said, I like how it sounds and I can definitely use this as my daily driver.
Bluetooth Performance 
The wireless performance and stability for the most part are pretty good, I didn't encounter any significant drop-offs and as long as you maintain a good line of sight between devices and limit the walls to a maximum of two like most Bluetooth 5+ TWS earbuds, you should be fine.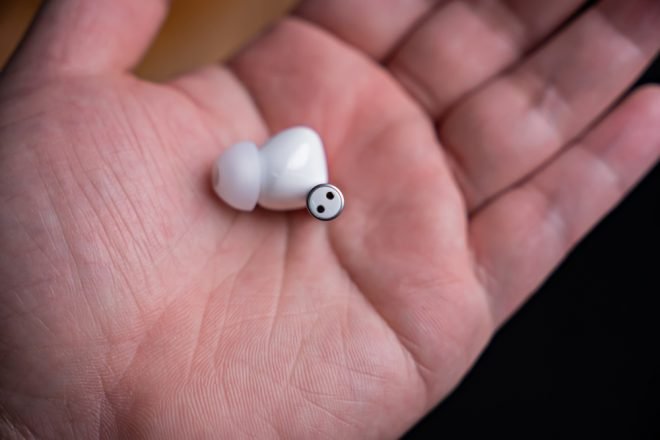 Battery Life
Battery life is decent but not outstanding, considering all of its features, having up to 5.5 hours with ANC or Transparency mode enabled is actually pretty impressive and 7 hours on Normal mode is above average. Essentially, it can last you almost the entire day and a few more using the charging case which adds around 22 to 30 hours more. Charging the earbuds takes about an hour and a 10-minute charge will give you an hour or so on normal mode which is pretty good.
VERDICT
To conclude, if you consider everything the realme Buds Air 3 has to offer especially given its relatively inexpensive price tag, it is quite impressive, to say the least. It's almost perfect, to be honest.  If only it has volume touch controls and wireless charging, it could be the ultimate budget premium-like True Wireless Earbuds. With that being said, all of its features partnered with decent sound quality and battery life makes this a very easy recommendation for me. I'm even considering switching to this from my Earfun Free Pro 2 because of the additional feature like the In-ear detection and multi-device connection which the latter doesn't have. For the price of just around Php 3,251, you'll be hard-pressed to find a better deal than this.
Related Article:

Tribit FlyBuds C1 Review – Insane Battery Life!
Tribit StormBox Micro Review – Powerful Tiny Little Box!
Dizo Buds Z Review
Lypertek Tevi True Wireless Stereo Earbuds Review – Outstanding Sound Quality!
Dizo GoPods Neo Review – Affordable ANC TWS Earbuds!
EarFun Free Pro 2 ANC Wireless Earbuds Review
DIZO GoPods Review – Surprisingly Good for its Price!
EarFun Free 2 Review – Good Value Low Latency Wireless Earbuds!
Tranya M10 True Wireless Earbuds Review – My Daily Driver!
Edifier W600BT Bluetooth Headphones Review
Limited Edition Joyroom JR-T04S Pro True Wireless Stereo Headphones Review
OnePlus Buds Z Review – Steven Harrington Special Edition!
Marshall Major IV Now Available at Digital Walker and Beyond the Box
OnePlus Buds Z in white and limited edition Steven Harrington NOW AVAILABLE at HomeOffice.PH!
Marshall Uxbridge Voice Review – A Voice Assistant That Actually Sounds Great!
realme Buds Air Pro Review – Active Noise Cancellation!
SoundPeats TrueCapsule Review
Tronsmart Onyx Ace True Wireless Earbuds Review – Quad microphone!
SoundPeats TrueDot True Wireless Earbuds Review
ASUS ROG Strix Go 2.4 Review and AI Noise Cancellation Test
Cooler Master MH630 VS MH650 Comparison and Review
Edifier R1280DB Unboxing, Quick Review, and Sound Test

Subscribe for more reviews like this!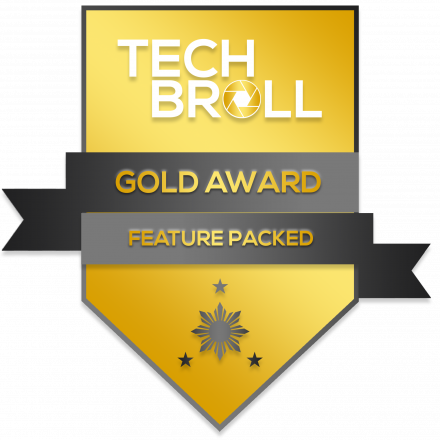 realme Buds Air 3
Php 3,251
Pros
Good sound quality
Decent active noise cancellation and transparency mode
Decent low latency game mode
Nifty in-ear detection
Decent battery life
IPX5 water-resistant
Dual device connectivity
App support
Cons
No volume controls
No wireless charging
Noticeable latency when game mode is turned off
SHARE THIS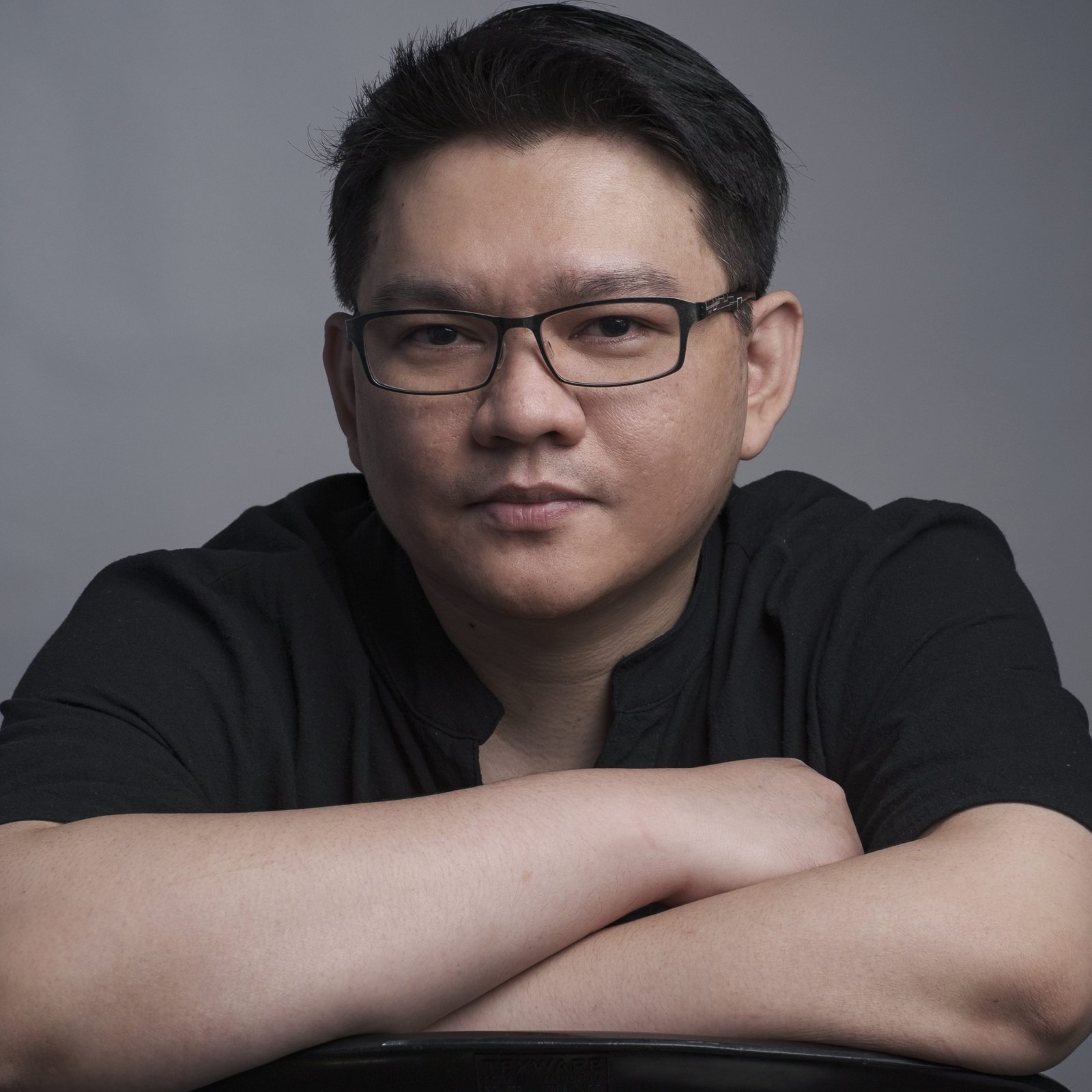 The Broll who always got your back online!