When I hear OnePlus, to be honest, wireless earbuds are probably not the first thing that comes into my mind. They are known to produce flagship killer smartphones that break the barrier between top of the line specs and affordable price. But of course, as with most smartphone brands out in the market, OnePlus also offers more to consumers with their set of cases, cables, accessories, and audio devices. Today we're taking a look at one of their latest audio devices in the form of the OnePlus Buds Z, and for an extra kick, we're taking a look at the Steven Harrington Special Edition.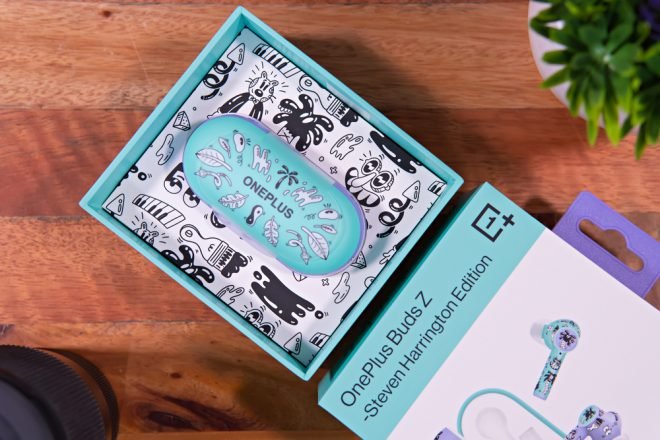 MY EARLY BREAKDOWN
Pros: 
Affordable
Good design especially for the Steven Harrington Edition
Decent battery life
Decent sound quality with emphasis on the low end and bass
Good fit 
Automatic wear detection
IP55 dust and water-resistant
Cons:
Weird orientation of the charging case
Limited app features
No volume control
Unpolished software/UI
No aptX codec
SPECIFICATIONS
Model
E502A
Product colors
White/Steven Harrington Edition
Dimensions
Earbuds: 3.798cm*2.335cm
Charging case: 7.5cm*3.59cm*2.905cm
Weight
Earbuds: 4.35g
Charging case: 40g
Drivers
10 mm dynamic
Driver sensitivity
'97 dB ± 3dB @ 1 KHz
Sweat and water-resistant
IP55
Bluetooth version
BT 5.0
Wireless range
10 meters
Charging interface
Wired, USB Type-C (for charging case)
Playtime (fully charged)
Up to 5 hours (music playback)
Up to 3 hours (phone call)
Up to 20 hours (combined playback)
Fast charge
10 mins for 3 hours (charging case + earbuds combined)
Battery capacity
Per earbud: 40 mAh
Charging case: 450 mAh
WHAT'S IN THE PACKAGE
For a known brand, OnePlus did not disappoint when it comes to the packaging of their OnePlus Buds Z especially with this Steven Harrington Edition. 
In front, we have an image preview of the OnePlus Buds Z with this quite unique and interesting doodle design and of course, the model name.
Flipping it on this side, we have the special edition Steven Harrington Branding.
"Steven Harrington is a Los Angeles-based artist and designer whose work has made waves across the globe with his iconic designs and characters such as "Mello". Steven's exciting collaboration with OnePlus brings his dynamic work to the tech world. The partnership inspired Steven to develop a new character dubbed "Cool Cat". As with most of his work, the design is both playful and contemplative, encouraging a two-way conversation between the artists and user. – OnePlus.com" – more info here.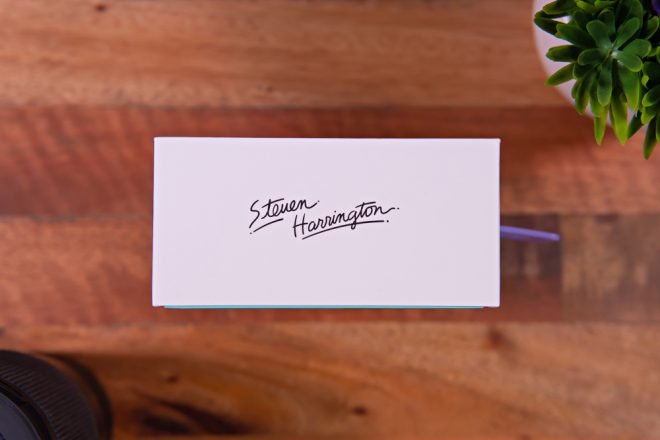 And on the other side, we have its key features.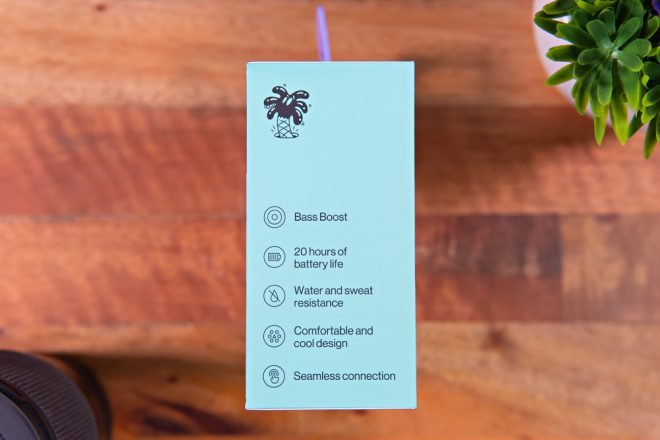 Finally, at the back, we have more information such as some technical details, certifications, and safety warnings.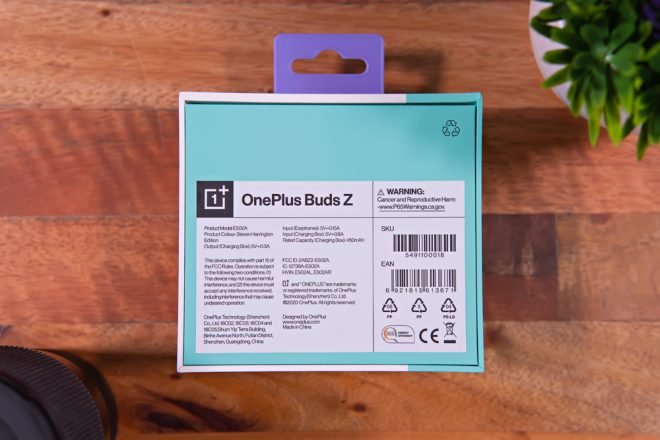 Upon opening the box, we're greeted by a splash of artwork with this sort of psychedelic-pop aesthetic featuring their so-called "Cool Cat" character.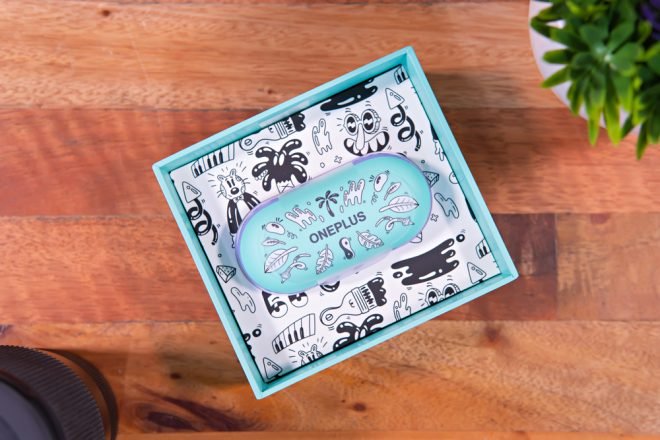 It makes the simple yet premium packaging a lot better in terms of aesthetics and adds a bit of a "collector's item" feel to it.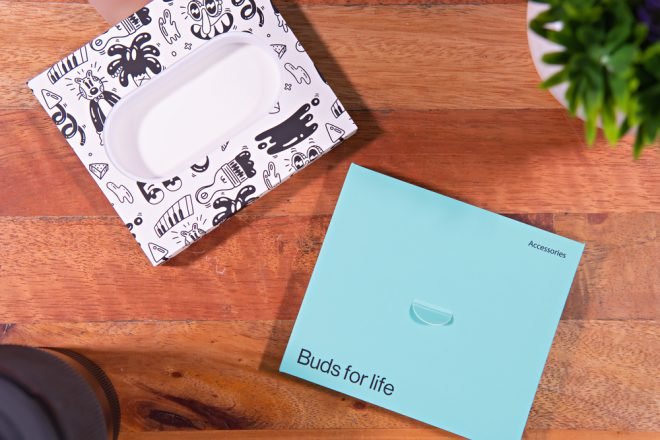 Of course, we gotta have the patented "Never Settle" OnePlus Slogan here.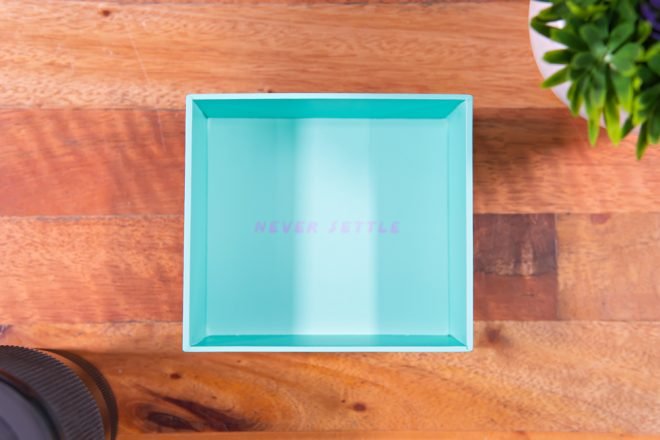 In terms of the rest of the package contents, inside the box, we have the user guide, safety and warranty guide, a quite short OnePlus themed USB Type C charging cable, and some different sizes of ear tips.
FULL REVIEW
Design, Construction, and Parts Overview
Charging Case
Starting with the charging case, right off the bat, we're treated by the psychedelic-pop art that will certainly catch anyone's attention.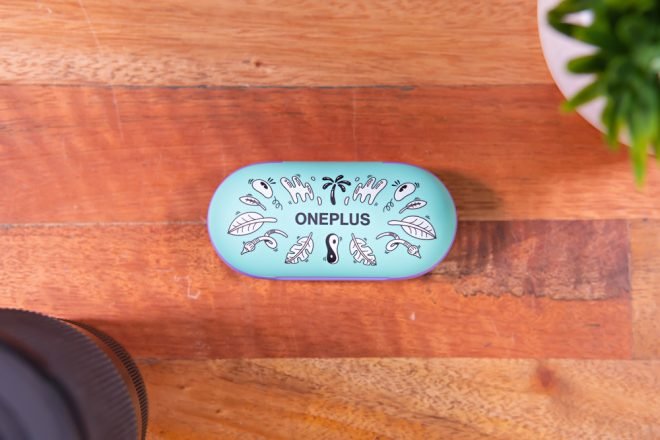 We have a two-toned colorway with a combination of aquamarine and purple colors that really stands out from the rest of the white or black wireless earbuds out in the market.
On the front side, we have a subtle lip that allows us to open the charging case easier and we also do have a small LED indicator below it.
On the backside, we have the USB Type C charging port and the setup button.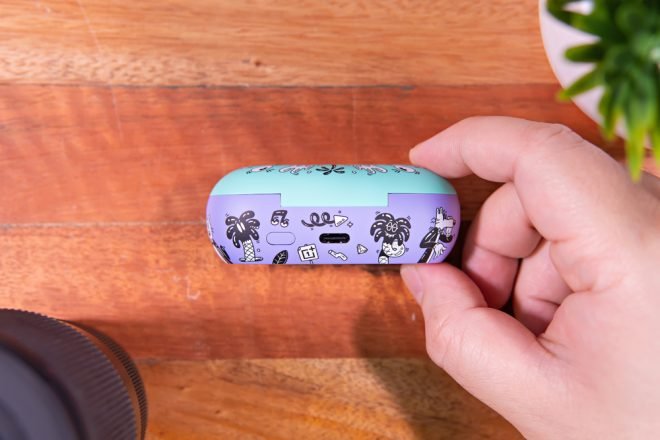 Upon opening the charging case, we'll see the left and right wireless earbuds themselves in a rather weird orientation. You see, looking at it solely, it looks like there's no issue in terms of the orientation, however, when you pick it up, use the earbuds for a while and try to put it back in, you'll immediately notice the issue. The problem is that, after removing the earbud from your ears, holding it from the shaft, you'll have to rotate it around 180 degrees before you can actually slot it back in inside the case, which may cause some problems when doing so on-the-go. It's not a total disaster but a design flaw nonetheless.
Earbuds
Now, moving our focus on the earbuds themselves, like the charging case, the earbuds also features the same two-tone aquamarine and purple colors with awesome and interesting art. This makes the design of the rather boring earbuds more character to it and will certainly stand out from the rest of the crowd and for sure, will turn heads around.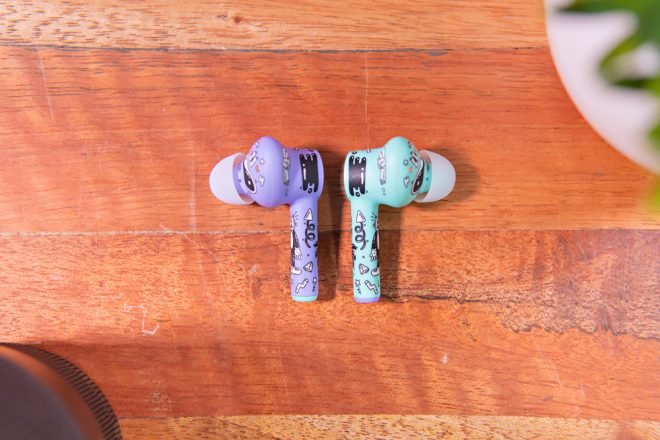 It has the same oblong like shape with a flat back and features the familiar elongated form factor that houses the antenna, microphone, and battery.
It also features the usual rubber ear tip design that certainly helps with maximum fit compatibility with different ear canal sizes.
Lastly, in terms of design and construction, these buds feature IP55 dust and water-resistant rating making it an ideal option even for some sweaty workouts. 
Comfort
In terms of comfort and fit, it varies highly depending on the size of the ears and ear canal. In my experience, it's a bit of a mixed bag for me depending on how I position the earbuds inside my ears. The fit is definitely snugged inside my ears if I place it in the ideal or recommended position where it is angled about 225 degrees, but I feel like the protruding part of the earbuds hurt my ears after wearing it for a long time. Now, I don't feel the discomfort even when listening for a few hours until I actually remove it from my ears, you know, when the pressure is finally off your ears. My workaround is just to place it inside ever so slightly that it's not entirely sucked inside my ears relieving some pressure while still making it secured. Of course, your mileage may vary.
Pairing Process and Out of the box User Interface
Pairing the OnePlus Buds Z is pretty straightforward, though it's also quite complicated at the same time depending on which device you are planning on using. If you're using a OnePlus smartphone, you'll get a dedicated app for it called OnePlus Buds with a different interface but basically the same features and options. Unfortunately, I don't have any OnePlus smartphone right now, so I won't be able to show you some screenshots. So let's move on to the available options for the rest of us that uses other Android smartphones.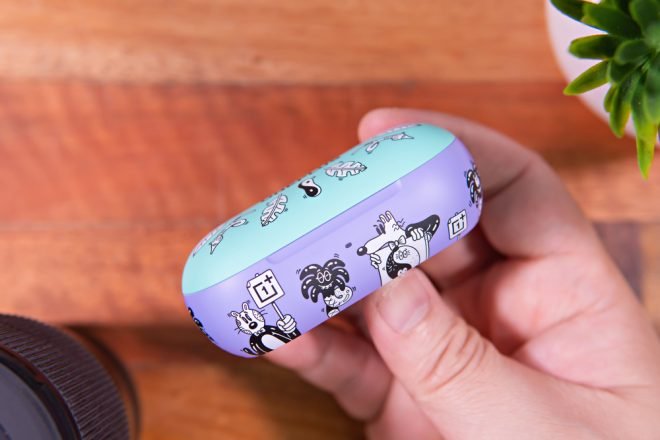 Alright, so upon opening the charging case, ideally, you'll immediately receive a prompt to pair the OnePlus Buds Z to your smartphone but if not, you can manually search for it under your Bluetooth settings. The LED indicator will also flash white when it is ready to pair.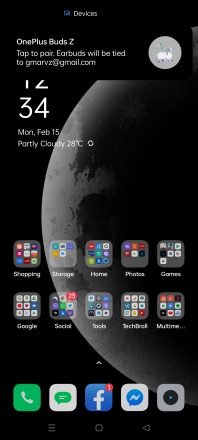 Pair it, and you're good to go. As simple as that.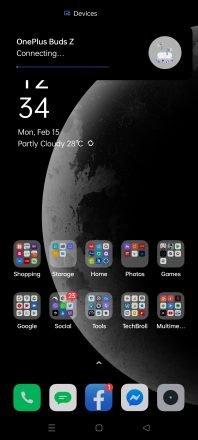 Now, under Bluetooth settings, we have the battery level information, and pressing the info icon reveals the rest of the available settings.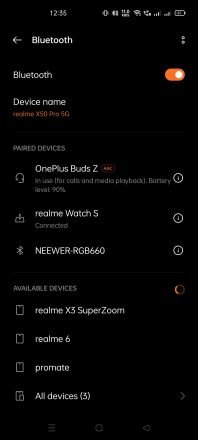 Here we have different options such as using it for Phone audio, Media sharing, and Contact sharing. We also have an option here to use either SBC or AAC codec, unfortunately, we don't have an aptX option here.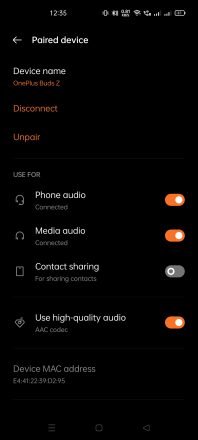 Another thing that bugs me here is the broken UI for the battery level indicator via the notification area, as you can tell, we don't have any icons here. Ideally, we should see the earbud's icons on the left and right and the charging case at the center.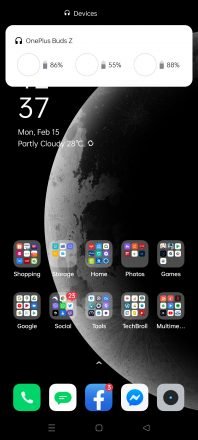 If you want you can click it to see another battery level information with correct labeling.
Those are the options available to us right out of the box, without downloading any software. 
HeyMelody App
Now, if you want to have more control and customization options, you can download the "HeyMelody" app.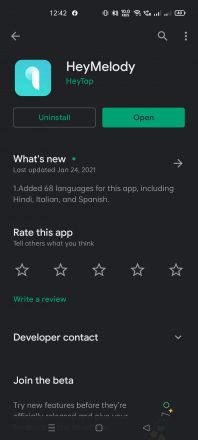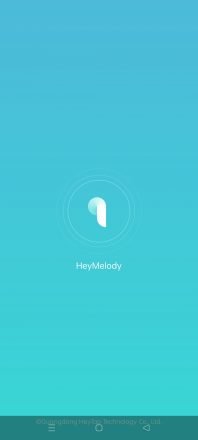 This app supports not only OnePlus True Wireless Earbuds but Oppo as well.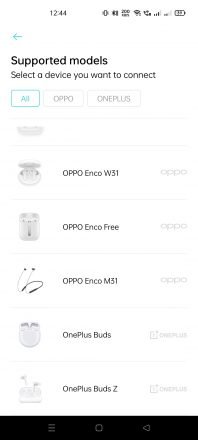 Inside the app, we have a good representation of battery life for the earbuds and the charging case. But what's important here that we don't have from the out of the box Bluetooth settings is the option to update the firmware and customize the Earbuds controls.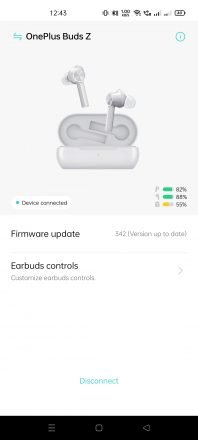 Earbuds Controls
Speaking of earbud controls, sadly, we have limited power over them. Out of the box, we only have the following options:
Double-Tap to skip to the next track
Double-Tap to answer or hang up calls
Tap and hold for 5 seconds to reject a call
Tap and hold for 3 seconds to reconnect to the previous device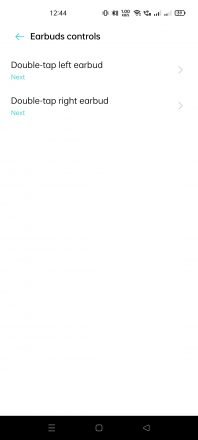 We don't have an option to adjust the volume and we don't even have the option to play or pause the audio by tapping. If you want to pause the audio, you will have to rely on the wear detection feature which pauses the audio when you remove the earbud from your ears. But what if you just simply want to pause the audio but you don't want to take the earbuds off? Granted, you can customize the functionality of the double-tap gesture to a different function like Play/Pause, Previous or Next, and Voice Assistant, but you can only choose one which is a bummer. I hope they can introduce more gestures like single tap and triple tap options.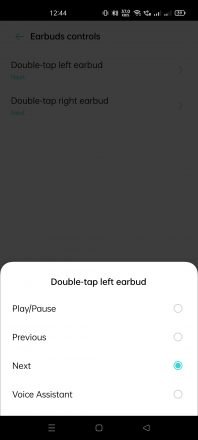 Battery Life
In terms of battery life, the OnePlus Buds Z has a 40mAh of battery on each earbud, and here are my test results:
100% Volume
Test 1: 4 hrs and 19 mins
Test 2: 4 hrs and 10 mins
Test 3: 4 hrs and 8 mins
50% Volume
4hrs and 20 mins
Charging Time
As for the charging time, for a full charge of the case with a 450mAh of battery, I was able to charge the earbuds up to 3 times with the last one being able to charge the earbuds up to 90% until the charging case ran out of battery.
First Full Charge: 46 mins
Second Full Charge: 40 mins
Third Charge (Until the charging case ran out of battery): 35 mins at 90% earbuds charge
I was also able to charge the earbuds to 30% in just around 10 minutes.
With an average of over 4 hours and with the ability to charge the earbuds inside the case 3 times and 30% in just 10 minutes, it is fairly substantial to last you a whole day of music listening.
Sound Quality
In terms of sound quality, it features 10mm dynamic drivers, and the first thing that strikes me the most is the overwhelming presence of low end and bass, it has a warm sound signature and punchy bass that will certainly appeal to certain people. To be fair OnePlus specifically markets this as a bass boosted True Wireless Earphones, so if you're looking for something more natural and balanced, this is definitely not for you. With that said, depending on the music you're listening to, it can sound pretty good. Despite having punchy bass and dominant low-end frequencies, it can still produce clear mids and highs especially for male vocals and music that doesn't necessarily have to be as is. Instruments are still fairly noticeable and distinguishable from each other and imaging is also adequately defined. Simply put, while low-end frequencies are dominant, mids and highs can still standout. 
Passive sound isolation is also quite good, with proper ear tip size and positioning inside your ears, it can block almost all the noises outside especially when listening to loud music.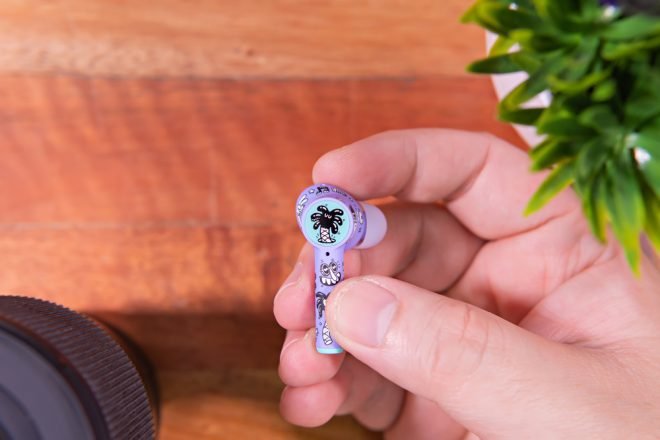 Microphone Quality
In terms of microphone quality, although it doesn't have any active noise cancellation or environmental noise cancellation feature, the microphone quality seems to be pretty adequate for any casual communication. As per the person I was speaking to on the other line, they can hear me pretty well.
Bluetooth Connectivity
Lastly, in terms of Bluetooth connectivity and stability, for the most part, it is fairly stable even when moving around the room. The only time I'm getting disconnections is when I enter a room or move around walls. Other than that, with a good line of sight, the reception is pretty decent. Ideally, it can reach up to 10meters range but as I said, it has to be in a clean path without walls and obstructions.
VERDICT
To conclude, the OnePlus Buds Z is kind of a mixed bag of nuts. You'll get a selection of good features such as good design and construction, decent battery life that can last you a day or two, decent sound quality especially if you're into bass and low-end frequencies, or prefer a warmer sound signature partnered with a reliable microphone and IP55 dust and water-resistant rating to boot. However, it also has a fair amount of shortcomings starting with the quite limited touch controls and limited app features. It also has a buggy battery life notification overlay and a weird design flaw with the orientation of the earbuds inside the charging case. With that being said, if you'd ask me if I still do recommend it, I'd say it depends. I recommend it first and foremost to OnePlus fans out there who want to dive into the complete OnePlus Ecosystem and to those who particularly like the Steven Harrington Special Edition design. You can also pick this up if you prefer a warm sound signature with a deep emphasis on the bass and if you're not quite sensitive to its design flaws and other miscellaneous shortcomings. 
Availability and Price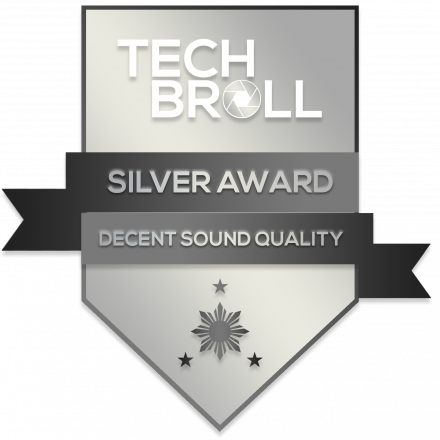 Pros
Affordable
Good design especially for the Steven Harrington Edition
Decent battery life
Decent sound quality with emphasis on the low end and bass
Good fit 
Automatic wear detection
IP55 dust and water-resistant
Cons
Weird orientation of the charging case
Limited app features
No volume control
Unpolished software/UI
No aptX codec
SHARE THIS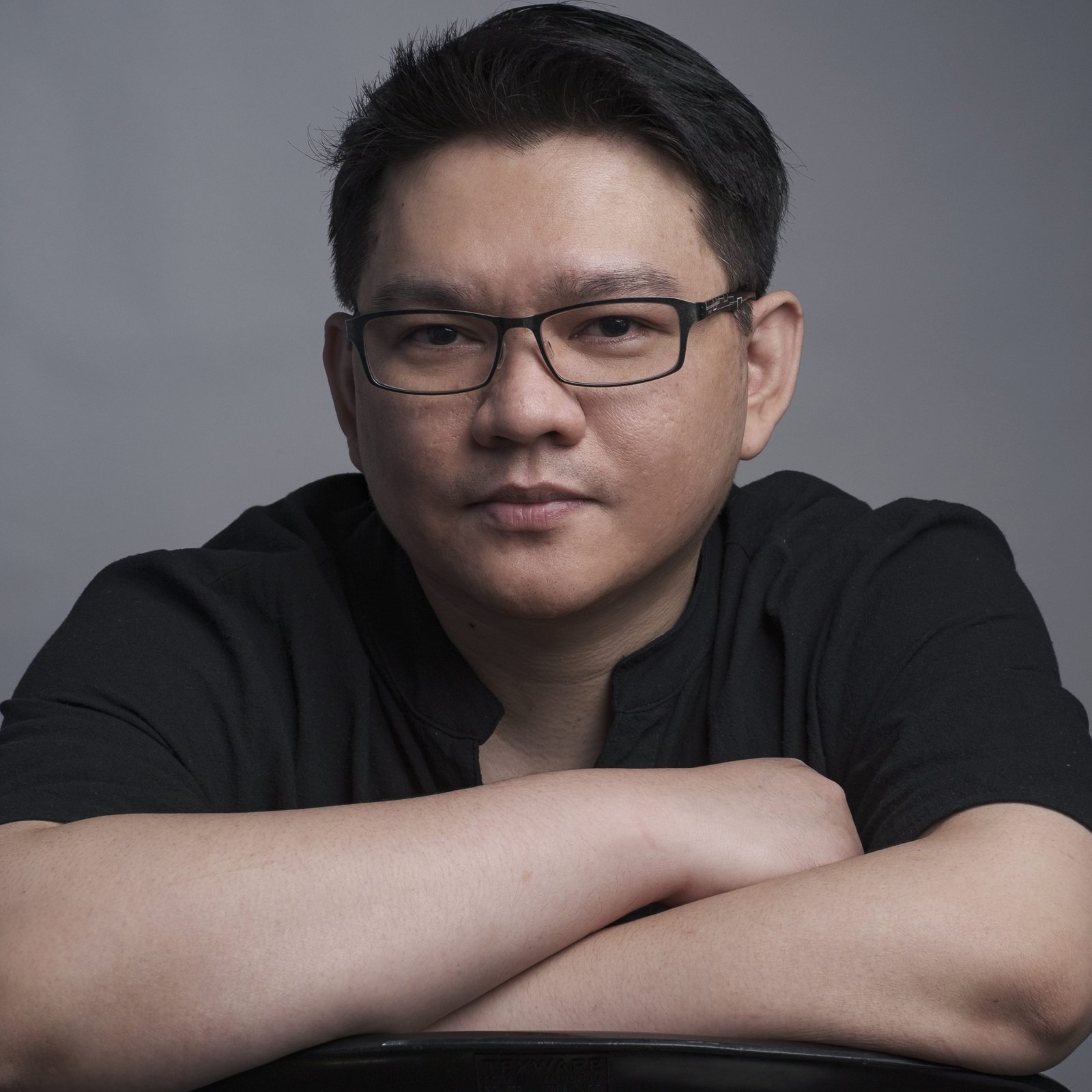 The Broll who always got your back online!