Even though I'm not an audiophile by any stretch of the imagination, I've done quite a few reviews of True Wireless Earbuds from the past based on my personal preference which you can check here. And if you'll ask me which is my favorite and my current daily driver among the bunch? it would be the Tranya M10 for a few reasons tailored to my personal preference and use case scenarios that might be the same as yours.
In fact, I have a few checklists when it comes to True Wireless Earbuds but essentially, I want one that has a pretty good battery life with wireless charging, decent sound quality,  good comfort, and fit and one that can stay inside my ears whenever I sleep with it. The Tranya M10 checks all that. Not to mention, it has one underlooked feature that most of us probably don't realize, and that is a physical button rather than the annoying touch gestures that most often than not, brings accidental activation rather than convenience. 
MY EARLY BREAKDOWN
Pros: Good design and construction, Long battery life with wireless charging case, Good fit and comfort, Great passive noise isolation, Good sound quality with dual EQ, Decent microphone with CVC 8.0 noise cancellation
Cons: Bulky
SPECIFICATIONS
Advanced Qualcomm Chipset
Big-bore 14.2mm Graphene Driver
Dual EQ Setting
Four Dedicated Microphones and cVc 8.0 Noise Cancellation
80-Hour Playtime
Charging Case Supports Wireless Charging
Sync & Mono Mode
WHAT'S IN THE PACKAGE
The packaging for the Tranya M10 is pretty good with a relatively hard box and some image preview and key features around it.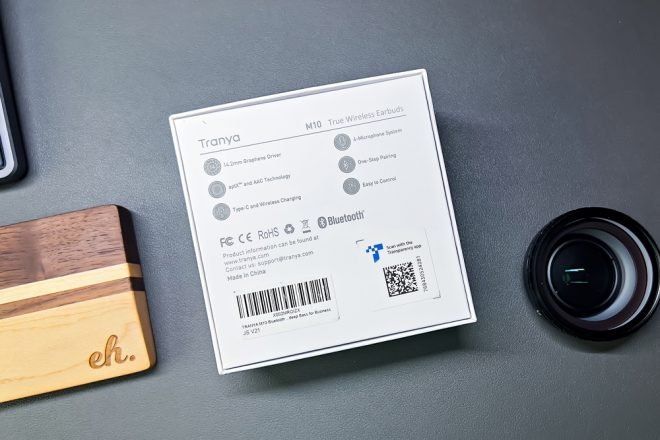 Upon opening the box, the first thing we have is a small envelope that houses some paperwork and a sticker.
Next, we have the Tranya M10 True Wireless Earbuds itself inside the rather large wireless charging case.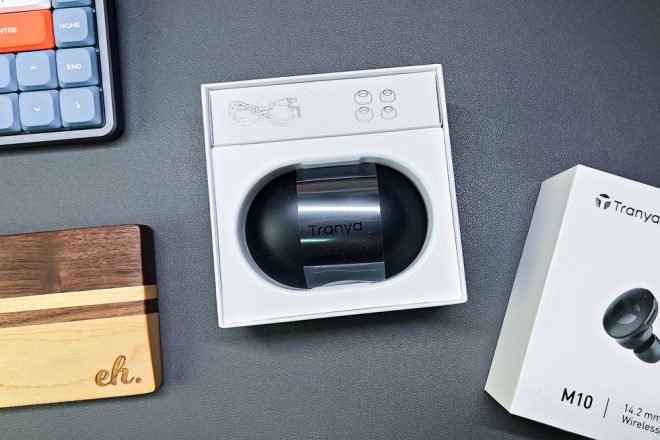 We also have another small accessory box that houses the charging cable and some replacement ear tips.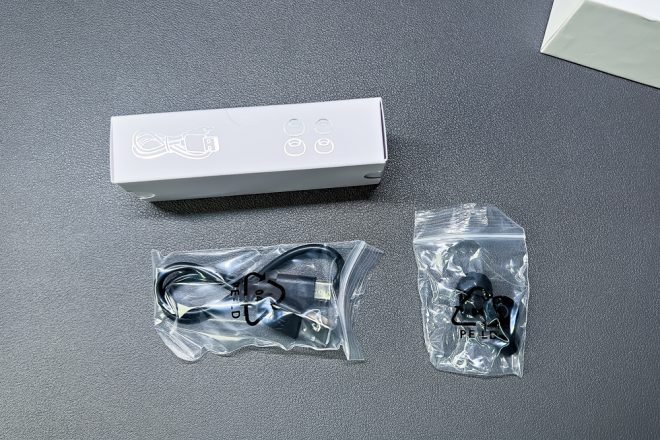 FULL REVIEW
Design, Construction, and Parts Overview
Let's start with the charging case, the charging case looks and feels relatively larger than most True Wireless Earbuds that I've tried before but at least, it provides a very long battery life up to 80hrs give or take. Looking from the top, we just have a subtle Tranya logo.
And on the other side, we have some technical information and certifications. 
Flipping it on the front side, it may look plain and simple but we actually have a few LED indicators here.
Turning it all over to the other side, we have the USB port for charging.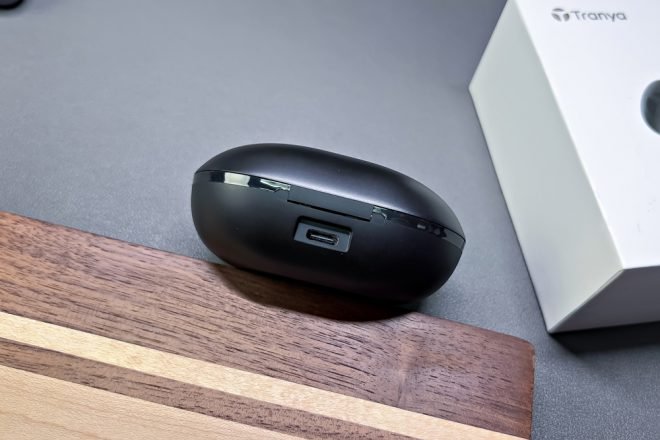 Speaking of charging, this case also supports wireless charging which is one of the things I am personally looking for on True Wireless Earbuds.
Opening the charging case reveals the earbuds themselves with an oblong-shaped form factor.
We also have "Left" and "Right" legends but to be honest, it is fairly easy to place the earbuds back into the case without much fiddling around. 
The orientation and placement are pretty intuitive and like most True Wireless Earbuds, it is magnetic and snaps right into it. I'd still prefer if the charging case is a little bit smaller but given the amazing battery life it can provide, I can live with it.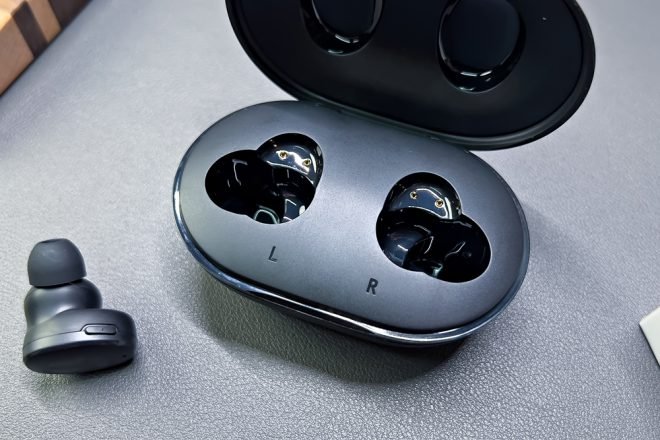 Earbuds Parts Overview, Comfort and Fit
Now, looking into the earbud itself at first look and touch, it is definitely chunky and most definitely will stick out from the side of your ears. However, I still find it relatively comfortable and most importantly, it stays inside my ears the whole time with a good amount of passive sound isolation. 
Looking from the side, we have a relatively large oblong-shaped form factor with a Tranya logo and a couple of microphones. 
One of the things that I am looking for on a pair of True Wireless Earbuds is great comfort and fit and one that can stay inside my ears throughout the night. Music is one major factor that allows me to sleep easier and better with all the stresses and thoughts I have during the night so having an earbud that can stay intact is definitely a plus. 
Looking at this side, as you can tell, the Tranya M10 is definitely chunky, but trust me when I say that it is still relatively comfortable and again, I can wear it throughout the night without feeling any discomfort.
Another good thing here is that you can individually use each earbud. So if you prefer only one earbud to listen to, you can definitely do that. This is essential when using this while sleeping because you can just use one earbud on the side that doesn't hit the pillow. 
It also features a silicone ear tip which greatly helps with passive sound isolation.
Again, comfort and fit is probably the main reason why I chose the Tranya M10 over everything else that I have here in the studio. Yes, you can have the best sound quality, best features, best gestures, and all that, but if it doesn't fit well and a cumbersome to use, then it will just be a pain in the butt every single time. Not to mention, the Tranya M10 can last up to 9 hours more than enough to last the entire night of sleep or most travels and flights. 
\
Physical Button and Controls
Now, most True Wireless Earbuds feature a touch area wherein you can toggle different controls using some kind of touch gesture. However, as per my experience, most often than not, it brings inconvenience when you accidentally touch it whenever you adjust the earbuds, remove them, or even when initially wearing them. 
This is where I appreciate the single physical button on the Tranya M10. You can toggle different adjustments with a combination of presses and hold options which you can precisely do compared to touch gestures. You don't have to worry about accidental activations. 
These are all the different controls you have using the physical buttons:
Play/Pause: Single press
Next/Previous Track: Press and Hold for 2 seconds
Volume Up/Down: Press Twice
Answer/End a call: Single Press
Reject a Call: Press and Hold for 1 second
Normal/Bass Boost mode: Press 5 times
As you can tell, we pretty much have all the controls we need on a single physical button including the options to adjust the volume which some of the True Wireless Earbuds out in the market don't have. 
Pairing, Bluetooth Connectivity, and Latency
Like most modern True Wireless Earbuds nowadays that features Bluetooth 5.0 and above, pairing the Trany M10 to any host device is pretty straightforward, just turn on Bluetooth on both devices, pair it and you're good to go. And for the most part, the connection is quite stable and reliable as long as you have a pretty decent line of sight with just a wall or two in between, otherwise, you'll start to get some drop-offs in connection. 
In terms of latency, when watching videos on a smartphone for both iOS and Android, the delay is almost non-existent. The audio and video are perfectly in-sync. However, when paired on a PC, the delay is quite noticeable.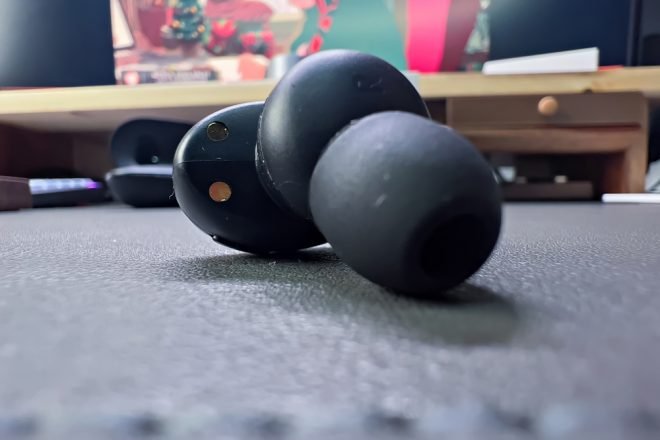 Sound Quality
In terms of audio quality, the first thing that strikes me the most is the soundstage which is wider than most True Wireless Earbuds that I've tried before. There's so much into it that sometimes it doesn't feel like the sound is coming from a couple of tiny earbuds with the benefit of getting the most out of it without the typical heat around your ears that you otherwise will experience on most over the ear headphones. Not only that, but it also features two EQ modes, normal and bass boost mode. The normal mode offers a wider sound stage with brighter mids and highs for a more energetic listening experience while the bass boost mode offers a tighter sound signature with emphasis on the low end. That's definitely a plus depending on your current mood and the genre of music you want to listen to at any particular moment. The Tranya M10 definitely isn't lacking when it comes to the sound quality department making it a very easy recommendation to anyone.
The microphone quality is pretty good as well thanks to the CVC 8.0 Environmental Noise Cancellation feature, definitely substantial for voice communication.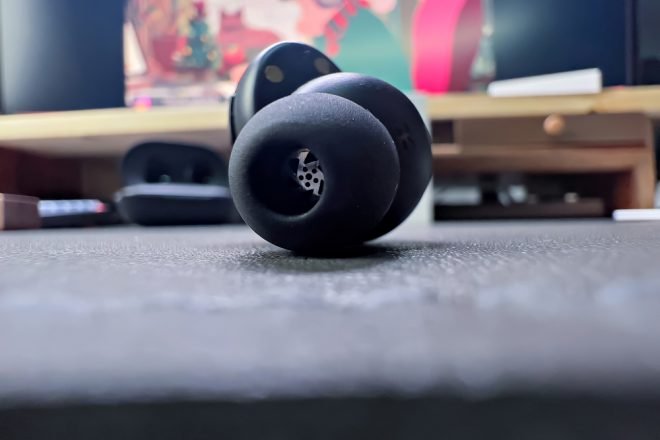 Battery Life
Battery life is probably the icing on the cake for this feature-packed outstanding True Wireless Earbuds. As per my testing, it consistently lasts at least 9 hours of continuous music playback which is absolutely awesome. I mean, translate that into a couple of hours per day and it's safe to say that it could last you almost a week on a single charge. Not to mention that you can further extend that up to 80 hrs give or take with the wireless charging case. Charging the case via a wired USB Type C cable only took about an hour. 
VERDICT
To conclude, as I've pointed out earlier, this is my current daily driver so it's easy for me to recommend this. It checks all my boxes from the design, build construction, physical controls down to the comfort, fit, sound quality, and battery life. Everything it has to offer perfectly matches my personal preference and use case scenarios. If you can get past the bulky charging case and chunky form factor of the earbuds themselves, this is a very good option. It offers good comfort and fit with pretty good passive sound isolation, physical buttons for precise controls, good sound quality with dual-EQ, and long battery life that can easily last you the whole day and more. Not to mention, wireless charging to boot. 
The Tranya M10 is available in Digital Walker's Official Lazada Store for around Php 2950.
Related Article:
Edifier W600BT Bluetooth Headphones Review
Limited Edition Joyroom JR-T04S Pro True Wireless Stereo Headphones Review
OnePlus Buds Z Review – Steven Harrington Special Edition!
Marshall Major IV Now Available at Digital Walker and Beyond the Box
OnePlus Buds Z in white and limited edition Steven Harrington NOW AVAILABLE at HomeOffice.PH!
Marshall Uxbridge Voice Review – A Voice Assistant That Actually Sounds Great!
realme Buds Air Pro Review – Active Noise Cancellation!
SoundPeats TrueCapsule Review
Tronsmart Onyx Ace True Wireless Earbuds Review – Quad microphone!
SoundPeats TrueDot True Wireless Earbuds Review
ASUS ROG Strix Go 2.4 Review and AI Noise Cancellation Test
Cooler Master MH630 VS MH650 Comparison and Review
Edifier R1280DB Unboxing, Quick Review, and Sound Test

Subscribe for more reviews like this!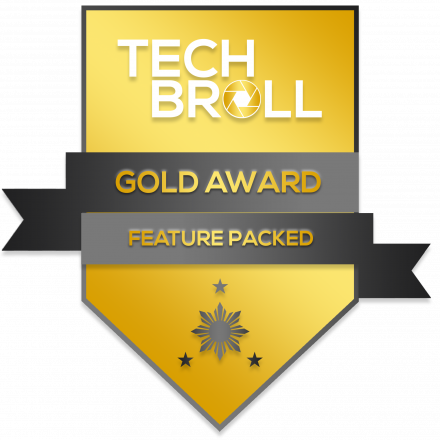 Tranya M10 True Wireless Earbuds
Php 2950
Pros
Good design and construction
Long battery life with wireless charging case
Good fit and comfort
Great passive noise isolation
Good sound quality with dual EQ
Decent microphone with CVC 8.0 noise cancellation
SHARE THIS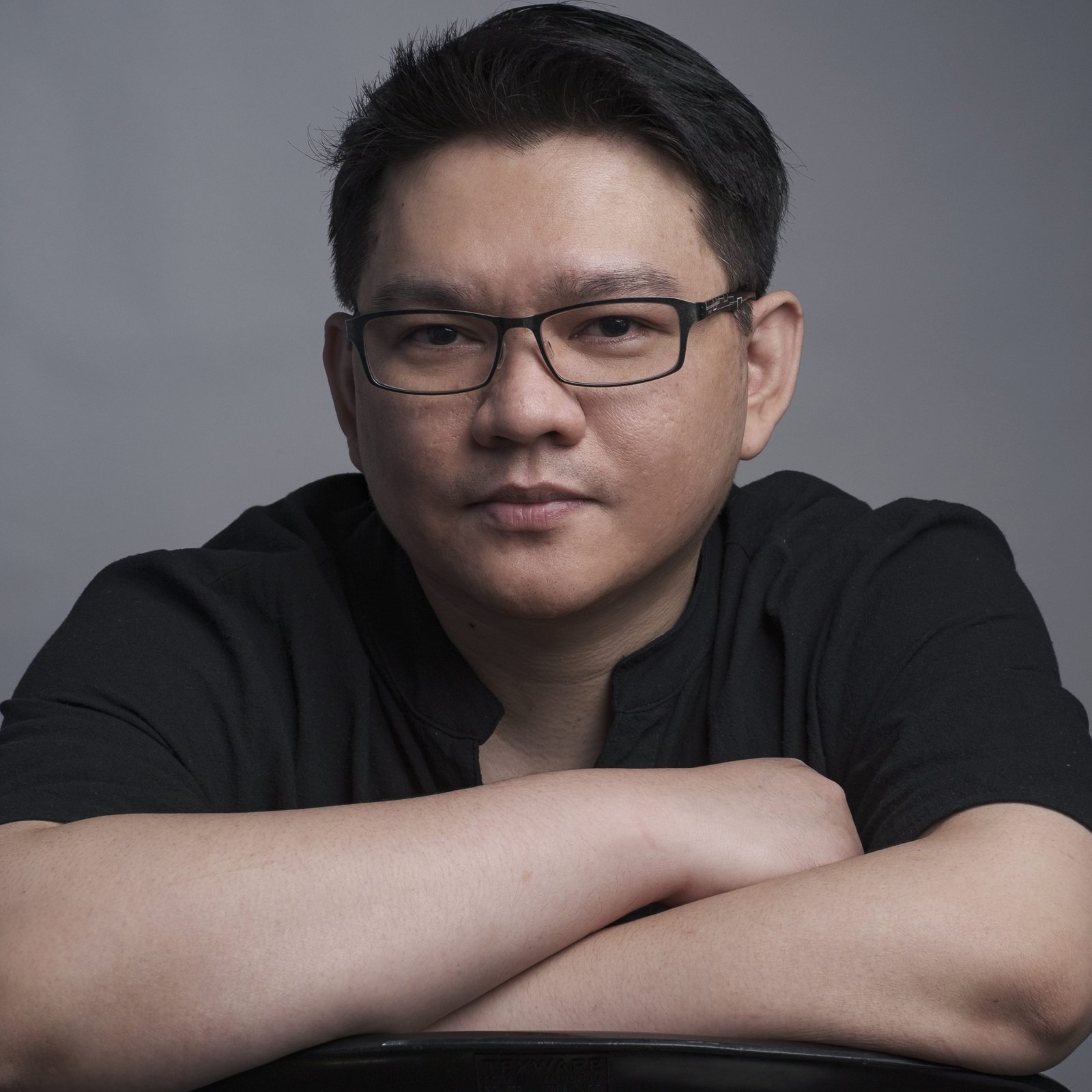 The Broll who always got your back online!