With the vast availability and increasing popularity of portable storage devices, most importantly those blazing fast external SSDs, sometimes it's hard to pick what's the best solution for one's particular needs and use case scenario. Some people need a ton of space to store their Steam library for fast load times and portable gaming, some needs just enough space for quick transferring of files, while others prefer a faster drive for productivity like myself as a content creator.
But with the advancement in technology, most of the latest portable SSDs out there are quite decent and will most likely suffice any type of application, so it will just boil down to personal preference in terms of price, design, and features, as most often than not with the limitation of SATA interface, these portable SSDs will perform just about the same.
With that said, today, we are taking a look at the Transcend ESD240C Portable SSD, an SSD that is super compact and stylish with its very sleek design. But, can it actually perform? Let's find out!
MY EARLY BREAKDOWN
Pros: Slim and compact, Polished design
Cons: Gets pretty hot
SPECIFICATIONS
WHAT'S IN THE PACKAGE
Transcend ESD240C, USB Type A to A cable, USB Type A to C cable, and some Paperwork
FULL REVIEW
Design and Construction
Design and construction are one of the strong points of the Transcend ESD240C, It is made of an aluminum body with chamfered edges partnered with the silver color that ultimately makes up the overall polished design.
Since it is aluminum, it is cold to the touch. However, once you start using it, it gets pretty hot. Using an infrared thermometer, it gets hot up to 41 degrees. You can still touch it without burning your hands but its something you have to take in mind.
In front, we have the Transcend logo.
And on its front side, we have the USB Type C port and a small LED status indicator.
And lastly, here's a look at the back side.
Now, let's go straight ahead to our performance testing.
Performance and Benchmarks
AS SSD Benchmark 2.0
As per my testing with AS SSD Benchmark 2.0, a benchmarking tool specifically made for SSDs and tests an SSD without using the system cache, the Transcend ESD240C performed close around its rated speeds.
We can also clearly see here the difference in speed with the USB 3.1 Gen 1 and Gen 2. Both Type A and Type C Gen 2 performed almost identical as expected.
Now, before we head into the actual real-world tests, here are more synthetic benchmarks just so you can have an idea about the performance of the Transcend ESD240C.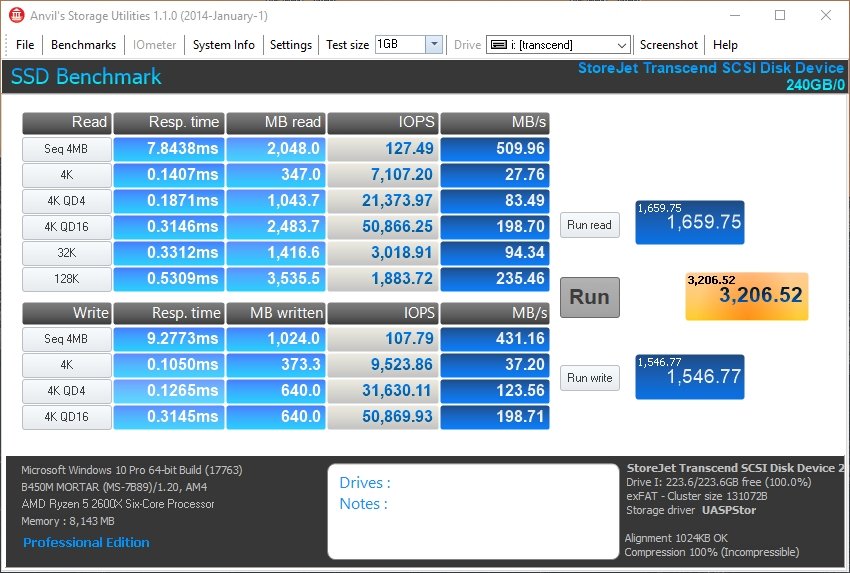 USB Type C 3.1 Gen 2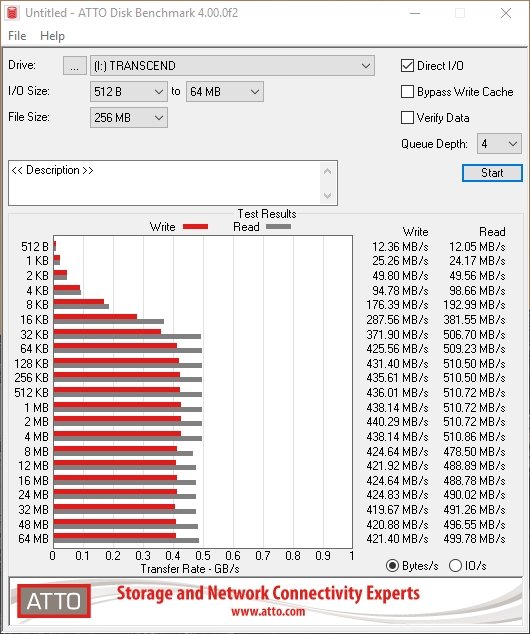 USB Type C 3.1 Gen 2
DiskBench
Now, to test the real world performance of the Transcend ESD240C, I used the tool called disk bench, which simulates a real-world file transfer and accurately record the number of files copied, the total size, the time to finish the transfer and the transfer rate throughout the process.
When transferring files from my Kingston UV500 SSD to the Transcend ESD240C which technically is a write operation, we've got an average transfer speed of around 337 MB/s.
VERDICT
To conclude, the performance of the Transcend ESD240C is decent, it performed well around it's rated speed and is a very good option for professionals who are always working on-the-go. Having a very small and fast portable storage device is a life saver in some situations when you need to transfer files or edit videos on-the-spot. Overall, the performance is pretty decent for an SSD, but I just don't like the fact that it gets pretty hot during operation, and that might pose as an issue when being used in some clutch situations.