Yesterday, I shared with you my review of the ASUS ROG Strix Impact II Gaming Mouse and the ASUS ROG Strix Slice Gaming Mousepad and between those two, I particularly like the ASUS ROG Strix Impact II for being affordable while having the same build quality and features that you might expect from any ASUS ROG Peripherals. Today, we're taking a look at its perfect partner, a mechanical keyboard in the form of the ASUS ROG Strix Scope TKL Deluxe. A mechanical keyboard that speaks volumes when it comes to build quality, aesthetics, features, and performance.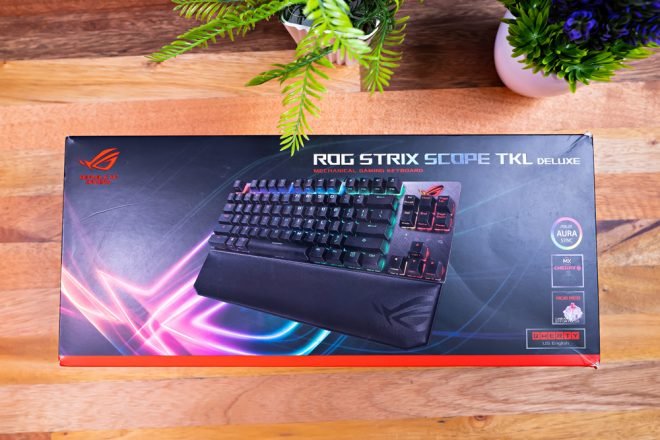 MY EARLY BREAKDOWN


Pros: Good build quality with aluminum top-plate, Aesthetically pleasing, Comfortable with soft magnetic wrist rest, Decent Cherry MX switch options, Feature-packed and overall good performer backed with a quite useful software
Cons: Non-standard layout, Non-hot swappable switches, Finicky stabilizers, Relatively expensive
SPECIFICATIONS


Connectivity Technology: Wired, USB 2.0
OS Support: Windows® 10 / Windows® 10 64-bit
Dimensions: 356 x 136 x 40 mm (keyboard) / 356 x 75 x 21 mm (wrist rest)
Weight: 860g with cable / 811g Keyboard only / 170g Wrist rest only
Color:  Black, Gray
Interface available: USB
Switches: Cherry MX
Construction: Aluminum Top-plate with hard plastic housing
Features: Stealth mode, FN switch, Aura Sync, Large left ctrl key, Per-key RGB lighting, On-the-fly macro
Anti-Ghosting: N-Key rollover
Polling Rate: 1000 Hz
WHAT'S IN THE PACKAGE


Like the ASUS ROG Strix Impact II and the ASUS ROG Strix Slice, the packaging for the ASUS ROG Strix Scope TKL Deluxe is pretty much the same in terms of design. We have the massive ROG Eye logo at the lower-left corner with a preview of the keyboard at the center, model name on the top right, and key features on the lower right corner.
On this side, we just have a ROG Eye logo,
And on the other side, we have some descriptions written in various languages and we also have here the technical details like the actual model name, part, and serial numbers.
At the back, we have another preview of the ASUS ROG Strix Scope TKL Deluxe with an illustration of all of its key features and specifications.
Now, it is actually a side-slide type design, and removing the main cover reveals another box with a ROG Eye logo at the center.
Upon opening the box, we're greeted by the ASUS ROG Strix Scope TKL Deluxe itself nicely protected by a non-woven fabric bag.
Removing the keyboard reveals the rest of the package contents.
First, we have a nice and soft wrist rest with of course, yet another ROG eye logo.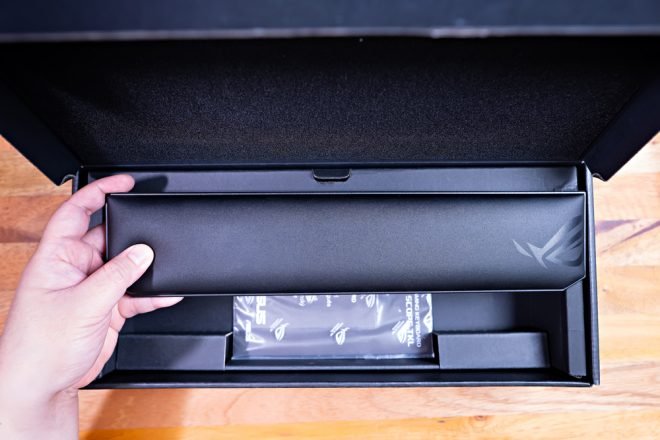 We also have a couple of paperwork, we have a warranty card and the user manual.
And lastly, inside the box, we have the detachable braided USB Type C cable with an ASUS ROG branded velcro strap. The plugs are also gold plated. Overall, as you can tell, the packaging is really premium and something that we all gotta expect from ASUS ROG.
FULL REVIEW
Design, Construction, and Parts Overview


The design of the ASUS ROG Strix Scope TKL Deluxe at least in my opinion is a mix of both being minimalistic while maintaining the gamery aesthetic the ASUS ROG brand is known for. It still has those design elements that give you an idea that it is targeted towards gamers while also being subtle with a simple Ten-Key-Less form factor, a ROG eye logo, LED indicators, and the same gamery fonts. Other than that, there's not much to it at least on the surface. It doesn't have a fancy customizable badge, volume wheel, dedicated media keys, and stuff like that. 
In terms of construction, the ASUS ROG Strix Scope TKL Deluxe features a robust aluminum top-plate partnered with a hard plastic bottom housing that allows the keyboard to have that rigidity with no flex at all. The top aluminum housing spans across the front side of the keyboard with a Republic of Gamers logo on the left side.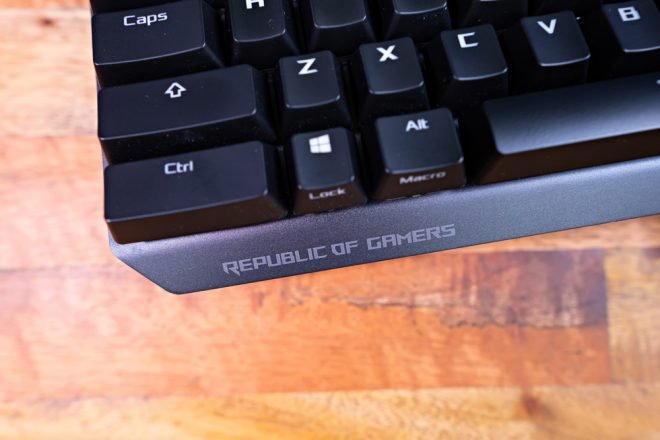 We also have a ROG Eye logo on the upper right corner which actually illuminates once the keyboard is plugged in.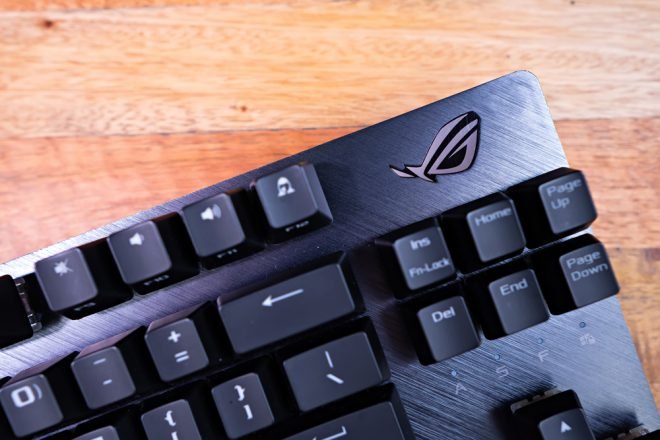 The top plate has this combination of smooth and brushed aluminum finish that adds to the overall aesthetics.
And since the top right corner is occupied by the ROG Eye logo, the LED indicators, and its legends are moved above the arrow keys.
In terms of fonts, it features the usual gamery ROG typeface that we're used to and even though I am not personally a fan of it as I prefer a cleaner look, I understand this design decision making it coherent to the rest of that ROG Aesthetics that we are all familiar.
On the good side, instead of cramping up the secondary function legends of the keys on top, they decided to put it on the side which I think is a good decision allowing for a better and cleaner look.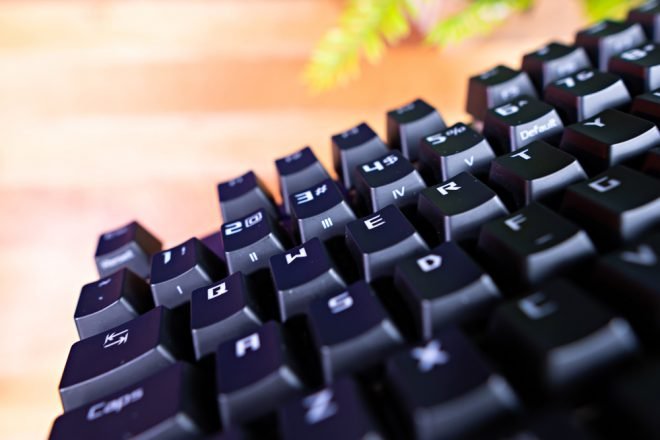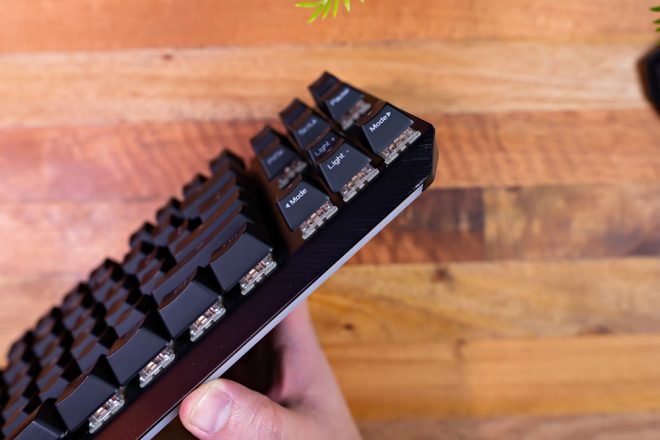 Now, flipping it on the front side, we can see here the translucent white lining that also illuminates alongside the ROG Eye and the keyboard keys. 
Looking at its side, we can see here that this keyboard features a floating keys design, which means half of the switches are visible. You can also see here the fusion of the aluminum top plate and the hard plastic bottom housing. The keycaps profile is OEM.
Turning it all over at the backside, we can see here the USB Type C port located at the center and substantially recessed towards the inside.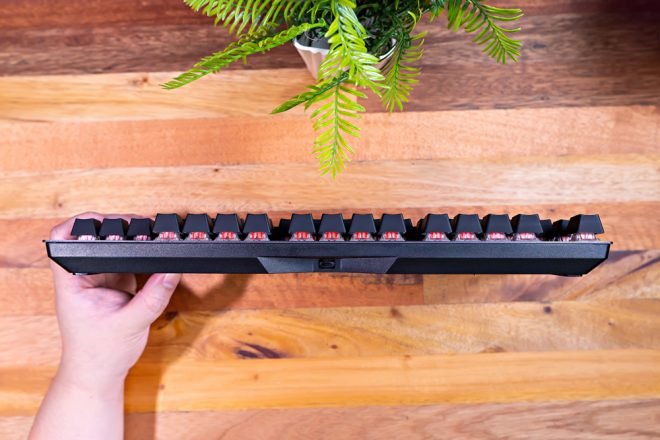 This I guess allows for a cleaner look since the plug won't be visible.
Now, looking at the bottom, unlike the other side, this has more polygonal design with this massive diagonal pattern and of course, another ROG Eye logo.
We also have two adjustable stands with both having a rubber tip for a total of 7 rubber feet to make this thing stay in place.
Lastly, here at the bottom, we have the technical details which include the model name, serial and part numbers, and some certifications.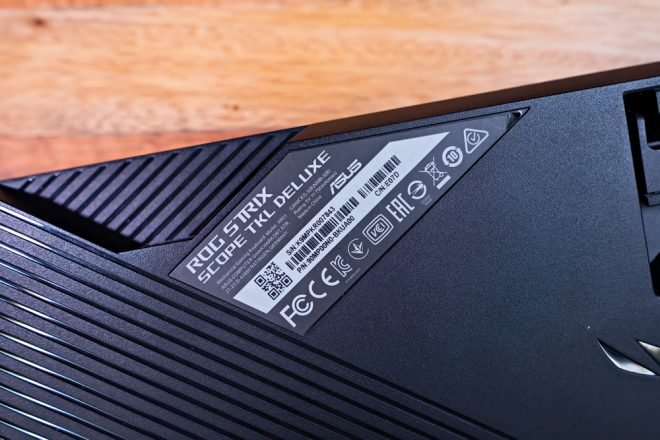 Detachable Wrist Rest


The deluxe edition of the ASUS ROG Strix Scope TKL comes with a detachable magnetic wrist rest with a nice and soft cushion. And well, of course, we gotta have another ROG Eye logo.
At the back of it, we have 5 rubber feet to make this thing stay put and we also have another Rebuplic of Gamers logo at the center.
Layout and Unique Features


Going back in front, like I said, it features a compact Ten-Key-Less layout with dedicated nav cluster keys, arrow keys and the function rows up top. However, the layout if you haven't noticed yet, is not standard. The left control is larger to make way for better accuracy for crouching while gaming but consequently made the windows key and spacebar shorter that ultimately makes keycap customization a nightmare.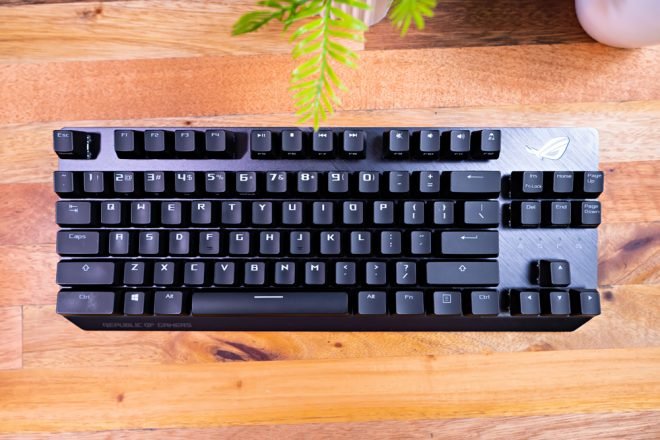 On the other hand, the ASUS ROG Strix Scope TKL has a couple of nifty features that are otherwise not available on any other mechanical keyboard. I'm talking about the Stealth Mode which in a press of a key combination (FN + F12) will simultaneously and instantly hide all apps and mutes all audio for privacy. The other feature is the Quick-Toggle switch allowing you to quickly choose what layer will be activated between the function rows and their secondary media key functions.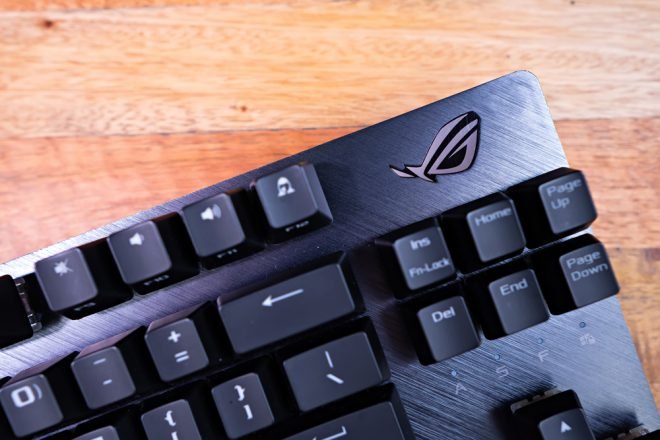 Keycaps, Switches, and Stabilizers


In terms of the keycaps, aside from it being non-standard, it is also quite thin and made of a single shot ABS plastic with UV coated finish and laser-etched fonts.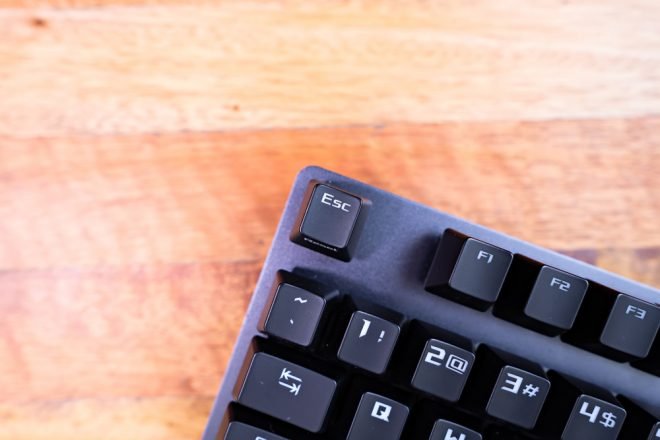 This essentially means that the keycaps will eventually shine and the legends will fade away over time. To be honest, at this price point, we should be expecting at least a doubleshot PBT keycaps.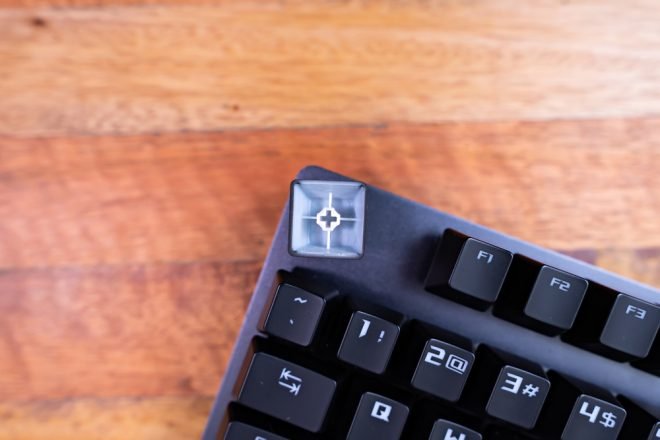 In terms of the switch options, the ASUS ROG Strix Scope TKL Deluxe is available in Cherry MX Red, Brown, Blue, Speed silver, and Silent red. What we have here is the Cherry MX Red variant. Cherry MX is a german made brand and is popular for being one of the pioneers of mechanical keyboard switches. They are known to be durable and reliable but not the best when it comes to feel specifically in terms of smoothness in comparison with tons of different switch brands out in the market right now from both the mainstream market and the enthusiasts. 
As for the Cherry MX Red, they are pretty decent and lightweight with an actuation force required of 45g and 2mm activation distance for a total of 4mm travel distance. The red switch is good for precise typers and for those who want the easiest switch to actuate. If you want tactile feedback, go for brown, and if you want to have a click to go along with that, go for Blue. Now, if you want the best switch for FPS games, choose Speed silver and if you want the quietest switch, go for Silent red.
In terms of the stabilizers, this keyboard uses a hook type stabilizer that I've also seen from other brands.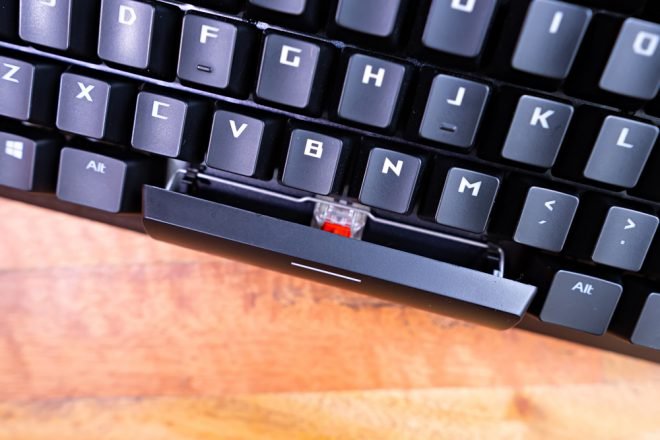 It does have some high pitched rattle to it when you tap on the sides and removing and putting them back is a pain in the butt.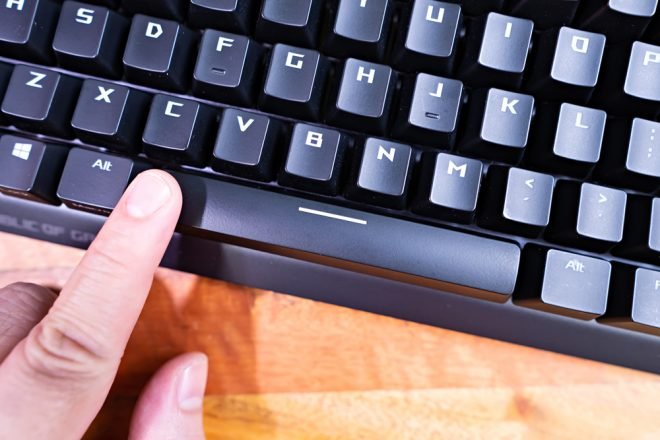 I hope they decide to use cherry mx style stabilizers instead in the future and probably consider ditching the large left control key and just go with a standard layout.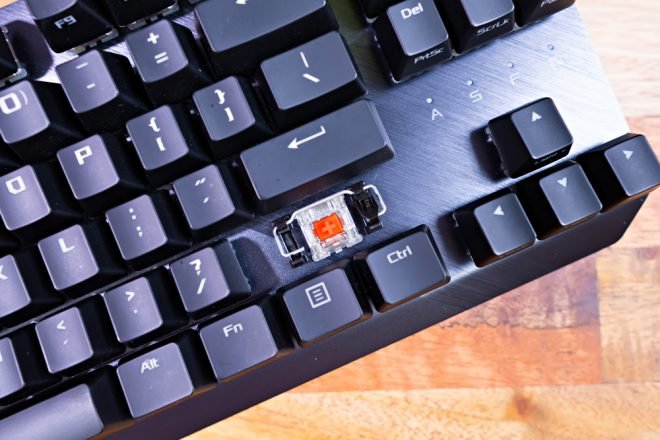 RGB Lighting and Aura Sync


In terms of the RGB lighting, the ASUS ROG Strix Scope TKL Deluxe features per-key RGB lighting which means each key has it's own dedicated LED and is highly customizable using both the onboard settings and via the software. The LEDs on this keyboard are SMD LEDs or surface mounted LEDs and are shining through the transparent housing of the switches.
And since the LEDs are true RGB LEDs, they are capable of producing up to 16.8m colors and the transition between them is quite smooth.
Here's how bright the illumination is on a fairly dim environment like this. Unfortunately, the front side illumination is blocked when you use the detachable wrist rest.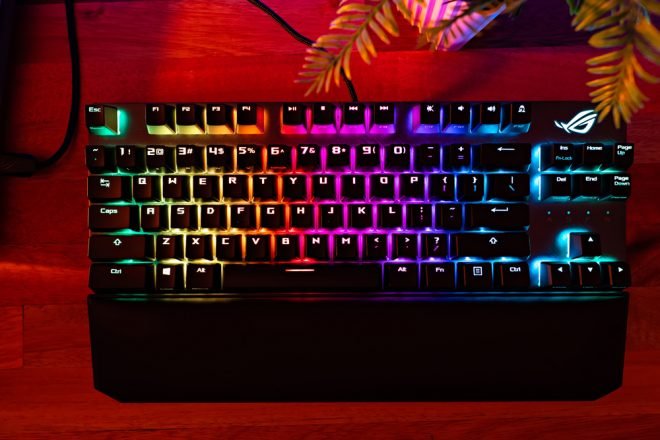 NKRO or N-Key Rollover Feature


As for the NKRO feature or the feature that allows you to press multiple keys at the same time, this keyboard has full N-key rollover. And as per my testing, I can press as many keys that I can at the same time without any conflicts. This essentially means that you can type as fast as you can without missing any key.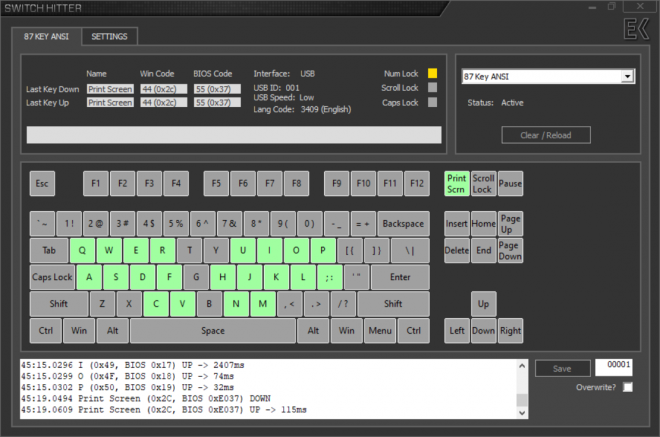 Typing and Gaming Experience


In terms of the typing experience, even with the non-standard layout, typing with this keyboard with Chery MX Red is pretty good. I just have to make sure that my typing is accurate or else, I'd easily make mistakes due to the quite lightweight actuation force of these red switches. My only real gripe with the typing experience with this keyboard is the high-pitched rattle of the spacebar and modifiers.   
As for the gaming experience, it is less of an issue since the feel and the sound signature doesn't really matter when you're focused on gaming and you're on a headset. The Cherry MX red is also good for gaming since there's little to no hindrance when pressing the keys. The larger left control is also quite useful for FPS games but I still don't think it is really that necessary in relation to its drawbacks.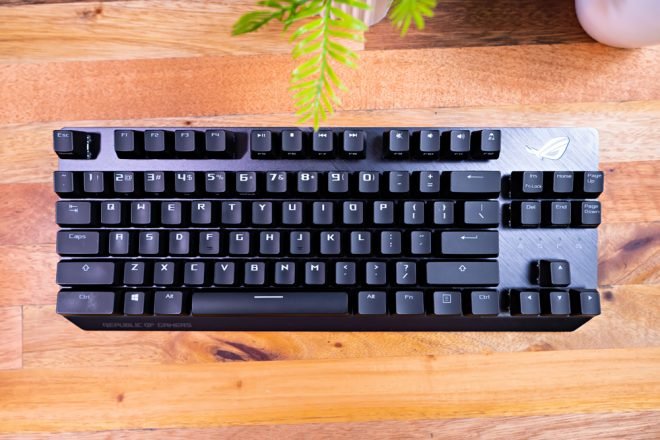 Armoury Create Software


The ASUS ROG Strix Scope TKL Deluxe is fully supported by the ASUS Armoury Crate which is their sort of all in one software hub for configuring your ASUS peripherals and devices to take advantage of what they can offer.
Inside the software, you can change each keys function to a different one like preset input text, a different keyboard function, mouse function, macro, you can also set a key to launch a particular application, open a website, use it as a multimedia key, for window shortcut and you can also opt to disable the key entirely.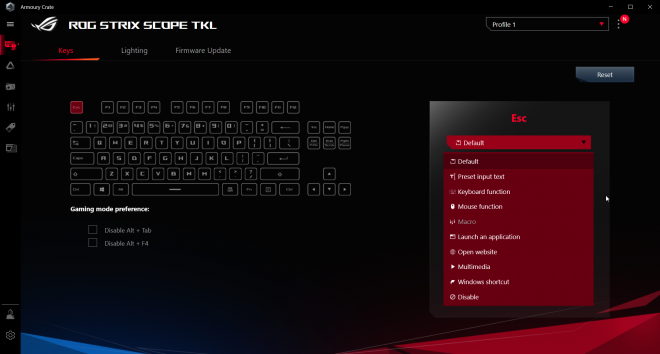 We also have the lighting tab wherein you can customize the lighting effects using the available presets or use the AURA creator for advanced customization.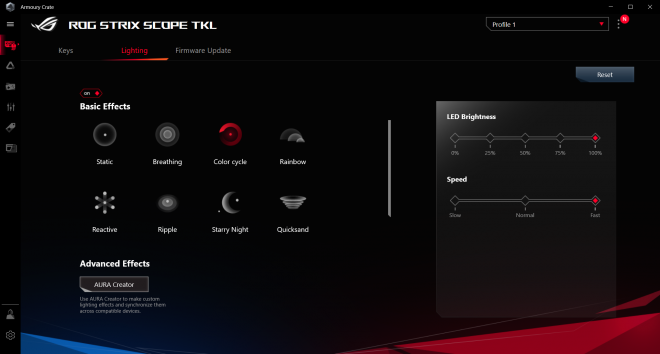 And lastly, we have the firmware update tab wherein, of course, you can update the device's firmware. With this software, you can save up to 5 different profiles.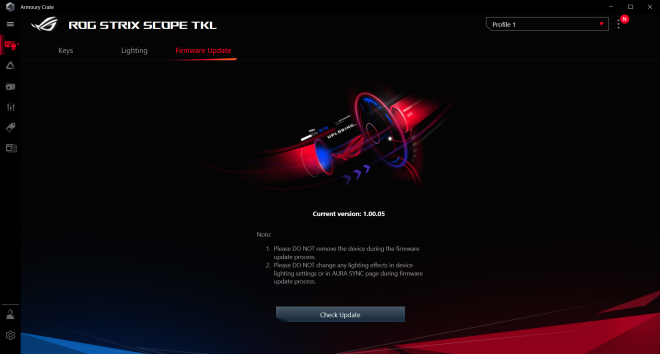 VERDICT


To conclude, the ASUS ROG Strix Scope TKL Deluxe has everything you need to set yourself up for a good gaming experience with good build quality, reliable Cherry MX switches, Comfortable and detachable soft cushion wrist rest, a couple of unique features here and there in a relatively compact ten-key-less form factor. It also has all the design elements that you would expect from an ASUS ROG Peripheral from the packaging down to the software.  However, for its price, I was expecting better features like hot-swappable board and PBT keycaps out of the box. I also appreciate the design decision to make the left control key larger for better accuracy for gaming but I would rather have a standard layout so that I can easily replace the keycaps. Other than that, if you like the ASUS ROG aesthetics especially if you're a fan of the brand, the ASUS ROG Strix Scope TKL Deluxe is a pretty decent pickup.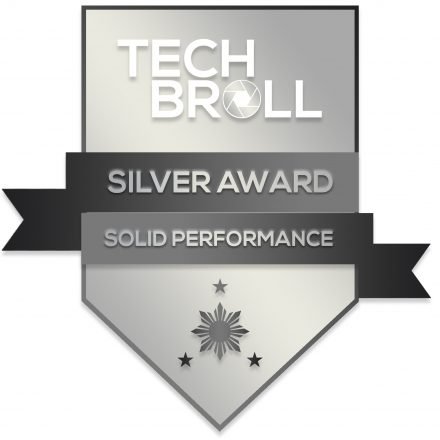 ASUS ROG Strix Scope TKL Deluxe
Php 6,695
Pros
Good build quality with aluminum top-plate
Aesthetically pleasing
omfortable with soft magnetic wrist rest
Decent Cherry MX switch options
Feature-packed and overall good performer backed with a quite useful software
Cons
Non-standard layout
Non-hot swappable switches
Finicky stabilizers
Relatively expensive
SHARE THIS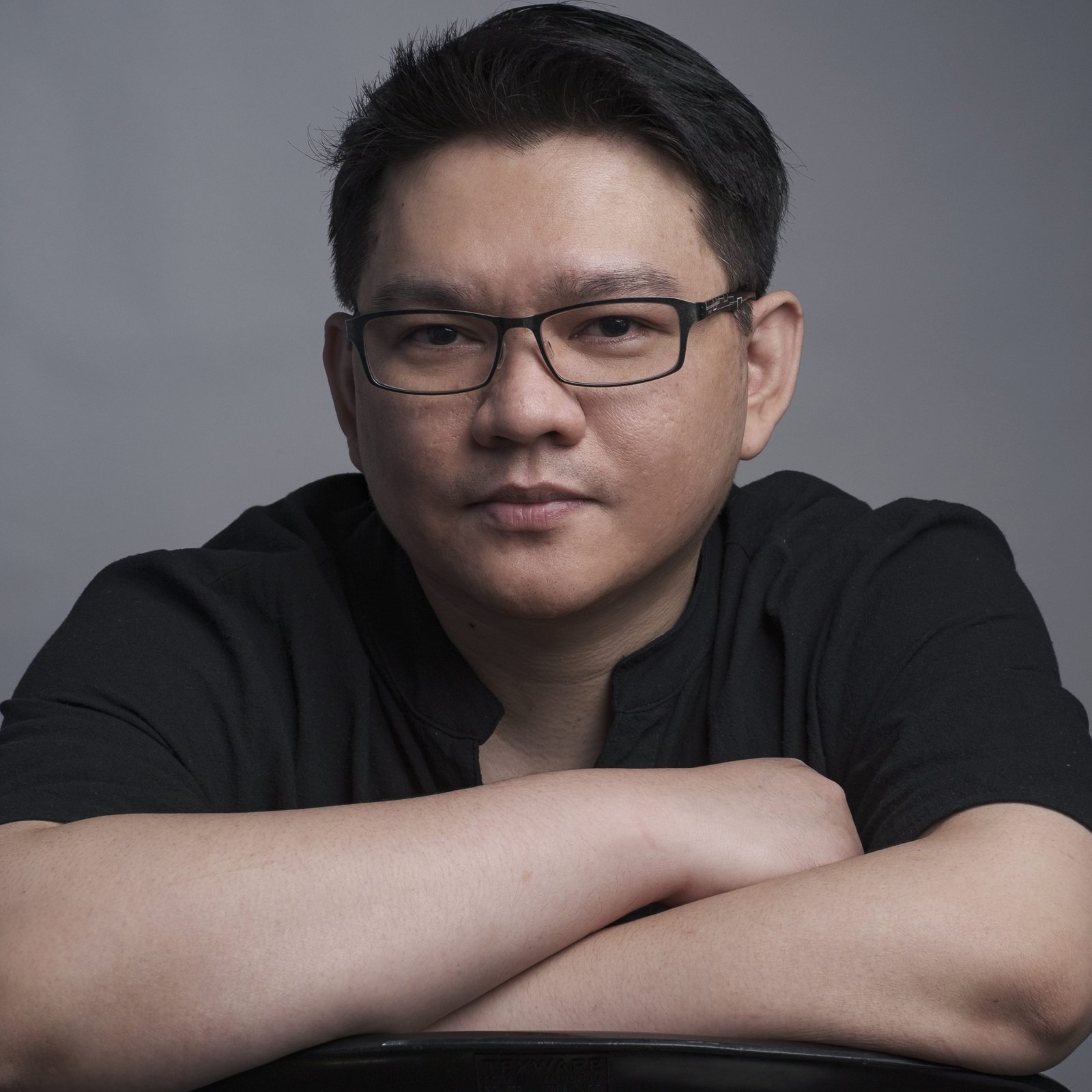 The Broll who always got your back online!