Today, we're going to do an unboxing and review of the Fantech K613 and K613L which are the upgraded version of the Fantech K611 that I previously reviewed. These are one of the better mecha-membrane or mechanical feel keyboard that I've tried with decent build quality, substantial illumination and certainly capable for casual gaming making it suitable for budget iCafes and personal desk setup. 

MY EARLY BREAKDOWN


Pros: Decent build quality for the price, Upgraded lightweight aluminum backplate with adjustable stands, Good overall value
Cons: Hit or miss anti-ghosting feature, Inconsistent feel on the modifiers, Limited illumination effects
SPECIFICATIONS


Fantech K613 Fighter II TKL


Type: Membrane Gaming Keyboard
LED: Rainbow Color Combination
Backlit Mode: 3 Color Combination Mode
Working Voltage: DC 4.2 – 5.5V
Total keys: 87 keys
Anti-ghosting: 19 Keys Anti-Ghosting
Lifespan: 8 Million Keystroke Lifetime
Size: 352 x 130 x 40mm
Cable Length: 1.55m Nylon-Copper Cable
Supported OS: Windows Vista, Windows 7/8/10, Mac OS X 10.5 or later, Linux, Chrome OS
Fantech K613L Fighter II Full Size


Type: Membrane Gaming Keyboard
LED: Rainbow Color Combination
Backlit Mode: 3 Color Combination Mode
Working Voltage: DC 4.2 – 5.5V
Total keys: 104 keys
Anti-ghosting: 19 Keys Anti-Ghosting
Keystroke: 8 Million Keystroke Lifetime
Size: 433 x 130 x 40mm
Cable Length: 1.55m Nylon-Copper Cable
Supported OS: Windows Vista, Windows 7/8/10, Mac OS X 10.5 or later, Linux, Chrome OS
WHAT'S IN THE PACKAGE


The packaging for both the Fantech K613 and the K613L are pretty straightforward with a preview of the product in front, model name, logos and some key features.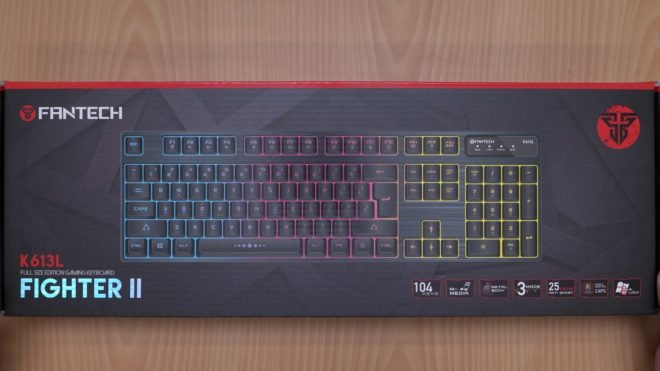 And on this side, we just have the model name branding here,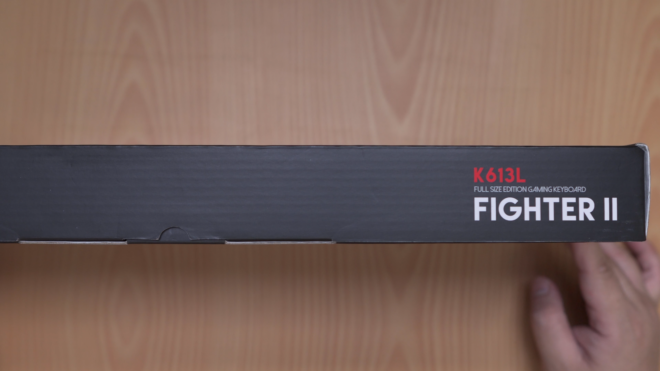 And then at the back of the box, we have more information about its key features and specifications that we're going to tackle in-depth later.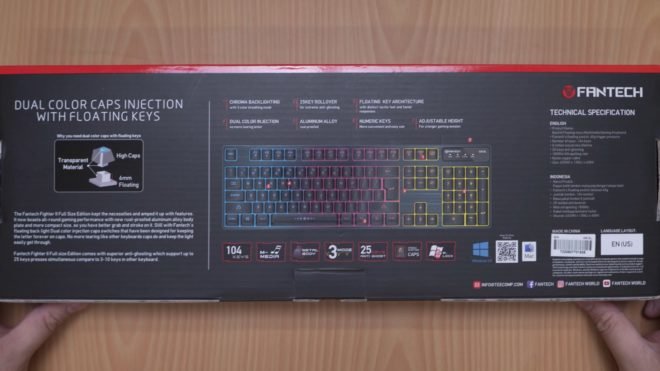 So let's see what comes in the package.
The first thing you'll see upon opening the box is the keyboard itself nicely protected by the usual foam sleeve.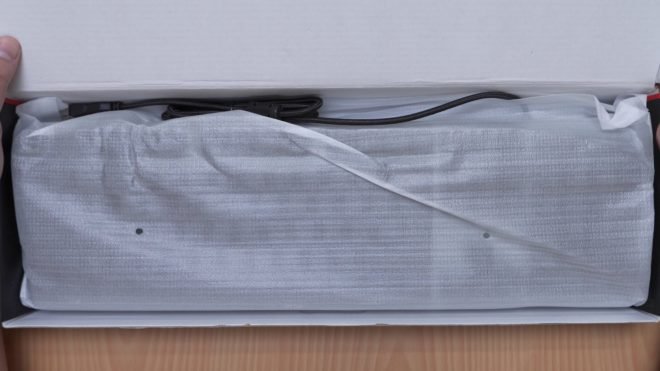 The cable is unfortunately non-removable but that's to be expected for budget keyboards especially membrane ones. 
And lastly, inside the box, we also have here the user manual for both the K613 and the full-sized K613L gaming keyboard.
FULL REVIEW
Design, Construction and Parts Overview


Alright, so let's take a look at the full-sized version first, as you can see since it is a full-sized keyboard, you have all the necessary keys like dedicated numpad, nav cluster, arrow keys and the function rows up top.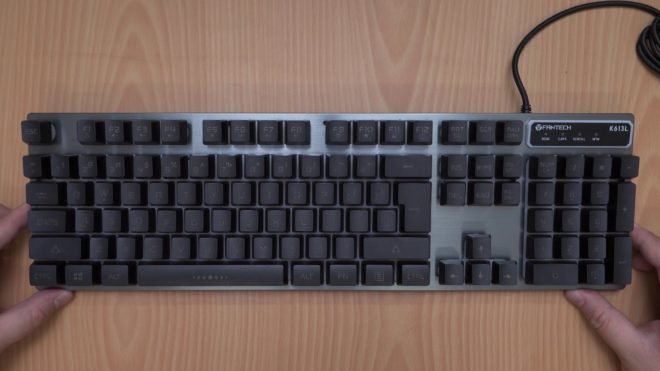 Now, the main difference of this new version compared to the previous Fantech K611 is the backplate, it is now using lightweight aluminum compared to the heavy metal backplate of the previous version.
Up here on the right side, we have the LED indicators as well as the Fantech logo and model name.
Flipping it on its front side as you can see this keyboard is quite thin which is awesome and like I said, it is now using a very light aluminum backplate.
On its side, we can see the thick part of the bottom housing which makes the keyboard a little bit angled for that ergonomic design.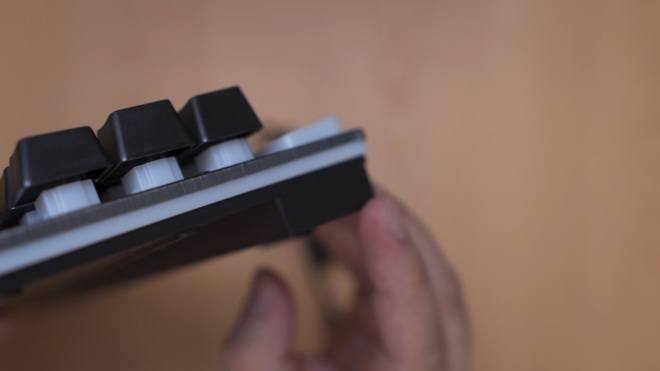 And then aside from that, at the back of the keyboard, we also have 2 additional flip-out stands that are not present on the previous K611 version.
So basically, you have 2 levels of height adjustment for this keyboard which in my opinion, is a well thought off design decision. We also have 4 rubber feet, the usual certification sticker at the center, and the non-detachable braided cable.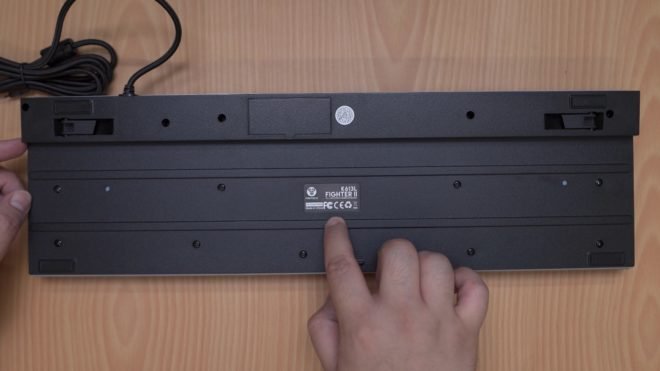 Now, let's take a look at the ten-key-less version which is pretty much the same just more compact in terms of its size.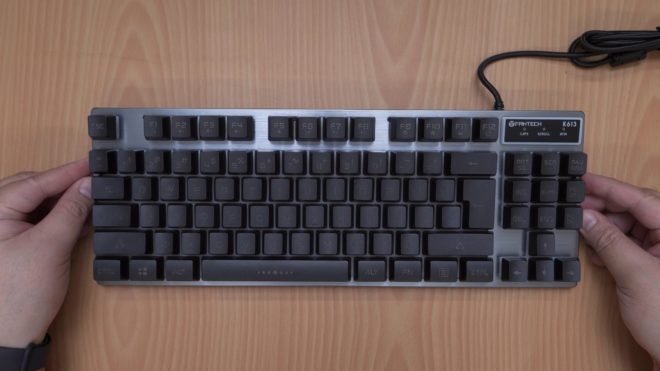 We obviously don't have the numpad, but we still have all the other necessary keys for both productivity and gaming. We also have the same design up top here on the right side,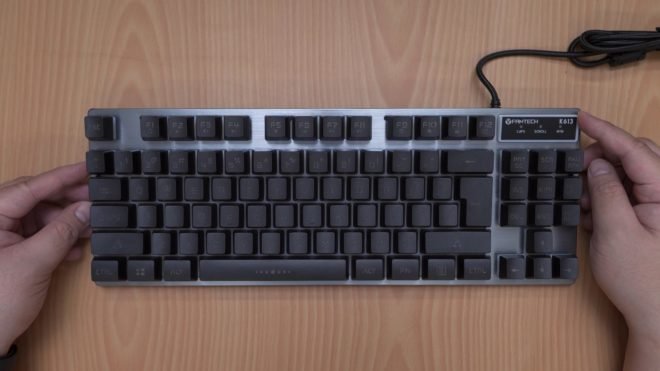 And the same new lightweight aluminum backplate.
One notable difference though and I don't know if you've noticed it already, but there's no space in between the nav cluster and the arrow keys because of the LED indicators up top.
Aside from that, they are essentially the same.
Build Quality


In terms of build quality, since it's made of lightweight materials it does flex a bit, but I am not surprised by that given the fact that this is a budget keyboard. The good thing is that it is super lightweight at only around 550g for this TKL version and 660g for the full-sized version. Like I said this TKL version has exactly the same design as the full-sized version only much more compact.
Layout


In terms of the layout it is using the ISO layout with the large enter key but with standard left shift key. I don't think that would matter much in terms of customization since you can not just simply replace the keycaps on this keyboard anyway.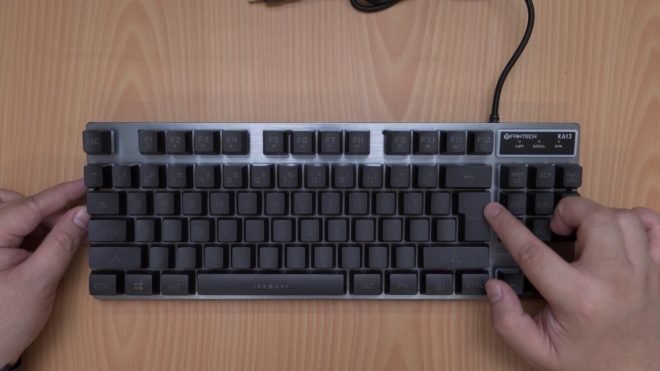 Fonts


The fonts are almost the same as the old version with this gamery type of font face. The quality of the painting and etching of the keycaps are not that good with a lot of imperfections but I guess that's to be expected for an extremely budget keyboard like this so I'm not going to be that critical on that.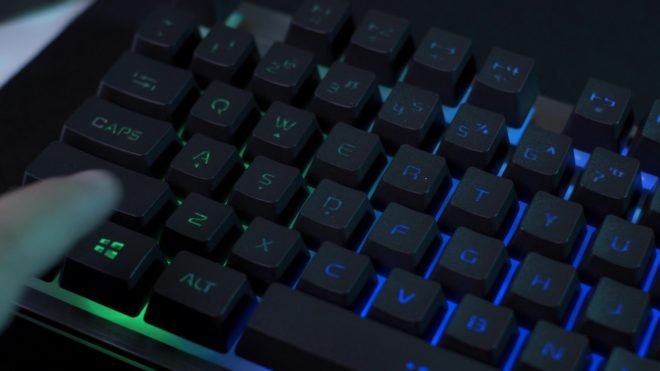 Keycaps


Looking closer on the keycaps, this keyboard uses UV coated keycaps with laser-etched fonts, and depending on how you use it, it can fade away over time. And since this is not using mechanical switches, you can not easily replace these keycaps.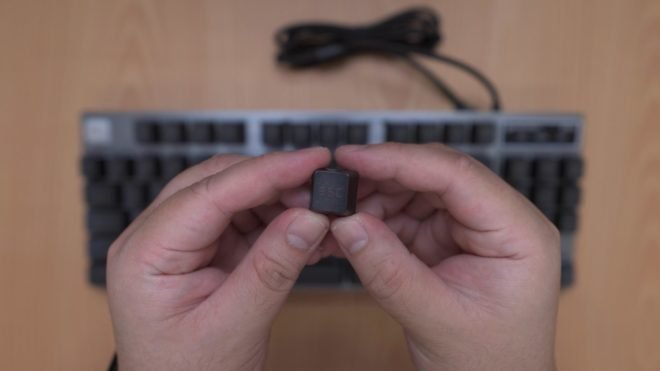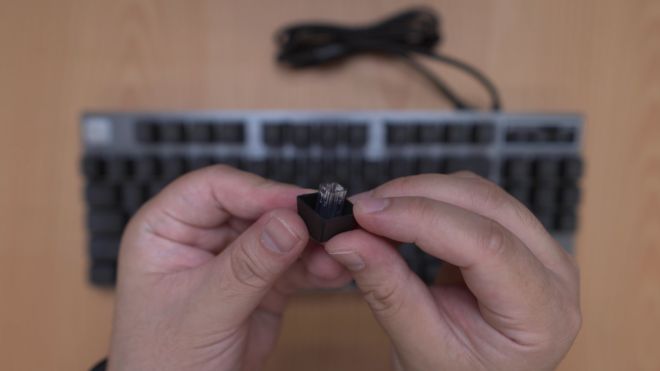 Switches


Now, in terms of the switches or actually more like buttons, these keyboard uses rubber domes or membrane sheet underneath. It has an actuation force of 45g and has a tactile and bouncy feel due to the design of the rubber dome and is relatively quiet as well compared to a mechanical keyboard. And since it has this plastic housing that gets in contact with the keycaps, it somehow mimics the sound of a mechanical keyboard that is quite different from a traditional membrane keyboard. And that is the reason why some brands call it a mecha-membrane or a mechanical feel keyboard.
Stabilizers


As for the stabilizers, they are surprisingly good even though it has a different design compared to a mechanical keyboard. The only problem is that they are not consistent, the backspace, enter, shift and spacebar greatly differ in terms of sound and overall feel which is kinda annoying.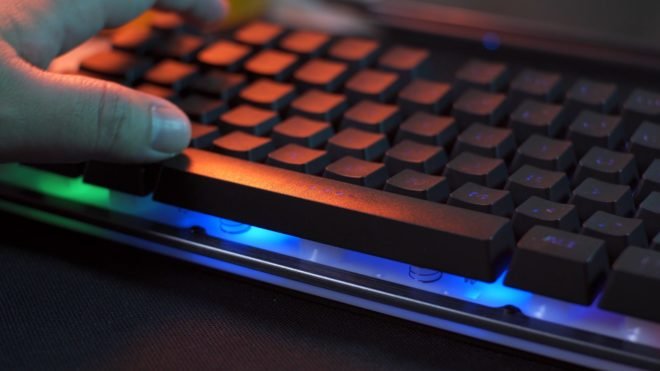 It's kinda funny if you think about it, like I am reviewing a keyboard that's worth 600 pesos so it's really hard to get critical about it but it's definitely fun to dissect and see how it differs from other keyboards that I am usually reviewing, making it more interesting actually.
So yeah, going back, overall in terms of feel and experience it is definitely different from a mechanical keyboard but it also has its own advantage, like aside from the price, it is also relatively quiet, so if you don't like the noise a mechanical keyboard makes, then this is probably worth considering.
Now, before we move on to the actual performance of this keyboard, let's not forget that it also has an illumination feature, so let's check it out.
LED Illumination


In terms of illumination, as you can see, we only have 3 zones, which means it's not individually backlit.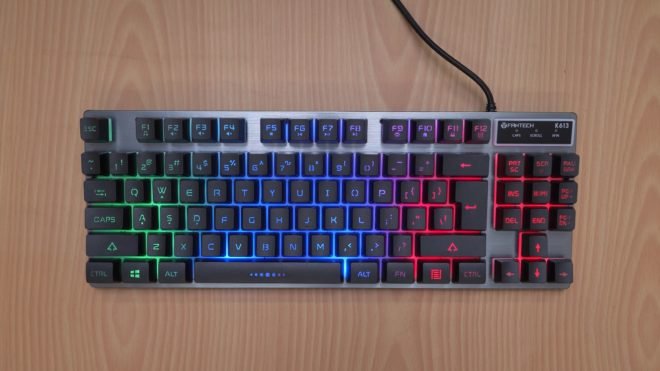 To cycle through the 3 different lighting configurations, you just have to press FN + scroll lock. Limited, but again, you just have to set your expectations for a budget keyboard like this.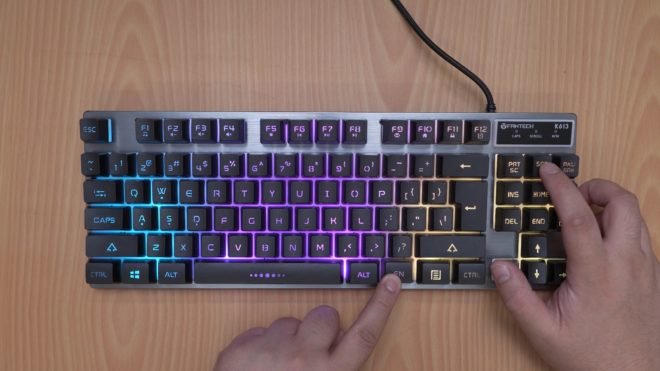 Aside from the limited lighting effects, you can also adjust the brightness by pressing FN + page up or page down.
Now, here's how bright the illumination is when all of the lights are turned off, I'd say it's pretty decent, substantial to be able to recognize all the keys on this keyboard.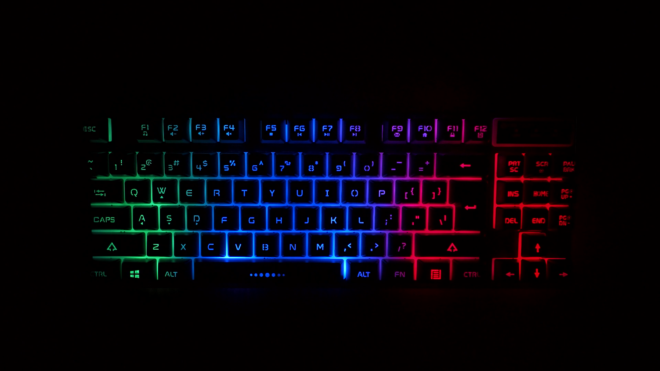 Fantech K613 and K613L Size Comparison


Here's a quick size comparison between the Fantech K613 and the K613L. As you can see, they are almost identical when it comes to design and construction with only minor differences.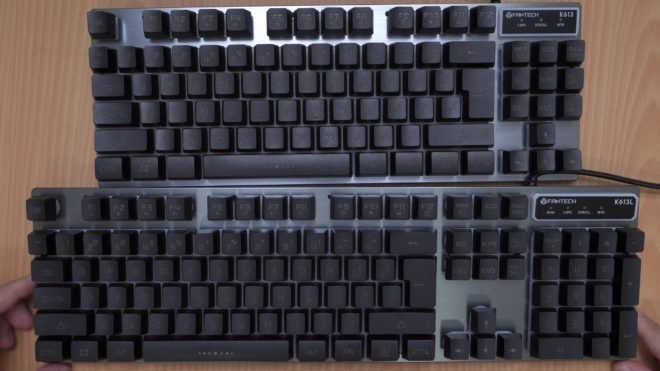 Finally, let's move on to the actual performance of this keyboard.
NKRO / Anti-ghosting


As per specifications, it has 19 keys anti-ghosting but as per my testing, it's quite inconsistent, sometimes I can press as much as 10 keys at the same time without conflicts, but sometimes even if I press only three keys at the same time it is not registering, it depends on the zones or layers on the keyboard.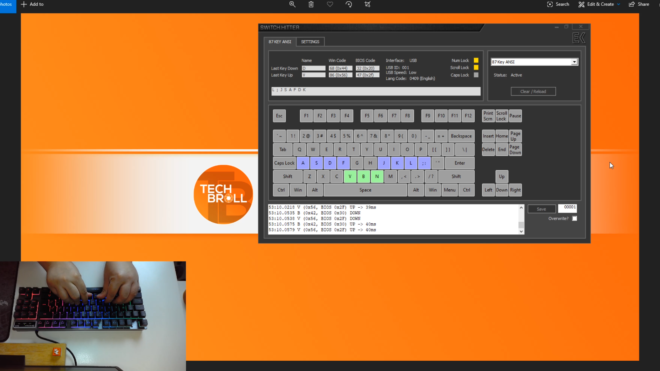 Typing Experience


When it comes to the overall typing experience, it's actually not that bad as you might think, the tactile feedback is pretty satisfying with a sudden drop to it. It reminds me of the happy hacking keyboard just a bit, just a little bit, because it also uses rubber dome but more consistent and with better overall quality and feel.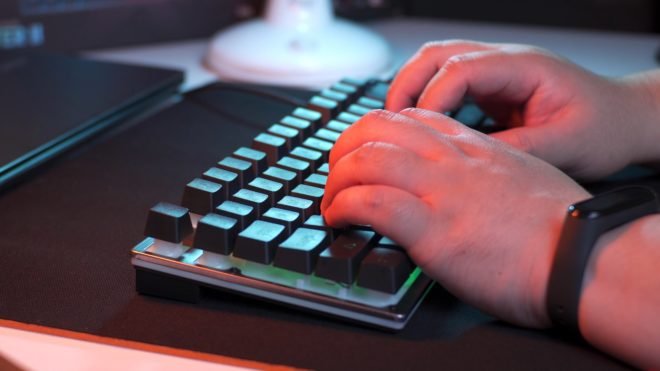 Gaming Experience


Now, when it comes to gaming, I didn't encounter any problems with it because the games I play don't usually require pressing more than 3-4 keys at the same time, so the NKRO issue is not that critical for me. I also don't mind the bouncy feel when it comes to gaming, but I definitely miss the feel of a mechanical keyboard while gaming especially with linear or speed switches.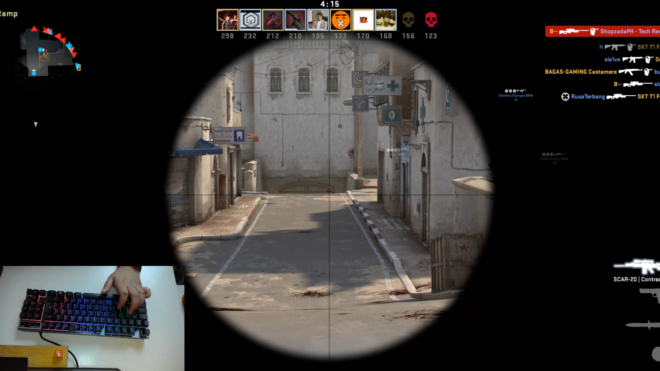 VERDICT


To conclude, the Fantech K613 and K613L are definitely good considering its price of just around 600 pesos. Yes, you can probably get a mechanical keyboard if you double that budget, but there are people who simply don't have the capability to push their budget and there are also those people who prefer quieter keyboard for productivity and casual gaming without necessarily have to invest in expensive keyboards with silent switches. I also think that this keyboard is a good option for budget iCafes or for gamers who are just starting out to build their own desk setup. So yeah, there's definitely a target market for these. 
Fantech Fighter II K613 and K613L Review
Thanks to 
Fantech Philippines
for making this review possible, you can get this keyboards from their partner stores, link below.
If you like this one, please consider subscribing to my channel by hitting the button below. Have a great day!

WHERE TO BUY:

LAZADA:
Price may vary depending on existing promos
The views and opinions on this review are solely based on my own personal experience, your results may vary
SHARE THIS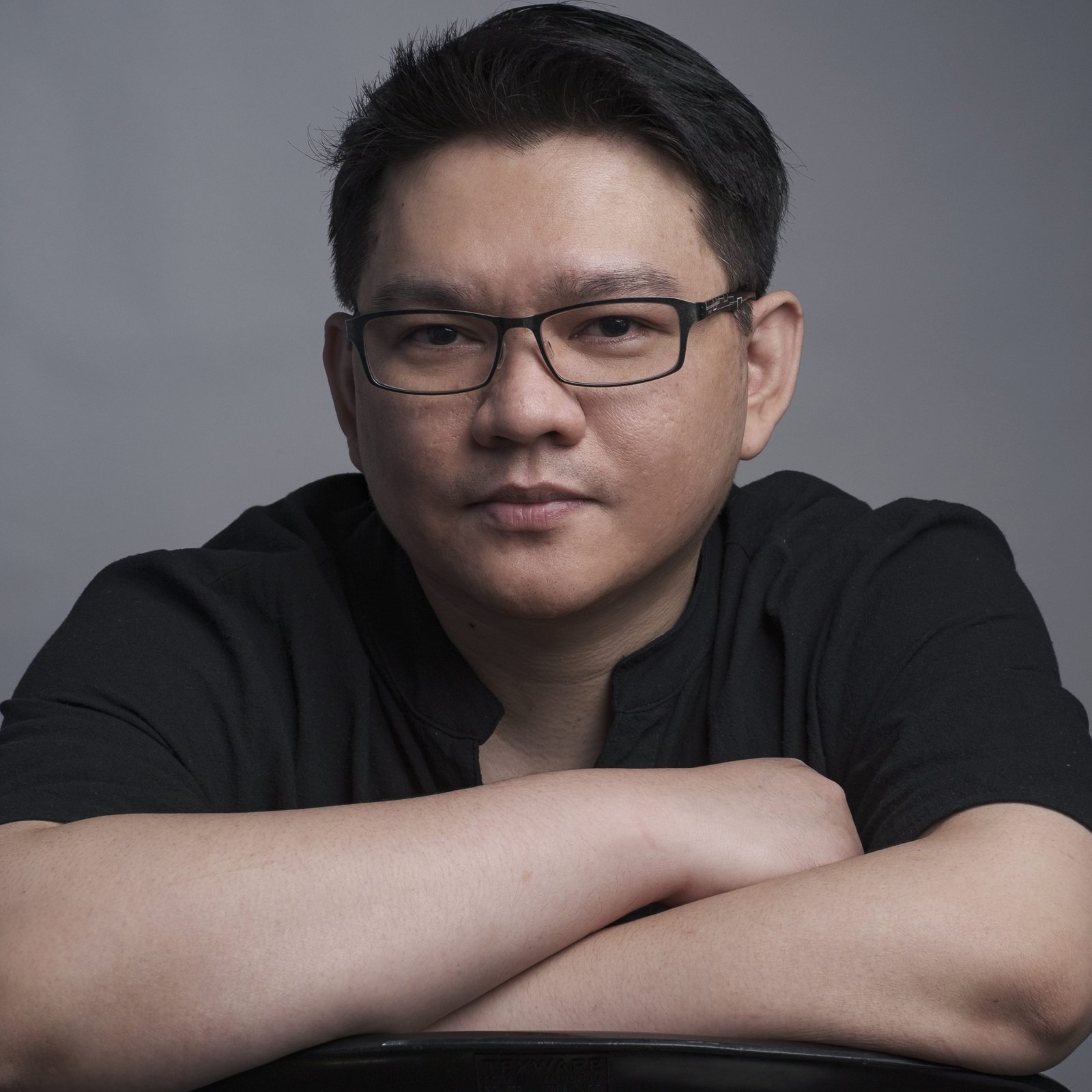 The Broll who always got your back online!