Today, we're going to do an unboxing and review of the Bloody J437 Gaming Headset, a gaming headset that is good to go out of the box with good sound clarity and a surprisingly decent virtual surround sound. And if you've been a follower of our Facebook page, you'll know that I'm giving this away to one of our top fans for this month so make sure to keep engaging and stay updated. With that said, let's get into it.
MY EARLY BREAKDOWN


Pros: Extremenly lightweight, Decent sound quality with clear vocals, mids and highs.
Cons: Thick cable, Lacks a little bit of bass, Limited adjustments
SPECIFICATIONS


HEADSET
Driver Unit: 40 mm Neodymium Magnet
Frequency Response: 20-20000 Hz
Sensitivity: 100 dB
Impendance: 32 ohm
MICROPHONE
Frequency Response: 100-15,000 Hz
Sensitivity: -45 dB
CABLE
1.8 m Durable Tangle-free Cable
USB Plug
WHAT'S IN THE PACKAGE


In front, we have a preview of the product and a couple of badge for its key features like it being optimized for footsteps and featuring a 7.1 virtual surround sound.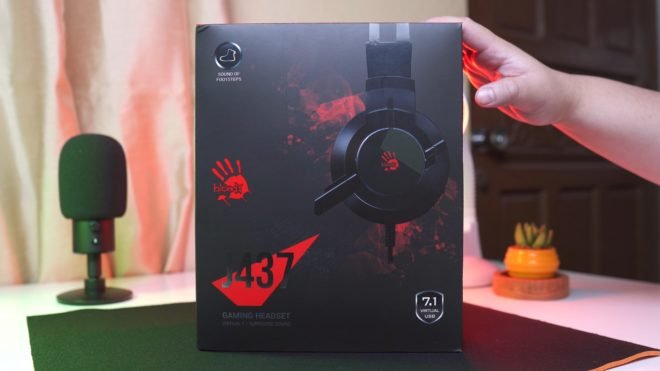 At the side of the box we have all the key specifications,
And then at the back, we have all the features that this gaming headset has to offer, we'll take a deep dive on these later.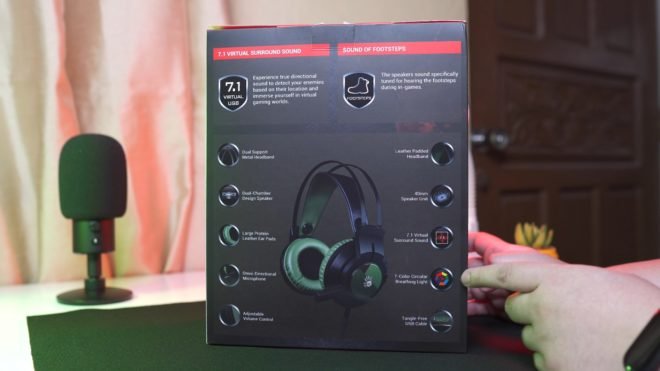 And lastly, on the other side of the box, we have a window preview of the product which is a nice touch.
After removing the protective plastic, we now have a first look at the Bloody J437 gaming headset.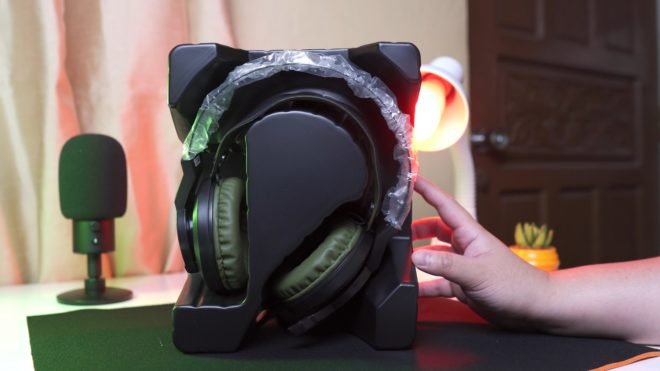 FULL REVIEW
Design, Construction and Parts Overview


At the first touch, the quality seems ok, especially for its price and it's also super lightweight at only around 260g.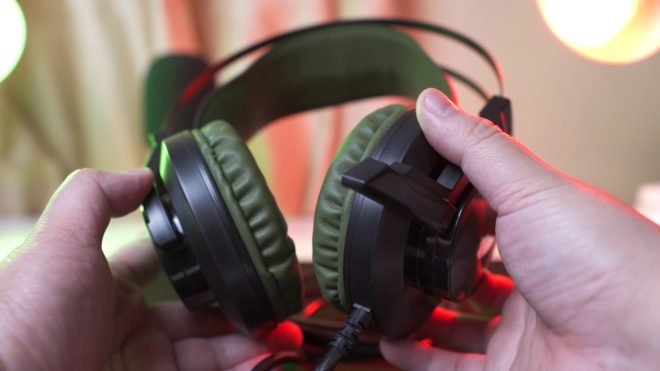 It doesn't scream premium build quality but I think being this lightweight has its advantage when it comes to overall comfort, I'm not a fan of bulky and heavy gaming headsets and I am pretty sure you are too.
On the right side, we have a Bloody logo at the center of the earcup,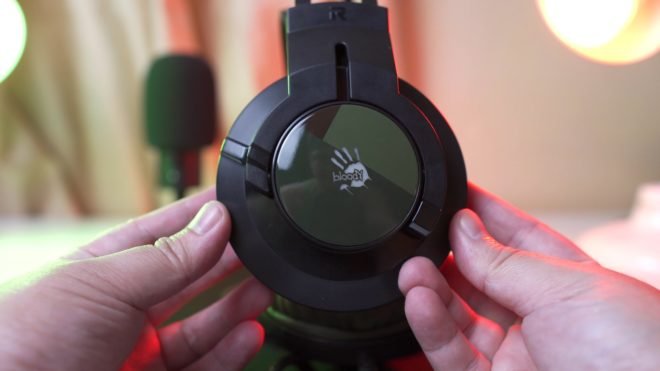 And it looks like it has this Army vibes going on with its design with different shades of green partnered with the main black color of the headset.
Flipping it at the back, we have a volume adjustment wheel at the left side,
And then on the other side, we have the same design but we also have here the built-in omnidirectional microphone.
Turning it all over at the top, we have the metal support and the adjustable headband with a bloody logo on it.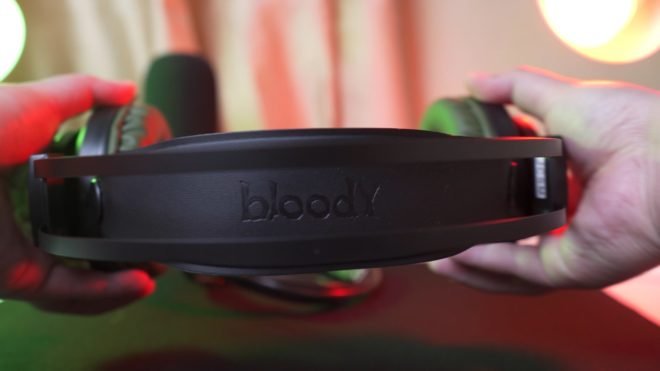 It is also quite flexible, so it should fit a wide variety of head shapes.
Now, we've already seen this type of design with other gaming headsets out there and while it's cool that it's easy to adjust on top of your head because of the elastic design, I still prefer those gaming headsets that you can adjust the side of the headband individually for precise adjustments. In terms of the earpads, it's your typical budget synthetic leather earpads but I must say, that the cushion is actually quite soft.
This is an on-ear earpad which I personally don't prefer because I like my headset to go over and around my ears for better sound isolation and overall comfort. But other people prefer this so that would depend on your personal preference.
In terms of adjustments, it does tilt a bit but not that much, so again, adjustment options are very limited with this one.
When it comes to the microphone, it says on the specifications that it has a noise-canceling mic, but I doubt that would be an active noise cancelling mic so later we'll test that out.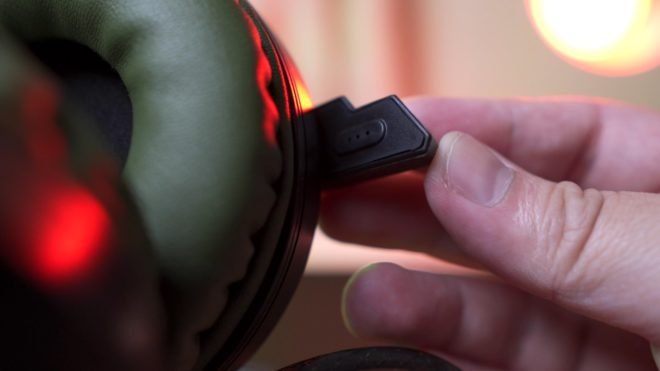 For the cable, I gotta be honest, I am not a fan of this design and construction. It is quite thick, heavy and I'm pretty sure it's going to get in the way when you're actually using this headset.
Overall, in terms of design it's decent, nothing fancy and if you are a fan of army themed peripherals then this is a good option to add to your arsenal.
Moving on, let's discuss about the performance of the Bloody J437 gaming headset
Comfort


In terms of comfort, like I said it is super lightweight, probably the lightest gaming headset that I've tried and because of that, it is quite comfortable with just the right amount of clamping force for the size of my head. And although it has limited adjustment options, it fits my head pretty well. The earpads as expected tend to get hot over time but at least it has enough soft padding so that your ears won't touch the drivers inside.
Overall, it is comfortable except for the stiff cable that like I said earlier, gets in the way of your movement, it touches your clothes and although surprisingly it doesn't add much weight on the left side, it still adds a little bit of drag and sometimes it touches my collarbone which is super annoying.
Sound Quality


In terms of the sound quality, surprisingly it is decent especially for its price. It can produce clear mids and highs but it's lacking a bit when it comes to the low-end frequencies. It certainly won't satisfy bass heads out there but at least it has vocal clarity and you can also distinguish individual instruments from a music playback. It doesn't get too loud but decent enough for comfortable and safe listening.
Gaming Sound Quality


Now, when it comes to gaming, which is the most important thing here, the 7.1 virtual surround sound feature works surprisingly well but not perfect, you can definitely hear the sound separation around each corner but sometimes it's not that accurate when it comes to precise pinpointing of the enemy location. I'd say the sound isolation is a little bit broad and quite confusing sometimes especially on close proximities, but in wide area, you can definitely hear the separation of footsteps and gunshots. Speaking of footsteps, since this headset is advertised to be tuned for that, although it lacks a lot of bass, yes, you can definitely hear footsteps quite well.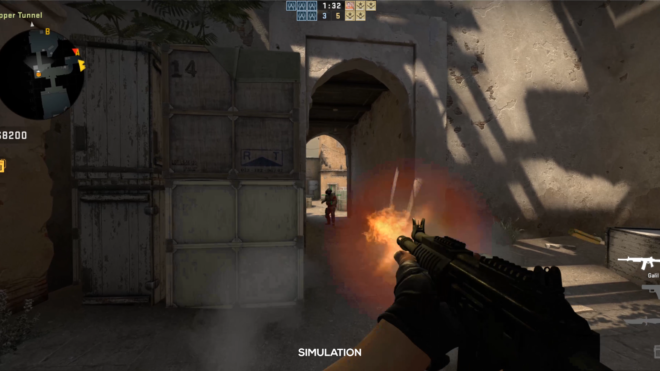 Microphone Sound Quality


Now, in terms of the microphone quality, although it is advertised as having a noise-canceling microphone, I don't think it's quite effective as it still picks up a lot of ambient and background noise. But to be fair, the quality of the audio coming from this microphone is definitely usable for casual in-game communication, just not in a broadcast level which you should not expect anyway at this price point.
LED Illumination


And lastly, the Bloody J437 gaming headset also features illumination on both sides with 7 neon colors rotating but unfortunately, since this headset doesn't have any software, you can not customize it.
Verdict


To conclude, the Bloody J437 gaming headset is quite decent for its price of around 1300 PHP or 25 USD. It has good sound quality especially in the mids and highs, vocals are really clear and instruments are distinguishable. And although the 7.1 virtual surround sound is a hit or miss, it is definitely a nice feature to have especially at this price point. Microphone quality is also usable for casual in-game communication and the overall comfort level though limited in terms of adjustments, is still pretty good thanks to its lightweight and flexible construction.
Related Article:

Bloody J437 Gaming Headset Review


Thanks to
Bloody Gaming PH
for making this review possible, you can get this gaming headset from their partner stores, link below.
If you like this one, please consider subscribing to my channel by hitting the button below. Have a great day!

SHARE THIS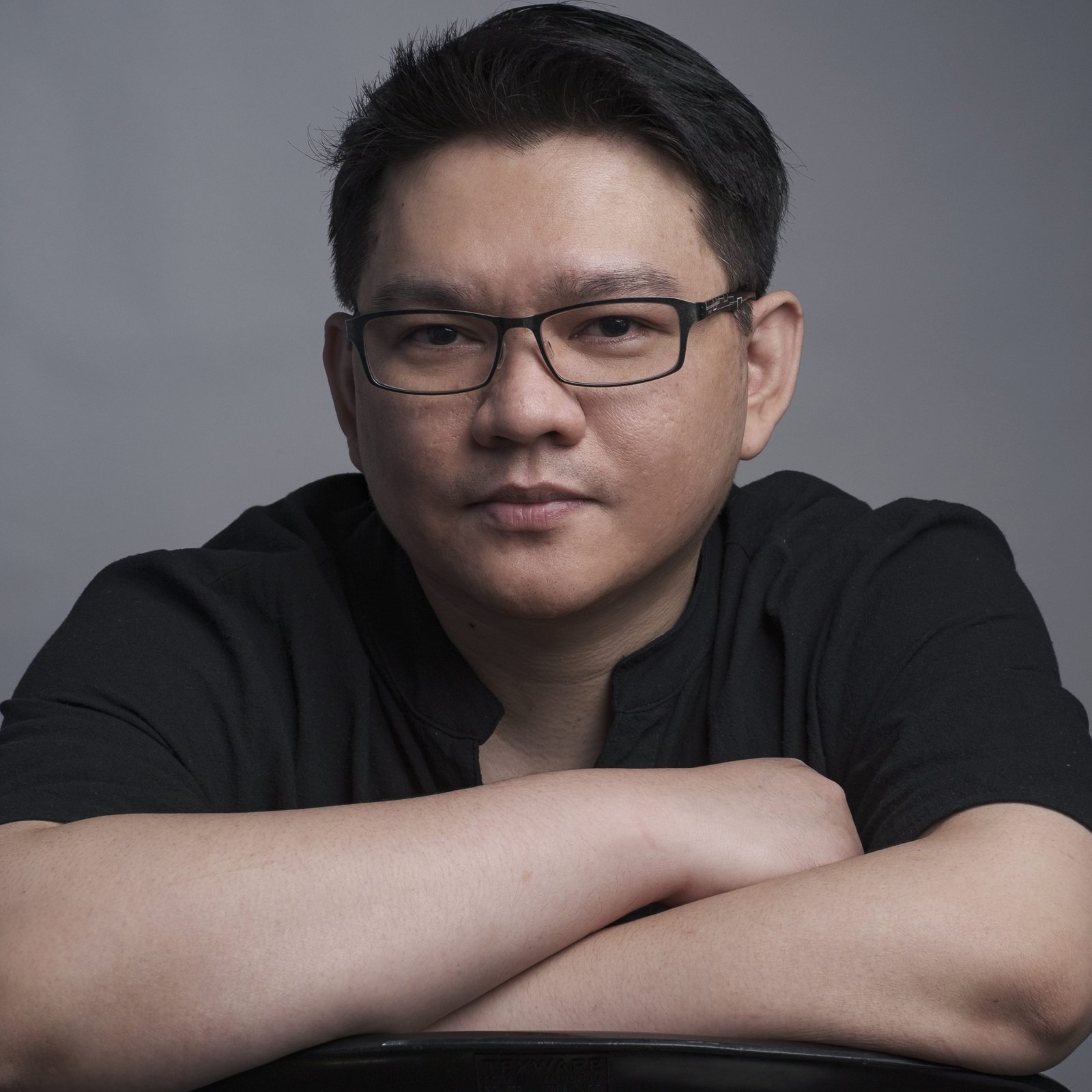 The Broll who always got your back online!