If you're looking for a decent pair of True Wireless Earbuds that not only does sound pretty good but are also good for the environment, the Urbanears Boo Tip is probably one of the few options out in the market. Made from 91% recycled plastics, in some way, you'll be part of something good. Apparently, the Urbanears brand is manufactured by Zound Industries which is the same brand behind marshall headphones and Adidas headphones so at least we get a bit of an idea that these earbuds will not be as trash as the materials it was made from. The question is, is it good enough, especially at its price of Php 3,990? let's find out.
MY EARLY BREAKDOWN
Pros: Decent sound quality, Great build quality, Good for the environment
Cons: Basic features, Bass is non-existent, Relatively short battery life
SPECIFICATIONS
| | |
| --- | --- |
| Frequency Response | 20Hz—20kHz |
| Driver Type | 10mm |
| Play Time | Up to 30h |
| Charging Time | |
| Microphone & Remote | Dual microphones on each earbud |
| Compatible With | USB–C cable |
| Touch Controls | Yes |
| Wireless Connectivity | Bluetooth 5.2 |
| Dimensions Earbud | |
| Dimensions Case | |
| Headphone Type | |
| Weight | Earbud: 3,95g / Case: 36,7g |
| Water Resistance Earbuds | IPX4 |
| Water Resistance Case | IPX3 |
WHAT'S IN THE PACKAGE 
Like the earbuds inside, the packaging is also made out of recyclable materials. In front, we have an image preview and branding.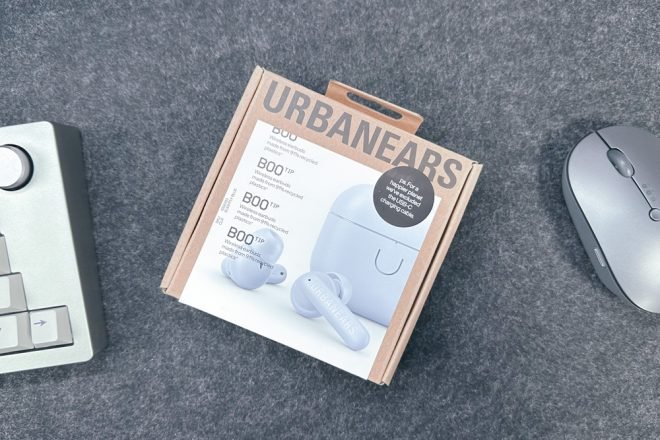 And then at the back, we have some of its key features.
Inside the box, we have the Urbanears Boo Tip itself nicely placed on a recycled cardboard platform.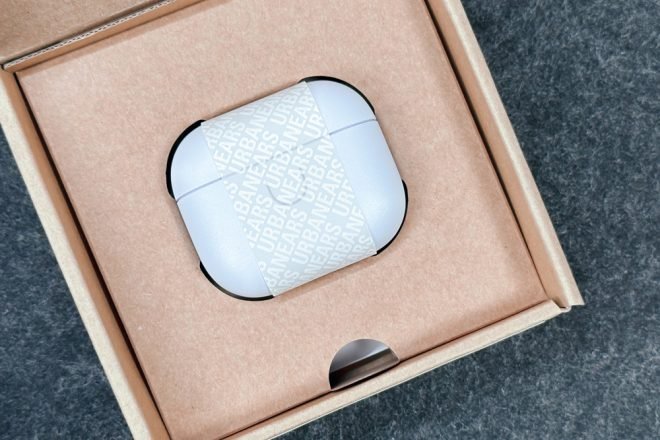 Removing that reveals a note about the exclusion of the USB-C charging cable which aside from minimizing its footprint, also saves some cost.
Personally, I don't mind this move as they are correct, I have a bunch of USB-C cables lying around here in the studio and I don't need to have another one that I'll just stow away anyway.
Removing that note reveals a small compartment that houses the additional different sizes of ear tips.
We have a small and large option just in case the standard medium doesn't fit you well.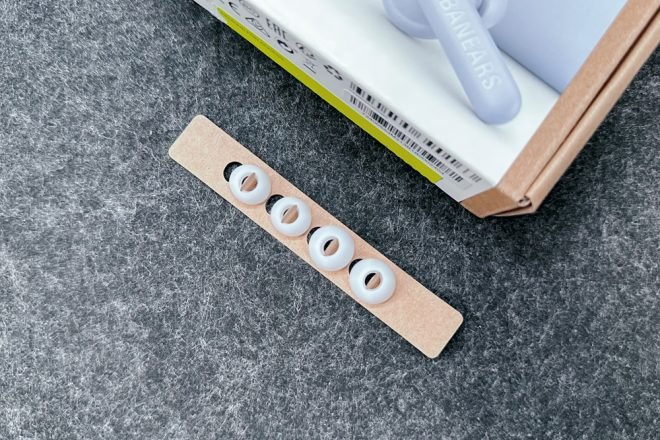 Inside the box, we also have a couple of paperwork that honestly, I think they could've just omitted as well and just lead us to the online user manual.
And lastly, we have the Urbanears Boo Tip itself.
FULL REVIEW
Design, Construction, and Parts Overview
As you might have imagined, the charging case is made out of hard plastic material with a noticeable rough texture to it. In front, we have a subtle pairing button underneath a "smiling-like" design and if you look closely, you'll see a small hole for the tiny LED indicator at the center. 
At the back, we just have a sticker with some technical details and certifications.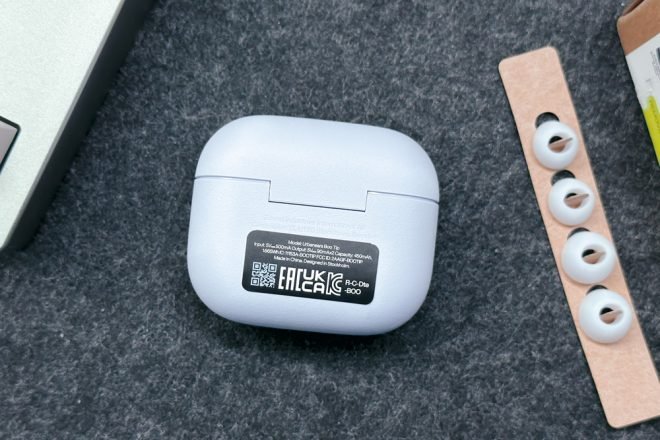 At the bottom, we have the USB Type C charging port, but no wireless charging feature, unfortunately.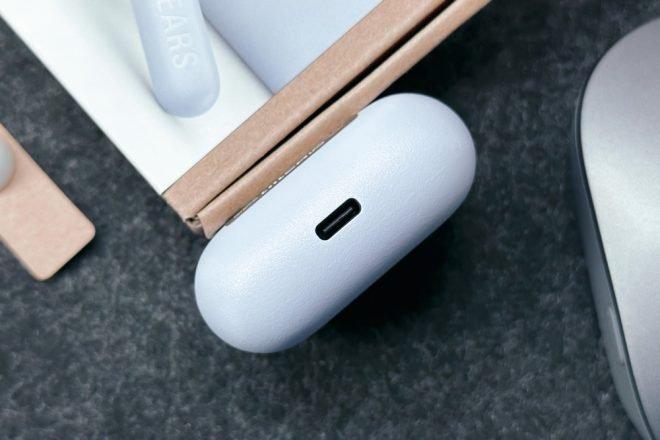 And lastly, on top, we have a debossed Urbanears logo with a contrasting glossy finish.
Opening the case reveals the earbuds themselves positioned upright inside.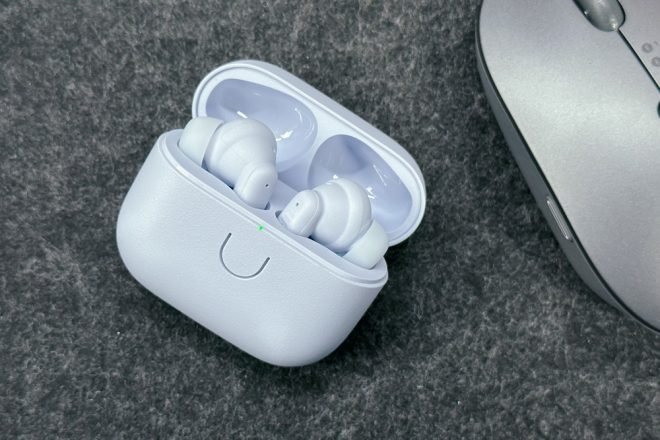 The cavity of the case also features a glossy finish which is subtle but nice attention to detail.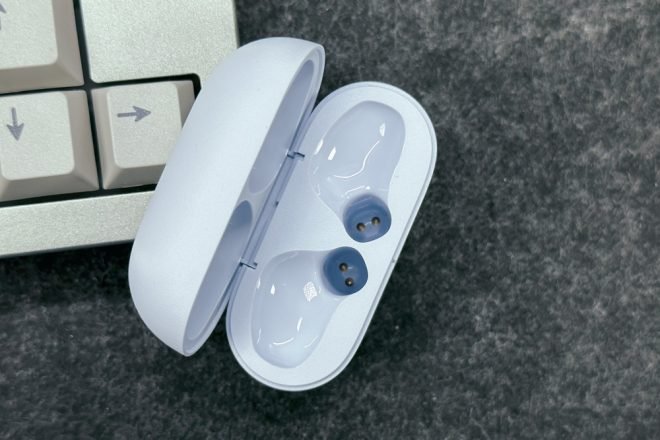 As for the earbuds themselves, they are made out of the same hard plastic material with a rough texture as well. For accuracy, the Urbanears Boo Tip is actually made out of 57% plastic, 91% of which is recycled.
The Urbanears Boo Tip as the name says features a silicon rubber tip. If you're not into rubber-tipped earbuds, you can consider the Urbanears Boo which features a more traditional plastic ear tip.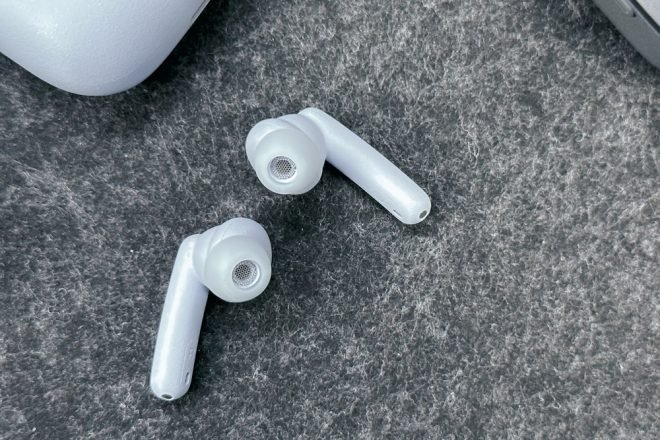 Interestingly, while the right earbud has a debossed Urbanears logo, the left side doesn't.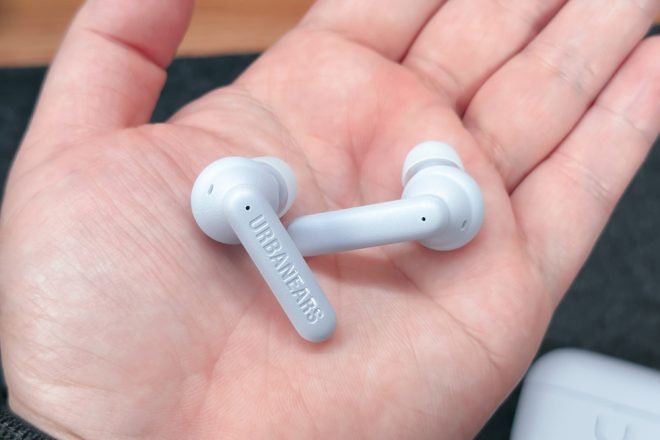 The earbuds and charging case are rated with IPX4 and IPX3 water-resistant ratings.
Comfort and Fit
Comfort and fit are one of the things that I really like about the Urbanears Boo Tip. I'm a rubber ear tip kind of guy so this one matches my preference when it comes to fit but I'm not, particularly a fan of long pole designs. It's quite comfortable, I'll give it that, but it's sticking out too much for my style. You're mileage may vary of course.
Touch Controls
In terms of touch controls, we only have some pretty basic features here. 
Tap once to play/pause or accept/end calls.
Tap twice to skip forward or reject calls.
Taps three times and skips backward.
And that's about it, no volume controls, no active noise cancellation, transparency mode, or even low latency mode.
Sound Quality 
In terms of sound quality, I'd say it is pretty decent, to say the least. The first time that I tried it, my initial impression is that the clarity is quite noticeable and though the sound signature is a bit on the brighter side, it's still quite pleasant to the ears. Bass and low-end are a bit lacking though, to be honest, but the overall rich sound kind of makes up for it especially if you're not into bass-heavy earbuds. My preference always leans towards the balance to the warmer side of things but I'm fairly satisfied with this, especially how good the overall sound quality is for its price, minus again, the lack of bass.
The microphone quality is also pretty decent and is good enough for casual communication, the voice is quite clear without sounding too robotic due to noise filtering. 
Battery Life
In terms of battery life, each earbud can last up to 4.5 hours which given the size and length of the poles is a bit short in my opinion. I think this is due to the limit they set for charging going only up 90% to extend its battery lifespan. The charging case provides up to 25.5 hours extra for a total of 30 hours of playback time. As I've pointed out earlier, we have no wireless charging feature here.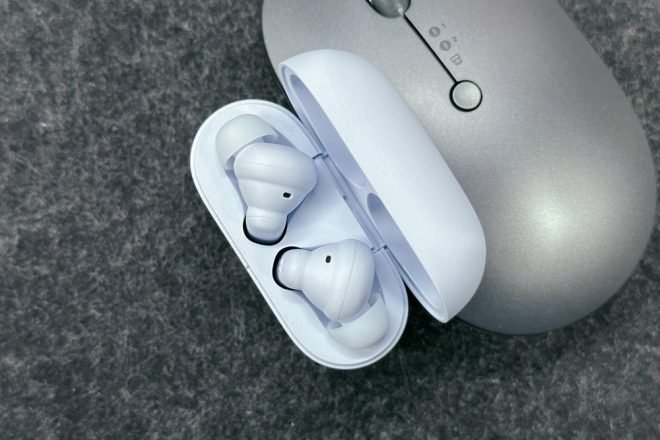 VERDICT
At the end of the day, my recommendation for the Urbanears Boo Tip is pretty simple. If you're looking for a basic pair of earbuds that sound pretty good and you are not into bass, the Urbanears Boo Tip is a viable option. Both the charging case and the earbuds themselves feature durable hard plastic construction made out of recycled materials and a simple yet trendy design language that should fit with most outfits and environments. However, if you are the type of person who wants to have all the fancy bells and whistles for your money like active noise cancellation, transparency mode, low latency mode, wireless charging, and even the basic stuff like volume touch controls, you might want to look at other options because these things aren't available in the Php 3,990 priced Urbaneards Boo Tip.
The Urbanears Boo Tip is now available at Digital Walker.
Related Article:
realme Buds Air 3 Review – Feature Packed!
Tribit FlyBuds C1 Review – Insane Battery Life!
Tribit StormBox Micro Review – Powerful Tiny Little Box!
Dizo Buds Z Review
Lypertek Tevi True Wireless Stereo Earbuds Review – Outstanding Sound Quality!
Dizo GoPods Neo Review – Affordable ANC TWS Earbuds!
EarFun Free Pro 2 ANC Wireless Earbuds Review
DIZO GoPods Review – Surprisingly Good for its Price!
EarFun Free 2 Review – Good Value Low Latency Wireless Earbuds!
Tranya M10 True Wireless Earbuds Review – My Daily Driver!
Edifier W600BT Bluetooth Headphones Review
Limited Edition Joyroom JR-T04S Pro True Wireless Stereo Headphones Review
OnePlus Buds Z Review – Steven Harrington Special Edition!
Marshall Major IV Now Available at Digital Walker and Beyond the Box
OnePlus Buds Z in white and limited edition Steven Harrington NOW AVAILABLE at HomeOffice.PH!
Marshall Uxbridge Voice Review – A Voice Assistant That Actually Sounds Great!
realme Buds Air Pro Review – Active Noise Cancellation!
SoundPeats TrueCapsule Review
Tronsmart Onyx Ace True Wireless Earbuds Review – Quad microphone!
SoundPeats TrueDot True Wireless Earbuds Review
ASUS ROG Strix Go 2.4 Review and AI Noise Cancellation Test
Cooler Master MH630 VS MH650 Comparison and Review
Edifier R1280DB Unboxing, Quick Review, and Sound Test

Subscribe for more reviews like this!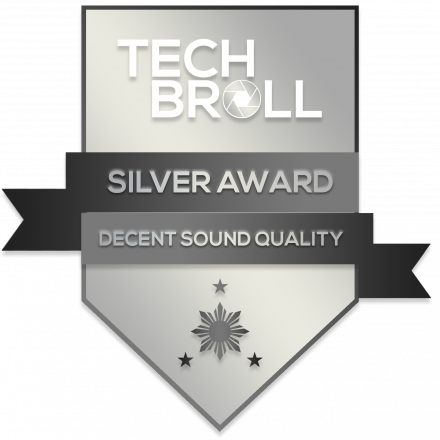 SHARE THIS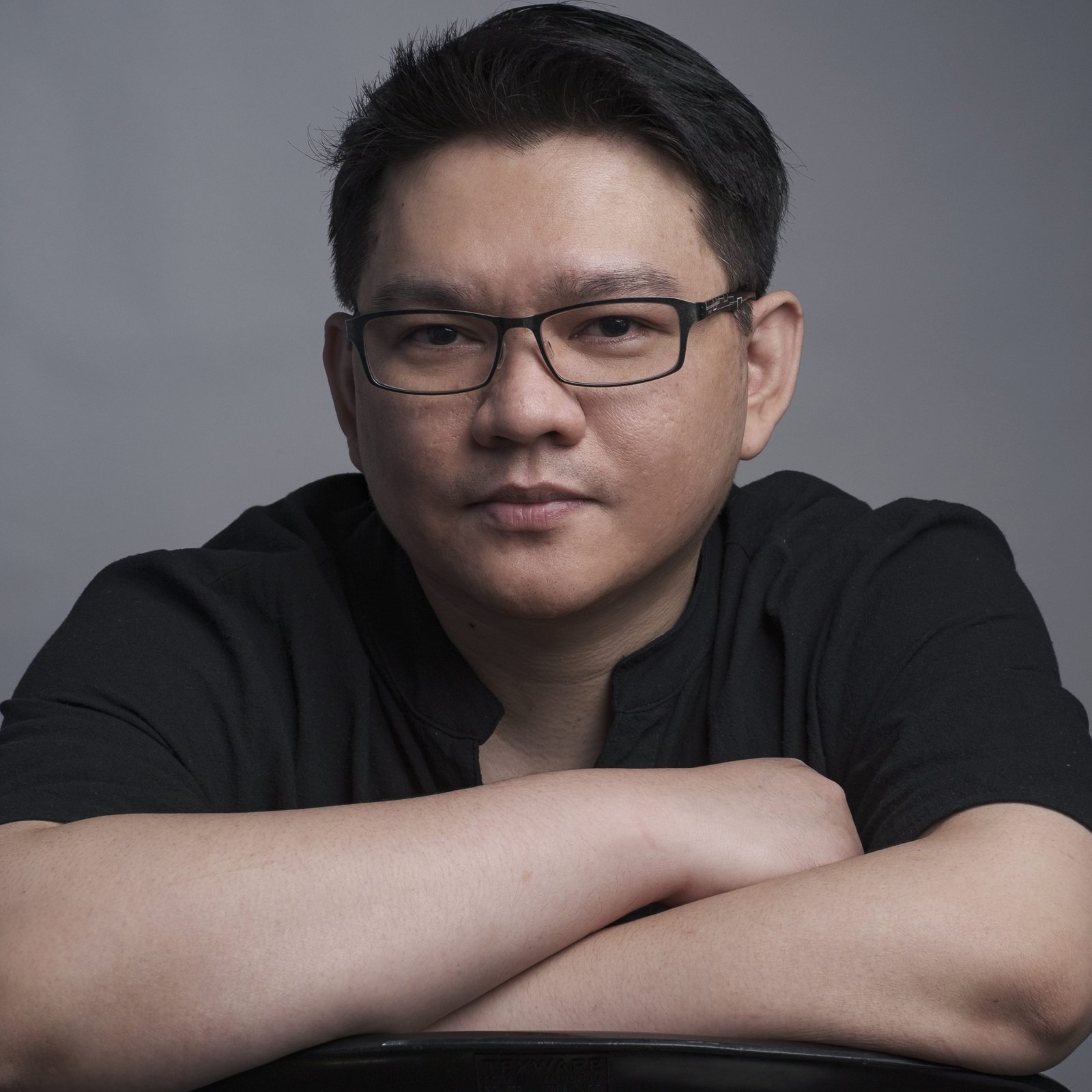 The Broll who always got your back online!