I've been reviewing storage devices for a long time now from portable SSDs, to regular SATA SSDs down to super fast NVME SSDs including the latest Gen4 ones. And for the longest time, I've been procrastinating on using the latest Gen4 NVME SSD for my personal build because for one, they are relatively expensive, and second, I'm still trying to justify if I really need that extra oomph when it comes to the additional speed it offers in relation to how much they cost. Luckily, Kingston sent out their latest KC3000 1TB Gen4 NVME SSD which I decided, I will put on my latest Full DeepCool PC build featuring an AMD Ryzen 7 5800X and an ASUS ROG Strix 3070 graphics card. At the end of this article, I'll give you my honest feedback if I think I really need a Gen4 NVME for my day-to-day tasks. So let's get into it.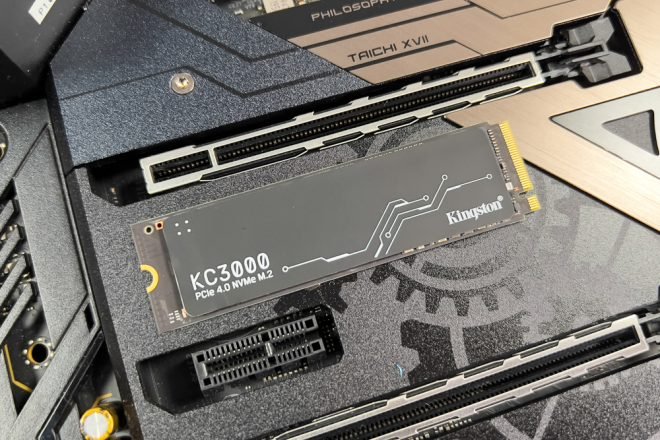 MY EARLY BREAKDOWN
Pros: Good overall performance, Good thermals, Slim single-sided form factor
Cons: Thin and hassle to reuse heatsink
SPECIFICATIONS
Form Factor
M.2 2280
Interface
PCIe 4.0 NVMe
Capacities
512GB, 1024GB, 2048GB, 4096GB
Controller
Phison E18
NAND
3D TLC
Sequential Read/Write
512GB – 7,000/3,900MB/s
1024GB – 7,000/6,000MB/s
2048GB – 7,000/7,000MB/s
4096GB – 7,000/7,000MB/s
Random 4K Read/Write
512GB – up to 450,000/900,000 IOPS
1024GB – up to 900,000/1,000,000 IOPS
2048GB – up to 1,000,000/1,000,000 IOPS
4096GB – up to 1,000,000/1,000,000 IOPS
Total Bytes Written (TBW)
512GB – 400TBW
1024GB – 800TBW
2048GB – 1.6PBW
4096GB – 3.2PBW
Power Consumption
512GB – 5mW Idle / 0.34W Avg / 2.7W (MAX) Read / 4.1W (MAX) Write
1024GB – 5mW Idle / 0.33W Avg / 2.8W (MAX) Read / 6.3W (MAX) Write
2048GB – 5mW Idle / 0.36W Avg / 2.8W (MAX) Read / 9.9W (MAX) Write
4096GB – 5mW Idle / 0.36W Avg / 2.7W (MAX) Read / 10.2W (MAX) Write
Storage Temperature
-40°C~85°C
Operating Temperature
0°C~70°C
Dimensions
80mm x 22mm x 2.21mm (512GB-1024GB)
80mm x 22mm x 3.5mm (2048GB-4096GB)
Weight
512GB-1024GB – 7g
2048GB-4096GB – 9.7g
Vibration Operating
2.17G Peak (7-800Hz)
Vibration Non-operating
20G Peak (20-1000Hz)
MTBF
1,800,000 hours
Warranty/support
Limited 5-year warranty with free technical support
WHAT'S IN THE PACKAGE
The packaging for the Kingston KC3000 Gen4 NVME SSD is fairly simple, just a typical packaging made out of cardboard and plastic with the model name and some of its key specifications.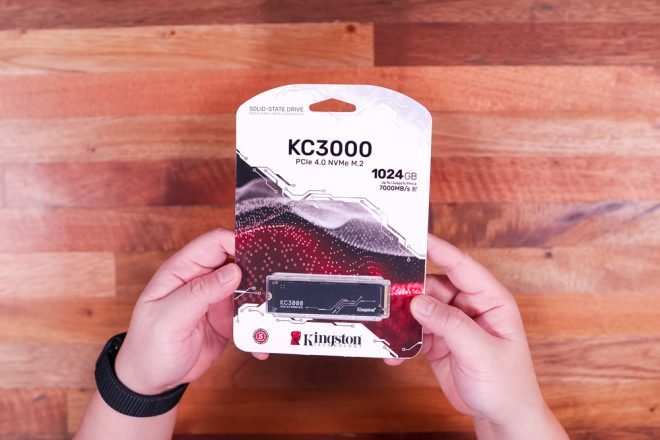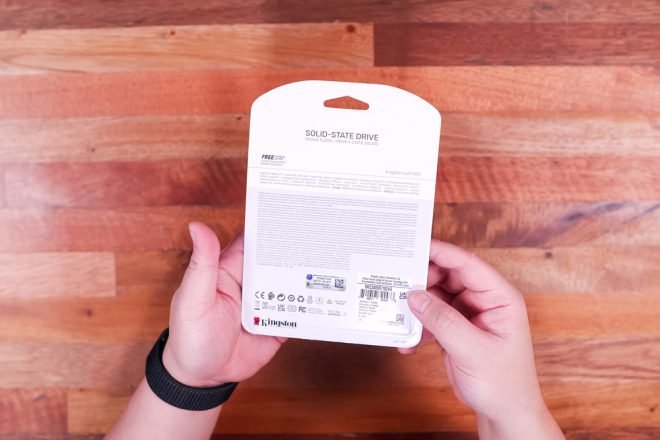 FULL REVIEW
Design and Construction
The design is equally simple as well, quite minimalist if you ask me. We have a very thin heatsink that is kinda hard to reuse once you decided to remove it and use your motherboard's integrated heatsink instead. Because it is very flexible, made out of thin aluminum material.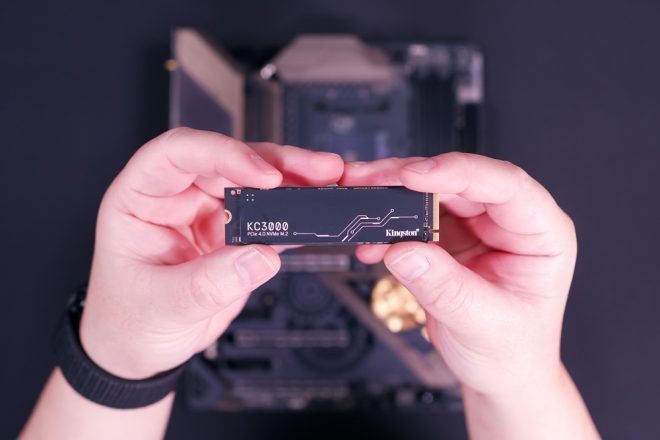 At the back, we have all the necessary details like the capacity, part number, certifications, and other technical details.
The 1TB variant that we have here features a single-sided NVME SSD with all the chips on one side including the Nanya NT5AD256M16D4-HR Drams, a couple of Kingston FP51208UCM1-B1 TLC NAND flashes, and the Phison PS5018-E18-41 Controller all in an M.2 2280 form factor.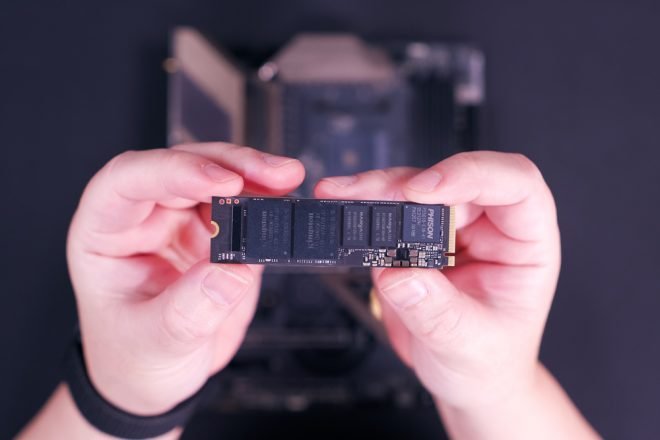 Key Specifications
The Kingston KC3000 is a PCIe 4.0 NVME (also known as a Gen4 NVME) and is available in various capacities from 512GB up to a whopping 4TB. The speeds vary differently depending on the capacity with the 4TB variant reaching up to 70000 MB/s for both read and write speeds with an endurance of up to 3.2 PBW. Our particular variant right here which is 1TB is rated up to 7000 MB/s read and 6000 MB/s write with a total byte written endurance of up to 800 TBW. The closest competitor that I've tried so far is the XPG Gammix S70 Blade with very similar ratings and prices.
Now, with the quick unboxing and parts overview out of the way, let's finally head straight into our performance benchmarks.
Test Systems
For our Kingston KC3000 1TB Gen4 NVME SSD, I used my latest Full DeepCool PC Build with the following specifications:
AMD Ryzen 7 5800X
ASUS ROG Strix RTX 3070
Kingston KC3000 1TB Gen4 NVME SSD
Gskill Trident Z Neo 3600Mhz 32GB
ASRock B550 Taichi
DeepCool CK560-WH
DeepCool Castle 240EX AIO
DeepCool PQ1000M
DeepCool FC120 White
DeepCool ST500 ARGB
Php 120K FULL DeepCool PC Build! 
And just for full transparency, the other SSDs that I have on our benchmarks were tested in a different but quite similar system when I did their own reviews before with the following specifications, kindly take the results with that consideration in mind:
AMD Ryzen 7 5800X
AMD Radeon 6900XT
XPG Gammix S50 Lite/XPG Gammix S70 Blade/XPG SX8200 Pro
XPG Spectrix D60G 16GB 3600Mhz
ASRock B550 Taichi
DeepCool AS500
DeepCool 850-M-V2L
DIY Open Test Bench

XPG Gammix S70 VS S50 Lite VS SX8200 Pro Review – Real World File Transfer Tests!
And just for additional information, I also added the Samsung PM9A1 2TB Gen4 NVME that was inside the NEW MSI Raider GE76 Gaming Laptop that I recently reviewed
MSI Raider GE76 2022 Review – The BEST Gaming Laptop in 2022!
CrystalDiskMark
On CrystalDiskMark, with a 1MB block size, 5 passes, and 1GB transfer file size, the Kingston KC3000 1TB Gen4 NVME SSD performed well above its 7000 MB/s read and 6000 MB/s write speeds. This basically simulates large file transfers such as ISOs, Movies, and things like that or when streaming movies directly from the storage device.
Next, is Random 4K read and write performance with a random 4KB block size and the same 5 pass and 1GB transfer file size. This one simulates small random file size transfers such as images, text files, and other fragmented data which utilizes more computing resources than a sequential test, hence the slower results in read and write speed. 
The Kingston KC3000 1TB Gen4 NVME SSD performed pretty well here even getting a slight advantage over the XPG Gammix S70 Blade.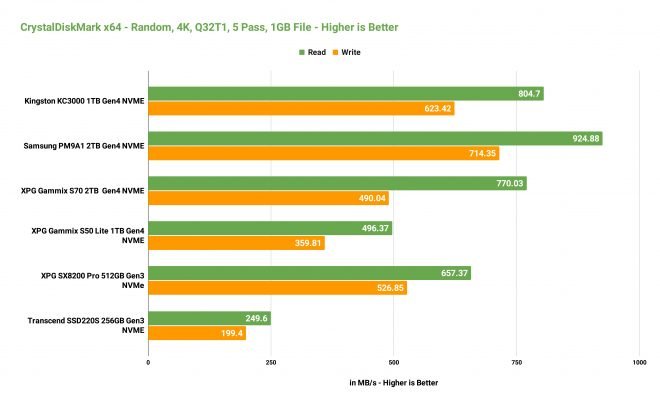 AS SSD Benchmark
Access Times Performance
Now, other than the sequential and random read and write speed test, it is also important to test a drive's latency when it comes to accessing data. In this test, we used the AS SSD Benchmark Tool. As you can tell, the Kingston KC3000 1TB Gen4 NVME SSD performed really good here with the least amount of latency.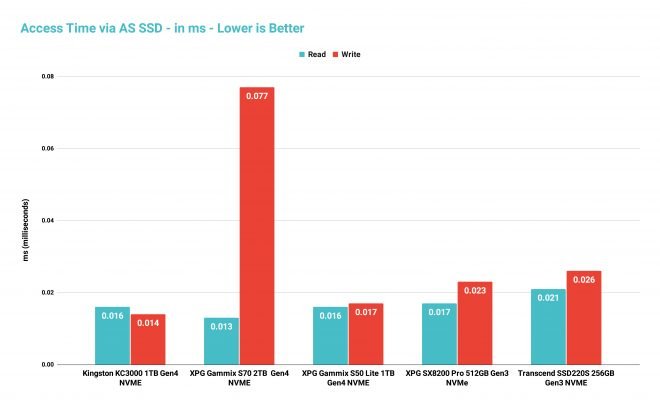 Input/Output Performance (IOPS)
Aside from the access times, I also tallied the data for the 4K-64thrd which gives us an idea about the input and output operations per second performance of the drive on high queue depth. These were measured using a random 4KB block size with 1GB file size transfer on a 64 thread request. Again, the Kingston KC3000 1TB Gen4 NVME did a good job here with the fastest IOPS in both read and write operations.
Disk Bench Tool
Real-World Performance
For our real-world performance test, I used the Disk Bench tool to capture the real-world read and write performance of the drive with 8 files and a total of 13.8 GB file size. 
Starting with the read operation transferring files from the main NVME drive to another, as you can see, moving files from the Kingston KC3000 1TB Gen4 NVME SSD to itself was super fast at around 2389 MB/s.
But when introducing another factor like for example on the second test, I transferred the same files from the Kingston KC3000 to a Kingston NV1 via a UGreen M.2 External enclosure which not only is limited by the Gen3 speed of the NV1 but is also limited by the USB 3.0 speed, the transfer rate is significantly slower. The same can be said with the tests I've done with the XPG NVME SSDs transferring files to a slower TeamGroup MP33 Pro.
Now, here's a reverse process of transferring the files back. Essentially, this means that the transfer rate is highly dependent on the read and write speeds of both drives which is an important thing to consider when choosing the right storage device for your specific use case scenario and available storage options.
3DMark Storage Benchmark
And for good measure, I also ran the Kingston KC3000 1TB Gen4 NVME SSD on 3DMark Storage Benchmarks so that you can compare it with yours if you're interested.
Thermal Performance
Throughout all my tests, I didn't see the Kingston KC300 1TB Gen4 NVME Go past 49 degrees which is pretty good considering the maximum operating temperature of this drive is up to 70 degrees.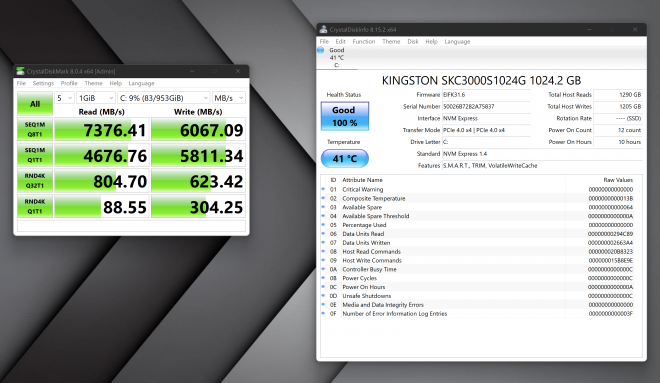 Like I said earlier, the closest competitor that I've tried that is close enough to the Kingston KC3000 1TB Gen4 NVME is the XPG Gammix S70 Blade. Both are pretty close in terms of performance and price, the Kingston KC3000 1TB is priced around Php 8800 while the XPG Gammix S70 Blade 1TB Gen4 NVME is priced around Php 9698. The XPG Gammix S70 Blade 1TB is 400 MB/s faster but the Kingston KC3000 1TB has 60 more TBW in terms of endurance. But overall, in terms of performance, the Kingston KC3000 has a slight advantage.
With that being said, the Kingston KC3000 1TB Gen4 NVME sits around the middle of the Gen4 NVME SSD market space. It's not over the top expensive, but it is not quite affordable either if you compare it with some cheaper options.
VERDICT
Overall, to answer my question earlier, while I think there is some improvement in terms of overall system performance whether it is from simple file transfers big and small, to generating thumbnails and scrubbing through the timeline when editing videos down to application loading times. The significant bump in the price of Gen4 NVME SSD compared to competitive performing Gen3 NVME SSD is still quite high to jump over with. In fact, up to this date, I'm still using 2 1TB SATA SSDs in RAID 0 for my video editing scratch disk. Unless you frequently move large files and you really want to take advantage of the top-of-the-line speed of Gen4 NVME SSDs and if you have the budget, then by any means, go for it. As for the Kingston KC3000 1TB Gen4 NVME SSD, I have no major problems with it. It performs well over its rated speeds and sits right in the middle of the market space both in terms of performance and price. I just wish the heatsink is a little bit better than it is.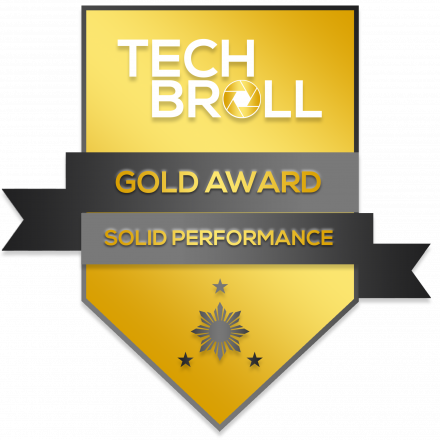 SHARE THIS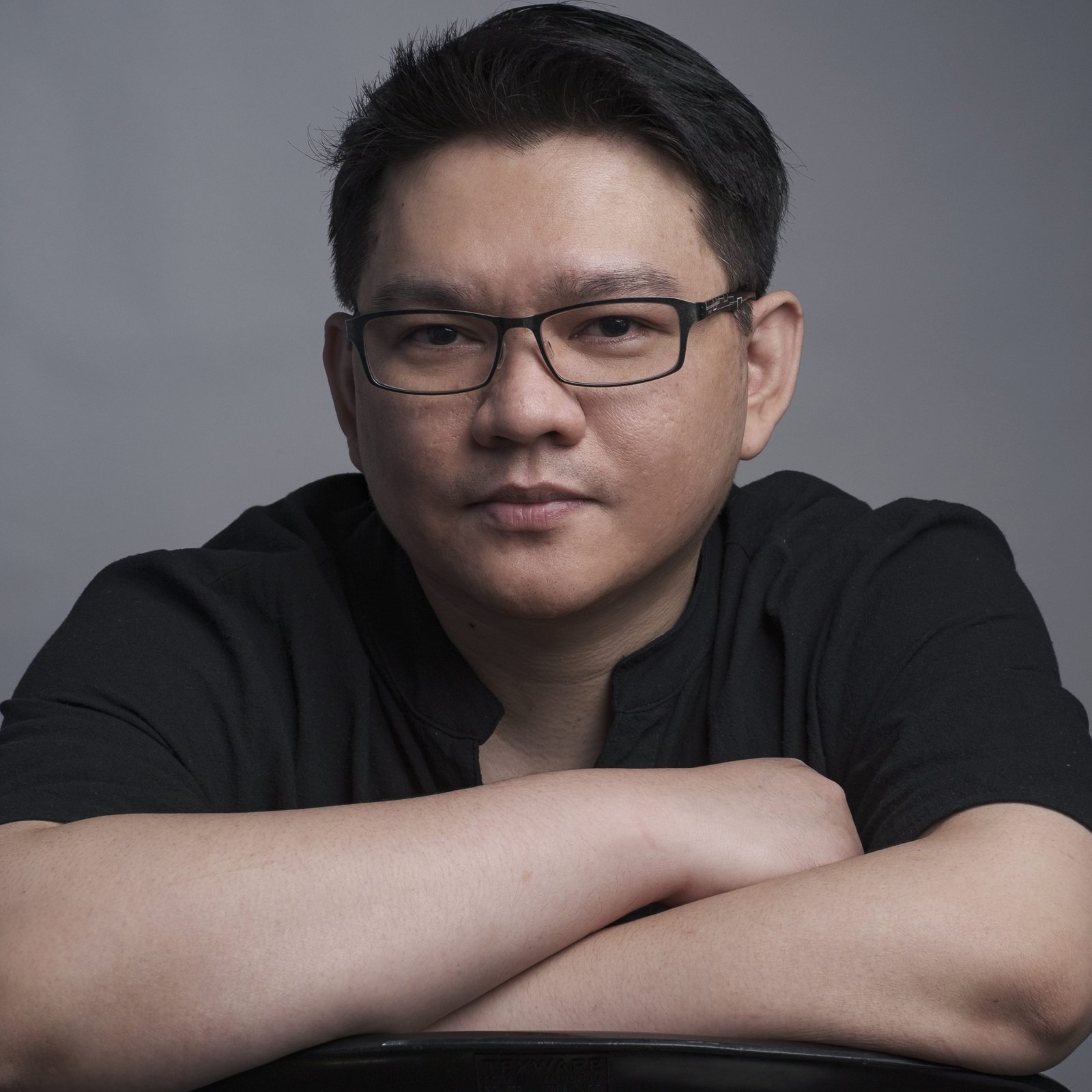 The Broll who always got your back online!