While there are a lot of security cameras out there from different brands in different models with varying features, sometimes it's quite hard to find one with a feature that I think is very crucial for a personal home security camera, and that's the ability to turn off the built-in microphone. A lot of security cameras that I've tried before has built-in microphone that you can not turn off. Basically, it's listening to you and your surroundings 24/7 which poses some privacy issues especially if you have multiple users able to view the online stream or even the recording. Another feature that sometimes not available with other security cameras is the ability to access the online streaming anywhere around the world as long as you have internet, some just have local network access which is kinda useless to be honest.
Now, what we have here have these two major features that I'm personally looking for and more. Today, we're taking a look at the Annke Nova J Security Camera, a personal home security camera that can be accessed anywhere and has a microphone that can be turned off if you don't need it. It also has a lot of features such as panning and tilting, night vision and a lot more. So with that being said, let's get into it.
MY EARLY BREAKDOWN


Pros: Good build quality, Built-in microphone that can be turned off, Can be accessed anywhere with an internet, Easy to setup and has a lot of useful features
Cons: Motion Detection Recording and Normal Recording can not be set individually, Low image quality at Full HD
SPECIFICATIONS


| | |
| --- | --- |
| Video Resolution | 2MP (1920×1080) |
| Image Sensor | 1/2.7″ Progressive Scan CMOS |
| Video Compression | H.264 |
| Video Bit Rate | 32 Kbps~8 Mbps |
| Audio Compression | AAC |
| Lens | 3.6 mm |
| Angle of View | 80° |
| Number of Infrared LEDs | 6 |
| Night Vision Distance | Up to 20 ft/6 m |
| PTZ | Pan (Horizontal): 350°; Tilt (Vertical) 100° |
| ONVIF | / |
| IR Cut Filter | Yes |
| Network | 2.4 GHz WiFi (IEEE 802.11b/g/n) 150 Mbps (Max) |
| Housing | Plastic |
| Operating Power | DC 5V ( Micro USB) |
| Storage | Micro SD Card (up to 64 GB) |
| Operating Temperature | 14 °F – 131 °F /-10 °C – 55 °C |
| Indoor/Outdoor | Indoor |
| Mounting Option | Ceiling Mount |
| Dimension (L x W x H) | 3.94″x3.55″x4.96″/100x90x126 mm |
| Weight | 0.49 lbs/220 g |
WHAT'S IN THE PACKAGE


The packaging is pretty straightforward with an Annke branding and image preview in front.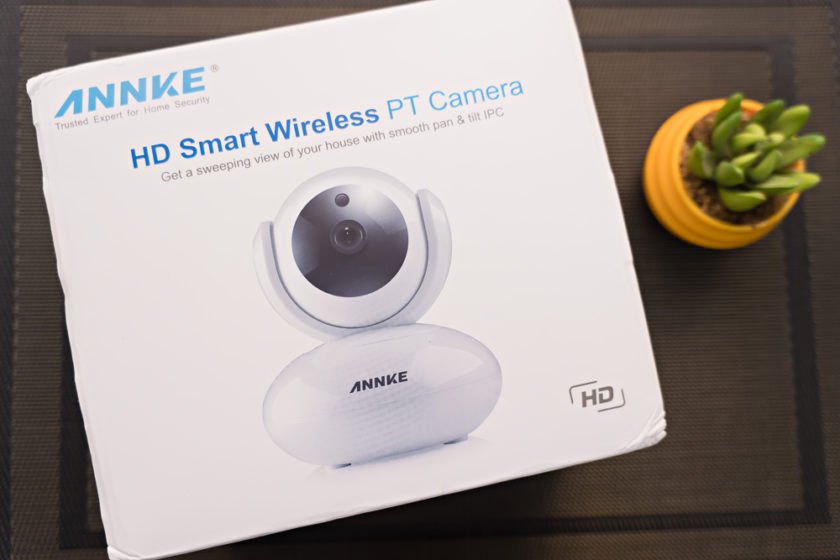 At one side of the box, we have the details about the package contents and an instruction on how to download the Myannke App.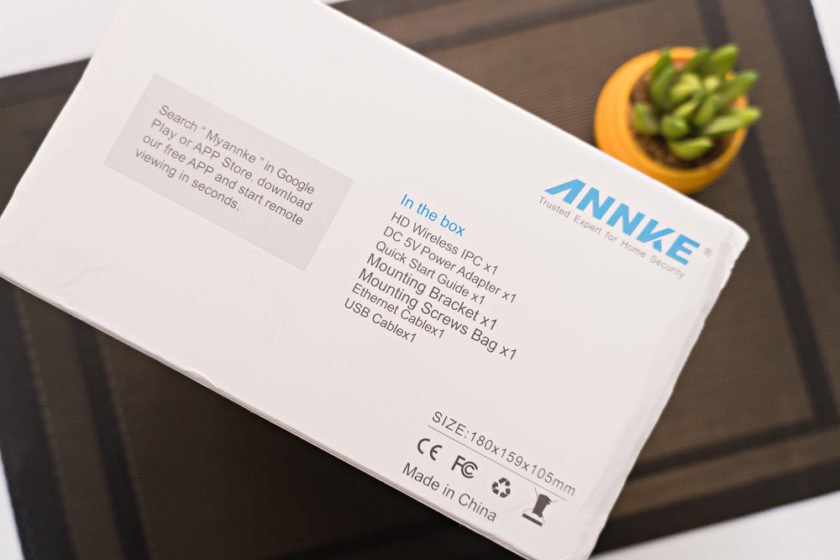 On the otherside, we have the key features that we're going to discuss later.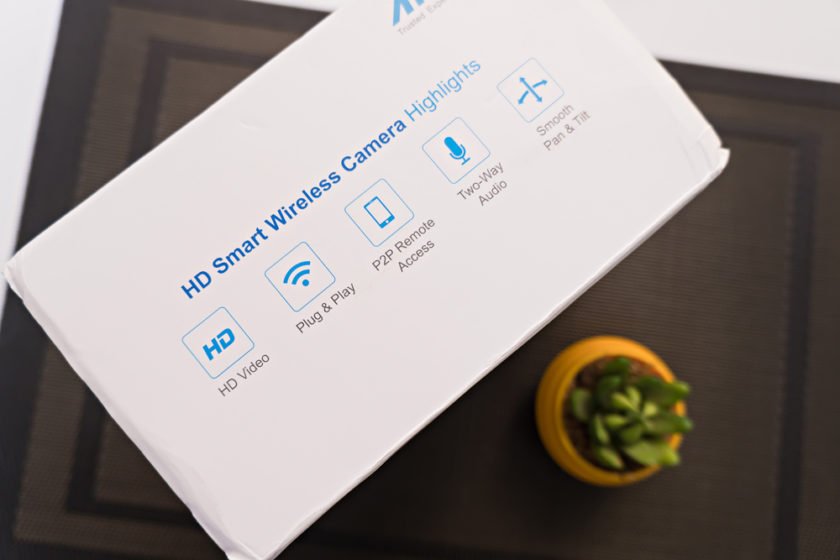 Opening the box, the first thing you'll notice is the Quick Start Guide.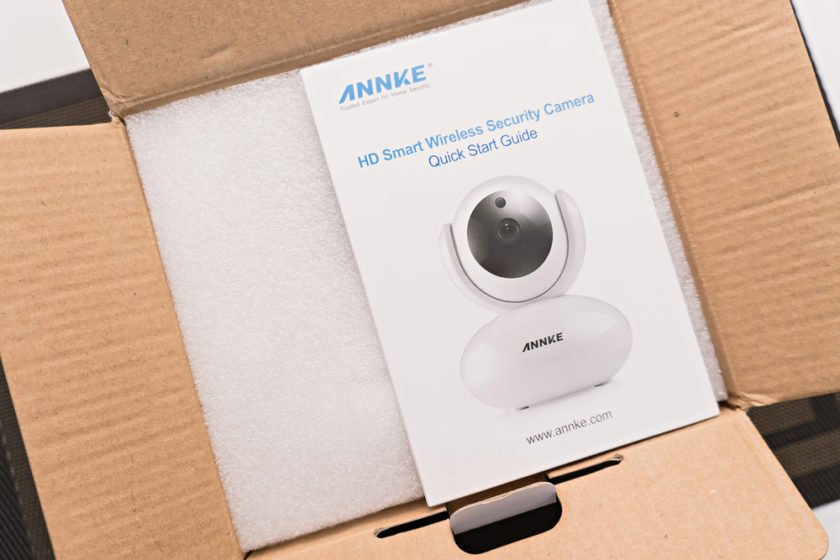 And then the complete package contents.
Inside the box, we have the Annke Nova J, a mounting bracket, microUSB Cable, Ethernet Cable, Quick Start Guide, Mounting screws and the Power adaptor.
FULL REVIEW
Design, Construction and Parts Overview


In terms of design, the Annke Nova J looks quite similar to other personal home security camera out there, it even looks like a baby monitor if you want to look it at that way. The construction is made mostly of plastic but it feels durable enough.
In front we have the main camera unit, the light sensor, IR light, microphone and an Annke branding.
On the left side, we have a loudspeaker,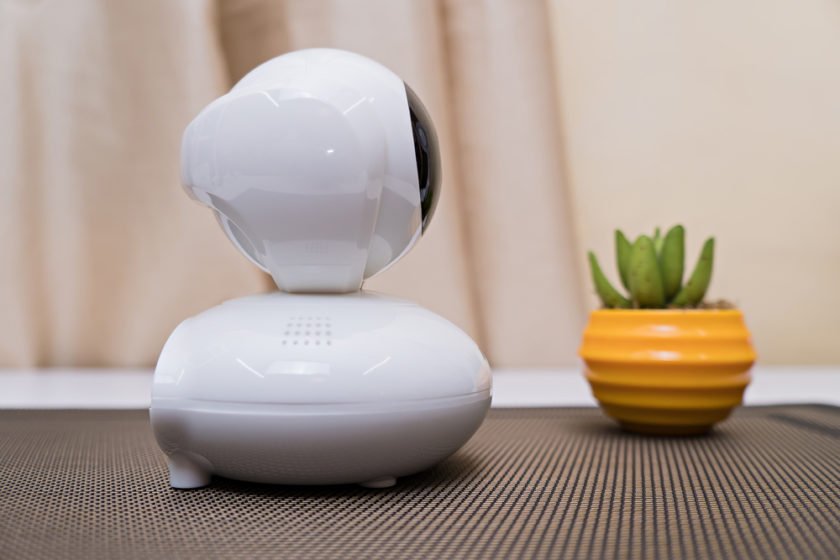 And then at the back, we have the microUSB port, reset button, microSD card slot, and the RJ45 network port.
On the otherside, we don't have any thing here.
350° Pan & 100° Tilt Flexibility


The Annke Nova J can pan up to 350 degrees and tilt up to 100 degrees which is pretty substantial for any workspace. You can pan and tilt using the MyAnnke App.
App Installation and Setup

Speaking of MyAnnke app, setting up the Annke Nova J is pretty easy, first, download the "MyAnnke" App from app store or google play store depending on your device.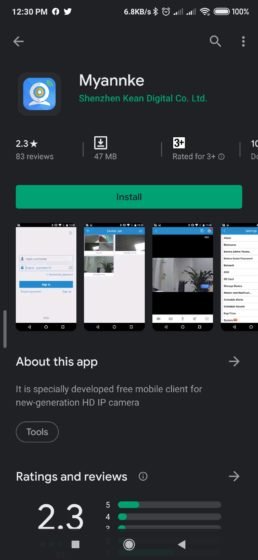 1. Power on the device, open the app and register for an account
2. Add a device by clicking the "+" icon, then select the camera type: PTZ Camera
3. Scan the QR code on the bottom of the camera or enter the Device ID manually and input the password (default: admin)
Setup Via Wireless Connection

1. Select Wireless Connection
2. Power on the device, proceed to the next step, wait for a "tick" sound which means the device has been setup
3. Press the reset button one time to start network connection, tap next when you hear the hint voice
4. Input the passoword (make sure your phone is connected to the WiFi network)
5. Wait for the device to connect to the WiFi
6. Change password
7. The setup is done
As for my personal experience, like most security camera like this, sometimes it's a bit tricky or challenging to connect the device via WiFi setup and sound connection. If you're having difficulties setting it up via WiFi, I highly suggest you connect it first via Wired so that it is directy connected to your network and then set it up via the App. Once you're able to connect the device to your internet connection via wired, it should be able to connect via wireless as well.
Setup via Wired Connection

1. Select ethernet
2. Power on the device, proceed to the next step, wait for a "tick" sound which means the device has been setup
3. Connect the camera to the router through ethernet cable
4. Change password
5. Select WiFi and input password to connect the device to WiFi as well
6. Modify the device name depending on your preference
7. The setup is done
Setting up the Annke Nova J via wired connection is super easy and straightforward because it is directly connected to the internet.
After setting up the device and connecting to the network, you can now start streaming and setting up the different features of the Annke Nova J via the MyAnnke App.
Annke Nova J Key Features
Internet Access, SD Card Storage and Cloud Subscription


Unlike other security cameras that can only be accessed through local network, the Annke Nova J can be accessed anywhere as long as you're connected to the internet which in my opinion, is pretty vital especially if you're out and about and you want to monitor your home or your workspace.
You also have the option to record everything 24/7 to an SD Card or subscribe to their cloud storage for the safety of your footage in case of unfortunate events like stolen device, corrupted SD Card and things of that nature.
Motion Detection and Recording Feature


Another nifty feature of the Annke Nova J is motion detection feature. When enabled, the camera will record a short video and will store it on the SD Card. You can also setup push notifications when the camera detects any movements.
Unfortunately, the motion detection recording feature is tied up with the overall recording feature. This means if you setup motion detection recording to let say 12am to 7am, then the camera will also only record footages during that time period.
Microphone and two-way audio


Another thing that I like about this security camera is that you can actually disable the microphone if you are concerned with your privacy. Aside from that, you can also use the built-in microphone and the loudspeaker to have a two-way audio for communication arond your space.
1080p Full HD & Infrared Night Vision


Now, when it comes to video resolution and quality, the Annke Nova J supports up to 1080p Full HD resolution which should be the minimum nowadays.
Image Quality


For screenshots, here are some examples so that you can have an idea about the image quality this security camera can produce for still images.
Video Image Quality


Now, for video, at Full HD 1080p resolution, the image quality is pretty decent when there's not much movement on the screen as you can see on these examples. Unfortunately, as soon as there is movement, the image quality suffers significantly. I think it has something to do with compression or stuff around that, but the image quality definitely becomes worse when there are things moving around.
Same goes for the infrared night vision's image quality at Full HD 1080p resolution, it automatically goes to night vision mode when it detects that there's no ample amount of light in the environment. But like I said, the image quality suffers when something is moving on the screen.
Image Quality Workaround


As per my further testing, I found out that using the "Standard" resolution 360×640 yields a better result in terms of image clarity as you can see on these examples. The resolution is significantly lower but at least you can still recognize my face. With that said, it's unfortunate that we can't get the same quality in Full HD resolution, probably a limitation on either the camera sensor itself or with video compression. The good thing is, you don't really need high resolution as long as you can recognize faces and what's happening around the space.
More App Screenshots


VERDICT


To conclude, the Annke Nova J security camera had the potential to be one of the better security camera that you can get right now for your personal space. It has decent build quality, flexible pan and tilt movements, two-way audio with mutable microphone, intuitive app and can be accessed anywhere as long as you have internet. It has all the features that I am really looking fo but unfortunately, it fell a little short when it comes its primary purpose, and that is to capture images and videos clearly at Full HD resolution. The good thing is there's a workaround by using a lower resolution that should provide enough image quality to recognize faces and things moving around the environment. 
Thanks to 
Annke
for making this review possible, you can get this security camera from their official website, link below.
If you like this one, please consider subscribing to my channel by hitting the button below. Have a great day!

WHERE TO BUY:

Annke Official Website:
Price may vary depending on existing promos
The views and opinions on this review are solely based on my own personal experience, your results may vary
SHARE THIS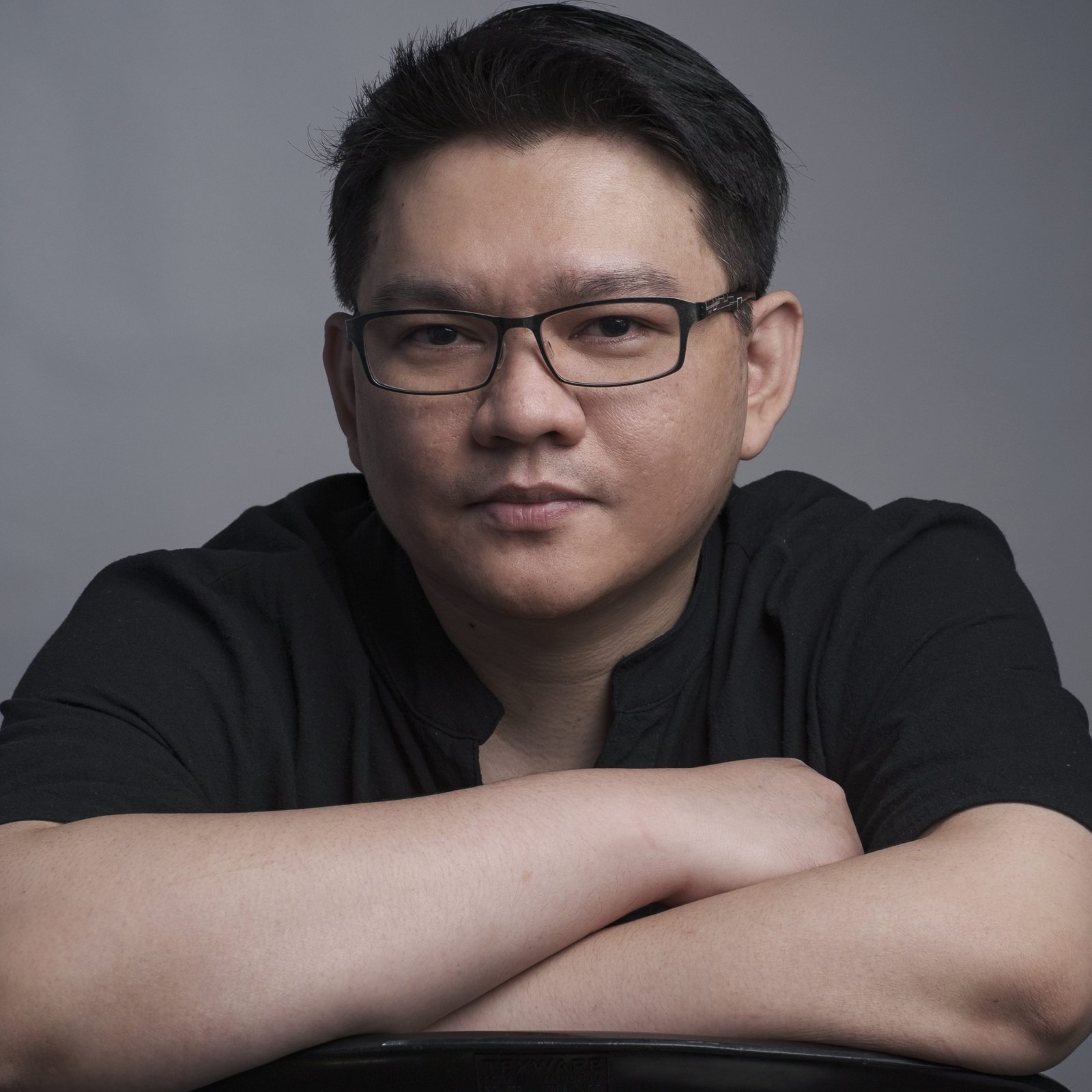 The Broll who always got your back online!