When you hear ASUS ROG or Republic of Gamers, we all know that it ties with premium quality gaming peripherals with an equally premium price tag, and rightfully so. Now, some may think that their peripherals are arguably more expensive compared to other offerings out in the market, but you got to account for the details ASUS put into their ROG lineup starting from the packaging down to the features and software. Those are the tangible things that aren't always available on most budget peripherals and it is safe to say that there's really a certain target market for these kinds of premium peripherals. I just want to put my thoughts out there as you've known me as a budget-minded consumer. With that being said, not all ASUS ROG peripherals are expensive and today, we're taking a look at a couple of affordable ASUS ROG Strix gaming peripherals in the form of the mouse and mousepad combo ASUS ROG Strix Impact II and ROG Strix Slice.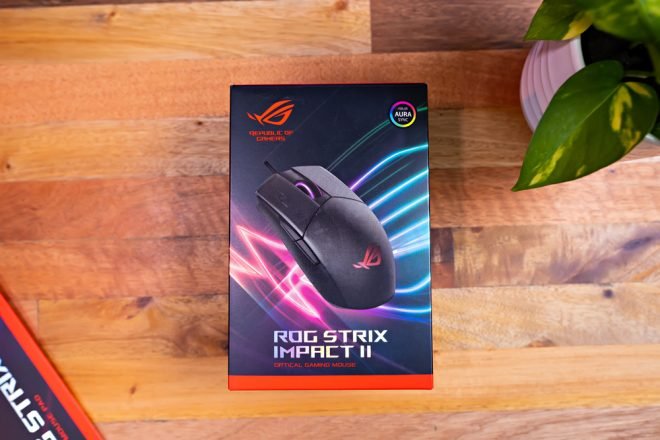 MY EARLY BREAKDOWN
ASUS ROG Strix Impact II


Pros: Decent sensor and performance, Relatively comfortable shape, Good build quality with swappable switches, Flexible soft rubber cable, Customizable software, Affordable
Cons: Heavy for a lightweight mouse in today's standard
ASUS ROG Strix Slice


Pros: Extremely thin, Lightweight, Smooth, and Flexible
Cons: Though flexible, still susceptible to fold damage, relatively small in size
SPECIFICATIONS
ASUS ROG Strix Impact II


Connectivity Technology: Wired
Tracking: Optical
Sensor: Pixart PAW 3327
OS Support: Windows® 10
Dimensions: L120 x H62.5 x W39.5mm
Weight: 79 g without cable
Color: Black
Resolution: 6200dpi
Interface available: USB
ASUS ROG Strix Slice


Dimensions:
13.8 x 9.8 x 0.02 in
350 x 250 x 0.6 mm
Weight: 74 g
Material Used: Polycarbonate plastic
WHAT'S IN THE PACKAGE
ASUS ROG Strix Slice


The packaging for the ASUS ROG Strix Slice is still pretty standard with any ROG peripherals with the patented ROG eye logo design, Republic of Gamers logo, and the model name itself.
At the back of the slim packaging, we have another preview of the mousepad as well as its key features.
ASUS ROG Strix Impact II


Like the ASUS ROG Strix Slice, we also have the same ROG theme for the ASUS ROG Strix Impact II with the addition of the AURA sync badge.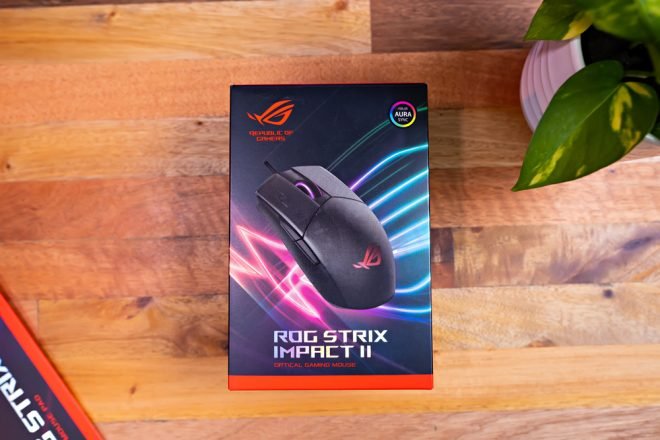 At one side of the box, we have the ROG Strix Impact II model branding,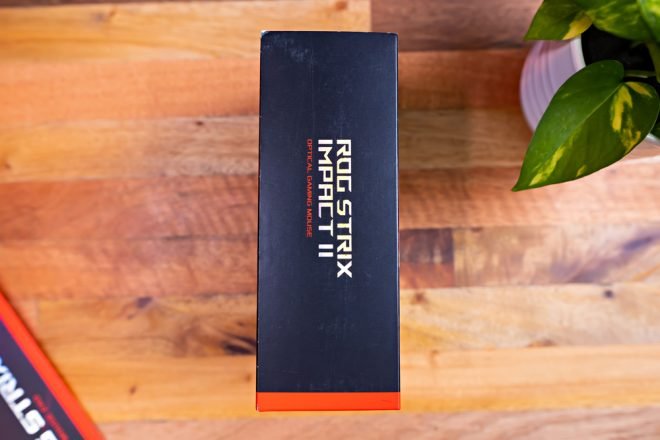 And on the other side, we have some descriptions in different languages.
At the back of the box, we have a preview of the product as well as all its key features and some of its specifications.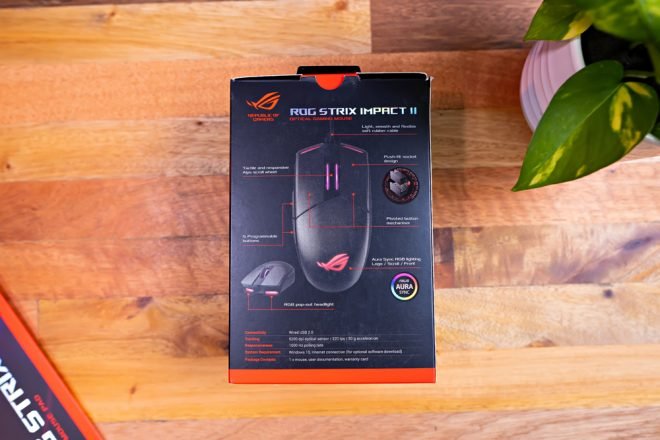 Upon opening the box and sliding the packaging, we're greeted by the ASUS ROG Strix Impact II itself protected by some cardboard and a plastic cover.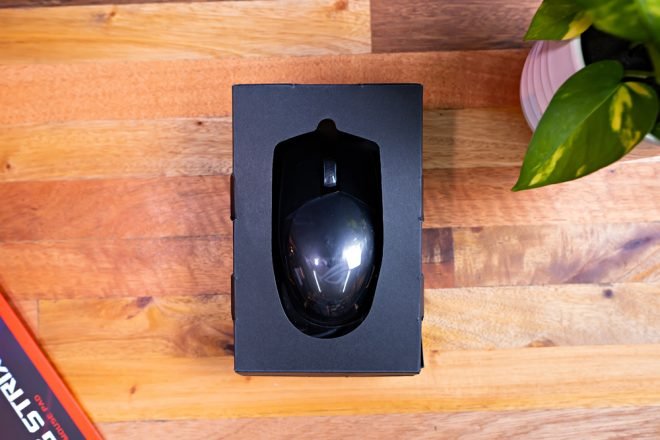 Inside the box, we also have a couple of paperwork with the warranty card and the user manual.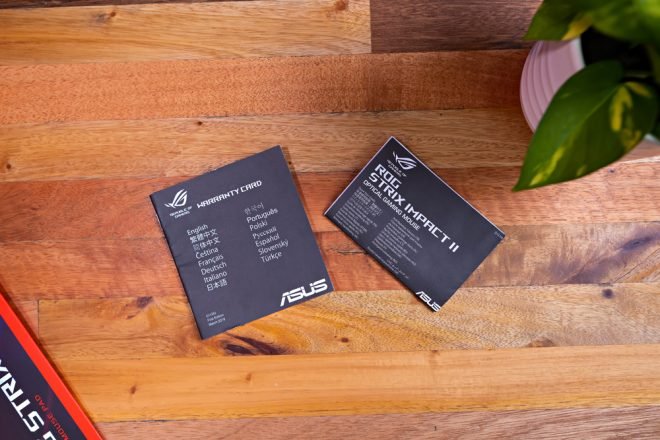 And lastly, we have the ASUS ROG Strix Impact II Gaming Mouse Itself.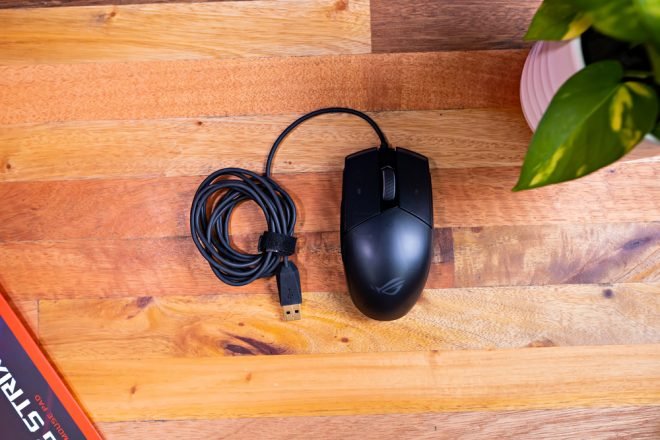 FULL REVIEW
ASUS ROG Strix Impact II
Design, Construction, and Parts Overview


In terms of design, the ASUS ROG Strix Impact II features an ambidextrous shape or for a better description, symmetrical with forward and back buttons located only on the left side. 
Looking from above, we have the left and right main clickers, the scroll wheel that of course, also works as a middle button and that's about it. We don't have a DPI button at least here on top. One thing that makes the design of this mouse quite unique is that it features this sort of translucent shell that on a certain angle, makes the internals visible which I think is pretty cool. It also has this nice smooth matte texture to it that is also kinda fingerprint-resistant. And lastly, here on top, we also have the ROG eye logo that illuminates once plugged in alongside the scroll wheel and front accent lighting.
Flipping it on the left side, we have the forward and back buttons and the well appreciated textured side for better grip.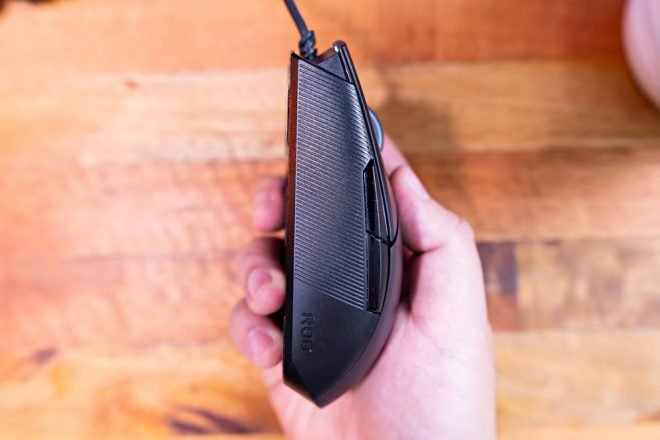 On the other side, we have the same pattern for the grip and another ROG logo. Now, even though the shape is symmetrical, this mouse is more of a right-handed one due to the lack of forwarding and back buttons here on the right side. With that said, left-handed users are still welcome to utilize this mouse, you'll just have to go around about the side buttons.
Turning it all over at the backside, we can clearly see here the bump which in the case of my hand is just about the right height for my preferred grip.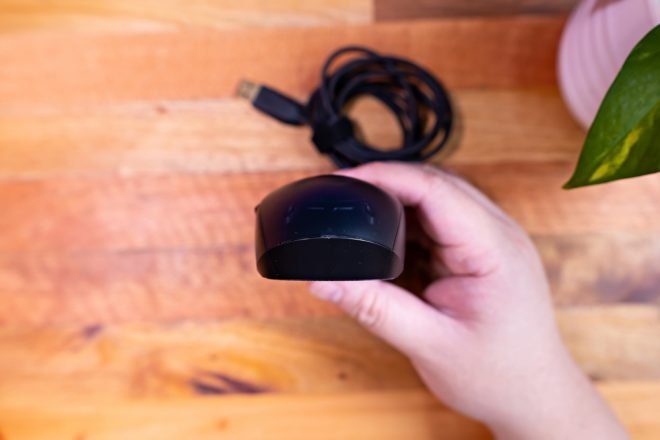 Flipping it on the other side, in front, we can see here the profile of the mouse clickers with just a tiny gap between the clickers and the shell. We can also see here the two translucent white accent that actually illuminates once plugged in.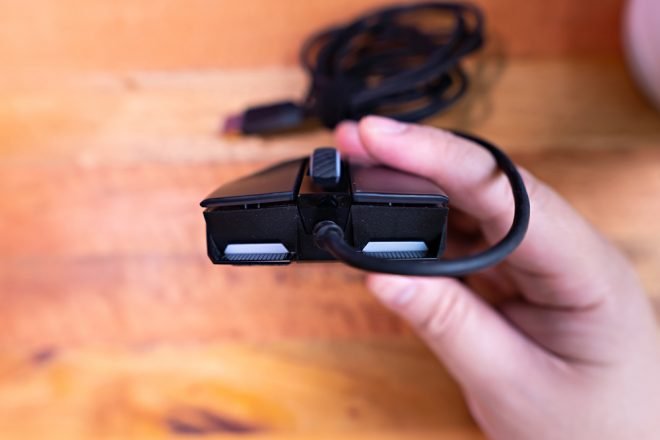 Looking at the bottom, we have 3 mouse skates, 4 rubber cover for the screws which thankfully don't hinder the skates. We also have here the DPI adjustment button with a rather weird placement here at the bottom instead of the usual spot below the scroll wheel but hey, at least we still have that as an option. And lastly, aside from the technical details and the ROG eye logo, we have the Pixart PAW 3327 sensor.
Scroll Wheel and Mouse Clickers


The scroll wheel I'd say is satisfactory. The tactile feedback of the notches is somehow weak and the wheel itself is a bit squeaky. 
In terms of the mouse clickers, it is using Omron switches and features the so-called Pivoted Button design which essentially allows the switches to have zero gaps with the top shell which then allow for quick and precise activation. As per my experience, the clickers are indeed easy to press, lightweight, and clicky as you would expect from an Omron switch. And not only that, the ASUS ROG Strix Impact II actually features one more nifty feature when it comes to its mechanical switch and that is the Push-fit socket design which basically allows you to quickly replace the switch depending on your preference and if any case that the switch becomes faulty at some point. The repair experience couldn't be this easier.
Comfort and Grip Styles


In terms of comfort, for the size of my hand which is relatively small and chubby, I have no problems reaching out both the forward and backward buttons naturally without having to adjust my grip.
In terms of the shape, again it is symmetrical with a slight bump towards the back and I think depending on the size of your hand, it is suitable for palm, fingertip, and claw grip users.
My only minor issue with this in terms of comfort is the weight of around 79.5g give or take which is not that lightweight in today's standard especially with the availability of ultra-lightweight gaming mouse out in the market. With that being said, as per my testing, I expected to have some sort of transition period with this but to my surprise, I was able to grasp and adjust right away when it comes to the shape and weight and it became natural to me as soon as I tried it on FPS specifically in Valorant, though at some point, you will eventually feel the weight difference.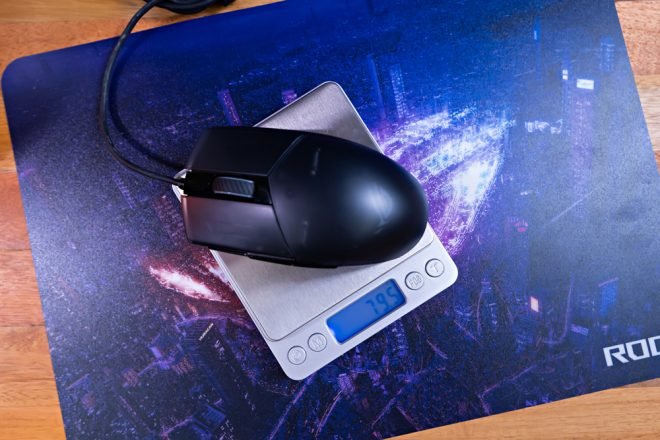 Cable and Plug


One thing that I like about this mouse is the cable, thankfully, ASUS decided to stick with a flexible rubber cable instead of going with the braided cable hype, though a paracord cable would be nice, this is fine too. Not to mention the USB Type-A plug is also gold plated and we also have a nifty velcro strap.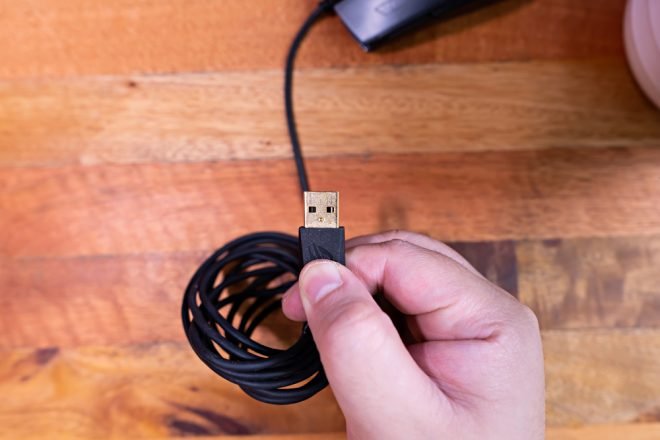 Armoury Crate Software


The ASUS ROG Strix Impact II is fully supported by the ASUS Armoury Crate which is their sort of all in one software hub for configuring your ASUS peripherals and devices to take advantage of what they can offer.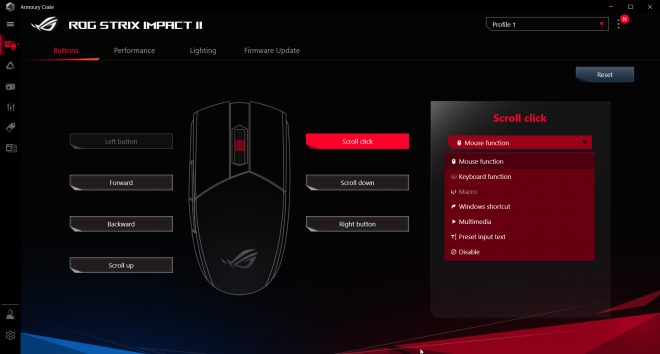 Inside the software, you can basically configure the buttons to function differently depending on your preference. You can set it to a different mouse function, keyboard function, window shortcuts, multimedia, and others.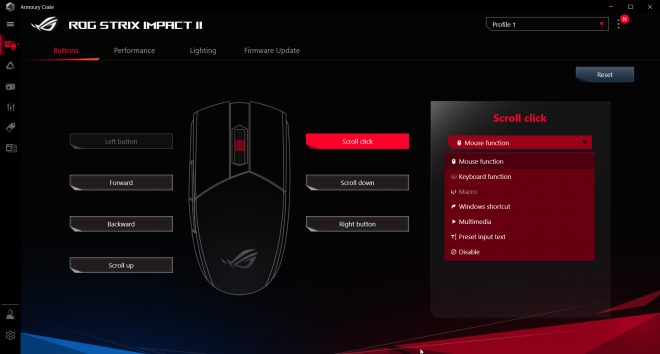 You can also set up here your DPI settings, Angle snapping, Polling rate and Button response. Unfortunately, there's no option to adjust the lift-off distance.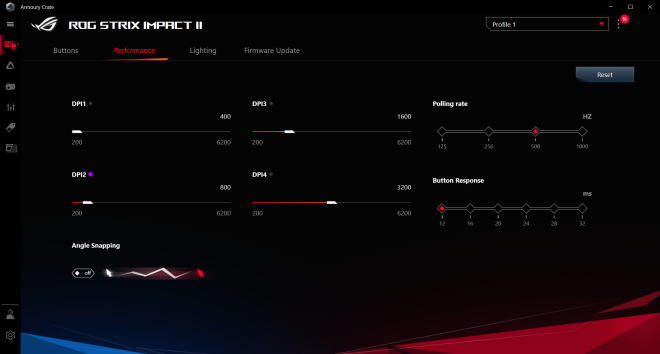 Aside from the performance settings of course we have the Aura Sync compatible lighting configurations.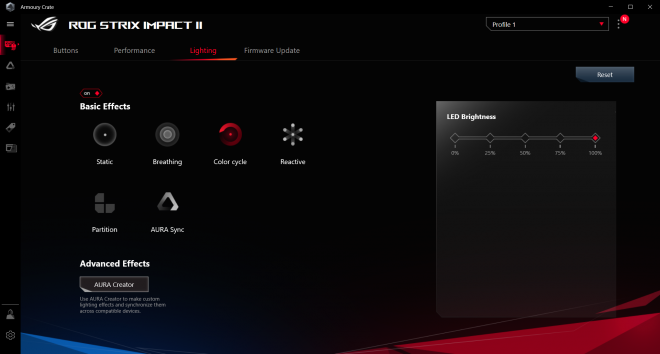 And lastly, we have an option here to check and update the firmware.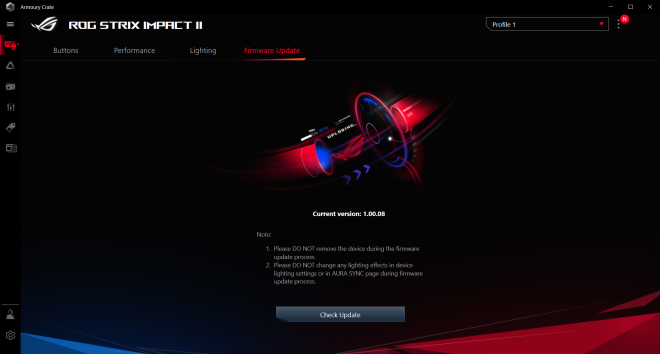 Now, before I give you my complete experience, let's take a look at the ASUS ROG Strix Slice Gaming Mousepad first.
ASUS ROG Strix Slice
Design, Construction, and Parts Overview


In terms of the design, it has everything you would imagine when it comes to a ROG Gaming Mousepad with a massive ROG eye logo and this kind of night city skyline vibes going on. The ROG eye logo apparently glows in the dark which is quite interesting.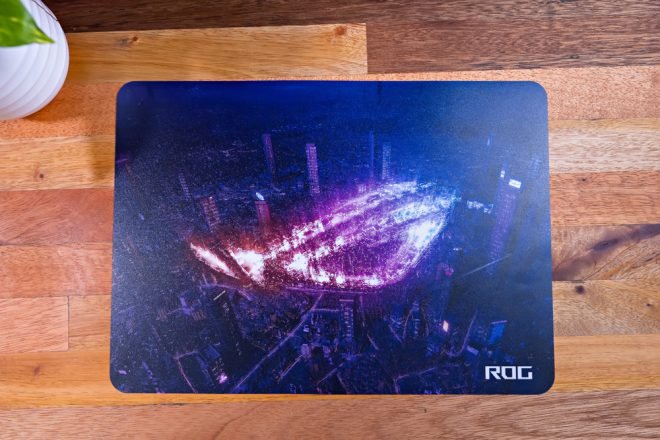 In terms of construction, it is made of 0.6mm polycarbonate material with some slight texture but ultimately, it is a smooth, thin, lightweight, and somehow flexible gaming mousepad.
Of course, we gotta have that ROG logo on the lower right corner.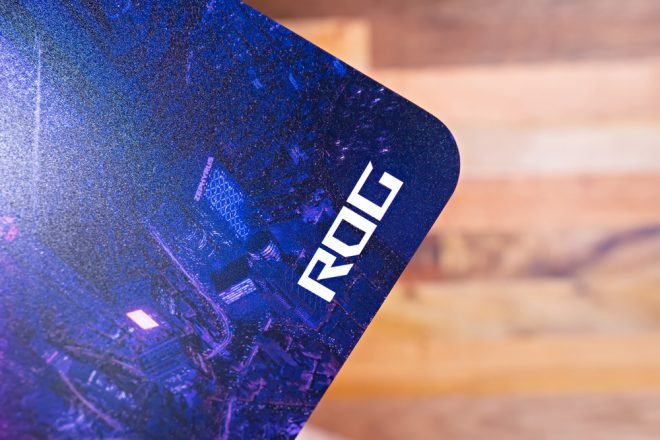 Now, the bottom features a disguised grippy type of texture that sticks firmly on most surfaces that I've tried to place it into.
One downside of having this kind of hard polycarbonate material is that even though it is quite flexible, it is still susceptible to fold damage.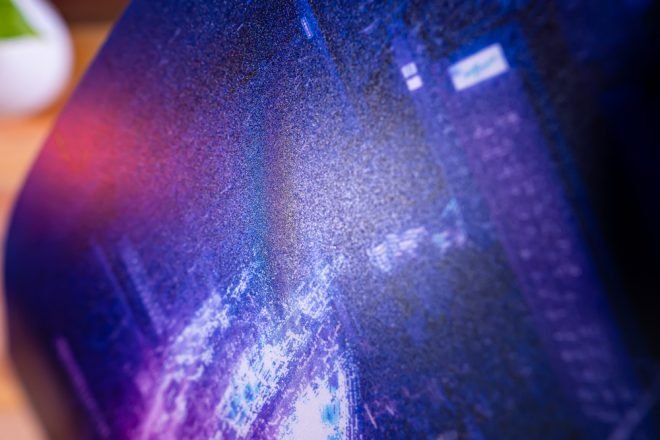 VERDICT


In terms of my overall experience, I'm pretty impressed with the ASUS ROG Strix Impact II especially given the fact that it's just around the Php 2000 price point. The design and construction are on par with ROG quality, the shape is very good and should fit most hand sizes, the mouse clickers are even replaceable and the sensor is also pretty decent for its price, not to mention, the quite flexible rubber cable and the useful software. Again my only gripe with this is the weight considering the vast availability of ultra-light gaming mouse out in the market.
As for the ASUS ROG Strix Slice, I'd say the design is good and on par with ASUS ROG Aesthetics and might be useful to others especially the ones who prefers hard and smooth surface. But unfortunately, it's not for me as I prefer a larger soft cloth mousepad with substantial friction for better control. 
Related Articles:
Ultralight GPW Alternative? Fantech Hive UX2 Review!
Read this before buying the NEW Tecware Exo Elite + VS Kaptan VS MM711
Unboxing a SPECIAL EDITION Gold and Red Iron Man Themed Cooler Master MM711
i-Rocks M36 Pro Gaming Mouse Review – Optic Magnet Microswitches!?
Rakk Kaptan Gaming Mouse Review – Best Rakk Gaming Mouse!
AKKO Smart 1 Dragon Ball Super Themed Wireless Mouse Review
ASUS TUF M5 Gaming Mouse Review
Rakk Ilig V2 Gaming Mousepad Review + Comparisons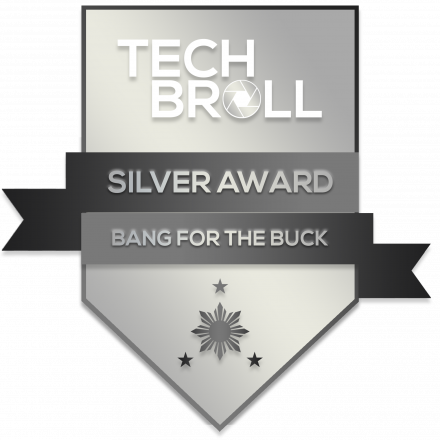 ASUS ROG Strix Impact II
Php 2,195
Pros
Decent sensor and performance
Relatively comfortable shape
Good build quality with swappable switches
Flexible soft rubber cable
Customizable software
Affordable
Cons
Heavy for a lightweight mouse in today's standard
SHARE THIS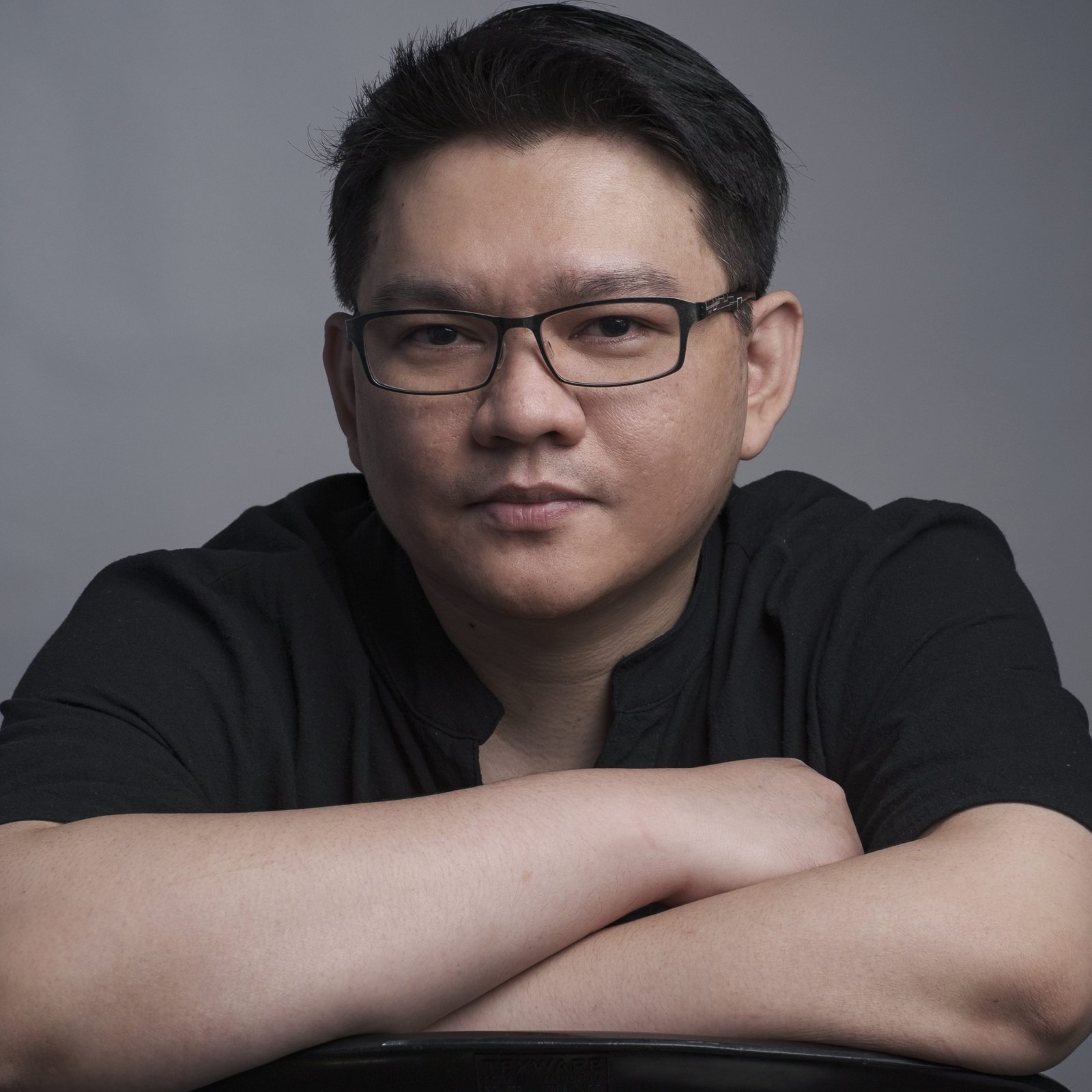 The Broll who always got your back online!