The TUF Gaming branding has been slowly ramping up its popularity getting its reputation for providing durable products while being relatively affordable ranging from PC Components down to their peripheral lineup. And rightfully so, it's not entirely considered as budget but most of the products from the TUF Gaming lineup provide bang for the buck features, the necessities, the no-frills character that most people have come to love about. 
Today, we have something new from the said brand as we take a look at the NEW ASUS TUF Gaming K1 Keyboard. A mecha-membrane keyboard that boasts the same durable features, reliable attributes while introducing some new key features that might entice the general gaming population.
MY EARLY BREAKDOWN
Pros: Decent design and construction, Affordable, Dedicated volume knob, Side glow with nicely placed LED indicators, Intuitive and useful software
Cons: Membrane keys tends to be a bit mushy, Inconsistent key rollover
SPECIFICATIONS
Connectivity Technology: Wired, USB 2.0
OS Support: Windows® 10
Dimensions:
Keyboard: 451 x 155 x 36 mm;
Wrist Rest: 451 x 66 x 18 mm
Weight:
Keyboard: 810 g
Wrist rest: 95 g
Color: Black
Interface available: USB
Switches: Membrane 
Key feature: Dedicated Volume Knob, Side glow
WHAT'S IN THE PACKAGE
The packaging for the ASUS TUF Gaming K1 features an image preview in front, a large ASUS TUF Gaming logo, a TUF Gaming K1 model name, and a couple of its key features.
At the back of the box, we have all its key features and specifications as well as another image preview featuring the side glow illumination.
Upon opening the box, the first thing you'll notice is the ASUS TUF Gaming K1 itself nicely protected by a foam sleeve.
Removing the keyboard from the box shows all of the package contents.
First, we have the removable plastic palm rest,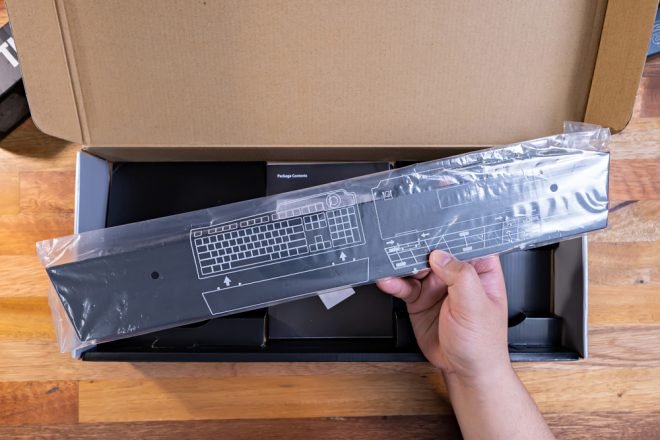 A user manual,
And a warranty guide. And that's pretty much it for the unboxing experience.
FULL REVIEW
Design, Construction, and Parts Overview
At first look and touch, the ASUS TUF Gaming K1 definitely feels plasticky but not the cheap flimsy type of construction. It is made mostly out of hard plastic materials with the patented specialized coating that allows the keyboard to be sweat and scratch proof. And not only that, but it is also spill-resistant up to 60ml. Essentially, this means it is safe from quick spills from a cup of water and the like.  
The data cable is nothing fancy, it is a simple cable with a USB Type-A plug at the end.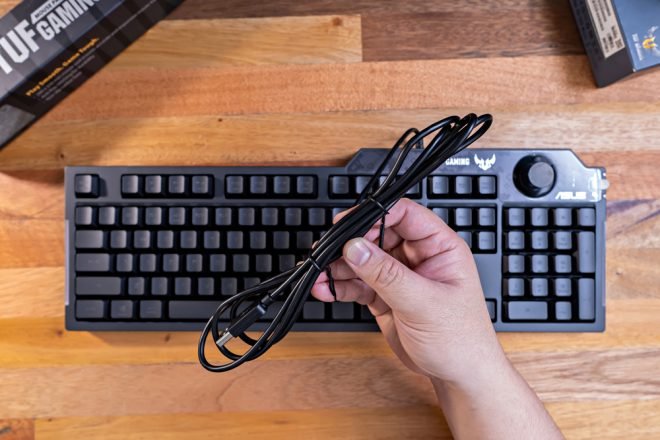 No braiding, no additional USB passthrough. 
Here in front, we also have the most useful and probably the feature most of us are looking after. A dedicated volume knob. 
It has defined tactile notches to it but I was disappointed a bit when I found out it doesn't double as a button. I honestly feel that was a missed opportunity for a mute function and shortcuts around that nature. 
Another thing that got me disappointed, though a much more minor aspect, is the fact that the translucent lining around the volume knob doesn't light up. It probably does just a faint from the surrounding LED zones but it's not apparent to call a feature. With that being said, those are not cons, just some minor missed opportunities n my humble opinion.
On the good side, what I like about this corner of the ASUS TUF Gaming K1 is the nice placement of the LED indicators for num lock, caps lock and windows key lock. It's subtle but adds a useful but clean look to the keyboard. We also have here some TUF Gaming and ASUS branding.
I also like the customizable side glow, though it's entirely unnecessary in my opinion. Nevertheless, it adds up to the overall aesthetic of this keyboard.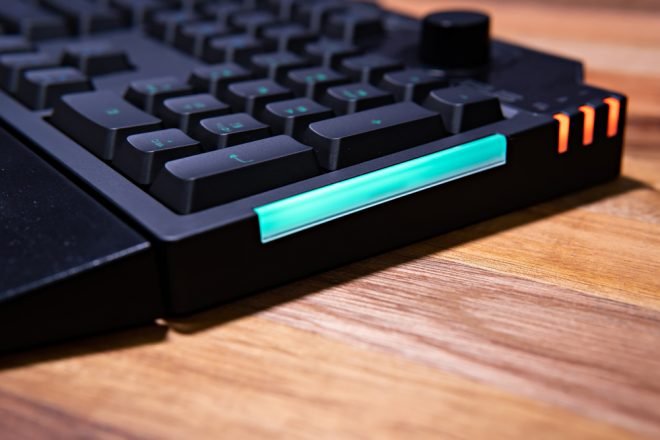 Now, before we go through the rest of the parts of this keyboard, let's finish it up here in front.
Layout
In terms of the layout, the ASUS TUF Gaming K1 features a standard ANSI layout, though of course, being a membrane keyboard, the keycaps aren't easily replaceable. It is a full-size keyboard with a num pad, dedicated arrow keys, full navigation cluster keys, and the rest of the function row up top.
Keycaps and Fonts
Like I said, being a membrane keyboard, the keycaps are designed in such a way that it somehow mimics the feel of a mechanical keyboard. That's why some people call it a "mecha-membrane" or a "mechanical feel" keyboard. 
It is made of ABS plastic which means unlike a Doubleshot PBT keycap, the keycaps will eventually shine and the legends may fade away over time. Unless the specialized coating does its job.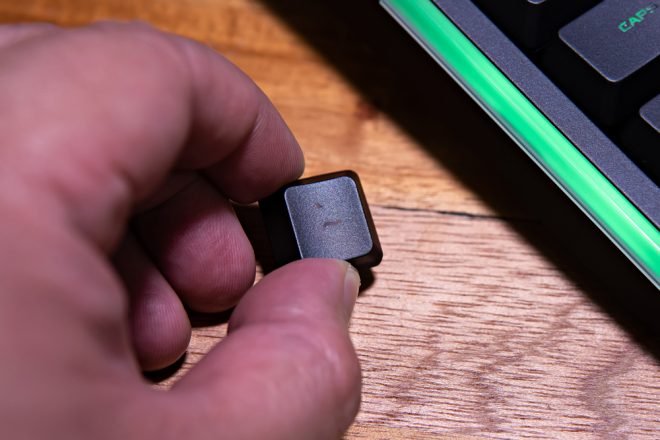 As for the fonts used, the characters are boxy with large alphas, medium numeric keys, and smaller fonts on the modifiers.
Switches/Keys
In terms of the switches, or for a better definition, membrane keys, the ASUS TUF Gaming K1 features rubber dome keys which due to the nature of their design, material, and construction, provides a bouncy tactile feel. The rubber dome once pressed will activate the circuit board/circuit sheet underneath it. This means a lot of things in comparison with a true mechanical switch but essentially, this means the keys are not individual for both the keys themselves and its illumination, provides a different feel overall, are cheap, and seen on most budget keyboards like this. It is, however, due to the simplicity of its design and the overall construction, allows the keyboard to be spill-resistant.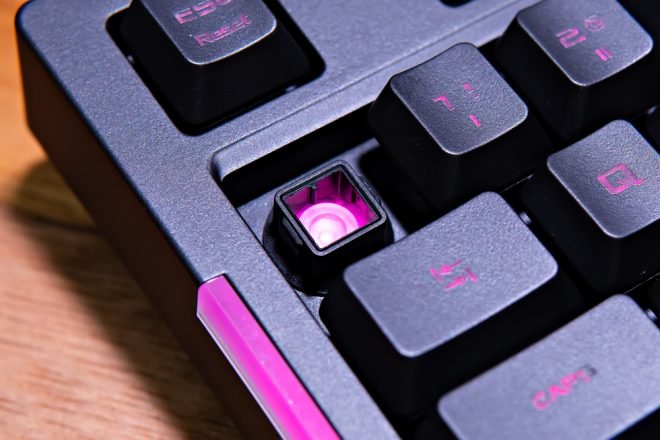 With that being said, I don't mind the membrane or rubber dome characteristic of this keyboard that much as it still provides that nice tactile feel, albeit bouncy and most often than not, mushy. I will still pick up a nice mechanical keyboard any time of the day though.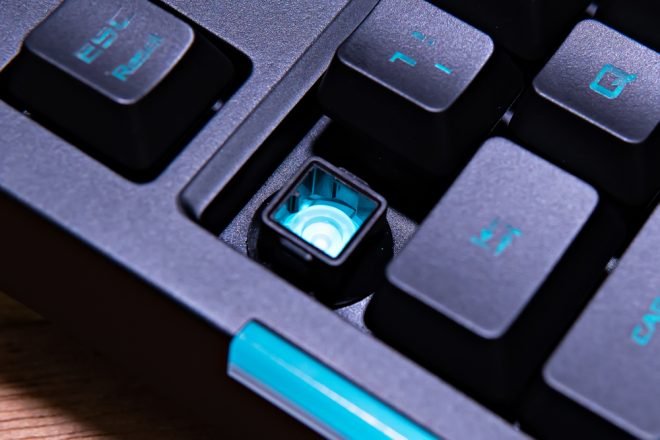 Stabilizers
As for the stabilizers for both the spacebar and the modifiers I'd say they are pretty decent with minimal rattle.
RGB Illumination
In terms of the RGB illumination, as I've pointed out earlier, the ASUS TUF Gaming K1 doesn't have individually lit keys but instead uses RGB zones underneath the keys. This means it's not as bright as individually lit keys but still substantial for a fairly dim environment.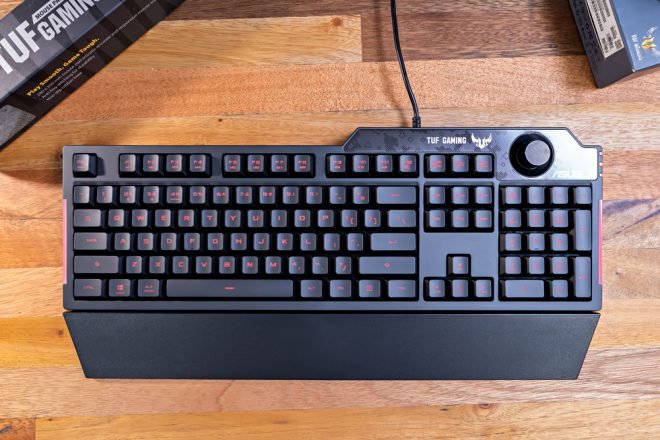 Lighting modes are quite basic as well with just static, breathing, color cycle, and rainbow as your options either via the onboard key combinations using FN + Arrow keys or via the ASUS Armoury Crate software. 
You can adjust the brightness levels by pressing FN + up or down arrow keys. And this is how it looks when most of the lights on our studio are turned off.
Removable Palm Rest
Lastly here in front, we have the removable palm rest which is made out of plastic with I guess, the same specialized coating. 
It snaps easily in and out depending on your preference.
Personally, I like using palm rests as it is more comfortable for my typing style.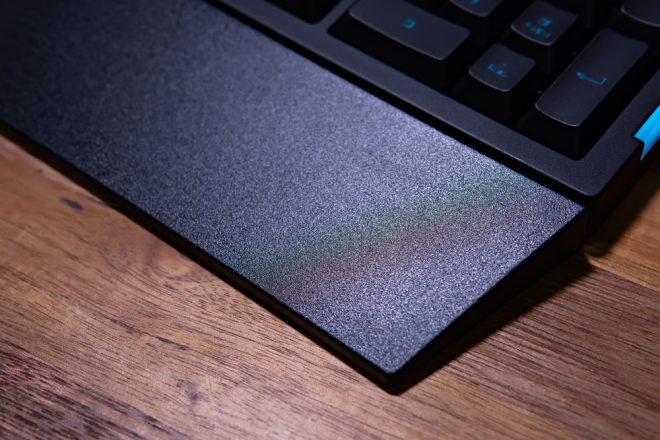 Now, while we're at it, let's take a look at the rest of the parts of the ASUS TUF Gaming K1.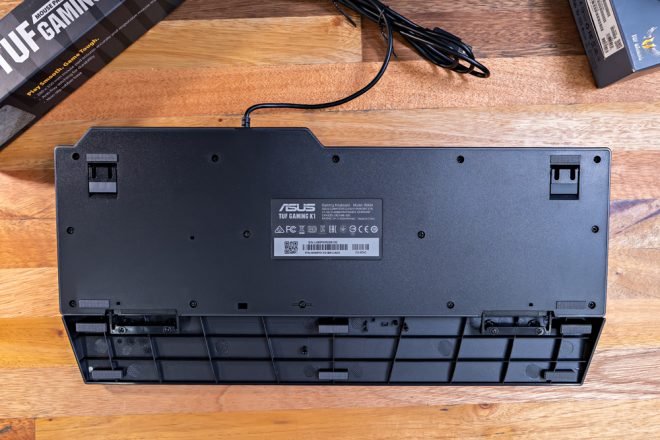 Still here at the back of the palm rest, we have 6 rubber feet for a total of 12 rubber feet including those on the keyboard and on the flip-out stands.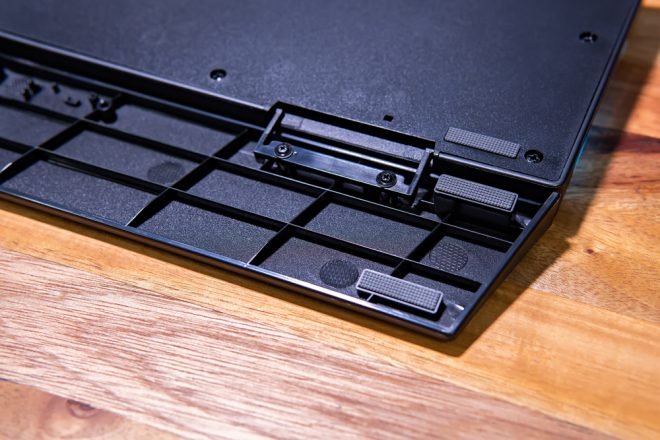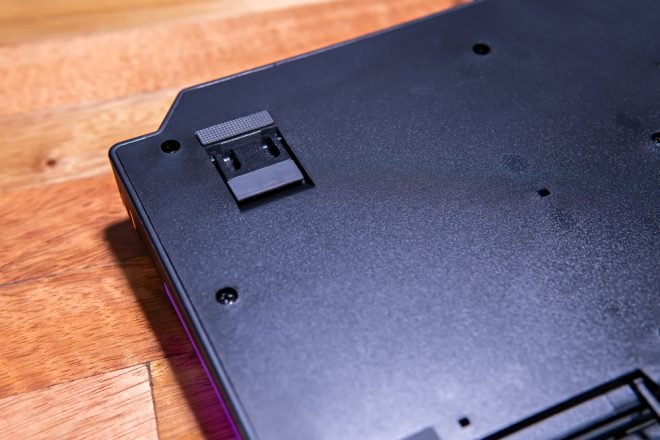 Yes, we do have a couple of flip-out stands which is pretty standard especially for a full-sized keyboard like this.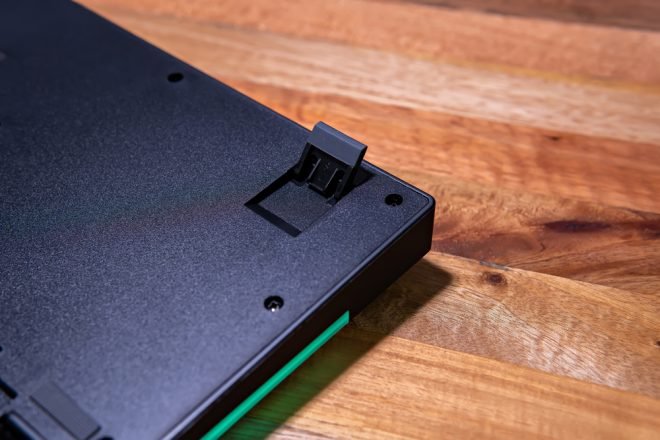 Here at the back, we also have some technical details and certifications.
Flipping it on its side, we can have a better view of the slightly slanted profile of the bottom case and that it features a high profile design which means the keys are hidden except for the keycaps. We can also see here the side glow illumination as well as the tilt angle to which the keyboard sits when the flip-out stands are utilized.
Looking at the backside, we just have a single non-removable cable.
Typing Experience
As for the typing experience, the membrane keys feel substantially tactile with decent resistance and have a sudden bottoming and bounceback feel that you might expect from a rubber dome. The overall typing experience is pretty decent but sometimes it feels quite sticky or mushy. There is also a slightly squeaky feel when you press the key slowly. With that being said, we are limited by how a membrane sheet or a rubber dome is designed so there's not much we can do about the overall typing experience. 
Gaming Experience
As for the gaming experience, it does the job done. I didn't encounter any issues with it aside from the inconsistent key rollover. As per specifications, it features a 19-key rollover and for the most part, it does work, but depending on the zone, sometimes I can't press more than 3 keys at the same time. This is not a big deal in my opinion unless you type quite fast and you play rythm games and games that require pressing multiple keys at the same time.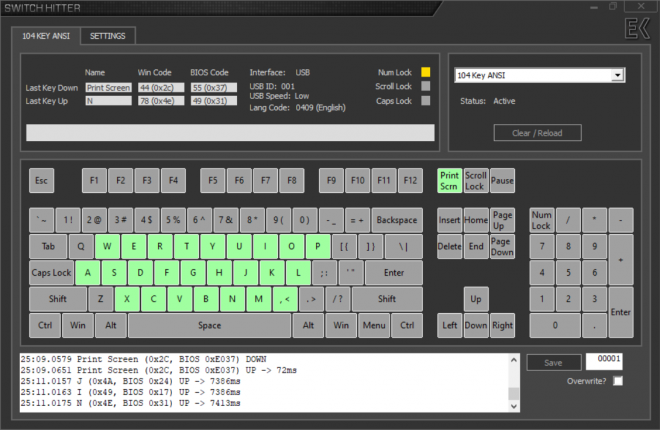 ASUS Armoury Crate Software
Like any ASUS device, components, peripherals, and what have you, the ASUS TUF Gaming K1 is backed up by the all-in-one ASUS Armoury Crate software, the gateway for all ASUS devices.
Inside the software, you can pretty much customize any key to function differently depending on your preference and style.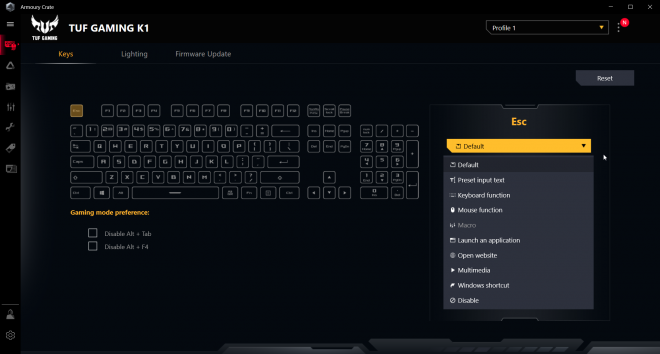 And you can also precisely configure the lighting effects here on the lighting tab.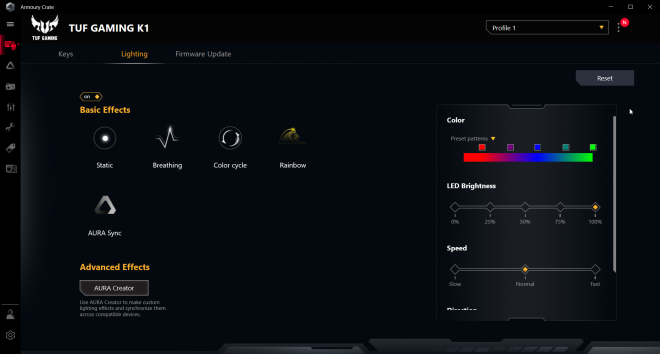 And lastly, you can also update the firmware here and make sure your keyboard is always in tip-top shape.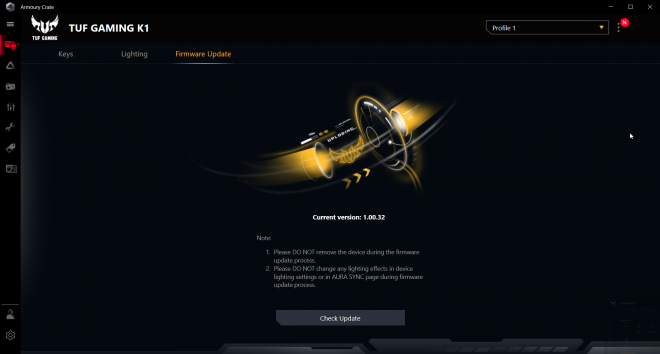 VERDICT
To conclude, the ASUS TUF Gaming K1 has all the essentials baked into a simple yet durable design and construction. The keys are substantially decent and have everything you might expect from a membrane keyboard. What separates this however from the rest of those "mecha-membrane" or "mechanical-feel" keyboards is its overall build quality backed up with intuitive and useful software while introducing nifty features such as the RGB side-glow illumination and the nifty dedicated volume knob. Now, If you ask me, who is this keyboard for? well, for starters, this would be an ideal option for those TUF Gaming Brand fans and those who built their gaming setup around the TUF lineup. Of course, anyone looking for a relatively affordable and simple keyboard can also pick this up.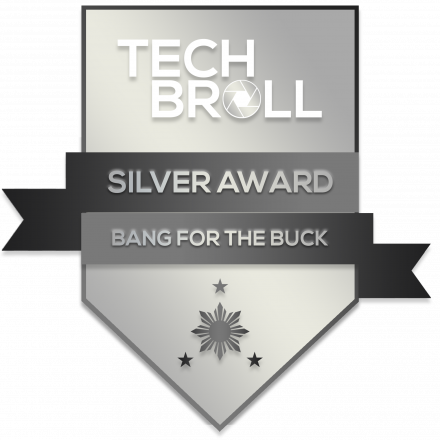 ASUS TUF Gaming K1
Php 2,050
SHARE THIS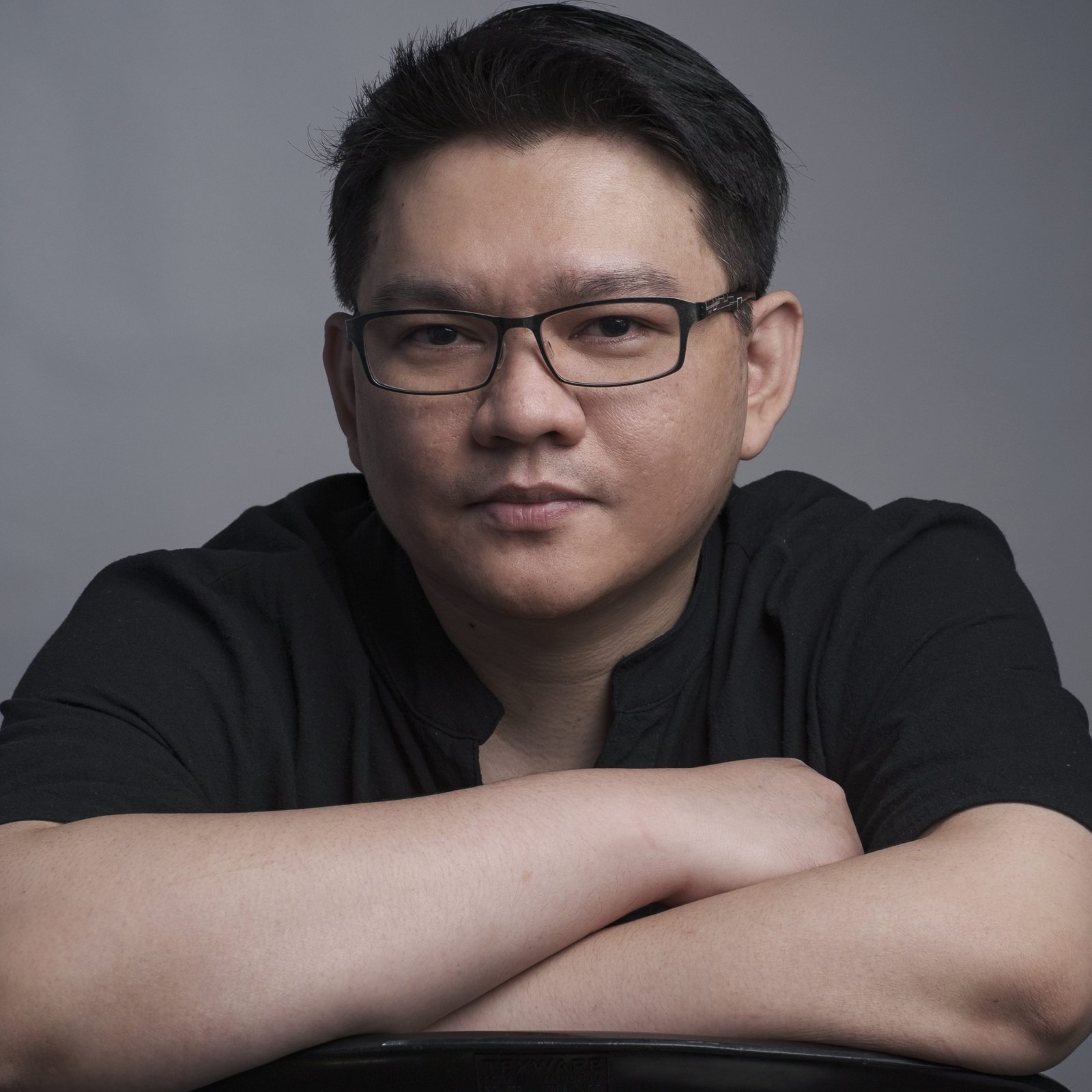 The Broll who always got your back online!