Today, we're taking a look at something that pukes rainbows and unicorns when it comes to mechanical keyboards, were going to do an unboxing and review of the Womier K66 from banggood.com. A mechanical keyboard that is made of acrylic body and has RGB illumination that's brighter than anything else on your desk. With that being said, let's get into it.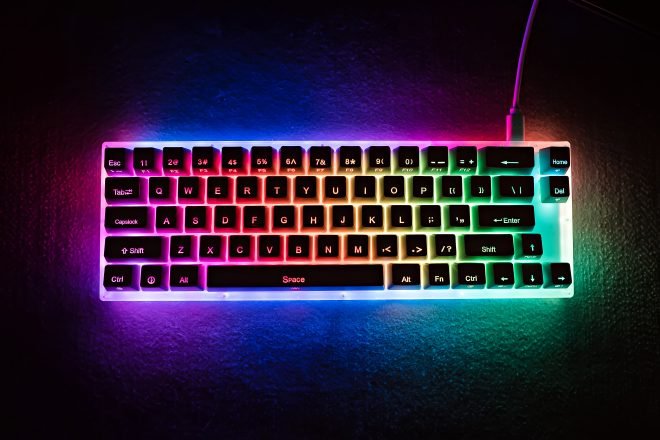 MY EARLY BREAKDOWN


Pros: Unique design and layout, Super bright LED illumination, Vibrant colors, Decent Gateron switches, Detachable USB Type C
Cons: Missing some nav cluster keys, Rattly spacebar and modifiers, No adjustable stands, Inconsistent screw height
SPECIFICATIONS


Model: K66
Color: White
Connection: USB
Size: 320 mm * 110 mm * 30 mm
Number of keys: 66key
Switch body: Gateron
Interface: Type – C
Lamplight: double zone RGB/ lower lamplight layout
WHAT'S IN THE PACKAGE


The packaging of the Womier K66 is everything you could have imagined from any budget mechanical keyboard fro China, it is just a plain brown box and that's about it. 
The good thing here is that it is substantially well packaged with a plastic protection and foam padding all around the keyboard.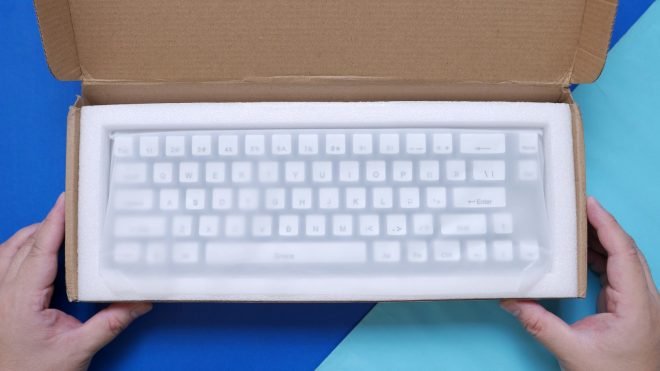 Aside from the keyboard itself, we have a USB Type C cable with this rather sticky texture to it that is also found on some smartphone cables.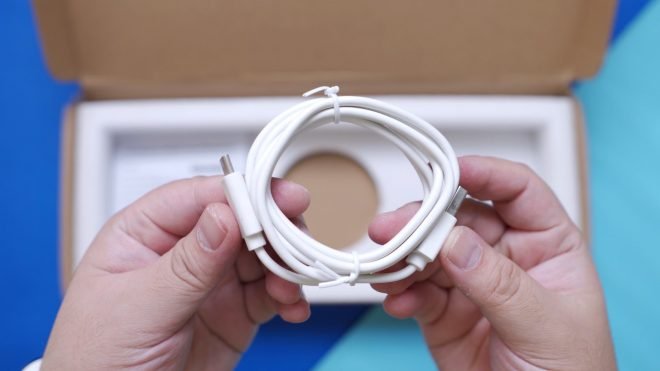 And lastly, we have a simple user manual right here.
And that's about it, we don't have a keycap puller here, but that's ok since most of the time with budget keyboards, the included keycap puller is just a generic plastic which I don't actually recommend so we're good here.
FULL REVIEW
Design, Construction and Parts Overview


Now, let's take a quick look around the Womier K66 mechanical keyboard.
At first look and touch, it feels different with a weight of around 547g and is made mostly out of acrylic, so build quality is kinda fragile compared to most hard plastic and metal mechanical keyboards out in the market.
However, what it provides is this unique design, form factor, and overall different aesthetics that you rarely see on a prebuilt keyboard. Most keyboards with this material are usually custom-built.
In front, it is very well complimented with a white set of keycaps with pretty decent fonts. And looking at its front side, we can get a better idea of how it is built with a sandwich-type of design with 3 separate acrylic sheets and visible screws since it is translucent.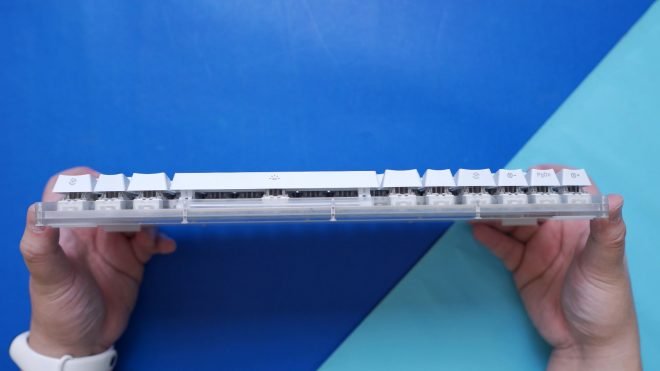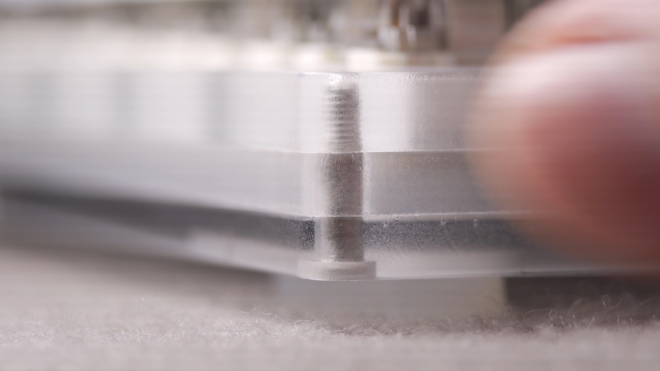 Flipping it on its side, we can see that the profile of the case is almost flat with just a bit of a height difference between the front and back rubber feet, but I feel like it is not enough for ergonomic but we'll talk about more on that later. It has a floating keys design which means half of the switches are visible and the keycap's profile is OEM.
Flipping it all over at the backside, we have a USB Type C port on the left side with a good amount of space around it for maximum compatibility with different plug sizes.
And looking at the bottom, we have 4 rubber feet and of course, the visible screws around the edges.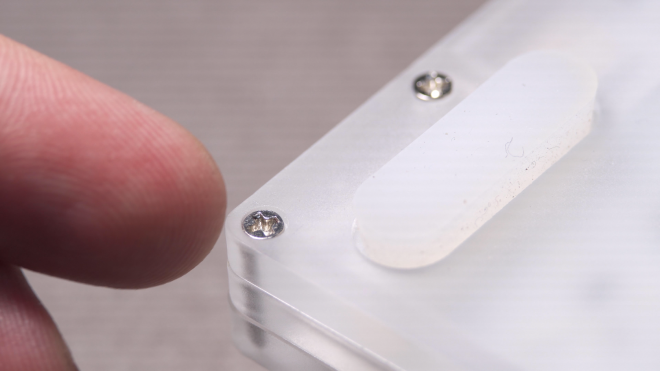 We can also see here a bit of the PCB with this translucent acrylic. So if you take a look around the keyboard, it has these very unique design characteristics with this sandwich type of construction and it should be interesting once this keyboard lights up with its all RGB goodness.
Layout


In terms of the layout, it has this unconventional layout with a small FN key, small windows key, normal control and alt, but with a shorter shift key, so looking for a set of keycaps for this would be a pain in the butt.
The keycaps have some sub legends on its side for the secondary functions but mostly for toggling different light effects and adjustments, but I can not see here anything about secondary layers like other keys such as insert, end, print screen, and others that are also quite valuable in some certain situations so there's that.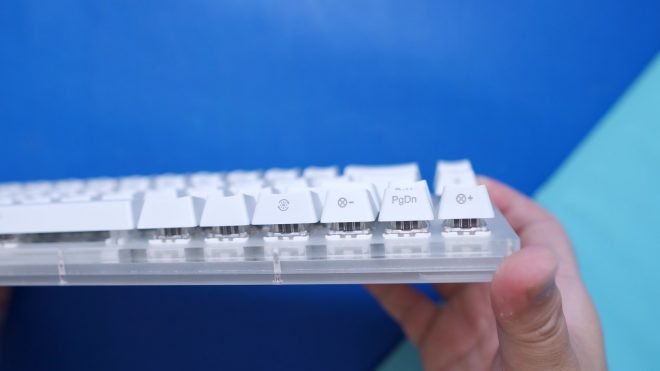 Font


In terms of the fonts, on the other hand, I'd say it is pretty decent with large fonts for the Alphas and smaller ones on the modifiers but the sizes are quite inconsistent. Overall, in terms of design, like I said, it is pretty unique and I like the fact that they used white keycaps on this, which in my opinion, is the only way to go with an acrylic body like this.
Keycaps


Now in terms of the keycaps, unfortunately, it is using single ejection ABS keycaps coated with paint and then the fonts are just laser etched to reveal the actual color of the plastic. Which means not only it can get shiny overtime but the legends could also fade away and since it is just one material, it is also quite thin at around 0.9mm. So yeah, this set of keycaps is nothing to write home about and the keyboard having an unconventional layout also rubs salt into the wound.
Switch


In terms of the switch, it is using Gateron Black, the SMD version with this transparent housing; but it is also available in Gateron Blue, Brown and Red.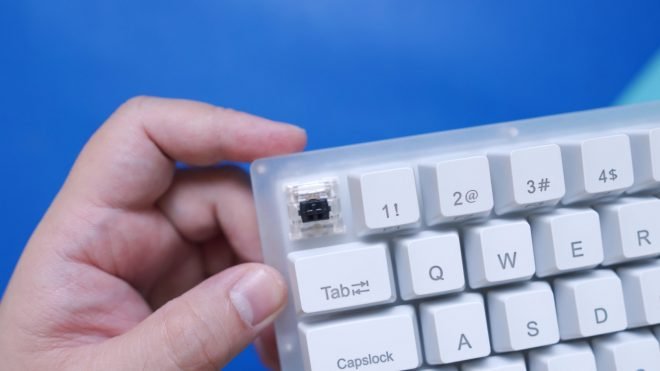 As for this Gateron Black, like most Gateron switches it is relatively smooth, but as per my close observation, it is a tad bit scratchier compared to other Gateron switches that I've used like for example, the Gateron yellow. This is scratchier especially halfway through the actuation distance but still better than let say Outemu and even Cherry MX switches.

Gateron black is also lighter in terms of actuation force with only 50g of force required compared to 60g for Cherry MX Black and Kailh Black. This is a linear switch by the way for those who are not yet familiar, so it doesn't have a tactile bump like a brown switch and it also doesn't have a click like a Blue switch. It just presses right into the bottom making it ideal for gaming and for those who like a quiet switch. In terms of wobble, it does have a fair amount of wobble but I don't feel it that much when generally typing on the keyboard, what I feel however is the rather annoying stabilizers.
Stabilizers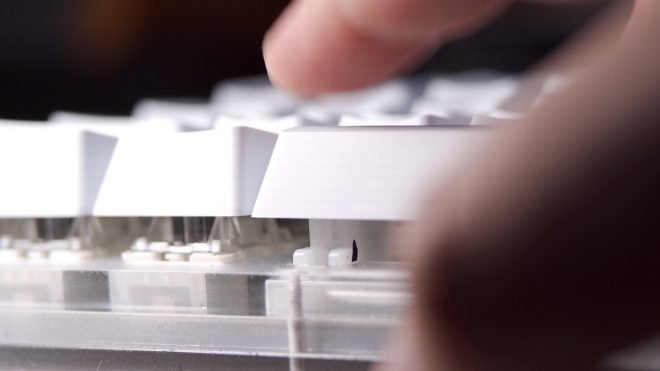 It is not the best with some noticeable rattle on the spacebar especially on the left side and also has some rattle on the modifiers like the shift, enter, and backspace.
And this highly affects the typing experience as you'll definitely hear and feel that high pitched rattle sounds whenever you smash those mentioned keys. But nothing that can not be modified with lubing and band-aid mode or at best, just replace the stabilizers with a better one. But for most people, especially those who are not particularly sensitive to this kind of detail, this will do just fine.
Other Features and RGB Illumination


Now, let's take a look at more of its functions and RGB Illumination.
First, of course, we have the functions rows up top that you can toggle using FN + the numbers row,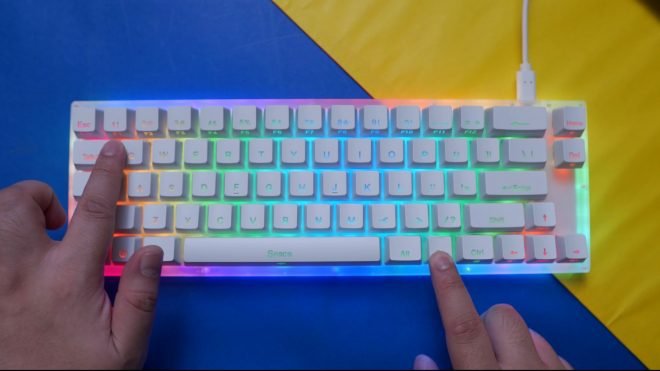 And then we have FN + Del and FN + Home to adjust the brightness levels.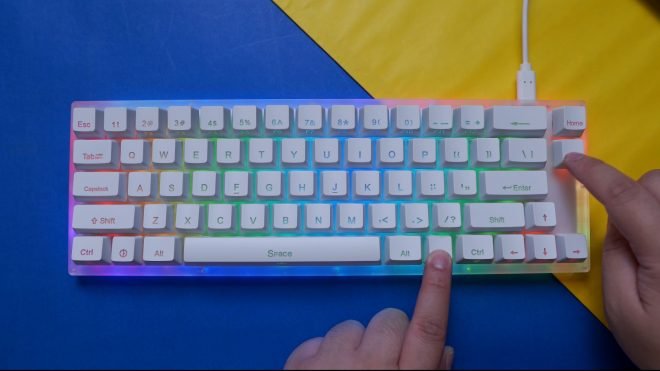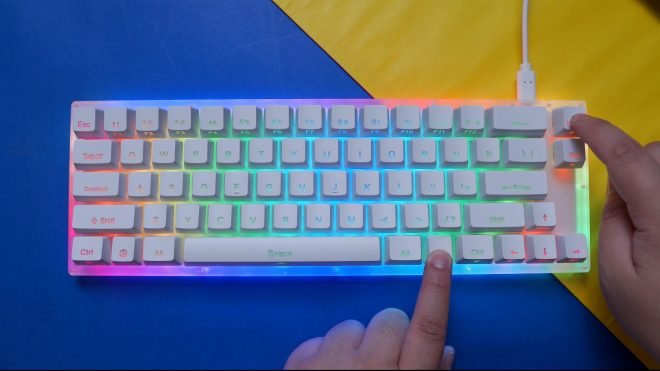 Aside from that, you can also adjust the volume by pressing FN + Left or Right arrow keys.
And then for the lighting effects, when you press FN + Spacebar for this first time, it will show up a color palette wherein you can choose any color that you want like orange, blue, pink and others. I think this is a very good feature instead of pressing a key multiple times just to find the specific single color that you want. And then pressing the spacebar again will get it back to the normal lighting effect. Speaking of lighting effects this keyboard has a whopping 18 different lighting modes that you can toggle by pressing FN + Right Control.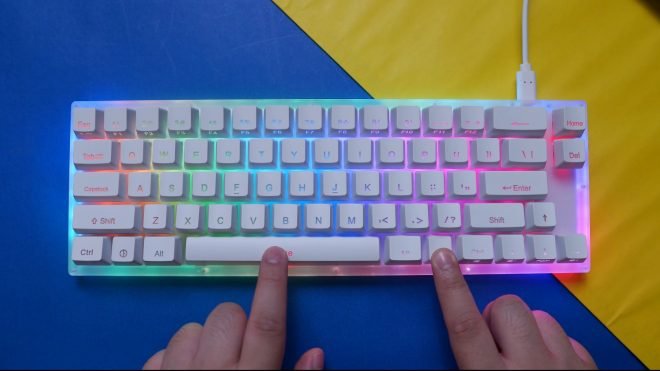 Aside from that, you can also press FN + Up for Page up and FN + Down for Page down.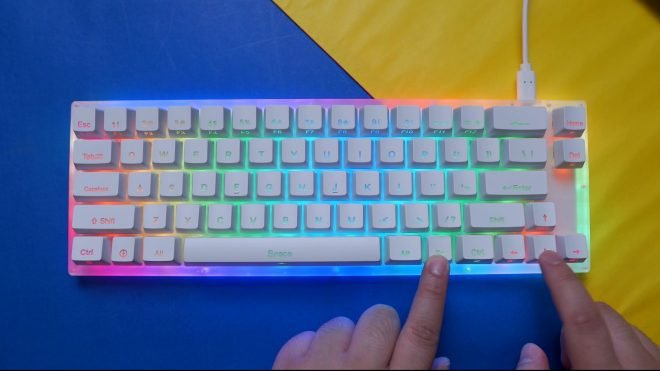 However, I can not seem to find how you can toggle other keys from the Nav cluster such as Insert, End, Print screen, and Pause break and I think that could pose a problem for some users. Personally, Print screen is quite essential for my day to day tasks so this is a bummer.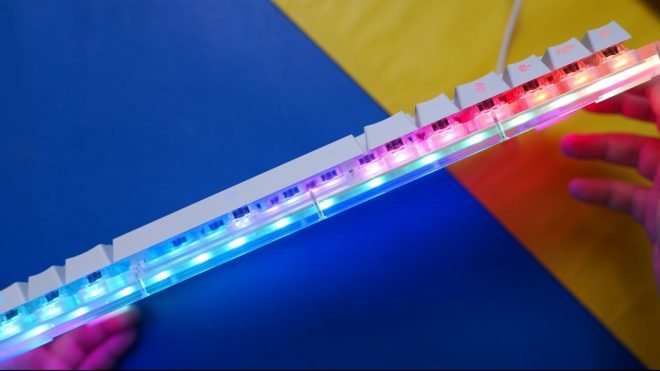 With that being said, there is no denying that the lighting effects and RGB goodness on this keyboard looks really good, though I would have preferred if the sides are a little bit more frosted or diffused so that you won't see the individual LEDs.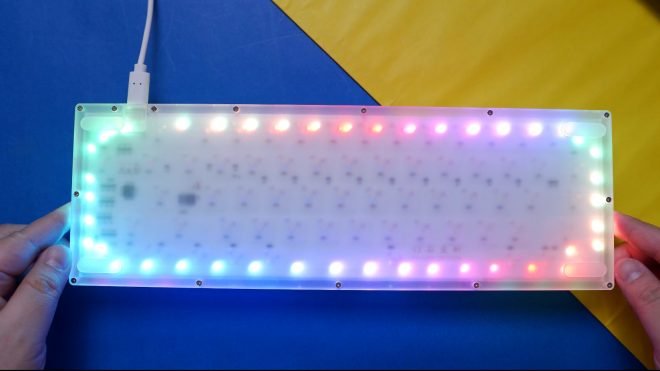 But looking at it straight from above, it really looks nice. And when all the lights are turned off inside this room, this is where you can see how bright this keyboard really is as you can see here.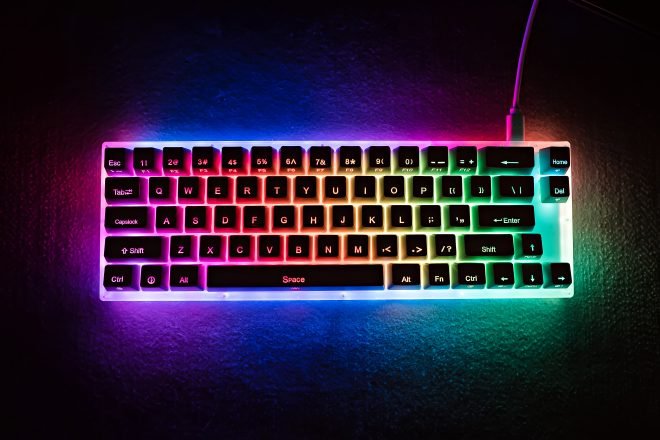 This keyboard, by the way, uses SMD LEDs or surface mounted LEDs that can produce up to 16.8m colors which means the transition between colors is smooth making it a true RGB mechanical keyboard.
Other Details


Moving on, let's take a much closer look at some parts of this keyboard that I think is also important to talk about.
Hotswappable or Not?


A lot of people are confused if this keyboard is hot-swappable or not, I've read some Reddit posts about it so I figured, why not open mine and see what's up and as per checking, mine which came from Banggood.com is not hot-swappable. I actually spoke with the person that made this keyboard and he told me that there are two versions of this, one is hot-swappable and the other one is not like what we have here. So yeah, depending on where you get this, it is good to check the description so that you know what to expect.
Acrylic Body Design and Construction


As for the construction, the PCB is sandwiched between two acrylic sheets with another acrylic lining around the PCB as a spacer.
Another thing that I found interesting here is that some of the screws are longer than the others, so there are some bumps on the surface of the keyboard. 

It's not a big deal since it is not obvious unless you specifically feel it with your hands.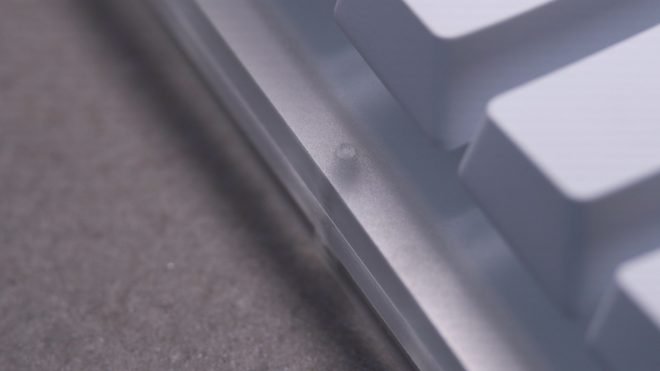 Typing Experience


Moving on to my actual experience with this keyboard, as for the typing experience, the first thing that I immediately notice that has a significant effect on the way I type is the lack of height adjustment.
I personally prefer having my keyboard angled as I find it more comfortable alongside a palm rest especially for typing long documents such as scripts and articles.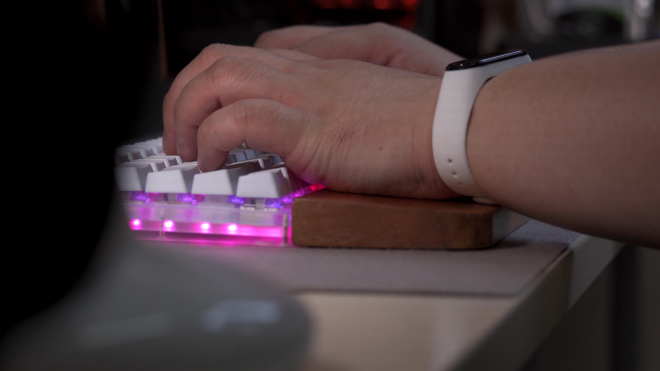 Aside from that, in terms of the Gateron black switches, I find it decent enough for my liking as it is not as heavy as other black switches that I've tried which I personally prefer. Black switches, in general, are very popular because it is linear, quiet, and heavy, allowing fewer mistakes while typing and in some situations for gaming as well, but if you are used to heavy black switches, you may find the Gateron black unfamiliar.
Another thing that affects the typing experience is the sound a keyboard produces and the feel it provides, and with the black switches on this keyboard, it is relatively quiet. However, the stabilizers are quite rattly and loud.
Overall, in terms of the typing experience, aside from the lack of height adjustment and the rattly stabilizers, it is pretty decent.
Gaming Experience


As for gaming, like I said, black switch is a very good option as it provides decent resistance in terms of actuation force required but doesn't introduce other types of hindrance such as a tactile bump or a click allowing you to easily press and bottom out the keys while gaming. And since it is linear, it is also quiet and ideal for streamers or gamers who like playing games after hours when everyone is already sleeping. As for my own experience with the Gateron black, it is pretty decent, not as tiring compared to other black switches, I just hoped that this keyboard has an adjustable stand so that it is more comfortable for hours of gaming sessions.
NKRO / N-Key Rollover


Now, before we finish this article, one last thing. Of course, we have to test the NKRO feature, a feature that allows you to press multiple keys at the same time without conflicts. As per testing, I can press as many keys as I want at the same time and it is all being registered and it works in any given zones around the keyboard.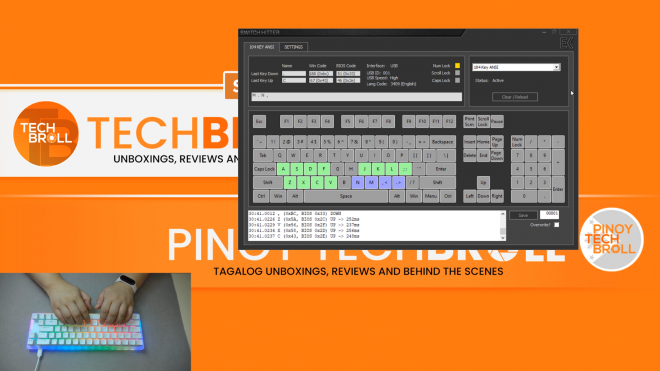 Unfortunately, this keyboard doesn't have any software so we're stuck on what it can offers as it is. And I feel like that is a downside especially that we don't have some of the important keys like I mentioned earlier such as the Print screen, Insert, End key, and Pause Break.
VERDICT


To conclude, The Womier K66 is certainly an eye candy and a very interesting and unique keyboard especially for a pre-built one that is available online. This type of acrylic keyboard is usually created via custom builds and having an option to get one off the shelves is really cool. However, it is not perfect as I pointed out in this review. The lack of height adjustment is not ideal but I spoke with the brand and they mentioned that they are currently working on an improved version of this with an adjustable stand which is a good sign. Another downside is the lack of some important Nav cluster keys, not to mention the lack of software. But aside from that, in terms of aesthetics and switch choice and the cool RGB lighting, the Womier K66 is still worth considering especially for those people who are looking for the most RGB filled mechanical keyboard out in the market.
Ultimate RGB Mechanical Keyboard! – Womier K66 Review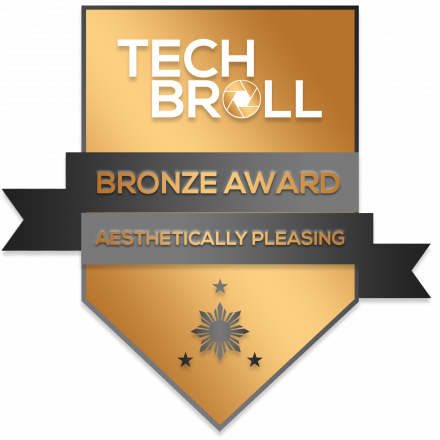 Thanks to Banggood for making this review possible, You can get this keyboard from the links below.
🛒 BUY IT AT BANGGOOD 👉 https://bit.ly/3e56ede
Coupon code: MARVIN15
10% off code: BGTOMEX (for all keyboards and mouse )
Pros
Unique design and layout
Super bright LED illumination
Vibrant colors
Decent Gateron switches
Detachable USB Type C
Cons
Missing some nav cluster keys
Rattly spacebar and modifiers
No adjustable stands
Inconsistent screw height
SHARE THIS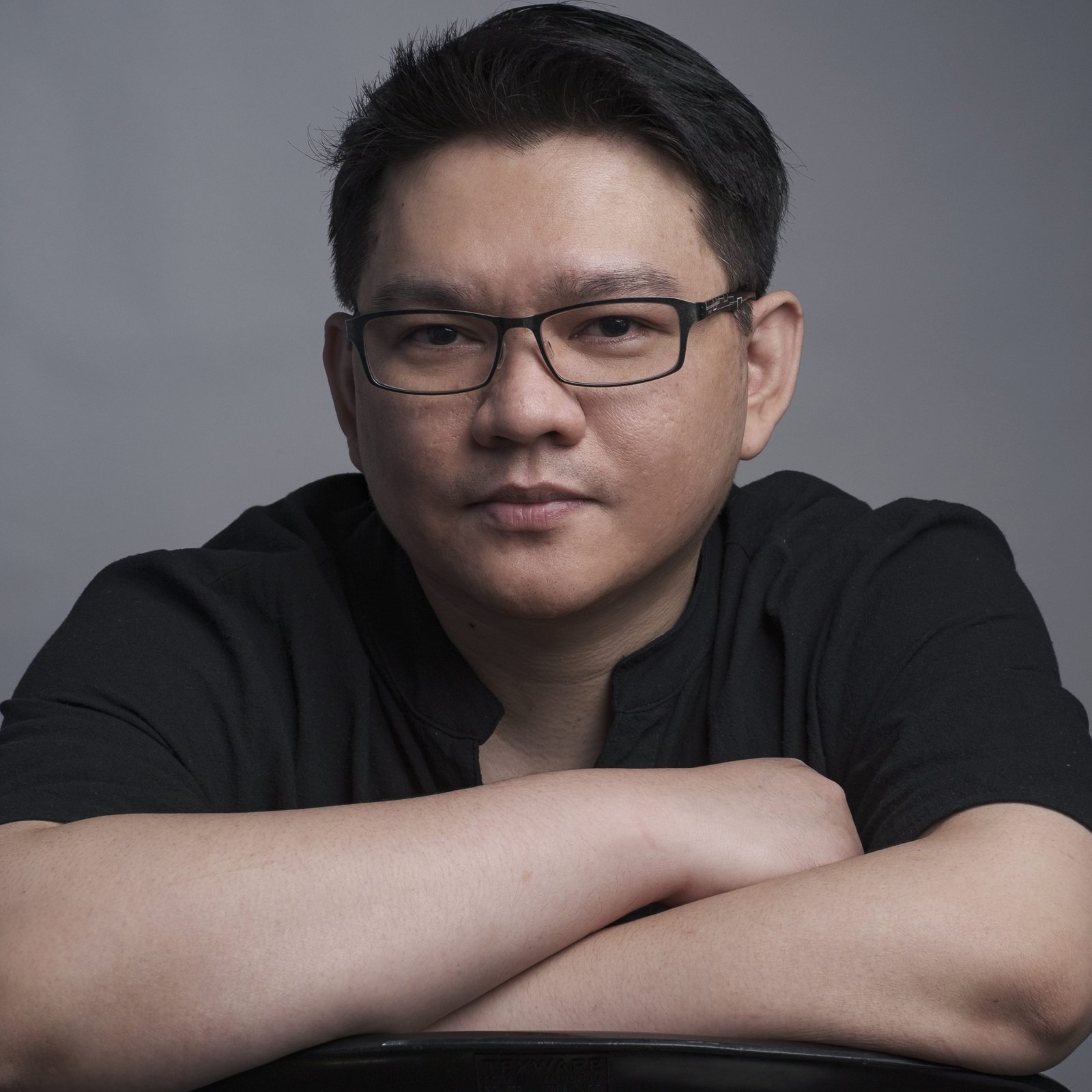 The Broll who always got your back online!