In today's review, we're going to discuss the relatively new ADATA Legend 850, a decent midrange gen4 NVME with up to 5000 MB/s speed. It uses the SMI SM2269XT controller which is a DRAMless controller that is built on a 12nm process. This controller supports either the affordable QLC NAND or the better and more common TLC which is the one being used by the ADATA Legend 850. And since it is a DRAMLess SSD, it features HMB or Host Memory Buffer which takes advantage of the host's memory to store the information related to file indexing. This is one way to cut costs while still providing relatively decent performance. We'll discuss this more later including some real-world performance tests to find out if being DRAMless is a huge downside or not. The good thing about the ADATA Legend 850 is that it is compatible and tested on Playstation 5. It also has a pretty robust endurance at around 1000TB terabytes written which is quite competitive. I'll also share with you a quick look at the Limited Edition of this SSD featuring a colorful floral design created by the German designer, Mister Fred. 
MY EARLY BREAKDOWN
Pros: Affordable, Decent read and write speed, Decent endurance
Cons: No DRAM
SPECIFICATIONS
Capacity: 1TB
Controller: SMI SM2269XT
NAND Flash: 3D NAND
Interface: PCIe Gen4 x4
Form Factor: M.2 2280
Sequential read/write (Max.): Up to 5,000/4,500MB/s (PC/laptop); Read speed up to 4,000MB/s (PS5)
4K random read/write IOPS (Max.): 550K/400K
Operating Temperature: 0°C-70°C
Storage Temperature: -40°C-85°C
Shock Resistance: 1500G/0.5ms
Dimensions (L x W x H): 80 x 22 x 3.13mm (with heat sink); 80 x 22 x 2.15mm (without heat sink)
Weight: w/ heat sink:(512GB/1TB) 5g / 0.17oz ; (2TB) 8g / 0.28oz ; w/o heat sink:(512GB/1TB) 4g / 0.14oz ; (2TB) 7g / 0.24oz
Terabytes Written (TBW)(Max. capacity): 1000TB
MTBF: 2,000,000 hours
Certifications: CE, FCC, BSMI, KC, EAC, RCM, morocco, UKCA, RoHS
Warranty: 5-year limited
WHAT'S IN THE PACKAGE
Let me share with you first the unboxing experience for the Limited Edition which features the artwork of the German pattern designer, Mister Fred.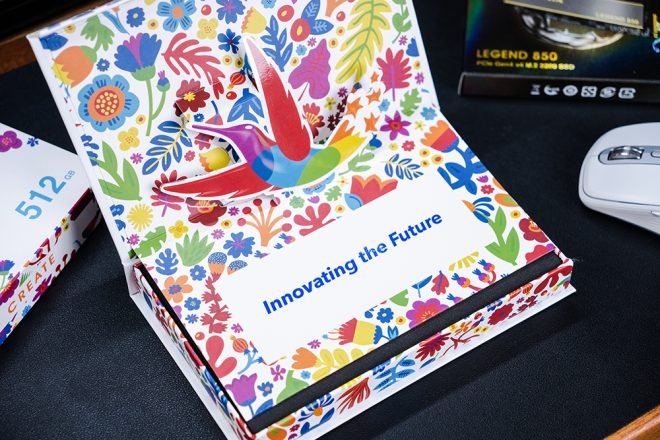 This is limited to 520 units and was available since June so honestly, I'm not sure if there are any left in the market at this time of the year. But nevertheless, if you fancy this floral design, it definitely looks interesting, to say the least.
\
Upon opening the fancy packaging, you'll be greeted by the ADATA Legend 850 limited edition itself with the floral-designed heatsink.
Not only that the quantity is limited but the design in my opinion is also quite niche. But for the right person, this could be perfect.
Other than the design of the packaging and the heatsink, the actual NVME SSD and its specifications and performance, are basically standard.
As for the standard edition, we have a black box with a sort of holographic effect. 
Opening the box reveals the ADATA Legend 850 Gen4 NVME SSD itself and the standard edition heatsink. 
FULL REVIEW
As I mentioned earlier, the ADATA Legend 850 features the Silicon Motion SM2269XT controller, uses TLC NAND Flash and is a DRAMLess SSD utilizing the Home Memory Buffer feature instead to cut some costs. In theory, this is slower than those SSDs with a dedicated DRAM module, especially for a quick burst of file transfer and use case scenarios, but in real-world performance and extended file transfer, it shouldn't be that huge of a difference, but still, something worth noting.
This 1TB variant features speeds up to 5000 MB/s read and up to 4500 MB/s write. It also features 550k and 400k 4K random read and write speeds respectively and has an endurance of up to 1000TB or the total bytes written.  
Performance Benchmarks
Now, let's cut to the chase, and let me share with you some performance benchmarks that I did for the ADATA Legend 850 1TB Variant. 
Let's start with the most common and basic benchmark, CrystalDiskMark. 
CrystalDiskMark
With a 1MB block size, 5 passes, and 1GB transfer file size, the ADATA Legend 850 performed well above its rated speed with a 5245.68 MB/s read and 4521.99 MB/s write.  This essentially simulates large single file transfers such as video files, compressed files, and things around that nature or when streaming videos directly. This is also usually the benchmark some companies use to measure the read and write speed of their product because it is the one with the highest result because all the data is in one place allowing the drive to easily gather them. Although it is not the best way to measure the real-world performance of a drive, it is a good and easy option that any consumer can use on their own to cross-check the performance of their newly bought NVME.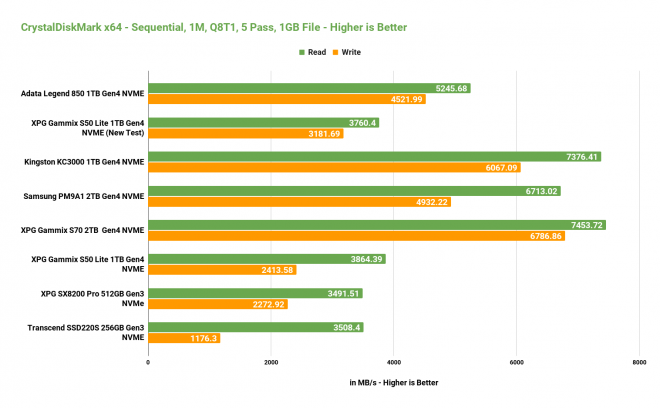 Next is the Random 4K test which basically simulates small and random file transfers like text files, documents, images, and other miscellaneous files and uses more computing resources than the previous sequential test, thus the significantly slower results.
With a random 4KB block size and the same 5 passes and 1GB transfer file size, the ADATA Legend 850 performed decently as well with up to 529 MB/s read and 341.19 MB/s write.
AS SSD Benchmark
Access Times Performance
While sequential and random read and write speed test is useful and most common, drive latency is also important to test. In this case, we used the AS SSD Benchmark Tool.
As expected, without a DRAM, the access times for the ADATA Legend 850 is slower than others. DRAM improves two major factors on an SSD, access time and peak burst transfer speed.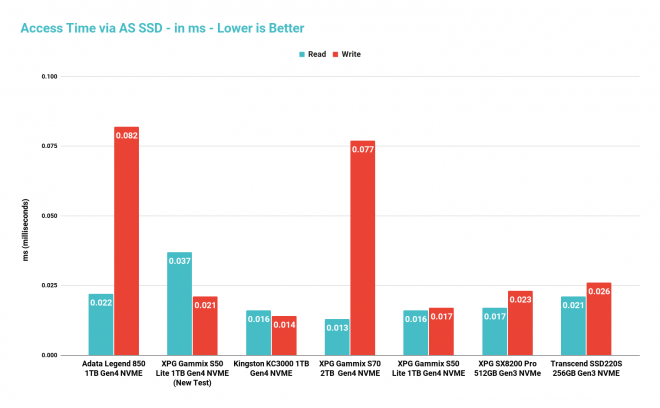 Input/Output Performance (IOPS)
Aside from the Access Times, let me share with you the data for the 4K-64thrd results which gives us an idea about the input and output operations per second performance of the ADATA Legend 850 on this high queue depth. his were measured using a random 4KB block size with 1GB file size transfer on a 64 thread request. As you can tell, the performance of the ADATA Legend 850 is quite competitive.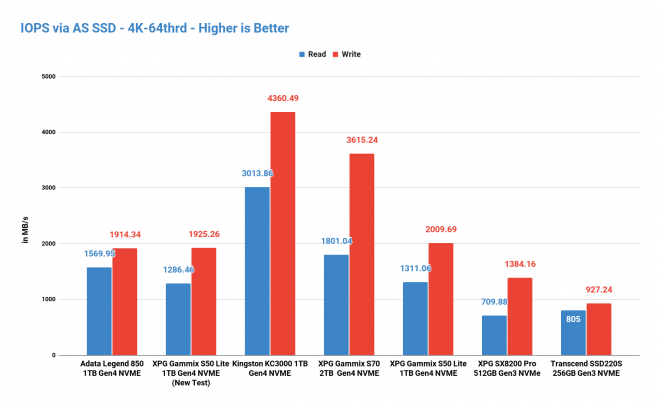 I also ran the ADATA Legend 850 on PCMark10 Storage Benchmark to give you more idea about how this SSD performs in different use cases and to give you baseline data should you choose to compare it with other options.
PCMark10 Storage Benchmark – Full System Drive
The Full System Drive Benchmark uses a wide-ranging set of real-world traces from popular applications and common tasks to fully test the performance of the fastest modern drives.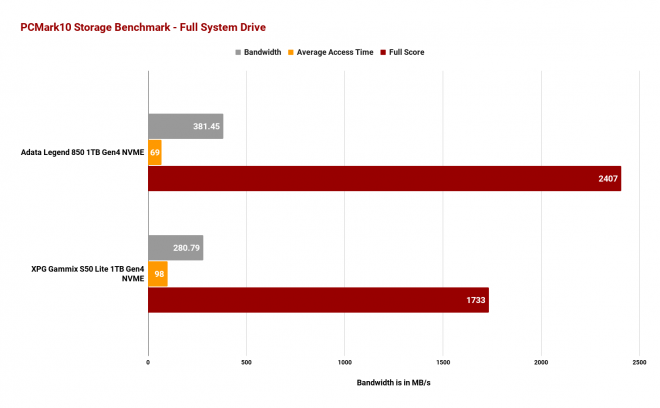 PCMark10 Storage Benchmark – Quick System Drive
The Quick System Drive Benchmark is a shorter test with a smaller set of less demanding real-world traces. You can use this benchmark to test smaller system drives that are unable to run the Full System Drive benchmark.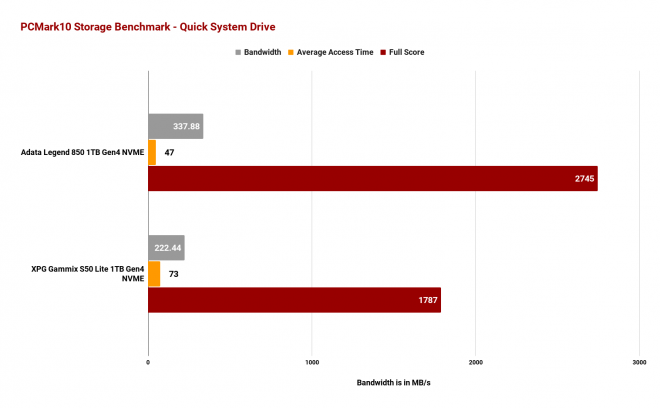 PCMark10 Storage Benchmark – Data Drive
The Data Drive Benchmark is designed to test drives that are used for storing files rather than applications. You can also use this test with NAS drives, USB sticks, memory cards, and other external storage devices.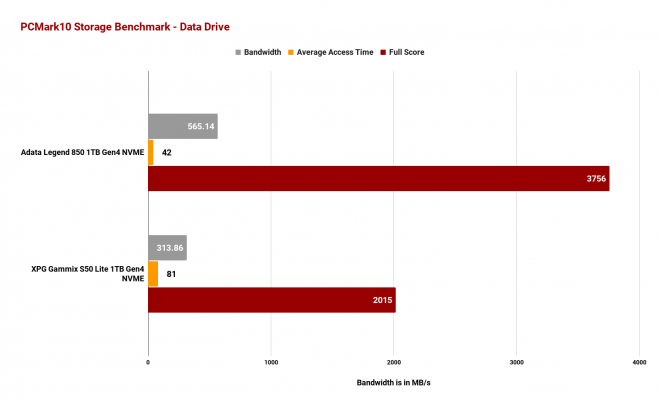 Note: Test descriptions are from benchmarks.ul.com
I also run a couple of tests in 3DMark Storage Benchmark for our last synthetic benchmark.
3DMark Storage Benchmark
Here, you can have an idea of how the ADATA Legend 850 performs in terms of load times, recording gameplay, installation, saving, and moving a game.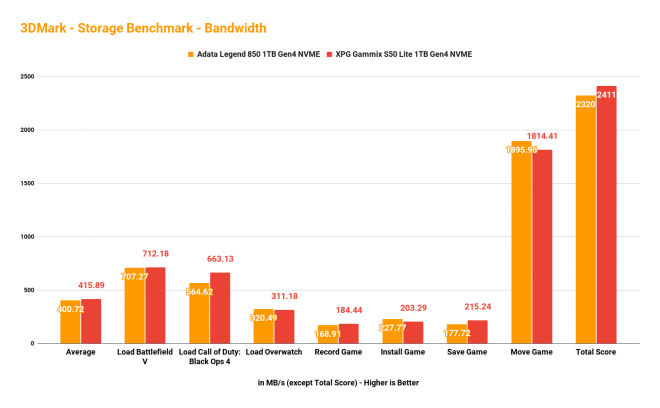 As well as the respective access times.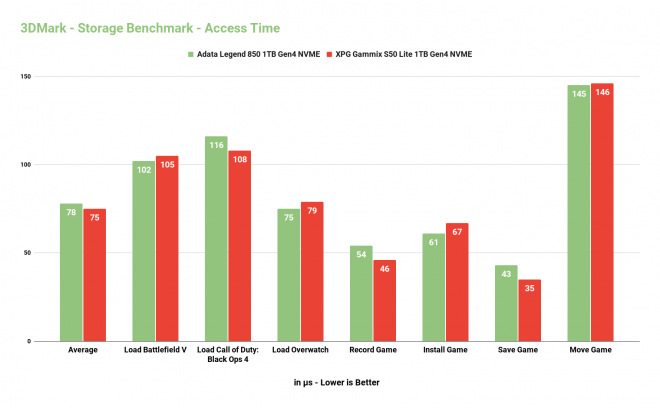 DiskBench – Real-World File Transfer Test
Now, for our real-world performance test, we used the tool called DiskBench which is a reliable tool to properly test the real-world file transfer capability of a drive. This is just a normal file transfer but done in a very controlled manner using this tool. 
The first test is essentially a write test transferring files from an XPG SX8200 Pro 512GB Gen3 NVME to the ADATA Legend 850 1TB Gen4 NVME. Note that this transfer speed is also limited to the read speed of the drive the files are coming from which is the SX8200 Pro, but at least, you'll get a bit of an idea of how it performs especially when compared to another Gen4 NVME in the form of the XPG Gammix S50 Lite.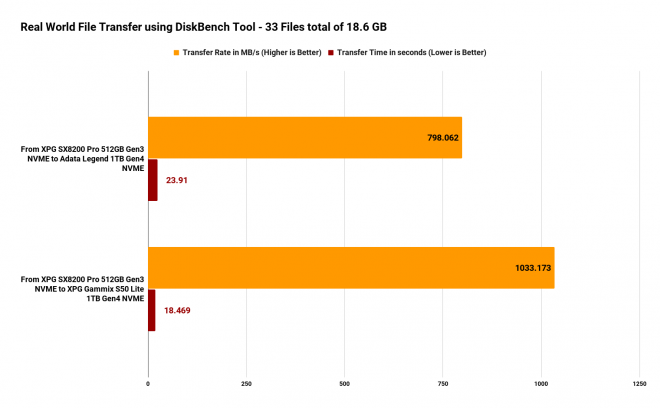 The second test is the other way around which basically is a read operation transferring files from the ADATA Legend 850 to the XPG SX8200 Pro. This operation is now also limited to the write speed of the receiving storage device which is the XPG SX8200 Pro.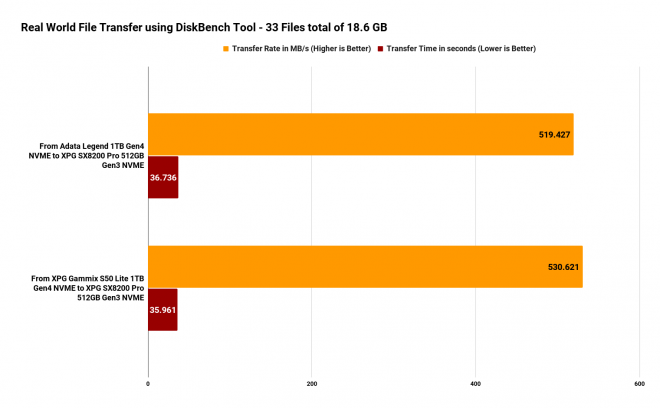 VERDICT
To conclude, the overall value of the ADATA Legend 850 is still pretty good considering its current sale price of just around 80 USD. Even though it doesn't have a dedicated DRAM module, the performance is quite competitive, especially for longer file transfers which doesn't benefit much from DRAM. However, if you're use case scenario requires quick access times and faster burst file transfers, an SSD with a DRAM is still a better option. At the end of the day, it'll boil down to your budget, use case scenario, and product availability.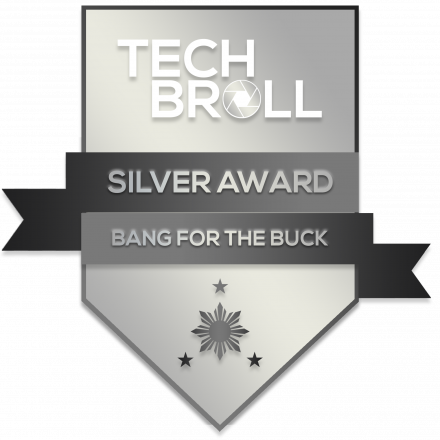 SHARE THIS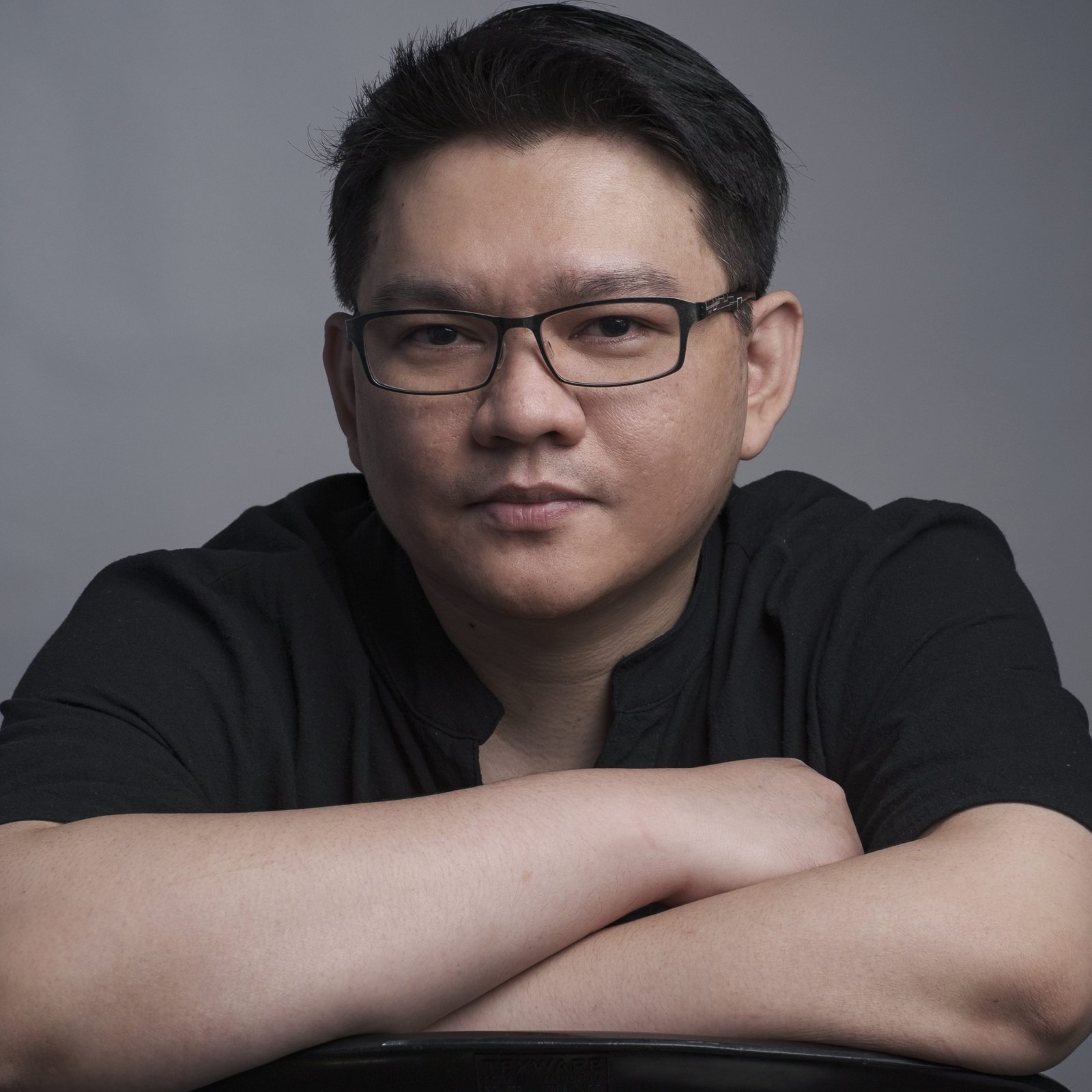 The Broll who always got your back online!