Last month, I did a review of the 1more Spearhead VR Gaming Headphones and I'd say, it is definitely unique and offers a ton of features while also sounding good. Today, we're going to take a look at its little brother, the 1more Spearhead VR BT In-Ear Headphones. I still don't quite understand the reason behind the model names but it doesn't matter as long as it gets the job done. With that being said, let's get into it.
MY EARLY BREAKDOWN


Pros: Decent sound quality, Environmental noise cancelation, Quick charge, Decent battery life
Cons: Super thin cable
SPECIFICATIONS


MODEL: E1020BT
Weight: 32g
Charging Time: 1 hour
Talk Time: 6 hours
Music Play Time: 6 Hours
Impedance: 32 ohms
Wireless Range: 35ft
Input: 5V 1A
Bluetooth Protocol: HFP / A2DP / AVRCP
WHAT'S IN THE PACKAGE


What I like about 1more products is the packaging, they really put an effort into it with substantial details and good quality materials. 
In front of the box, we have a preview of the product and some of its key features and at the back, we have more details in different languages.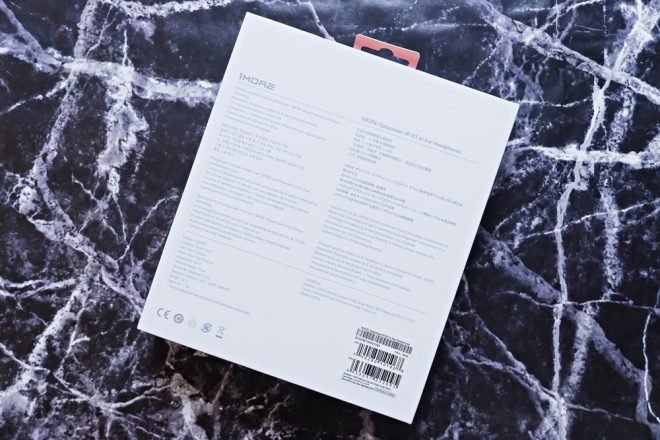 Upon opening the box, we can clearly see the effort and details they put into the packaging with some sketches of the design and its key features.
And then, of course, we have the In-ear headphones itself nicely tucked inside this plastic platform.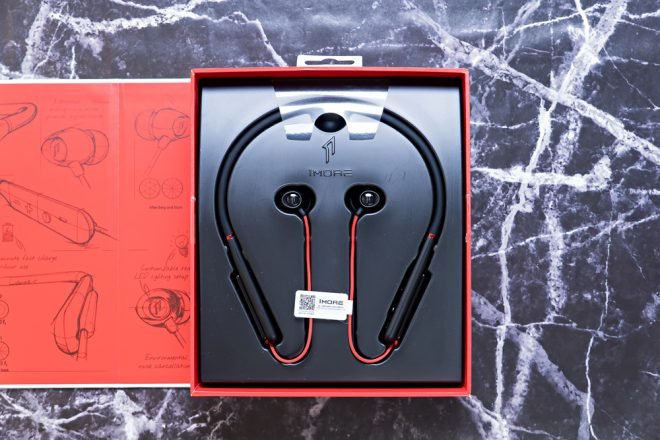 Underneath it, we have an accessory box nicely flushed as you can see here that adds to the overall premium feel of the packaging.
Inside the accessory box, we have a few paper work, some different sizes replacement ear tips, a charging cable, and a very nice pouch made of vinyl type material.
And lastly, of course, we have the In-ear headphones itself. Overall, the packaging looks really premium and I appreciate this from 1more.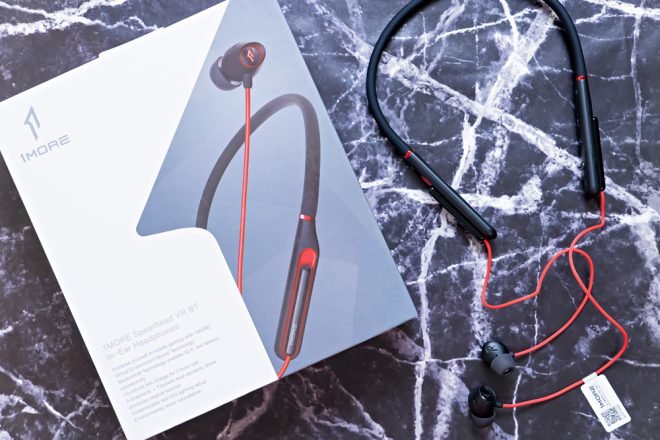 FULL REVIEW
Design, Construction, and Parts Overview


In terms of design and construction, it is made of a combination of hard plastic and soft rubber material with a design that is not entirely unique but quite different compared to most In-Ear Headphones out there. 
It has 2 hard plastic shell on each side with the main controls located on the left side, both are connected to a flexible soft rubber neckband and also connected to two super thin cables leading to the earbuds themselves.
This design provides support for the earbuds to not fall off that easily while also providing enough space to give you a few physical buttons for the power button and the volume up and down buttons as well as for the built-in microphone. This also allows the headphones to have a bigger battery that as per specifications, lasts up to 6 hours of continuous music playback, we'll test that out later.
However, this design also adds more weight around your neck and sometimes, I also find it annoying when it goes out of place. Personally, I am not a fan of this design and I would rather settle for a normal flexible cable or at best, a completely true wireless pair of earbuds. But of course, your preference may vary and this design wouldn't be used by different brands if no one likes it, so yeah.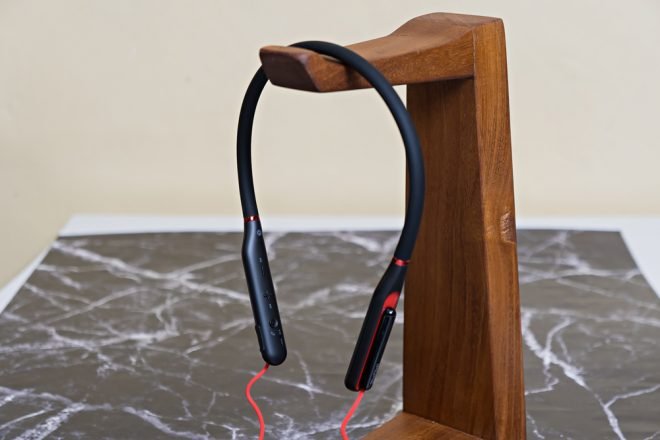 Alright, so on the left side, we have the control unit where we have the power button, a couple of holes for the LED indicator and the microphone, and the volume up and down buttons.
We also have here on its side the MicroUSB port for charging with a rubber cap.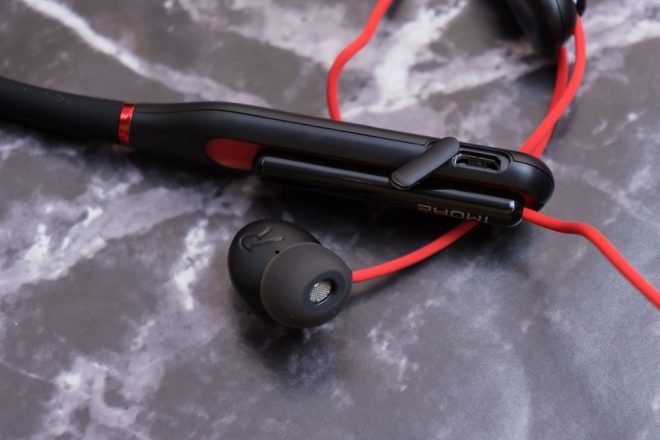 On the other side, we have this sort of oblong design with a 1more branding.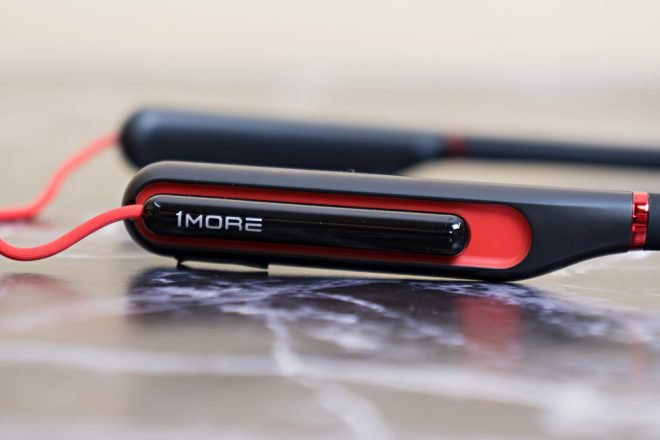 And on the right side, we have a similar design but without any ports and buttons.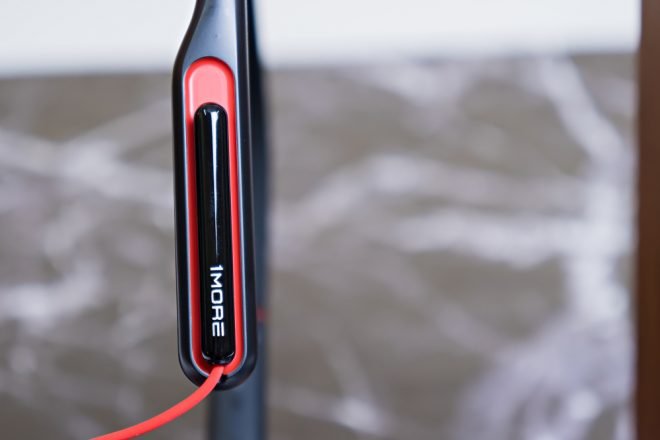 The earbud's design is quite typical but with an illuminated 1more logo.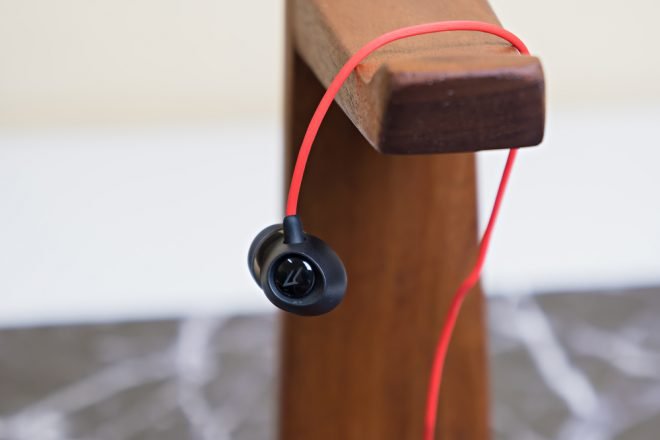 And like I said, the cables are super thin and I feel like it is quite fragile as well. I hope they made it just a tad bit thicker since you already have support for its weight with the neckband. 
Speaking of the neckband, it has a soft touch feel and is super smooth which I appreciate and also very flexible, like you can stretch it straight if you want to.
Comfort


In terms of comfort, like I said, the neckband adds a little bit more weight but ultimately allows the earbuds to sit comfortably and secure inside your ears. The earbuds themselves are small and lightweight and have a narrow tip, so it doesn't go that far inside which means you won't suffer from the usual suction feel.
Now, let's move on to its features, connectivity, battery life, and sound quality.
Features (From 1more's website)


DUAL-DYNAMIC DRIVER – A coaxial design allows two diaphragms to be placed on a single axis, meaning the two are face-to-face with an offset magnetic interference which ensures high sensitivity. A titanium diaphragm combined with a graphene composite diaphragm produces a precise and accurate soundstage.
ENVIRONMENTAL NOISE CANCELLATION – Our proprietary ENC microphone technology filters out background noise so communication remains crystal clear no matter which environment you are in."


FLEXIBLE ERGONOMIC HEADBAND – The flexible ergonomic neckband is coated in a skin-friendly silicone that allows for extended gaming sessions without any fatigue or discomfort.


ULTRA-LIGHTWEIGHT DESIGN – Enjoy a lightweight yet durable headphone that only weighs 32 grams.


MULTIPLE CUSTOM LIGHTING OPTIONS – Customizable lighting options allow you to control different lighting schemes.


FAST CHARGE CAPABILITIES – Fast charging capabilities let you play longer without taking as long of a break. 10 minutes of charging gets you 3 hours of gameplay.
LED Illumination


The 1more Spearhead VR BT In-ear headphones feature LED illumination on both its earbuds with 4 different modes: Constant, Heartbeat, Breathing and Off.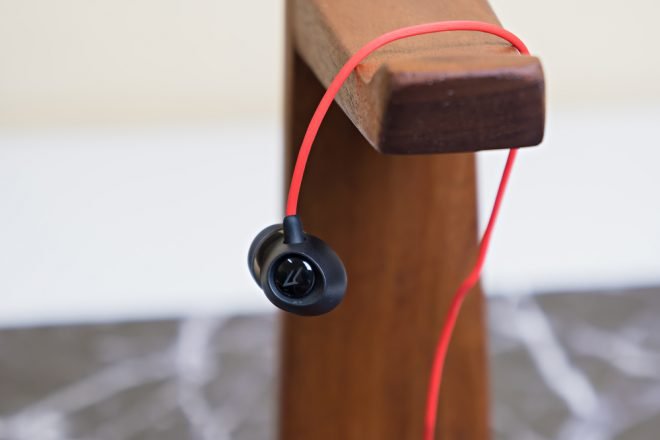 Bluetooth Connectivity


In terms of Bluetooth connectivity and stability, first, it is quick to pair, all you have to do is power it on by pressing the power button for a few seconds and it will automatically go to pairing mode. Once paired to my smartphone it is pretty stable up to a couple of rooms and a single wall in between, however, once I get past another wall the connection starts to get unstable.
Latency


In terms of latency, to be honest, if there's any, it is tolerable. I tested this with an audio/video sync sample clip and I can not seem to distinguish any prominent latency, so it is a pass for me.
Microphone


In terms of the microphone, I'd say the environmental noise canceling feature works as it is able to eliminate the sounds from our loud electric fan and air conditioning but audio quality suffers a bit when it comes to overall clarity. With that said, it is still pretty sufficient for casual communication.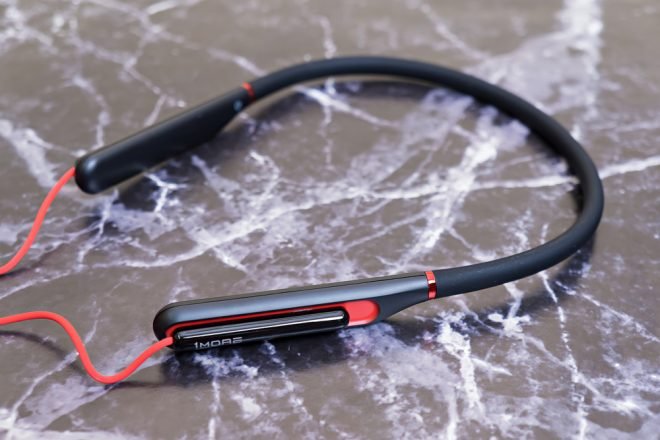 Sound Quality


In terms of the sound quality, I'd say the sound signature is on the brighter side while still providing a substantial amount of punch on the low ends. If you like bass, I think you'll be pleased with this one. Mids are decent with clear vocals, albeit a bit recessed at the back. The highs are also prominent but quite controlled even at maximum volume. Speaking of volume it can get loud when connected to a PC but is significantly lower even at max when connected to a smartphone, with that, the experience is completely different. Your mileage may vary though depending on your host device. Stereo imaging is also decent with enough space to distinguish the sound location and overall, I'd say the sound quality is really good.
Battery Life


And lastly in terms of battery life, with a full charge and at 90% volume, after an hour I heard a "battery level at medium prompt" but it was still able to last around 4 hours and 42 minutes. One good feature of these headphones in terms of battery life is that you can charge it for just around 10 minutes and it can last you up to 3 hours for that, but of course, that would depend on your volume levels.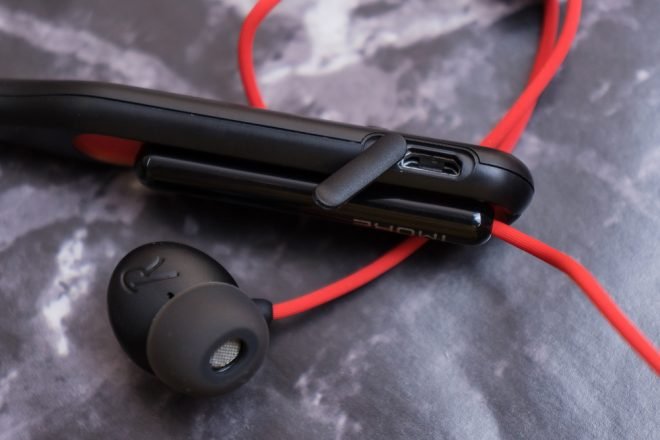 VERDICT


To conclude, the 1more Spearhead VR BT In-Ear Headphones is a quite interesting one with pretty straightforward features that should provide you with a decent listening experience and a comfortable one if you don't mind the neckband. It produces decent audio quality and for the most part, stable Bluetooth connectivity with virtually no perceivable latency. Battery life is also pretty good with a quick charge feature that gives you 3 hours for just 10 minutes of charging time. And at the end of the day, it will just boil down to your preference when it comes to the design, form factor and price which is around 60 USD.
Related Article: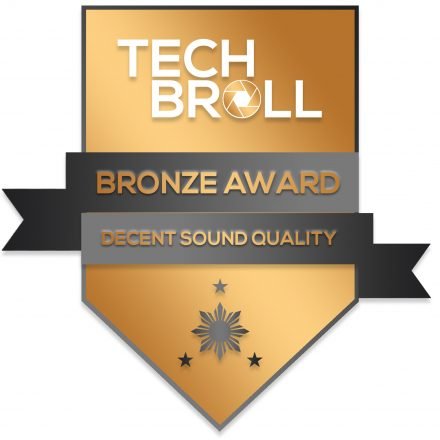 Thanks to Mobile Monkey for making this review possible, You can get these In-Ear Headphones from the button below.
SHARE THIS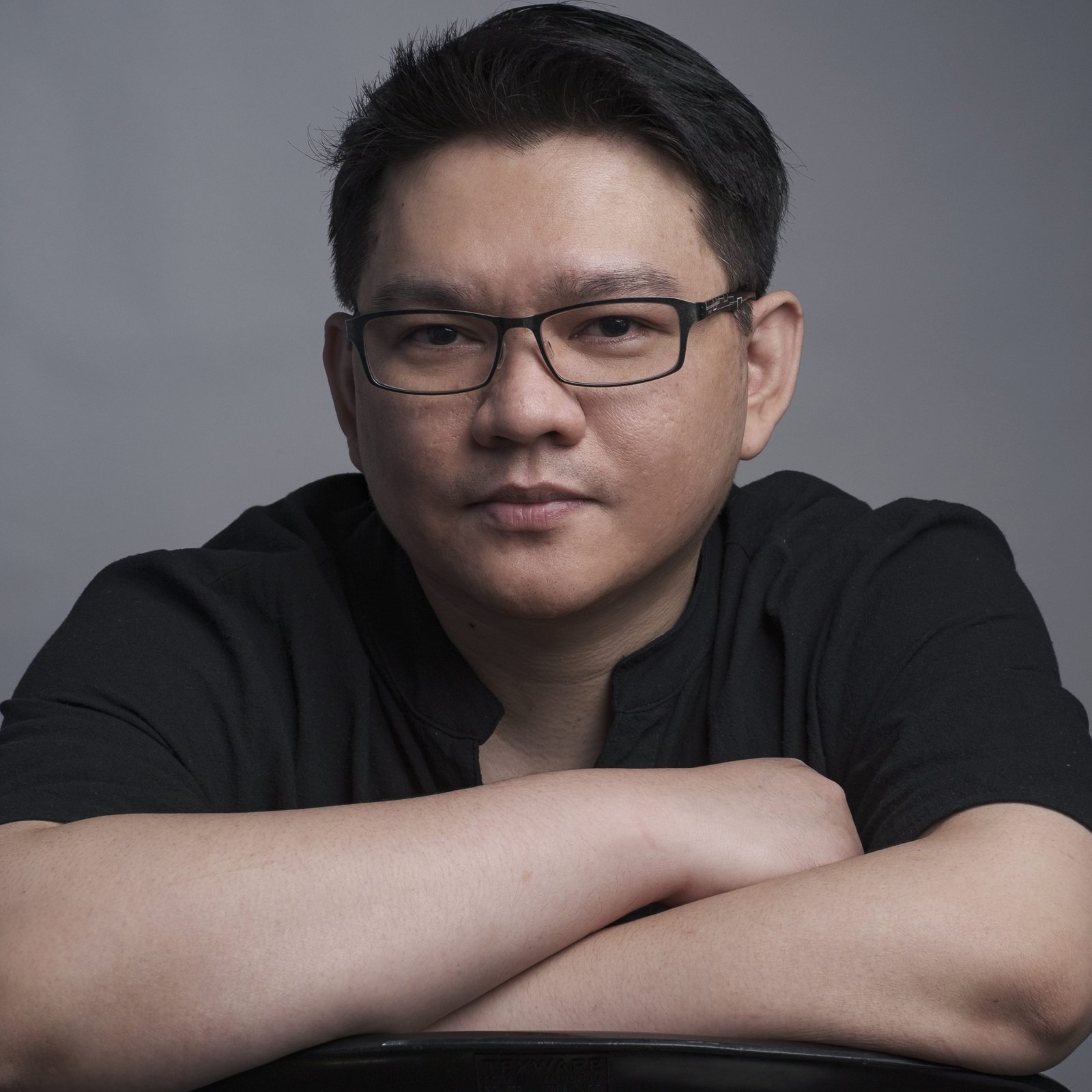 The Broll who always got your back online!