Today, we're going to do an unboxing and review of the i-Rocks M36 Pro Gaming mouse. A mouse that's almost perfect for me in terms of shape, mouse clickers and overall performance with just one minor issue. I also have the i-Rocks K65M Mechanical Keyboard but I've decided to do separate reviews for these two so that the review will not be too long for you guys. The K65M review is coming up next and for now, let's check out the i-Rocks M36 Pro Gaming Mouse.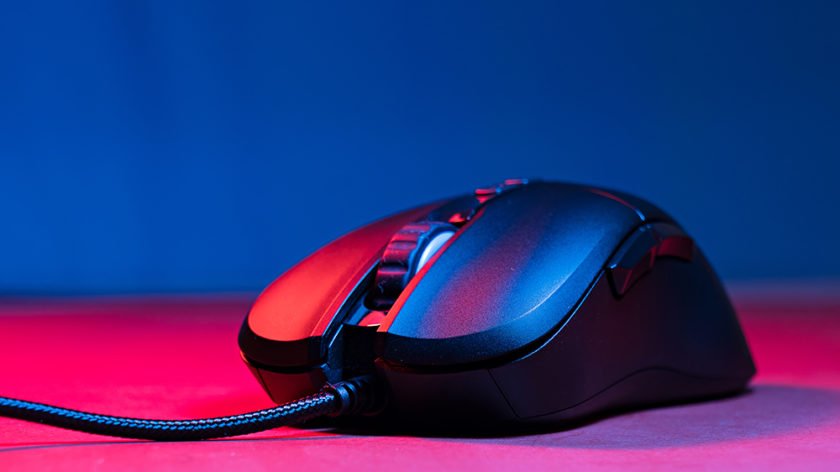 MY EARLY BREAKDOWN


Pros: Good build quality, Comfortable Shape, Accurace sensor, Lightweight optic-magnet microswitches
Cons: Stiff braided cable
FEATURES


Optic-magnet microswitches on left and right buttons offering up to 80 million clicks lifespan and blazing fast response time
iRocks Software 2.0 support – mouse on-the-fly configuration, surface calibration, backlight synchronization and more
Onboard memory for settings and macros on the go
Equipped with PixArt PMW3360 optical sensor for superior performance
SPECIFICATIONS


Interface : USB
Buttons : 7 Buttons
Sensor: PixArt PMW3360, Optical
Resolution : 100 – 12000 dpi
USB Report Rate: 125 / 250 / 500 / 1000 Hz
Rated Voltage / Current: 5V / 100mA
Backlight: RGB LED Indicator
Dimension : 119 mm X 64.0 mm X 41.5 mm
Cable Length: 180 cm
Weight (cable excluded) : Approx. 83 g
WHAT'S IN THE PACKAGE


First, let's take a look at the packaging, pretty straightforward with the image preview and the model name in front.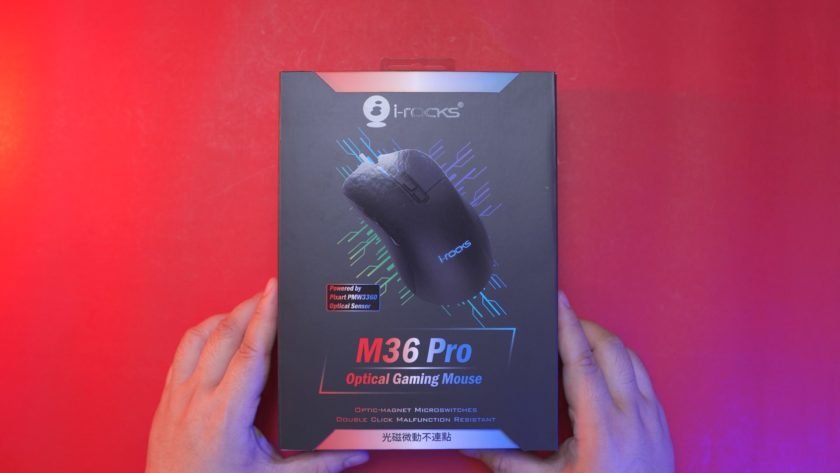 At the side we have the specifications, system requirements and package contents,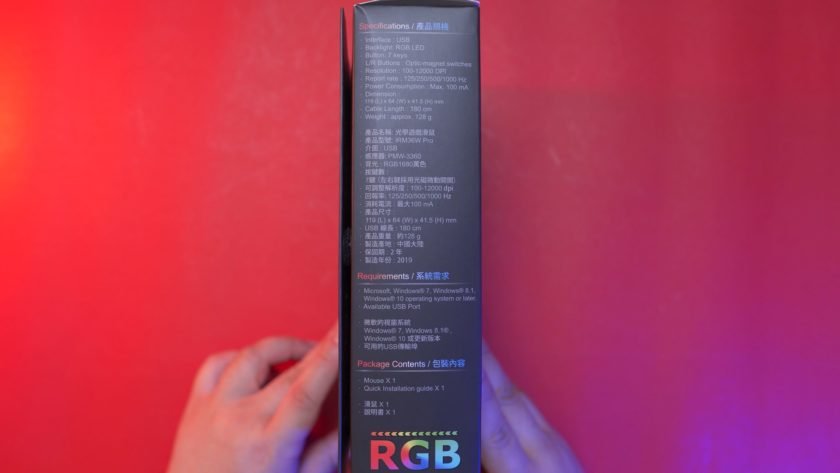 And at the back of the box, we have the key features of the M36 Pro, so it is using optic-magnet microswitches, we'll dig in deeper on that later, and it also features a decent PMW 3360 sensor.
And then on the other side of the box, we just have some of the features as well as the model name.
This is actually a flip-type design packaging, which is always nice for a mouse so that you can see and touch the shape of the mouse before actually purchasing. At its side, we have some key features yet again as well as a preview of the software.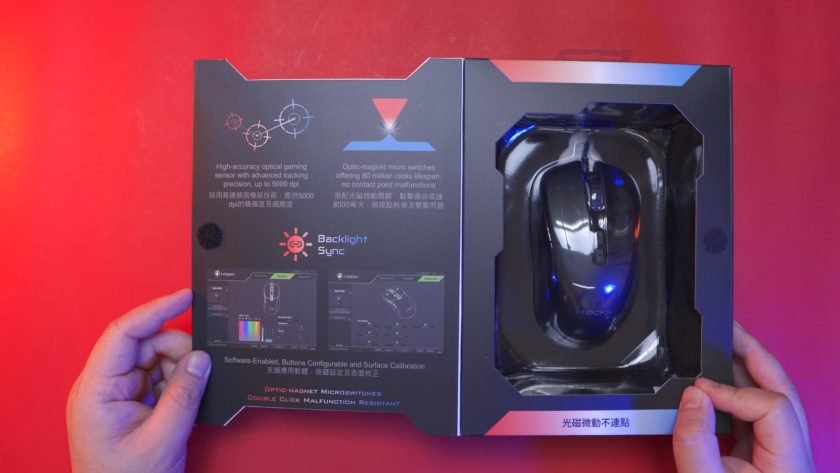 Inside the box we have the user manual in both English and Chinese,
And then we have the i-Rocks M36 Pro Gaming Mouse itself.
FULL REVIEW
Design, Construction and Parts Overview


At first look and touch, it looks quite premium, lightweight at around 86g as per my own measurements and I don't see any imperfections at all in terms of the materials used. On top, we have of course the left and right clickers, the scroll wheel with notches on the rubber lining and the 2 DPI adjustment buttons.
At the back, we have the illuminated i-Rocks logo.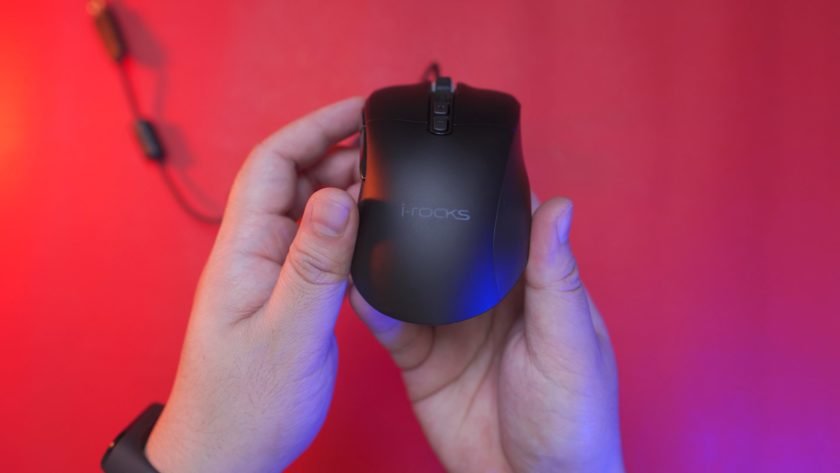 And then on the left side, we have the forward and back button with the forward button being a little bit larger, both of which are very clicky.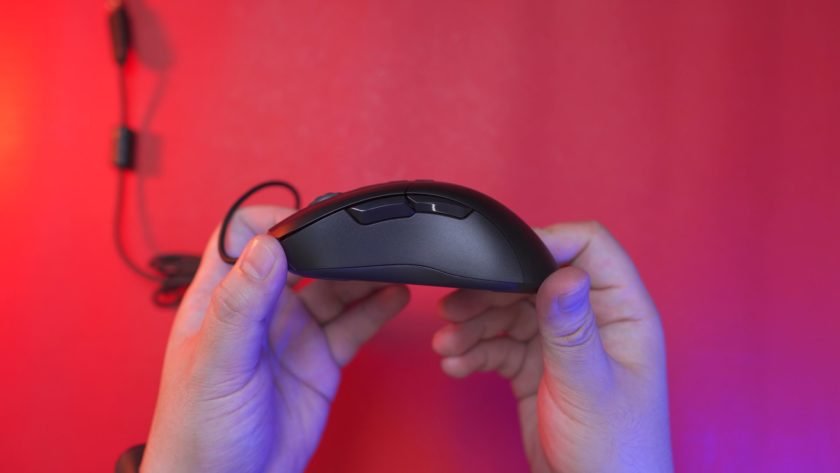 And on the other side, we have this subtle bump to help with the grip.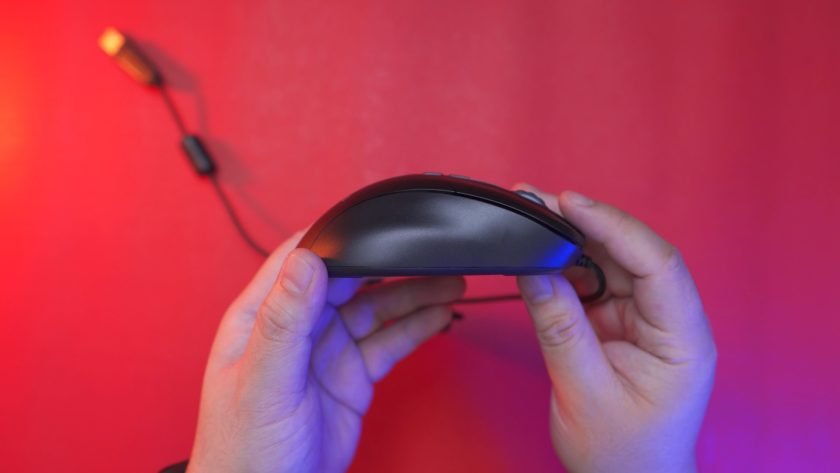 Looking at the backside we can see the slight curvature towards the right, a very subtle one compared to other right-handed mice that I've tried before.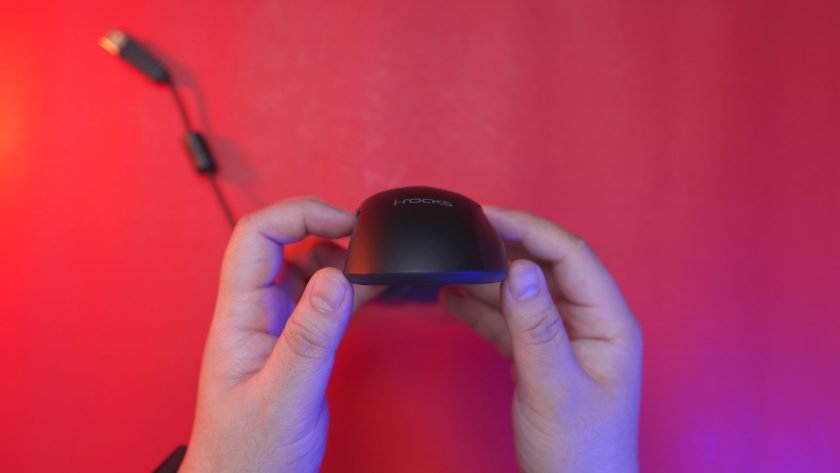 Flipping it on the front side, we have another clear view of that said curvature.
And of course, at the bottom, we have 3 mouse feet, the PMW 3360 sensor, and the certifications and other technical details about the mouse.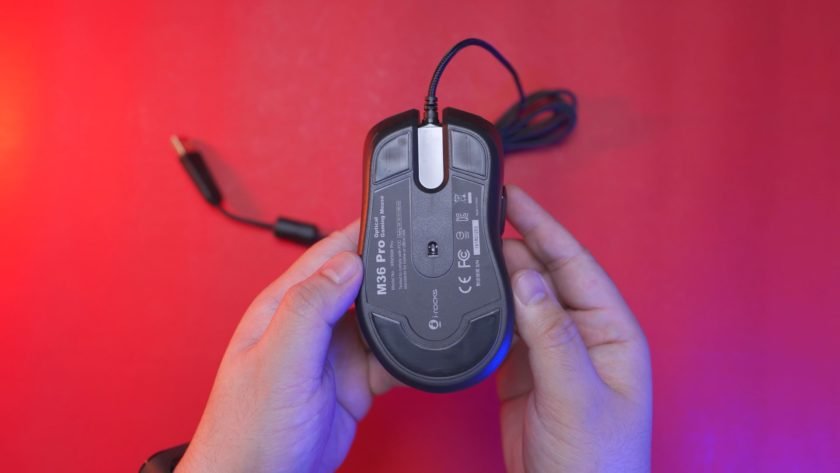 With regards to the cable, right of the batt I am not pretty optimistic about it, because it feels stiff as you can tell. Now, while it is durable because of the braiding, I feel like it could cause some cable drag issues later but we'll see. 
It has a velcro strap which is always nice to have, and the USB plug is gold plated as well.
Overall in terms of first impressions, I really like the look and feel of this mouse, the left and right clickers feels really light and easy to press, the scroll wheel has defined notches to it, the forward and back buttons are easy to reach as well even with my small and chubby hands, no issues whatsoever here.
The bump on the right side is also nice to have, though it could be a problem to others depending on the size of your hand and your grip style. Later we'll see how I actually grip and use this mouse for our real-world performance test. But as for the first impression, it seems to be a comfortable shape especially with a short size bump towards the rear end.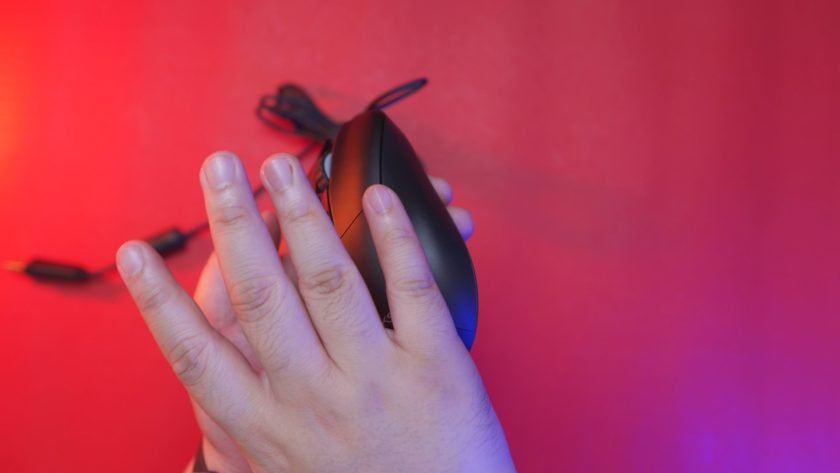 LED Illumination


Alright, before we move on to the actual performance of this mouse, let's just check out the LED illumination real quick so that we can get that out of the way first.
The illumination on this mouse is not something spectacular, it is decent but nothing fancy. We have illumination on the i-Rocks logo and on the scroll wheel and that's about it.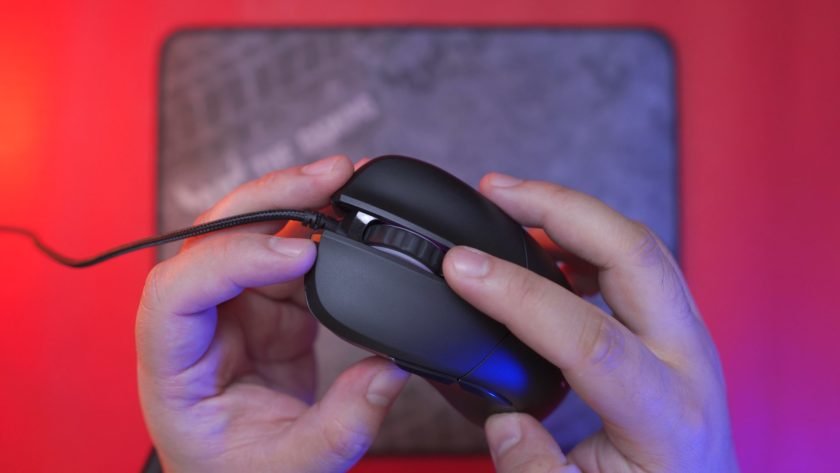 Buttons and Optic-Magnet Micro Switches


Now, let's talk more about the buttons and switches, like I said earlier the forward and back buttons are easy to reach and both are very satisfying to click and not mushy at all which is very nice,
The optic-magnet microswitches on the left and right buttons are super lightweight with a crispy click to it and the button's gap is quite narrow as well. And for me, this is one of the highlights of this mouse in terms of the reasons why you should get this. This is a very good alternative if you particularly like the lightweight actuation of the Omron switch without the issue of double-clicking.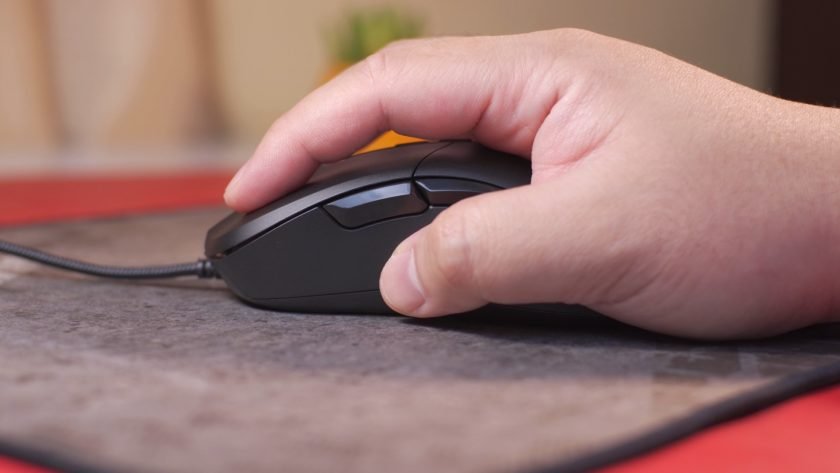 The grooves on the left and right buttons are also pretty substantial to keep your fingers in place.
The scroll wheel is also decent, though there's a bit of a wobble but the click is quite crispy as well.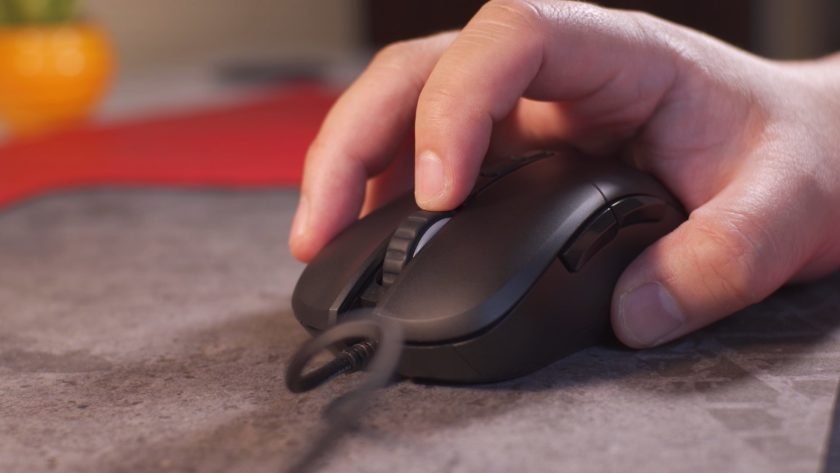 Unfortunately, I can't say the same with regards to the dpi buttons, 
They are a bit far towards the back making it hard to reach and they are both quite mushy to press as well compared to the rest of the buttons.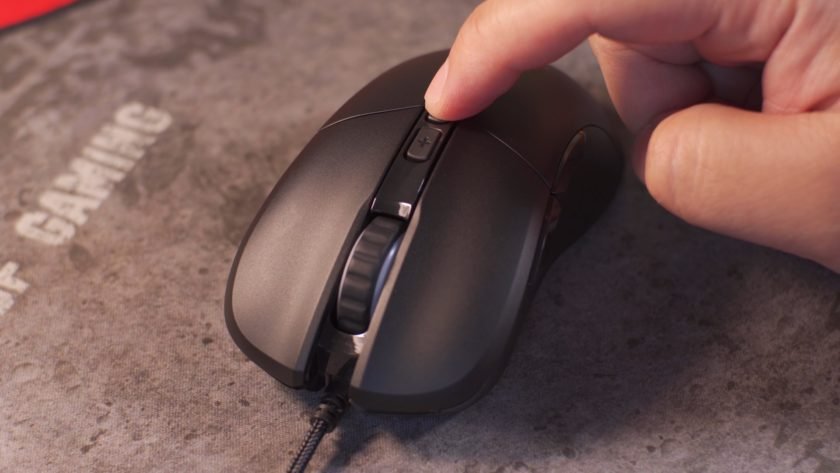 Shape and Grip Styles


Moving on to the shape and grip styles, the bump is short and towards the backside which makes this mouse easy to grip and should fit more hand sizes compared to other mice with a taller bump.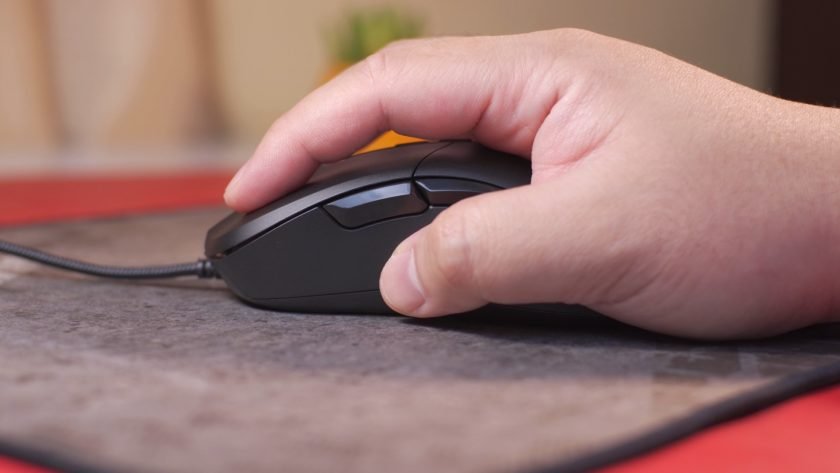 It is also suitable for most grip styles starting from palm grip, 
Fingertip grip up to claw grip and extreme angle, the left and right buttons are still clickable.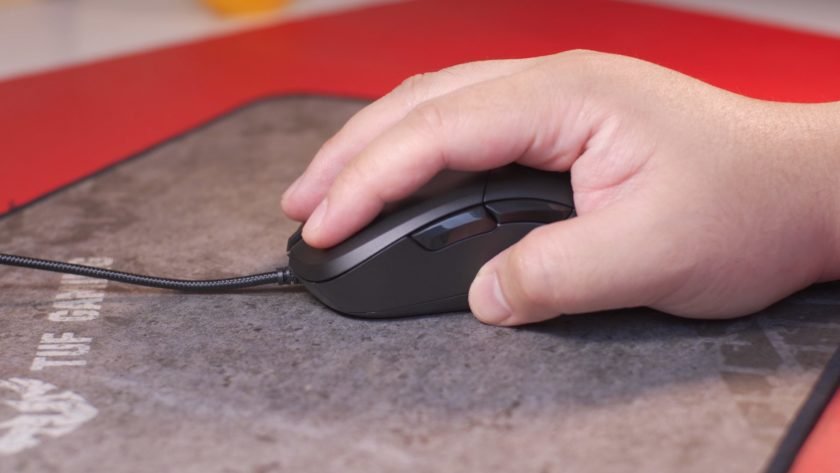 The right side grip is also a nice option, but like I said it could be a pro or con depending on the size of your hand and the way you grip the mouse. 
For me, I don't use it because it doesn't really align with my ring or pinky finger but it also doesn't prevent me from comfortably gripping the mouse because the bump sits in the middle of those fingers.
Braided Cable


Now, let's discuss about my minor issue with this mouse, and that is about the cable. As you can see, the cable is quite stiff unlike other new mice out there that have lightweight paracord cable.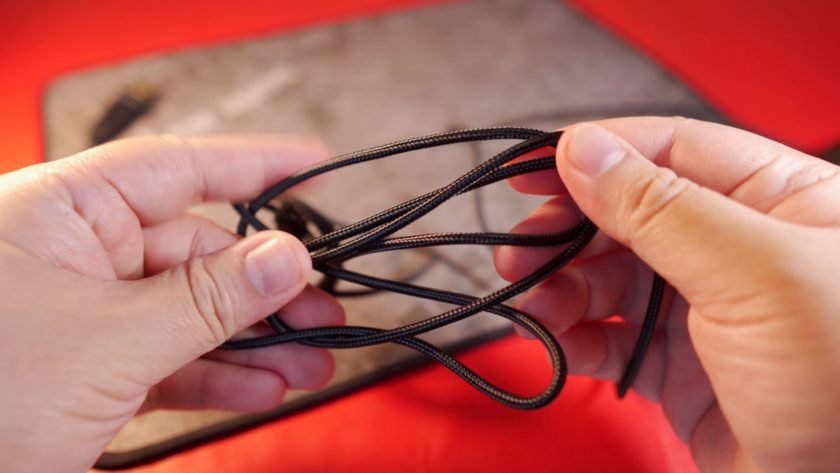 To be fair, though it's stiff, it's actually not bad at all, it is flexible enough that it doesn't affect the mouse at all when you move it around. However, since the cable is also quite heavy, it poses another issue which is cable drag. So if you're really serious about your game, you might want to consider a mouse bungee to go along with it.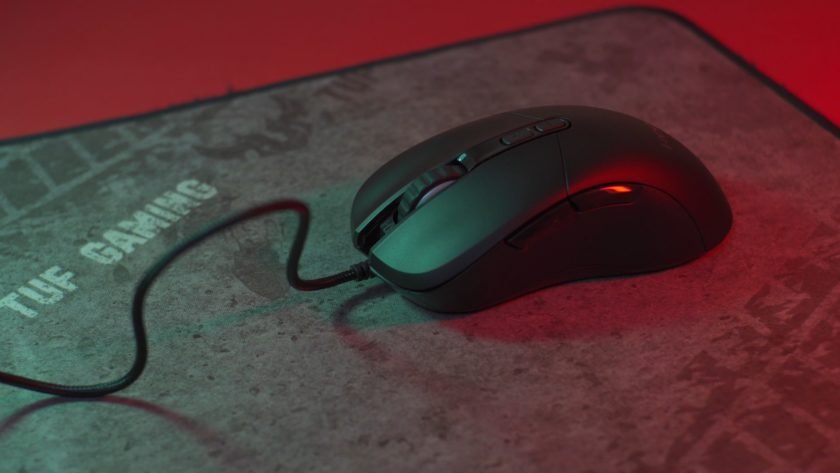 Teflon Mouse Feet


Another thing that's not perfect on this mouse is the Teflon mouse feet, it's not the worst but it's also not the best and you might want to consider replacing this as well. But as a default, it is pretty decent.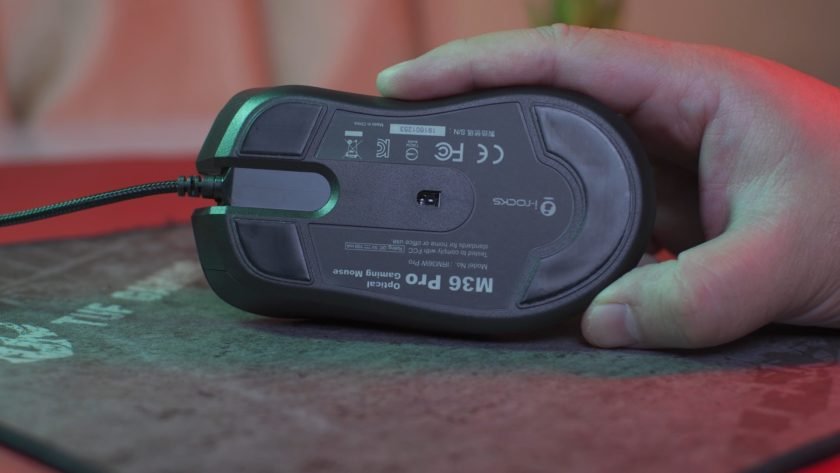 Alright guys, let's move on to the sensor and the performance of this mouse.
Pixart PMW 3360 Sensor


The i-Rocks M36 Pro uses a PMW 3360 sensor which might not be the latest but still pretty decent nonetheless with up to 12000 DPI and is also used by other known brands as well.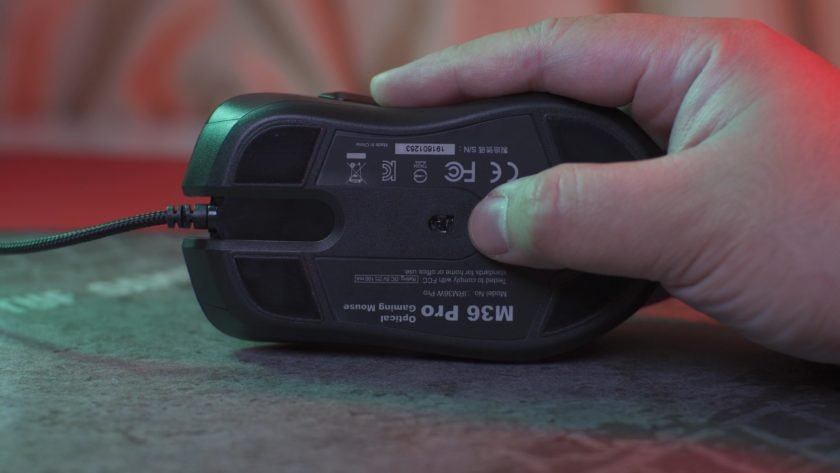 Lift-off distance is around 2 compact disk give or take which is pretty decent and as per my experience,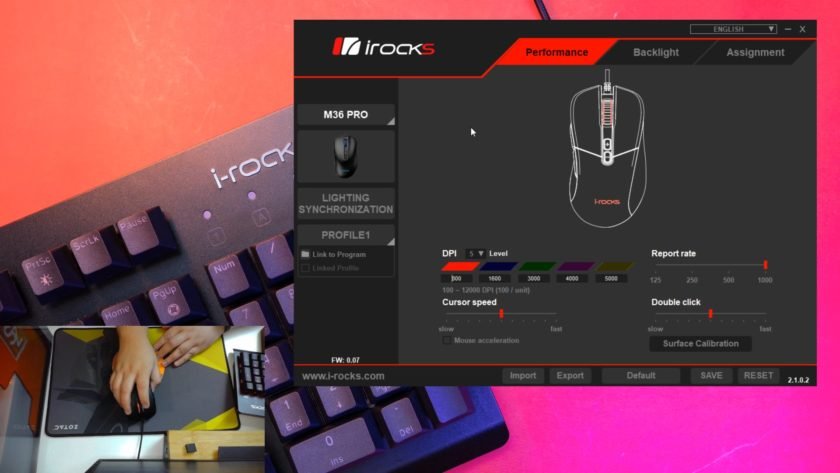 It doesn't spin out at all and I've pushed this mouse and tried my best to check if it will actually spin out, but luckily it doesn't.
It is also quite accurate and I didn't have any issues with tracking.
As per my experience with this mouse, right of the batt, I felt the responsiveness and quick actuation of the left and right mouse clickers, and I really felt like I was moving faster and aiming quicker using this mouse compared to other gaming mice that I've tried before even those who have PMW 3389 sensor, And I think the optic-magnet microswitches are highly responsible for that, and it also not as fatiguing as the huano switches thanks to its lightweight actuation.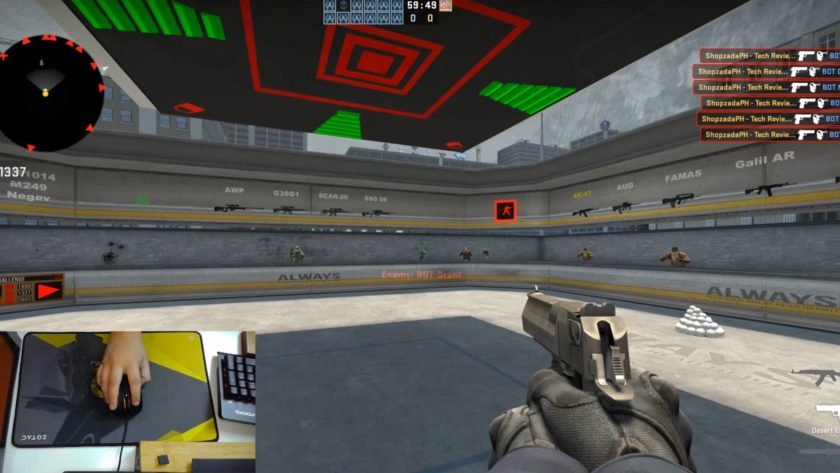 Alright guys, before we finish this video, let's discuss about the software real quick so that you can have an idea how much customization you can do with this mouse.
i-Rocks Software


On the homepage, we have a preview of the mouse, and then we have the 5 individual DPI settings that you can configure depending on your preference, and it also has its corresponding color so that you'll know what your current DPI setting is. You can also choose to limit the DPI levels for faster switching which I think is quite useful. You can also change the cursor speed, mouse acceleration, polling rate, double click speed and an option to calibrate your surface which is also a nice feature to have.
To calibrate your suraface, you just have to follow the instruction by doing the figure 8 using your mouse on the desired suraface. Aside from that we also have here the import, export, set to default for this particular profile and reset the mouse to factory settings.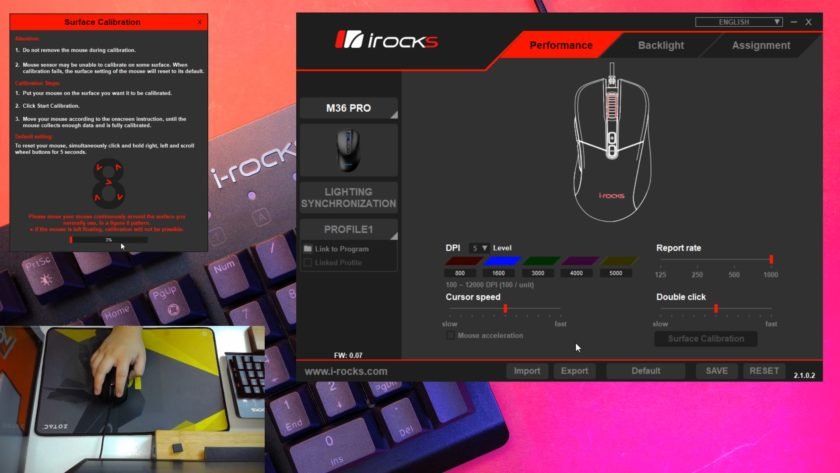 We also have here on the left side the lighting synchronization option in case you have another i-Rocks device that supports this feature as well. You can choose any color that you want from the palette, change backlit effect, brightness and speed of the animation.
Aside from that you can also setup up to 5 different profile and you can link them on a program which is a feature that I always appreciate making things easier depending on your application.
Aside from that, we have the backlight tab, wherein you can configure the lighting effects of the mouse, colors, brightness, and speed of the animation just for this particular device only.
And lastly, we have the assignment tab, wherein you can configure each individual button's function if you're into that.
And that's pretty much it for the software, it is highly customizable but I was actually hoping that it has a lift-off distance adjustment.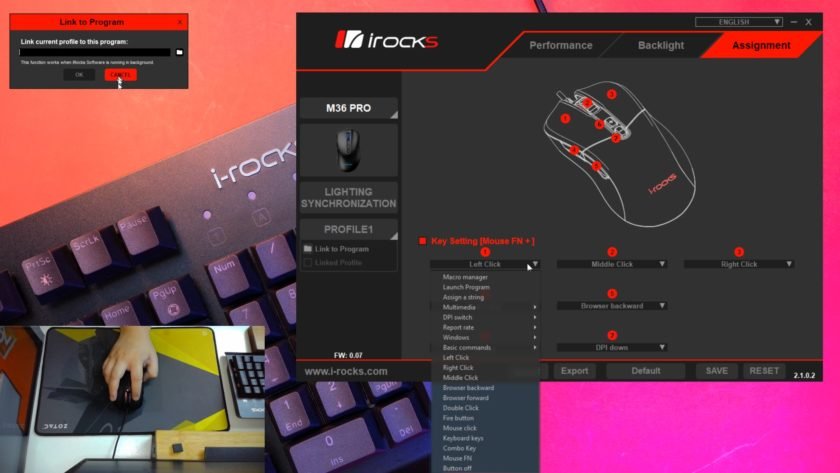 VERDICT


To conclude, the i-Rocks M36 Pro gaming mouse is honestly one of the best gaming mouse that I've tried, and I felt that as soon as I laid my hands on it and started clicking the super lightweight and crispy optic-magnet microswitches as well as all the buttons around the mouse except maybe for the two DPI adjustment buttons that are rather mushy. The PMW 3360 sensor is a proven sensor already and is pretty accurate, doesn't spin out and reliable even on lower DPI settings. The shape is also very comfortable and should fit most hand sizes with its shorter bump and smaller overall size. The weight is not the lightest at 86g but is lightweight enough for me, though I haven't really tried mouse lighter than 80g so there's that. My only gripe with this one really is the rather stiff braided cable but other than that, I really like this gaming mouse and is a very easy recommendation.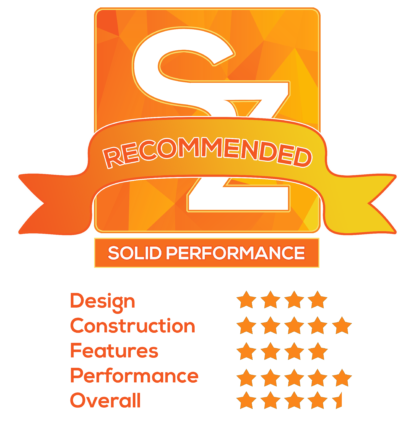 i-Rocks M36 Pro Gaming Mouse Review – Optic Magnet Microswitches!?
Thanks to
i-Rocks
for making this review possible, you can get this gaming mouse from the link below.
If you like this one, please consider subscribing to my channel by hitting the button below. Have a great day!

WHERE TO BUY:

PC HOME GLOBAL: 
Price may vary depending on existing promos
The views and opinions on this review are solely based on my own personal experience, your results may vary
SHARE THIS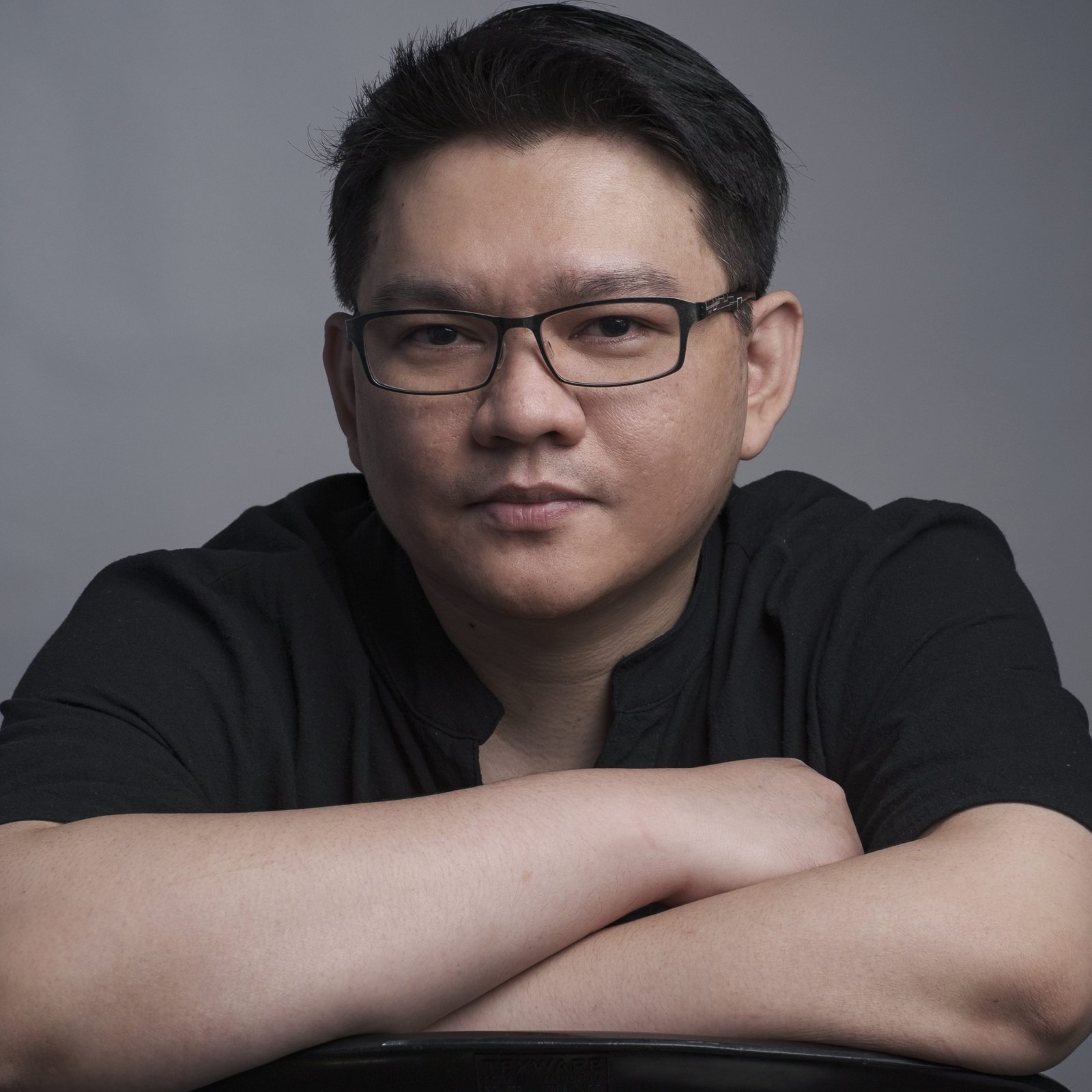 The Broll who always got your back online!