Today, we're gonna take a look at the 10th Gen Intel Core i7-powered MSI GE76 Raider Gaming Laptop with an RTX 3080 GPU. It is a decently sized 17″ laptop that can possibly replace your Desktop PC without going over the top in terms of typical gaming laptop bulkiness and gamery aesthetics. Performance-wise it packs some serious punch with a 10th Gen Intel Core i7-10870H Processor and a full 155w NVIDIA RTX 3080 that you can actually buy and use right now. The variant that we have here is the GE76 Raider 10UH which is targeted more towards gamers with a whopping 300hz refresh rate. In this review, we'll talk about a little bit of everything starting from the unboxing, design, construction, features, and performance.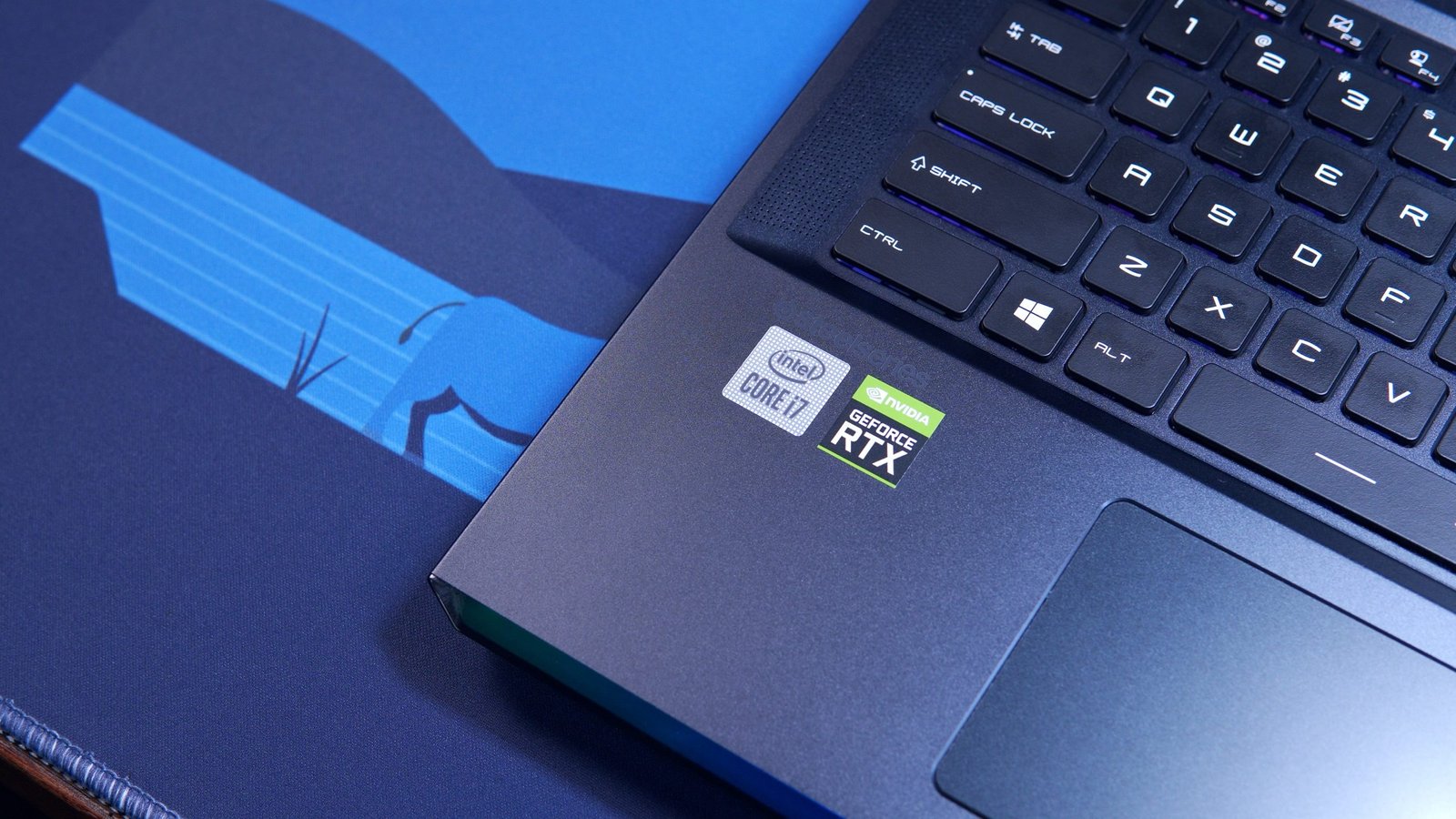 MY EARLY BREAKDOWN
Pros: Good design with soft front side RGB lighting, Good set of features, Good balance between high refresh rate display and powerful processor and graphics card, Overall decent performing gaming laptop
Cons: Plastic build construction, Short battery life
SPECIFICATION
Model Name 

GE76 Raider 10UH

Processor 

10th Gen. Intel® Core™ i7-10870H Processor

Operating System 

Windows 10 Home

Windows 10 Pro (MSI recommends Windows 10 Pro for business.)

Chipset

Intel® HM470

Memory

DDR4-3200, 2 slots, up to 64GB

Display 

17.3″ UHD (3840×2160), 100% Adobe RGB, IPS level thin bezel (Optional)

17.3″ Full HD (1920×1080), 300 Hz Refresh Rate, IPS-Level thin bezel  (Optional)

17.3″ Full HD (1920×1080), 240 Hz Refresh Rate, IPS-Level thin bezel (Optional)

Graphics 

Latest GeForce® RTX™ 3080 16GB GDDR6

Storage Slots

2 x NVMe M.2 SSD by PCIe Gen3

 

Per-Key RGB gaming keyboard by SteelSeries

Audio

The Duo Wave Woofer + Speaker designed by Dynaudio system

(2 x 1W Speakers + 2 x 2W Woofers)

Nahimic 3 Audio Enhance

High-Resolution Audio ready

USB Ports

1 x USB 3.2 Gen 2 Type-C / DP, 1 x USB 3.2 Gen 2×2 Type-C, 

1 x USB 3.2 Gen 2 Type-A, 2 x USB 3.2 Gen 1 Type-A

Card Reader 

SD(XC/HC) 

Video Output

1 x USB 3.2 Gen 2 Type-C / DP, 1 x Mini DisplayPort,

1 x HDMI (4K@60Hz)

Mic-in/

Headphone out 

1 x Audio combo

LAN/Wi-Fi

Killer E3100 2.5 Gbps Ethernet with Killer Shied / Intel® Wi-Fi 6E AX210

Bluetooth 

Bluetooth v5.2

Webcam 

FHD type (30fps@1080p)

Battery 

4-Cell, Li-Polymer,  99 Whr 

Power Adapter 

280W (for 10UH) / 230W (for 10UG / 10UE)

Dimension

397 (W) x 284 (D) x 26 (H) mm

Weight 

2.9 Kg
WHAT'S IN THE PACKAGE
Alright, so starting with the packaging, we have a massive black box with an MSI log at the center.
Around the box, we just have some branding and the key specifications right here on this side.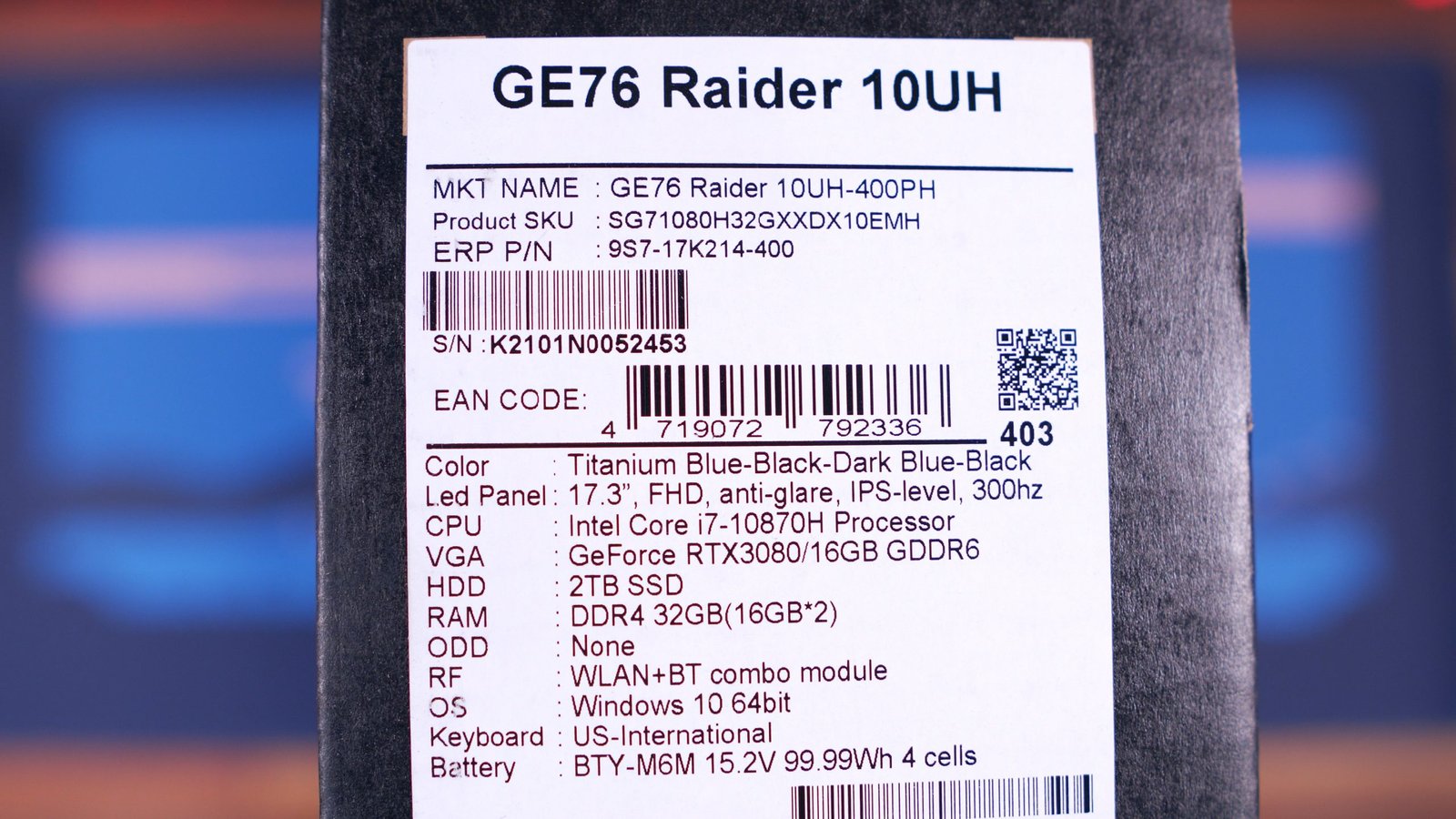 Opening the box, the first thing you'll notice is the laptop itself nicely protected by a substantial amount of foam and an accessory box.
Inside the box, we have some paperwork, a warranty card, an MSI reward program card, a quick start guide. a hotkey recovery guide, and the 2-year warranty service book.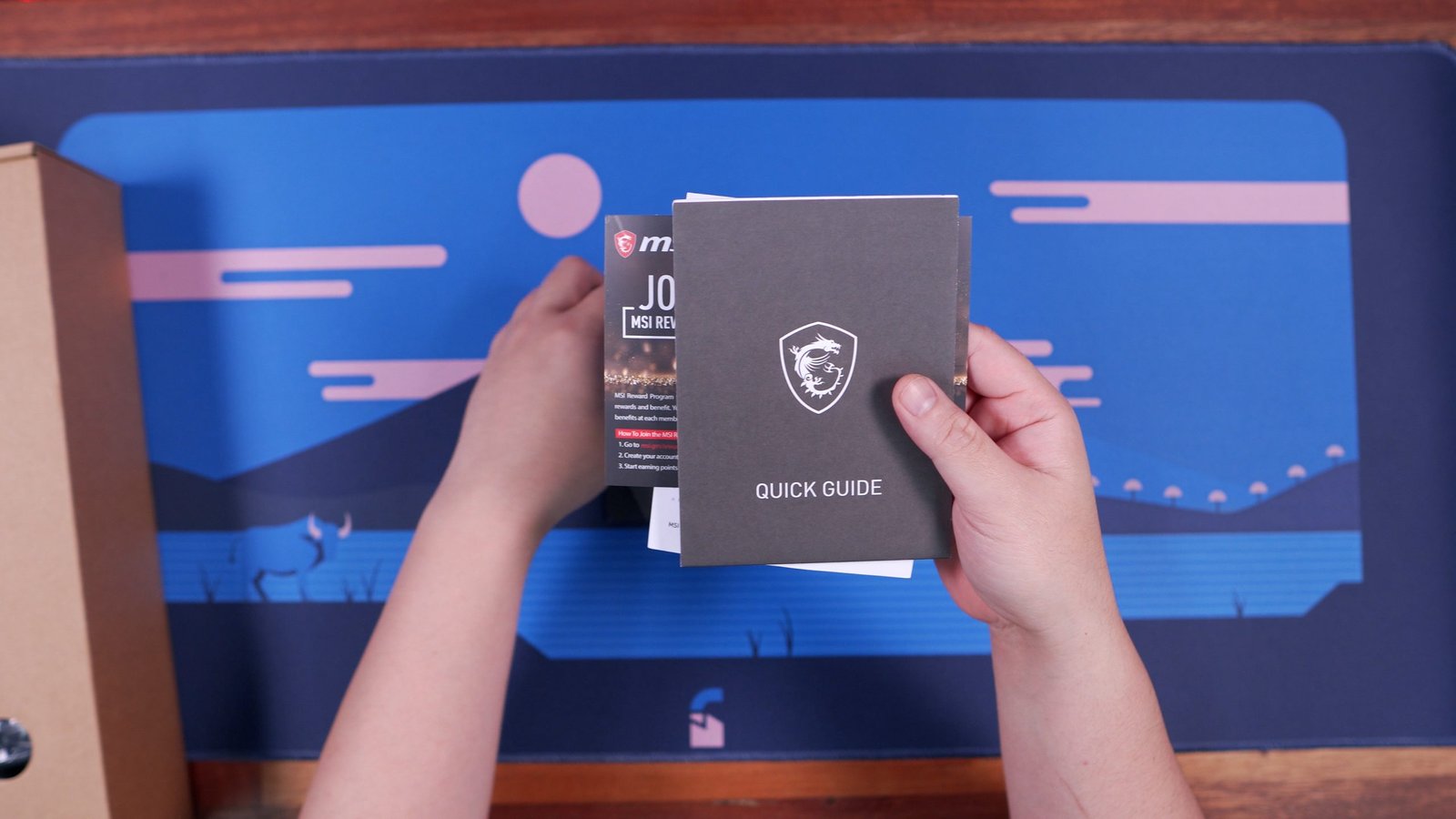 Now, inside the accessory box, we have the power cable and the decently sized 280W power brick.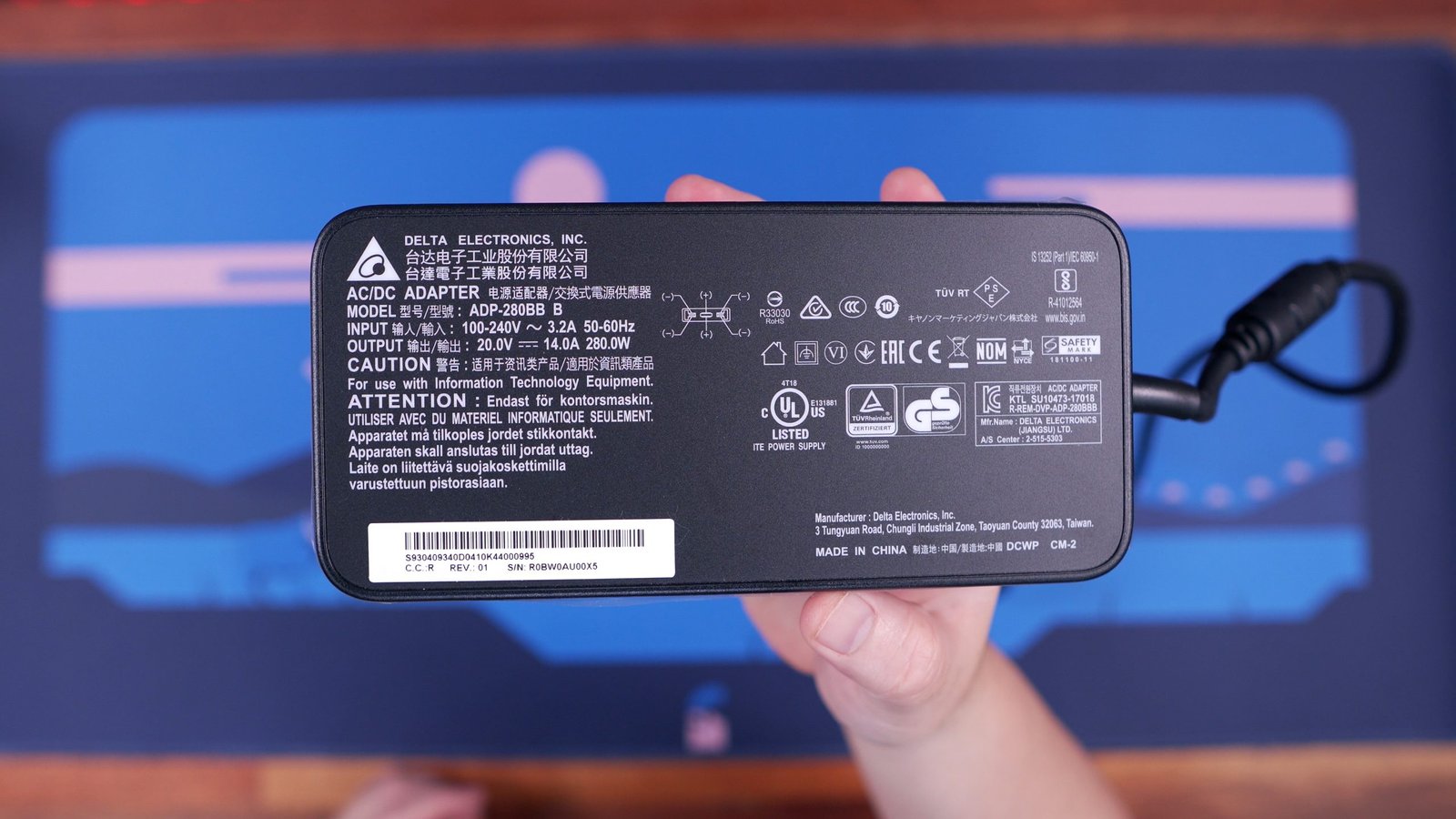 Lastly, we have the MSI GE76 Raider itself again nicely protected by some foam, a plastic cover, and a non-woven fabric as the last piece of protection.
FULL REVIEW
Design, Construction, and Parts Overview
Alright, so let's move around and do a quick parts overview so that we can appreciate the design, construction, and features of the Intel-powered MSI GE76 Raider.
Looking from the top, as you can tell, the MSI GE76 Raider features a nice and sleek grey colorway instead of the typical black and I personally prefer this,
It looks more premium in my opinion especially partnered with the good-looking chrome MSI dragon logo and of course the Intel badge in the hand rest area.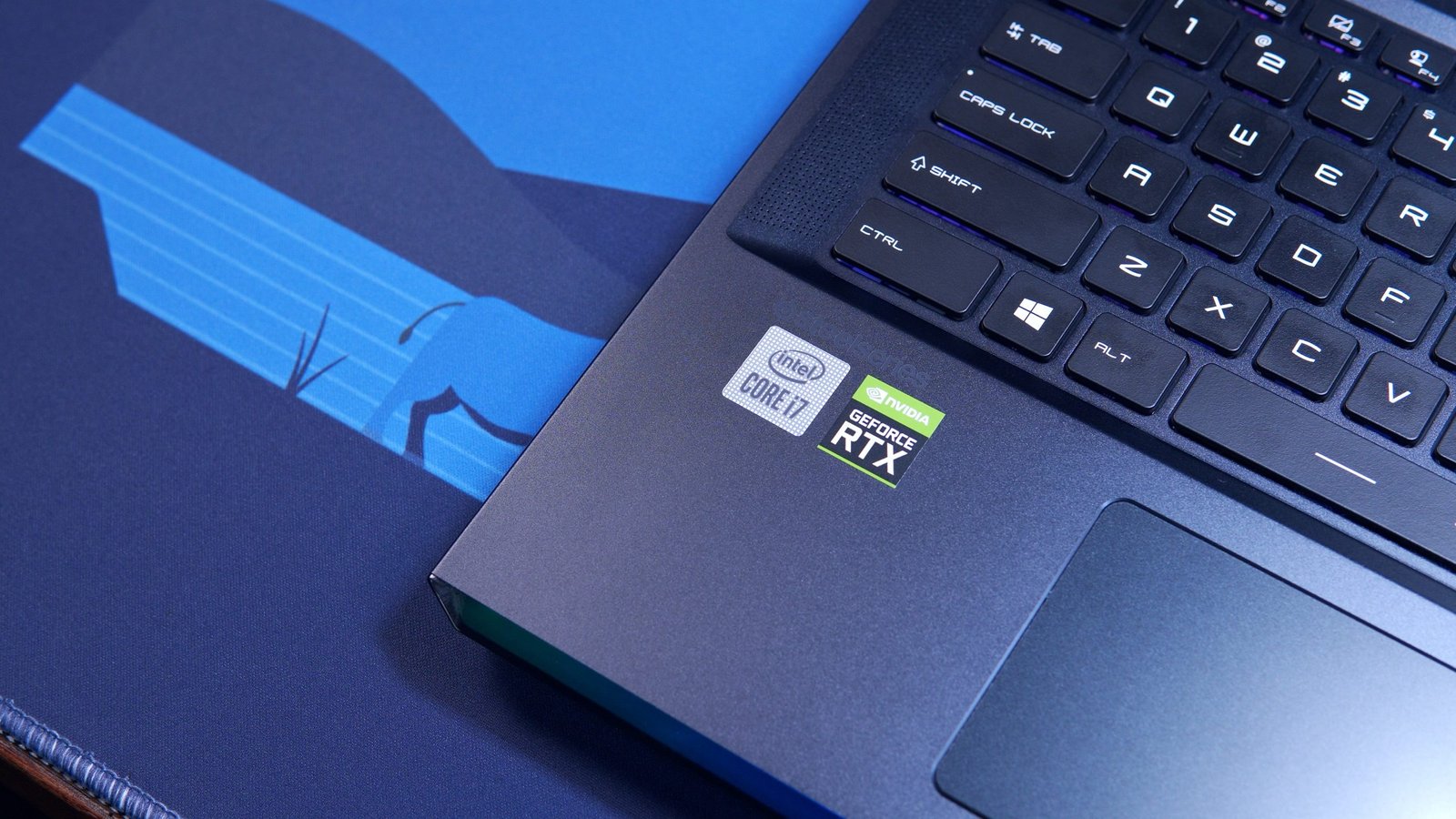 The matte finish is partnered with this slight glossy finish on the hinge cover which is a nice touch and in terms of the overall design, it looks really good, classy and the unique oblique angle design gives it that gamery vibe without going over the top with aggressive cut-outs and massive construction and form factor.
Speaking of construction, the MSI GE76's sexy chassis is made mostly out of hard plastic materials which may be good or bad depending on your preference, remember this is a massive 17″ laptop and is not thin by any means and I could just imagine this being heavier with an aluminum construction especially given its thickness. With that, there's a little bit of flexing here and there but not entirely bad I would say.
Now, flipping it on the front side, at first, I honestly felt like this design isn't a good idea with this glossy finish.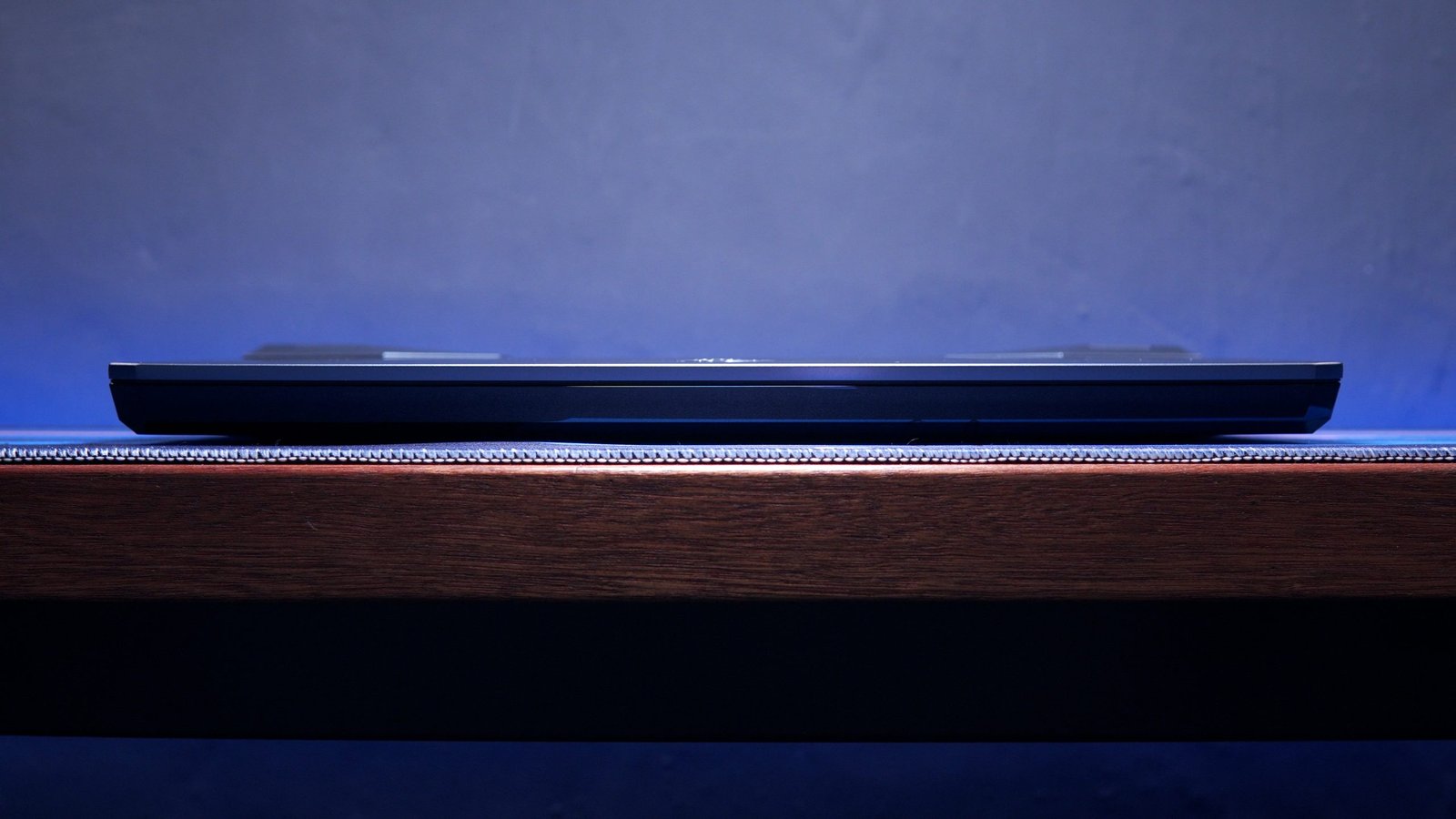 However, as soon as I turned on the laptop, I immediately felt otherwise.
Even though the finish is glossy it is not that visible as what you will see is a nice and soft RGB illumination that gives the laptop its character without going overboard. it's relatively subtle while being effective in adding that aesthetically pleasing style points especially partnered with this RGB wallpaper.
Moving on, one of the things that I really appreciate with the MSI Ge76 raider is the amount of input and output ports.
Looking at the left side, we have a Kensington lock slot, a side exhaust, a small LED indicator, a USB 3.2 Gen2 Type-A port, a modern USB 3.2 Gen 2×2 Type C port, the 3.5mm audio combo port, and some side speaker holes.
Flipping it on the other side, we another side exhaust, a USB 3.2Gen1 Type-A port, an SD card reader which is a big deal for use content creators, another USB 3.2 Gen1 Type-A port, and another of those side speaker holes.
The input and output ports don't end there, because flipping it all over at the backside, we have more.
Here we have the mini display port 1.4, A USB 3.2 Gen 2 Type C port that also functions as a display port, an ethernet port, an HDMI port that supports 4K@60hz, and the reversible DCin power port. We also have 2 exhaust ventilation on both sides for a total of 4 around the laptop.
Overall, as you can see, we have an ample amount of input and output ports including a nifty SD card reader which makes sense since the form factor of this laptop can easily accommodate that.
Moving forward flipping the laptop at the bottom, we have these long rubber feet to make this massive laptop stay in place alongside a couple of shorter ones on the other side.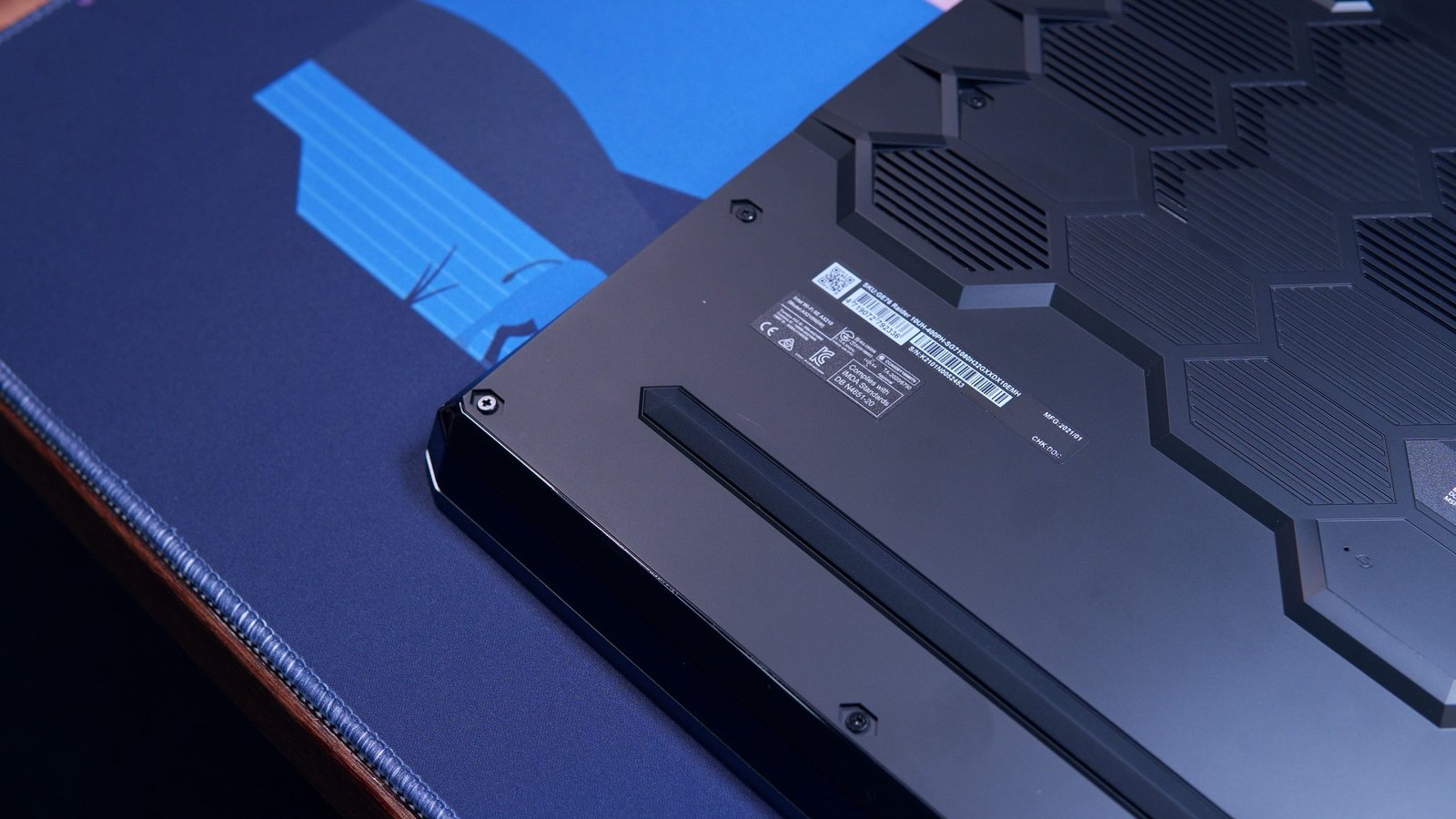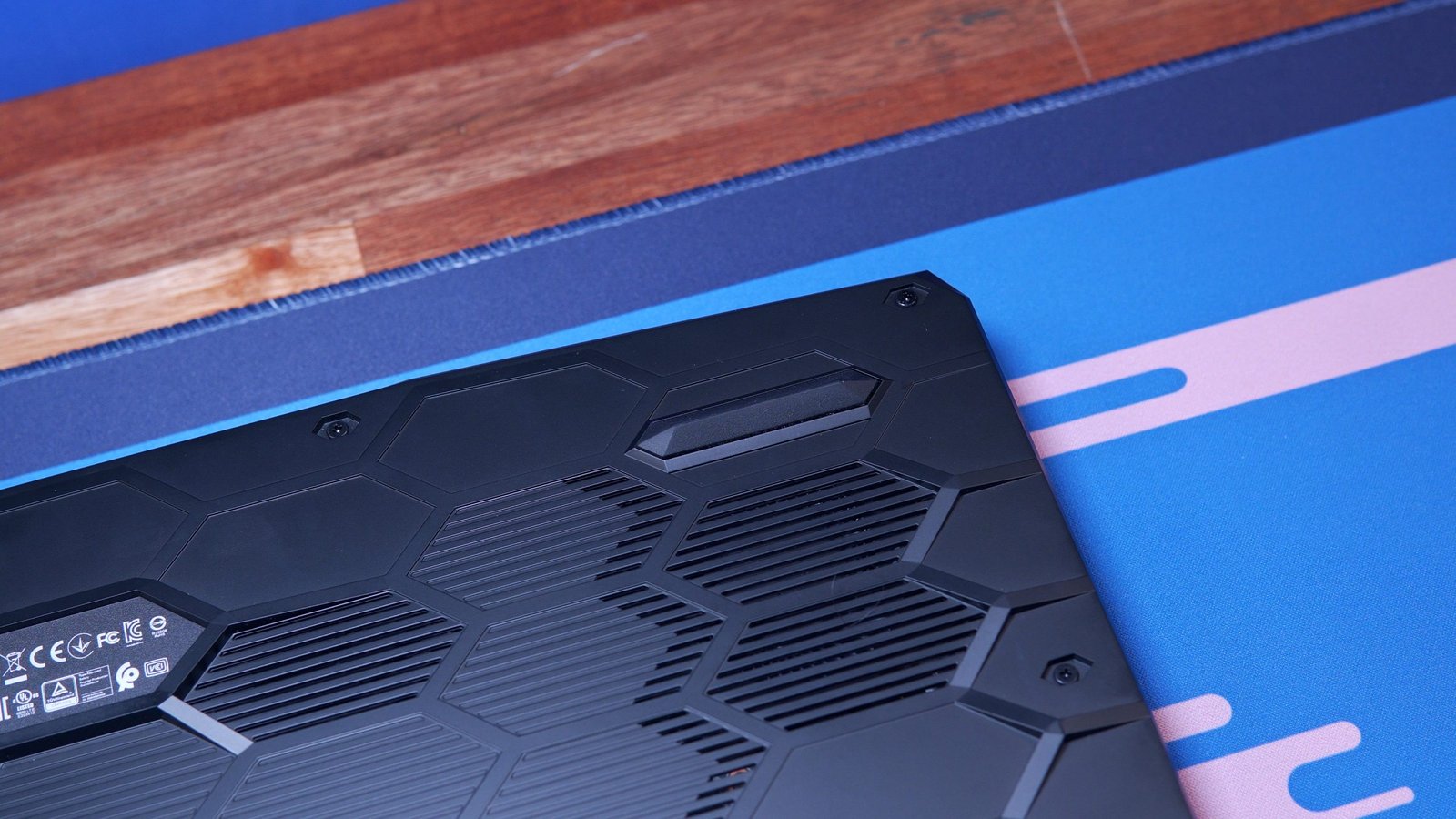 We also have some intake ventilation here and again the construction is made out of hard plastic.
We also have a small battery reset pinhole right here.
By the way, the hinge design and construction are pretty decent, the laptop's base lifts a bit when opening the lid but you can definitely open it using just one hand.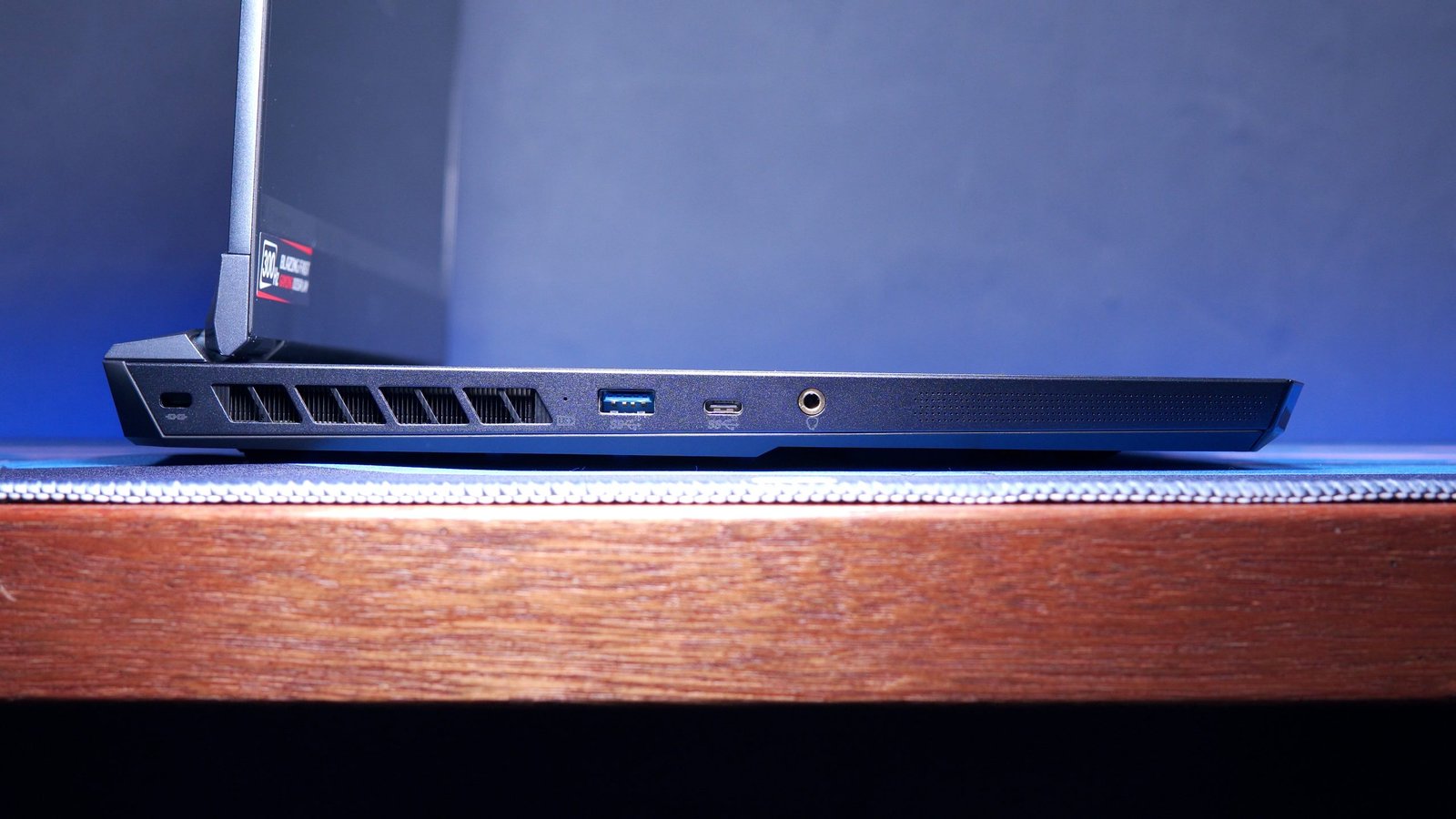 With that being said, let's crack the lid open and check out how everything else is laid out.
Keyboard
Alright so right off the bat, we have a full-size keyboard with a dedicated numpad, regular-sized arrow keys, and mostly regular-sized alphanumeric keys with smaller function keys.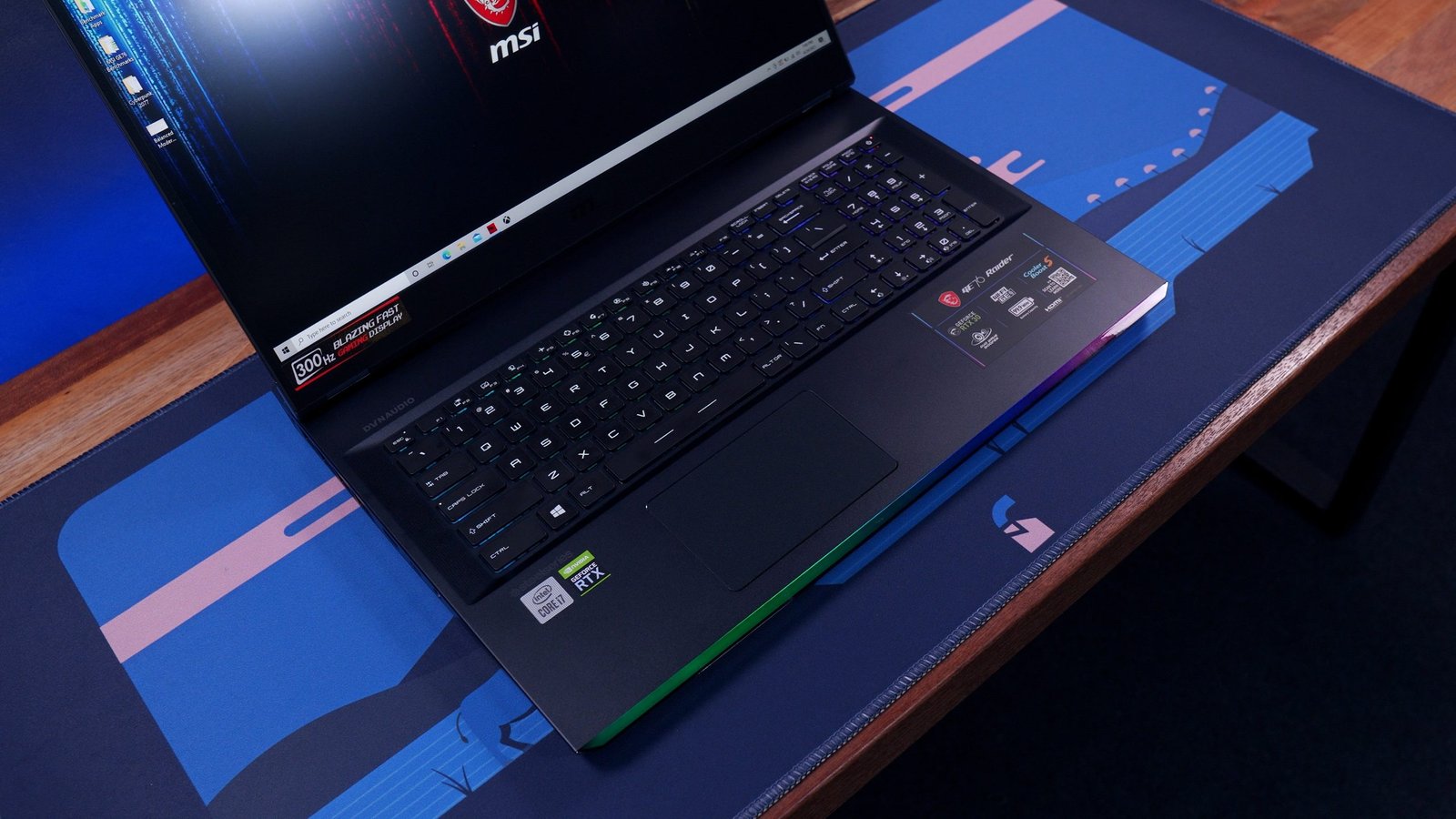 The size of the keyboard also takes full advantage of the surface area of the laptop while leaving just enough space for the upward-facing speaker holes.
Now, what I immediately appreciate with this keyboard is that while it still features that typical RGB illumination which most people still prefer, MSI now has veered away from their old "pudding like' keycap design which in the first place, wouldn't even fit on this clean and sleek aesthetic of the MSI GE76 Raider.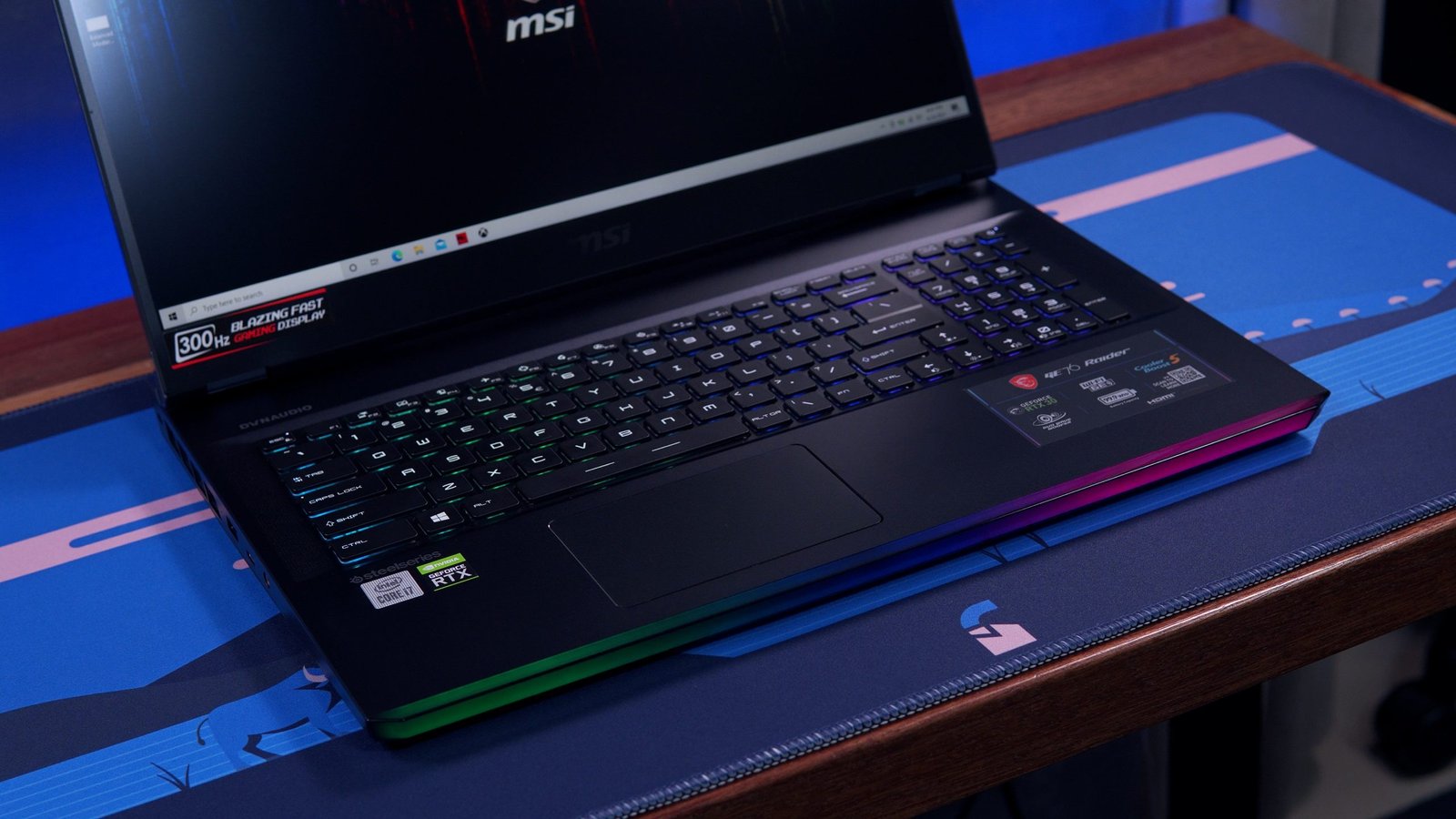 We now have a cleaner-looking keyboard with enough tactile feedback and travel distance, albeit quite mushy compared to most laptop keyboards that I've tried before. Another thing that I appreciate here is that if you press on the FN button, all the keys with secondary functions will light up while everything else will turn off giving you a quick glimpse of all the shortcuts you have at your perusal.
Speakers
In total, we have two 2W speakers and two 1W speakers for that duo wave speaker system and overall, the quality of the audio is pretty decent with substantial lows, mids, and highs but personally, most of the time, I'm still going to use a pair of headphones or earphones and thankfully, we have a 3.5mm headphone jack for that.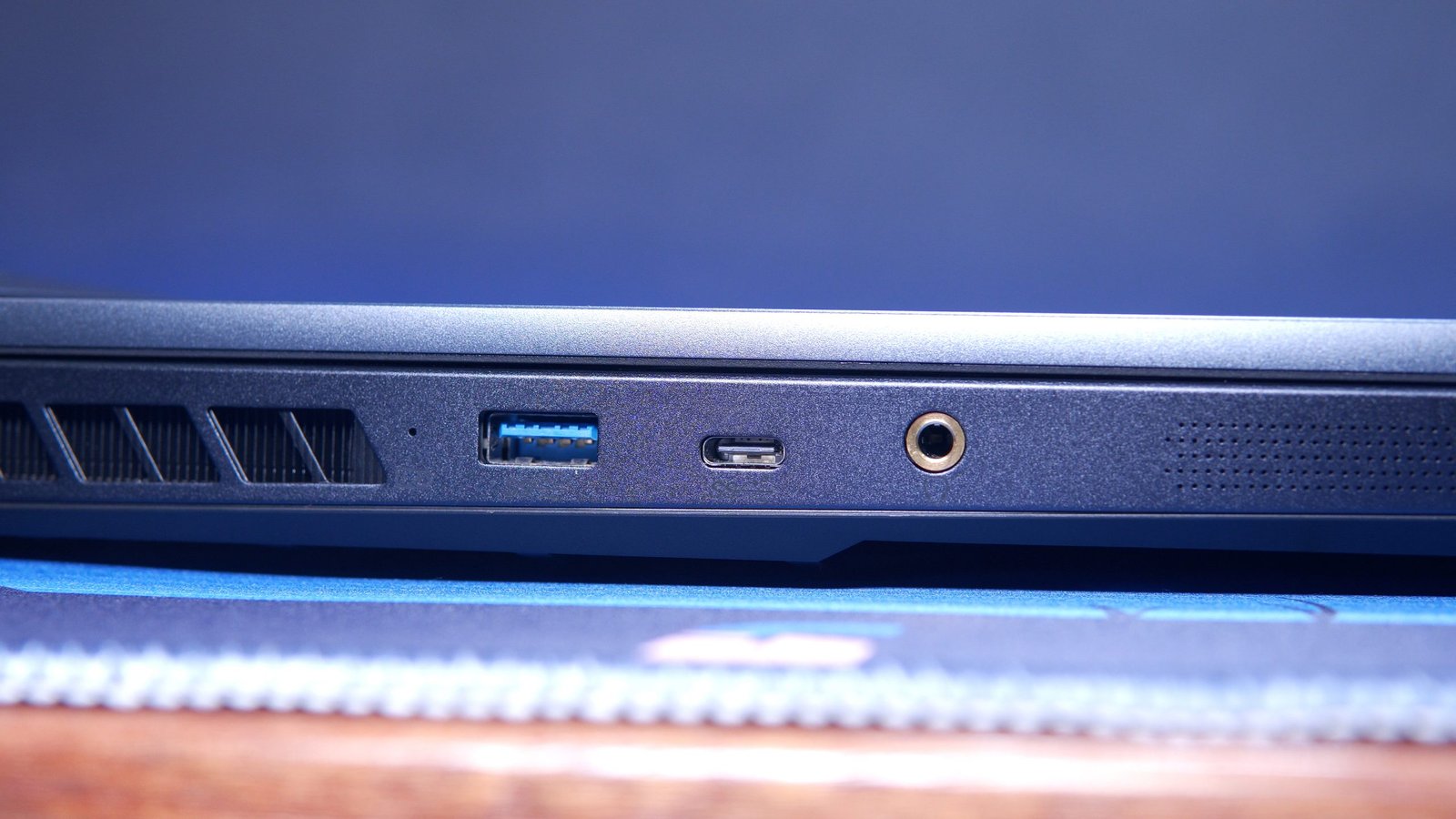 Touchpad
Now, moving our attention towards the touchpad, I'm gonna be honest, this one is considerably small especially given how massive the extra space we have here on the surface of the laptop. I feel like they could've extended it a bit more. As for the actual functionality, it does its job quite well with a smooth surface and clicky and tactile button.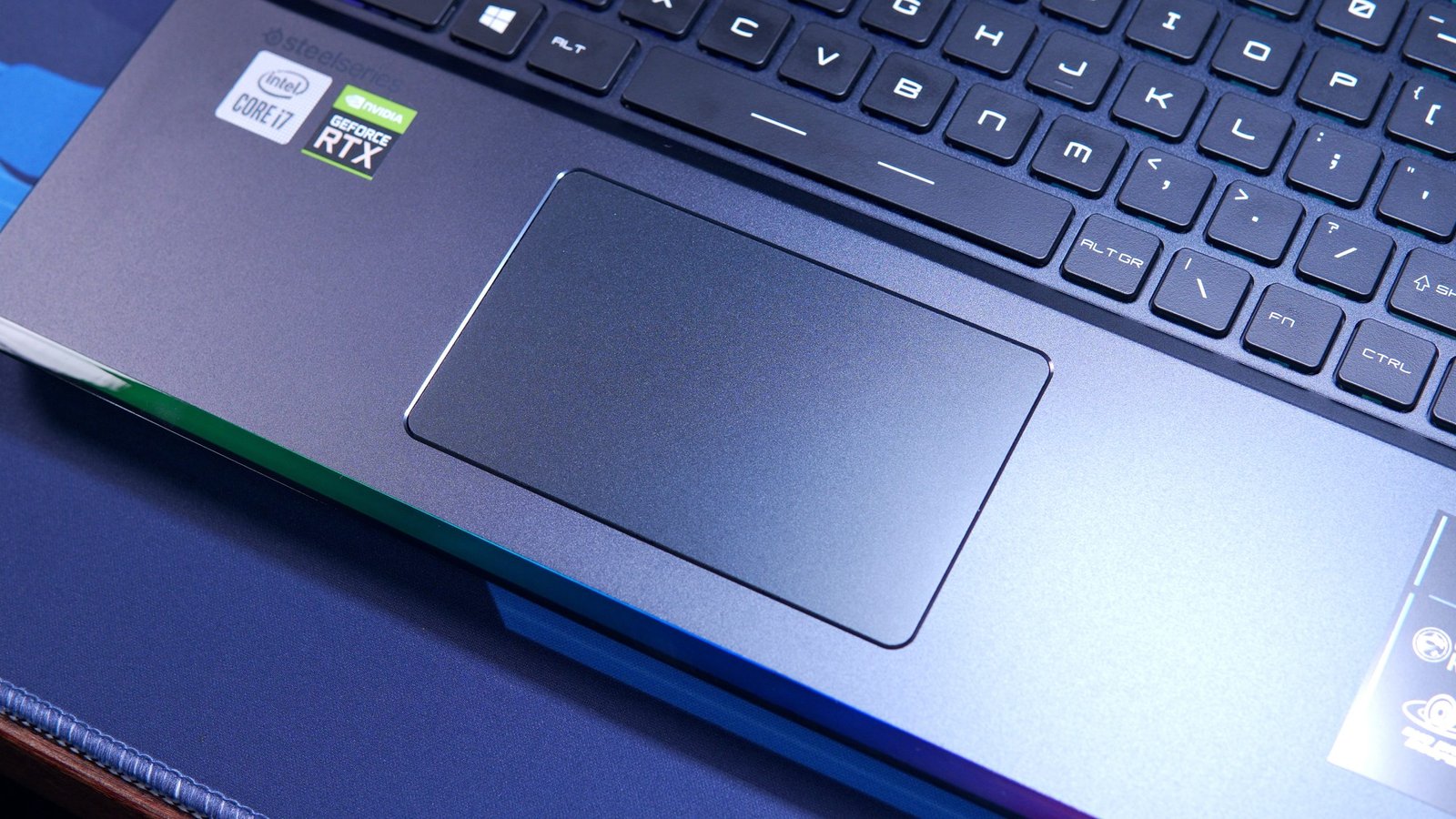 Display
Alright guys, before we move on to our performance benchmarks, let's check out the display and everything around it.
First, in terms of the bezels, the top part is relatively thin with thinner sides but with a rather thick bottom bezel as you can see here.
We also have the full HD webcam here and the microphone array located on the usual ideal spot at the top center of the bezel.
As for the display panel itself, what we have on this variant is a 17.3″ 1920x1080p Full HD resolution IPS-level panel with a 300hz refresh rate. So as you can tell, this variant is geared more towards gamers rather than creative people. But there is also the top-of-the-line 4K variant.
In terms of the quality of the display, the 10th Gen Intel Core i7 and the RTX 3080 GPU really performed pretty great with the 17" 1080p display. As per my testing using the Datacolor SyperX Pro calibration tool, it has 99% SRGB coverage,
75% NTSC,
79% AdobeRGB,
And 79% P3 color gamut. Colors are pretty good, good enough for a photo and video editing just for social media and web postings. as well as general media consumption and day-to-day tasks. but the highlight of this display is of course, that 300hz refresh rate for gaming.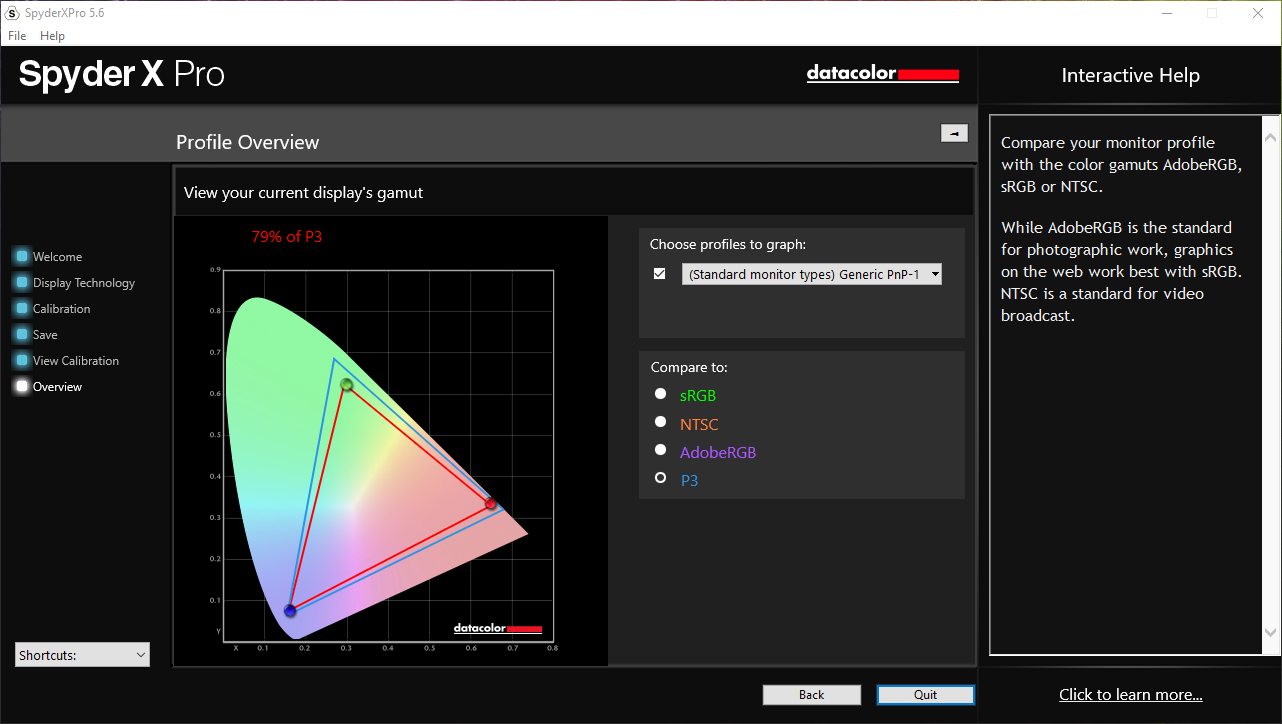 Performance Benchmarks
Speaking of gaming, let's proceed to our performance benchmarks. Almost all the tests done here are in extreme performance mode with cooler boost feature enabled for maximum performance unless otherwise specified. Because Ideally, we would want to get the most out of this device.
Cinebench 
In Cinebench R15 and R20, the results pretty much check out with what I was expecting especially if you cross-check it with other existing benchmarks around the web. I feel like, this variant with an Intel Core™ i7-10870H is a better option compared to the i9 variant especially if your focus is more on gaming rather than content creation like rendering and video editing.
Blender 
With that said, it doesn't mean this variant isn't capable at all for rendering and video editing as you can see here on our Actual Blender Render Image as well as in Adobe Premiere Pro.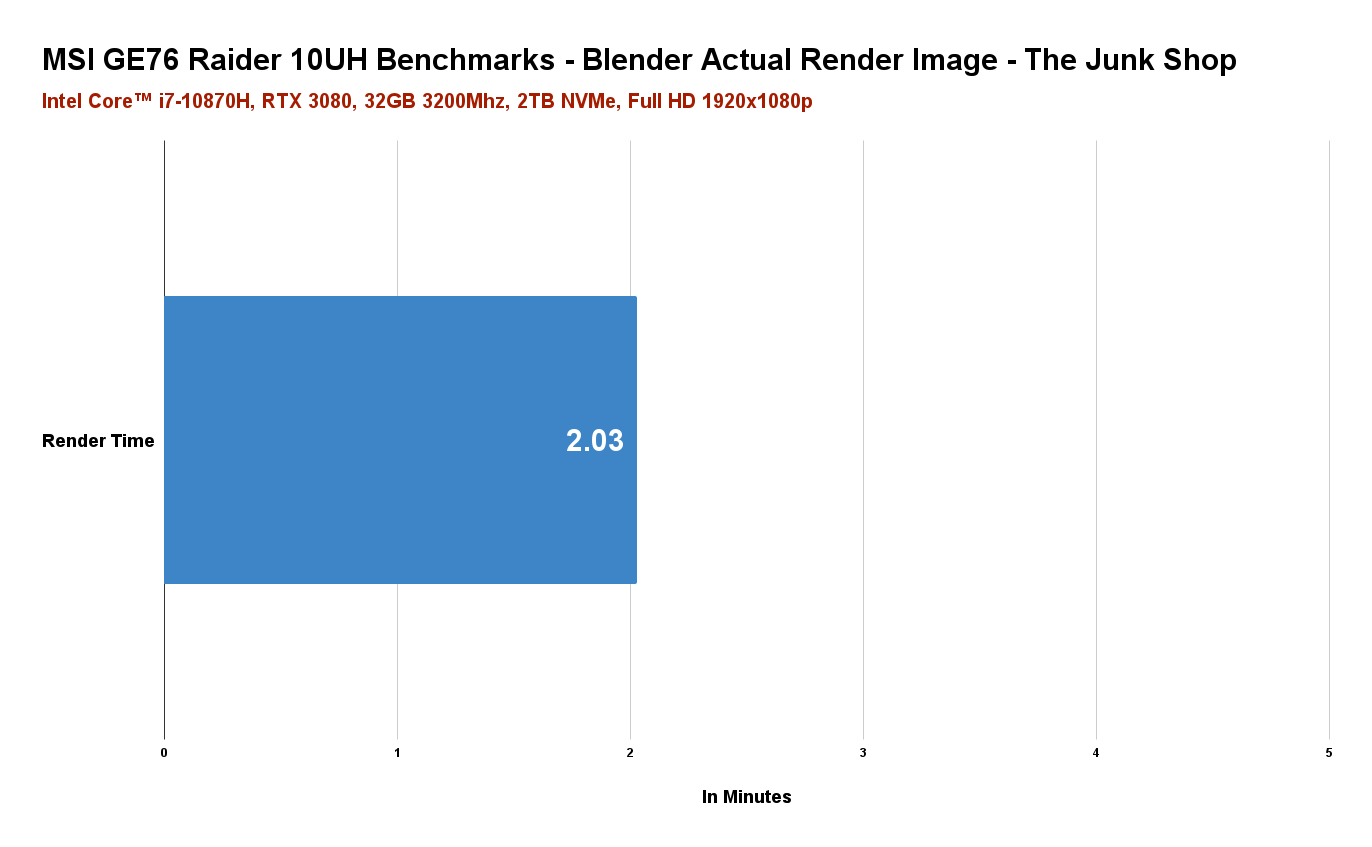 Adobe Premiere Pro
Exporting our standard 13.92 minutes 4K project took only around 7.6 minutes which is extremely fast especially for a portable laptop like this. I think this is the fastest gaming laptop that I was able to try for video exporting even though this one only has an i7 processor so that's a good thing.
As per my research, it uses a Samsung PM981 2TB Gen3 NVME SSD and as you can see from this crystal disk mark benchmark the storage drive is super fast allowing me to scrub through my timeline with 4K clips like a champ, there's not much stuttering or delay making this gaming laptop also viable for productivity.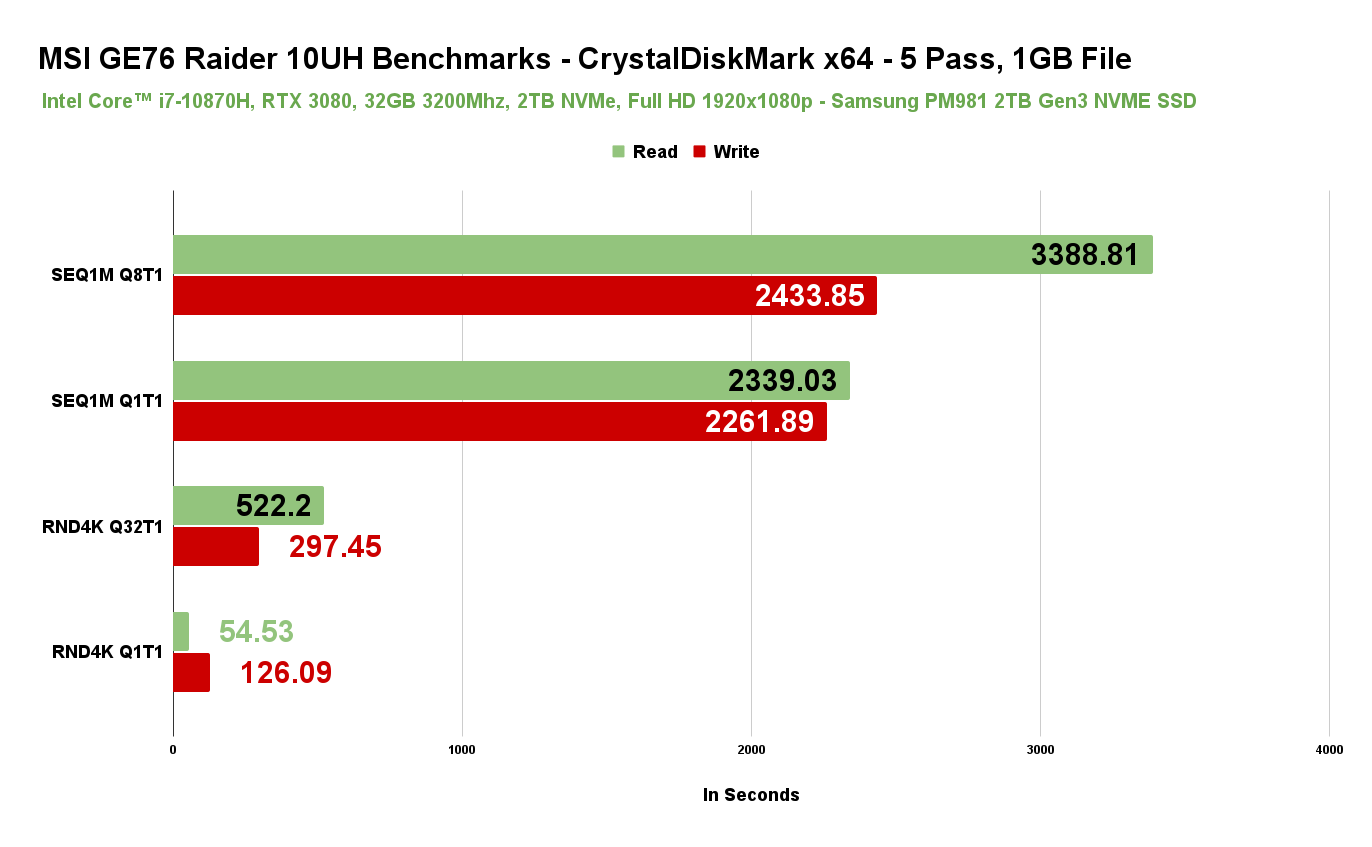 3D Mark Benchmark Suite
The same can be said with the rest of the 3DMark suite benchmarks, pretty much checks out with other results as expected.
Counter-Strike: Global Offensive
Now in terms of gaming, in CSGO, as you can see, we're getting an average FPS of around 340 on low settings which most of us are probably be using for competitive gaming but even if you bump all the settings to maximum, we're still hitting that above 300 FPS to take advantage of the 300Hz high refresh rate capability of the MSI Ge76 Raider.
Rainbow Six Siege
In rainbow six sieged which is another popular esports FPS game, we're still getting above 300 FPS on low settings and a decent 270 FPS at max settings.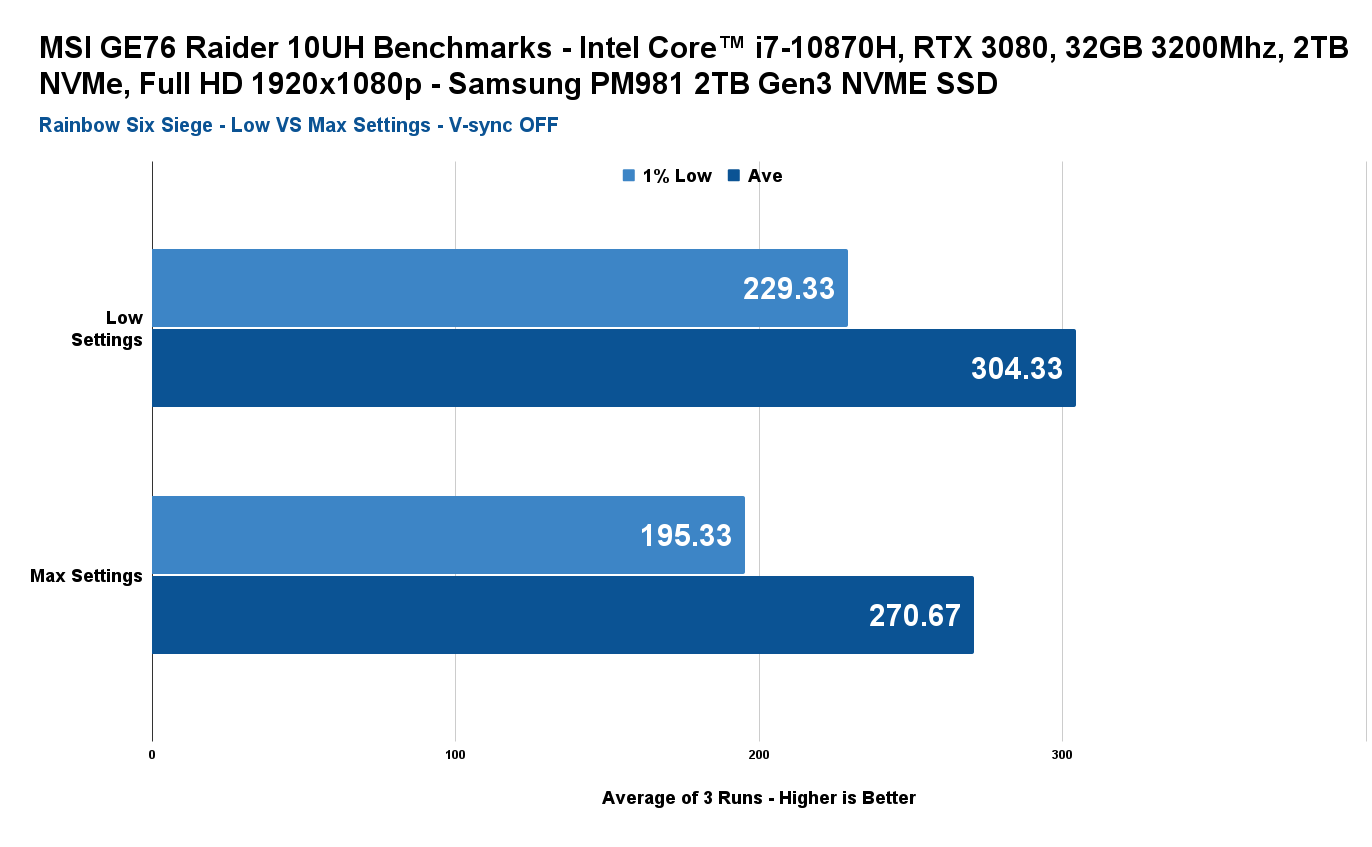 Valorant
In Valorant, which is a more recent competitive FPS game, we're getting around 207 FPS in low settings and around 157 FPS in max settings.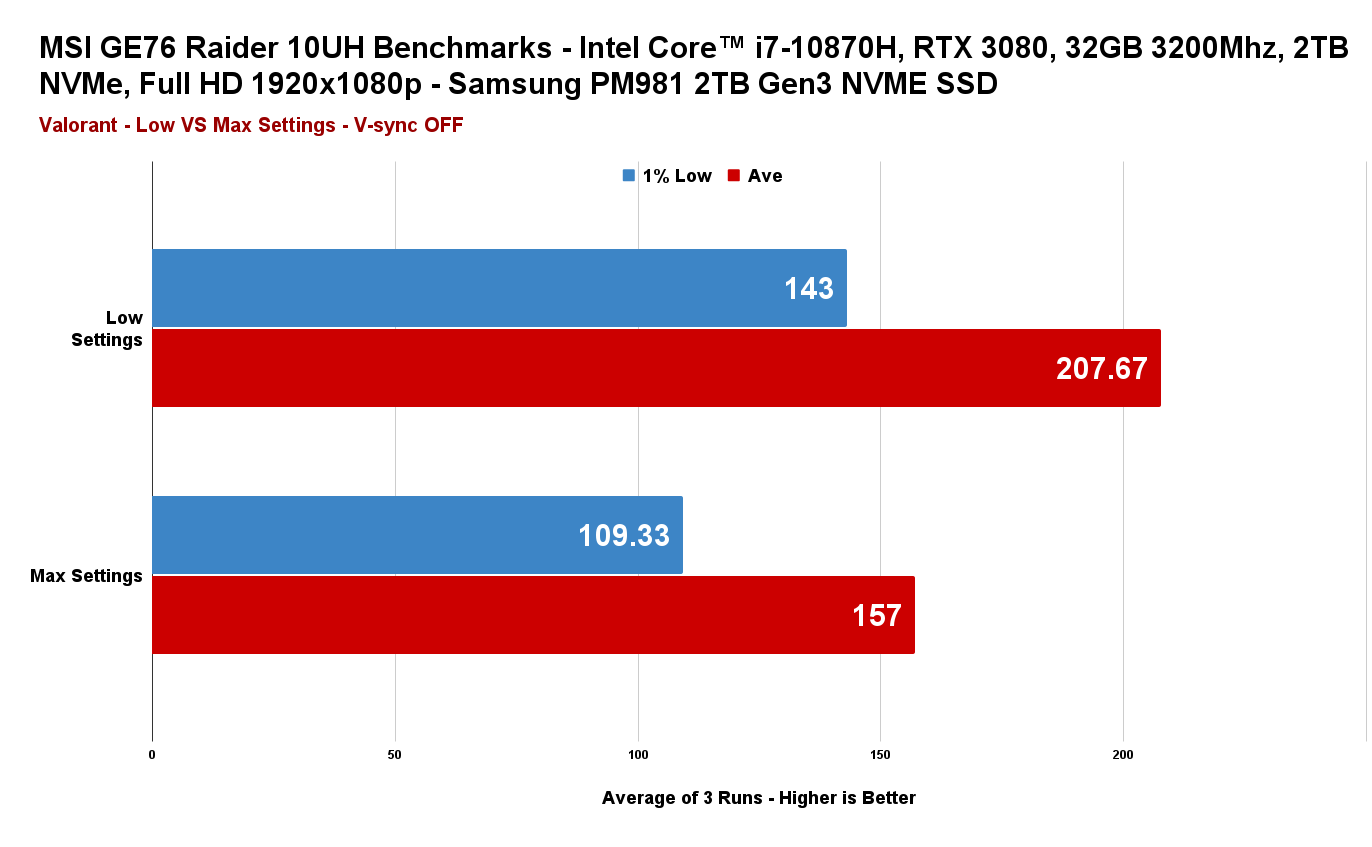 Cyberpunk 2077
Pushing the capability of the MSI Ge76 raider for gaming, we have cyberpunk 2077 which is quite popular for being a graphics-intensive game and as expected, even on low settings, we're getting around 138 FPS and on balls to the walls settings with Ultra preset, RTX on with auto DLSS we're getting a playable 69FPS which is around what I was expecting for a laptop with an RTX 3080 at 1080p resolution, but I admit that I'm quite surprised with this great performance with a process being a one generation-behind.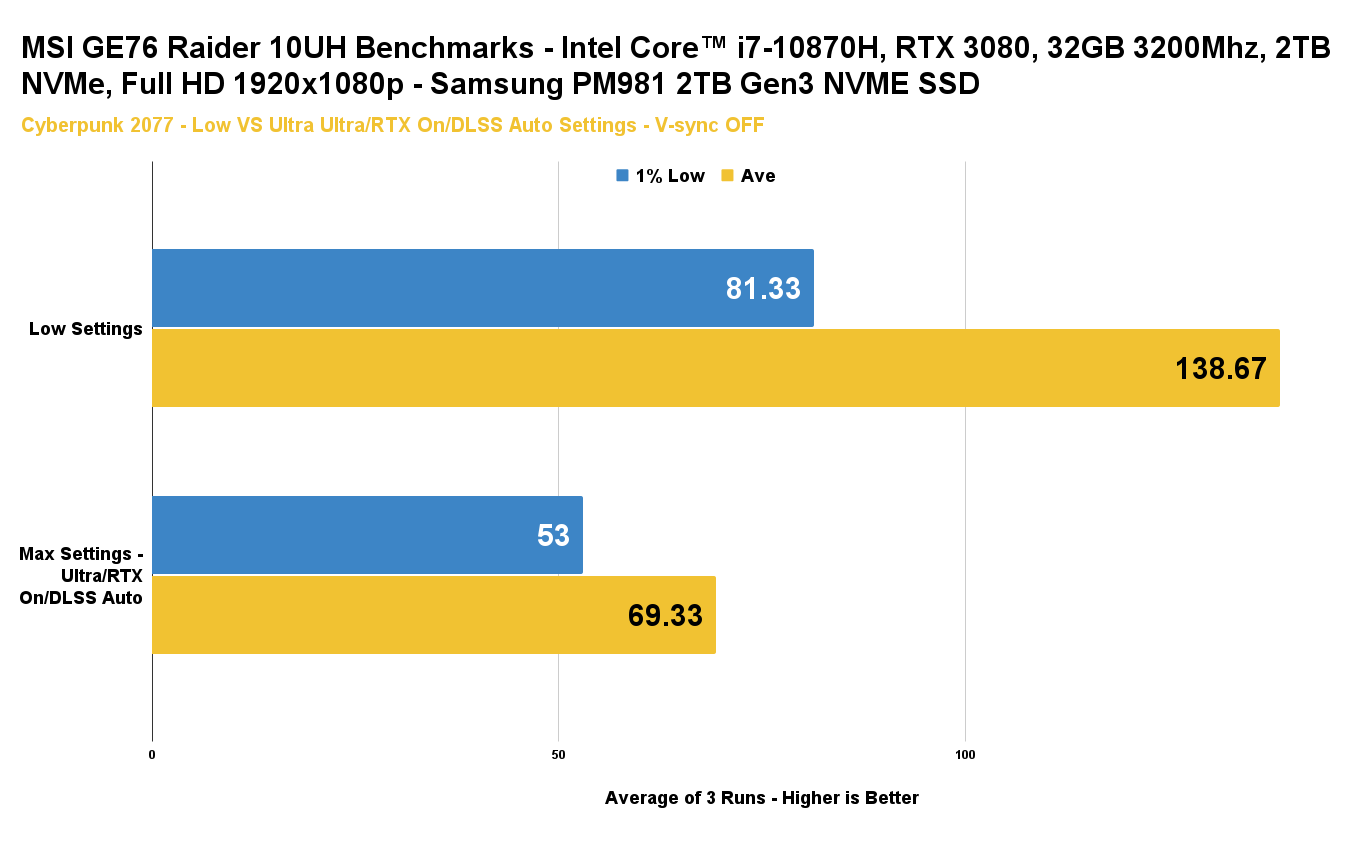 Overall, the 10th Gen Intel Core™ i7-10870H with the RTX 3080 performed fairly well on all our performance tests. With that said, there's no denying that his laptop is one of the fastest gaming laptops out in the market right now because of its powerful processor.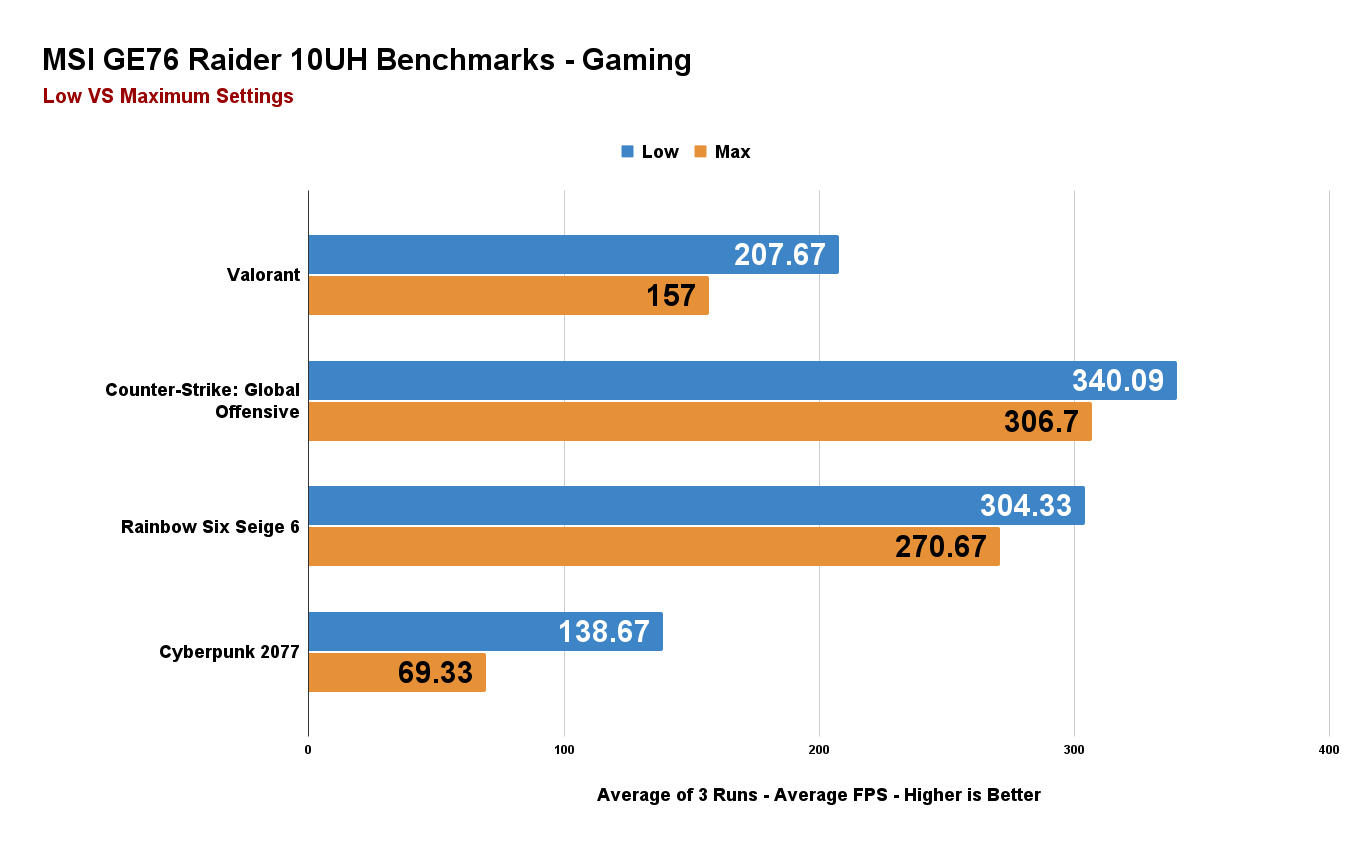 Thermals – CPU Benchmarks
Moving on in terms of thermals, for our CPU benchmarks using the Extreme Performance Preset with the Cooler Boost Feature enabled which essentially allows all the fans to run at high speed, for the most part, we've got some pretty decent average temperature ranging from 63 degrees to 85 degrees though it is also worth noting, that it does spike quite a bit around 85-96 degrees at max. At idle though, it is pretty cool around 33 to 42 degrees.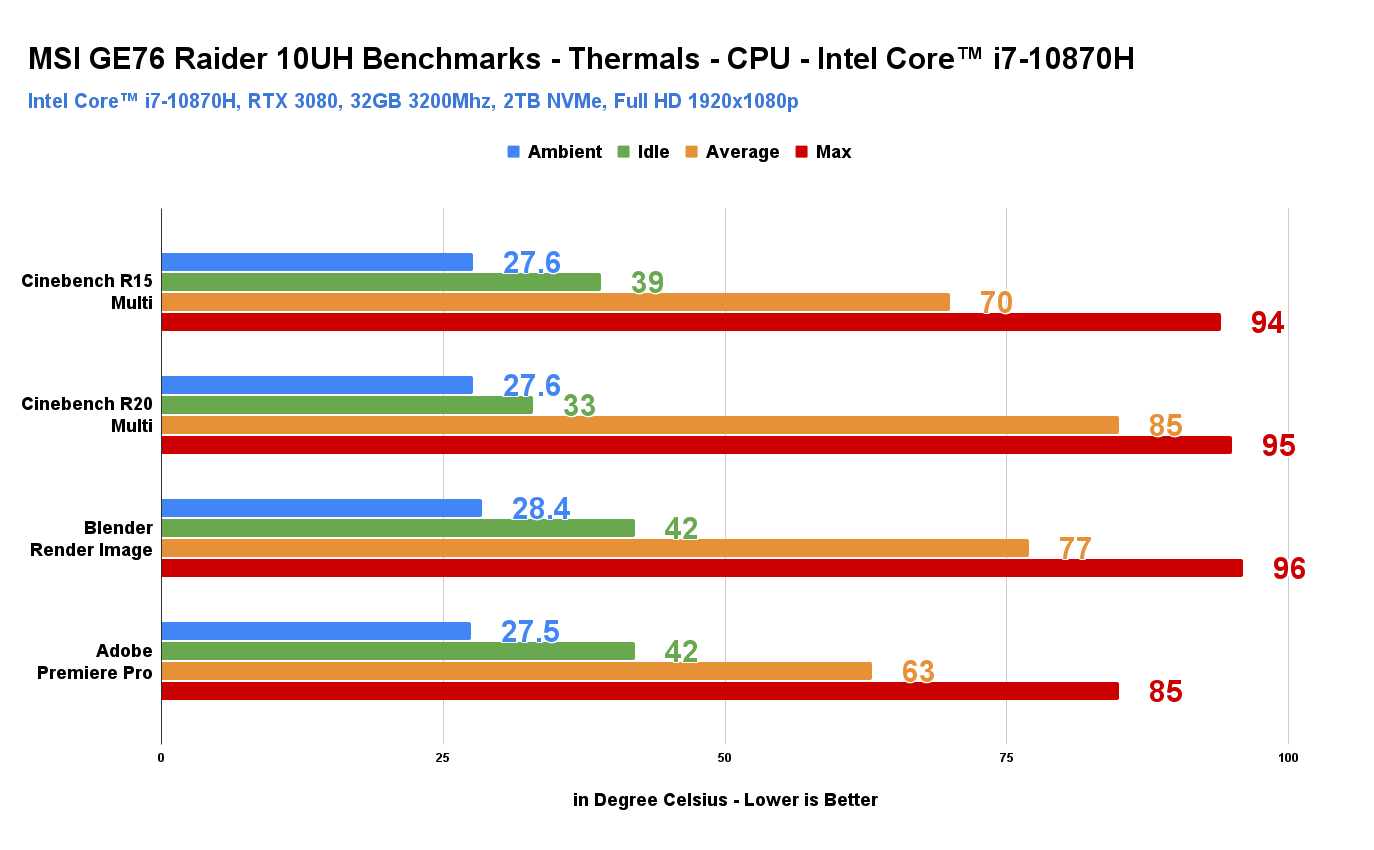 Thermals – CPU – Gaming
During gaming, the thermals for the processor are a bit lower ranging from 61 to 75 degrees at average and spiking around 71 to 96 degrees.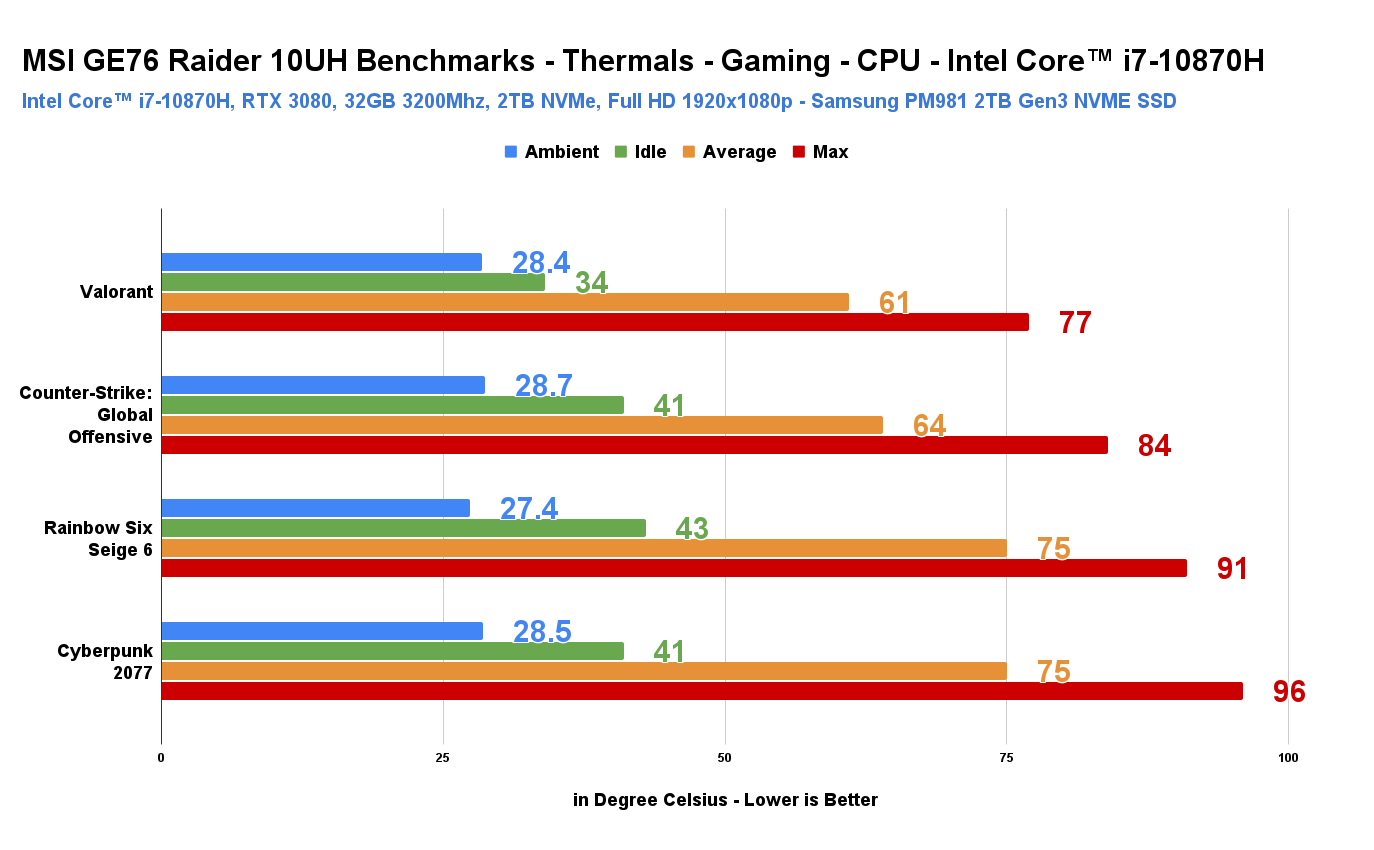 Thermals – GPU 
As for our RTX 3080 graphics card, well, it is super cool throughout all our testings, averaging only around 38 to 50 degrees with maximum temps around 40 to 71 degrees. No issues here.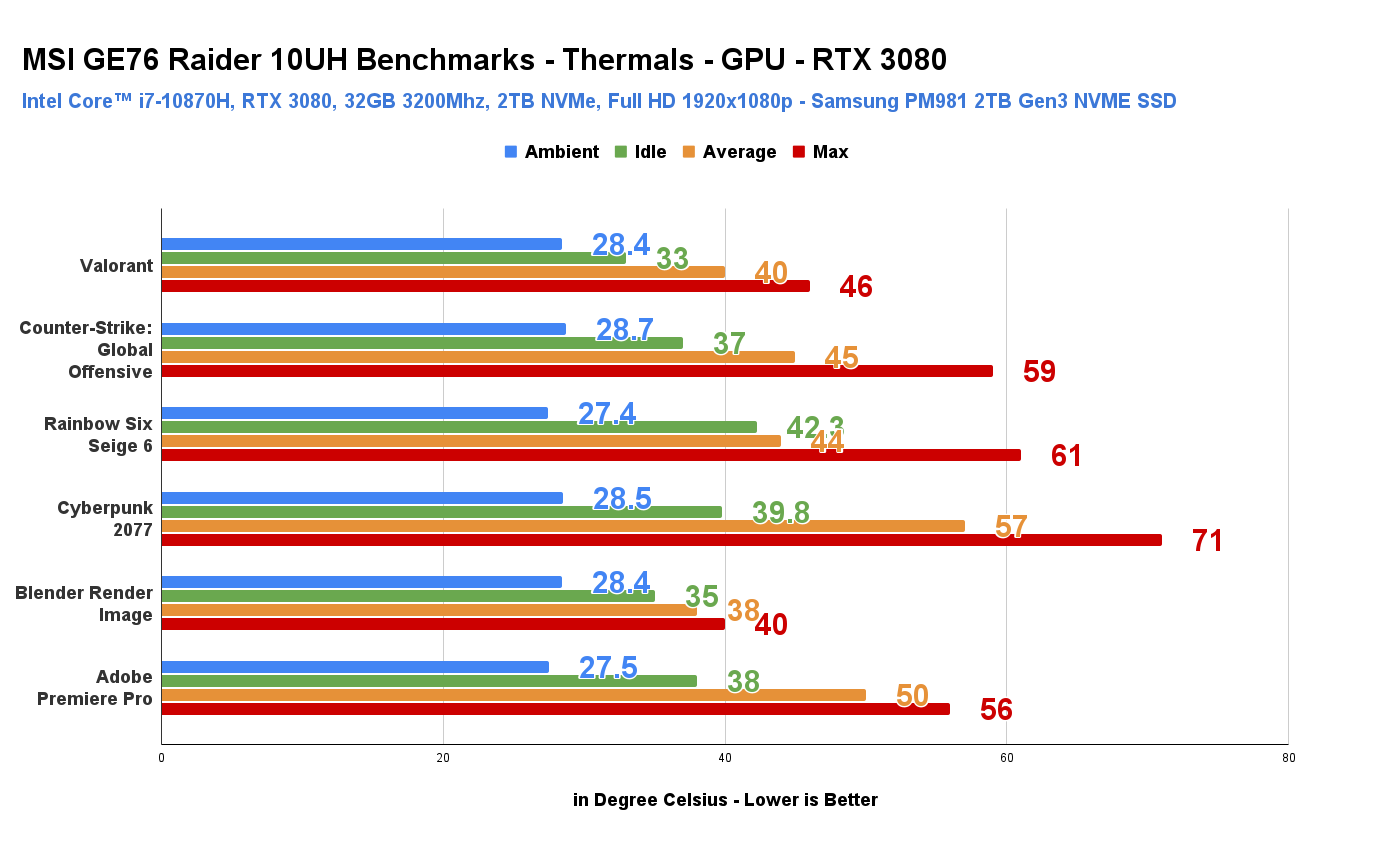 Now, the caveat here is that remember, these testings are done with the best possible scenario using the extreme performance mode with the cooler boost 5 feature enabled so the laptop is running quite loud to maintain its good performance both in terms of FPS and thermals.
Moving on to our last couple of tests and that is power draw and battery life.
Power Draw
The MSI Ge76 Raider has a 99.9whr of battery and is powered by a massive 280W adapter. Here's how much the Intel Core™ i7-10870H and the RTX 3080 draws power captured using the HWiNfo64 application 
Battery Life
And lastly, in terms of battery life, the MSI Ge76 Raider again has a 99.9Whr battery which I was able to fully charge for about 2.5 hours.
As per my testing using the PC Mark 10 Battery Life Benchmark, for gaming, we're getting only around 1.5 to 1.95 hours which is not a lot, to be honest giving us an idea that if you're planning on gaming on this laptop regardless of what settings you're going to use, you might want to consider plugging in the power brick all the time which defeats the purpose of having a portable laptop. Of course, we're not going to play games all the time, at least that's what we say to our moms and wives, if you're going to use it for normal office tasks, then you could expect this laptop to last around 4 hours or so which is still pretty short in my opinion. So I guess, this leaves us with a conclusion that this is more like a portable desktop replacement rather than an always-on-the-go mobile gaming laptop.
VERDICT
To conclude, the MSI GE76 raider especially for the variant that we have here which has an Intel core i7-10870H and an RTX 3080 partnered with a reasonable 1080p resolution and a 300hz refresh rate panel, is a good option if you're primary purpose is gaming. This laptop features a nice, sleek, and modern design with subtle gamery features partnered with some capable hardware inside. There's not much to complain about this laptop other than the plastic build and a quite chunky form factor especially if you compare it with slimmer and better built similarly specced gaming laptops out in the market. But performance and features-wise, this is definitely quite capable for any type of use case scenario. I am also confident to say that even though 10th Gen Intel Core processors are a year old now, it can still keep up with the latest RTX GPUs.
To end this review, the MSI GE76 Raider is priced at Php 209,995 and is available at authorized MSI resellers nationwide and MSI's official store on Lazada here https://bit.ly/3nxl94Y
Related Content:

ASUS ZenBook Duo 14 (UX482) Review – Elegant Dual Display Productivity Laptop!
ASUS ZenBook Duo 14 (UX482)EG Unboxing and First Impressions
ASUS ZenBook Flip S UX371EA Review – Best Versatile Thin and Light 4K OLED Laptop!
Why ASUS ZenBook Laptops are the Best Versatile Thin and Light Laptops in 2020
ASUS ZenBook Flip S UX371EA Unboxing and First Impressions
ASUS VivoBook S14 S433EQ Review
ASUS VivoBook S14 S433EQ Unboxing and First Impressions
25 Cents Thin Gaming Laptop! Ft. MSI GS66 Stealth!
Lenovo Legion 5i Review – A Gaming Laptop That Doesn't Look Like One!
Php 70K Gaming and Programming PC Build Ft. Tecware Alpha TG!
Size doesn't matter in the PC Master Race – A mini-ITX Build Story.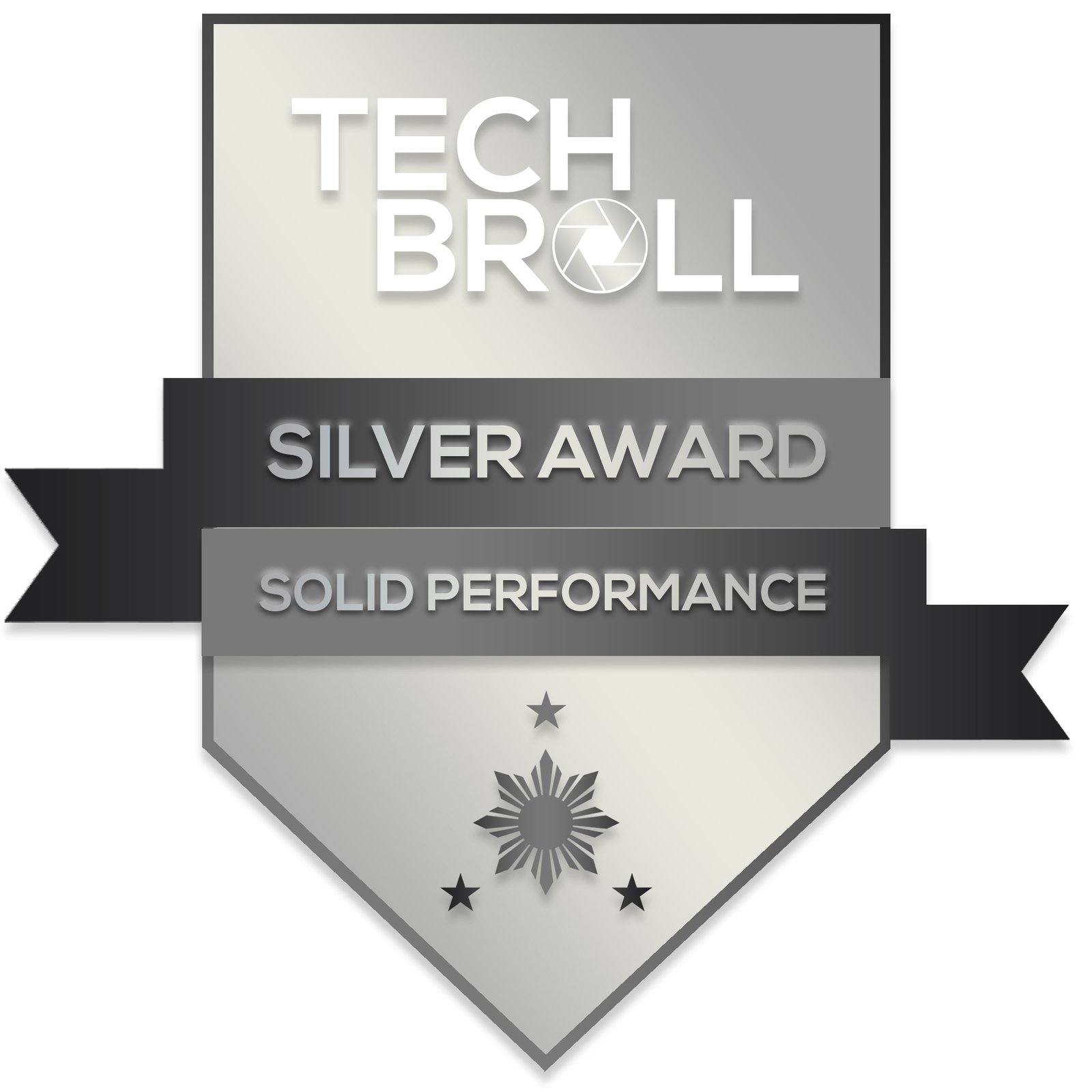 MSI GE76 10UH Raider
Php 209,995
Pros
Good design with soft front side RGB lighting
Good set of features
Good balance between high refresh rate display and powerful processor and graphics card
Overall decent performing gaming laptop
Cons
Plastic build construction
Short battery life
SHARE THIS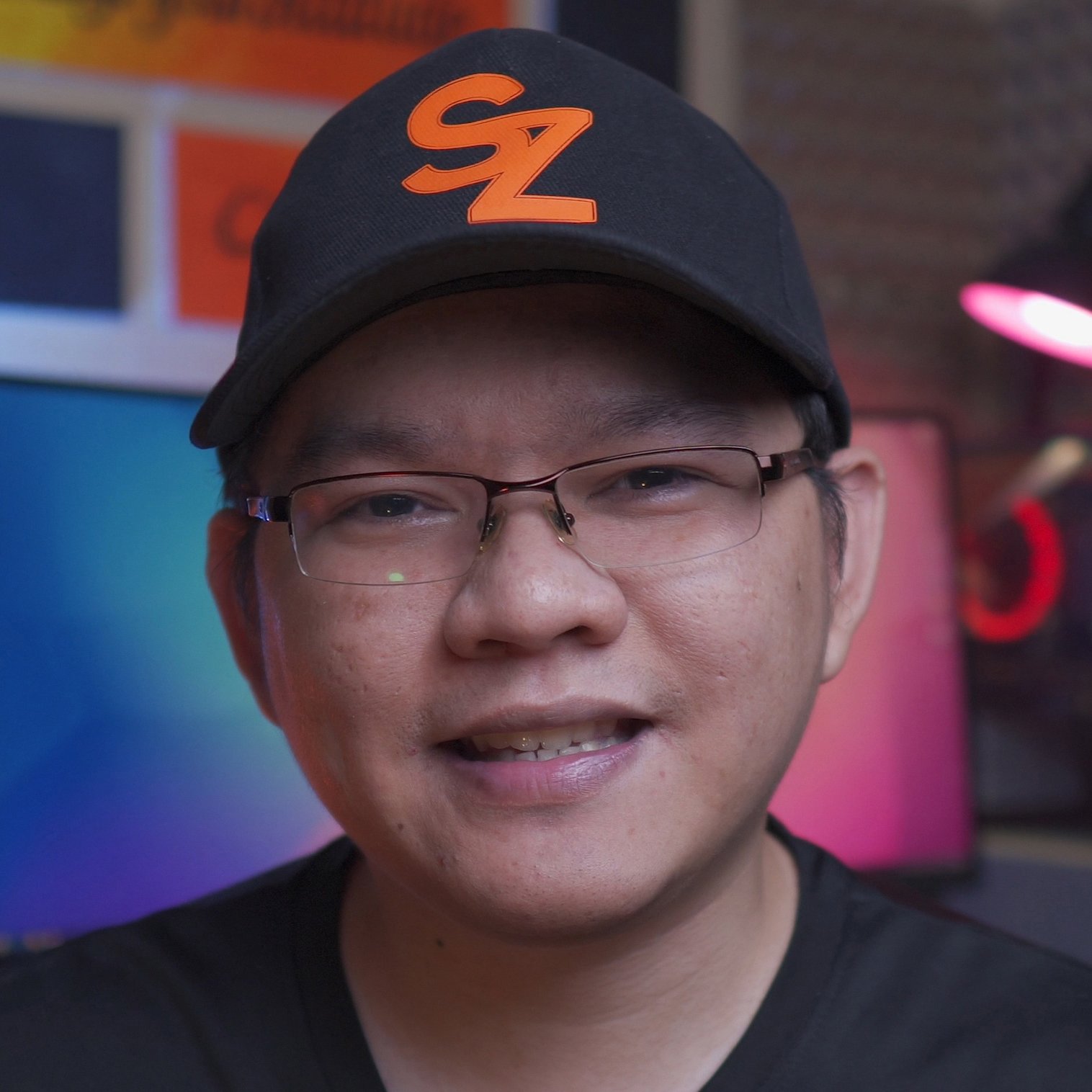 The Broll who always got your back online!