A couple of weeks ago, ASUS launched two of its latest thin and light laptops in the form of the ASUS ZenBook 13 and the ASUS VivoBook S14. Both are powered by the latest 11th-gen Intel Core processors and features a sleek and stylish design. With that, I'm lucky enough to get the first crack at one of those two and of course, I'll share my experience with all of you guys.
Today, we're going to take a first look at the new ASUS VivoBook S14 S433EQ as I share with you my unboxing experience and first impressions of this new thin and light laptop that is targeted towards the younger generation (Generation Z) with its fun, colorful and appealing design.
Just in case you missed my First Impresions and Launch Event Recap video, you can watch it below.
ASUS VivoBook S433 and ASUS ZenBook UX325 First Impressions and Launch Event Recap


SPECIFICATIONS


Model Name: VivoBook S14 S433EQ
Color Variants: Indie Black, Dreamy White
Operating System: Windows 10 Home
Processor: Intel® Core™ i7-1165G7 processor
Graphics: NVIDIA® GeForce® MX350
Display:
– 14" LED-backlit Full HD (1920 x 1080) 16:9
– Frameless NanoEdge display with 85% screen-to-body ratio
– 178° wide-view technology, Anti-glare
Memory: 8GB 3200MHz DDR4
Storage: 512GB PCIe SSD
Interfaces:
1 x Thunderbolt™ 4 USB-C®
1 x USB 3.2 Gen 1 Type-A
2 x USB 2.0
1 x HDMI
1 x Audio combo jack
1 x MicroSD card reader
1 x DC-in
Keyboard: Full-size backlit with 1.4mm key travel
Touchpad:
– Intelligent palm-rejection
– Precision touchpad (PTP) technology supports up to four-finger smart gestures
Audio
– ASUS SonicMaster stereo audio system with surround-sound
– smart amplifier for maximum audio performance
– Array microphone with Cortana voice-recognition support
– 3.5mm headphone jack
– Certified by Harman Kardon
Camera: HD Camera
Wireless Connectivity:
– Intel Wi-Fi 6 with Gig+ performance (802.11ax)
– Bluetooth V5.0
Battery and Power:
– Fast charging: 60% in 49 minutes
– 50Wh 3-cells lithium-polymer battery
– 65W power adapter
– Plug Type: ø4 (mm)
– (Output: 19V DC, 3.42A, 65W)
– (Input: 100-240V AC, 50/60Hz universal)
Weight and Dimensions:
– Height: 1.59cm (0.62 inches)
– Width: 32.49cm (12.79 inches)
– Depth: 21.35cm (8.40 inches)
– Weight: 1.4kg (3.08 pounds)
Included in the Box: VivoBook S14 and accessories
Included Software
– ASUS Splendid
– ASUS Tru2life Video
– ASUS AudioWizard
WHAT'S IN THE PACKAGE


The ASUS VivoBook S433's packaging is pretty simple, just a brown box with some branding and model name around the box and at the back,
We have some certifications, safety warnings, and some of its key specifications and technical details such as the exact model name, serial numbers, and a bunch of other information.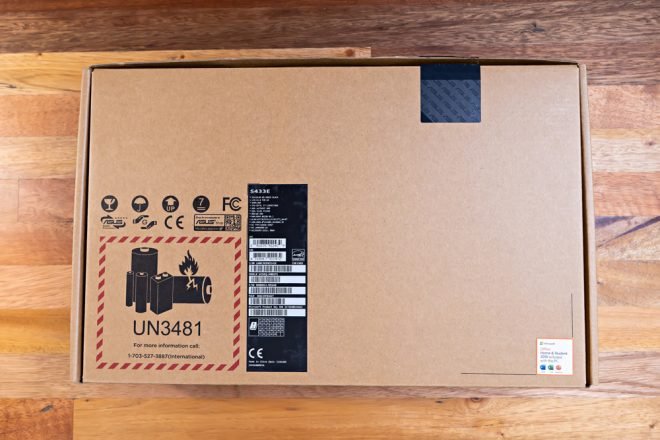 Upon opening the box, we're greeted by the ASUS VivoBook S433 itself nicely protected by a soft cover.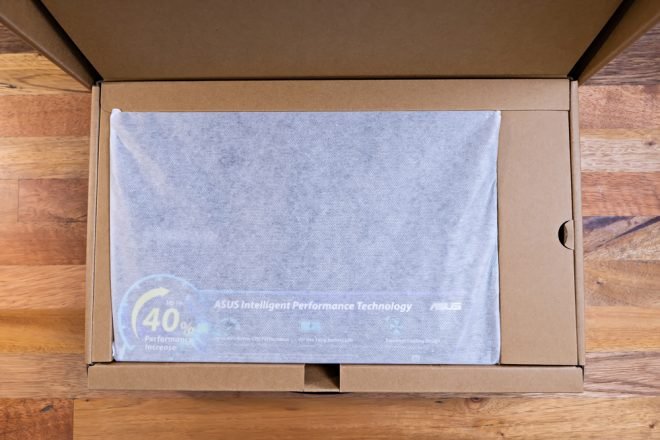 Removing the laptop reveals the rest of the package contents.
Like I said, the VivoBook S433 is targeted towards the younger generation, so it comes with some cool stickers to add some character and identity to this thin and light laptop. Essentially, making it less boring and serious and adds more fun to the experience.
Inside the box, we also have the user guide,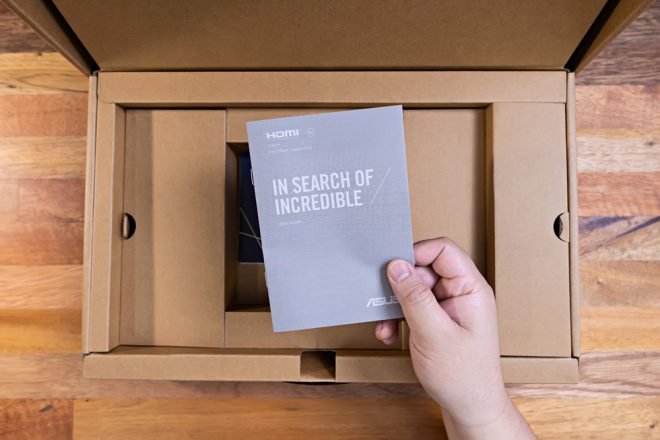 An aftersales support guide which is pretty cool,
And the warranty guide.
And lastly, inside the box, we also have the power adaptor.
Looking at the side of the top cover, just to give you the whole unboxing experience, we have the ASUS slogan "In Search of Incredible"
Now, into my first impressions.
First Impressions and Early Breakdown
Design, Construction, and Parts Overview


The unboxing experience is pretty decent, the packaging is well thought of and the package contents are also quite substantial and pretty much what you would expect from ASUS with some additional bonus stickers.
At first look and touch, the ASUS VivoBook S433 feels nice with a textured yet smooth surface on top and just has a subtle ASUS VivoBook branding.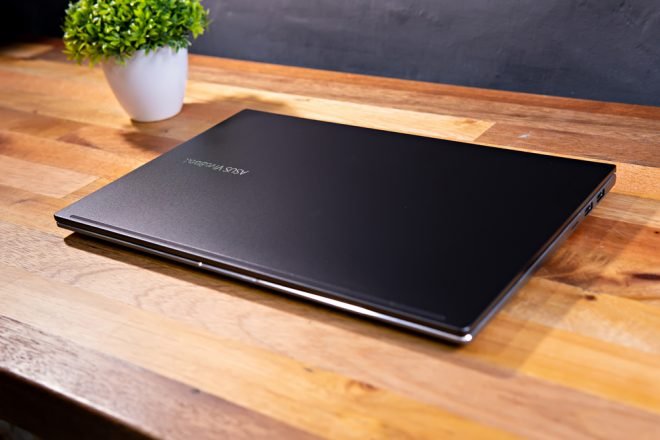 The overall appeal of the laptop speaks volumes for being thin, lightweight, and sleek with subtly curved corners and gradual curvature towards the bottom chassis that ultimately makes it, even more, thinner than it actually is.
As you can tell, it is absolutely thin (15.9mm as per specifications), almost as thin as a 25 cents coin on its thicker side and weighs roughly around 1.4kg. 
Opening the clamshell display reveals the keyboard with this somehow unorthodox layout with small function keys, large alphanumeric keys, and quite weird extra small arrow keys. I'd assume it's going to take me some time of getting used to but nothing that can't be learned with experience.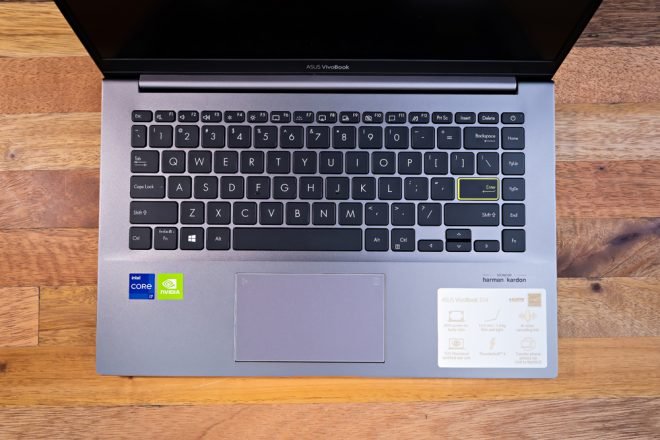 We also have here the "Gen-Z key" that as per ASUS, "represents the desire for creating substantial change and connecting with others through technology."  which for me, essentially means having a distinct design element that makes it different compared to any thin and light laptops out in the market.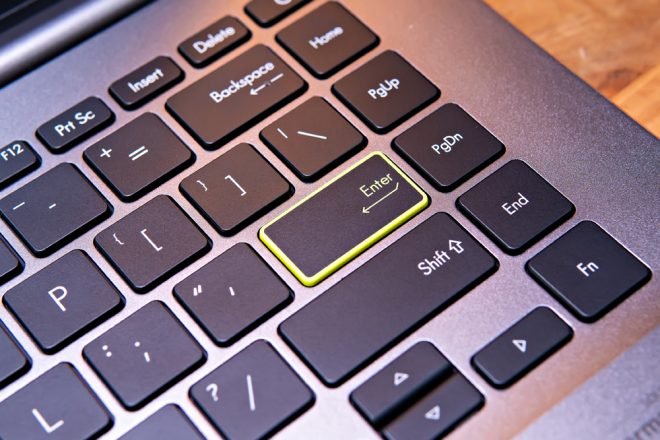 Aside from the keyboard, of course, we also have here the rectangular trackpad that has one unique feature up its sleeve.
Pressing the calculator icon on its upper-right corner turns the trackpad into a fully functional numpad which I think is pretty awesome and a good use of space. This is actually more vital than we normally think especially for a small laptop of this size that can't accommodate a full-size keyboard.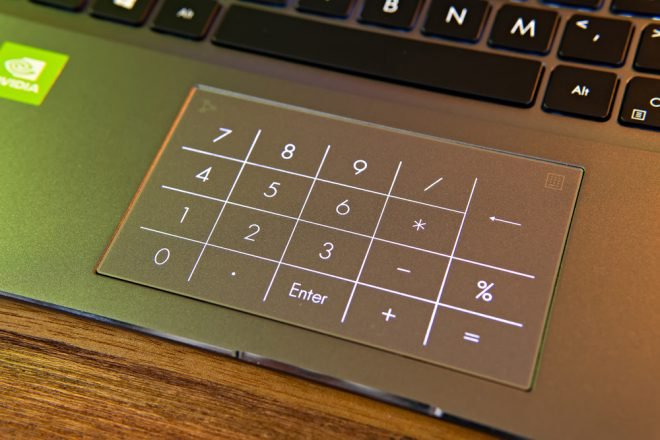 And the keyboard, do light up too with an ample amount of brightness.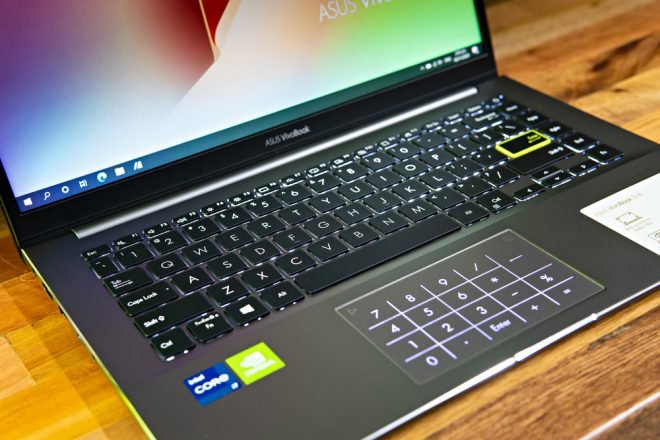 Now, in terms of the display, we have a 14″ FHD 1920×1080 resolution LED-backlit NanoEdge display with 85% screen-to-body ratio and up to 178 degrees viewing angle. As per specifications, it has up to 100% sRGB coverage but I'll provide you with the exact numbers once I test this on the full review.
As for my first impressions, the display looks pretty good, the colors seem quite vibrant with substantial contrast, sharpness, and details.
Now, looking around the laptop, in terms of the input and output ports, here on the left side we have the DC-In power port, 1 x HDMI port, 1 x USB 3.2 Gen 1 Type-A port, 1 x Thunderbolt 4 USB-C port, and a 3.5mm headphone jack.
Flipping it around to the right side, we have 2 x USB 2.0 ports, a MicroSD card reader, and a couple of LED indicators for power and activity.
Hardware Specifications Rundown


Now, looking under the hood, in terms of the hardware that's powering this thin and light laptop, we have an Intel® Core™ i7-1165G7 processor with an NVIDIA® GeForce® MX350, and out of the box, we have 8GB 3200MHz DDR4 RAM and 512GB PCIe SSD. It also packs a decent 50Wh 3-cells lithium-polymer battery that can be charged up to 60% in just 49 minutes.
These specifications, in my opinion, should be sufficient enough for any productivity work such as programming, photo editing, light video editing, and even mild gaming on the side. Of course, on the full review were going to test all of that out with our benchmarks and actual usage scenarios.
Availability and Price


The ASUS VivoBook S433 comes in two different variants, one is the S433EA powered by an Intel® Core™ i5-1135G7 processor and an Intel® Iris Xe graphics and comes in 4 different color variants (e.g. Indie Black, Gaia Green, Resolute Red, and Dreamy White) and priced around Php 49,995. While the second variant is the S433EQ which is the one we have here powered by an Intel® Core™ i7-1165G7 processor and an NVIDIA® GeForce® MX350 and comes in this Indie Black and the Dreamy White and priced around Php 59,995.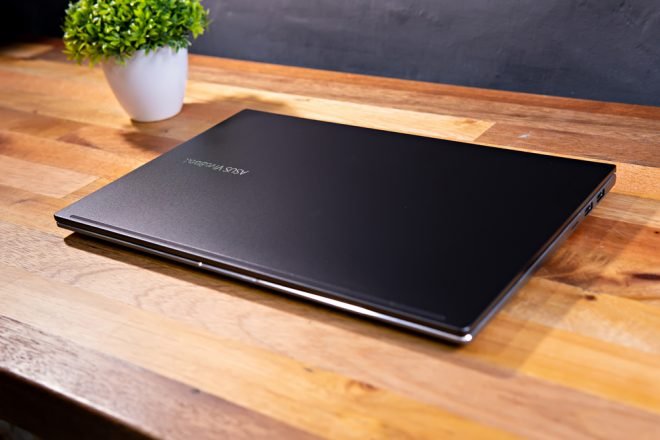 Stay tuned for the Full Review where I will provide you with all the necessary details that you need for a properly informed decision should you decide to grab the ASUS VivoBook S433, the full review will include extended details with performance benchmarks, thermals, exact display color accuracy, battery endurance and everything in between.
SHARE THIS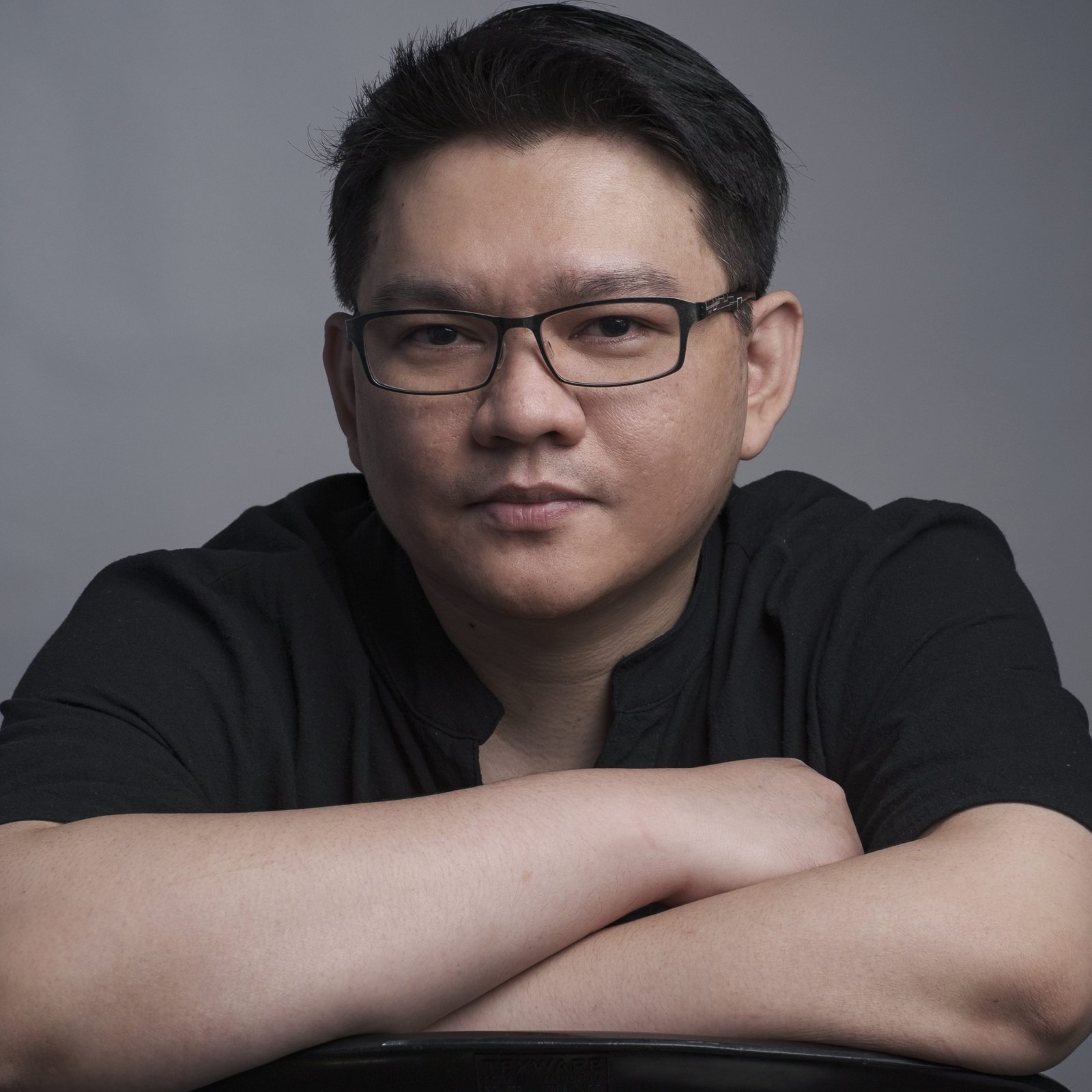 The Broll who always got your back online!