A few weeks ago I shared with you my Unboxing and First Impressions of the ASUS VivoBook S14 S433EQ and as promised, today, I will give you my Full Review.
The ASUS VivoBook S14 S433 is one of the 2 latest offerings from ASUS when it comes to thin and light laptop, the other one is the ASUS ZenBook 13 UX325. Both are powered by the latest 11th-gen Intel Core processors and features a sleek and stylish design. Today, we'll focus on the ASUS VivoBook S14's design, construction, key features, display quality, performance benchmarks with thermals, and everything in between. With that being said, let's get into it.
MY EARLY BREAKDOWN
Pros: Sleek design, Decent thin and light construction, Capable specifications, Good Display, Substantial amount of input and output ports, Dual-mode trackpad
Cons: 8GB RAM proved to be a limiting factor, Thermal throttles
SPECIFICATIONS
Model Name: VivoBook S14 S433EQ
Color Variants: Indie Black, Dreamy White
Operating System: Windows 10 Home
Processor: Intel® Core™ i7-1165G7 processor
Graphics: NVIDIA® GeForce® MX350
Display:
– 14" LED-backlit Full HD (1920 x 1080) 16:9
– Frameless NanoEdge display with 85% screen-to-body ratio
– 178° wide-view technology, Anti-glare
Memory: 8GB 3200MHz DDR4
Storage: 512GB PCIe SSD
Interfaces:
1 x Thunderbolt™ 4 USB-C®
1 x USB 3.2 Gen 1 Type-A
2 x USB 2.0
1 x HDMI
1 x Audio combo jack
1 x MicroSD card reader
1 x DC-in
Keyboard: Full-size backlit with 1.4mm key travel
Touchpad:
– Intelligent palm-rejection
– Precision touchpad (PTP) technology supports up to four-finger smart gestures
Audio
– ASUS SonicMaster stereo audio system with surround-sound
– smart amplifier for maximum audio performance
– Array microphone with Cortana voice-recognition support
– 3.5mm headphone jack
– Certified by Harman Kardon
Camera: HD Camera
Wireless Connectivity:
– Intel Wi-Fi 6 with Gig+ performance (802.11ax)
– Bluetooth V5.0
Battery and Power:
– Fast charging: 60% in 49 minutes
– 50Wh 3-cells lithium-polymer battery
– 65W power adapter
– Plug Type: ø4 (mm)
– (Output: 19V DC, 3.42A, 65W)
– (Input: 100-240V AC, 50/60Hz universal)
Weight and Dimensions:
– Height: 1.59cm (0.62 inches)
– Width: 32.49cm (12.79 inches)
– Depth: 21.35cm (8.40 inches)
– Weight: 1.4kg (3.08 pounds)
Included in the Box: VivoBook S14 and accessories
Included Software
– ASUS Splendid
– ASUS Tru2life Video
– ASUS AudioWizard
WHAT'S IN THE PACKAGE
I've already done a dedicated unboxing and first impressions of the ASUS VivoBook S14 S433EQ which you can check out here, but essentially, inside the box, we have some cool stickers,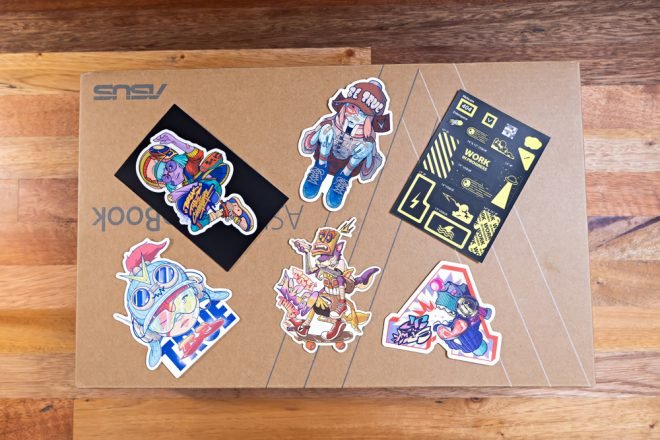 We also have the user guide, an aftersales support guide which may come in handy alongside the warranty guide, and lastly, inside the box, we also have the power adaptor.
FULL REVIEW
Design, Construction, and Parts Overview
At first look and touch, the ASUS VivoBook S14 S433EQ looks really clean, sleek, and substantially thin.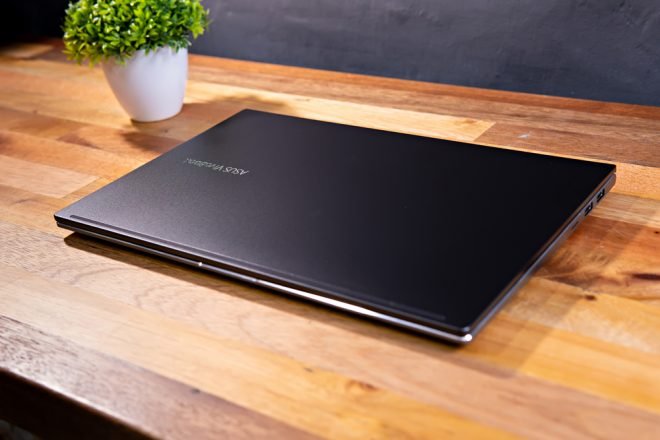 Looking from the top, we can see the textured yet smooth surface and just has a subtle ASUS VivoBook branding.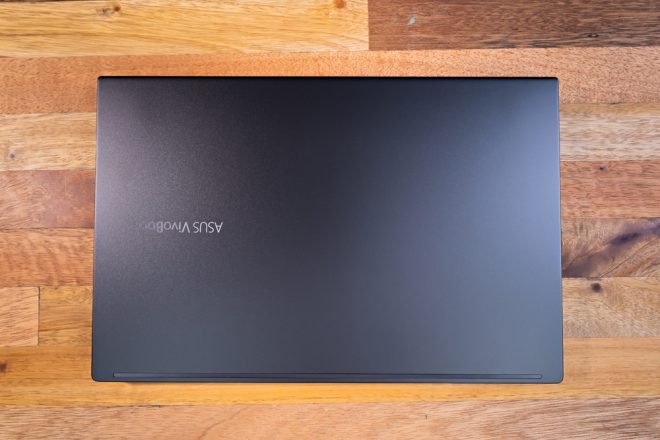 Flipping it the other way around, we have 4 rubber feet to keep this thing stay in place, 2 grills for the stereo speakers, subtle ventilation at the center, and some technical details.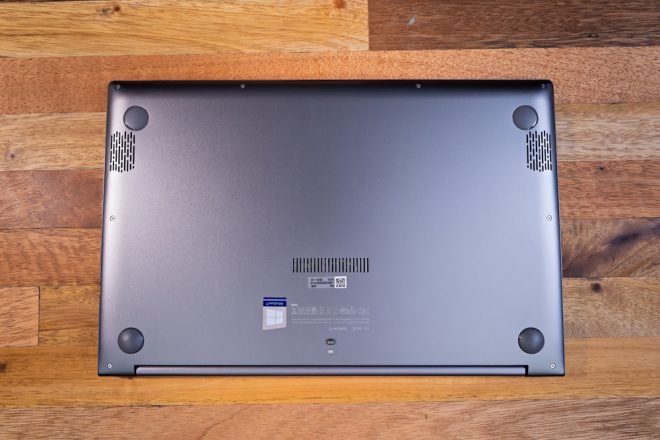 The rear rubber feet are a tad taller compared to the ones in front giving the laptop a bit of an angle for a more ergonomic typing experience and to make way for some air at the bottom. Though I feel like the ventilation is kinda lacking here, to be honest. Don't worry as we'll discuss its thermal performance later.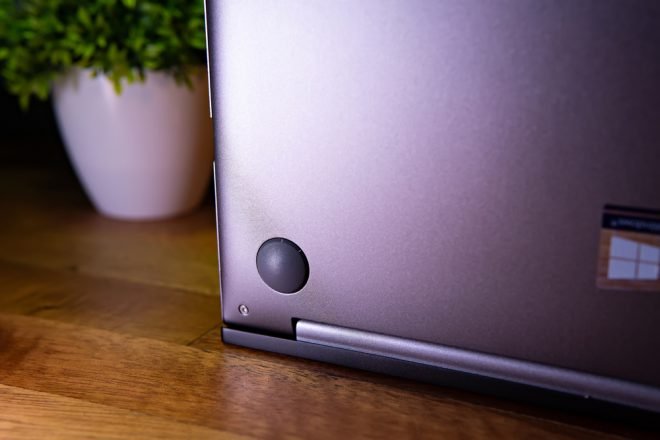 We can also see here that the edges of this thin and light laptop have this nice curvature to it giving the impression that it is thinner than it actually is.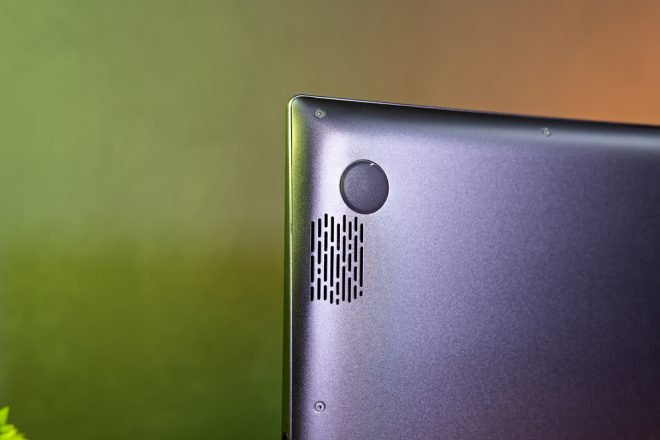 Speaking of thin, it is absolutely thin (15.9mm as per specifications), almost as thin as a 25 cents coin on its thicker side and weighs roughly around 1.4kg.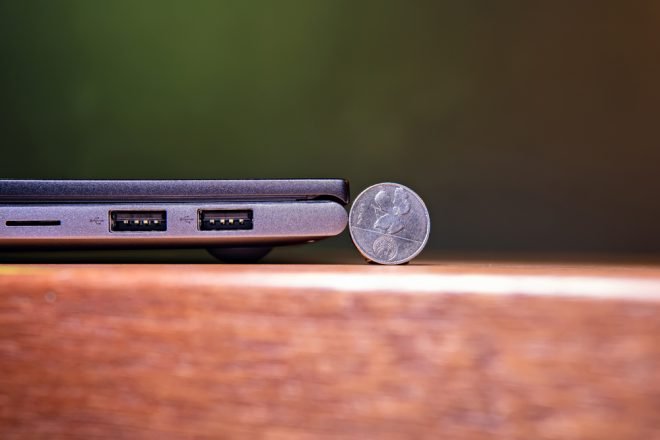 Looking at the front side, where it's the thinnest, we can have an idea about the union between the top display and the bottom housing with the top display having the indie black colorway while the bottom housing features a sleek silver design.
We also have this nice cutout at the center to make way for your finger to easily pop the lid open. However, as per my testing, you can not open the lid using just one hand, the hinge is a bit stronger for that. You'll have to hold the bottom housing in order to safely open the lid.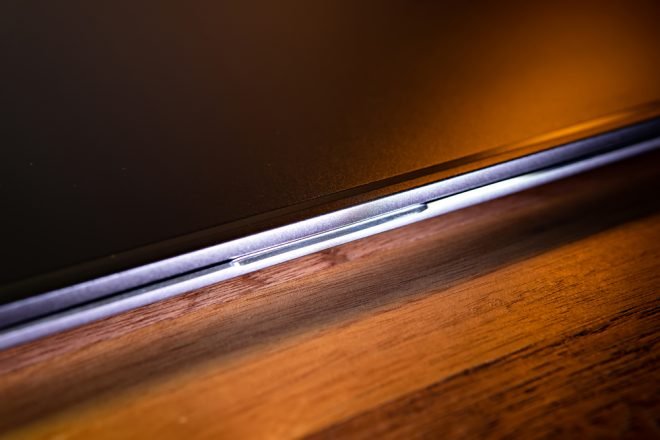 Another subtle yet makes a huge impact is the chamfered edges adding to the overall thin aesthetic.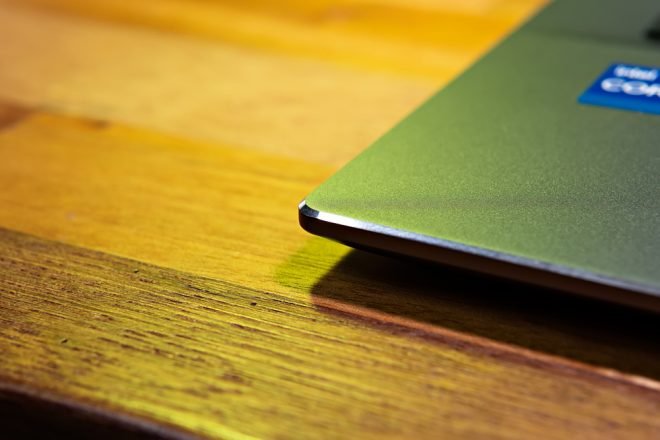 Looking at the backside, as you can tell, it's a bit thicker here but still quite thin compared to most thin and light laptops out in the market. The design is also pretty minimal.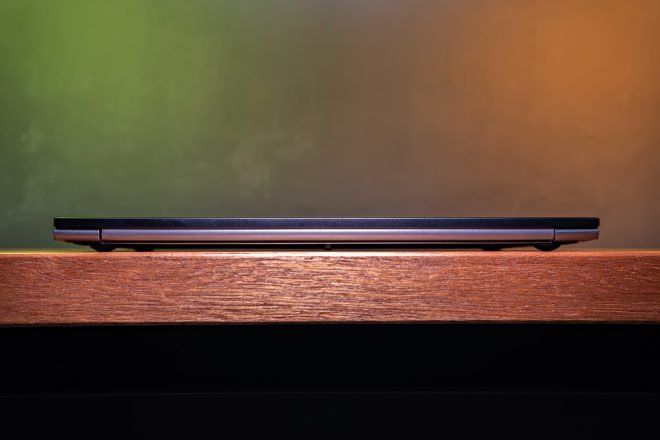 Input and Output Ports
Flipping it on the left side, we have the DC-In power port, 1 x HDMI port, 1 x USB 3.2 Gen 1 Type-A port, 1 x Thunderbolt 4 USB-C port, and a 3.5mm headphone jack.
Flipping it on the other side, we have the rest of the input and output ports. We have 2 x USB 2.0 ports, a MicroSD card reader, and a couple of LED indicators for power and activity.
Opening the clamshell lid for the first time reveals a nice non-woven fabric protection.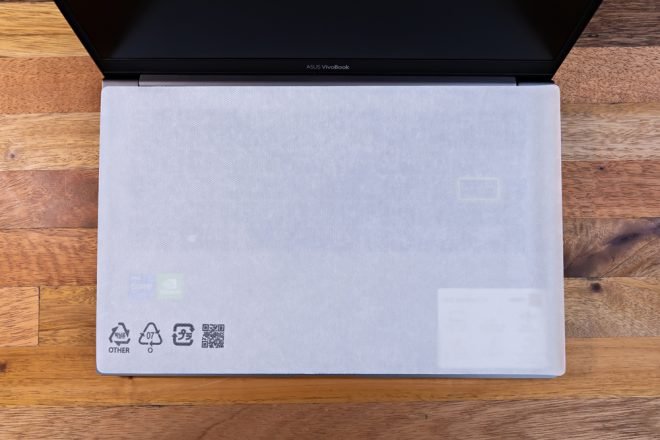 Removing that reveals the keyboard, trackpad, and the rest of the laptop.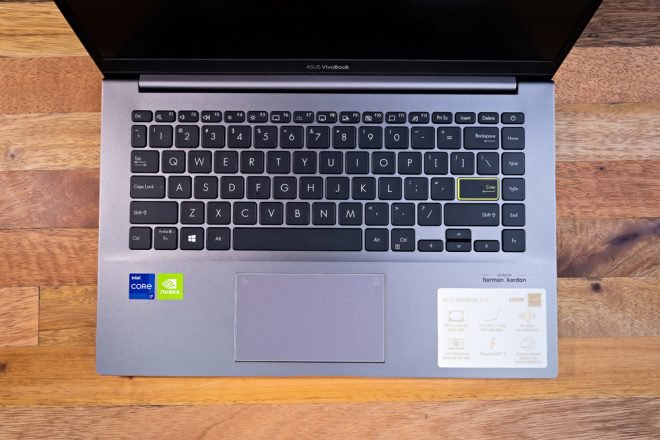 The hinge I'd say can be tilted back up to 45 degrees which is fairly enough for most use case scenarios.
Keyboard 
In terms of the keyboard, it features an unorthodox layout with some of the nav cluster keys on the right side, 
A dedicated but extremely small arrow keys,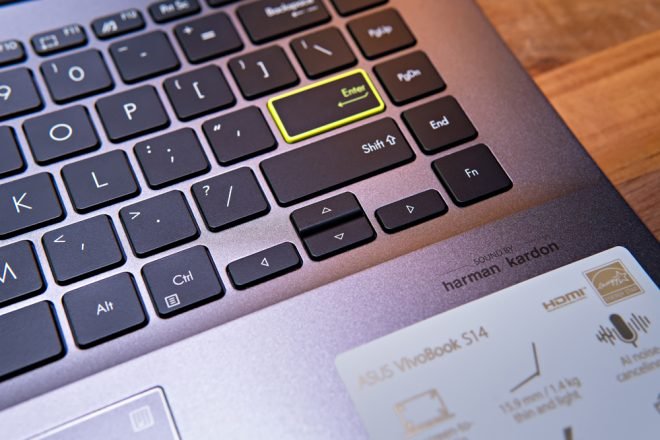 A color-accented "Gen-Z" enter key,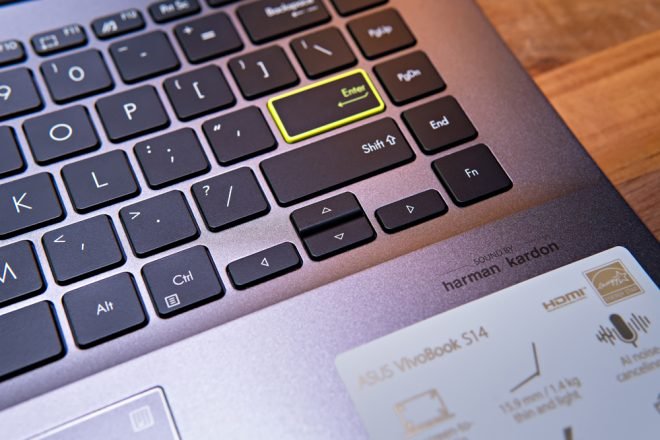 Small function rows and larger alphanumeric keys and modifiers.
Typing Experience
As for the typing experience, I'd say it is pretty decent. The keys have substantial tactile feedback, a soft bottoming out feel, and a snappy bounceback. It is quite easy to type on this keyboard for the most part but you'll have to adjust to the extremely small arrow keys and the unorthodox layout.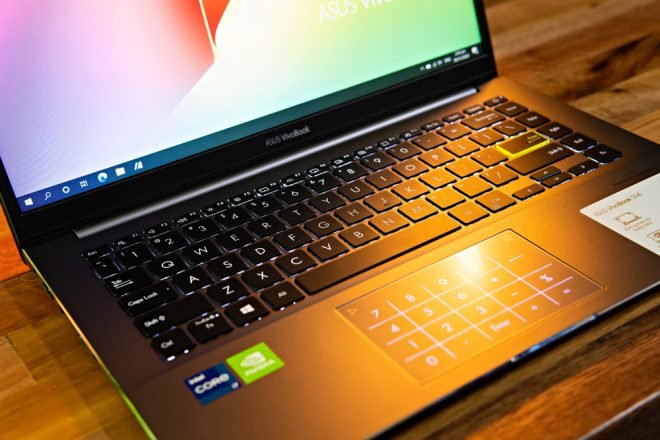 Trackpad
One thing that I really like about the ASUS VivoBook S14 S433EQ is the dual-mode trackpad. Aside from working as intended using it as a trackpad with a nice and smooth surface, clicky and tactile buttons it also doubles as a fully functional numpad.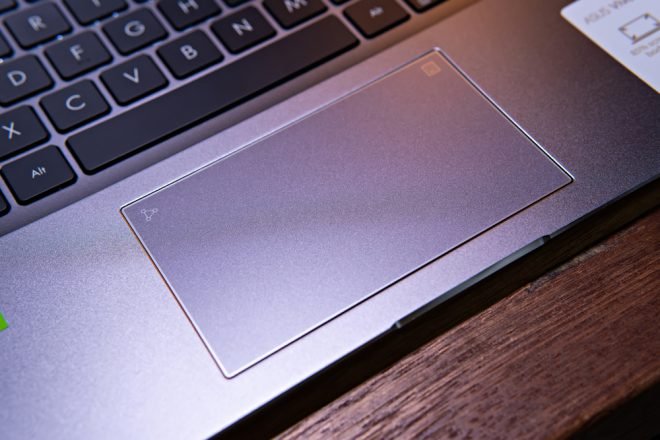 Pressing the numpad icon on the upper right corner for a few seconds turns the trackpad into a dedicated numpad which is pretty awesome, functional, and good use of space. This is simply the best feature of this laptop aside from its capable hardware inside. I can't stress it enough how important a dedicated numpad is especially for productivity and work.
Another good thing here is that even while on numpad mode, you can still use the trackpad normally. It also has good intelligent palm rejection and supports up to four-finger smart gestures.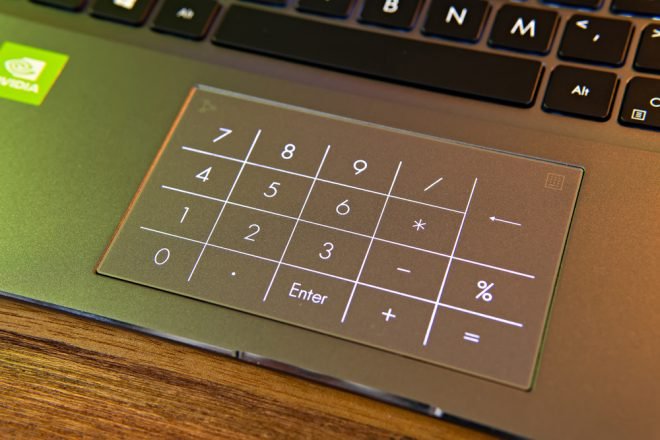 Illumination
Now, both the keyboard and the trackpad features white illumination and can get fairly bright. The keyboard has 3 brightness levels while the trackpad only has on and off modes.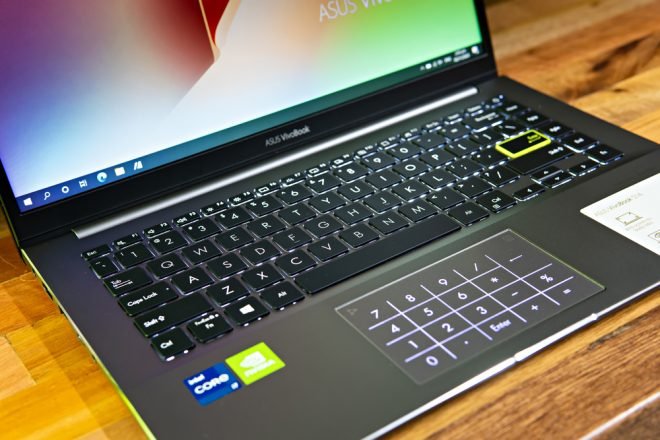 Here's how the illumination looks in a very dim environment.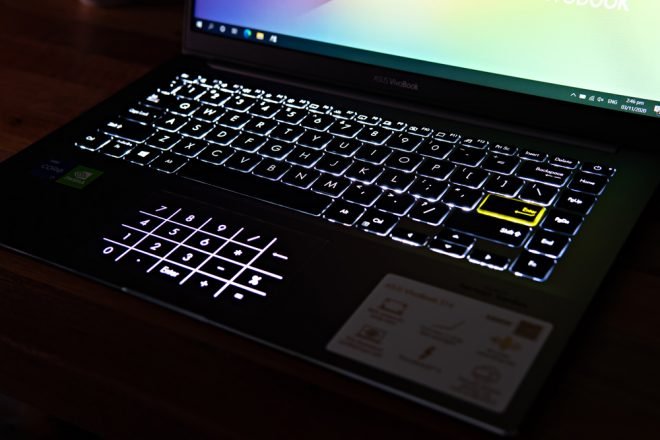 Even though we don't have RGB modes and different lighting effects, It is safe to say that you can work with this laptop even in a very dark environment.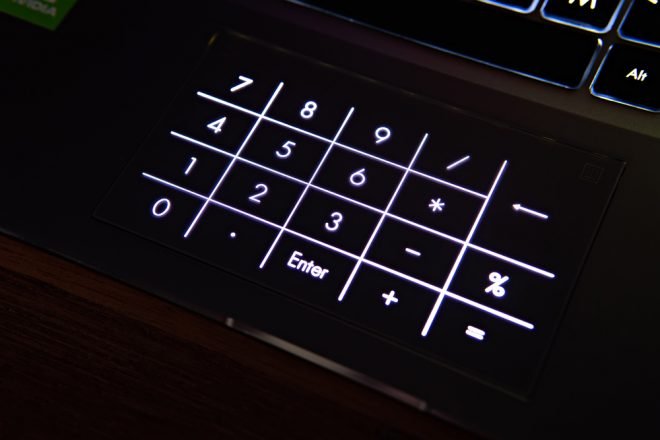 Here's how it looks when the keyboard's illumination is turned off.
Bezels and Webcam
Moving on, in terms of the bezels, the ASUS VivoBook S14 S433EQ has relatively thin ones.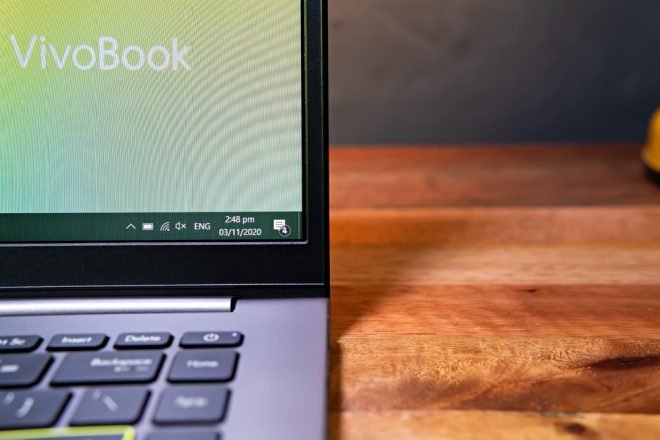 The bottom bezel is the thickest with an ASUS VivoBook branding at the center.
The sides and top bezels are fairly thin allowing for a more immersive viewing experience.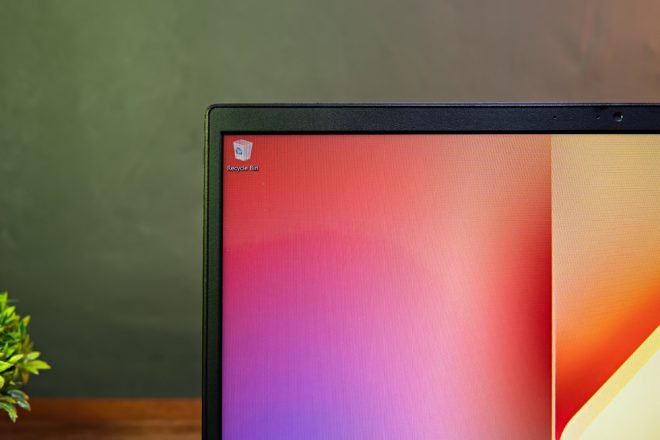 The top bezel also houses the nicely placed webcam which features a 0.9mp camera and supports 1280x720p resolution and 30fps video recording. But most importantly, it supports windows hello for quick logging into windows which I find really helpful.
Aside from the webcam, we also have here the array microphone with Cortana voice-recognition support.
The quality of the webcam is exactly what you might expect from a 720p camera. Granted, the quality might not be the best but it's fairly adequate for casual use, and the placement right on top of the bezel instead of at the bottom is ideal for natural framing.
Display
The ASUS VivoBook S14 S433EQ features a 14″ FHD 1920×1080 resolution LED-backlit NanoEdge display with an 85% screen-to-body ratio and up to 178 degrees viewing angle.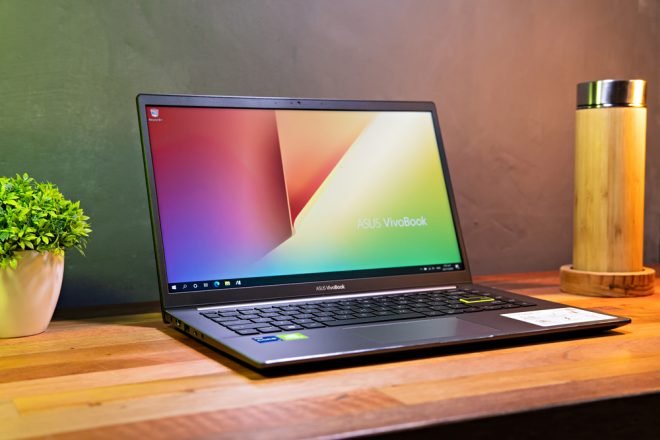 As per specifications, it has up to 100% sRGB coverage.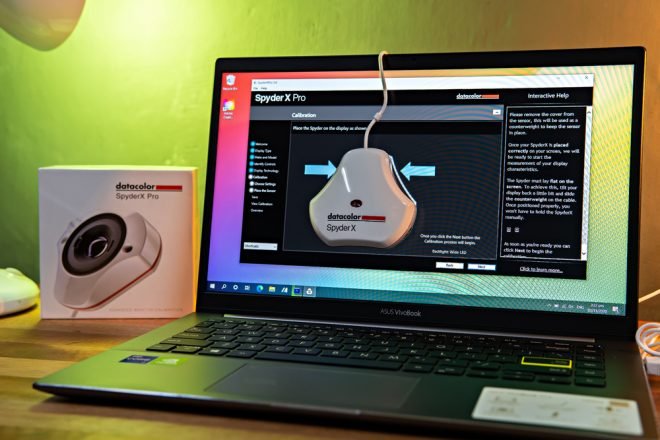 But as per my testing, at least for the sample that we have right here, it only has 93% sRGB coverage.
Nevertheless, 93% is still pretty decent for casual photo and video editing, especially for social media postings.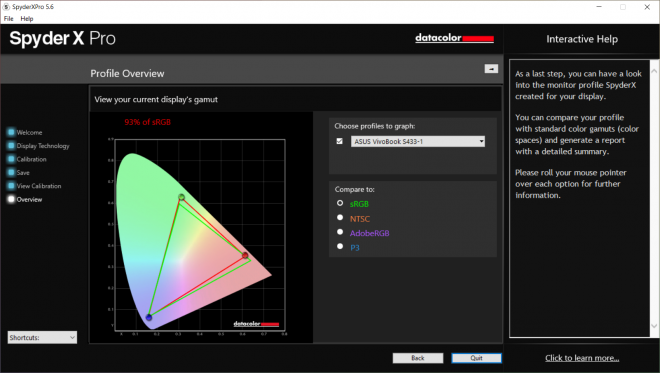 Aside from that, it has 69% NTSC,
73% AdobeRGB,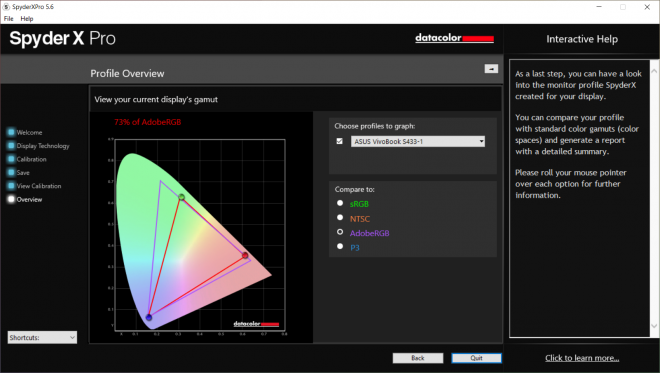 And 73% P3 color gamut.
Overall, the display of the ASUS VivoBook S14 S433EQ is pretty decent with good viewing angles, contrast, saturation, and details.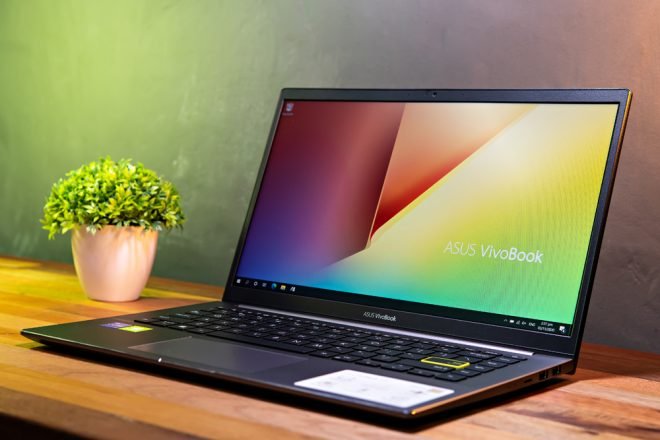 Stereo Speakers
In terms of the speakers, the ASUS VivoBook S14 S433EQ features ASUS SonicMaster stereo audio system with surround-sound and is Harman Kardon certified.
The stereo speakers are side bottom-firing and can get pretty loud and able to fill a small room. The audio quality is fairly decent with a good amount of kick on the low-end, clear mids, and vocals and with good separation between different instruments. And although the audio is coming from the bottom and bouncing back from the surface, it doesn't sound muffled at all and overall, the sound quality is pretty good especially for a thin and light laptop like this.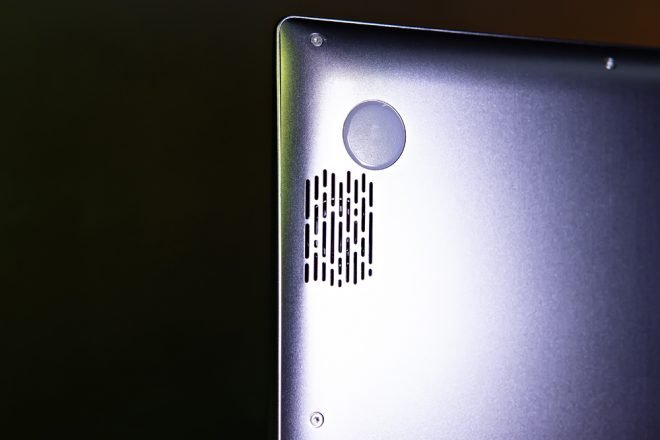 Battery
In terms of the battery, the ASUS VivoBook S14 S433EQ features a 50Wh 3-cells lithium-polymer battery which you can charge using the 65W power adapter up to 60% in just 49 minutes. This means you can essentially plug this in while you prepare yourself for work.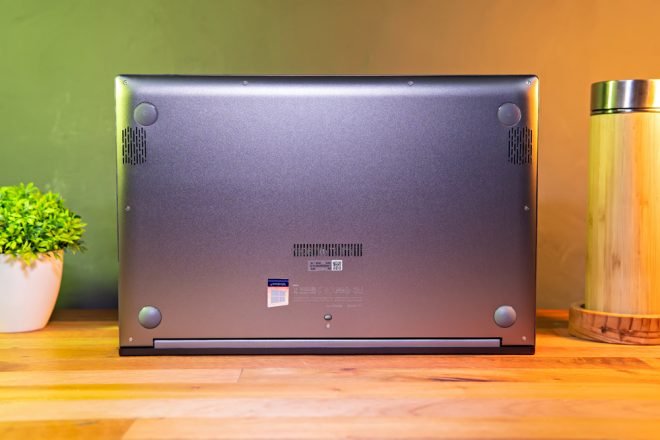 Power Consumption
As for the power consumption, using a wattmeter device with the power adapter, the ASUS VivoBook S14 S433EQ draws just around 9.66 watts when idle and only around 45.12 watts while playing Valorant.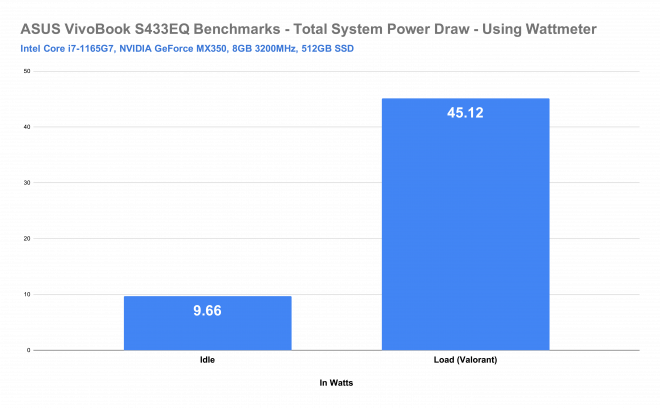 Connectivity
Aside from the abundant input and output ports, in terms of connectivity, the ASUS VivoBook S14 S433EQ also features the latest WiFi 6 technology with Bluetooth 5.0.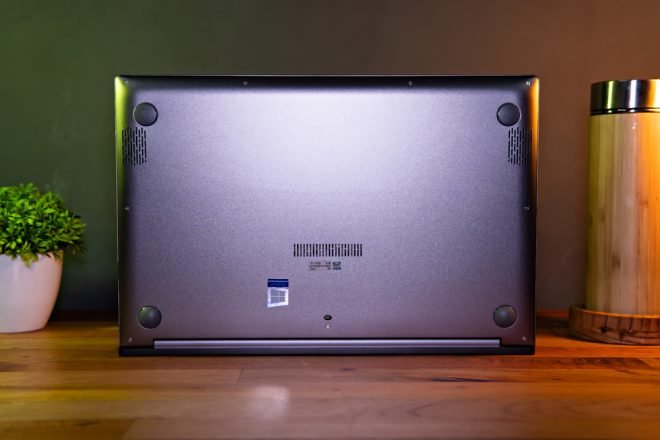 Hardware Specifications Rundown
Aside from the things that we've already discussed above, in terms of the hardware that's powering this thin and light laptop, we have an Intel® Core™ i7-1165G7 processor with an NVIDIA® GeForce® MX350, and out of the box, we have 8GB 3200MHz DDR4 RAM and 512GB PCIe SSD
Performance Benchmarks
Alright guys, with the unboxing, parts overview, and hardware rundown out of the way, let's talk about how the ASUS VivoBook S14 S433EQ performs.
Here are some synthetic benchmarks before we dig in on real-world productivity and gaming performance.
Cinebench R15, R20 and Geekbench 5 – Processor – Intel Core i7-1165G7
Geekbench 5 – CUDA, OpenCL and Vulkan APIs – Graphics – NVIDIA GeForce MX350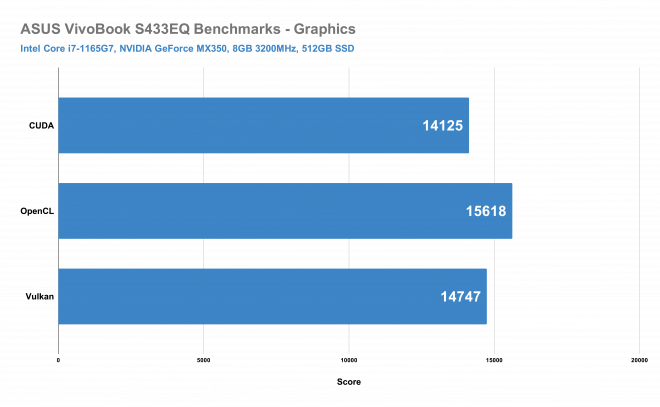 Blender BMW – Processor and Graphics – Intel Core i7-1165G7 and NVIDIA GeForce MX350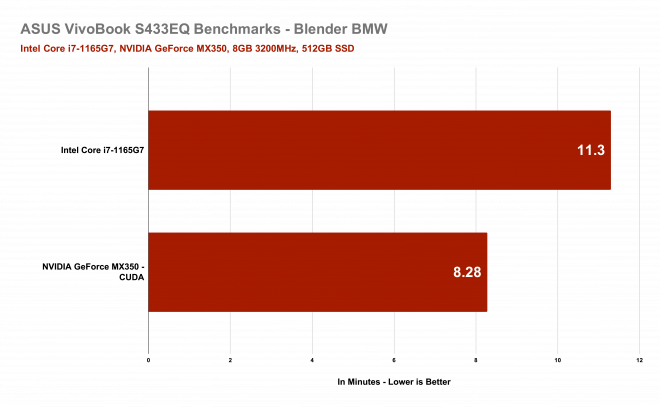 3DMark Firetrike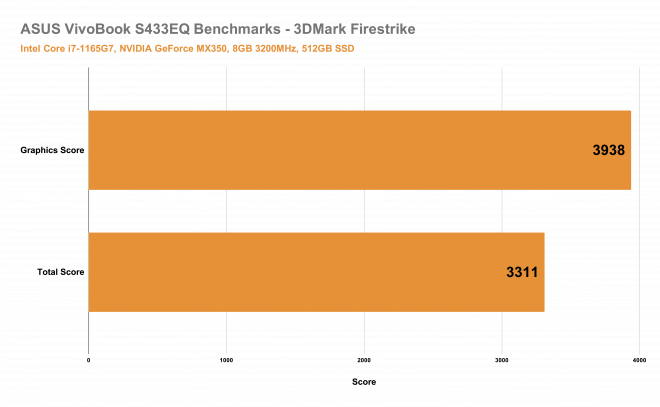 Real-World Performance
Adobe Premiere Pro – Standard 4k Timeline Exported to 1080p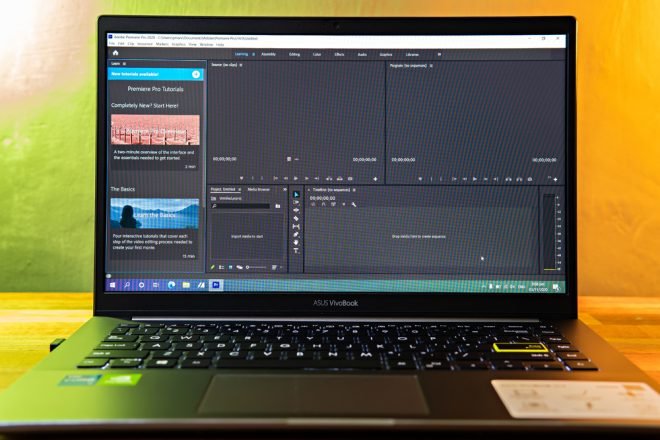 As for our real-world performance testing, casual 1080p video editing and exporting is certainly possible with the ASUS VivoBook S14 S433EQ. Granted, it's not the fastest experience with an export time of around an hour for a 13.92-minute project, but should you decide to edit 1080p videos on this, you definitely can.
Gaming and Thermal Performance
Now, the gaming experience on the other hand is somehow underwhelming due to the small 8GB RAM especially in today's demanding software and games. Aside from that, as per my further testing, this laptop being a thin and light one without much ventilation apparently suffers from thermal throttling.
As you can see, in Counter-Strike: Global Offensive, the memory is almost depleted. This essentially means that you probably won't be able to open more apps while the game is running.
Now, while gaming, I experienced noticeable frame drops, and at first, I thought it was just because of the insufficient memory. But I noticed that whenever I run my benchmark for the first time, it seems playable, but after the 2nd and 3rd run it starts to slow down. So I tested it again and monitored the thermals and found out it was thermal throttling.
Thermal throttling is one major cause of FPS drop in-game and it was definitely felt in Counter-Strike: Global Offensive with just around 37 average FPS regardless if we set it in high or low settings.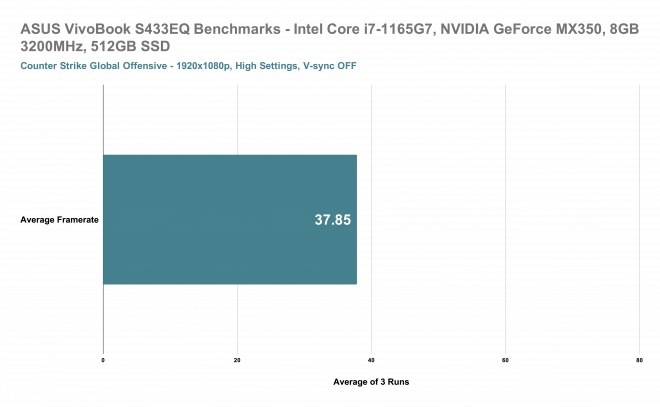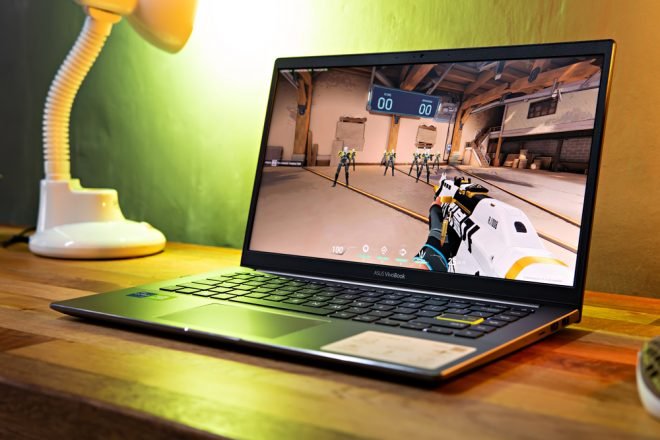 The same scenario can be observed in Valorant which should be relatively easy to drive even for the Intel Core i7-1165G7 and NVIDIA GeForce MX350.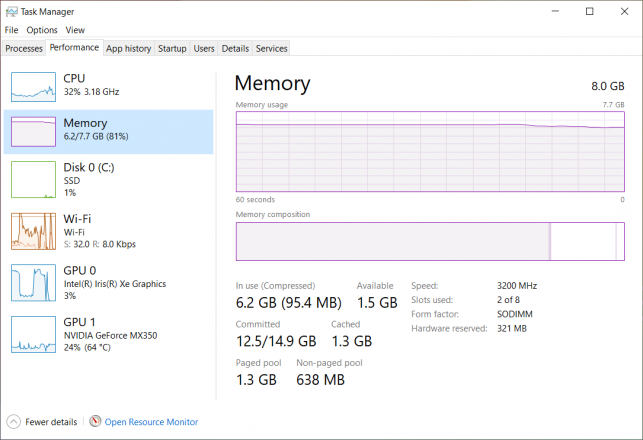 But thermal performance hindered its full potential in gaming.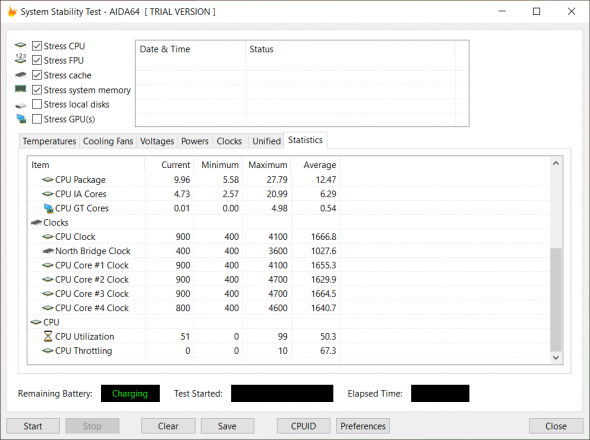 To be honest, I wasn't really surprised by this given the powerful hardware inside but with minimum ventilation and fans, partnered with the thin and light design and construction. Thermal throttling is I think inevitable. With that said, we shouldn't really expect to game on this heavily as this is targeted towards productivity and work and is definitely not a gaming laptop.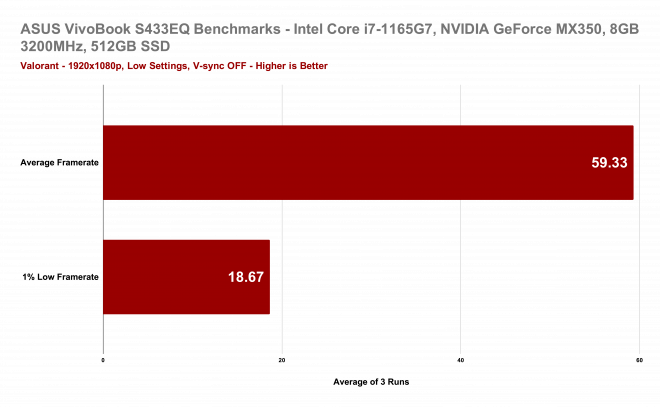 Here are the rest of our thermal performance results throughout the rest of our benchmarks.
MyASUS Software
Before we end this review, let me share with you some screenshots of the MyASUS Software which comes with the ASUS VivoBook S14 S433EQ.
The software actually offers a bunch of useful features starting from the home screen where we have the shortcuts for everything the software has to offer.
We have the customer support page wherein, of course, we can browse through the different frequently asked questions and contact support if necessary.
We also have the system diagnostics page where you can take advantage of different testings that you can conduct should you encounter any issue. This is good for those consumers who are not that technically adept so that they can easily take these first steps before calling the support line.
Next, we also have the software update page where we can update softwares, drivers, utilities, and even firmware to keep the system up to date and minimize issues caused by outdated drivers and stuff around that nature.
We also have the hardware settings page which is pretty much an all-in-one gateway for ASUS' key features and settings.
AppDeals page where we have a collection of different applications and tools that you can download and install.
We also have the message center which is essentially a page dedicated to ASUS press releases and other technology news.
And lastly, we have the Link to MyASUS page wherein you can link your ASUS phone to your ASUS laptop.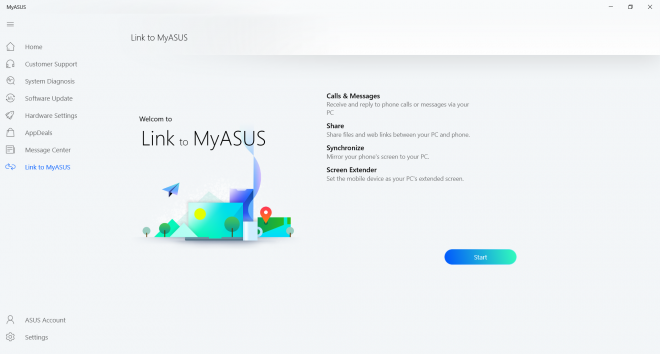 VERDICT
To conclude, the ASUS VivoBook S14 S433EQ proved to be a decent thin and light laptop for productivity and on-the-go use case scenarios with a lightweight yet decent build construction partnered with all the necessary features to work efficiently. Aside from the sleek and modern design and robust build construction, the display quality is also pretty good with good color reproduction, decent viewing angles and the stereo speakers are better than I was expecting. The keyboard, albeit a non-standard layout, provides satisfying feedback with substantial travel. The dual-mode trackpad proved to be valuable for multitasking and the numpad mode is definitely one of its best features and good use of space. It also packs a decent amount of input and output ports and capable hardware specifications featuring the latest Intel Core i7-1165G7 processor and the NVIDIA GeForce MX350 graphics. There are only a couple of downsides for me with this laptop, first, is the rather limiting 8GB of RAM, and second, which is a major one, is the thermal throttling especially while gaming. 
Related Content:
ASUS VivoBook S14 S433EQ Unboxing and First Impressions
25 Cents Thin Gaming Laptop! Ft. MSI GS66 Stealth!
Lenovo Legion 5i Review – A Gaming Laptop That Doesn't Look Like One!
Php 70K Gaming and Programming PC Build Ft. Tecware Alpha TG!
Size doesn't matter in the PC Master Race – A mini-ITX Build Story.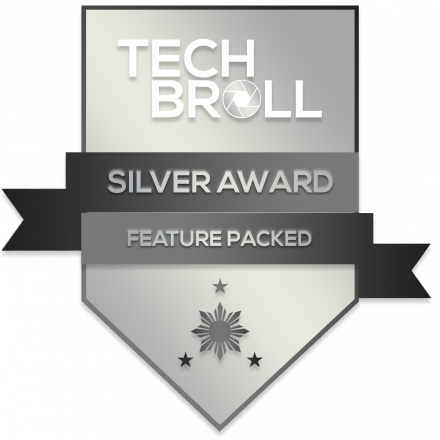 Disclaimer: This review was updated after its initial release to include more details about gaming and thermal performance
ASUS VivoBook S433EQ
Php 59,995
SHARE THIS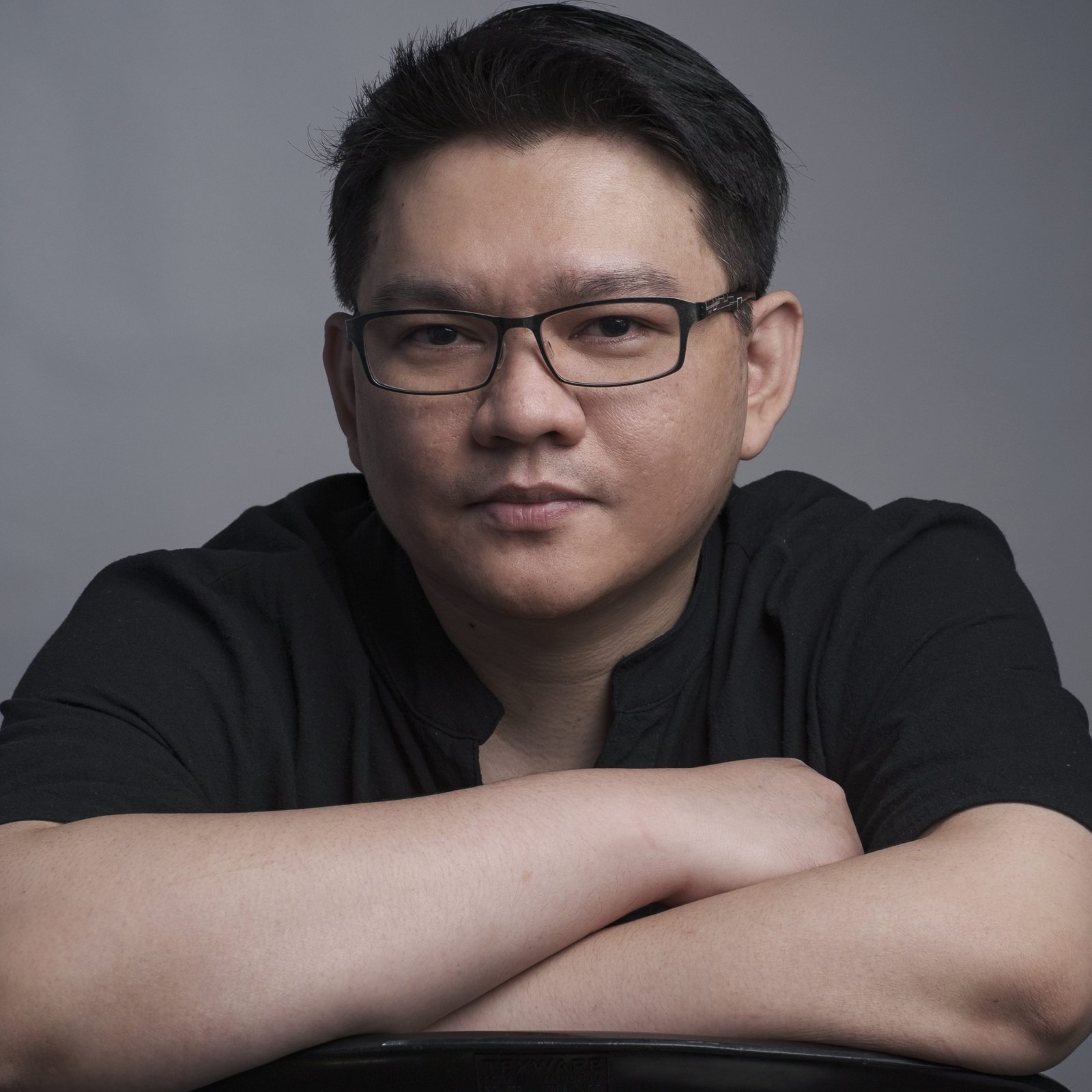 The Broll who always got your back online!