Just a month ago, I released my review of the ASUS ROG Zephyrus DUO 15 SE gaming laptop and it is nothing short of amazing. It features two displays and a hinge design that is unique, functional, and effective. I love everything about its design and when I heard the news that ASUS is going to send its brother from the productivity side of things, I was pretty excited. I am talking about the latest ASUS ZenBook Duo UX482EG which also features two displays and other design elements that I love about the ASUS ROG Zephyrus Duo 15 SE. Now, compared to the Zephyrus Duo which is primarily for gamers, the ZenBook Duo's target market space is for business and productivity, that's why it features a more minimalistic and professional looking design with features prioritizing battery life and ease of use while also being able to perform when it matters most.
Today, as an introduction, we're going to do an unboxing and first impression of the ASUS ZenBook Duo UX482EG so that you can have an idea of what to expect ahead of its official launch here in the Philippines. Now, to be exact, what we have here is the UX482EG model which has an 11th Gen i7-1165G7 processor and features both the integrated Intel Iris Xe Graphics and a discreet NVIDIA GeForce MX450. We'll talk more about the specifications later, but for now, let's unbox this shall we?
SPECIFICATIONS
 

ASUS ZenBook Duo 14 UX482EG

 

 

CPU  

Intel® Core™ i7-1165G7 processor 

Display options  

14" LED-backlit FHD (1920 x 1080) 400 nits  

(1W panel option draws 1W at 150nits) 

 

4 mm-thin2 bezels with 93% screen-to-body ratio 

Operating system  

Windows 10 Home 

Graphics  

Intel® Iris® Xe Graphics 

NVIDIA® GeForce® MX450 with 

 2GB GDDR6 memory 

Main memory  

Up to 16 GB 4266 MHz LPDDR4X onboard 

Storage  

Up to 1TB PCIe 3.0 x4 NVMe SSD 

Connectivity  

WiFi 6 + Bluetooth 5.0 

Camera  

HD infrared (IR) webcam (supports Windows Hello) 

I/O ports  

2 x Thunderbolt™ 4 USB-C® with full range (5~20V) of charging 

1 x USB 3.2 Gen 1 Type-A 

1 x full size HDMI 1.4 

1 x 3.5 mm audio jack 

1 x MicroSD Reader 

Touchpad 

Touchpad 

Audio  

Certified by Harman Kardon 

Array microphone with Cortana voice-recognition support 

AI Noise-Canceling 

Battery  

70 Wh lithium-polymer battery with up to 17-hour3 battery life 

AC adapter  

65 W type-C power adapter, Output: 20 V/3.42 A, Input: 100-240 V/50/60 Hz universal 

Dimensions  

324 x 222 x 16.9 mm 

Weight  

Approx. 1.6 kg 
 WHAT'S IN THE PACKAGE
Like most ASUS laptops, the packaging for the ASUS ZenBook Duo UX482EG features a brown box painted with black with an ASUS logo and ASUS' slogan "In Search of Incredible" here in front.
Around the box, we just have some branding and product information, and then at the back of the box, we have the exact model name and its key specifications.
Upon opening the box, I was happy to see that we have an included stylish-looking pouch that compliments the ASUS ZenBook Duo UX482EG pretty well.
We also have here the main box protected by foams on all four corners.
Inside this box, we have a 65 watts USB Type C power adaptor with a nice velcro strap for cable management.
Next, we have some paperwork, we have the Warranty Card, Aftermarket Support Guide, and the User Guide.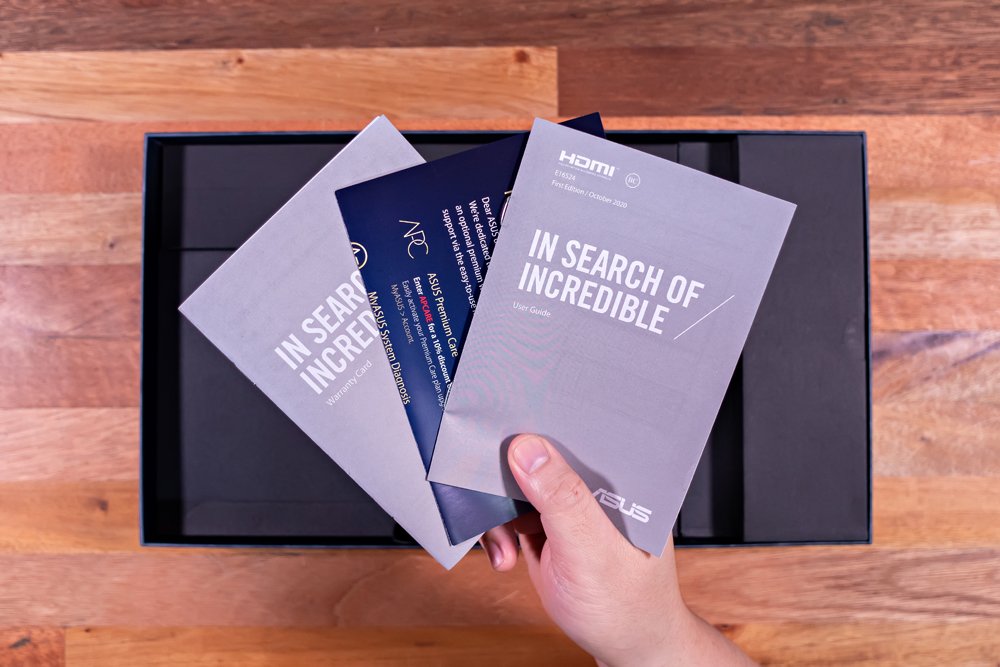 And did I mention this laptop is also a touchscreen? yes, it is and the package includes an ASUS Stylus Pen.
Not only that, but we also have an included stand for pushing the angle further upwards for a more ergonomic viewing and typing experience as well as to allow more airflow coming from the bottom.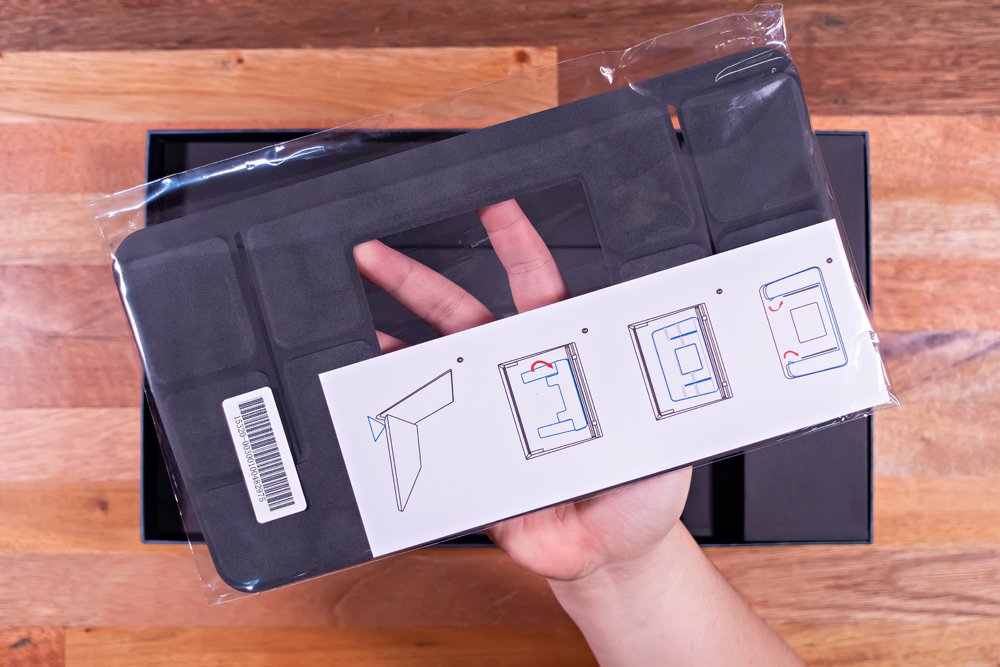 And finally, we have the ASUS ZenBook Duo UX482EG nicely protected with plastic and with a sticker showcasing all of its key features.
Now, into my first impressions.
First Impressions and Early Breakdown
Design, Construction, and Parts Overview
The first thing I noticed about the ASUS ZenBook Duo UX482EG is the familiar design with a circular brushed aluminum finish and with a chrome ASUS logo at the center of it.
The chassis and lid are made out of magnesium-aluminum alloy that not only gives it the rigid structure but feels quite premium as well, cold to the hands if I may say.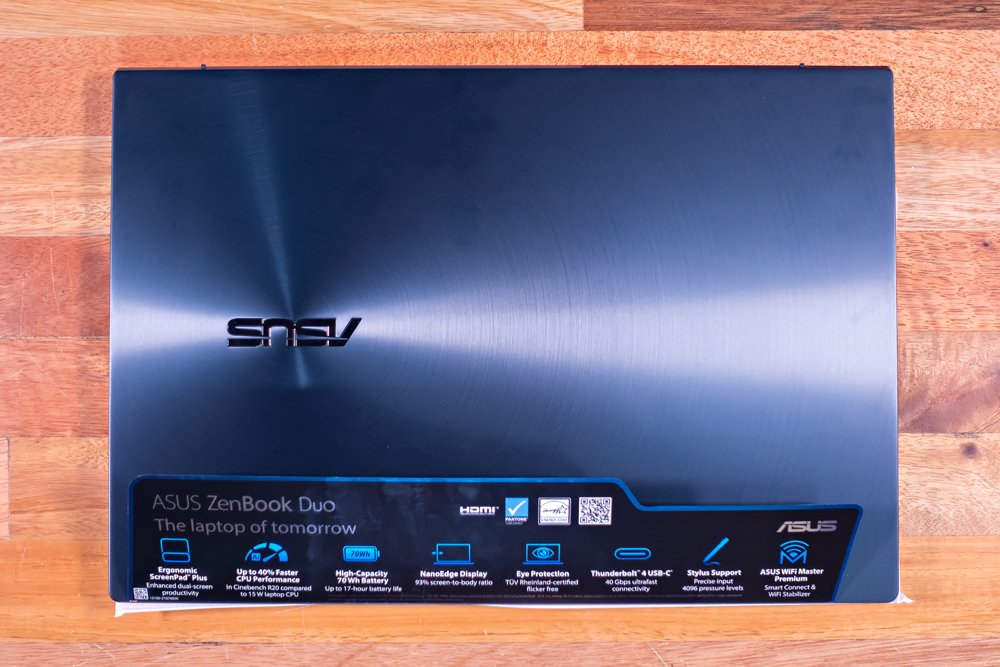 And with a magnesium-aluminum alloy, you'll definitely feel the solid structure of the laptop, albeit at the expense of additional weight. And although it's not super lightweight by thin and light standard, it is still relatively lightweight at around 1.6kg with a thinness of only around 16.9mm. That is 50 grams lighter and 3mm slimmer than its predecessor.
Here at the bottom, we have two long rubber strips to keep this thing stay in place, small ventilation at the center, 2 bottom and side-firing speakers and weirdly enough, we have all the branding stickers here at the bottom. As you can tell, we also have some chamfered edges that gives that illusion that this laptop is thinner than it actually is.
Now, looking at the left side, we have a full-size HDMI 1.4 with two Thunderbolt 4 USB Type C ports with up to 40Gbps of data bandwidth and up to 8K display output along with USB 4.0 support. This is awesome for connectivity like fast data transfer and displaying output to an external monitor, TV, or projector.
Flipping it on the other side, we have a USB 3.2 Gen 1 Type-A port, a 3.5mm combo audio jack, a microSD card, and a couple of LED indicators for power and activity. As you can tell, we have a fair amount of input and output ports that are more than enough for most productivity tasks, we even have a microSD card slot for content creators like myself.
You can also see here the design of the sides on the lid as well as on the chassis, as I've pointed out earlier, we have some chamfered edges that make the laptop look floating and thinner.
Now, looking at the design of the hinge, this is what I was talking about earlier. It is pretty similar to the one we have on the ASUS ROG Zephyrus Duo 15 SE in the sense that the secondary display also known as the ScreenPad Plus lifts up while you tilt the display backward, it can lift it up to 7 degrees. The bottom chassis also lifts up thanks to the innovative design of the hinge which by the way has been improved as well making it 30% smaller than its predecessor allowing the laptop to be 3mm slimmer.
This hinge design partnered with the dual intake fan underneath the ScreenPad plus, yes, you heard it right, there are two intake fans there that suck down fresh air directly towards the components helps with overall thermal performance, of course, I'm going to test that myself on the full review.
Aside from that, this design gives the laptop a proper viewing angle for both the screens and allows you to type and use the touchscreen in a more ergonomic form factor.
As for the front and backside, we don't have any ports nor any ventilation at all. Because the intake is underneath the ScreenPad plus and the exhaust is below the display.
Alright, enough with the externals, let's crack the lid open!
Upon opening the lid, you'll immediately see how efficient the layout and the spacing are on this laptop. Like, everything is well laid out and maximizing the entire real-estate of the chassis.
You can also see here a bit of the exhaust ventilation on the bottom right side of the display.
The ScreenPad Plus features a 12.6-inch touchscreen display with a brand-new control center UI and is now a lot more snappy compared to its predecessor. It has a bunch of built-in applications such as a full-size numpad, handwriting, and control panels for productivity applications like Adobe Photoshop, Lightroom Classic, and more. It also functions as a normal display wherein you can drag and drop folders, windows, and applications. The sky's the limit when it comes to its use case scenario, a very unique feature on a laptop.
This is great for photographers, videographers, graphic artists, and artists in general. Not to mention the included ASUS Stylus Pen for additional use case scenarios. We'll discuss more on the full review including its display quality and color accuracy.
The keyboard has the familiar layout I'm used to with ASUS laptops with larger alphanumeric keys, smaller modifiers, and even smaller function rows and arrow keys. They have a substantial travel distance with enough tactile feedback. 
As for the numpad, the size is fairly small and the placement is quite unusual. However, it allows for the dual-display design with a decently sized keyboard so I won't complain about that. It does have dedicated left and mouse buttons though so all good. It looks like it doesn't have a secondary numpad functionality like other ASUS laptops but that isn't a big deal since we pretty much have a large numpad using the ScreenPad plus. 
As for the main display, we have a 14″ LED-Backlit Full HD 1920x1080p Touchscreen display with up to 400 nits of brightness. The bezels are relatively thin while also cramming up a webcam and infrared sensor on the top center that also supports Windows Hello.
And lastly, before we finish this unboxing and first impressions article, let's do a quick specifications rundown.
Inside the magnesium-aluminum alloy chassis, we have an Intel Core i7-1165G7 processor with integrated Intel® Iris® Xe Graphics, a discrete NVIDIA GeForce MX450 with 16GB for 4266Mh LPDDR4X memory, and an Intel 1TB PCI-E 3.0 x4 NVMe SSD. It also features WiFI 6 and Bluetooth 5.0 connectivity, Harman Kardon certified speakers, an AI noise-canceling microphone, and packs a decent 70Wh of battery that ideally can last up to 17 hours.
All in all, the combination of innovative design, good build construction, versatile feature set, and capable hardware, makes the ASUS ZenBook Duo UX482EG a good candidate for an efficient and powerful productivity machine.
In the Full Review, will expand on these details especially focusing on the performance side of things for both productivity and light gaming. We're also going to test the quality of life experience with all of its key features both in hardware and in software form so make sure to follow our Facebook Page to stay in the loop.
For more details about the ASUS ZenBook Duo UX482, click here.
Availability and Price
Availability and Price to follow once this officially launches soon.
Related Content:
ASUS ZenBook Flip S UX371EA Review – Best Versatile Thin and Light 4K OLED Laptop!
Why ASUS ZenBook Laptops are the Best Versatile Thin and Light Laptops in 2020
ASUS ZenBook Flip S UX371EA Unboxing and First Impressions
ASUS VivoBook S14 S433EQ Review
ASUS VivoBook S14 S433EQ Unboxing and First Impressions
25 Cents Thin Gaming Laptop! Ft. MSI GS66 Stealth!
Lenovo Legion 5i Review – A Gaming Laptop That Doesn't Look Like One!
Php 70K Gaming and Programming PC Build Ft. Tecware Alpha TG!
Size doesn't matter in the PC Master Race – A mini-ITX Build Story.
SHARE THIS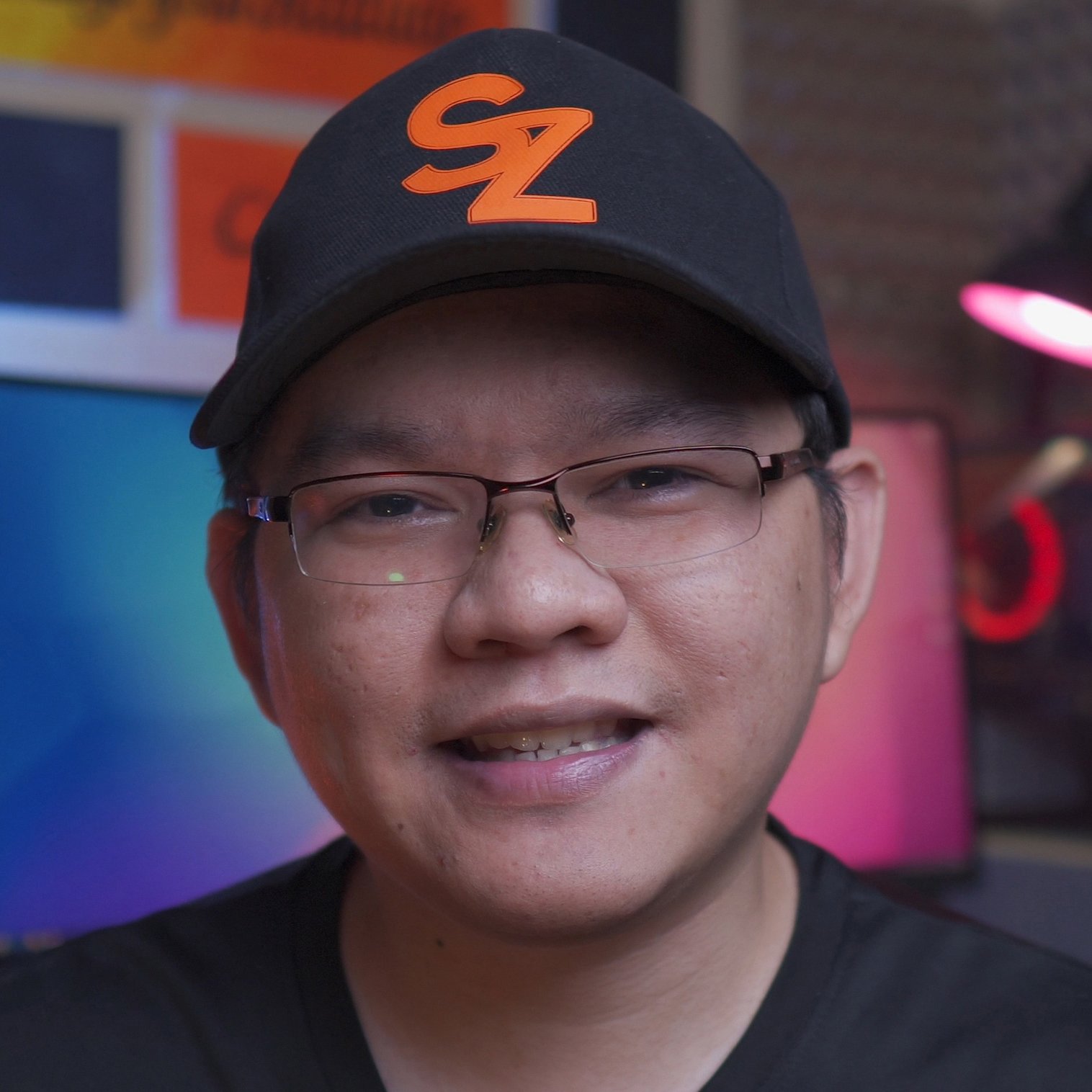 The Broll who always got your back online!