Although ASUS ROG exists providing high-end products to gamers and enthusiasts with all the bells and whistles you can get, ASUS TUF lineup on the otherhand, is undoubtedly a formidable option offering durable products at a lower price point. We saw that from our review of the ASUS TUF M5 Gaming Mouse with its specialized coating and no-frills features and performance. Today, we're taking a look at yet another TUF Gaming peripheral in the form of the ASUS TUF H5 Gaming Headset, a headset that looks simple yet comfortable with a couple of tricks up its sleeve. 
MY EARLY BREAKDOWN

Pros: Lightweight, Comfortable, Decent audio quality, Powerful software
Cons: Subpar build quality as a TUF peripheral, Weak bass out of the box 
SPECIFICATIONS

Headphones
Connector: USB / 3.5 mm(1/8") connector Audio/mic combo
General Info
Platform: PC / MAC / Mobile device / PlayStation® 4 / Xbox One®
Headphones
Driver diameter : 50 mm
Driver material : Neodymium magnet
Microphone: Uni-directional
Impedance: 32 Ohm
Frequency Response (headphones): 20 ~ 20000 Hz
Microphone
Pick-up Pattern
Microphone boom: Uni-directional
In-line Microphone: Omni-directional
Frequency Response
Microphone boom: 100 ~ 10000 Hz
In-line Microphone: 50 ~ 10000 Hz
Sensitivity
Microphone boom: Sensitivity : -40 dB
In-line Microphone: Sensitivity : 45 dB
General Info
Cable Length: 1.2 meter
Accessories: Detachable microphone
Note
The virtual 7.1 USB dongle of TUF Gaming H5 supports PC only.
WHAT'S IN THE PACKAGE
1 x Headphones
1 x 3.5mm extension cable
1 x Virtual 7.1 Surround Sound Card
1 x Microphone Boom
1 x Quick Start Guide
1 x Warranty Guide
FULL REVIEW
Design and Construction

The design is very simple and the build construction is decent with a combination of lightweight plastic and flexible metal head band. I appreciate that this headset is lightweight which should help with comfort but I feel like in return, it is not as robust as I would hope for especially for a TUF gaming peripheral. Whenever I lean sideways, I hear some squeaking sounds coming from the hinges which is kinda annoying, thankfully, it gets unnoticed when you start listening to music or when playing games.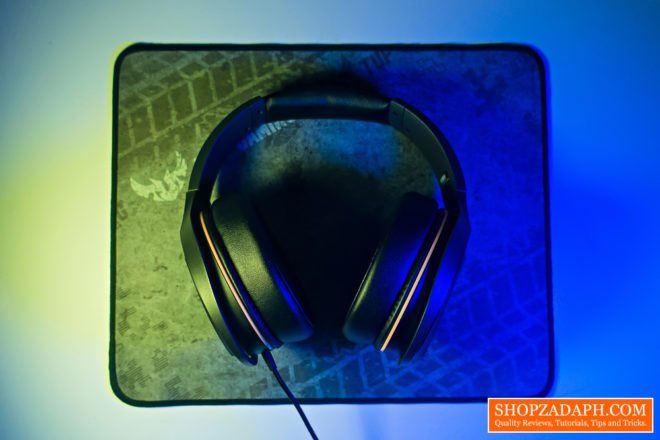 Moving on, we have a few accents that represents the TUF gaming branding with a chrome TUF logo on both sides of the earcups and yellow lining around the earcups as well.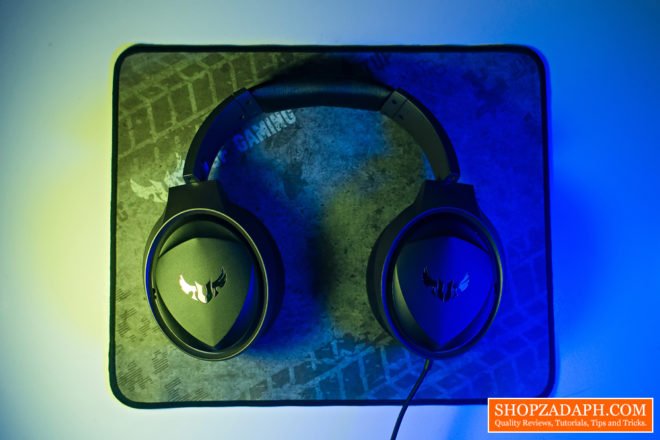 Comfort

In terms of comfort, the ear cushions are very soft and the headband has notches for precise adjustments, however, the size of the earcup doesn't fit well with my relatively large ears, which is always the case when I am trying a pair of headset so this is not new for me, you're fit may vary of course depending on the size of your ears.
The headband has a small padding and with the help of the lightweight materials, the headset is actually quite comfortable, but as with any gaming headset that I've tried with leather padding, it does warm up a bit after a long gaming session. The clamping force is decent, it doesn't fell off on it's own while still being comfortable around the head. The cable is braided and with an inline control but fortunately, it doesn't add any annoying weight on the left earcup. The earcups also folds flat which is a huge plus.
Overall, except for the size of the earcups being small for my ears and the annoying squeaking sounds, the ASUS TUF H5 Gaming Headset is pretty decent when it comes to comfort.

Sound Quality

3.5mm Interface
The sound quality of the ASUS TUF H5 Gaming Headset using just the 3.5mm interface seems to be flatter than most gaming headsets that I've tried, the sound signature is decent but it lacks a little bit of low end and bass. I've tried it in both my PC and on my smartphone and the bass at least for my personal preference is a bit lacking. Although the sound signature is inferior when it comes to deep bass, this headset can definitely provide a good range of sound frequencies and audio separation across the board, if you're more into a balanced sound with clear mids and highs then this headset should fit your taste.
USB 7.1 Virtual Surround Sound Card and Software
Out of the box using the USB 7.1 virtual surround sound dongle, the ASUS TUF H5 Gaming Headset sounds a bit flat as well, but after enabling the virtual surround sound feature it gives the audio a little bit of depth and separation, it makes the overall sound wider than usual which exactly what you might expect from a surround sound even if it's only virtual through the dongle and the software. Speaking of which, since it is virtual, it is not perfect and you can not calibrate or adjust the position of the surround sound source via software, but at least you can adjust the volume of the individual virtual surround sound source if you're into that. Now, one might argue that virtual 7.1 surround sound is just a gimmick, but for me, I still appreciate gaming headsets having this feature than not having the flexibility of customizing the sound signature at all.
One thing I like about this headset because of the dual interface is that it is compatible across different platforms and not just for PC.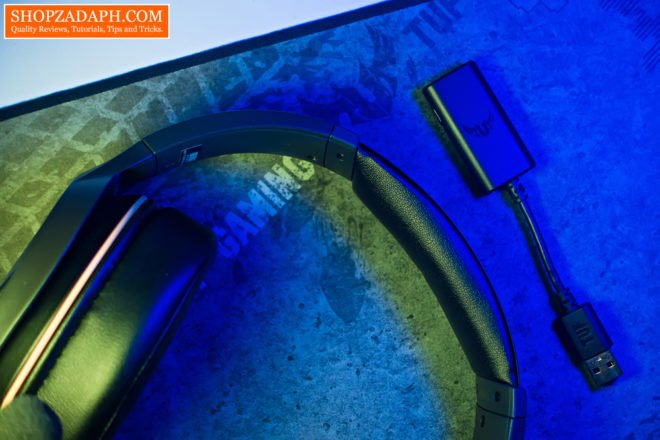 Another good thing about the USB surround sound dongle is that you can further customize the sound signature of this headset through the ASUS Armoury software. You can pretty much tune it to how you want it to sound with available presets, equalizer, reverb presets and you can even adjust the amount of bass boost, compression and clarity which you otherwise can't by just using the 3.5mm jack interface.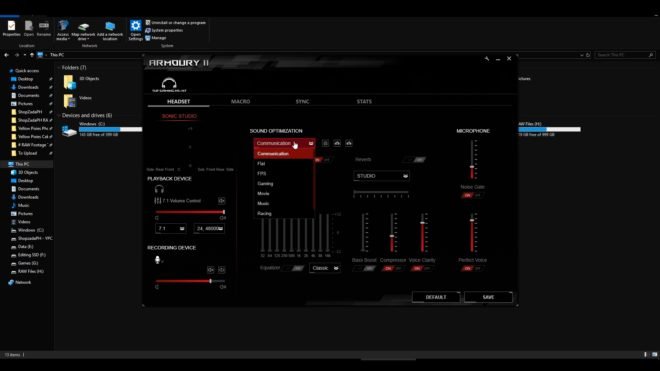 Overall, the sound quality is actually pretty good, it can produce a wide range of sound frequencies between mids, highs and lows, but I feel like the bass is really not powerful enough even at the highest bass boost setting compared to most gaming headsets that I've tried before.
Microphone

The ASUS TUF H5 Gaming Headset actually have two microphones, one is an inline omni-directional mic and the other one is a uni-directional detachable mic with flexible wire for maximum adjustments.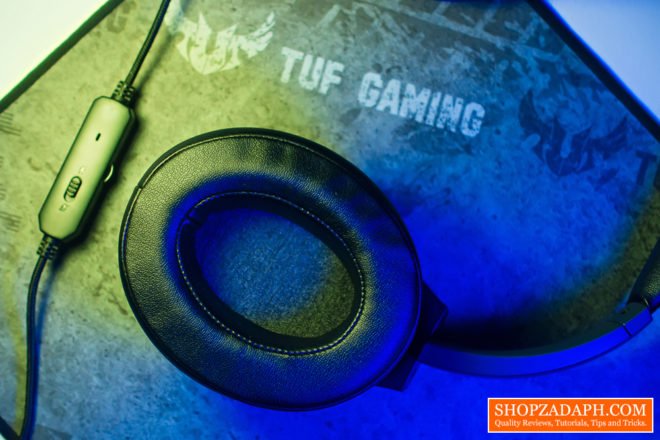 The inline microphone produces understandable audio but it's a little bit muffled and lacks clarity, while the detachable mic produces clearer audio with decent gain without introducing much background noise.
As per my testing, both microphones are usable for decent in-game communication but the uni-directional detachable mic as expected, has the better audio quality. It's not broadcast quality or anything like that but it is indeed clear enough and should suffice casual in-game communication.
Microphone Test
If you want to hear the microphone test, watch the video at the end of this article and skip to around 10:45 mark.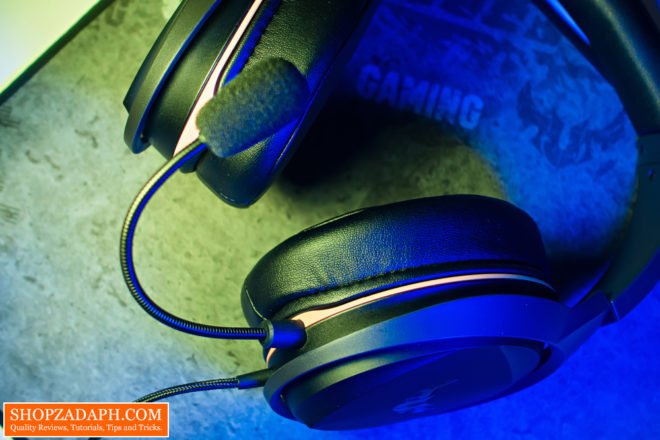 VERDICT


Overall, the ASUS TUF H5 Gaming Headset is quite decent and the pros of this headset more than outweighs the couple of issues that I have. The headset for the most part is comfortable with soft ear cushions, adjustable headband with strong notches and rotatable earcups, the sound quality is decent and can produce a wide range of sound frequencies especially with mids and highs but a bit lacking in terms of low end and bass. However, it has a lot of potential for further enhancements through the software and the microphone quality is more than enough for in game communication as well. This headset being compatible accross different platforms not just for PC is also a huge plus. I just hoped that the build construction is a little bit better especially that is part of the TUF series. 
Related Article:
ASUS TUF Gaming Peripherals Lineup Unboxing and Review
Thanks to
ASUS
for making this review possible, you can get this headset from their partner stores, link below.
If you like this one, please consider subscribing to my channel by hitting the button below. Have a great day!

SHARE THIS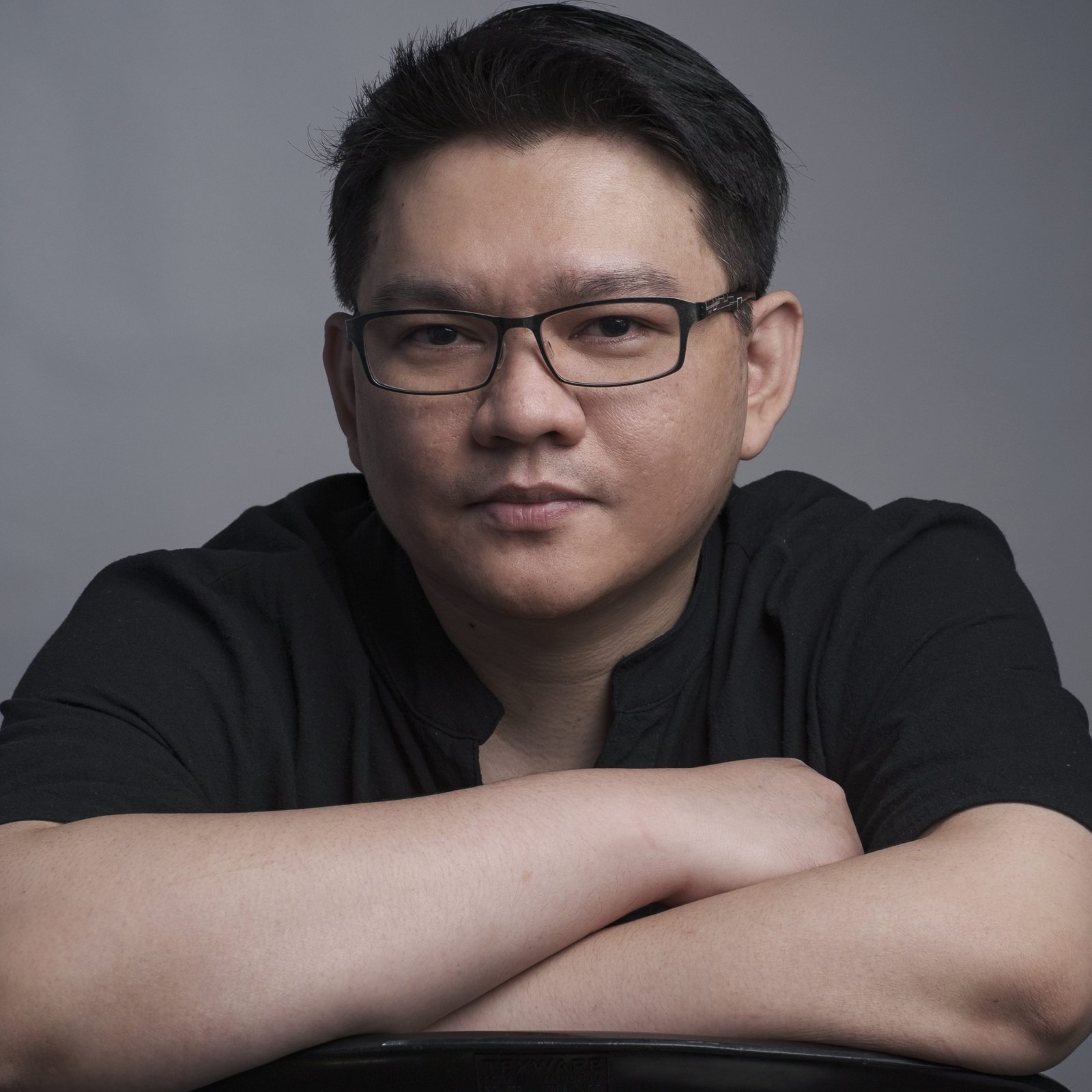 The Broll who always got your back online!