When I was a little bit younger, I always wonder how does it feel to game on a triple gaming monitor setup. Back then, setting up a triple monitor is only for the rich kids and for those who earn quite decently. But with the advancement in technology, better manufacturing efficiency, and mainstream brands focusing on the budget market space, we can now build a relatively affordable triple gaming monitor setup with emphasis on the word "gaming". Because technically, you can set up an affordable triple monitor setup before but using just standard 1080p 60hz displays which are not quite ideal for gaming. Things have changed huge thanks to affordable gaming monitors such as the ASUS TUF Gaming VG249Q1R which offers a higher refresh rate up to 165hz, faster response times, an IPS panel with better color accuracy, and a ton of gaming features that you otherwise won't have on a standard 1080p budget monitor for just around Php 12,000.
In this article, we're going to unbox and review the ASUS TUF Gaming VG249Q1R and set up one of the most affordable triple monitor setup that you can possibly get today. Of course, we're going to discuss its design, construction, features, and performance for productivity, media consumption, and of course, gaming.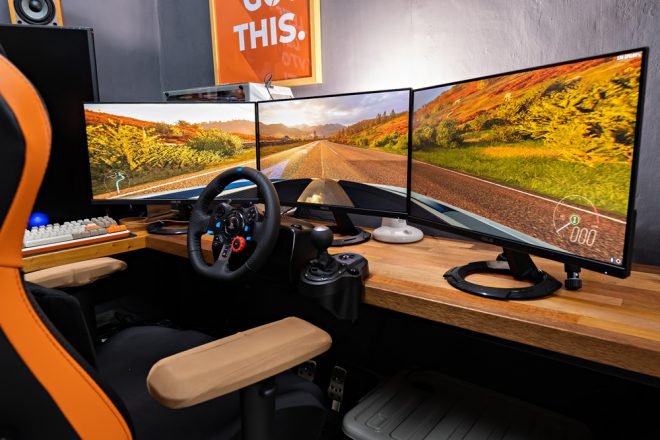 MY EARLY BREAKDOWN
Pros: Affordable, 165 high refresh rate, 1ms MPRT response time, Good color accuracy, FreeSync compatible, G-Sync also works
Cons: Basic adjustment options, Slight dark spots, and backlight bleeding
SPECIFICATIONS
Display
Panel Size: Wide Screen 23.8″(60.5cm) 16:9
Color Saturation: 72% NTSC
Panel Type: IPS
True Resolution: 1920×1080
Display Viewing Area(HxV): 527.04 x 296.46 mm
Pixel Pitch: 0.2745 mm
Brightness(Max): 250 cd/㎡
Contrast Ratio (Max): 1000:1
Viewing Angle (CR≧10): 178°(H)/178°(V)
Response Time: 1ms MPRT*
Flicker-free: Yes
Refresh Rate(max): 165Hz
Video Feature
Trace Free Technology: Yes
GamePlus(modes): Yes (Crosshair/Timer/FPS Counter/Display Alignment)
Low Blue Light: Yes
HDCP support: Yes
GameVisual:7 Modes(Scenery/Racing/Cinema/RTS/RPG/FPS/sRGB Modes/MOBA Mode)
FreeSync™ technology supported
Extreme Low Motion Blur
GameFast Input technology
Audio Feature
Stereo Speakers: 2W x 2 Stereo RMS
Input and Output Ports
Signal Input: HDMI(v1.4) x2, DisplayPort 1.2
Earphone jack: 3.5mm Mini-Jack
Signal Frequency
Digital Signal Frequency : DisplayPort:30 ~160 KHz (H) /48 ~165 Hz(V)
HDMI : 30 ~160 KHz (H) /48 ~144 Hz(V)
Power Consumption
Power Consumption: <15 W*
Power Saving Mode: <0.5W
Power Off Mode: <0.3W
Voltage: 100-240V, 50 / 60Hz
Adjustment Options
Tilt: +22°~-5°
VESA Wall Mounting: 75x75mm
Security: Kensington lock
Dimensions and Weight
Phys. Dimension with Stand (WxHxD):
539.5×406.5×213 mm
Phys. Dimension without Stand (WxHxD):
539.5×319.5×36.5 mm
Box Dimension (WxHxD):
595x158x475 mm
Net Weight: 3kg; Gross Weight: 5kg
WHAT'S IN THE PACKAGE
Being a budget monitor, it is no surprise that we have this basic brown box with some branding around it. But it doesn't mean the packaging is cheap, the monitor alongside all its accessories are nicely protected inside by individual plastic partnered with huge styrofoam to protect the actual monitor.
Inside the box, we have the revamped base which now features a circular form factor with a modern and futuristic design.
The top part is covered with hard plastic and the support base itself is made out of metal with some rubber feet to make the monitor stay in place.
Inside the box, we also have an instruction guide,
The usual ASUS VIP Member Notice to make you feel special,
An external power brick,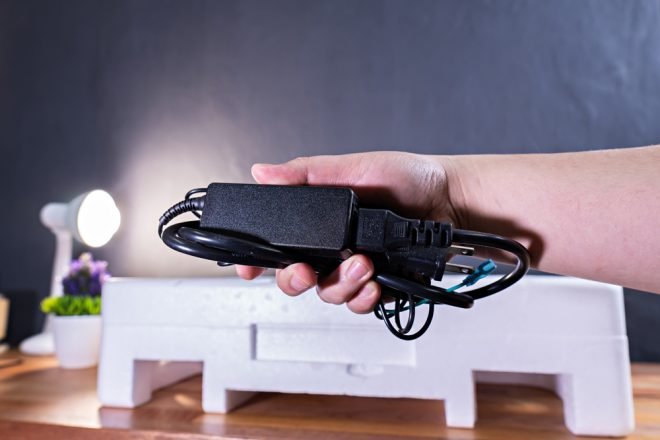 An HDMI cable,
And since this monitor can reach up to 165Hz refresh rate and can work with G-Sync, you'll need a display port which fortunately is also included on the package.
Like I said, all the accessories and package contents are nicely protected by huge styrofoam and individual plastics.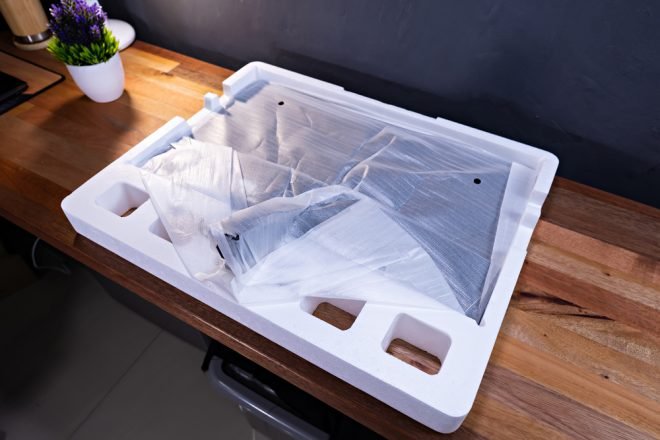 Installing the support base to the support bar is pretty straightforward like most monitors from ASUS.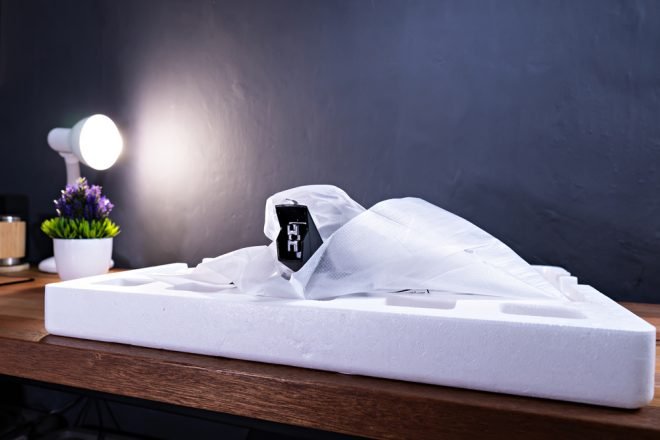 All you have to do is line it up and tighten the screw using your hand, a coin, or a screwdriver.
And that's about it for the unboxing experience and assembly process, now, let's take a look around the ASUS TUF Gaming VG249Q1R.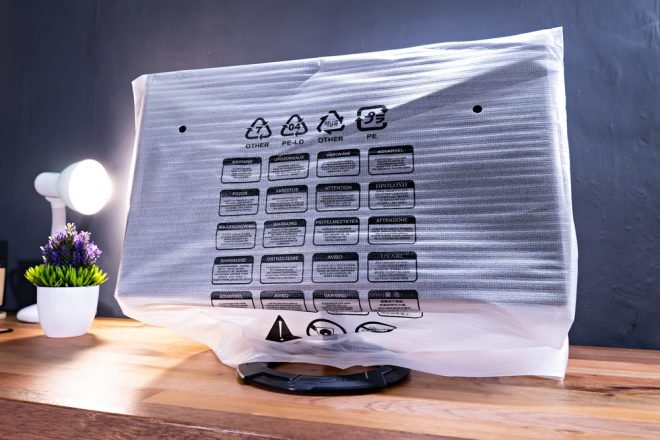 FULL REVIEW
Design, Construction, and Parts Overview
In terms of design, it may be good or bad depending on your preference but the design is quite basic. The panel's design is pretty good, clean, and minimalistic while the circular base has this more aggressive-looking futuristic design element to it.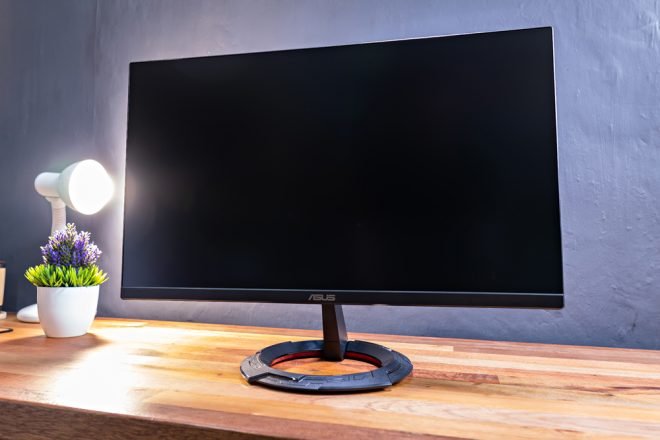 As for the construction, pretty much everything on its external is made out of hard plastic materials.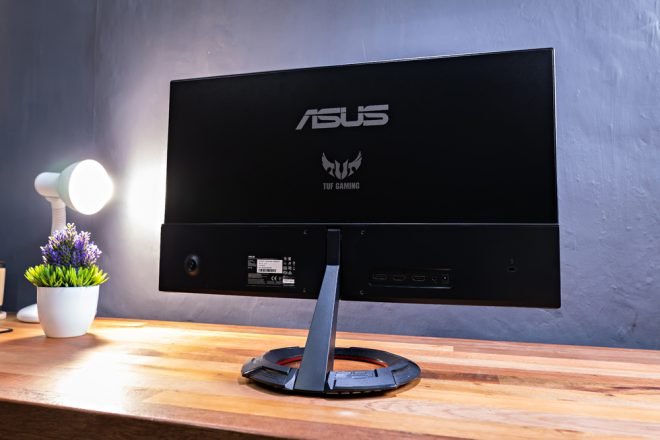 Looking in front, as you can tell, the bezels all around are quite thin with just a thicker chin.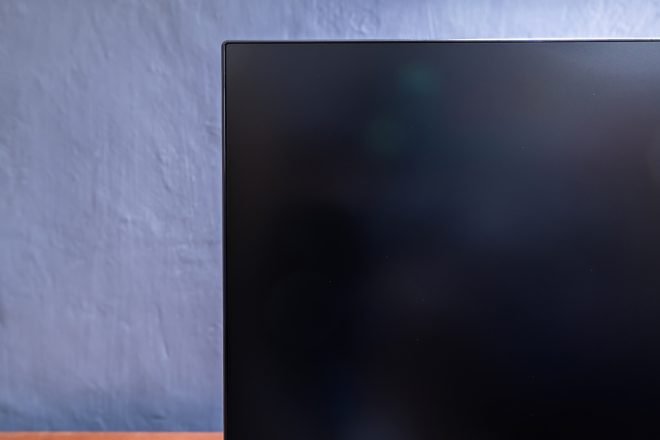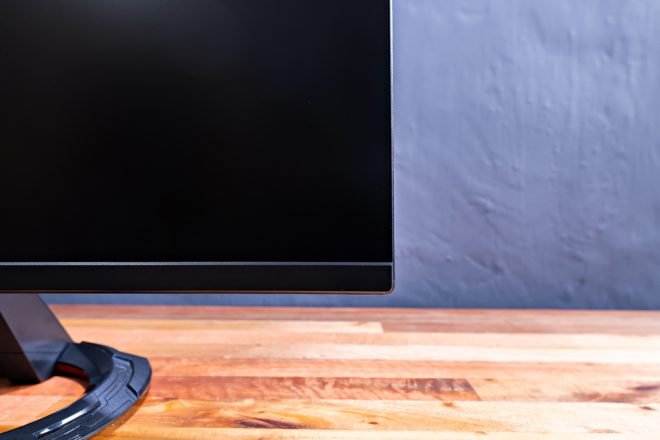 And once turned on, we can see relatively thin black borders around it, and overall, the screen to body ratio is really good considering its price point.
The panel itself has this nice anti-glare finish which is awesome especially if you have a lot of lighting around your desk, not to mention it makes the panel relatively fingerprint-resistant. And lastly here in front, we also have a small ASUS logo at the center of the chin and an LED indicator on the lower right corner.
As I've pointed out earlier, the circular base has this edgy, aggressive look to it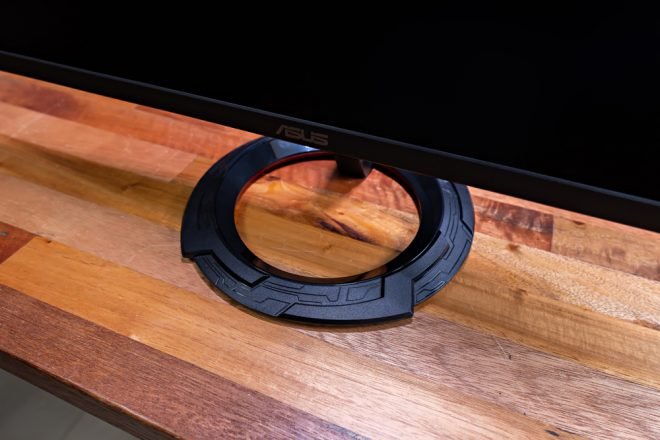 And at the back of it, we have an angled support bar.
Now, looking at the back, we also have a quite minimalistic design without any sharp cutout, curves, and whatnot that we typically see on most ASUS TUF Gaming monitors. And this makes me realize that the circular base's edgy, aggressive, and futuristic design doesn't really make sense in relation to the design of the monitor itself. But hey, that's just my observation.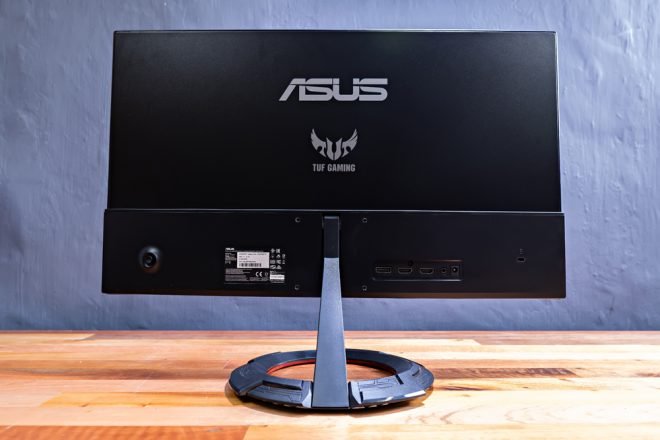 Looking closer, we have a large ASUS logo and a smaller TUF Gaming logo at the center.
On the lower-left corner looking from the back, we have the 5-way joystick which is really convenient. You don't have to mess around with buttons and it makes the design a lot cleaner.
Looking on the other side, we have a Kensington lock slot.
In terms of input and output ports, we have a substantial amount here with 2 HDMI 1.4, 1 DisplayPort 1.2, 3.5mm Mini-Jack, and the power port. I am also happy to see that this budget monitor supports 75x75mm VESA wall mounting.
The only downside in my opinion in terms of its design is the limited adjustment option.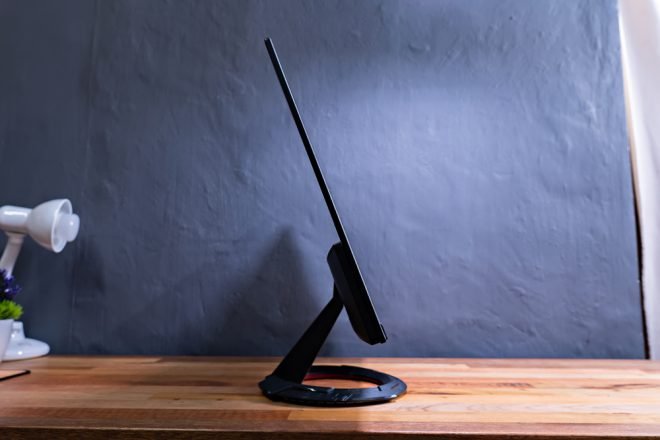 We only have a +22°~-5° tilting option, no height adjustment, swivel, and rotation.
 As for the dimensions, it is 539.5×406.5×213 mm with a stand.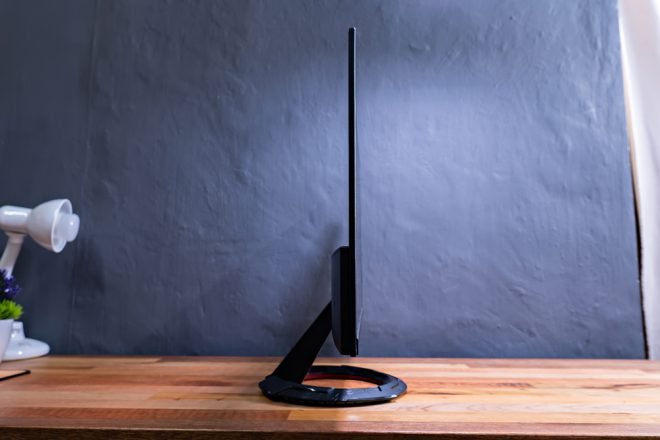 Alright guys, with the design, construction, and parts overview out of the way, let's talk about the quality of the actual display itself.
Display Quality – Color Accuracy
The ASUS TUF Gaming VG249Q1R features a 23.8inches IPS display with a Full HD 1920x1080p resolution, 165Hz refresh rate, and 1ms MPRT response time.
Now, one good thing about this monitor is its relatively good color accuracy in relation to its price.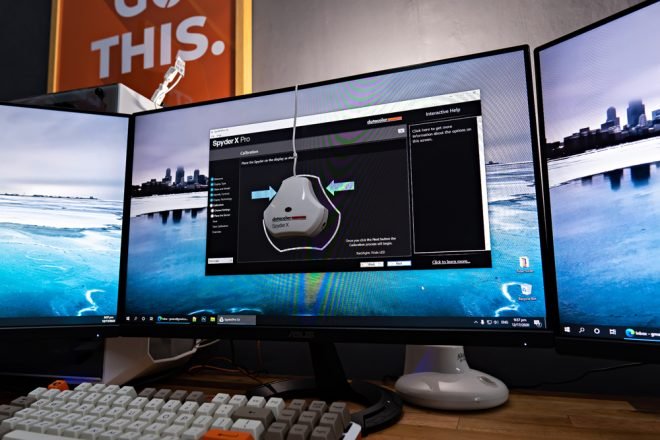 Using the Datacolor Spyder X Pro color calibration tool, I was able to measure its actual color coverage.
It has a decent 94% sRGB,
70% NTSC,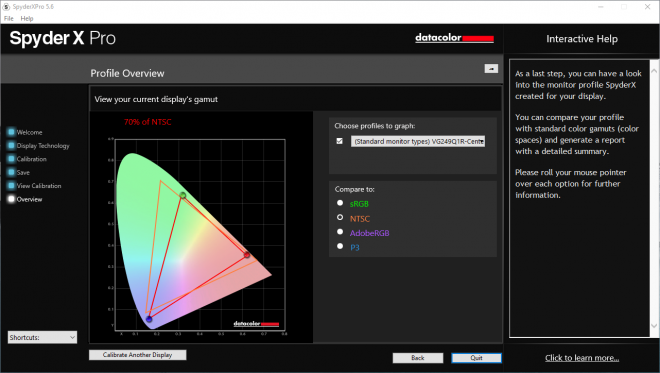 73% AdobeRGB,
And 76% P3 color gamut.
Display Quality – Media Consumption
This is more than sufficient for any type of media consumption.
With good colors, contrast, saturation, viewing angles, and a substantial 250nits of brightness which is ok for indoor use.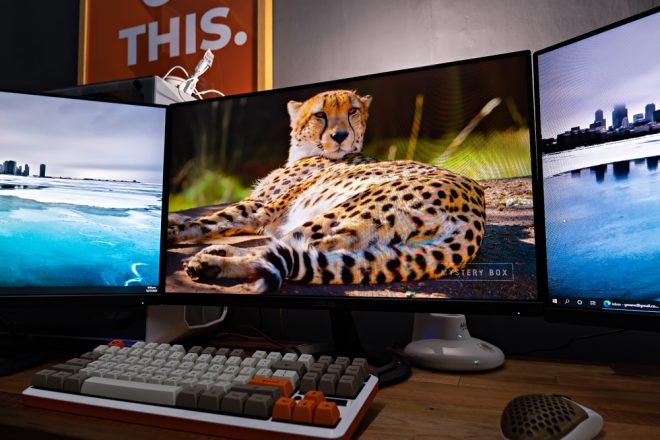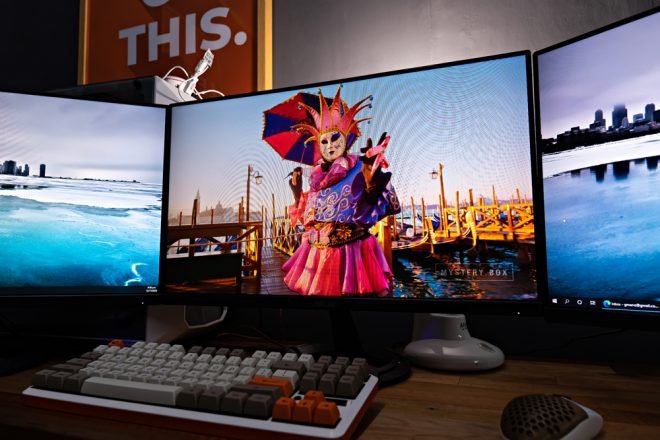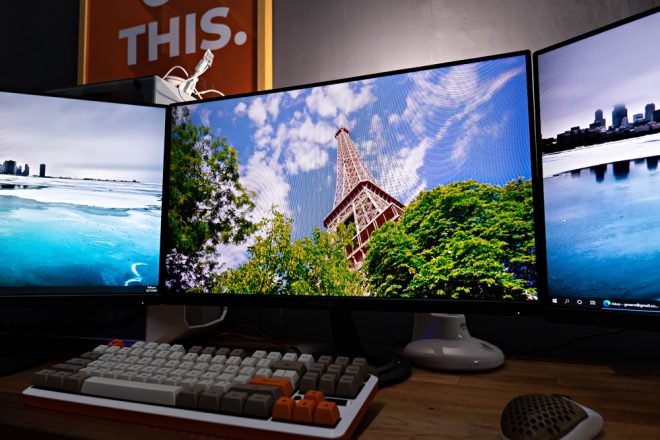 Display Quality – Productivity
It is also quite substantial for non-critical photo and video editing especially if you're just looking to upload on social media.
Though of course, if you're application is color accurate specific, like if you're working for a graphics company, a film studio, printing, and the like, investing in a 100% color-accurate monitor is still the way to go. As for my use case scenario, since I'm just uploading on Facebook and YouTube, this is good enough.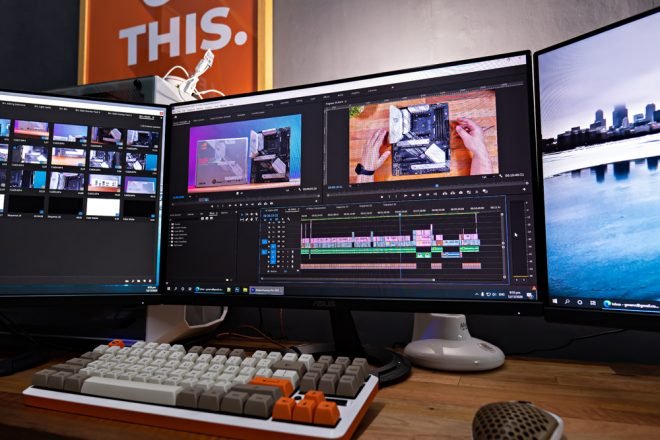 Display Quality – Gaming
As for gaming, the native refresh rate of the ASUS TUF Gaming VG249Q1R is 144hz which is already pretty good in its own right, but you can easily overclock it up to its tested 165hz for a smoother gaming experience.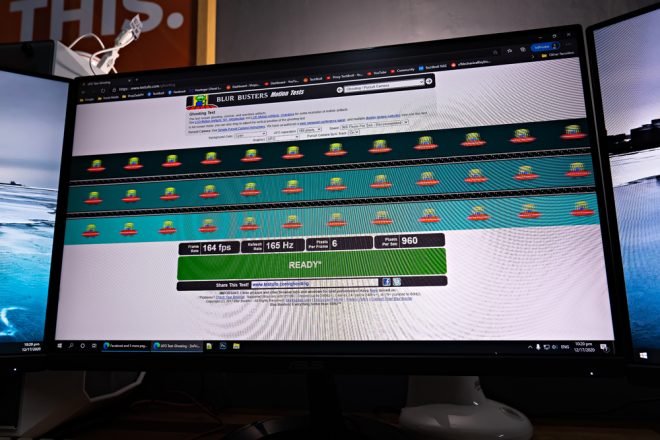 Overclocking to 165Hz is no problem, there's no frame skipping as per testing in UFO Frame Skipping Checker.
You can also opt to use the ASUS Extreme Low Motion Blur (ELMB) technology also known as backlight strobing that enables the 1ms response time (MPRT) via the OSD settings, though you can not use it alongside adaptive sync. So you'll have to choose between low motion blur (ELMB) or no screen tearing(Adaptive Sync). Unless you go for something like the ASUS TUF Gaming VG27AQL1A which has an ELMB-Sync feature that allows you to use both technologies at the same time.
As per testing, gaming on the ASUS TUF Gaming VG249Q1R is actually pretty good. The 165Hz high refresh rate partnered with properly working G-Sync provides a buttery-smooth gaming experience especially for FPS games like Valorant.
Display Quality – Dark spots, Backlight bleeding, and Reading texts
Looking at the display sideways, you'll notice some slight dark spots on the far end on a white background.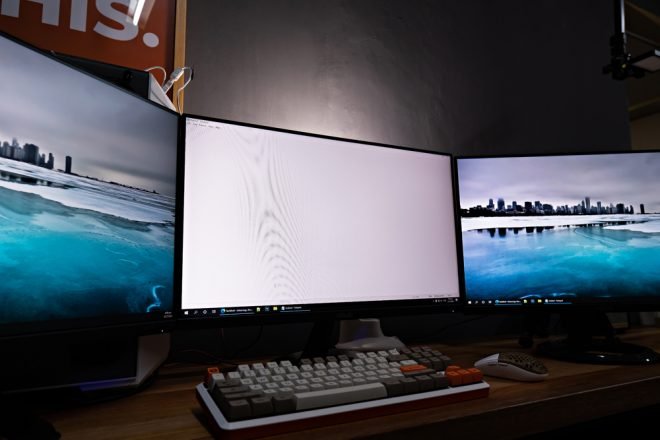 And looking at it dead straight on a white background, there are also some slight dark shades on both sides but it doesn't bother me at all unless I specifically look at them.
As for backlight bleeding, there is also noticeable backlight bleeding around the top but not so much that it gets in the way of the actual viewing experience.
Reading texts is not an issue with this monitor, the texts are crisp and are easy to read without color shifting while scrolling.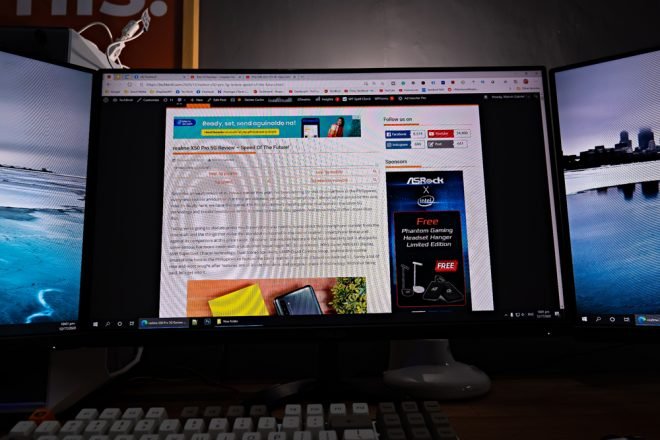 OSD Settings
Now, like most ASUS Monitors, the OSD Settings of the ASUS TUF Gaming VG249Q1R is very intuitive and easy to use, not to mention easy to access thanks to the 5-way joystick.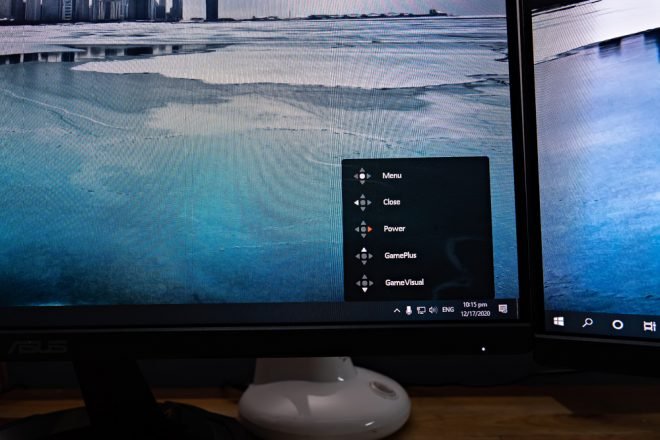 Inside the OSD Settings, you can toggle different ASUS Monitor features such as GamePlus which includes screen overlays like a crosshair, Timer, and FPS counter.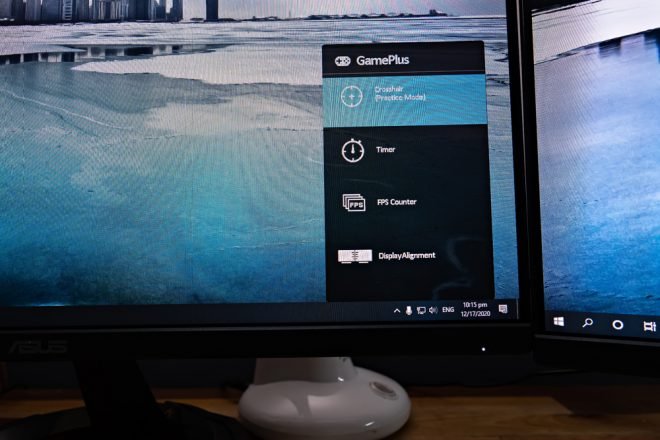 We also have Game Visuals for some color presets.
And then, of course, we have the rest of the available settings and features.
Now that you have a pretty good idea about the features, specifications, and performance of the ASUS TUF Gaming VG249Q1R, let me share with you some use case applications of this monitor when you take advantage of 3 of them.
Affordable Triple Monitor Setup!
The ASUS TUF Gaming VG249Q1R is currently priced at just under Php 12,000 making it a reasonable option if you want to set up a budget triple monitor setup.
A triple monitor setup will allow you to maximize your productivity potential while editing photos, videos, and basically any multitasking that you can think of. Having an extra display to show my video clips allows me to have a cleaner and wider timeline and focus on what I am editing in front of me. I can also use the other one to open my browser for quick research, social media, and things around that nature.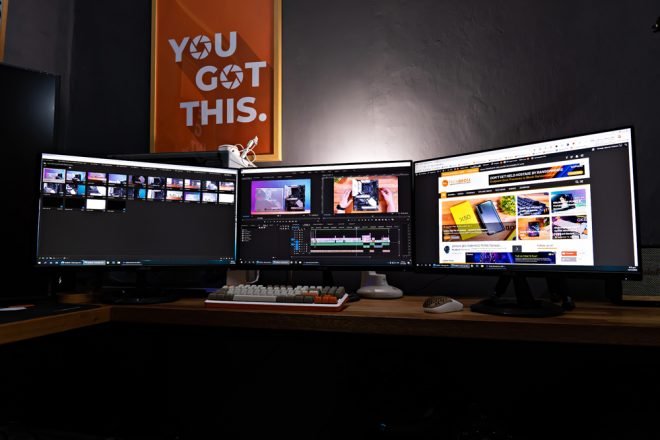 If you are a live streamer like me, you can also take advantage of multiple monitors for your browser, streamlabs OBS, and the game you're streaming.
And lastly, a triple monitor setup is also very ideal for driving or racing simulation setup like what we have here. This gives us a more immersive gaming experience especially if you partner it with a VR headset. 
And for those of you who are wondering, minus the actual PC and other peripherals, this triple monitor setup costs around Php 57,000 including the Logitech G29 Steering wheel and the Logitech G Shifter. 
VERDICT
To conclude, the ASUS TUF Gaming VG249Q1R is one of the best options out in the market right now if you're looking for a bang for the buck gaming monitor. It has a mix of features that you otherwise will only see on higher-end monitors including a high refresh rate IPS panel with good color accuracy and useful features baked in that can easily be toggled using the intuitive OSD settings. It's not perfect with some dark spots, backlight bleeding, and limited adjustment options, but its pros and everything it has to offer certainly outweigh its shortcomings by a huge margin. And like I said, this is perfect not only for those who are looking for a budget gaming monitor but also for those who are planning to set up a relatively affordable triple gaming monitor setup.