Stable and reliable internet connection is of the utmost importance nowadays especially in today's normal. More and more people rely on the internet for pretty much everything since most of us are stuck inside our homes. Before we just use the internet for research, web browsing, media streaming, and gaming but now, we also use it for things like buying groceries online, ordering food via online delivery services, online learning, work from home, and basically anything that we can do remotely to maximize social distancing. And while the default router provided by our Internet Service Provider works as intended, in some certain situations, it is not enough to maximize the potential of your internet subscription. And that's where aftermarket routers such as the ASUS RT-AX86U comes in with tons of features that you otherwise won't have with your default router. Things like wider area coverage, dual-band support for minimizing traffic congestion, bandwidth control, up to additional security features.
Today, we're going to do an unboxing and review of the ASUS RT-AX86U and see if it's worth it to upgrade from your ISP's default router.
MY EARLY BREAKDOWN
Pros: WiFi 6 ready, Wide-area coverage, Stable reception, Gaming Lan port, Dual-band, Mesh WiFi support, Mobile game mode, Free internet security.
Cons: Nothing significant.
SPECIFICATIONS AND FEATURES
Model Name: RT-AX86U
Network Standard:
IEEE 802.11a
IEEE 802.11b
IEEE 802.11g
IEEE 802.11n
IEEE 802.11ac
IEEE 802.11ax
IPv4
IPv6
Product Segment: AX5700 ultimate AX performance
AX Technology: Yes
Date rate:
802.11a: up to 54 Mbps
802.11b: up to 11 Mbps
802.11g: up to 54 Mbps
802.11n: up to 450 Mbps
802.11n (1024QAM): up to 750 Mbps
802.11ac (1024QAM): up to 4333 Mbps
802.11ax (2.4GHz): up to 861 Mbps
802.11ax (5GHz): up to 4804 Mbps
Antenna:
External antenna x 3
Internal PCB antenna x 1
Transmit/Receive:
2.4 GHz 3 x 3
5 GHz 4 x 4
Processor: 1.8 GHz quad-core processor
Memory: 256 MB Flash / 1 GB DDRIII RAM
Operating Frequency: 2.4 GHz / 5 GHz
Ports: RJ45 for 10/100/1000 BaseT for WAN x 1, RJ45 for 10/100/1000 BaseT for LAN x 4, RJ45 for 2.5G BaseT for WAN/LAN x 1
USB 3.2 Gen 1 x 2
Button: WPS Button, Reset Button, Power Switch, LED on/off Button
LED Indicator:
Power x 1
Wi-Fi x 2
2.5G Port x 1
WAN x 1
LAN x 4
WPS x 1
Power Supply:
AC Input: 110V~240V(50~60Hz)
DC Output: 19 V with max. 2.37 A current / 19.5 V with max. 2.31 A current
Product Weight: 814.5 g
AiMesh: Yes
Primary AiMesh router: Yes
AiMesh node: Yes
ASUS Router APP: Yes
Game Boost/acceleration: No
WTFast: No
Support Alexa skill: Yes
Support IFTTT: No
AiProtection: AiProtection Pro
Router Security Assessment: Yes
Malicious site blocking: Yes
Two-Way IPS: Yes
Infected Device Prevention and Blocking: Yes
Parental Control: Yes
Parental Control Customized Internet schedule: Yes
Traffic Control: 
Adaptive QoS: Yes
Bandwidth Monitor: Yes
Bandwidth limiter: Yes
Maximum Bandwidth limiter rule:32
Traditional QoS: Yes
Maximum Traditional QoS rule:32
Traffic Monitor: Yes
Real-time traffic monitor: Yes
Wired Traffic Monitor: Yes
Wireless Traffic Monitor: Yes
Traffic Analyzer: Yes
Traffic analysis period: Daily, Weekly, Monthly
Website history: Yes
Wireless: 
IPv6:Yes
MU-MIMO: Yes
Wi-Fi Encryption: WPA3-Personal, WPA2-Personal, WPA-Personal, WPA-Enterprise , WPA2-Enterprise , WPS support
UTF-8 SSID: Yes
Guest Network: Yes
Maximum Guest Network rule: 2.4GHz x3, 5GHz x3
WPS: Yes
Wi-Fi MAC address filter: Yes
Maximum MAC filters: 64
Wireless scheduler: Yes
Airtime fairness: Yes
RADIUS Server: Yes
Universal beamforming: Yes
Explicit beamforming: Yes
WAN:
Internet Connection Type: PPPoE, PPTP, L2TP, Automatic IP, Static IP
Dual WAN: Yes
WAN Aggregation: Yes
3G/4G LTE dongle: Yes
Android tethering: Yes
Port forwarding: Yes
Maximum port forwarding rule:64
Port triggering: Yes
Maximum port triggering rule:32
DMZ: Yes
DDNS: Yes
NAT Passthrough: PPTP Pass-Through, L2TP Pass-Through, IPSec Pass-Through, RTSP Pass-Through, H.323 Pass-Through, PPPoE relay
LAN:
DHCP Server: Yes
IGMP snooping: Yes
IPTV: Yes
LAN Link Aggregation: Yes
Manually assign an IP address: Yes
Maximum manually assign IP address rule:64
VPN:
VPN Client L2PT: Yes
VPN Client OVPN: Yes
VPN Client PPTP: Yes
VPN Server IPSec: Yes
VPN Server OVPN: Yes
VPN Server PPTP: Yes
USB Application:
File System: HFS+, NTFS, vFAT, ext2, ext3, ext4
HDD hibernation: Yes
Safely Remove disk: Yes
AiCloud: Yes
Download master: Yes
AiDisk: Yes
Media Server: Yes
Time Machine: Yes
Samba Server: Yes
FTP Server: Yes
Shared Folder privileges: Yes
Administration:
Operating mode: Wireless router mode
Access point mode
Media bridge mode
Repeater mode
AiMesh node mode
Operating system: ASUSWRT
Free OS upgrade: Yes
Firewall: Yes
Maximum Firewall keyword filter:64
Maximum Firewall network service filter:32
Maximum Firewall URL filter:64
Wake on LAN (WOL): Yes
SSH: Yes
Configuration backup and restore: Yes
Diagnosis tools: Yes
Feedback system: Yes
System log: Yes
WHAT'S IN THE PACKAGE
The packaging of the ASUS RT-AX86U is actually really nice with an image preview in front, some of its key features, some branding, and of course, the complete model name.
At this side of the box, we have an image preview of all the available ports and buttons.
And on this side, we have its key specifications.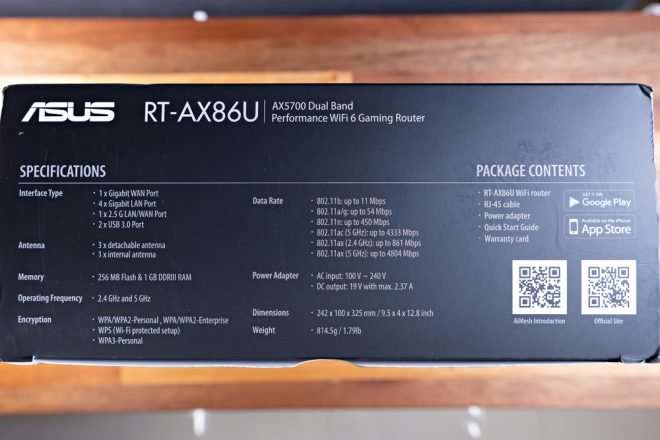 Flipping it all over at the back, we have more key features and information that we're going to tackle later.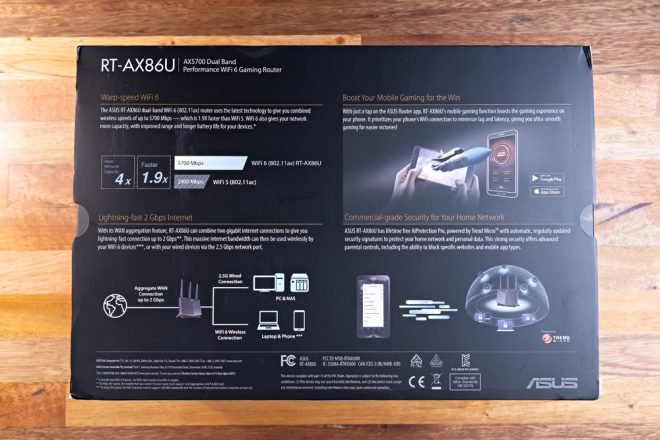 Removing the main branding packaging, we have the main box that houses all the package contents.
It also has a bunch of information on its sides.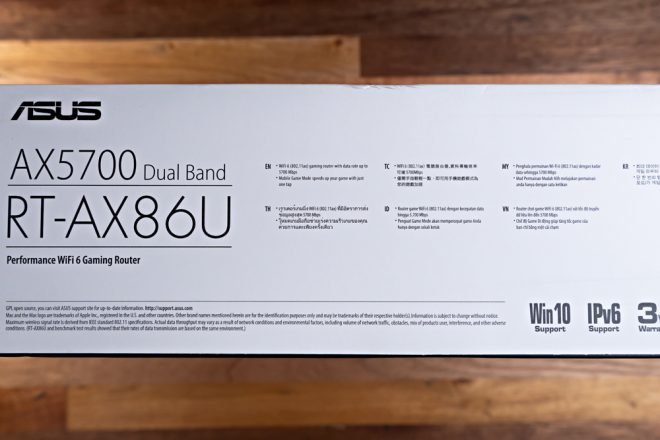 Now, upon opening the box, the first thing you'll notice is the Advanced Wi-Fi Helper Tip guide.
Then we have a bunch of power cables for different regions. This is the kind of attention to details that I really like about ASUS, you usually get pretty much everything you need inside the box.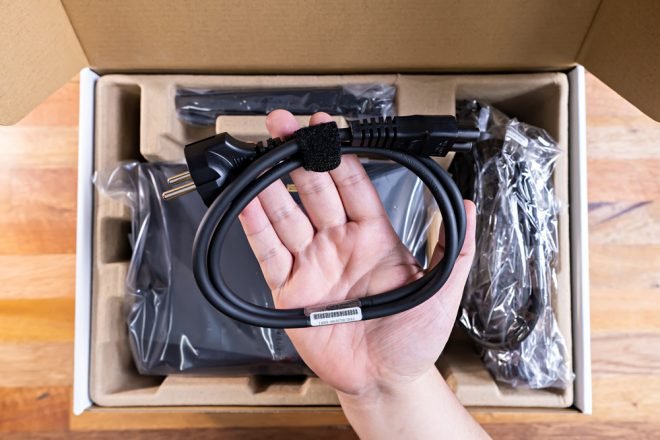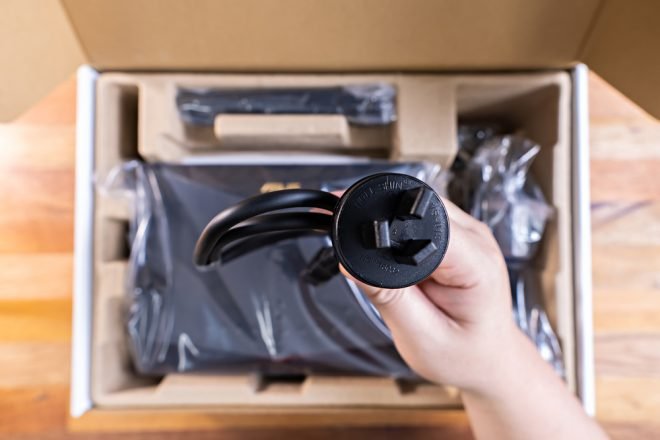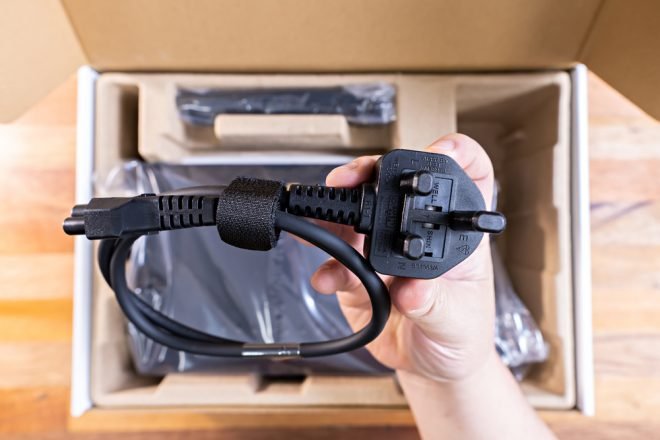 Next, we have the power adaptor,
Three detachable and adjustable external antennas,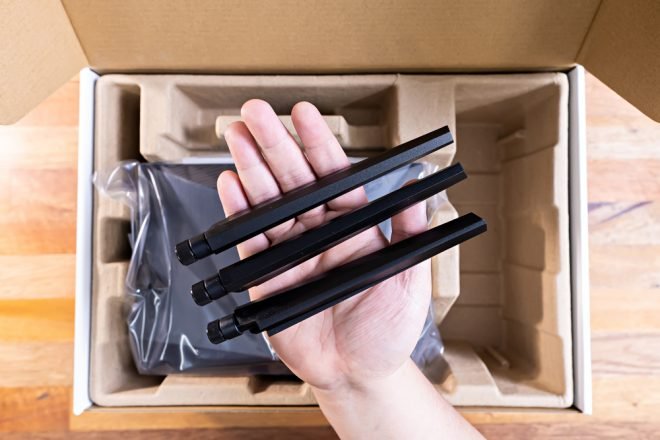 A quick-start guide,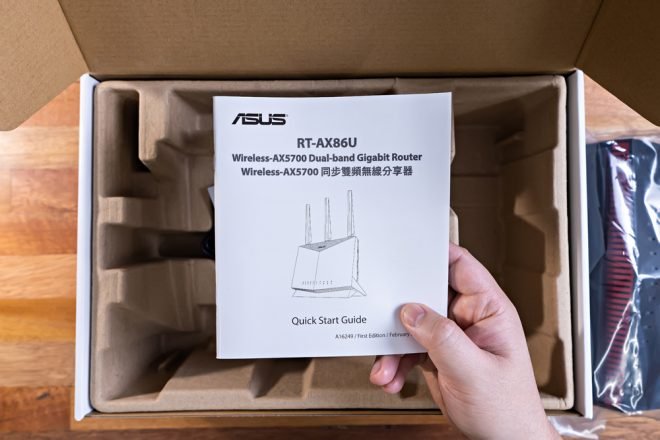 The usual ASUS VIP Member Warranty Notice,
An ethernet cable and the ASUS RT-AX86U itself.
FULL REVIEW
Design, Construction, and Parts Overview
At first look and touch, there's no denying that the ASUS RT-AX86U is quite massive compared to the typical router that comes from your ISP. It is well built with a decent heft to it and the design is also quite appealing. Not too overboard in terms of that "Gaming Router" aesthetics. It has this good combination of flair and minimalism.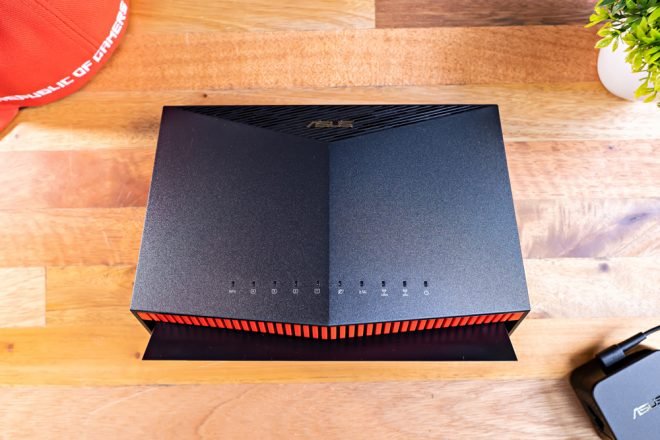 In front, we have a bunch of LED indicators for Power, Wi-Fi, 2.5G Port, WAN, LAN, and WPS.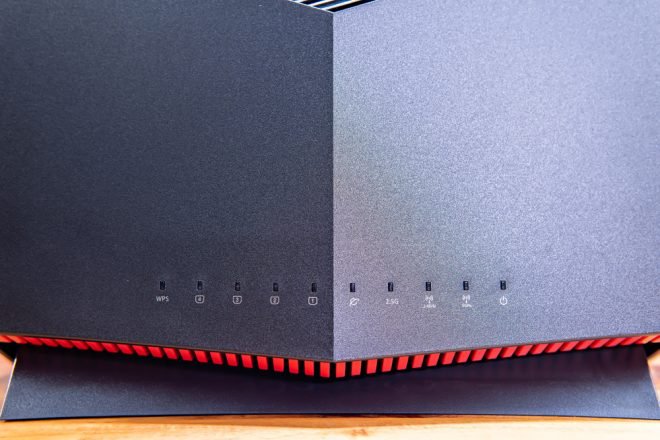 We also have a sort of an abstract grill type design on top that also serves as ventilation partnered with a textured but sleek looking polygonal chassis. In addition, we have a golden ASUS logo on the top center and some red accent lining at the bottom.
Flipping it on top, we have the connectors for the external antennas.
And turning it all over the bottom, we have a couple of rubber linings to keep this thing in place.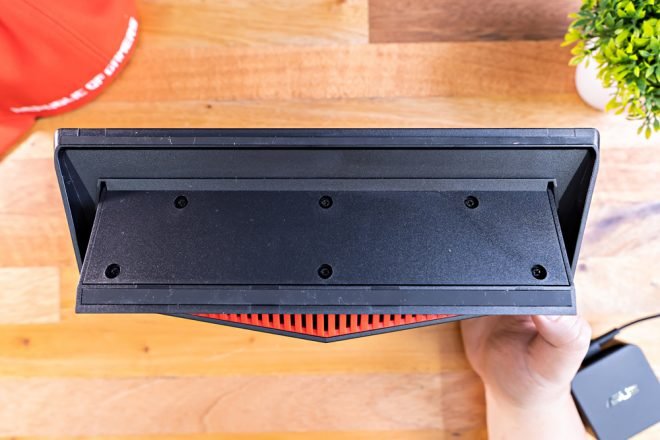 Looking at the right side, we have an LED on/off switch for the LED indicators.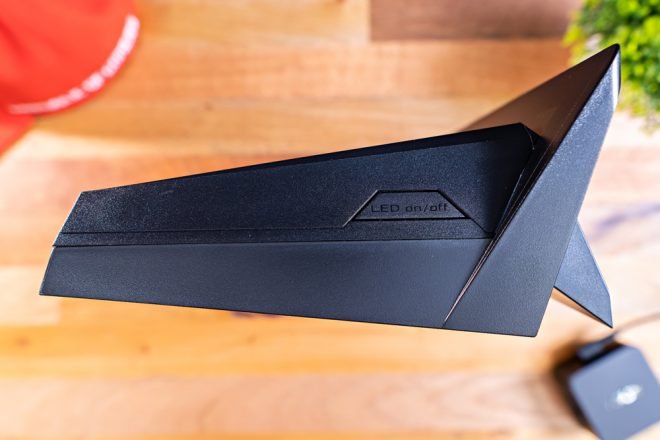 And looking at the other side, we have the WPS button.
And lastly, at the back, we have some ventilations with the same design we saw in front. We also have here the ports and buttons. 
Looking closer starting from the left, we have the power port, the power button, a reset button, 2 USB 3.2 Gen 1 ports, 1 2.5G WAN port, Another WAN port, and 4 LAN ports including a dedicated Gaming port.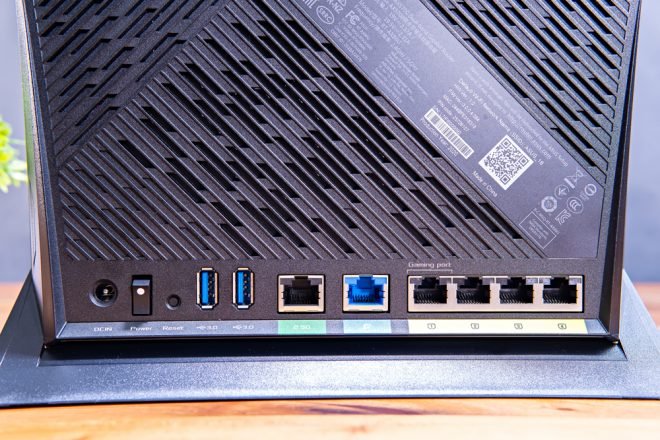 Installing the detachable external antennas is pretty straightforward, just line it up, screw it tight and you're good to go.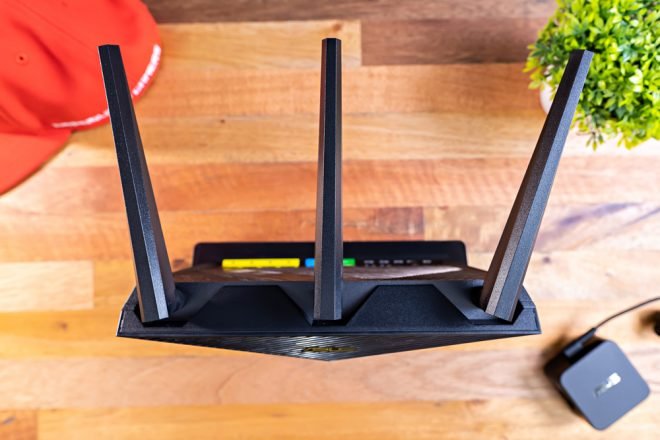 Overall, in terms of design and construction, It has a good balance between aesthetics and functionality without going over the top in terms of aggressive gamery design that we typically see from the high-end ASUS ROG Rapture series which looks awesome in their own way.
Key features of the ASUS RT-AX86U – Do you really need to upgrade?
The question now is, why should you consider upgrading your ISP's default router? Is it really worth it? does it really make any sense especially considering the type of internet connection we have here in the Philippines? let's answer that right here, right now.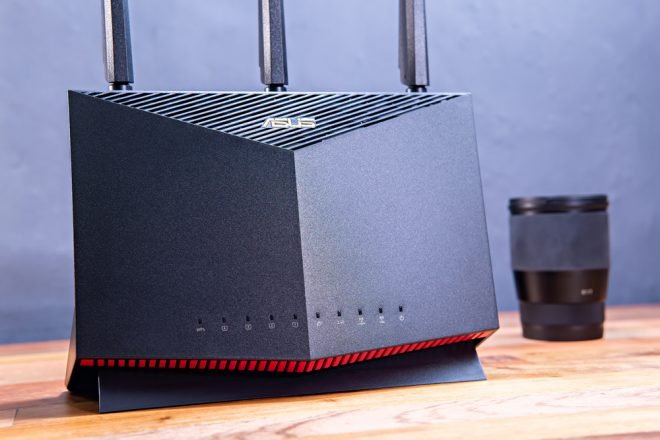 Dual-Band 2.4Ghz and 5Ghz Frequencies 
Internet speed bottleneck from our ISP aside, two of the most important things to consider here are traffic congestion and area coverage. Starting with traffic congestion, the ASUS RT-AX86U supports dual-band frequencies namely 2.4Ghz and 5Ghz, whereas our default router only supports 2.4Ghz. By having an extra lane with 5Ghz, you can manage your devices and bandwidth to minimize traffic congestions especially if you have a lot of wireless devices around your environment. Connecting your 5Ghz capable devices such as smartphones, tablets, laptops, and even your PC to the 5Ghz frequency allows you to decongest your 2.4Ghz connection to devices that don't support 5Ghz such as smart devices like smart bulbs, smart plugs, security camera, and the like.
Latest WiFi 6 Technology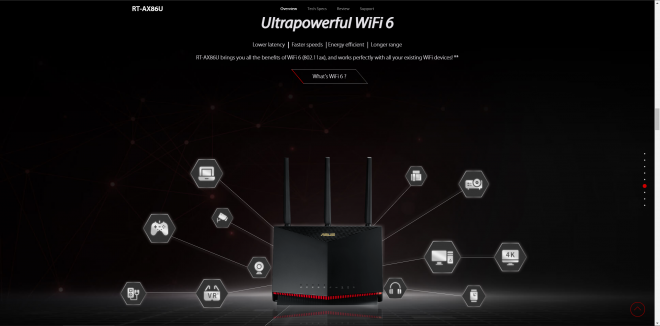 Now, in terms of area coverage, thanks to the 3 external antennas and 1 internal PCB antenna partnered with the latest WiFi 6 technology, you'll get a wider area coverage as I'll show you later on our performance benchmarks. The WiFi 6 technology brings in lower latency, faster speeds, energy efficiency, and longer range. Essentially, you'll have a sort of future-proofing as more and more WiFi 6 devices becomes available. It's backward compatible too so you don't have to worry about your old WiFi devices. For more information about WiF 6, click here. 
Guest Network
As far I know our default router doesn't have a guest network option so that's another advantage of the ASUS RT-AX86U. This allows you to provide internet access to your guest while restricting access to your local network which is vital for personal information security.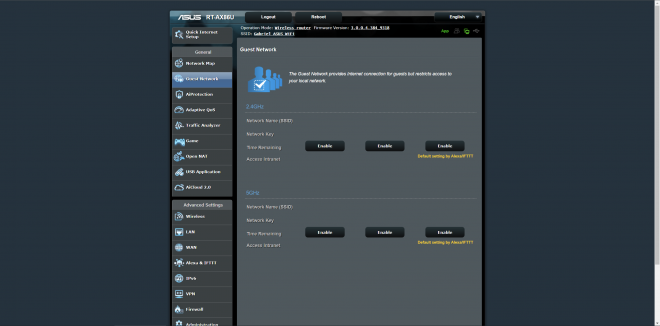 ASUS AiProtection and Parental Control
Another notable feature of the ASUS RT-AX86U that our default router doesn't have is additional security features like the ASUS AiProtection. This is protection baked right inside the router powered by Trend Micro which affects all the devices connected especially the ones that don't have antivirus protection like smart devices that can potentially be compromised.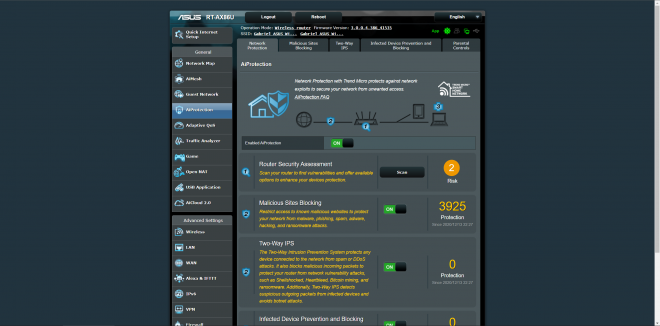 As you can see, it actually does its job quite well in the background and I'm surprised by how much we're at risk. This makes having a decent router with built-in protection quite valuable, isn't it?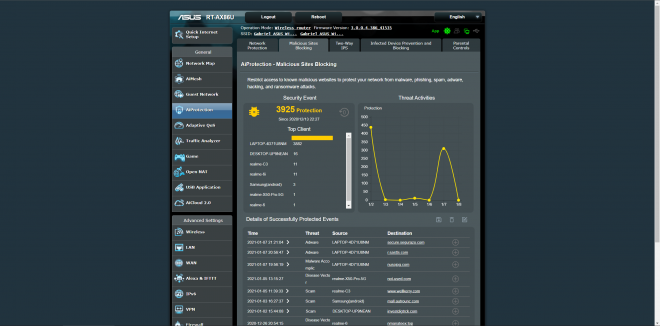 Aside from that, you also have an extensive Parental Control feature that allows you to monitor, maintain, and restrict internet access for your kids and for yourself if you want to. This is a feature that I'm excited about especially now that I am going to be a father.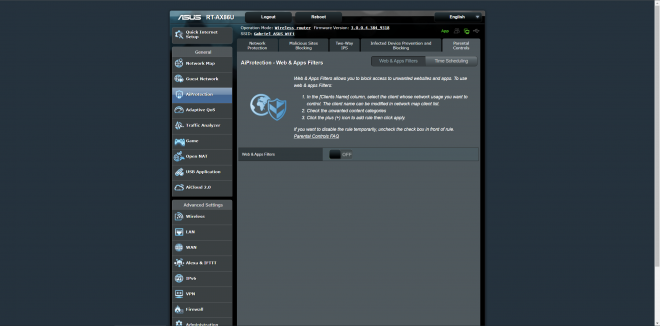 Adaptive QoS
Another key feature that will allow you to maximize your internet connection is the Adaptive QoS (Quality of Service). This will allow you to prioritize your bandwidth for your most important applications like video streaming, gaming, web surfing, and the like. And it's highly configurable too with different QoS presets.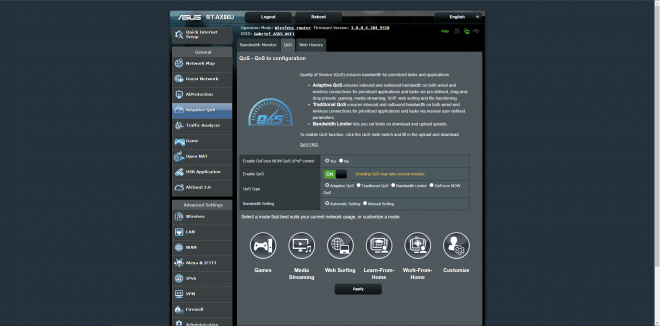 You can also easily set the hierarchy of your applications and use case scenario by simply dragging and dropping them on the user interface.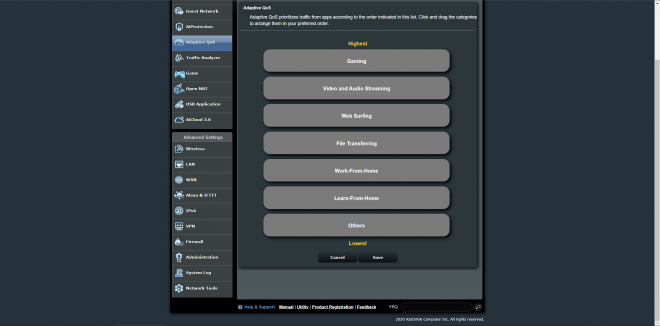 Traffic Analyzer
A traffic analyzer is another thing that you won't typically see on most default routers. This gives you visual data that you can take advantage of to monitor your bandwidth and possibly adjust your internet usage depending on your preference.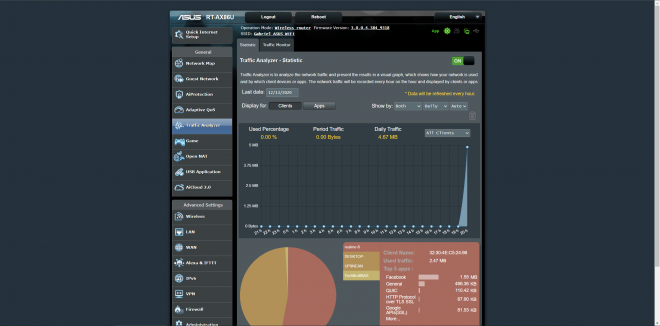 Game Mode
Now, here's where the ASUS RT-AX86U really sets itself apart from your default router, the Game Mode. And what's good about this is that it supports not only your wired devices but your wireless devices as well such as smartphones and tablets.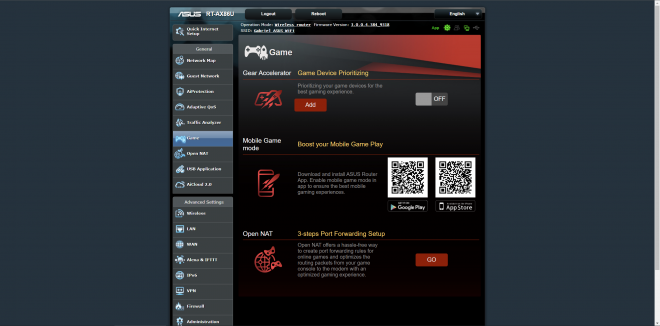 Game accelerator allows you to prioritize your main device like your PC to get the most out of your internet bandwidth.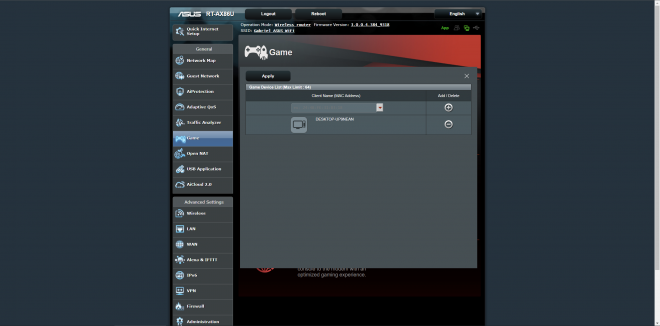 Mobile Game Mode allows you to prioritize your wireless device like your smartphones and tablets for mobile gaming with just a tap on your screen using the ASUS Router App.
Dedicated Gaming Lan Port
Aside from the Game Mode and Mobile Game Mode, the ASUS RT-AX86U also features a dedicated Gaming Lan Port to prioritize any wired device such as your gaming PC or gaming console. As you can tell, the looks of this router don't tell much about its gaming features that are also available on other higher tier gaming routers.
ASUS AiMesh
The ASUS RT-AX86U like most ASUS routers supports AiMesh technology. Essentially, this will allow you to connect multiple AiMesh capable routers to act as a mesh network to further enhance the wireless coverage around your space and be constantly connected without missing a heartbeat.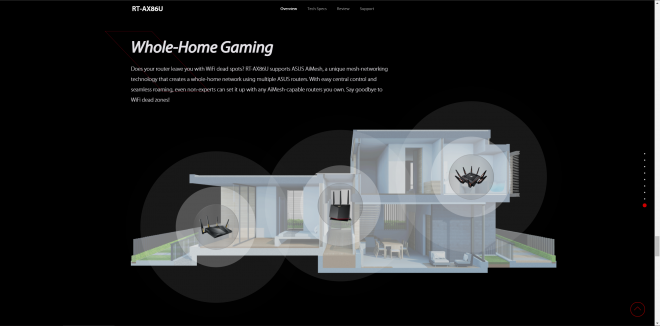 Those are only a few key features of the ASUS RT-AX86U worth mentioning and in my opinion, more than enough reason to grab one especially if you have a lackluster default router. But there are still a ton of features this router has up its sleeve including Open NAT, USB expansion, AiCloud, Alexa, and a bunch of others. 
Setting up the ASUS RT-AX86U is super simple
You just have to connect the ASUS RT-AX86U to your ISP's modem-router via the included Ethernet cable, power it up, and visit router.asus.com. Now, all you have to do is follow the instructions. If it prompts you to update the firmware, do it while you're at it.
Now, with the key features and setup guide out of the way, let's head into our performance benchmarks and see how it fair against our ISP's default router.
Performance and Wireless Reception Benchmarks
Full disclaimer, this is by any means not a scientific test, but this is basically what anyone will do whenever you set up a new router, which is conducting a speed test around your house.
So first, here's the layout of our house so that you can have a better understanding of our data.
I conducted different speed tests on our workspace where we have all the routers, as well as on our garage, our living room, and on my sister's room way across the house.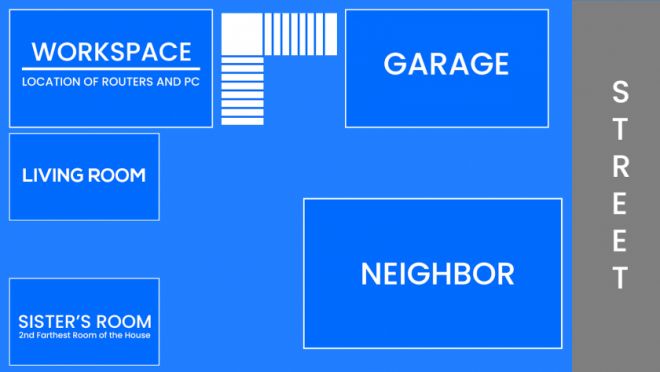 Starting at our Workspace where we have both our ISP's default router and the ASUS RT-AX86U, the difference in terms of speed is almost negligible here since we are pretty close to the routers. By the way, all our results here are an average of 3 different speed tests via the 2.4Ghz frequency.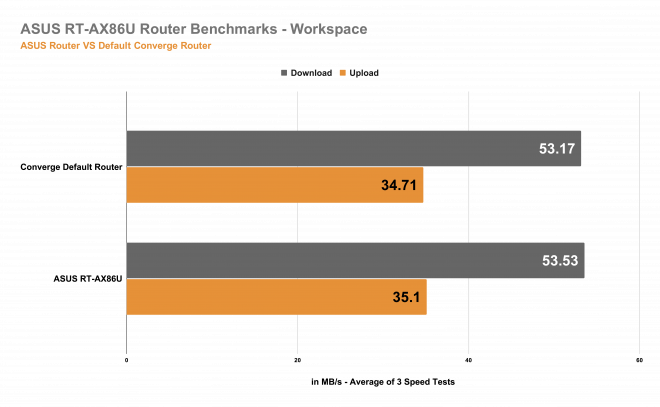 Next is at our living room which is right behind the wall from our workspace and as you can see, we are now starting to see a significant difference in speeds especially the download speed.
Next is at my sister's room way across the house and here, it gets even worse for our ISP's default router especially for the upload speed. On the other hand, we're still getting pretty decent speeds using the ASUS RT-AX86U for both the download and upload speeds.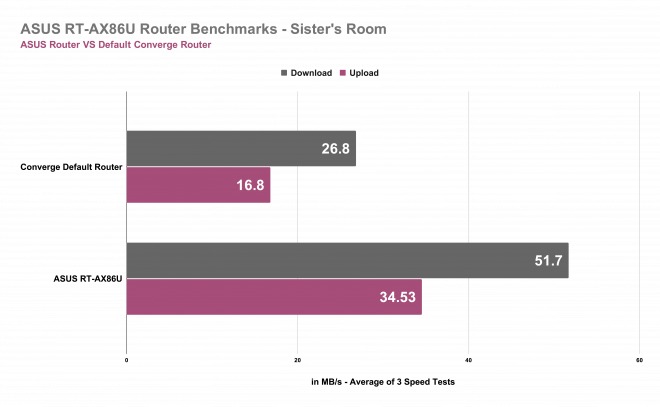 And lastly, at our garage which is way farther from the routers and closer to the street, we're still getting pretty decent 22.1 MB/s download speeds with the ASUS RT-AX86U while getting less than half of that with our ISP's default router.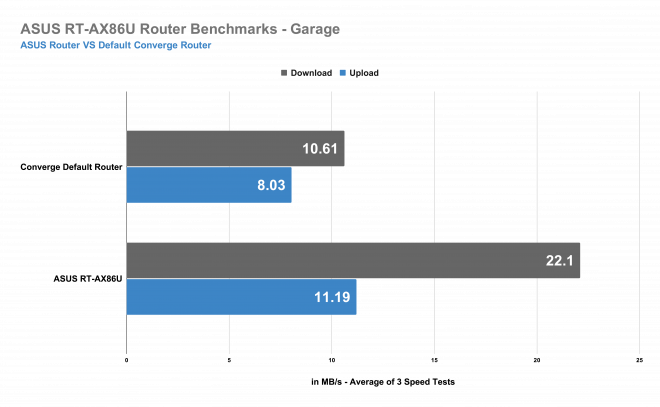 So as you can tell, upgrading to the ASUS RT-AX86U yields significantly better results across all our testings here, not to mention all the benefits we're getting from the rest of its features.
Now, before we end this review, let me give you all the screenshots for both the web interface and the mobile app for the ASUS RT-AX86U so that you can have a bit of a summary of all of its features.
Web Interface via router.asus.com
ASUS Router Mobile App
VERDICT
To conclude, the ASUS RT-AX86U proved to be a worthy upgrade to any basic default router your ISP provided. It has all the advantages over a standard router from basic things like better speeds, latency, and area coverage down to extended features like gaming prioritization, better bandwidth control, extensive control panel, and even built-in security and parental controls. It also features a quite intuitive web interface as well as an equally easy to use mobile application. Speaking of mobile application, it also features a dedicated mobile game mode allowing you to prioritize your bandwidth for mobile gaming in just one tap on your smartphone.  It also features advanced technology such as WiFi 6, Dual-Band frequencies, AiMesh compatibility, and other features that ultimately allows you to maximize your internet subscription.
Related Article:
ASUS TUF Gaming AX3000 WiFi 6 Router Review
Tecware Forge M Unboxing and Quick Review – Meshify C mini Alternative!
Tenda Nova MW3 Mesh WiFi System Review and Setup Guide
Size doesn't matter in the PC Master Race – A mini-ITX Build Story.
NVME Tested in Real World Performance featuring XPG SX8200 Pro 512GB
Rakk Sinaya Review + Thermal Benchmarks with Rakk Maris Pro!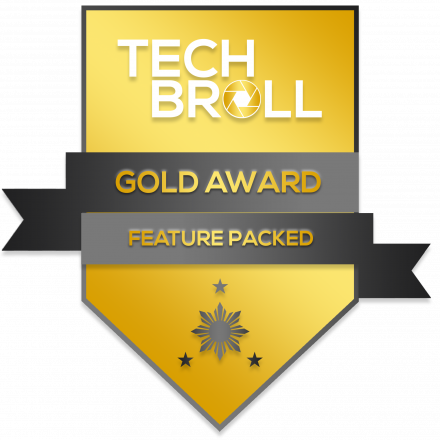 SHARE THIS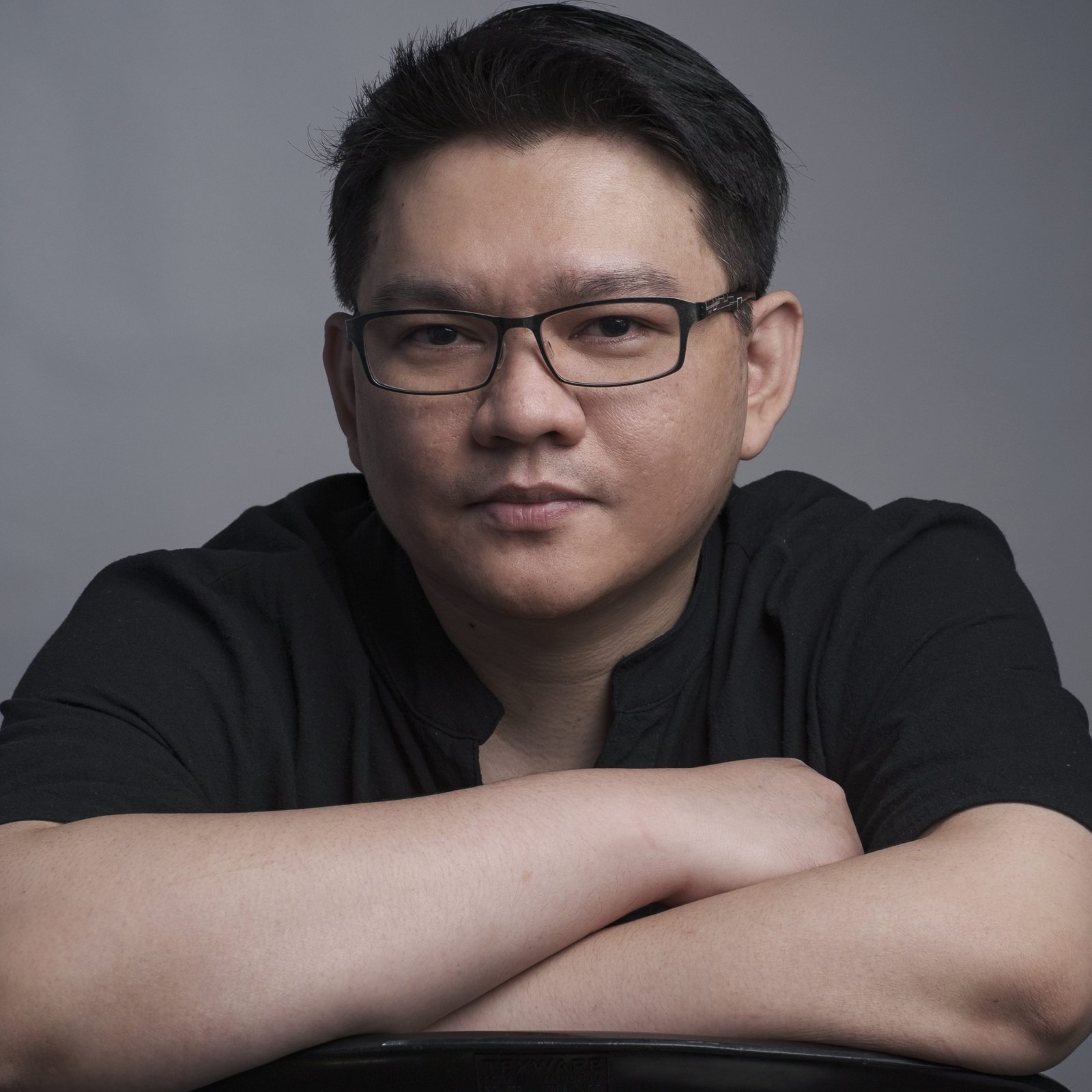 The Broll who always got your back online!