The Tronsmart Spunky Beat is honestly one of the best True Wireless Earbuds that I've tried, I love everything about it from the form factor, dual charging option for the case, easy pairing and connection, full touch controls and individual earbud function up to its great sound quality. Today, we're going to unbox it and discuss everything you need to know about these awesome sounding pair of true wireless earbuds.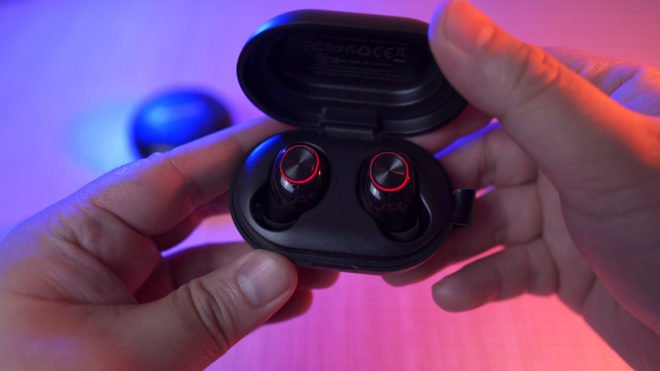 MY EARLY BREAKDOWN


Pros: Affordable, Good design, Good build quality, Convenient pairing, Dual charging option, Full touch controls, Individual earbud function, Good sound quality.
Cons: Small touch control area.
SPECIFICATIONS


| | |
| --- | --- |
| Model | Spunky Beat |
| Technology | Qualcomm aptX audio technology, cVc 8.0 noise cancellation technology, DSP technology |
| Input | 5V/500mA max. |
| Chip | Qualcomm® QCC3020, supports aptX, AAC, SBC |
| Bluetooth Version | 5.0 |
| Bluetooth Compatibility | HFP/HSP/AVRCP/A2DP |
| Transmission Distance | Up to 15 meters / 50 feet |
| Frequency | 20-20K Hz |
| Battery Capacity | Earbuds: 35 mAh; Charging case: 350 mAh |
| Play Time | Earbud: Max 7 hours (at 50% volume level and on SBC audio format), Max 4 hours (at 100% volume level); Charging case: up to 24 hours (at 50% volume level and on SBC audio format) *Actual results may vary depending on different music genres and volume. |
| Standby | 90 days |
| Charging Time | Earbud: around 50 mins; Charging case: around 2 hours |
| Speaker | Φ6mm |
| Impedance | 16Ω |
| Microphone Sensitivity | -42dB |
| EAN Code | 6970232013588 |
| Dimension | Earbud: 27 x 17 x 8 mm / 1.06 x 0.67 x 0.31 inches; Charging case: 68 x 45 x 31 mm / 2.68 x 1.77 x 1.22 inches |
| Net Weight | Earbud: 3.7g / 0.13oz; With charging case: 47g / 1.66oz |
| Package Contents | 1 x Spunky Beat wireless earbuds with charging case, 2 x Extra eartip pairs, 1 x Charging cable, 1 x Warranty card, 1 x User manual |
WHAT'S IN THE PACKAGE


Alright, so here's the packaging of the Tronsmart Spunky Beat True Wireless Earbuds.
As you can see, we have a preview of the product in front and then at the back, we have all its key features that we're going to tackle later and another preview of the product.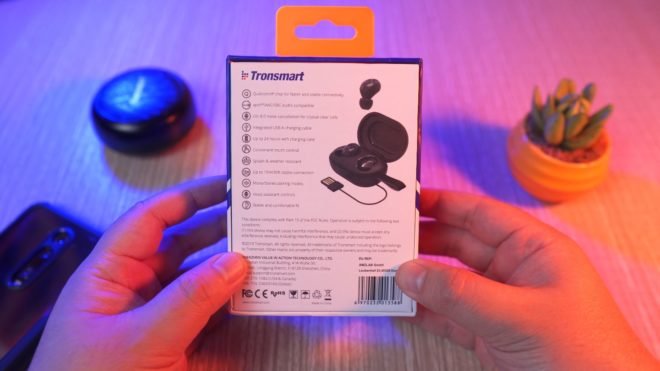 This is a slide up type of packaging, which is quite unusual as I am used to the flip-type design when it comes to Tronsmart products since I've already reviewed a bunch of them before. Nevertheless, the quality of the packaging is really good as usual.
Here are the package contents visible underneath the clear plastic cover, we have some different sizes of ear tips, the earbuds themselves and the charging case.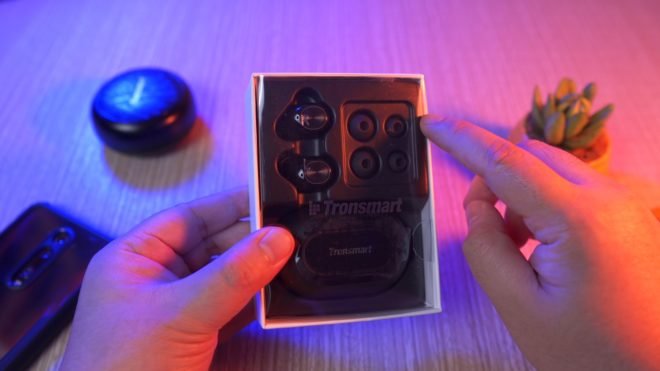 FULL REVIEW
Design, Construction and Parts Overview


Now, here's the charging case which is smaller than I was expecting which is even better.
Then at the bottom it looks like we have a built-in charging cable which is nice.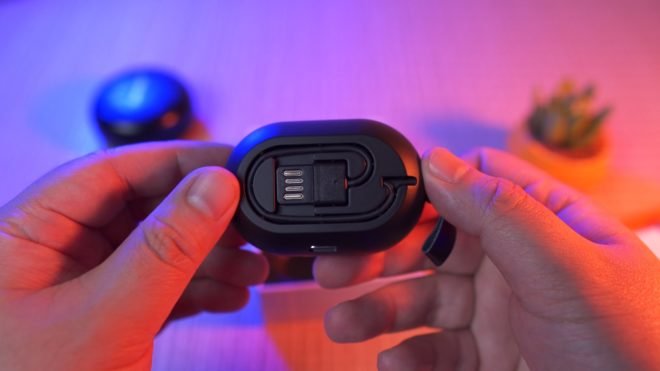 And then right here on this side we have an LED indicator.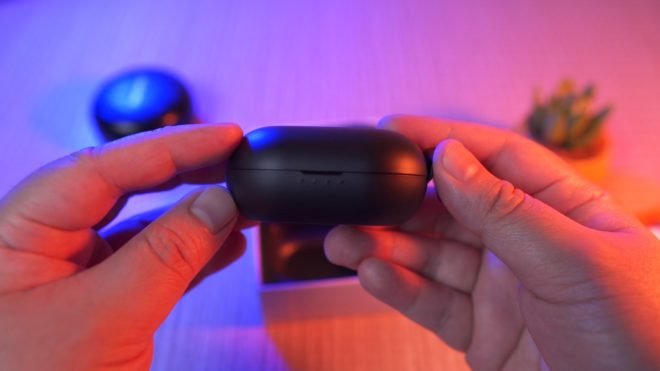 And on the other side, we have the USB type C port.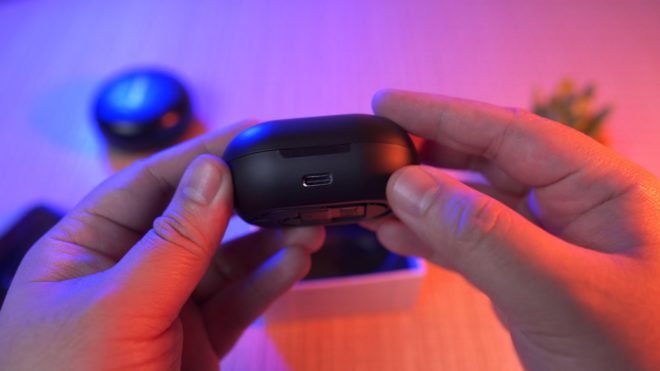 So basically, you have two options when it comes to charging this case either via the integrated cable or using the USB Type C port. I think that is an awesome feature, especially at this tiny form factor. The length of the integrated charging cable is adequate and allows you to bring 1 less cable while you're on-the-go.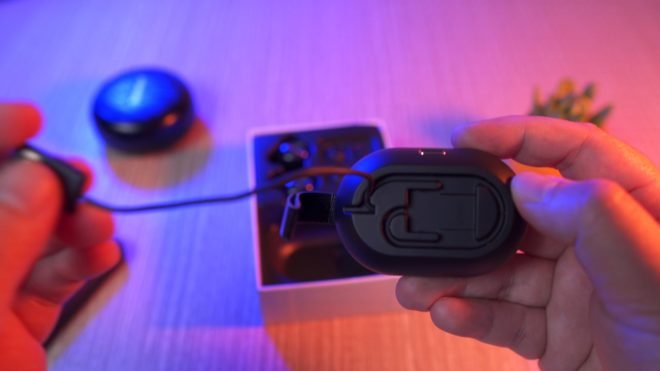 Not to mention you also have this sort of hook that you can use to attach this to a keychain or what have you.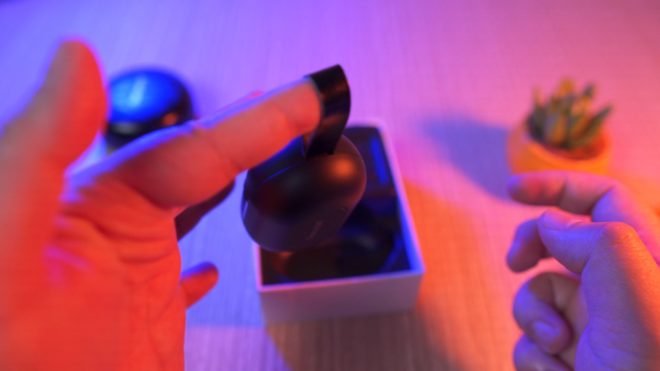 Now, opening the case it is magnetic which is to be expected, and inside the case, of course, we have the cavity for the earbuds to sit with 2 prongs at each slot for the charging connection.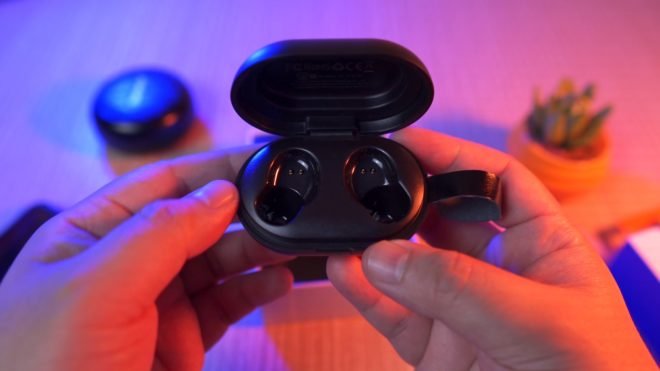 We also have some technical information and certifications on this side.
Now, let's take a closer look at the Tronsmart Spunky Beat themselves. As you can already tell it is quite small which is actually nice if you prefer something that is more subtle inside your ears.
So we have the 2 connectors for charging here at the backside,
And then in front, we have the touch-sensitive area with a nice texture on it. We can also see here the hole for the microphone. 
The default ear tip is kinda small but of course, you can replace that with the included ear tips.
Now, after charging it a bit inside the case, once you remove both the earbuds out, it will automatically pair with each other as True Wireless Stereo earbuds. All you have to do now is, of course, turn on Bluetooth on your device like your smartphone, tablet, PC and what have you, pair it and you're good to go.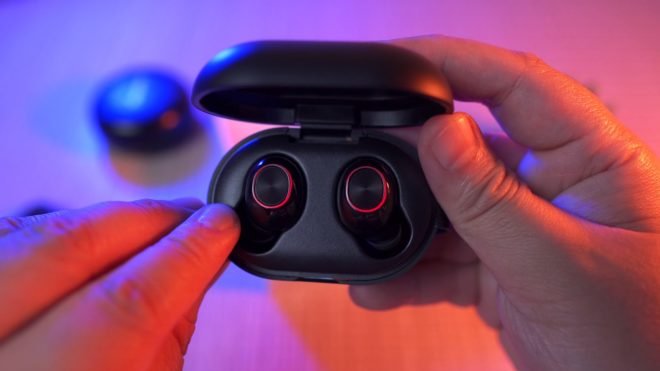 The earbuds will automatically turn off once you place them back inside the case. The good thing with this latest earbuds from Tronsmart is that you can actually individually and manually turn on and off the earbuds by just pressing and holding the multifunction button.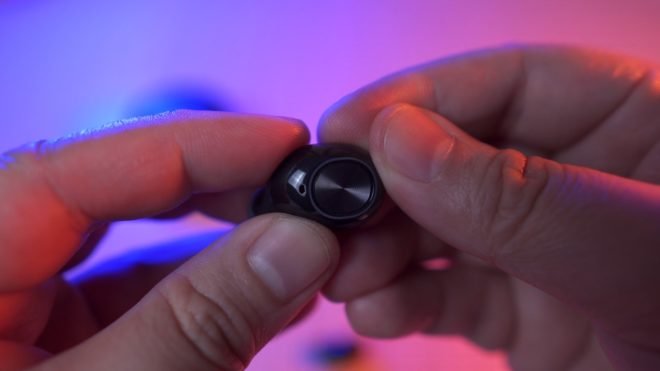 So basically you can use these in stereo mode or mono mode depending on your use case scenario.
Alright so like I said, we have different sizes of ear tips right here which is pretty standard, however, I find them a little bit thinner than I would have preferred, but that's alright, as long as the earbuds fit then I'm ok with that.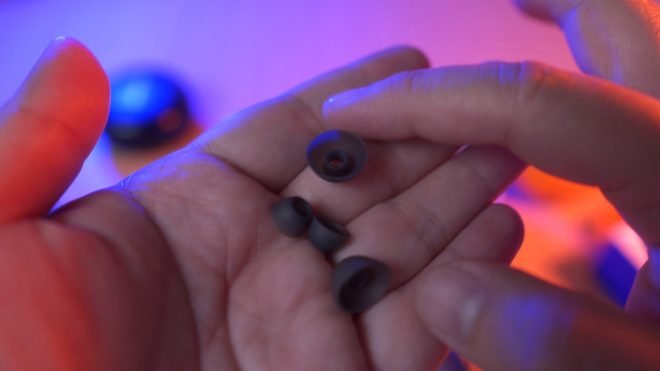 Aside from that, underneath this plastic, we have a few more items here.
We have a USB type C cable which is awesome and like I said, you can either use this with the USB type C port or just use the integrated USB Type-A cable at the bottom of the charging case.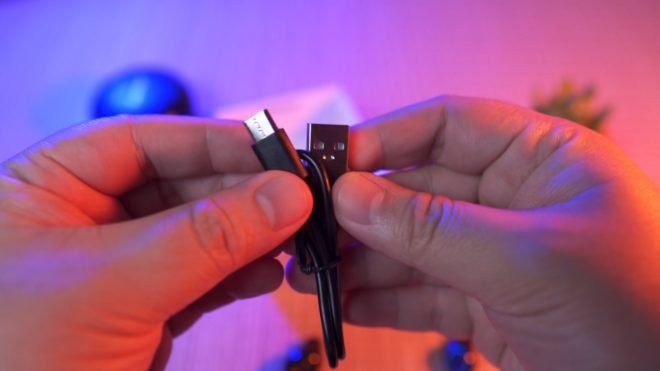 We also have here the usual warranty card,
And the user manual in different languages.
Now, as per my testing, both the charging case and the earbuds themselves have magnets allowing them to have a quite strong bond with each other when you place them inside the case, the magnets are pretty snappy which is very satisfying.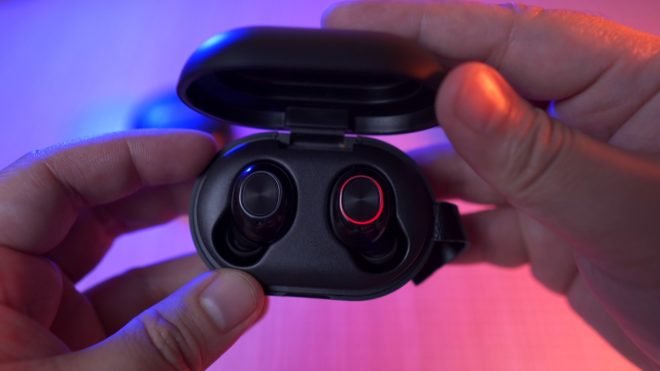 Overall as per my first impressions about the new Tronsmart Spunky Beat, I really like the smaller form factor compared to my old Tronsmart Spunky Buds as you can see here.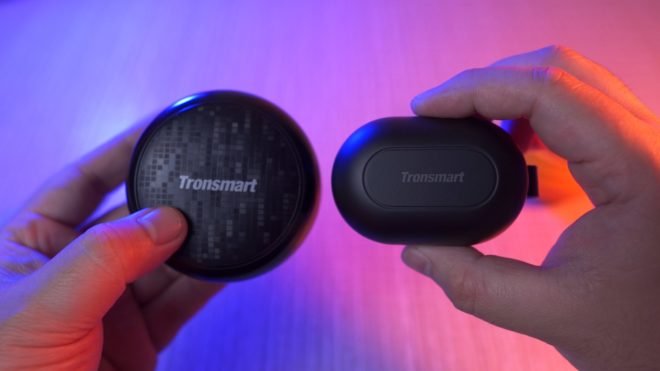 However, I'm gonna miss this style of the charging case of the Spunky Buds for sure.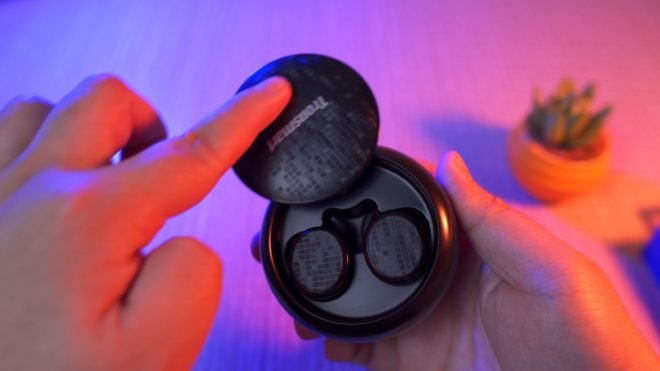 But yeah, as you can tell, the size of the Spunky Beat is significantly smaller than the Spunky Buds which are obviously better when it comes to portability and ease of use and it's also thinner as well.
One thing I noticed immediately here though with the Spunk Beat that I don't like is the rather restricted angle for opening the case, you can open it up to 90 degrees only so it tends to snap down easily which is kinda annoying to be honest, especially if you try to open the case one-handed.
And lastly, of course, I haven't mentioned yet, that we have a very nice LED lining around the multifunction button, it's actually not a button but more like a touch-sensitive area, it's just that the manual says it is a button. 
LED Indicator


For the LED indicator, yellow means low battery, white flashing light means charging and once fully charged, the LEDs will turn off.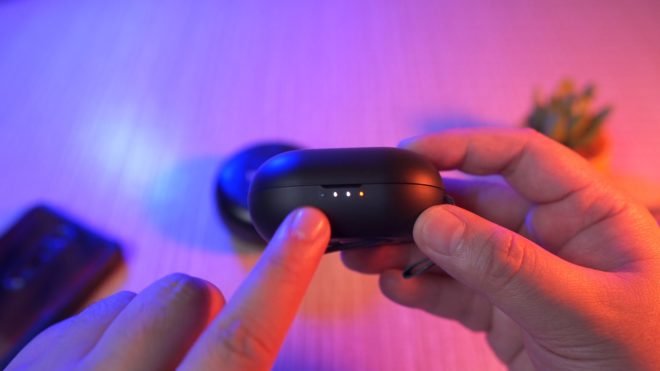 Convenience


Now, another thing that I like about the Tronsmart Spunky Beat is that I think It was made with convenience in mind. You can pretty much control everything using the multifunction touch area including activating voice assistant, answering and rejecting calls and of course controlling your music playback.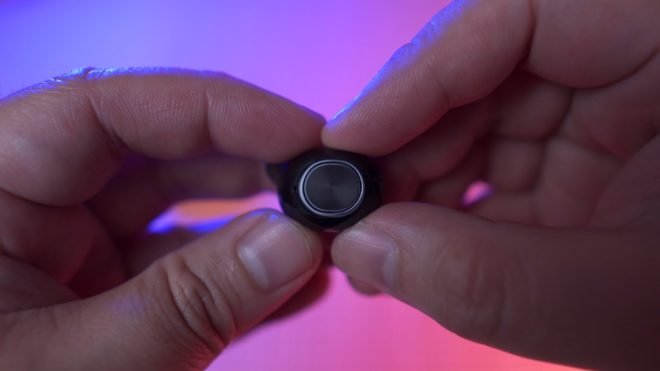 Touch Controls


Here are all the touch controls for your reference.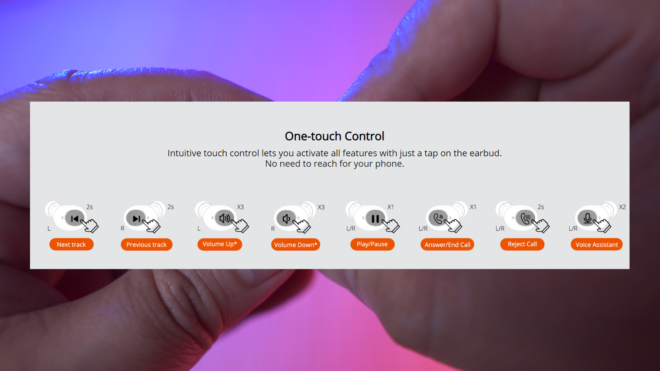 Key Features and Specifications


Alright guys, before I share with you my overall experience with the Tronsmart Spunky Beat, let me share with you first its specifications.
So it is now using the newer Bluetooth 5.0 protocol which allows it to have up to 15m of working distance and is more energy-efficient. Speaking of energy-efficient, we have a 35mAh of battery on each earbud and a 350mAh of battery on the charging case. This should allow you to have up to 7 hours at 50% volume with each earbud and can last you up to 24 hours with the charging case. Charging time is 50 minutes for the earbud and 2 hours for the charging case. And in my opinion and in my experience, this is more than sufficient to last you a couple of days and even more depending on how often do you use a pair of earbuds. As for the driver, it has a 6mm driver and has a frequency range of 20-20K Hz.
Sound Quality and Overall Experience


So now the question is, how does the Tronsmart Spunky Beat performs in real-world experience? Well, I'd say that it is very convenient in terms of how easy it is to use like pairing is super easy and like I said, once you remove it from the charging case it will automatically go to pairing mode, and once paired to your device, you can use either of the earbuds individually or use them of course as a true wireless earbuds. So essentially, if you like to listen to your music while still being aware around your environment, then you can just use a single earbud which I think is quite useful, more than we actually think about it.
Aside from that, like I said, the battery life is outstanding and should last you a couple of days, I actually brought these earbuds when we had our vacation in our province and throughout the week and back to Manila I didn't need to charge it which is pretty awesome.
Comfort


Comfort-wise, it is very comfortable to the point that you actually don't feel that it's in there other than the sensation of the suction of the ear tips. And since it is super small, it's also not that obvious when you wear it compared to other large pair of wireless earbuds out there. The problem with this is of course, with a rather small footprint, you also have a small area for the multifunction touch area, so sometimes it's kinda hard to perform touch controls since there's a huge chance you're going to miss it at first try.
Sound Quality


Sound quality-wise I'd say that there's a huge leap of improvement comparing this with their older true wireless earbuds. These sound really great, low ends are quite substantial with enough kick to it and without overpowering the mids. Vocals are very clear, albeit a bit forward, and the separation between instruments is also distinguishable. The sound signature is I'd say on the warmer side but not too prominent. Highs are very well controlled for the most part but can also get unpleasant on the maximum volume. Speaking of volume, it can get pretty loud especially that other than being able to max out the volume from your host device, you can also increase the volume right from the earbuds which will push it further to a point where it starts to get unpleasant especially with the highs. Overall, I really love the sound signature of the Tronsmart Spunky Beat and I'd say it is very pleasing in every type of music that I tested it with.
Latency


Latency wise, as per my testing, there's not much perceivable latency watching Youtube videos and this is with the aptx codec, it's not 0 latency for sure but I'd say it's a pass for casual music and video consumption.
As of now, it is my current goto earbuds when I'm traveling replacing my old Tronsmart Spunky Buds.
VERDICT


To conclude, the only con I can say about the Tronsmart Spunky Beat is the rather small touch control area, but that in itself is not a bad thing considering the form factor and how subtle it looks in my ears, so I'm willing to trade that hassle for the size, just make sure you don't lose them. Sound quality-wise, like I said it sounds really great and I think anyone will enjoy listening to this pair of earbuds. It is also comfortable and very convenient to use partnered with the charging case that has a dual option for charging and a very good battery life, so you're all set for a very hassle-free music listening with the Tronsmart Spunky Beat.
Tronsmart Spunky Beat Review – One of the best I've tried!


Thanks to
Tronsmart
for making this review possible, you can get this wireless earbuds from the link below.
If you like this one, please consider subscribing to my channel by hitting the button below. Have a great day!

SHARE THIS