I got to be honest, I'm surprised realme took so long to release another iteration of the number series since the release of the realme 8, I think it was almost a year right? I was so accustomed to them releasing a new number series smartphone just months after but hey, the new realme 9 series is here now and I'm eager to share my thoughts with you especially the fact that they've thankfully gone back to their roots of giving us a more classy and trendy design with an overall better performance and features. 
What I like about the realme 9 Pro+ aside from the competitive performance is the camera quality, easily one of the better ones in this price range and something I can confidently use on a daily basis for casual social media postings. Gaming performance is pretty good too, albeit with some struggles in high-demanding games like Genshin Impact but for the most part, the MediaTek Dimensity 920 and the 8GB of RAM can easily handle day-to-day tasks and applications. Battery life is pretty good as well lasting around 8 hours give or take with very fast charging of less than an hour. The 6.4″ FHD+ super AMOLED display is also quite decent making this an almost perfect multimedia and gaming smartphone.
Overall, it is a very competitive, good-looking smartphone but I think I'm getting ahead of myself, so let's just get into the full review.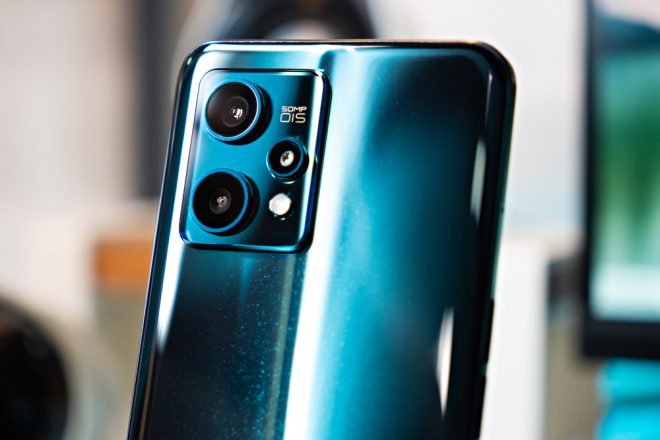 MY EARLY BREAKDOWN
Pros: Good classy and trendy design, Decent battery life with very fast charging capability, Good overall performance, Good camera quality, Nifty in-display heart rate sensor
Cons: Slower 90Hz display, No autofocus on ultrawide camera, No microSD card slot, Bloatware
SPECIFICATIONS
Processor: MediaTek Dimensity 920 5G Processor
Storage: 6/8GB + 128/256GB
Display: 6.4″ FHD+ 2400×1080 90Hz Super AMOLED 
Screen-to-body ratio: 90.8%
Corning® Gorilla® Glass 5
Charging & Battery: 60W SuperDart Charge / 4500mAh Battery
Camera: 
Sony IMX766 OIS Camera
50MP Primary Camera
2MP Macro Lens
8MP Ultra Wide-angle Lens
16MP In-display Selfie
Cellular & Wireless: 5G+5G Dual Mode / 2.4Ghz, 5GHz / WiFi 4, WiFi 5, Wi-Fi 6
Size & Weight:
Length: 160.2mm
Width: 73.3mm
Depth: 7.99mm
Weight: 182g
Sensors:
– Magnetic induction sensor
– Light sensor
– Proximity Sensor
– Gyro-meter
– Acceleration sensor
Operating System: realme UI 3.0 Based on Android 12
WHAT'S IN THE PACKAGE
The packaging for the realme 9 Pro+ is somehow still pretty similar to previous realme phones with a yellow box, model name and branding around, and some key specifications and variant-specific information at the back.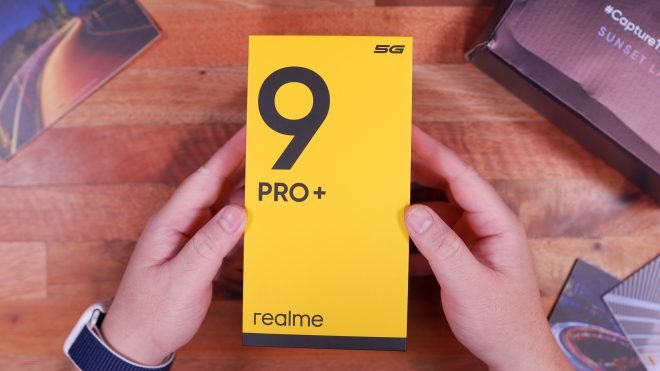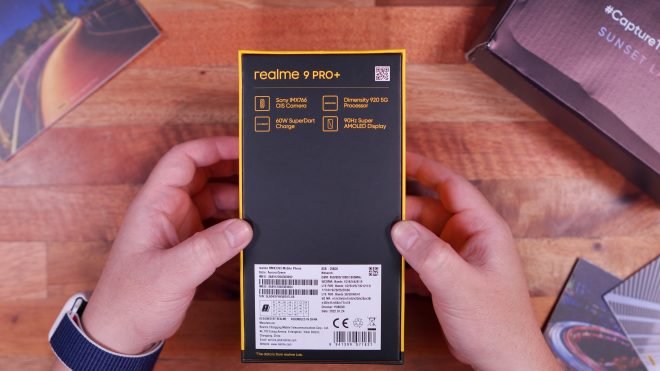 Upon opening the box, we have the same small accessory box with a greeting.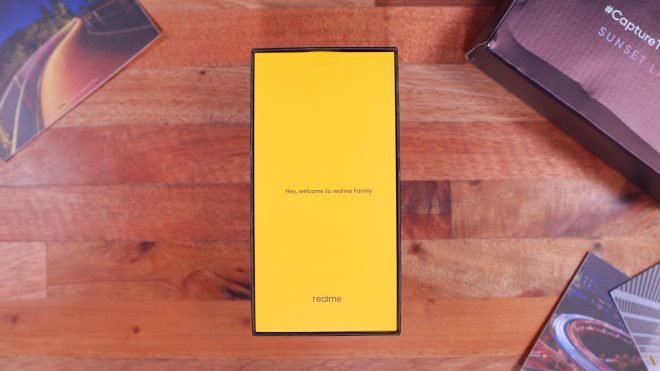 And houses the sim ejector pin, 
A couple of paperwork,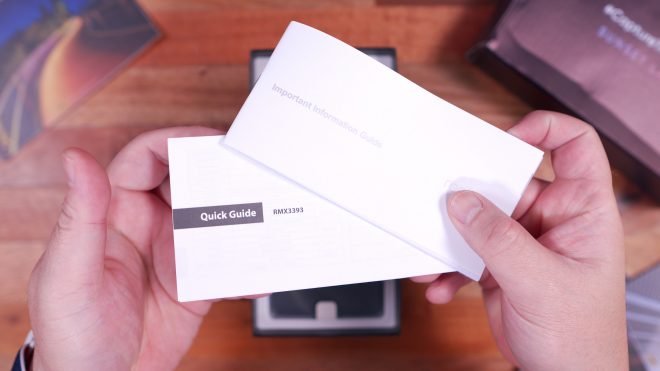 And a free jelly case,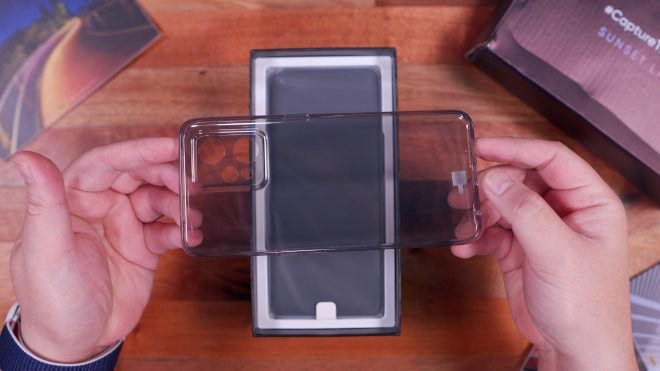 Next, we have the realme 9 Pro+ itself protected by a soft-touch plastic. 
And underneath it, we have the 60W Super Dart Charge power brick,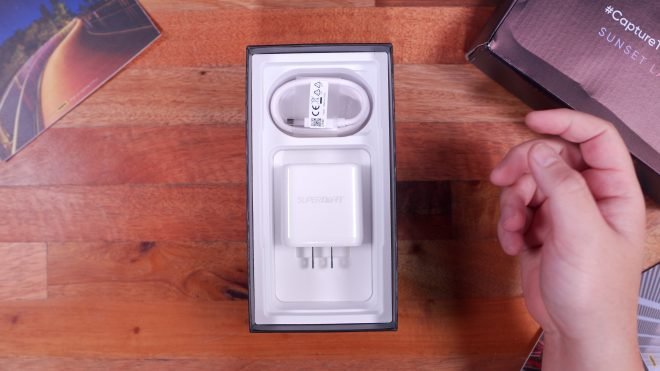 And a USB Type C charging cable.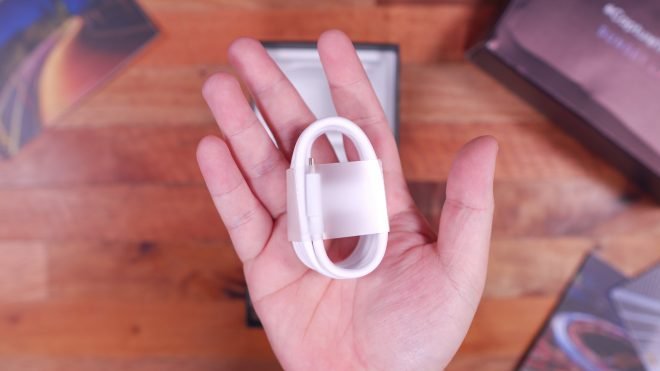 FULL REVIEW
Design, Construction, and Parts Overview
The realme 9 Pro+ features a glass front, a glass back with a plastic frame that when partnered with its overall thin form factor, makes up for a fairly comfortable smartphone to hold.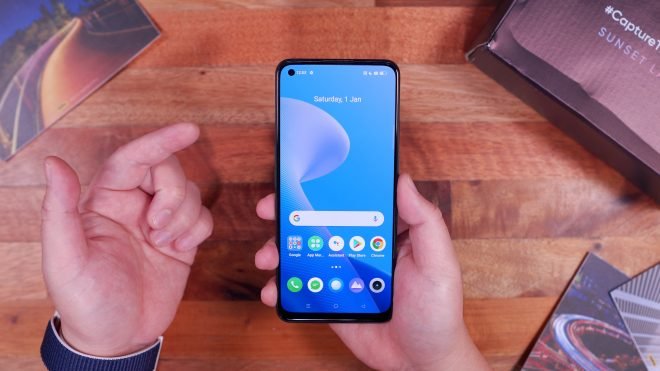 In front, we have a 6.4-inch Full HD+ (1080×2400) Super AMOLED Display with relatively thin bezels,
The punch-hole style 16MP selfie camera on the top-left corner, as well as the earpiece that also doubles as a secondary speaker.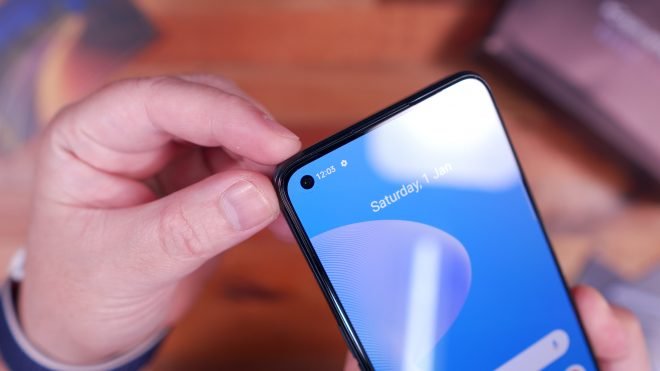 Underneath the display, we have an in-display fingerprint sensor that apparently, doubles as a heart-sensor under the realme Lab options. The fingerprint itself is relatively fast and accurate, faster than what I can remember from some old realme smartphones. The heart-rate sensor is also functional, though you'll have to dig deeper into the settings before you can actually use it which is a bit of a hassle.
Flipping it on the left side, we have the SIM tray that supports Dual nano-SIM cards that, unfortunately, has no additional microSD card slot. We also have here the individual volume adjustment buttons.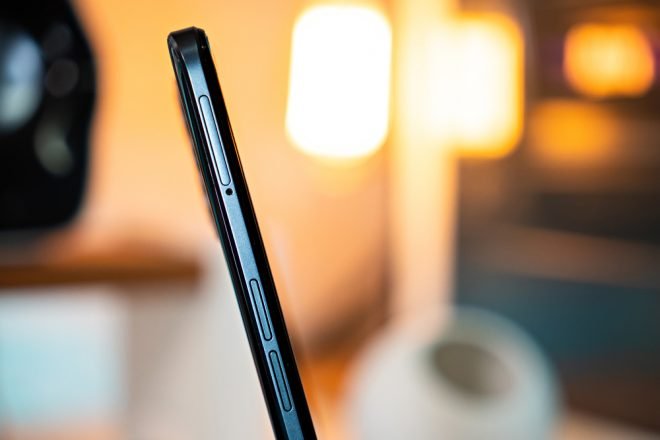 The realme 9 Pro+ is actually the thinnest smartphone amongst the number series with a thinness of only around 7.9mm and what I like about its design is that it features a flat form factor that when combined with the curved edges of the glass front and glass back, gives it that premium look for a mid-range smartphone.
On the other side, we just have the power button that is nicely positioned to be easily reached using your thumb.
Looking at the top side, we just have the secondary microphone. 
And then at the bottom, we have the 3.5mm audio jack, the primary microphone, a USB Type C port, and the downward-firing speaker.
Finally, looking at the back, gone were the days of that large "Dear to Leap" slogan of the realme 8 series and back with the classy and trendy mesmerizing design language.
What we have here is the Aurora Green variant which is absolutely stunning with a combination of a glossy glass surface with some shiny shimmering glitters inside. It is also available in the Sunrise Blue variant with a photochromic layer that changes its color when exposed to sunlight.
As you can tell, the design of this glass back resembles a candy-like aesthetic, Albeit, can still grab some fingerprints but when clean, it is definitely an eye-catcher.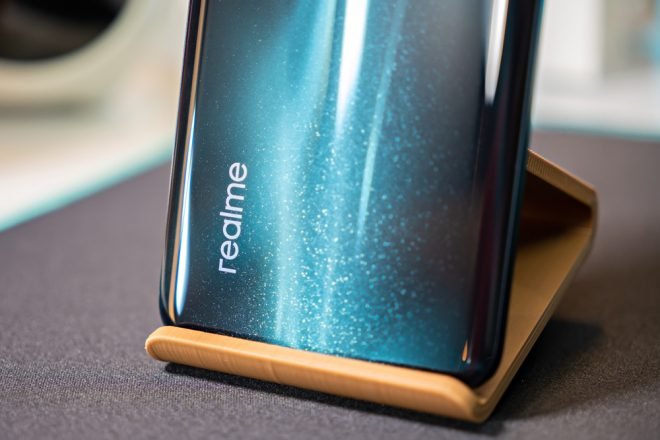 Here at the back, we also have the triple camera setup featuring the first Sony IMX766 sensor with OIS in this price segment. We have a 50MP Main Camera, an 8MP ultrawide angle lens, and a 2 MP macro lens with a small flash.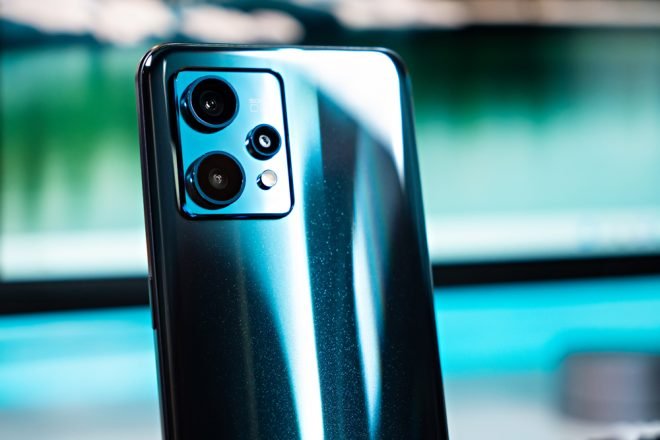 The camera bump is quite tall though so it definitely wobbles when placed flat on a surface.
Overall, although I am typically not a fan of glossy glass back, considering how the realme 8 looks, I'm definitely down with this. It's an eye candy as long as you keep it clean from fingerprints.
User Interface
Going back in front, in terms of the user interface, the realme 9 Pro+ now features the latest realme UI version 3.0 based on Android 12. It has completely redesigned icons under the settings especially on the About Phone section.
The drop-down quick settings were also extended across the entire space of the display allowing for more features to be included.
However, there are noticeably more bloatware apps than ever before here which is weird considering how lightweight and simple the previous realme UI 2.0 is. 
Other than that, the realme UI 3.0 is still quite snappy and responsive which is kinda expected given the powerful hardware inside.
I've been using the realme 9 Pro+ as my secondary daily driver for a few weeks now and I didn't encounter any performance issues when it comes to the user interface.
Specifications Rundown
In terms of the hardware under the hood, again we have a MediaTek Dimensity 920 5G CPU with a Mali-G68 MC4 GPU, 8GB of RAM, and 256GB of internal storage. We also have a fairly adequate 4500mAh of battery, WiFi 6 compatibility, Bluetooth 5.2, an In-Display fingerprint reader that also doubles as a heart rate sensor, Dolby Atmos Dual Stereo Speakers, and 5G connectivity. Pretty much what you would expect on a midrange smartphone and more.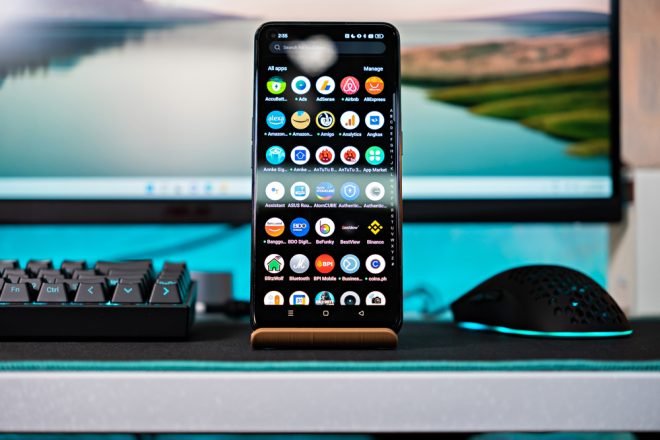 Display and Speaker
In terms of the display, we have a 6.4-inch Full HD+ (1080×2400) Super AMOLED Display with up to 90Hz refresh rate. This is always the case with realme smartphones at least for the number series, there is a variant that features Super AMOLED but with a lower refresh rate and a non-AMOLED display but up to 120hz refresh rate, typically not both on the same model which is a bummer, to be honest.
Nevertheless, aside from the lower refresh rate and lower brightness level of around 430nits, the display of the realme 9 Pro+ is still pretty good.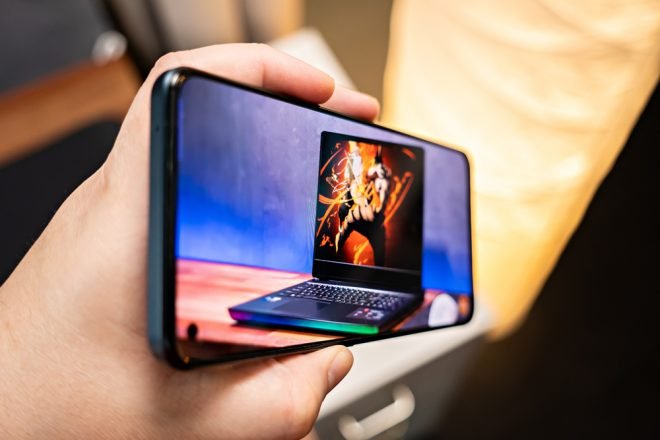 It has great viewing angles even at the extreme level, good colors, contrast, sharpness, and details with deep blacks. I have no major complaints about it aside from the things that I've already mentioned and that it is always a good experience watching videos and gaming with this display.
As for the speaker, it is quite outstanding thanks to the dual speakers taking advantage of the earpiece for a full stereo listening experience.
It has a good amount of low end, considering it is still a smartphone, with clear mids and highs and an overall fuller sound compared to a smartphone with a single downward-firing speaker.
Gaming Performance
In terms of performance, the realme 9 Pro+ with a MediaTek Dimensity 920 CPU and a Mali-G68 MC4 GPU with 8GB of RAM and 256GB of internal storage is definitely a no-slouch when it comes to day to day tasks and basic multitasking. Browsing through the realme UI 3.0 for the most part is pretty smooth without any significant hiccups and opening multiple apps is definitely possible without affecting the overall user experience. 
The same can be said when it comes to gaming, albeit with some struggles in high-demanding games like Genshin Impact.
Anything above the Low (default) setting is a no-go, the gaming experience is less than ideal with noticeable frame drops.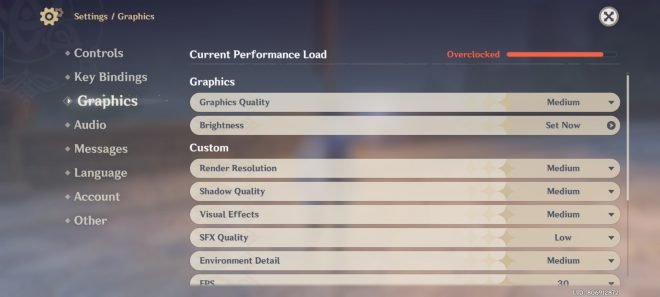 And to be honest, even at Low settings, I'm still experiencing occasional stuttering but for the most part, playable.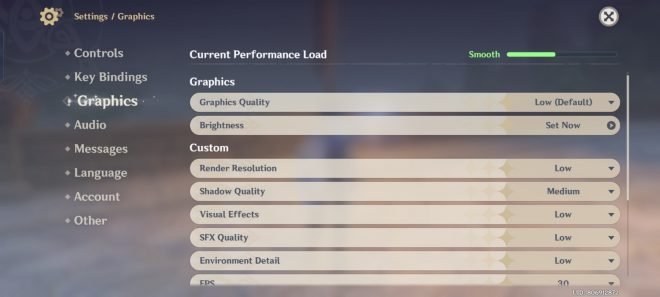 But with the right tweak on the settings, you can definitely enjoy Genshin Impact using the realme 9 Pro+, especially with the awesome Super AMOLED display and the stereo speakers.
Other than Genshin Impact, the realme 9 Pro+ is pretty much smooth on all the games I've tested including Call of Duty: Mobile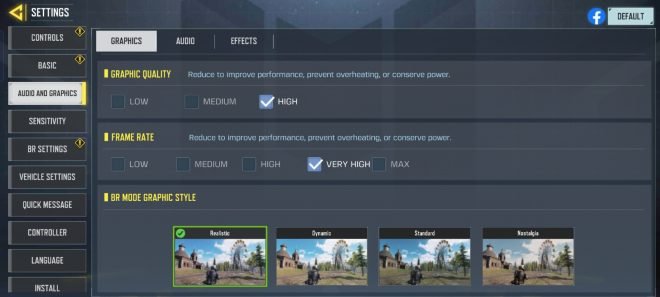 With high graphics quality with very high framerate (very high frame rate is the maximum you can choose at high graphics quality), the overall gaming experience is pretty smooth even during intense gunfights and effects.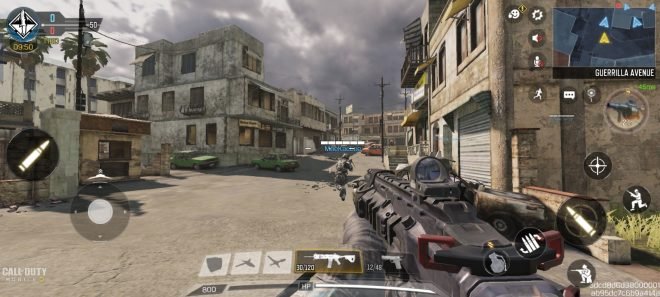 I didn't encounter any major hiccups that could potentially affect my competitive edge.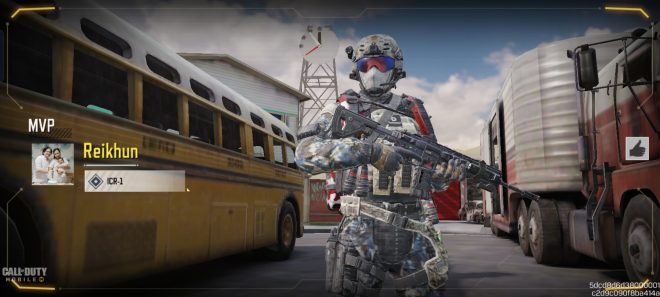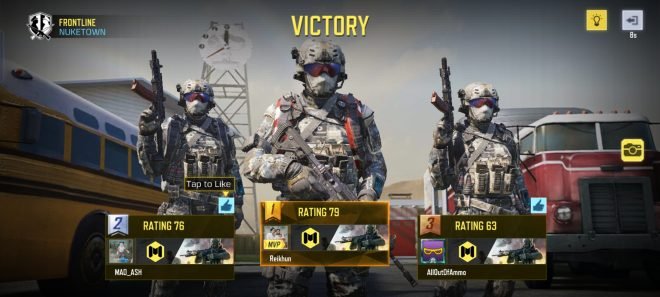 The same story can be said of my experience with Mobile Legends: Bang Bang with HD Mode on with Ultra graphics settings.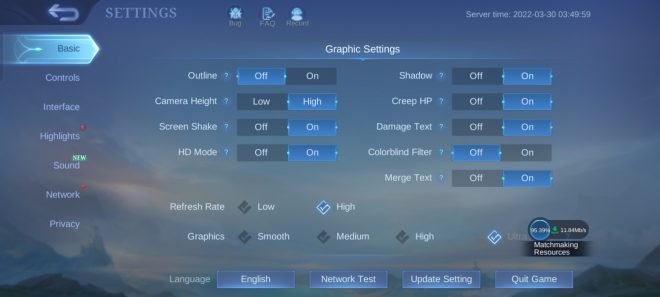 As you can tell, I'm one of the two players who finished loading first. Maybe it's a combination of good internet and the performance of the realme 9 Pro+.
Overall, the gaming experience in Mobile Legends: Bang Bang is very smooth.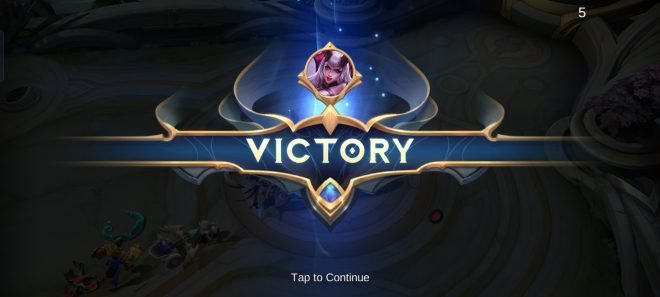 And lastly, in Pokemon Unite, at the highest graphics quality with high frame rate settings, the gaming experience is also quite smooth.
The loading time is also fairly fast compared to other players.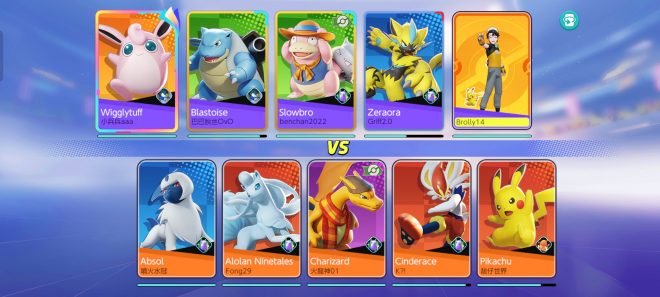 Overall, I didn't encounter any major frame drop all throughout the match even during clashes and ultimates.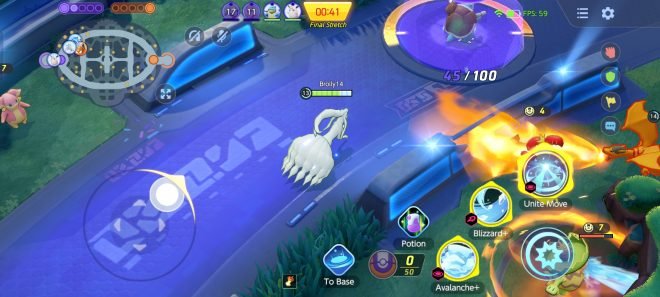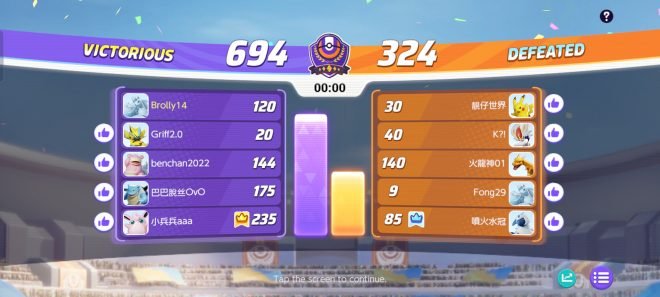 Performance Benchmarks
Sharing for those who are wondering how
realme
smartphones (at least for the ones I was able to review) stack up against each other throughout the years in Antutu Benchmark.
The leap in performance with the realme 9 Pro+ compared to the previous number series is outstanding. Only the flagship X50 Pro 5G was able to beat it. I think the realme 8 Pro is around less than 400k.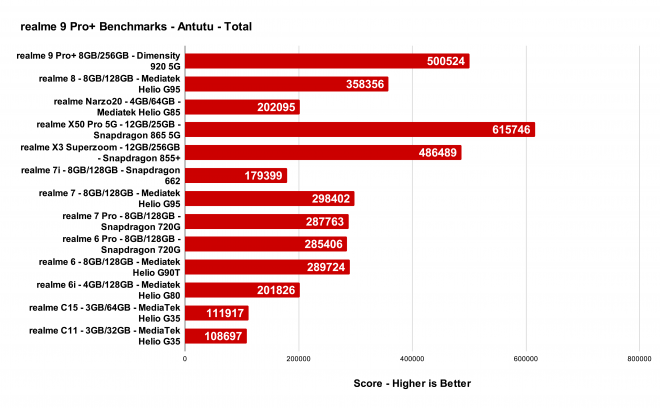 The same case can be observed in GeekBench for both the CPU and GPU performance, although the realme X3 Superzoom was able to get ahead in the multicore test here.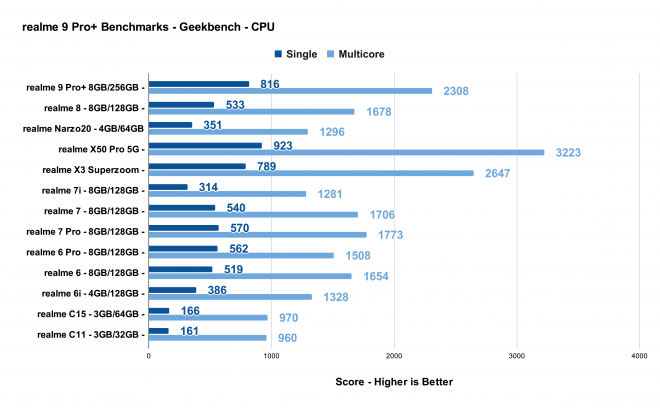 Battery Life and Charging Time
Given the fair capacity of 4500mAh battery on the realme 9 Pro+, I am quite satisfied with the battery life of around 8 hours and 36 minutes via our standard PC Mark Work 2.0 Battery Life test with Maximum Brightness and Volume with earphones plugged in.  It's safe to say that this can last an entire day depending on your use case scenario, connectivity, brightness level, and volume.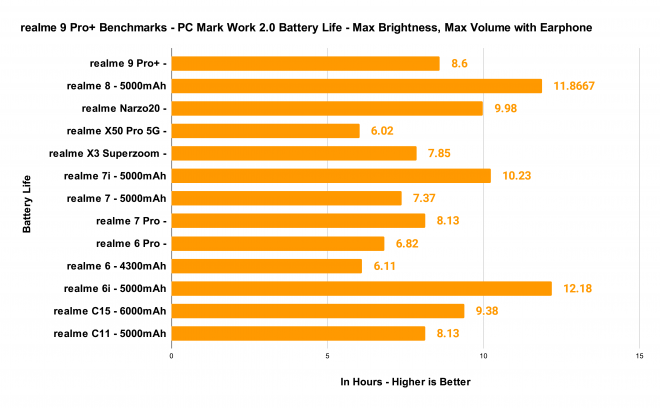 But what impresses me the most here is the super-fast charging capability, thanks to the 60W Super Dart Charge technology that can fully charge the 4500mAh of battery in just under an hour.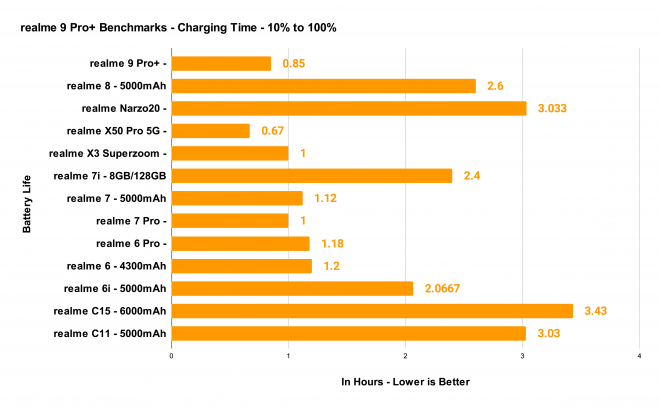 Camera
And last but definitely not the least, let's talk about the camera quality featuring a 50MP main camera with the Sony IMX766 OIS, an 8MP Ultrawide Angle Lens, and a 2MP Macro lens.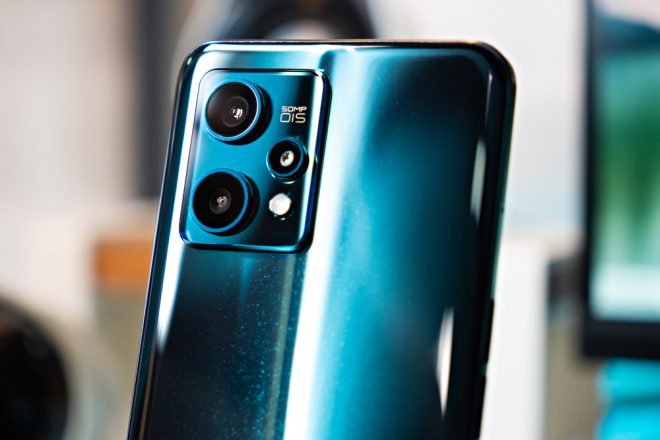 Generally, especially outdoors with an ample amount of natural light, the realme 9 Pro+ produced some very nice photos with good colors, contrast, sharpness, and details and with a fairly balanced exposure as well.
Indoor shots in low-light situations, for the most part, are pretty decent as well with minimal noise, a good amount of sharpness, and most importantly, a focused image with minimal blur due to slower shutter speed.
The realme 9 Pro+ also has a few nifty and quite unique camera effects, especially on the new "Street Mode" with Neon Trail, Light Trail, Rush hour which I think is what I used on the image below, and Light Painting.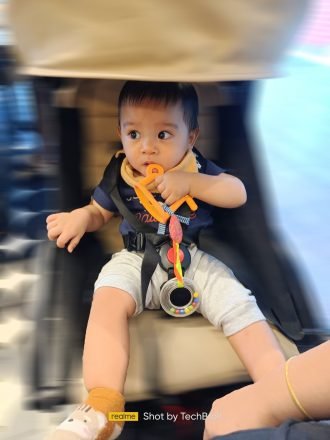 The portrait mode using the 16MP selfie camera is also very good with producing close to natural skin tone, not totally overdone processing, and overall pleasing output.
The background blur, also known as the bokeh effect is also pretty clean, the edge-detection algorithm seems to be fairly accurate even on the hair strands which most smartphones struggle with.
There are a lot of different options, filters, and things like that inside the camera app but even just the stock configuration can produce good-looking portraits. 
However, I noticed something particularly familiar. The ultrawide angle lens actually produces a sort of colder tone images compared to the main lens as you can see in the below examples. The main camera produces a generally warmer tone. I've seen this issue before with other budget to midrange smartphones so In a way, I'm not that surprised. Another thing that I noticed is that the ultrawide camera doesn't actually support autofocus, which is not a total deal breaker but  just something to keep in mind.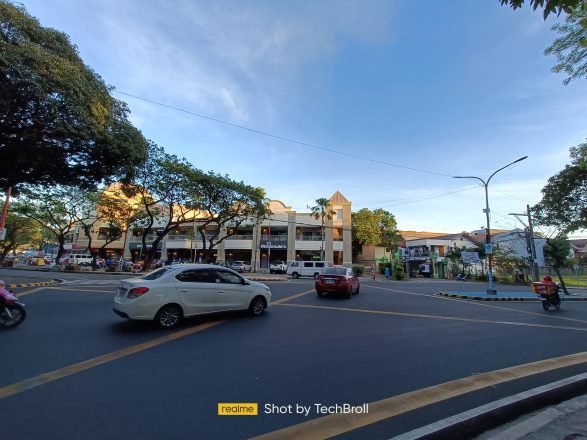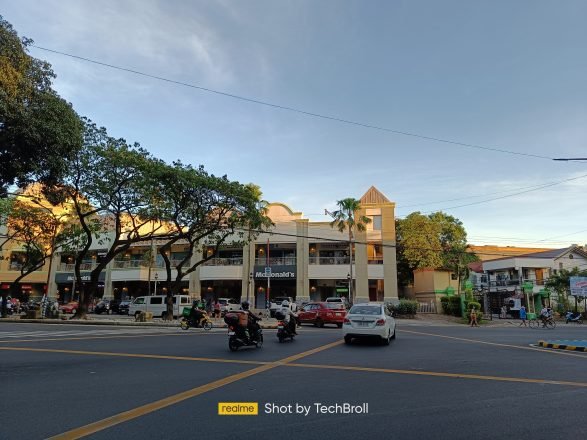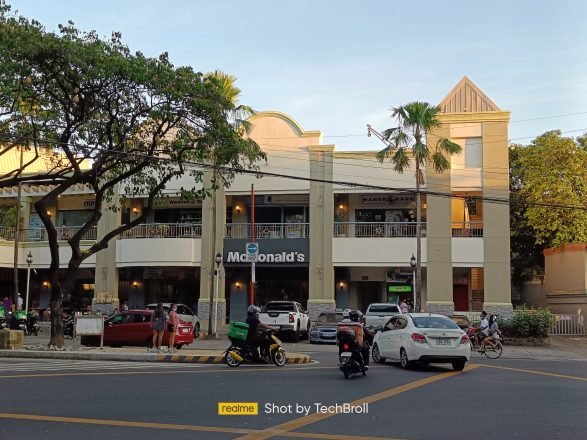 Overall, I still honestly feel like the cameras on the realme 9 Pro+ are pretty good especially considering the price. A lot of budget to mid-range smartphones don't even have OIS or popular sensors let alone a Sony IMX766. The images produced by the realme 9 Pro+ especially using the main 50MP camera are decent enough that I decided to use this phone for a few weeks as my daily driver and for casual social media postings.
VERDICT
Overall, the realme 9 Pro+ is a very competitive mid-range smartphone that offers pretty much everything you should be looking for on a smartphone at this price range with good overall features and capable specifications, aesthetically pleasing design and construction, smooth and polished user interface, albeit with quite a few bloatware, decent camera quality, good battery life with super-fast charging capability and a good enough Super AMOLED display and stereo speakers. If you can get past the fact that the display is only 90hz and that it doesn't have expandable storage, then this is a pretty good option.
Price and Availability
The realme 9 Pro+ is priced at Php 21490 and is available in Lazada.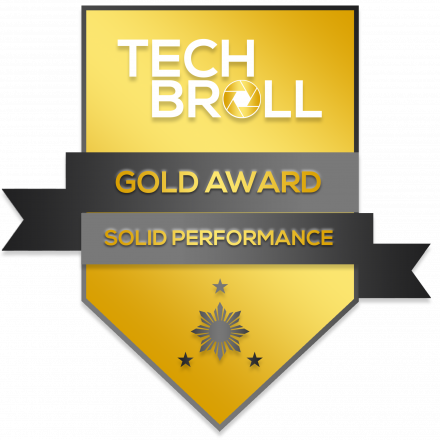 realme 9 Pro+
Php 21,490.00
Pros
Good classy and trendy design
Decent battery life with very fast charging capability
Good overall performance
Good camera quality
Nifty in-display heart rate sensor
Cons
Slower 90Hz display
No autofocus on ultrawide camera
No microSD card slot
Bloatware
SHARE THIS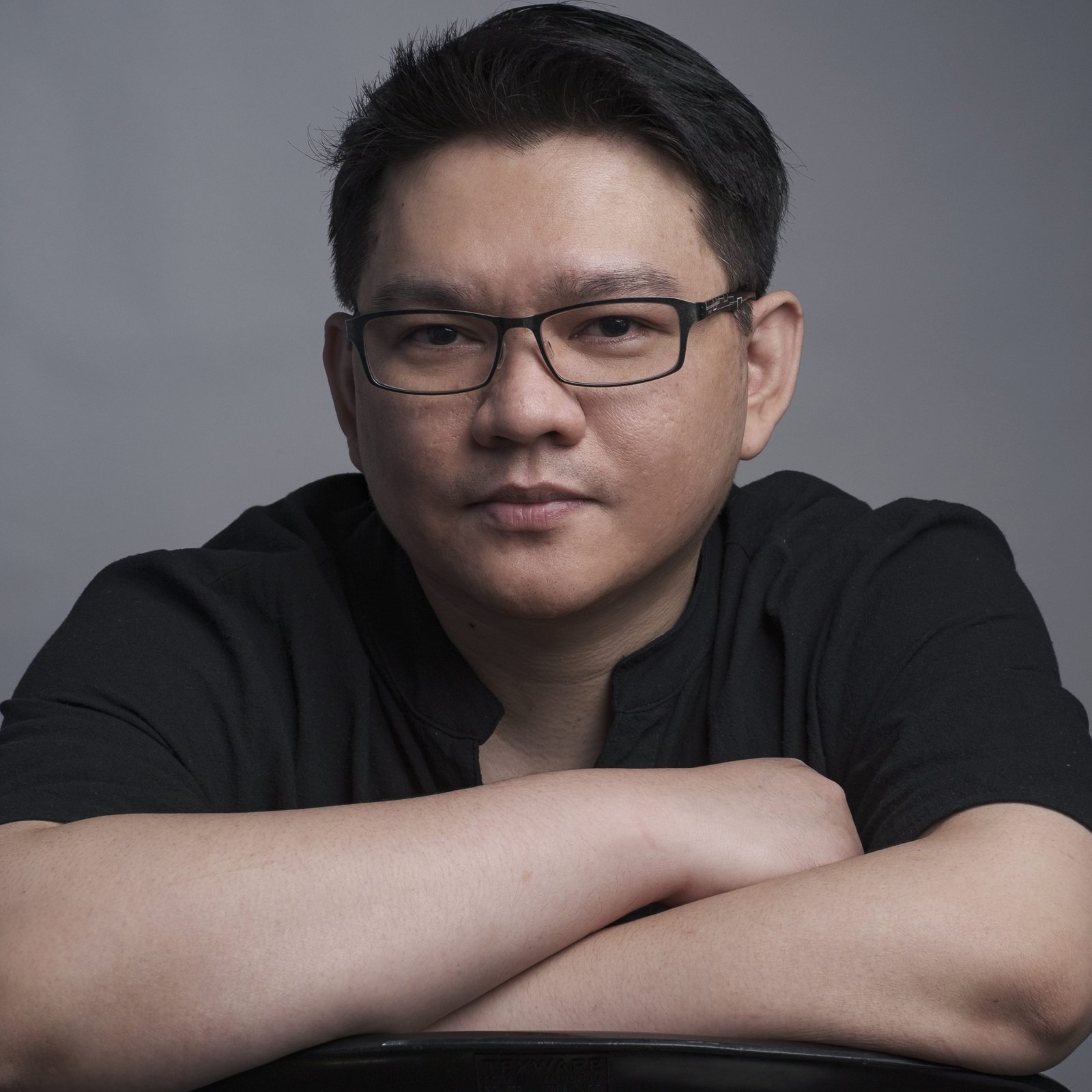 The Broll who always got your back online!