The EKSA E900 Pro 7.1 Virtual Surround Sound Gaming Headset is a surprisingly good gaming headset considering its price offering a bunch of features that can go toe-to-toe against more expensive, mainstream brands. For starters, it is a multiplatform gaming headset compatible with PC, Laptops, Tablets, Smartphones, and even consoles since it features dual connectivity either via its USB or 3.5mm interfaced. It also features 7.1 Virtual Surround sound, a very good-sounding microphone, and a familiar design and construction that most people are already accustomed to when it comes to typical gaming headsets. 
MY EARLY BREAKDOWN
Pros: Affordable, Decent construction, Good sound quality, Good microphone quality, Multiplatform compatibility, 7.1 Virtual Surround Sound
Cons: Limited headset adjustment, No RGB
SPECIFICATIONS
● Driver diameter: 50mm
● Impedance: 320hmo
● Sensitivity: 105dB +/- 3dB at 1KHz
● Frequency range: 20Hz-20KHz
● Audio control: Onboard
● Sound: Virtual Surround Sound
● Mic Sensitivity: -40dB +/- 2dB
● Micphone type: Pluggable Noise Cancelling
● Headset Cable: 3.5mm Cable+ USB Cable
WHAT'S IN THE PACKAGE
While the package arrived in a less than ideal condition, I'm not going to take some points off from EKSA as it might be the courier's fault but as you can tell, the box is obviously beaten up. 
Around the box, we have some image previews, branding, and some of its key features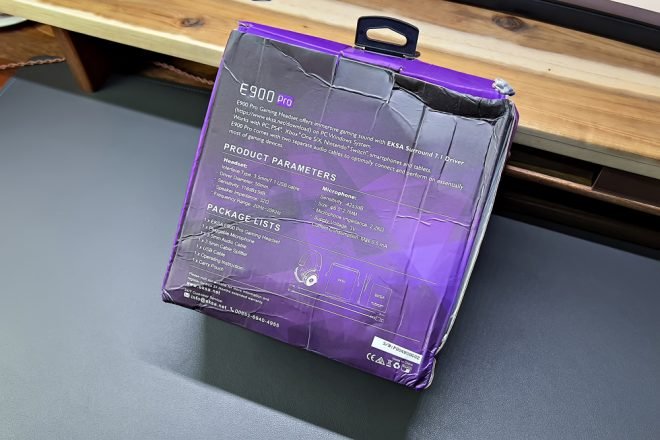 Inside the box, we have the easy edition user manual, a leather pouch, and a plastic bag full of cables and accessories.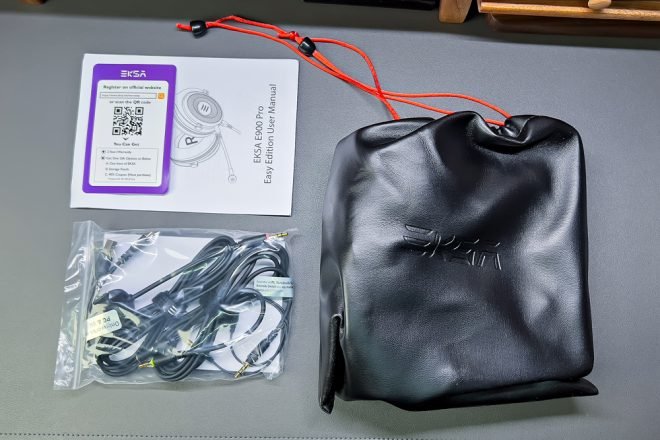 Interestingly, we have another user manual, a USB Type-A to USB Type-C cable, a 3.5mm to 3.5mm audio cable, a 3.5mm input and output splitter, and a detachable microphone.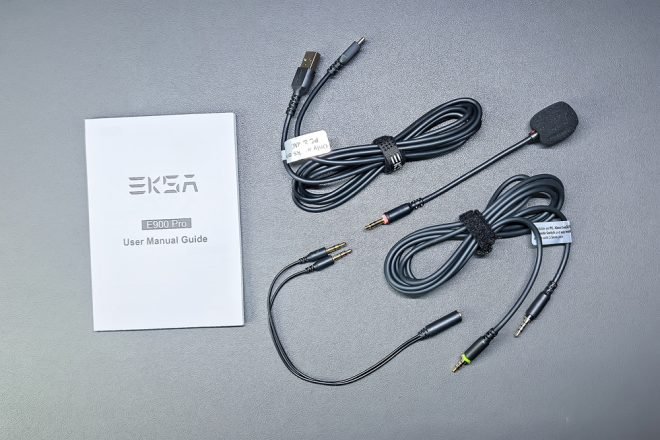 FULL REVIEW
Design, Construction, and Parts Overview
At first look and touch, the EKSA E900 Pro looks like a typical gaming headset with oblong-shaped earcups, a flexible headband, and an overall gamery-looking aesthetic. 
Looking at the side, we have a metal grill design with an illuminated EKSA logo. It's worth noting here that the illumination is just limited to red color, no RGB unfortunately for those who prefer a more colorful option.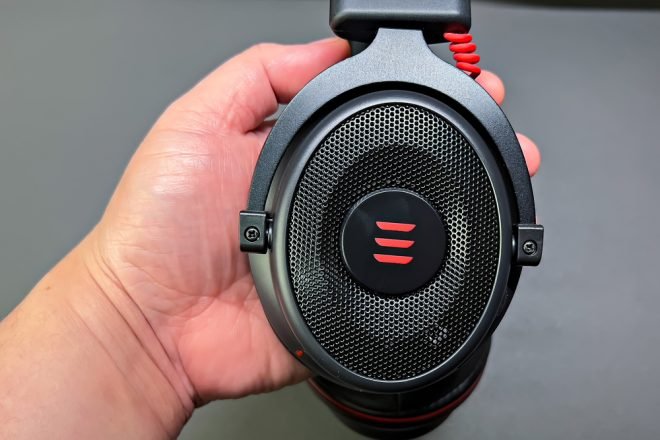 Around the left side earcup, we have a bunch of input and output ports that provide this gaming headset, especially considering its price, that overall bang-for-the-buck value. 
First, we have the volume knob, followed by the microphone mute button,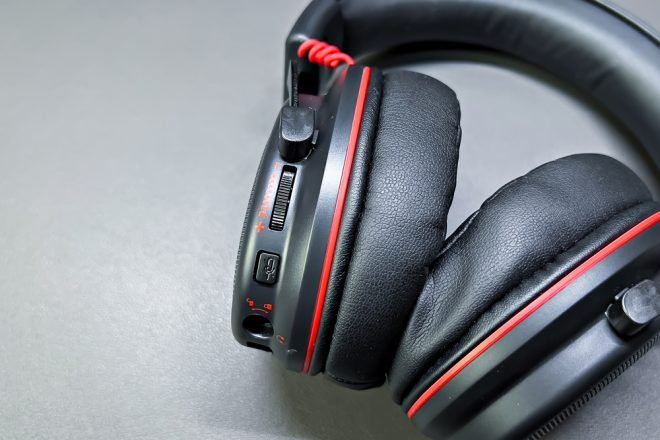 Then the 3.5mm audio port, the USB type C port,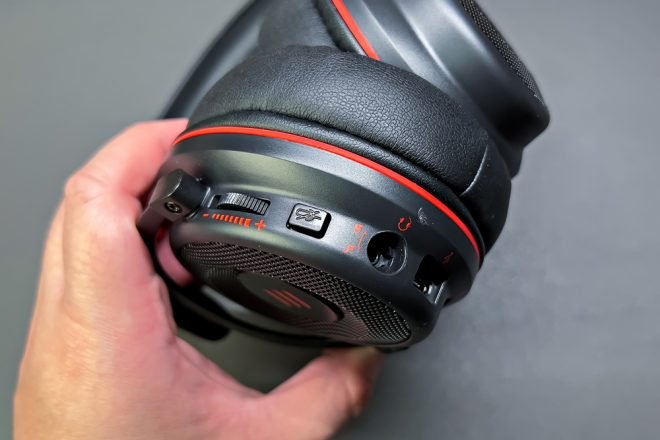 And the 3.5mm microphone port.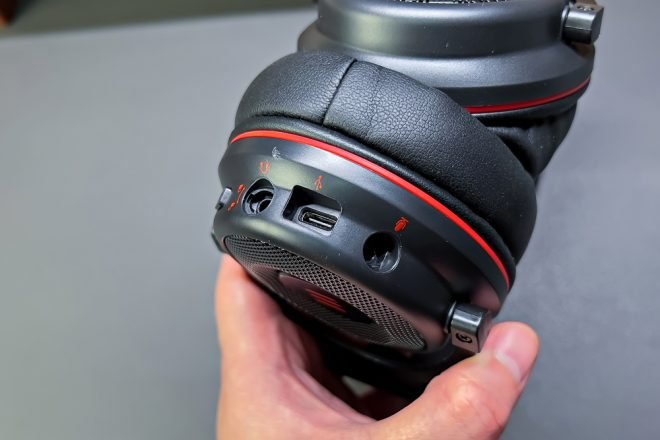 On the other side, pretty much the same design but without any ports.
The cable for the connection between the left and right earcups is colored red to match the overall black and red colorway, not to mention the additional red accent lining around the earcup.
In terms of adjustment options, the headband is expandable but the notches are a bit weak in my opinion. 
The earcups also have limited adjustment with just a slight movement.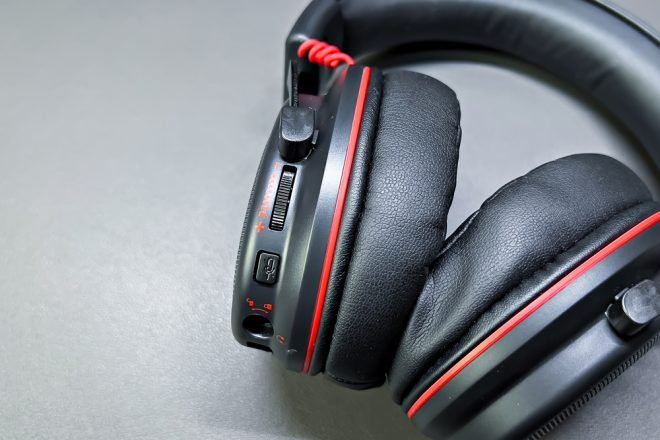 The headband also has an EKSA logo for an additional touch.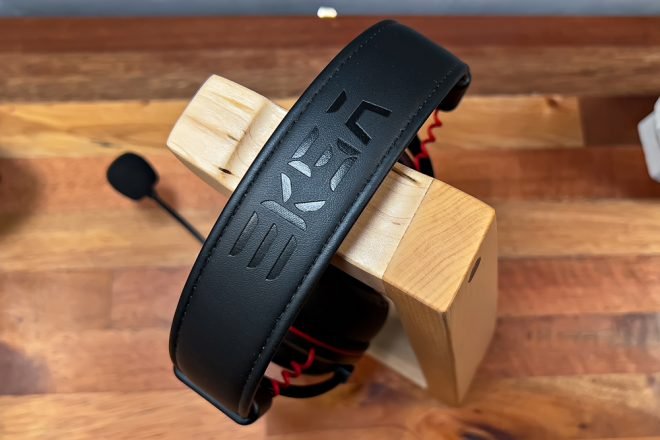 Cushions, Fit, and Comfort
In terms of the cushions, although the earpads on my EKSA E900 Pro came in crushed due to shipping, it is still relatively soft and comfortable. It features synthetic leather but the good thing here is that the earpads are actually removable so, in theory, you can possibly replace them with some compatible aftermarket earpads.
The driver wall has some thin fabric cover which may help preserve the sound signature but offers no cushions for your ear should they touch it. In my experience, it doesn't really matter and I don't feel the hard plastic wall at all.
The headband also has a fair amount of cushion, in fact, it spans across the entire width.
Speaking of the headband, underneath all the leather material and cushions, we have a strong but flexible metal that allows the EKSA E900 Pro to be as flexible as it can be. As per my experience, I am confident enough to stretch it as far as I want without breaking the headband. 
In terms of fit, other than the limited earcup movements and adjustments, the EKSA E900 Pro is still relatively comfortable and should fit most head and ear sizes. Do note though that depending on the size of your ears, I can still consider this as an on-ear headphone or maybe in-between.
Overall, in terms of design, construction, and comfort, while it won't wow anyone when it comes to premium look or anything around that nature, the EKSA E900 Pro still offers the typical aesthetic of a gaming headset while also offering some decent comfort.
Multiplatform Compatibility
One of the main selling points of the EKSA E900 Pro is its multiplatform compatibility allowing you to use it for pretty much any gaming or multimedia device from smartphones, tablets to PC, and laptops down to consoles and other devices with either USB or 3.5mm interface.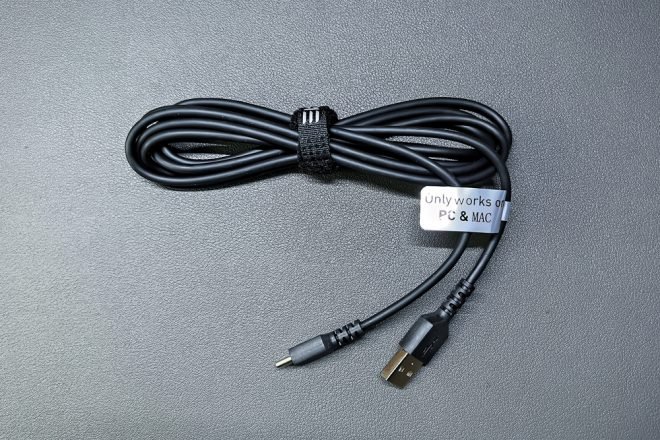 For its price, this is an absolute steal.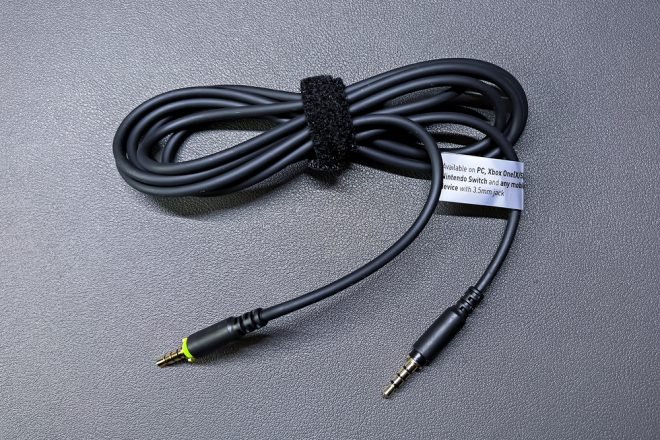 You have everything you need for any host device with an included 3.5mm to 3.5mm audio cable, a USB Type-A to USB Type-C cable and we even have a 3.5mm input and output splitter.
Sound Quality
In terms of Sound Quality, I'd say the EKSA E900 Pro is decent enough with a sound signature that is more towards the bright side especially when it comes to its out-of-the-box configuration. It provides a very lively and energetic sound signature with clear mids and controlled highs while still giving out enough low end and bass. Vocals are very clear and you can, with some concentration, distinguish each instrument used. At maximum volume, distortion is minimal but the drivers start to vibrate that you can definitely feel it within the earcups. Overall, sound quality is a pass for me and I enjoy using this even for some laid-back music listening outside gaming hours.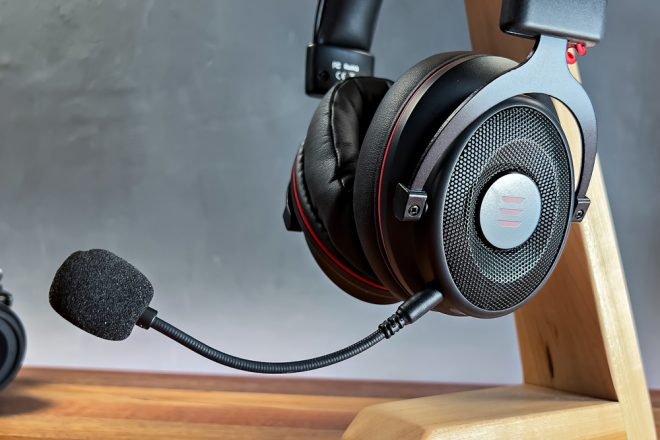 7.1 Virtual Surround Sound and Software
Now, the good thing about the EKSA E900 Pro is that, since it also has a USB interface option, you can take advantage of the 7.1 Virtual Surround Sound feature via the EKSA Gaming Headset Software. 
To be honest, I'm not totally sold about the 7.1 Virtual Surround Sound feature as most often than not, it doesn't provide a significant difference compared to the stereo mode when it comes to audio positioning. However, it does expand the sound stage and adds a little bit of warmth and reverb, at least that's the case with the EKSA E900 Pro. And besides, changing between modes is super easy inside the software, so it's really not a hassle to experiment depending on your preference.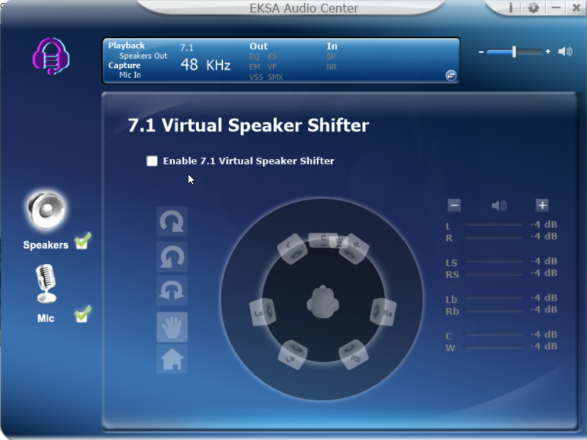 You can also further customize the sound signature using the equalizer and other features the software has to offer.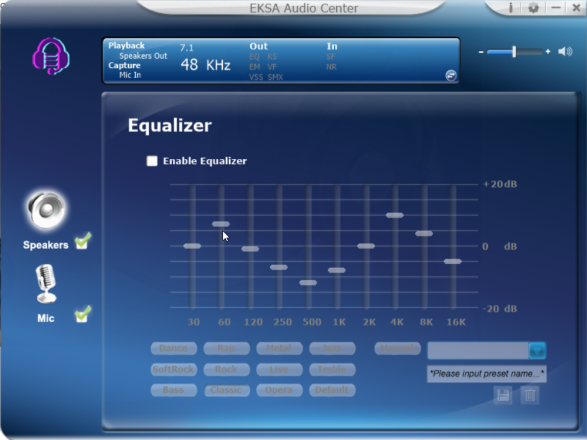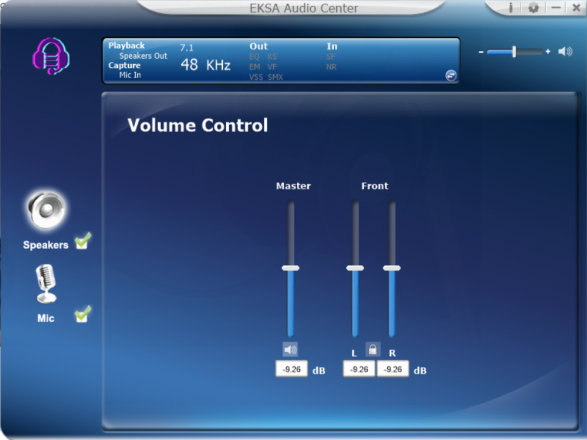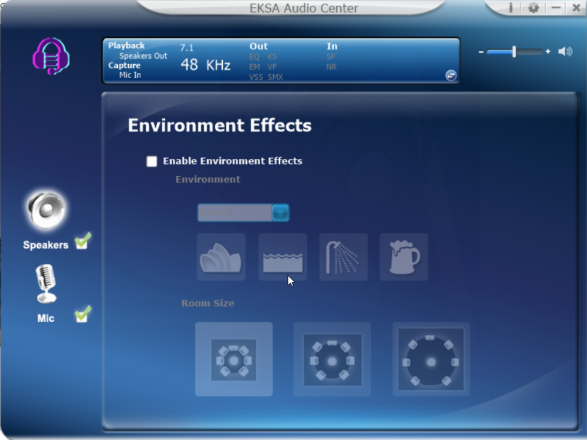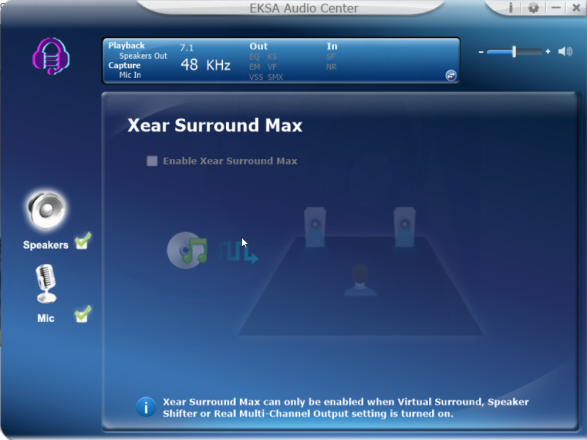 Microphone Quality
Another thing that I really like about the EKSA E900 Pro that makes it easy to recommend is the decent sound quality of the microphone, not to mention it is detachable which is nice if you already have a dedicated microphone for gaming. The audio quality is very good as verified by my teammates in-game and as per my actual testing in audio recording. It does capture a fair amount of background noise but at least my voice is very natural and it doesn't have any unnecessary compression or robotic artifacts.
VERDICT
To conclude, as I've pointed out earlier, recommending the EKSA E900 Pro is fairly easy simply because of its price to performance to features ratio. For the price of just around 45 USD or 2300 Php, it's simply hard to beat especially with its multiplatform compatibility, good sound quality and microphone quality, and the bonus 7.1 virtual surround sound feature.
Related Article:
Edifier W600BT Bluetooth Headphones Review
Limited Edition Joyroom JR-T04S Pro True Wireless Stereo Headphones Review
OnePlus Buds Z Review – Steven Harrington Special Edition!
Marshall Major IV Now Available at Digital Walker and Beyond the Box
OnePlus Buds Z in white and limited edition Steven Harrington NOW AVAILABLE at HomeOffice.PH!
Marshall Uxbridge Voice Review – A Voice Assistant That Actually Sounds Great!
realme Buds Air Pro Review – Active Noise Cancellation!
SoundPeats TrueCapsule Review
Tronsmart Onyx Ace True Wireless Earbuds Review – Quad microphone!
SoundPeats TrueDot True Wireless Earbuds Review
ASUS ROG Strix Go 2.4 Review and AI Noise Cancellation Test
Cooler Master MH630 VS MH650 Comparison and Review
Edifier R1280DB Unboxing, Quick Review, and Sound Test

Subscribe for more reviews like this!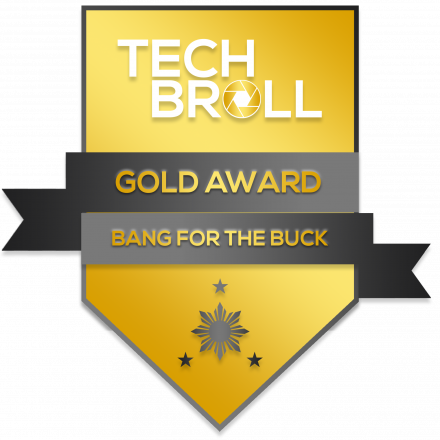 SHARE THIS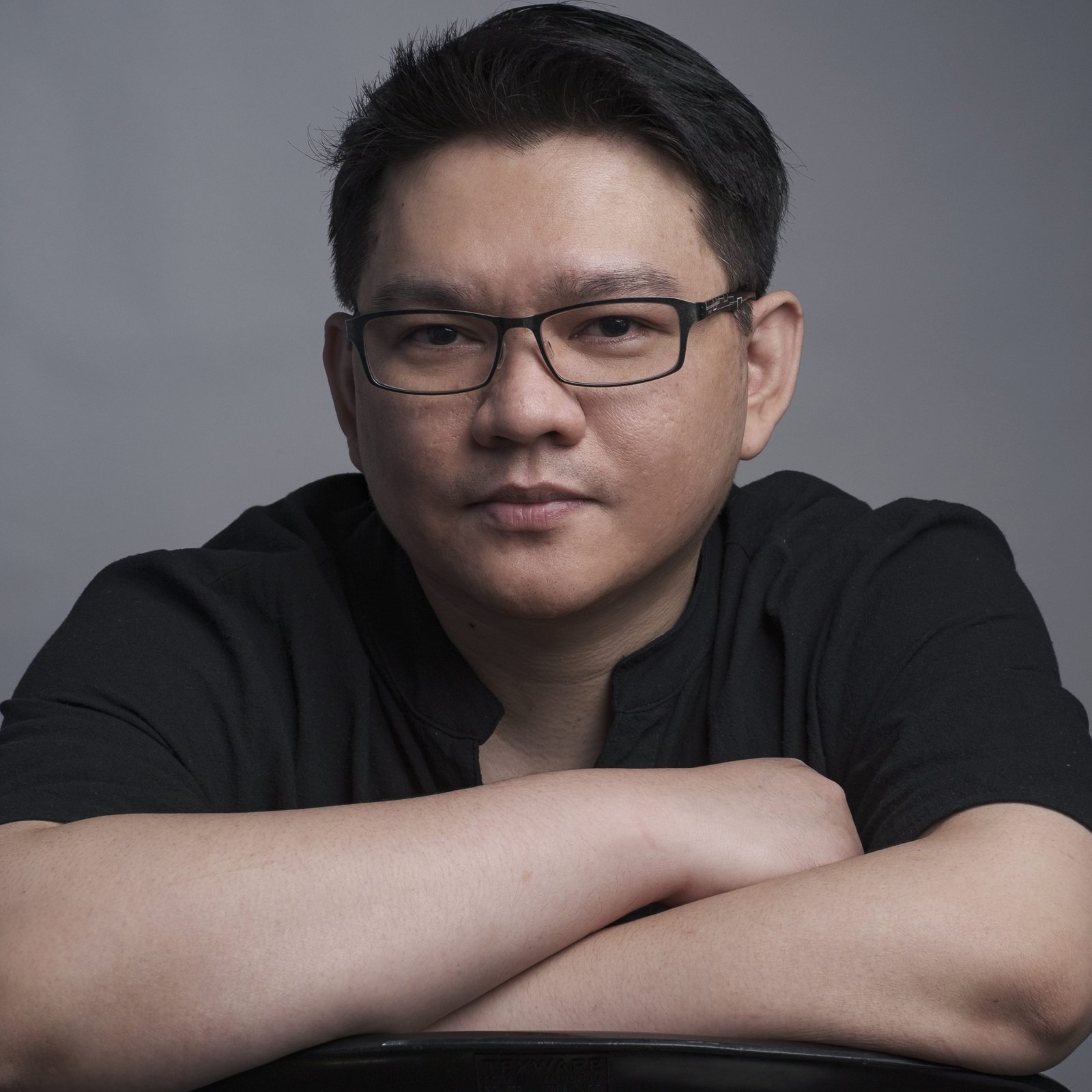 The Broll who always got your back online!