It was just a few months ago when realme released their first crack at a smartwatch with the realme watch, and judging by how things are going, how aggressive realme is on producing a ton of new smartphones and AIoT devices, I was not surprised to hear that they are releasing yet another smartwatch. realme is proving to be an unstoppable force dominating the local PH market overtaking everyone else and claiming the top spot as the number 1 smartphone brand in the Philippines in just 2 years.
Today, we're taking a look at the said new smartwatch in the form of the realme Watch S. A stylish and functional smartwatch with essential features for health, fitness, and as an overall digital assistant. 
MY EARLY BREAKDOWN
Pros: Good design and construction, Decent display with auto-brightness, Long battery life, Tons of watch faces available with an option to customize your own, Intuitive and useful realme link app, Functional health and fitness monitors
Cons: IP68 water resistance not enough for swimming and shower, No wireless charging, The two side buttons are quite basic, Only works with Android for now
SPECIFICATION
Appearance

Color: Black

Size: 259.5×47.0x12.0mm

Weight: 48g

Wrist strap

Type: Removable wrist strap

Width: 23mm

Adjustable length: 164-208mm

Screen

Screen size: 3.3cm (1.3")

Resolution: 360×360, 278 ppi

Full touchscreen 

Battery

Battery:390mAh

Battery life:15 days (heart rate monitor on)

Battery life on power-saving mode:20 Days

Sensor

3-axis accelerometer

Heart rate sensor

Rotor Vibration motor

IP68(1.5m) water resistance rating

Connectivity

Bluetooth 5.0

realme Link App

Android 5.0+

Sport modes

Outdoor run, walk, indoor run, outdoor cycle, aerobic capacity, strength training, football, basketball, table tennis, badminton, indoor cycle, elliptical, yoga, stationary bike, rowing machine, cricket

Health monitors

Automated heart rate measurement, 24-hour real-time heart rate, resting heart rate, exercise heart rate, heart rate alert, blood oxygen measurement, sleep monitoring, steps throughout the day, calories, distance, water reminder, sedentary reminder, activity records

Other functions

Music control, camera control, find phone, meditation, 12/24-hour, stopwatch, clock, weather forecast, date display, dial, cloud multi-dial, OTA upgrade, data storage, all-day data, automatic motion recognition (running/walking), call notification, message reminder, alarm reminder, step goal completion reminder, binding confirmation reminder, low battery reminder, brightness adjustment, shake adjustment, wear monitoring, lift wrist to wake screen, power saving mode, do not disturb mode

* More watch faces in the cloud will be coming soon by OTA.
WHAT'S IN THE PACKAGE
The packaging of the realme Watch S is something most realme users and potential buyers are already used to with a yellow box, an image preview of the product in the front, and the model name.
At the back, we have its key features and technical details such as the actual model name, variant, manufacturer, and contact information of realme.
Upon opening the box, the first thing you'll notice is the realme Watch S itself nicely tucked inside a plastic platform.
Removing the platform along with the realme Watch S reveals a cardboard cover.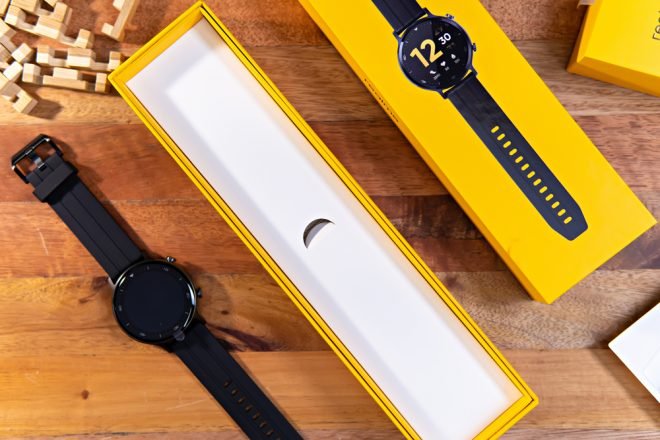 Removing that said cover reveals the rest of the package contents.
Inside the box, we have the user manual with some illustrations.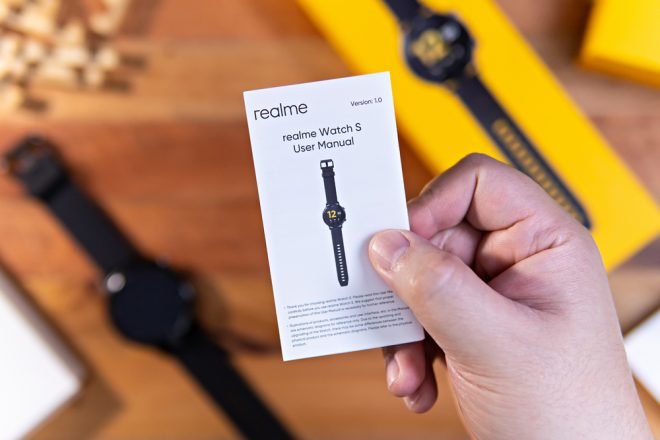 The problem with this is that the texts and images are quite small making it difficult to read and understand.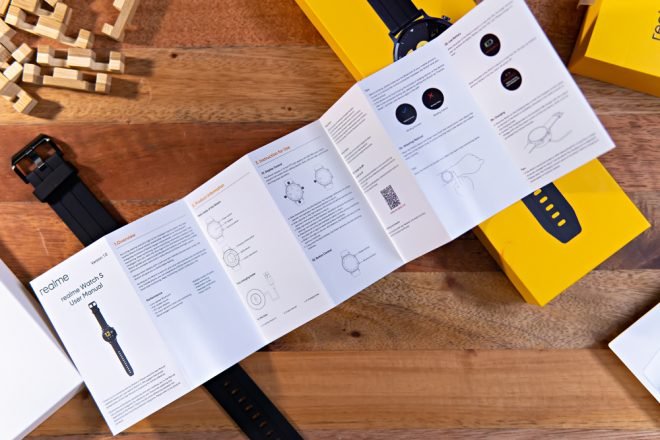 And lastly, we have the magnetic charging base with a USB Type-A plug.
It has a rubber ring at the back making it and the realme watch S stay in place while charging. 
Out of the box, the realme Watch S is also protected by a thin plastic film.
FULL REVIEW
Design, Construction, and Parts Overview
At first look and touch, the realme Watch S' design feels closer to what most of us are familiar with featuring a normal rounded form factor.
It features a 1.3″ full touchscreen display with 360×360 resolution and 278 pixels per inch density.
However, I think the rim around the display with numbers and lines is honestly unnecessary and a poor waste of space. I feel like it could have been better if the display is closer to the edge allowing for a better screen to body ratio. But maybe, they've done that to reduce the cost while also adding some design elements of a regular watch.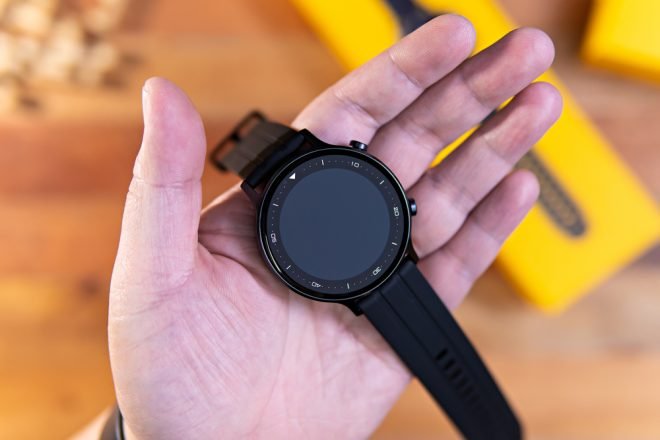 The good thing here is that the display is protected by Corning Gorilla Glass.
We'll talk more about the display later but for now, let's move on to the rest of the parts overview.
The body of the realme Watch S is made out of aluminum which gives it a more premium feel and robust build construction.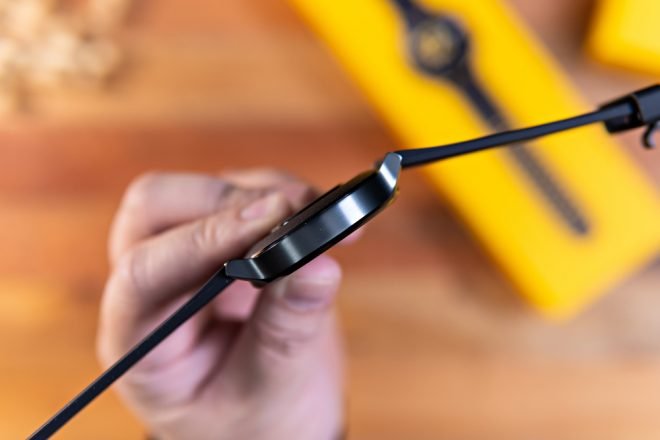 Flipping it on its side, we have two buttons, the top one is the power button while the bottom one is the shortcut button.
Flipping it all over at the back, we have the charging contact pins, the heart rate sensor, and the oxygen level sensor.
The included strap is made out of liquid silicone which I find relatively comfortable and not irritating at all.
It also has an aluminum buckle. With these materials, it should last longer than most budget smartwatches out in the market, especially compared to the ones that are made out of plastic.
Display Quality
In terms of the display quality, I'd say it is pretty decent and the first thing I noticed is how vivid the colors are. 

It also has substantial contrast and details and the icons are quite sharp. Resolution wise, even with only having a 1.3″ display with 360×360 resolution and 278 pixels per inch density, at this screen size, it is actually fairly decent. The screen can also get substantially bright up to 600 nits which are more than enough for outdoor use.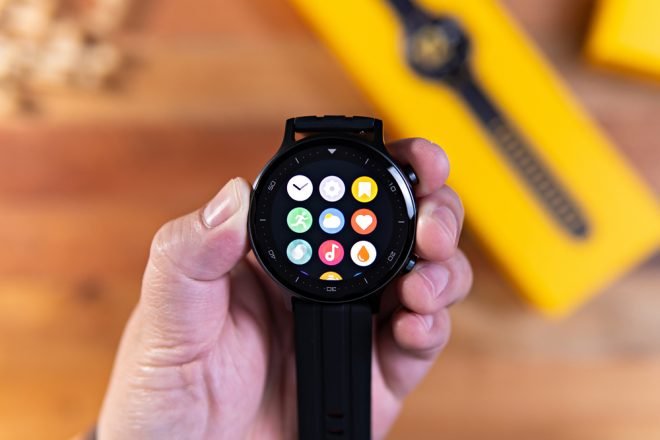 In addition, the display also features 5-level auto-brightness with a manual adjustment option and the option that is missing in my realme Watch, the option to adjust the screen off time which is absolutely vital. You can now set the screen auto-off time up to 15 seconds which is enough to absorb any information before it automatically turns itself off.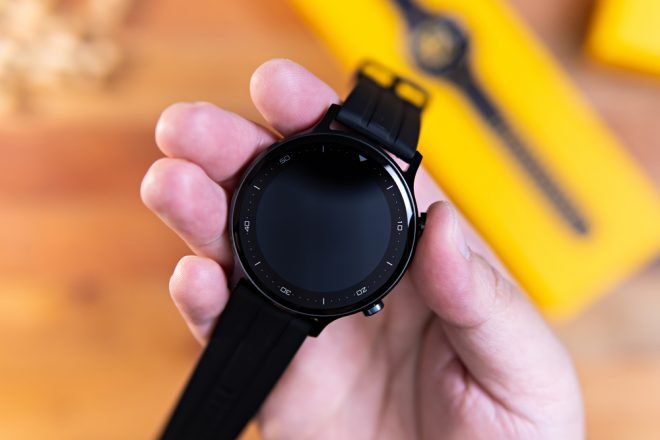 User Interface, Navigation, and Touch Responsiveness
The user interface of the realme Watch S is quite similar to what we have on the realme Watch except for the app drawer I would say. The touch response is pretty decent and the speed of the user interface for the most part is ok except when swiping down the notification messages.
Swiping to the right from the home screen will reveal the shortcuts such as the power saving mode, raise to wake up, auto-brightness, night mode, and settings.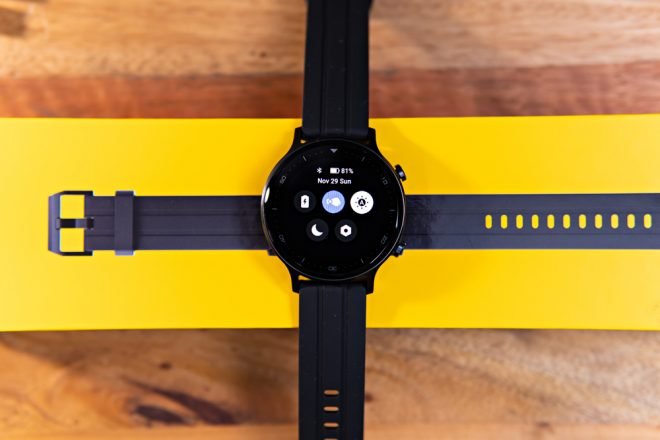 Swiping downwards from the home screen will reveal the notifications from your smartphone. You can set which applications will push notifications to the realme Watch S via the realme link app.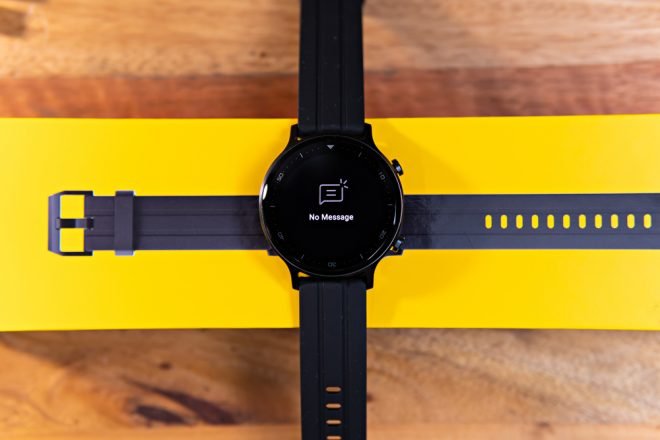 Swiping upward from the home screen will reveal all the icons and features of the realme watch S.
Swiping to the left from the home screen will reveal different interfaces such as goals, weather, sleep record, heartbeat record all the way to the shortcuts.
The top button on the side is the power button which also functions as a home and back button as well as a button to suspend and continue exercise modes.
The second button is the shortcut button which you can use to quickly open the sports list. You can also use this button while on exercise mode to switch between data interfaces.
However, I feel like it was a missed opportunity to use these buttons as a knob as well. They both do rotate but does nothing. I feel like it could have been better if you can use these buttons for something like adjusting volume, screen brightness, timer, and what have you. But to be fair, I also think that's a bit advance, especially at this price point. Maybe if they come up with a higher-tier smartwatch in the future they can implement those said features.
Watch Faces
One thing that's awesome with the realme Watch S is the vast availability of watch faces via the realme link app. We have at least 100 different watch faces that you can download and sync to your realme Watch S. 
Here are the rest of the currently available watch faces from the realme link app
Aside from that, you can even create your own using the realme link app.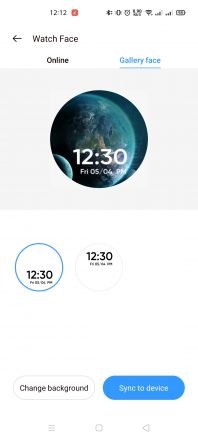 Health Assistants
Real-Time Heart Rate Monitor
The realme Watch S features a real-time 24 hours heart rate monitor and you can also set an alarm when a certain level is reached allowing you to monitor your activities in relation to your health.
Blood Oxygen Saturation Level Monitor
Aside from the heart rate monitor which honestly is already available on most smartwatches, the realme Watch S also features a blood oxygen saturation level monitor. Essentially, it will tell you if you're not getting enough oxygen. Good blood oxygenation is important to supply the energy your muscles need in order to function normally. Values above 95% are considered normal as per my research.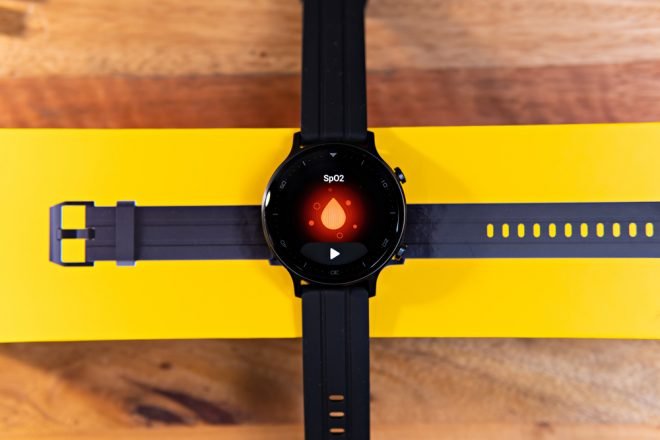 Sleep Monitor
Among all the health sensors the realme Watch S has, the sleep monitor is probably the one I use the most, almost every day after waking up. I always check how much sleep I had last night and if I need to sleep more. This is one of the reasons why I use a smartwatch other than the push notifications, exercise modes, and other features.
Speaking of exercise modes, the realme Watch S features 16 different exercise modes both indoor and outdoor.
Exercise Modes
The realme Watch S includes a set of exercise modes to help you keep track of your progress and to make sure you're fulfilling all your fitness goals. This includes Outdoor Run, Walk, Indoor Run, Outdoor Cycle, Aerobic Capacity, Strength Training, Football, Basketball, Table Tennis, Badminton, Indoor Cycle, Elliptical machine, Yoga, Stationary Bike, Rowing Machine, and Cricket.
Unfortunately, swimming is not included as the IP68 water resistance the realme Watch S has is not enough.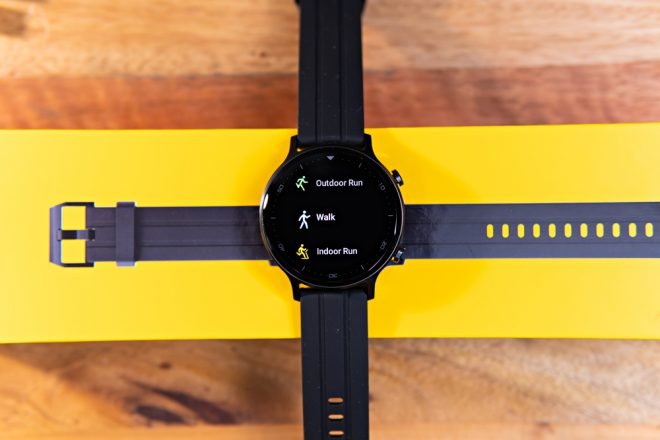 Other Health Features
Aside from the health sensors and exercise modes, the realme Watch S also features a bunch of reminders to keep your body healthy including a step counter, sedentary, hydration, and meditation reminders.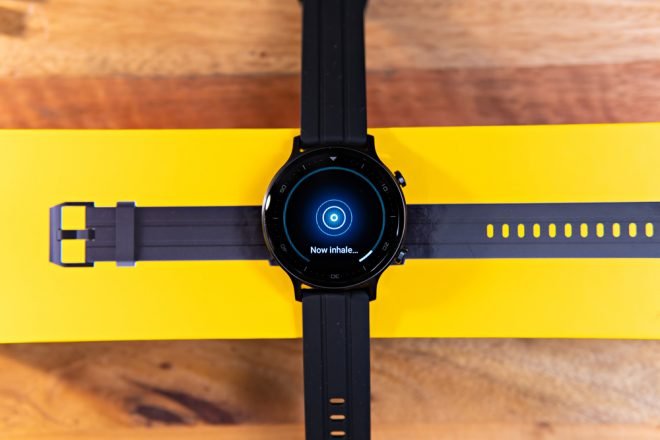 Other Notable Features
Other useful features worth mentioning are the music player, alarm clock, stopwatch, timer, find my device, and camera remote.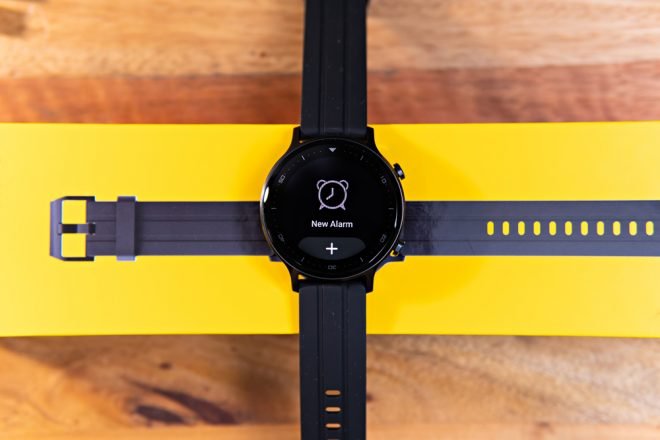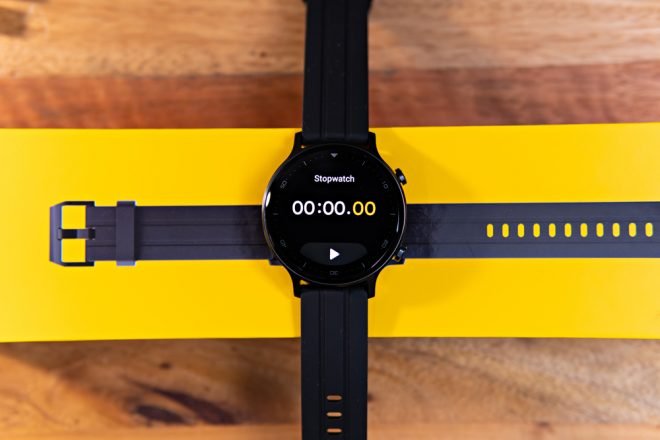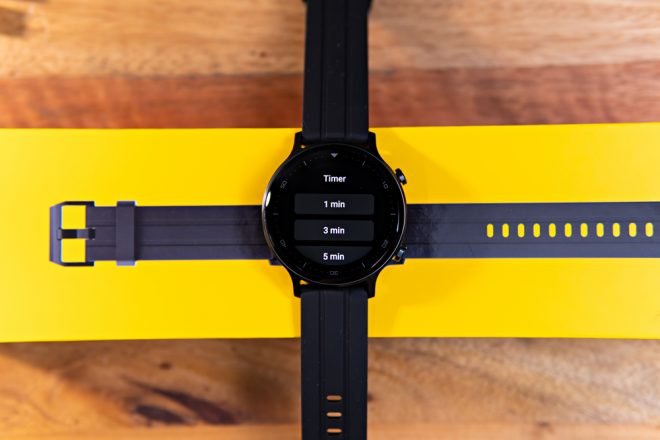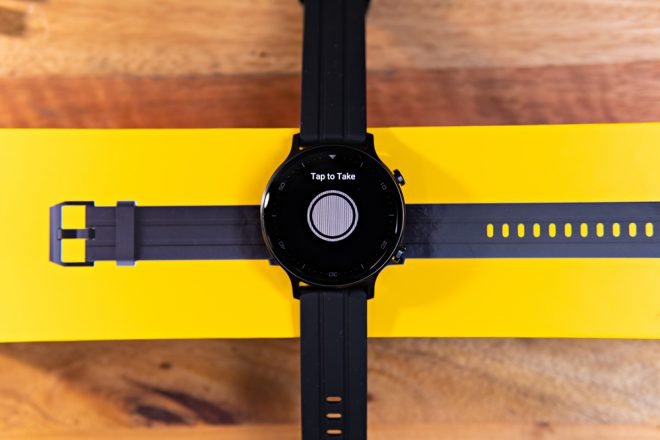 realme Link App 
The realme Watch S is backed up by the realme link app where you can customize watch faces, adjust settings, and browse through your exercise records and health monitor statistics. The realme link app is your gateway should you choose to dig in into the realme ecosystem with their other AIoT devices such as their smartphones, smart cam, other fitness band and watches, and more. Unfortunately, the realme Watch S only supports Android, at least for now.
Battery Life and Charging
In terms of battery life, the realme Watch S comes with an adequately sized 390mAh of battery that can last ideally up to 15 days as realme claims. I'll have to update this article once I have my own data as at the time of this writing, it has yet to die on me.
The magnetic charging base should allow us to charge the realme Watch S for around 2 hours. Unfortunately, it doesn't support wireless charging, though I wasn't really expecting that at this price point.
VERDICT
To conclude, the realme Watch S provides most of the necessary features a smartwatch needs with a good selection of health monitors and exercise modes partnered with a few nifty tools. It also features a somehow standard design with a familiar rounded form factor partnered with a relatively comfortable silicone strap. Build construction is pretty decent as well with aluminum housing but it doesn't support swimming or shower. Performance-wise it does its job quite well with a fairly intuitive user interface and responsive touchscreen display. What I appreciate with this new version of realme's smartwatch is the option to adjust the screen off time and the easy access to exercise modes and other features. What I like to be improved though is the functionality of the side buttons to also act as a knob for adjusting volume, screen brightness, timer, and others. I would also appreciate wireless charging for a more convenient charge and go experience. Lastly, I hope they can speed up the support for iOS as well to expand their reach.
Availability and Price
– SRP PHP 4,990 
– Get it for as low as PHP 3,990 or 1,000 pesos off on Lazada & Shopee on December 3, 7 PM & at 12.12 Super Brand Day Sale
– realme Watch S will be available starting December 4 in select concept stores and realme kiosks nationwide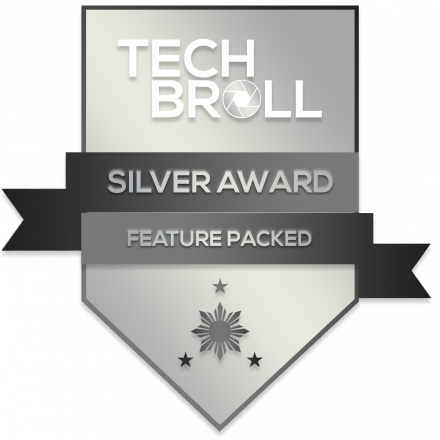 Pros
Good design and construction
Decent display with auto-brightness
Long battery life
Tons of watch faces available with an option to customize your own
Intuitive and useful realme link app
Functional health and fitness monitors
Cons
IP68 water resistance not enough for swimming and shower
No wireless charging
The two side buttons are quite basic
Only works with Android for now