Today, we're back with another smartphone review as we take a look at the NEW realme 6i, the latest budget offering from realme that features the world's first MediaTek Helio G80 chipset. Now, a lot of reviews have come out already but if you're still undecided if you're going to buy this phone, well, this video should pretty much give you all the details you need to know especially when it comes to gaming performance, camera quality and various benchmarks.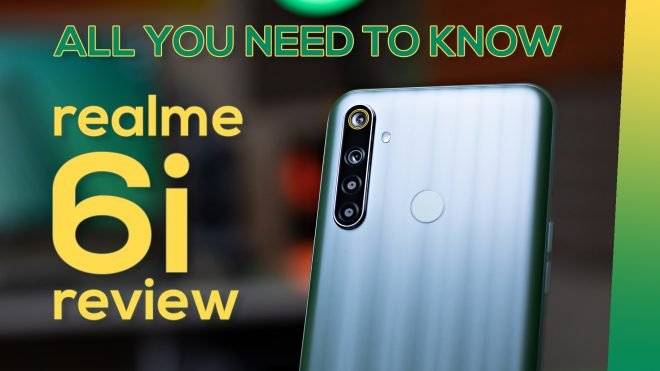 MY EARLY BREAKDOWN
Pros: Competetive Price, Good Design, Good Battery Life, Decent Performance, Decent Camera Quality
Cons: Low-resolution Display, Satisfactory Speaker
SPECIFICATIONS
COLOR: Green Tea/White Milk
SIZE: 164.4mm*75.4mm*9.0mm
WEIGHT: 199g
DISPLAY: 16.5cm (6.5") Mini-Drop Fullscreen
RESOLUTION: 1600*720 HD+
PROTECTION: 2.5D Corning Gorilla Glass
CAMERA:
Main: 48MP f/1.8
Macro: 2MP f/2.4
Wide-Angle: 8MP f/2.25
Portrait: 2MP f/2.4
Front Camera: 16M f/2.0
PROCESSOR: MediaTek Helio G80 SoC, Octa-core, Up to 2.05GHz
RAM AND STORAGE:
3GB RAM + 64GB storage
4GB RAM + 64GB storage
4GB RAM + 128GB storage
Storage expandable up to 256GB
CONNECTIVITY:
SIM Card Type: Dual nano-sim cards,
MicroSD Expansion/Triple Slots
Wireless
Supports 2.4G Wi-Fi
Supports Bluetooth 5.0
BATTERY:
18W Quick Charge
5000mAh
Includes 9V/2A charger & cable
USB Type-C port
SENSORS:
Magnetic Induction Sensor
Light Sensor
Proximity Sensor
Gyro-meter
Acceleration Sensor
OPERATING SYSTEM: realme UI based on Android 10
WHAT'S IN THE PACKAGE
Alright, so right here we have the packaging for the realme 6i and as you can see, the design of the box is pretty much the same with other previously released realme smartphones.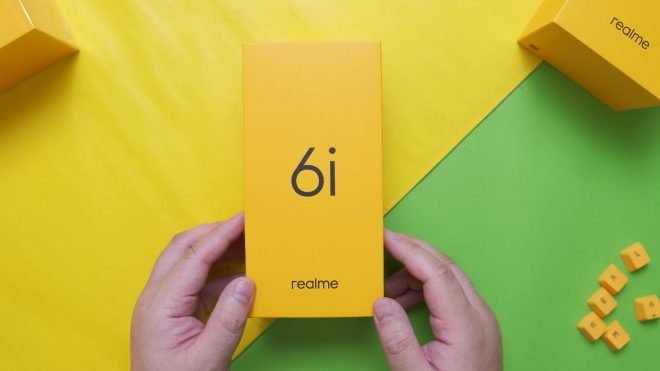 Inside the box, we have some paperwork,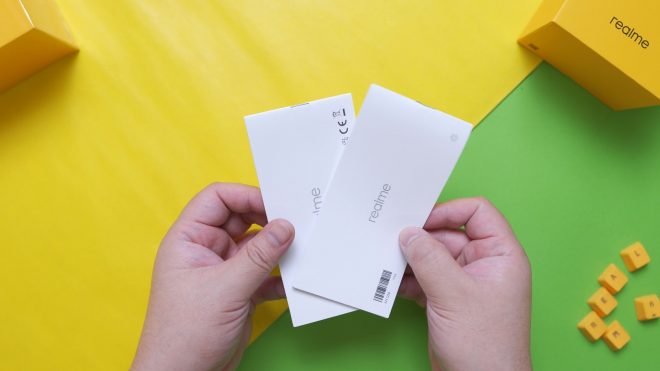 A free jelly case,
A USB type C cable thankfully,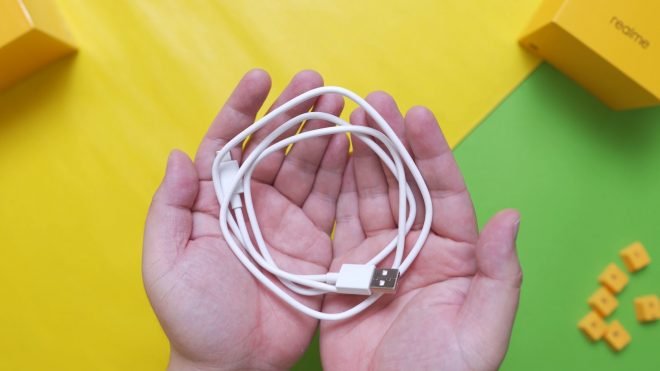 And the quite substantial 18W charger which is very nice for an entry-level smartphone like this.
Design, Construction, and Parts Overview


Now, let's take a look at the NEW realme 6i, and let's do a quick parts overview.
In front, we have the 6.5″ mini-drop full-screen display with an HD+ resolution of 1600×720 and is protected by Corning Gorilla Glass 3.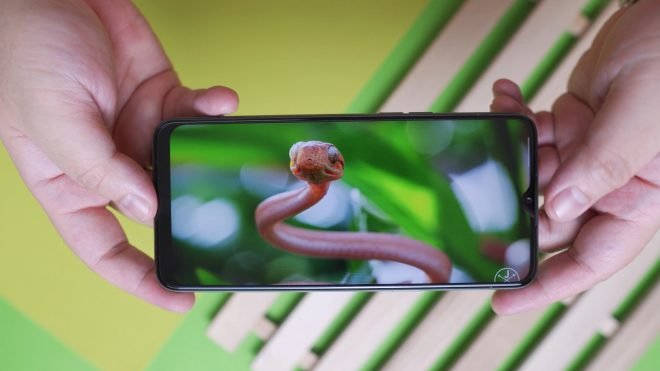 As you can see the bezels around the display is thin enough for an entry-level smartphone and has a screen to body ratio of 89.8 percent.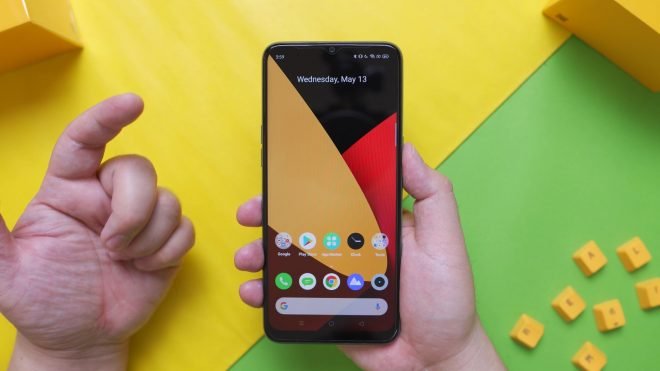 It also features the mini-drop cutout here on the center to make way for the 16MP selfie camera, and above that, we also have the subtle looking earpiece.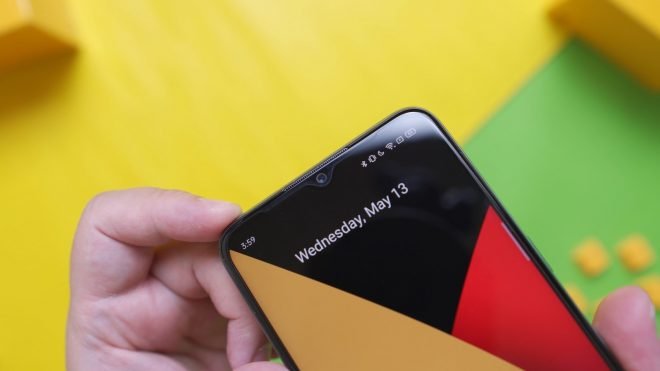 It also has a pre-applied screen protector which is really nice considering that we also have a free jelly case to go along with that.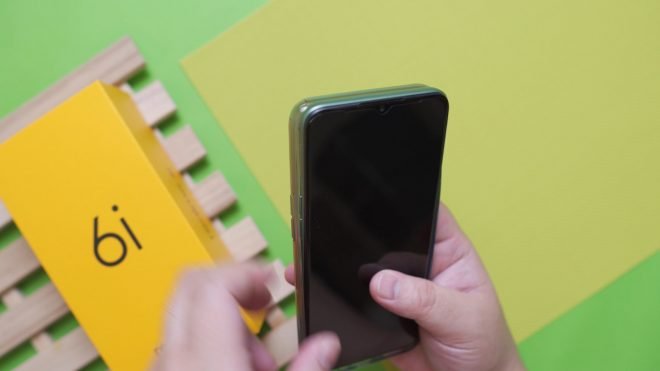 As per my research, the realme 6i's brightness can reach up to 528nits and has a contrast ratio of 1610:1 but the pixel density is somehow underwhelming at only around 270PPI.
Now looking at the top side, we don't have anything here,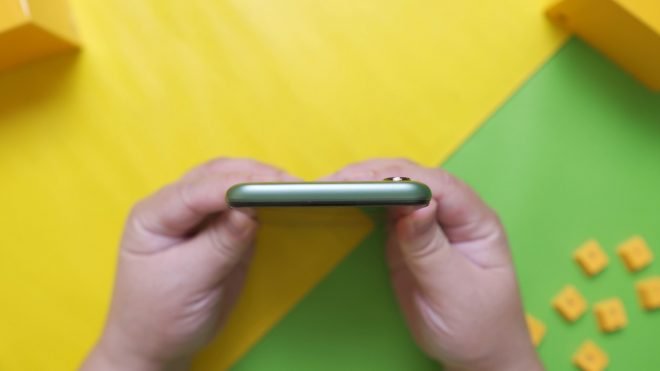 And then flipping it on the bottom side we have a 3.5mm jack, a microphone, a USB Type C port, and the single downward-firing speakers.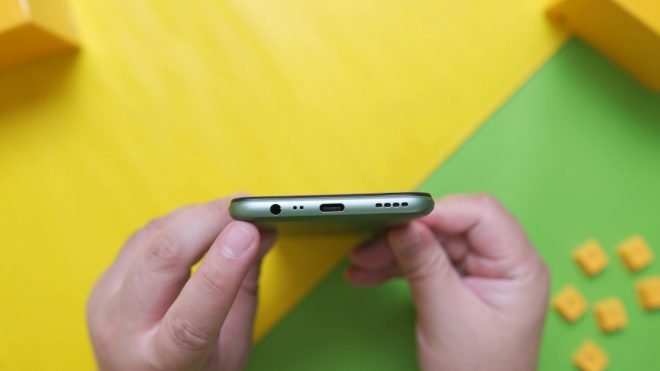 Now, flipping it on the left side we have the volume rocker as well as the Sim card slot that supports dual nano-sim cards as well as a microSD expansion slot.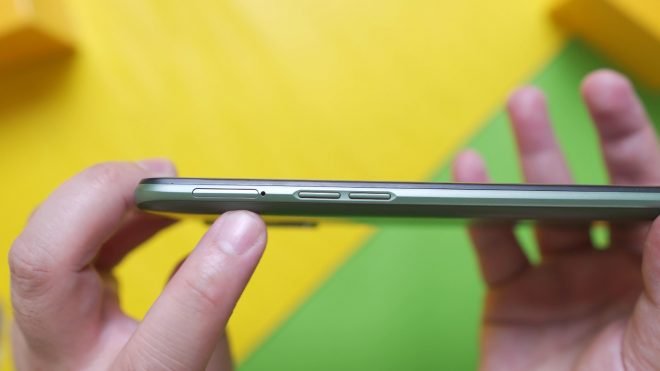 On the other side, we have the power button and we can also clearly see here the beveled edges that I really like and it adds up to the overall aesthetics of the realme 6i. We can also see here the protrusion of the camera bump.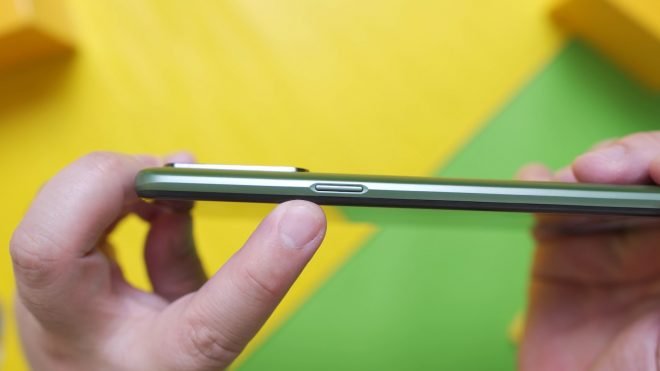 Personally, like I said on my review of the realme C3, I'm not a fan of this design, I would have preferred if both the volume rocker and the power button are located on the same side so that not only you can easily reach them with your thumb, but you can also place your smartphone on a surface without accidentally pushing the side buttons.
Now, at the back, we have here the AI quad-camera setup which features a 48MP main shooter, an 8MP wide-angle lens, a 2MP portrait lens, and a 2MP macro lens. We also have a small flash here, a fingerprint reader, and a realme logo at the bottom left corner.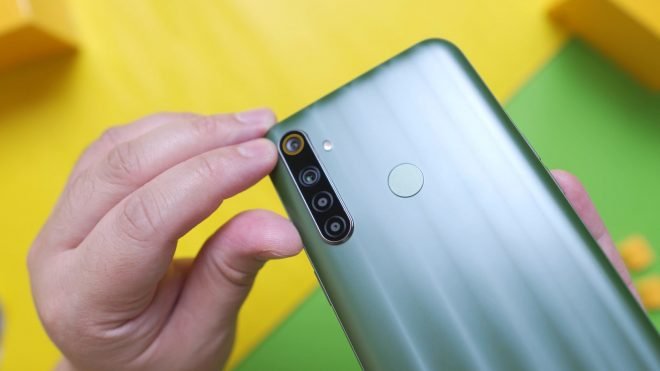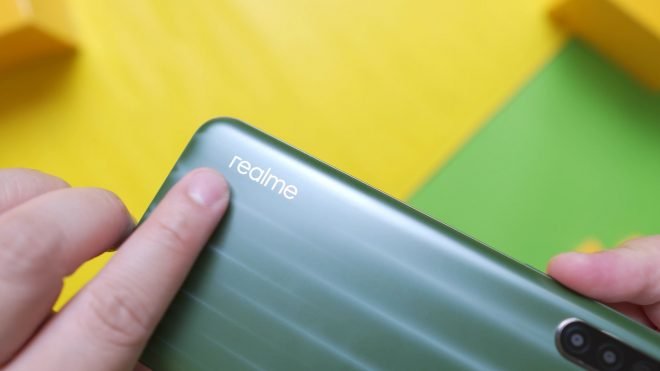 And as you can see, we have a quite unique and interesting design right here for this Green Tea variant with this sort of lines that reacts to lighting from different angles, and what I like about this is that like the realme C3, it is also quite fingerprint-resistant.
However, I am not sure about the color green for this Green Tea variant, I personally prefer the other variant which is the White Milk.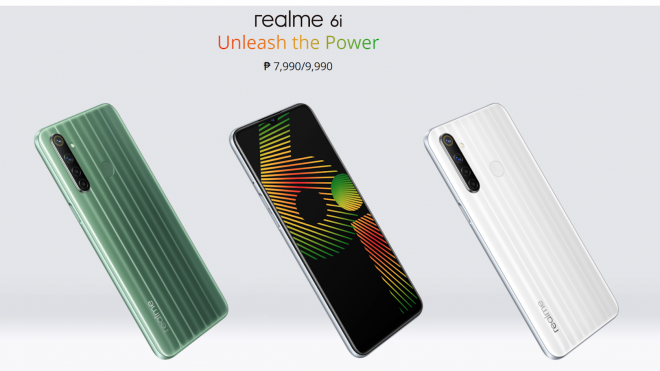 Overall, in terms of design and construction, for an entry-level smartphone, it is pretty decent and I don't have any major issues with it aside from the placement of the buttons. I appreciate this having a USB Type C port and the beveled edges look really nice as well.
User Interface – realme UI Based on Android 10


Now, in terms of the user interface, the realme 6i features the realme UI which is based on color OS and Android 10 and is relatively lightweight and sort of gives you that stock android experience and for the most part, smooth and snappy. The animations are not too sloppy and the icons are not too obnoxious as well. Yeah, granted this is an out of the box experience and of course, performance will be different once you populate this with more apps. But at first look and touch, the user interface and performance seems to be pretty good overall.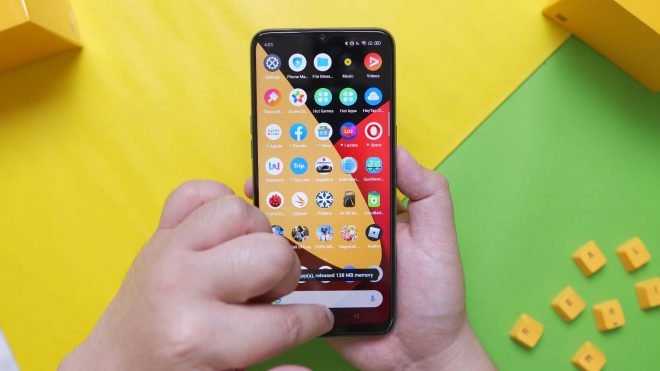 Key Specifications


Now, let's take a look at the about phone and discuss the key specifications of the realme 6i. Like I said it is running the realme UI version 1 which is based on Android 10 as well, so you get all the features of android 10 on a relatively lightweight skin.
The realme 6i also features the world's first MediaTek Helio G80 chipset with octa-core up to 2.05ghz and also features a mali-G52 GPU. Aside from that, it also has 4GB of RAM and 128GB of storage for the variant that we have right here, and out of the box, you'll get an available 93.9GB of space.
I'll pop the complete specifications so that you can check it out.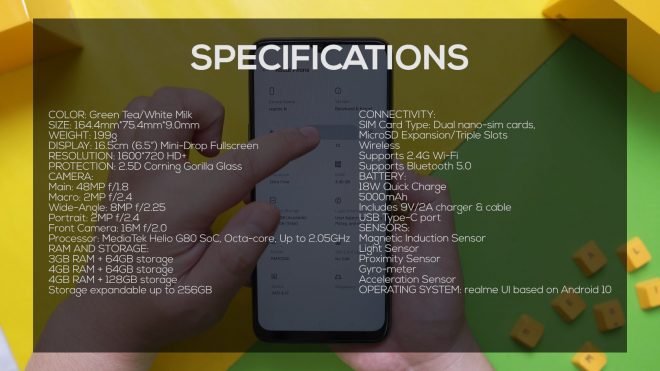 But yeah, basing on these specs, the realme 6i even being an entry-level smartphone should provide a decent experience for browsing the user interface, gaming, and media consumption.
Moving on, let's discuss the different interesting features of the realme 6i.
Key Features


First, we have the focus mode which basically gives you a few options for relaxing music that you can use like if you're doing yoga, meditation, writing and things around that nature for maximum focus and relaxation and although you can find one on Youtube, it's quite nice that you have this feature built-in.
Aside from that we also have another focus mode option wherein you can pause distracting apps.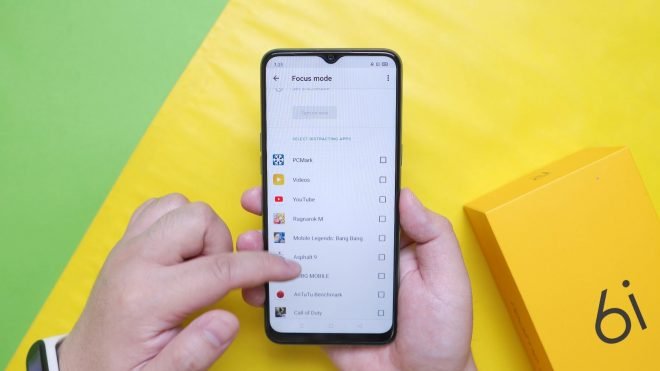 We also have the digital well being to track your activities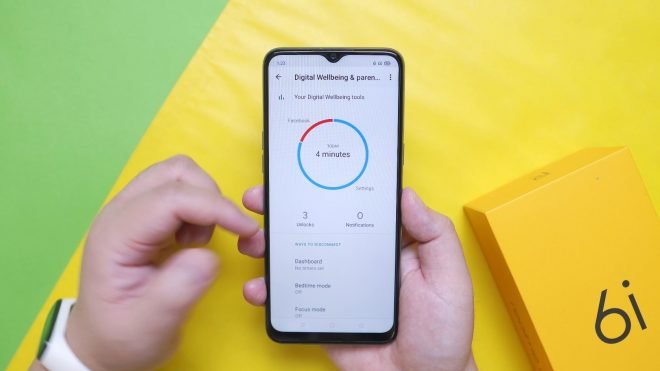 And we also have here the parental controls for restricting the access of your kids.
And to add to that, we also have a dedicated kid's space feature under the privacy settings giving you more options to control how your kid uses a smartphone.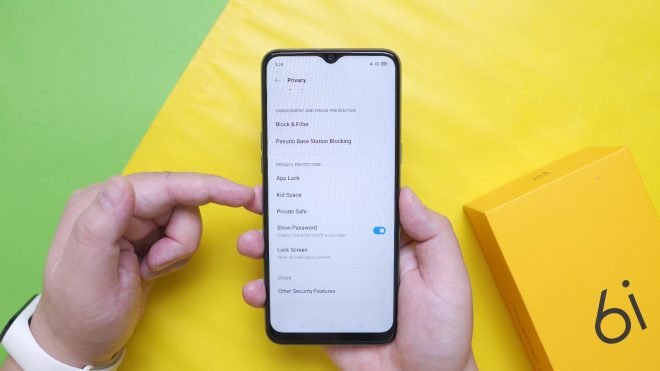 We also have a built-in dark mode if you're into that and it works on most preinstalled and compatible apps such as google apps.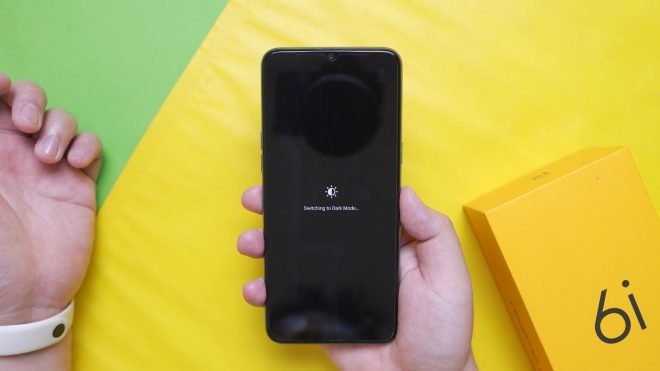 Next, we have realme share, which allows you to quickly share files between participating brands such as realme, Oppo, Xiaomi, and Vivo.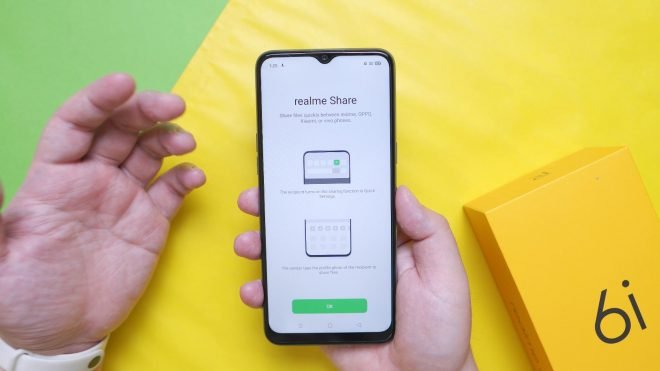 Of course, we have the one-handed feature which is not super necessary as this phone is relatively small but you have this feature if you need it.
We also have the eye care, which is essentially a blue light filter to make the display easier on the eyes especially during the night or for a prolonged period of reading. Unfortunately, I can not seem to find the greyscale mode that was available on the realme C3.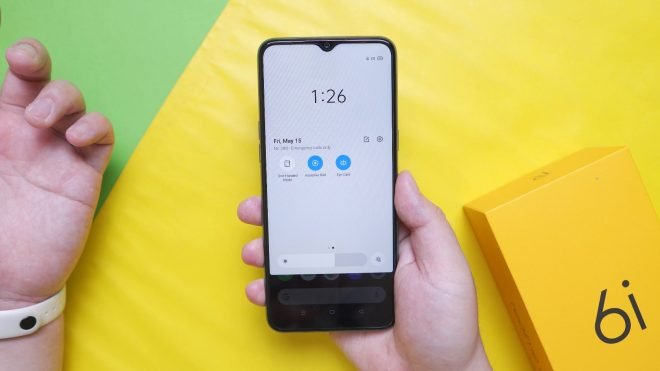 Next, we have the assistive ball, which gives you a floating ball on the screen that you can use for shortcuts, navigation, and whatnot.
And not only that, but we also have a smart sidebar here which is another convenience tool that you can take advantage of for quick tools, shortcuts, and applications.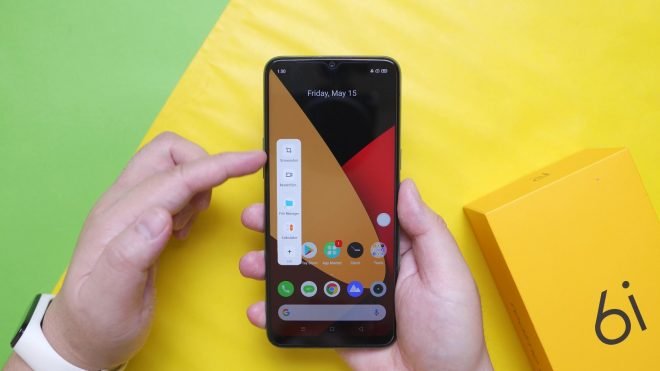 We also have the game space, which in theory boosts the performance of the realme 6i for gaming.
These are some of the notable features of the realme 6i inside the realme user interface and overall, some of them are quite handy.
Now, I honestly believe that this is not necessary because you already have Google Playstore but realme also has their own app market. And inside it, of course, you'll find different apps in different categories.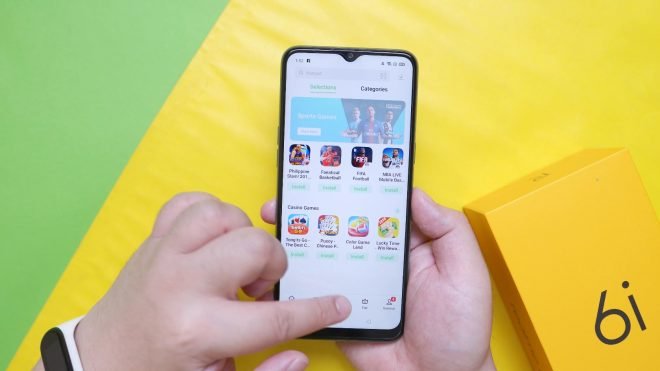 Security – Fingerprint Reader and Face Unlock Feature


Moving on, in terms of security, of course aside from the usual password, we have the fingerprint sensor and the face unlock feature. The fingerprint sensor, for the most part, is accurate, it's not super instant but fast enough for me and way faster than my phone's in-display fingerprint sensor.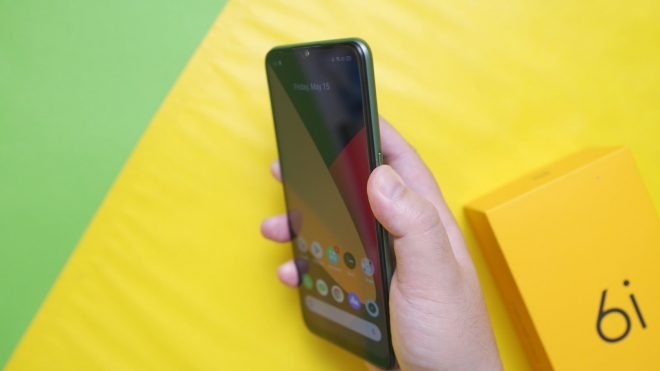 The face unlock works quite well but it is a two-way process, once it detects your face you will have to swipe up to go to the home screen. However, you may find it handy in some cases wherein using your finger to unlock your phone is not possible.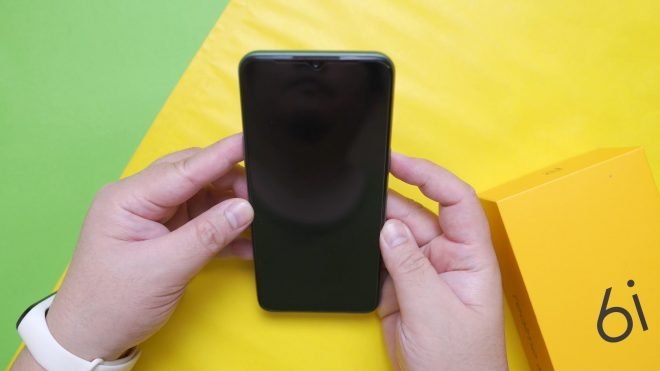 Alright, now let's move on to the more important features of the realme 6i and that is the display, sound, camera, battery, and gaming performance.
Display Quality


In terms of the display, having only a 1600x720p resolution and 270ppi pixel density, I honestly feel like it is one of the things that doesn't stand out with the realme 6i, it is adequate for casual media consumption with decent colors and viewing angles but details are a bit lacking with some artifacts here and there.
Speaker Quality


The single downward-firing speaker is usable for the most part but it lacks some punch on the low end and it doesn't get as loud as I would prefer which is very important for me as I don't usually use earphones when watching videos casually on a smartphone, but at least we still have a headphone jack if we need it.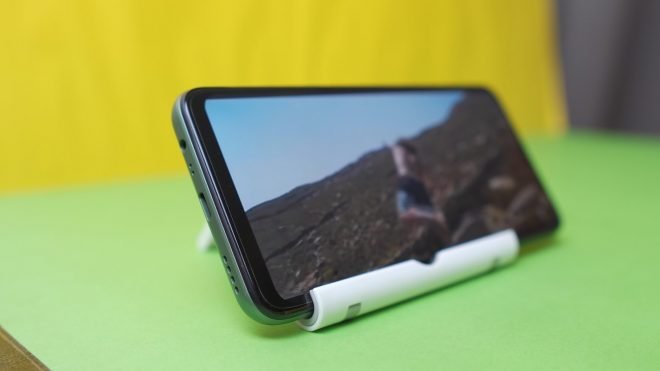 Battery Life


In terms of the battery, realme was able to bounce back by having a quite substantial 5000mAh of battery with an included 18W quick charger and features a reversible USB Type C which is very awesome given the fact that this is in the entry-level category.
As per testing using PC mark 2.0, with 100% brightness and maximum volume with an earphone plugged in, the realme 6i lasted for 12.18 hours. While charging it using the included 18w charger from 10% to 100% took about only 2 hours which is pretty quick for a 5000mAh battery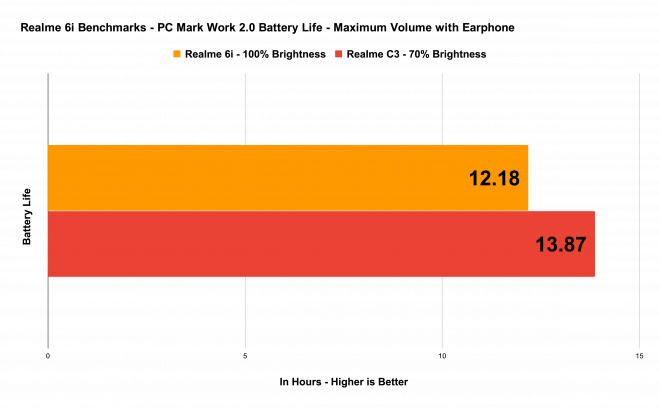 Performance Benchmarks


Now, moving on to the raw performance side of things, here are some benchmarks for you guys.
And as you can see, with a Mediatek Helio G80 chipset, a Mali-G52 GPU, 4GB of RAM, and 128GB storage, the realme 6i was able to score more than 200 thousand in Antutu benchmark and a fairly good score in Geekbench as well and all our other benchmarks right here.
Antutu Benchmark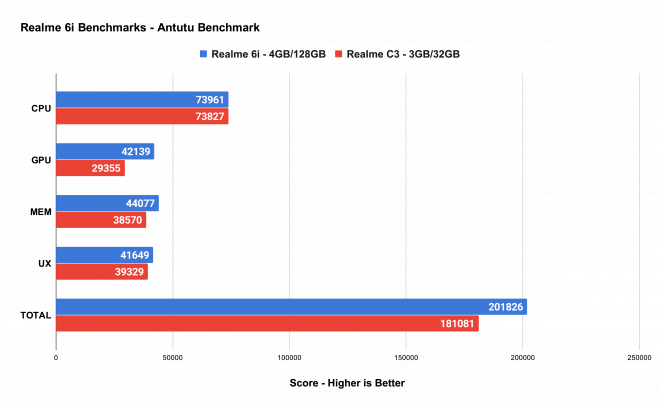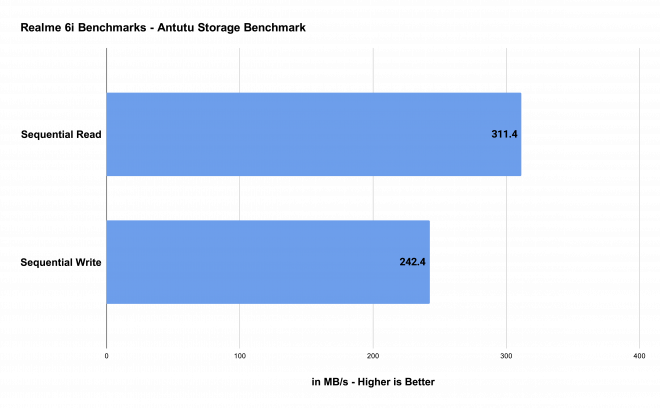 Geekbench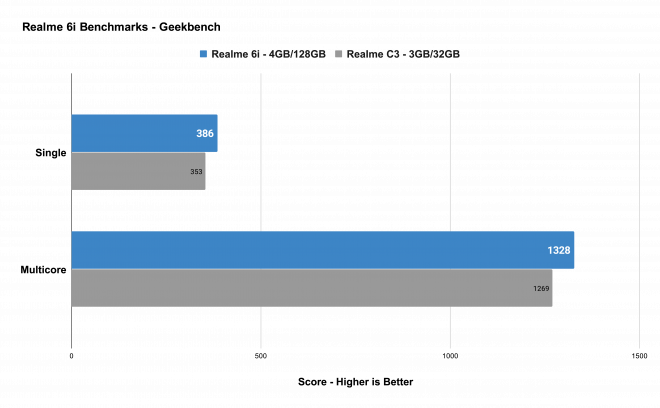 PC Mark Work 2.0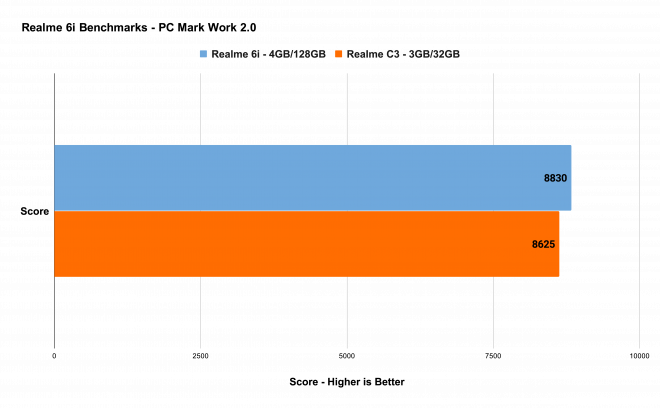 Androbench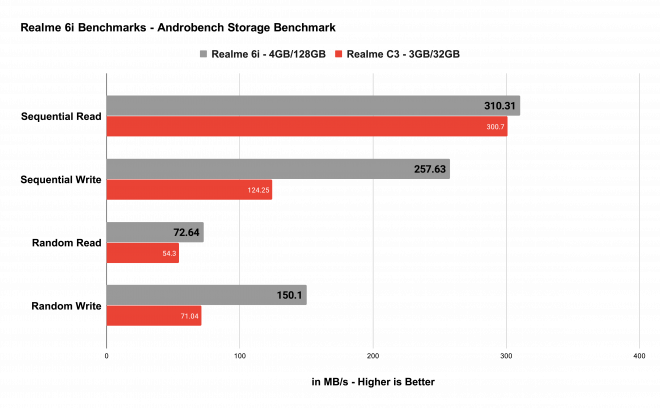 3DMark Slingshot



Gaming Performance


Now, benchmarks are good and all but how does the realme 6i perform in real-world gaming scenario? well, for the most part, gaming with the realme 6i is pretty smooth with just minor occasional hiccups but overall, it is definitely capable.
Asphalt 9


Asphalt 9 is known to push a smartphone to the test especially during drifting and bumps but for the most part, the realme 6i was able to handle it.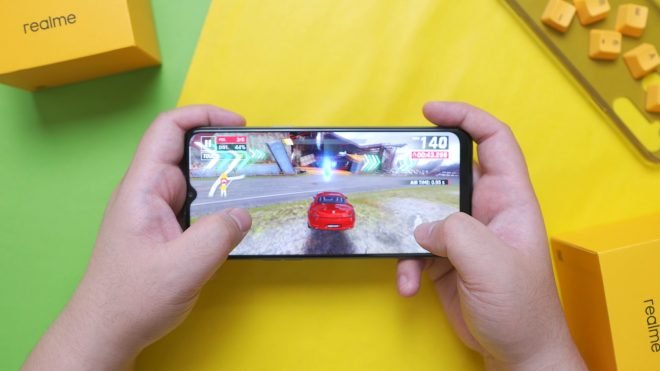 Mobile Legends


Now in Mobile Legends, even with HD mode and HFR mode enabled, the realme 6i was able to handle it and the gaming experience in Mobile Legends is really decent, I did not encounter any significant performance issues even during clashes so we're good here.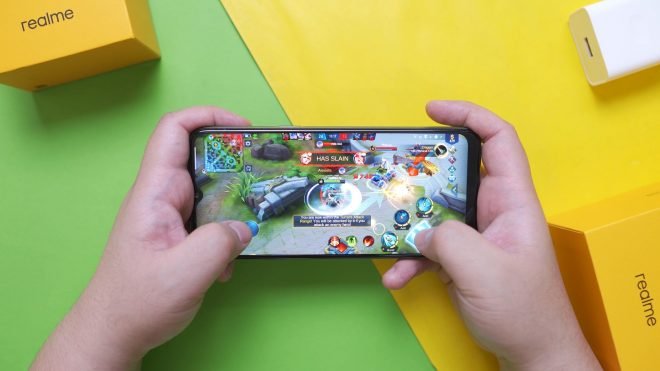 Call of Duty Mobile


In Call of Duty Mobile, the game automatically sets the settings to low and medium framerate, and the gameplay experience is pretty decent as well.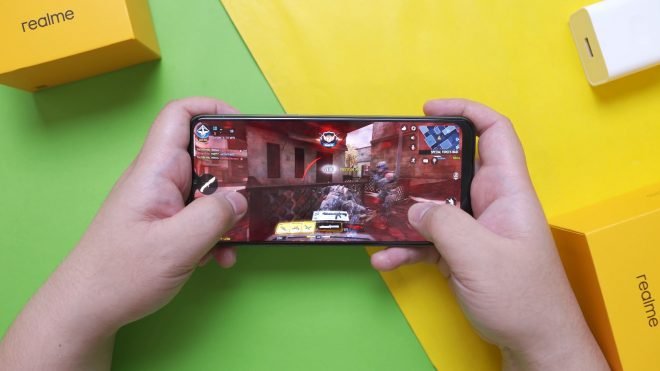 PUBG Mobile


Next, we have PUBG Mobile, and the game was automatically set to HD with high framerate by default. I'd say the gameplay experience is also quite good and the realme 6i is certainly capable for this battle royale game.
Ragnarok Mobile – Eternal Mode


However, it proved quite difficult for the realme 6i to perform decently in Ragnarok Mobile even on low settings, it is playable but the experience is not as smooth as I would prefer. Another thing is that the display is not full screen as you can see but I think it is more of an issue with the game compatibility itself rather than the smartphone. But yeah, performance on Ragnarok Mobile is playable but not quite enjoyable especially if you think about the war of emperium.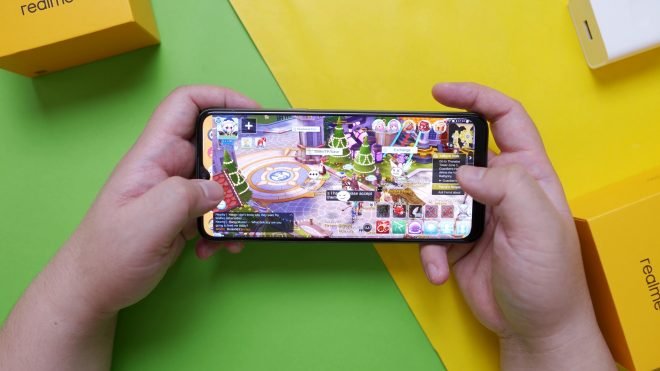 Casual Games


On the other hand, if you prefer casual games, then the realme 6i is definitely more than capable for games like Subway Surfer and Worms Zone.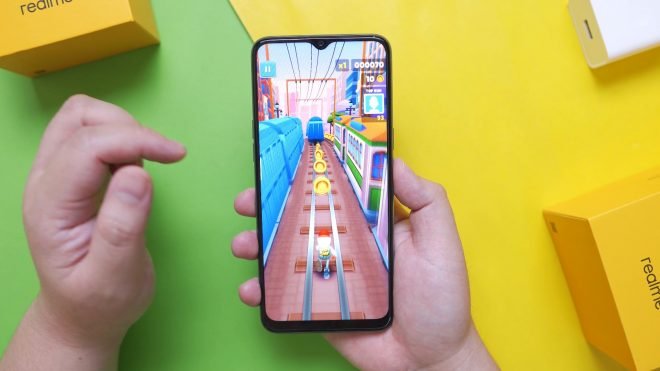 Alright, guys, I saved the best for last, so now let's talk about the camera quality.
Camera Quality


Inside the camera app, we have night mode, video, photo, portrait, 48MP mode, and other options here such as slo-mo and ultra macro.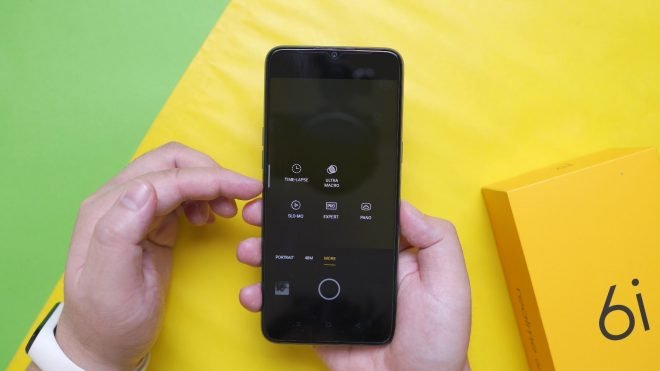 With that being said, let's take a look at some sample photos.
With proper lighting, even indoors, aside from the washed-out colors using the ultrawide lens, the photos have vibrant colors, decent contrast, and adequate details as well without much artifacts. Noise reduction is not too aggressive as well which is nice.
HDR mode is quite effective balancing both the highlights and the shadows on a not so ideal scenario.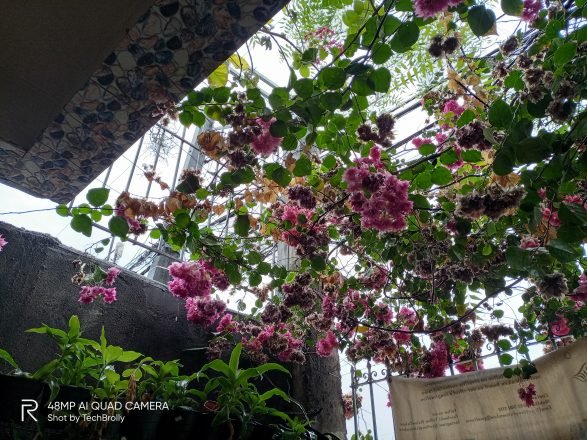 The AI feature also surprisingly works on both animals and human beings which is very cool,
And night mode is also pretty usable with good noise reduction as you can see on these sample photos.
The macro lens is certainly usable and can produce decent photos if you can nail the focus properly.
As for the front-facing selfie camera, out of the box, it enables a beautification filter which is quite unnatural, but you can always disable that if you want. As for the quality, some of my shots are not properly in focus but if it does nail the focus, it is pretty decent. Background separation is decent as well with minor imperfections on some of the edges but unless you zoom it in, you won't usually notice it.
And lastly, for video, I don't think it has any stabilization at all but with proper breathing, you can certainly nail decent videos with this and using a tripod with a fluid head, you can get pretty stable footage but of course, not all of us have these tools but I just want to share with you the possibilities. As for the slow-motion feature, it is fun to play with but the quality is definitely not the best.
Overall, I find the quality of these photos and videos decent enough for social media postings.
VERDICT


So to conclude, given everything that we've tested today, it's up to you to determine if the features of the realme 6i suites your needs in relation to your budget. But overall, in my opinion, the realme 6i is definitely capable for most of the tasks that I do on a daily basis which includes browsing through the user interface, social media applications, gaming, productivity, and mobile photography. The only real downside for me is when it comes to media consumption with a low-resolution display and a satisfactory single downward-firing speaker. Other than that, I have no problems recommending the realme 6i.
Related Article:

realme 6i in-depth Review – Gaming, Camera, Everything you need to know!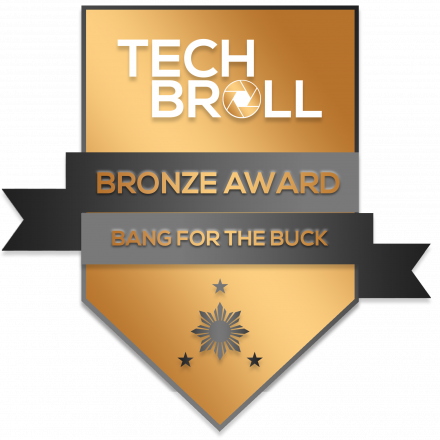 Thanks to realme Philippines for making this review possible, You can get this smartphone from the links below
SHARE THIS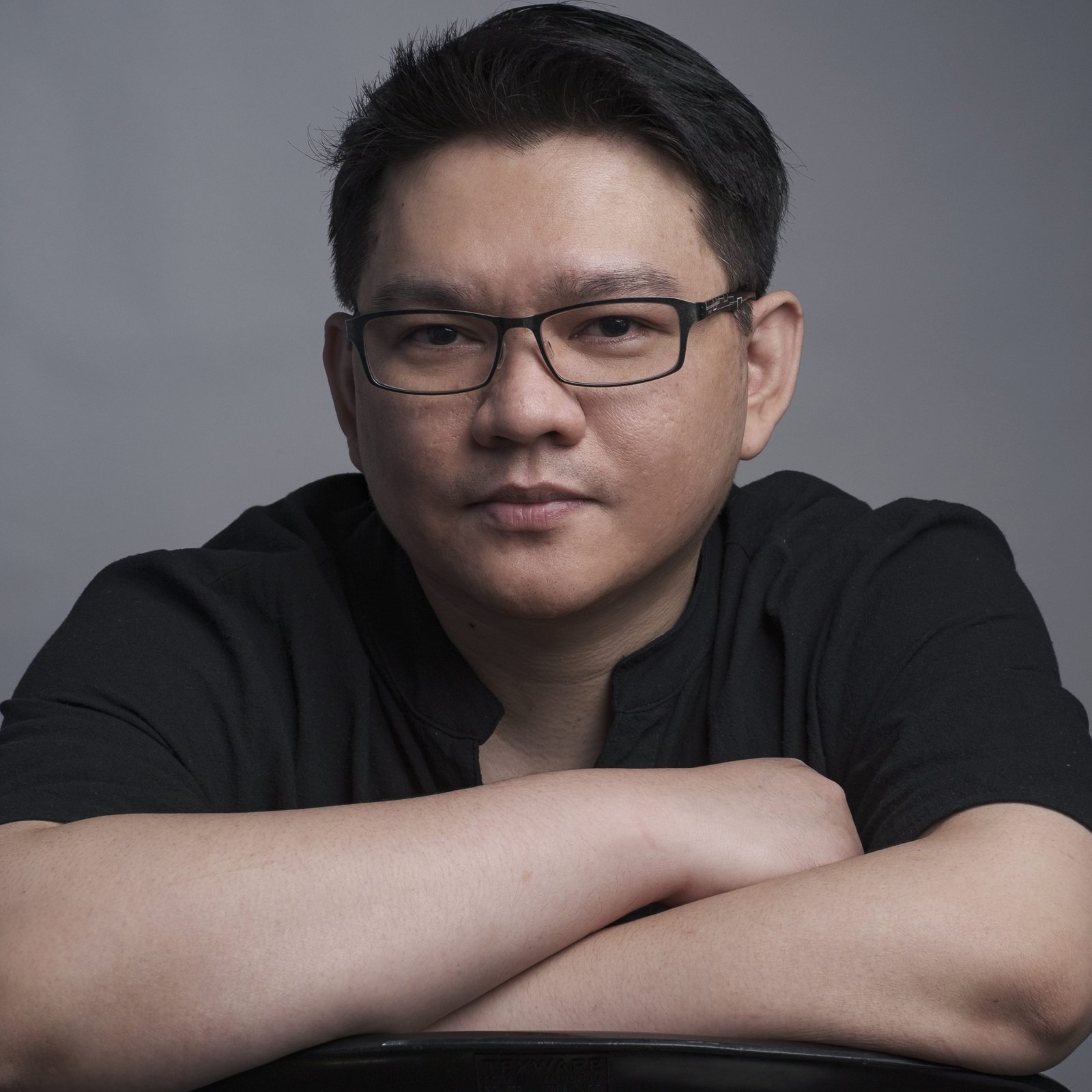 The Broll who always got your back online!